3 day Paris Itinerary for first time visitors
Few cities evoke the same romanticism and emotions that Paris does. Certainly three days is never enough to know such a great city. But thanks to tourism being so well-organized and a great transport network, it is possible to explore the best of Paris in three days.
On our first trip to Paris, not only did we see the most iconic places in Paris but also some offbeat ones, and we did it all on a budget. I must say, despite the meticulous planning we did, what really helped us explore so much was the Paris pass. So without much ado, let's dive into our 3 day Paris itinerary. While everyone can take some inspiration from it, it is the best suited for first-time visitors living outside Europe, who cannot visit Paris every other year. 
Paris in 3 Days Itinerary
This is the best Paris Itinerary for 3 days considering you reach Paris before noon.
•Day 1: Louvre (3-4 hours), Tuileries Garden, Champs des Elysses, Pont Alexandre III, Champ De Mars, Seine river cruise, Eiffel tower
◦If you reach start your sightseeing tour after 12 noon, then skip Louvre on Day 1 and do Orsay museum instead. If you are able to start by noon then this is the best plan for the day. Remember that these are all at a total walking distance of 5.6 km, although you will end up walking a lot more just to explore the Louvre. So wear comfortable shoes and get those muscles to work.
◦Remember to start by collecting the Paris pass at the Big Bus office near Louvre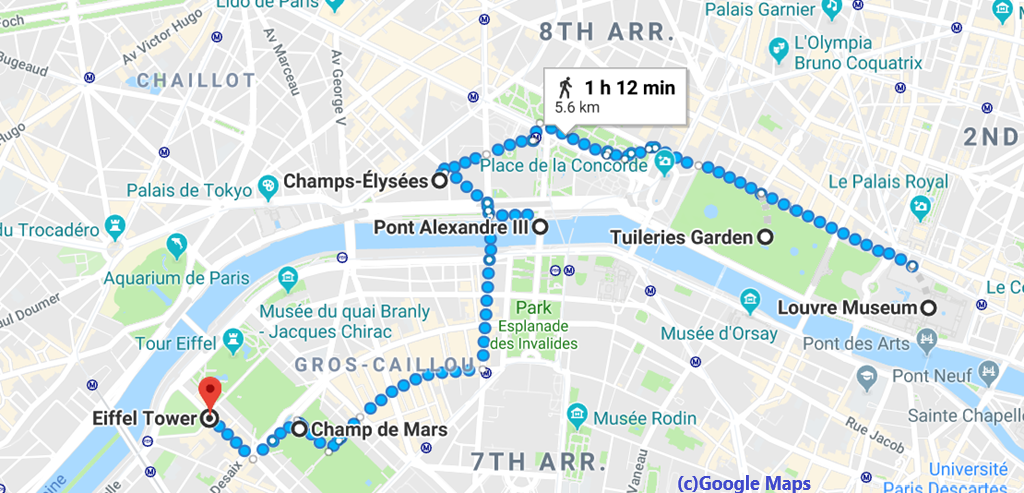 •Day 2: Get on board the Big Bus tour (which is free with Paris Pass), Hop-off at Notre Dame, Orsay Museum, Rodin Museum, and Arc De Triomphe at the end of the tour, then visit Montparnasse 56th floor.
◦The Big Bus tour is a fantastic way to explore Paris and probably the best way to "know it" in just 1 day. Will discuss it at length in this post later
◦If you want to skip the Big Bus tour and other museums, you can head straight for the Palace of Versailles which is away from the other major attractions of Paris
◦After a half-day trip to Versailles, you can join a free walking tour of Paris, which is another great way to explore the city.
•Day 3: Guided tour of Grand Opera (free with Paris Pass), Paris Aquarium, Palais de Trocadero, walk by the riverside, Place du Tertre, sunset at Sacre Coeur, end with Moulin Rouge and neighborhood.
◦Alternatively, you can visit the Palace of Versailles or Disneyland, both of which are a bit far off from the other major attractions of Paris.
Few other places you can explore are the Luxembourg gardens, Les Invalides and Pantheon. However, you must not discount the traffic, queue and various uncertainties that come with traveling in such big cities no matter how good the transport system is. We saw these places from outside but did not enter. 
We reached Paris late and famished after 2 pm. But we had an extra morning on the 4th day before we left for 3 days in Barcelona. So we managed our itinerary well. But before we get into the details, I'd like to share a few more travel tips I wish I knew before I visited Paris.
Alert: The post is long and full of details, albeit very important ones. So pin the image below to save it for later.
Top Travel Tips for Paris in 3 days
Being such a huge tourist destination in Western Europe, Paris is obviously expensive. However, following these tips, you can save money without compromising on your travel experience in Paris.
Buy the Paris Pass if you are staying for 3 or 4 days. It makes transportation free and as you would have noticed in my itinerary, it cuts off all expenses on the major attractions in Paris. The short guide accompanying the Paris pass helped us discover obscure gems like the Notre Dame crypt and Montparnasse Tower, which were not on our original itinerary.

When in Paris use the amazing public transport system. The metro connectivity in Paris is one of the best in the world. 

Be very careful of your belongings. Even on our trip, we heard people discussing how their stuff got stolen right under their nose, while they were busy eating and talking in their cafe. 

The hop-on-hop-off bus is my favorite and you get 1-day free tour on it with Paris Pass. However, if the traffic situation is bad, you may be stuck. It's still worth it for you to get a tour of the city and see all the magnificent monuments, the beautiful roads and Paris landscape in one day.

You will not have the time to enter each and every place on your list, even with skip-the-line access you get with. But you can certainly see them from outside.

Do not buy Paris Pass if you are looking for a relaxed holiday. A 3-day Paris pass costs €174 for adults, and it can save you loads if you want to be out on the road for a better part of the day. Paris pass is mainly for first-timers who have never been to Paris before or didn't get a chance to explore it earlier.

Walking tours are a great way to explore Paris and know the tidbits behind each place. If you do not have a Paris Pass, you can book one of these.

Do not eat near the Eiffel Tower or Louvre. We grabbed an over-priced Panini near the Eiffel Tower and it was not even heated properly.

The best place to buy souvenirs is at the shops at the foot of Montmartre Hill. The quality of scarves and t-shirts here are also better than the ones available in the souvenir stores in the rest of Paris

Book complimentary breakfast at your hotel.

Tap water in Paris is safe to drink so carry a reusable bottle with you in your carry-on bag

For other items like packaged food or stationary, head to the nearest Carrefour is available
For more budget travel tips read our articles – Europe Trip on Budget and Travel Cards Review.
Visiting Europe soon? Check your Visa requirement and apply here.
Paris in 3 days –  Places to visit and highlights of our trip
Let's begin with the story of our first trip to Paris. We traveled from Bruges and reached Bercy Seine in Paris a little after 2 pm. From there we went straight to our hotel at Montmartre to unpack, and then to collect our Paris Pass from the Big Bus Office near Louvre. After the initial hiccup of getting confused in the subway, the rest of the journey was easy. However, by the time we set off for our tour, it was already almost 4 pm and we were famished. Our first-day plan was therefore reduced to an evening in Paris. That is what inspired my very first post of Backpack & Explore, Paris at Night. Thankfully we had the entire morning of day 4 to us for exploring Montmartre before we left.
Miss travel? Explore Paris-themed books, movies and souvenirs online.
1. Eiffel Tower and Champs De Mars |  Paris Itinerary Day 1 highlights
Since we reached Paris very late, I couldn't resist visiting the Eiffel Tower. It is almost the symbol of Paris, and no matter how much you hate the clichéd, you cannot skip the Eiffel tower in Paris. Champs de Mars is the beautifully curated public park in Paris which leads you to the Eiffel tower.
 The first sight of the Eiffel tower truly mesmerized me, so much that I almost forgot that we have been starving by then. Champ De Mars and the banks of Seine river offer great photo spots with Eiffel tower in the background. I feel that there are better places for panoramic views of Paris than the Eiffel tower summit, but I know it's hard to resist the Eiffel. So for all those romantic souls, here are some important information.
• Queues during peak season can be over 2 hours, so pre-book your trip from here.
• Open time: 9:30 am – 11:45 pm. (So no need to rush to the Eiffel tower because you can squeeze it any time in your schedule)
• Fees: For Adults- €25 to Summit, €17 to the second floor, discounted entry for youth.
If you decide to skip and save at least two hours and 25 Euros, then I would say you didn't miss much. Arc De Triomphe and Montparnasse tower offer more spectacular views of Paris.
2. Seine River Cruise | 3 days in Paris Day 1 highlights
I knew I would enjoy the Seine River cruise because I love waterways. However, it surpassed all my expectation. If you can do only one thing in Paris, it should be the Seine River Cruise, preferably in the evening. Since days are long in April, we strolled around for some time till the sunset before we boarded. The Bateaux Parisiens is a one-hour cruise trip on the river which offers you the most amazing experience of watching the great "river-line".
The Seine Riverbank is a UNESCO World Heritage site. Both sides of the river are speckled with historic structures of Paris -Eiffel Tower, the Notre Dame cathedral, the Orsay museum, the Roue De Paris to name a few. The city of Paris was born on the banks of this river, which happened to be the lifeline of the Parisians for centuries. It was the perfect time to board the cruise as the sun began to set and the city of lights started to lit up.
The fully illuminated Eiffel Tower is a sight to behold, but add to it the five minutes of sparkling and you have a visual that would stay in with you forever. That was the moment when the glittering Eiffel Tower showed us what was in Paris that inspired artists, writers, and travelers over the decades. It was the highlight of our cruise tour as well as the Paris trip.
Open time: 10:30 am to 10:30 pm
Ticket Price:€15 *Free with Paris Pass*
3. Louvre Museum | Three Days in Paris 
The tickets of Louvre Museum are available in packages of 1-day to 6-days, and there are good reasons for that. It's one of the greatest art museums in the world both in the size and the diversity of its collections. It is impossible to see all of it in a couple of hours.
If the typical Bengali's predisposition to fine arts was not enough, Dan Brown's Da Vinci Code was enough to push the Louvre museum to the top of our bucket list. The Renaissance art of Louvre is so inspiring that you will surely end up spending more than the couple of hours you planned for Louvre museum and you will have to push yourself out to see the other places. But as soon as you get out of the museum there are other attractions waiting for you right across at Louvre.
•Open Time: 9 am to 6 pm, except on Wednesdays and Fridays when Louvre is open till 9:30 pm at night! The illuminated pyramid at night is a sight to behold. Besides, you will also be able to avoid the maddening crowd at late hours of the night!
•Ticket Price: € 15 *Free with Paris Pass*
Tuileries Garden in Louvre
The Tuileries garden in Louvre just outside the museum is not a place you can ignore. It is another lovely highlight of Paris where photographers can spend half the day capturing different angles.
Wine Tasting Tour in Louvre
This has to be on your list if you love wine, or if you hold a Paris Pass. France is known for breathtaking wineries. Well, you cannot find them in Paris, but what's the harm in going for the Wine Tasting tour Caves de Louvre. This is another free offering with Paris Pass.
4. Hop-on Hop-off Bus tour – Best of Paris in 3 days
There are multiple operators for this tour in Paris but the one that is free for 1 day in your Paris Pass is the Big Bus tour. I earlier claimed that Hop on Hop off Bus tour is best to explore large European cities like Paris or Barcelona in a short time. Let me explain why.
While walking is unavoidable to explore museums, markets and nooks and corners of a city, you cannot cover the whole city on foot. Not if you are there for just 3 days and are of average fitness that I am. After a tour of Louvre which already means we had walked at least 5 km within the museum itself, we hopped on to the double-decker Big Bus. It was so relaxing to plug in the earphones and listen to the audio guide while touring one of the most beautiful cities in the world. It gave us an orientation of the city map, how we can plan out our trip to save time, and introduced us to new interesting places. The best part is the audio guide which is available in many different languages. The English audio guides are in neutral accent and very well written. With background music changing at every location, it gives an impression of walking into a Nat Geo documentary. 
The tour took us through all the iconic landmarks of Paris, introduced us to the beautiful bridges, the Champs Elysees avenue, the Invalides, the Grand  Palais and the Petit Palais, the parliamentary buildings and many more. You will not have the time to enter each monument but you can hop off anywhere and take a walk as we did at Petit Palais.
5. Notre Dame Cathedral – Day 2 of 3 days in Paris
Update: As you would have known by now, the beautiful cathedral has been partly destroyed in a fire accident on April 15, 2019. We lament the destruction of this beauty but believe that it will rise from the ashes as it had before. 
The Notre Dame Cathedral of Paris is an imposing monument, considered to be one of the finest examples of Gothic architecture in the world. The construction of the cathedral dates back to the 12th century after which it was modified several times. The cathedral was destroyed and many of the religious sculptures were damaged during the French revolution in the 1790s. Victor Hugo's classic "Hunchback of Notre-Dame" revived popular interest in the building and a major restoration project was started in 1845. The magnificent structure we see today is a result of years of restoration and welcomes approximately 12 million visitors every year.
The roof of the cathedral accessible through a narrow flight of steps is another great place to capture a panoramic view of the city. When you visit the Notre-Dame cathedral you have to book a ticket to the rooftop, which is free for Paris pass holders. However you still get a time-stamped token, and you need to revisit within that 30-minute time-slot allotted to you. You can choose the time-slot among the ones that are available at the time of booking. The regulations are in place for maintenance of the building and safety of the tourists. 
Notre Dame Crypt
An underrated and under-visited hidden gem lies right beneath the Notre Dame cathedral. It is the Notre Dame crypt which contains archeological ruins excavated during the reconstruction work of the cathedral. The crypt has an exhibit of architectural models of different times that traces back to the earliest settlements in Paris. The touchscreen guides allow you to travel back in time, with models and remains of 2000 years of history. Photography though allowed, is not quite possible in the darkness, but it's one of the obscure gems of Paris. (More Info ).
As per the latest news, the crypt is safe although we don't know if the entry is restricted. 
Open hours: From Tuesday till Sunday from 10 am till 6 pm, the last admission at 5:30 pm
Fees: 8 €, 6 € with concession, Free for youth below 17 *Free with Paris Pass*
6. Arc De Triomphe – Day 2 Evening Highlights 
Arc De Triomphe historic monument raised during the first World War to honor the soldiers who laid their lives for the country. The monument is not only a symbol of patriotism but is a reminder of the inevitable death and destruction due to wars. A fire burns all the time at the site beneath where people come to pay their respect. During WWII, when Hitler marched with his forces into Germany, he too went around the monument and not between the 2 towers, as a sign of respect. It is probably the most iconic structure in Paris after the Eiffel Tower.
Climb through the narrow staircases to the rooftop of Arc De Triomphe to get a breathtaking view of the city, a view that trumps the one from Eiffel Tower any day. If you take the big bus tour, I recommend you to complete the tour in a day (because you have just 1 day free with your Paris Pass). It is open till 10:30 pm at night so you need not be worried about getting late.

•Open time – 10:30 am to 10:30 pm
•Ticket price: 12 Euros  * Free with Paris Pass *
7. 56th Floor Montparnasse Tower Day 2 Evening Highlights
After a visit to the Arc De Triomphe, we were at loss about where to go as most places of attraction would be closed by then. That's when the Paris Pass pointed us to the Montparnasse Tower, another underrated attraction in Paris.
This 689 feet high office building is the only skyscraper in Paris. The glass terrace is weather-proofed for all season and is at a height above the Eiffel Tower summit. It was 11 pm when we went there and experienced the mesmerizing view of the city illuminated at night.
The roof is open till 11:30 pm but the restaurant below, which happens to be the highest restaurant in Paris, is probably open even after that. It also has the fastest elevator in the world! We ate at an Indian Restaurant, about the 5-minute walking distance from here- fantastic food at really affordable rates.
•Open time – 9:30 am to 10:30 pm from Sunday to Thursday. Open till 11 pm from Friday to Saturday.
•Price of the ticket – 18 Euros *Free with Paris Pass*
Like the pin below? That's one of the many views from Montparnasse Tower
8. Orsay Museum – For the lovers of painting | Day 3 of Paris itinerary
Where the tour of Louvre ends, in the mid-19th century, the tour of Orsay begins on the other side of Sienne. The museum has a large collection of impressionist paintings which will blow your mind. You can either visit the Louvre multiple times on your 3-days in Paris, or you can pay short visits to Orsay and Rodin museums instead.
We chose to do the latter because we wanted to see the architecture inside the buildings. An interesting fact about the Orsay museum is that it was a train station till 1939, after which it served as a postal depot during WW II. It was also the temporary office of Drouot, the oldest auction house of Paris and the western façade was a hotel for a long time. was converted into this massive museum in just two years.
9. Rodin Museum – Day 3 highlights of Paris itinerary
The museum is focused on showcasing the work of Auguste Rodin, the father of modern sculpture. Auguste Rodin's sculptures are regarded as a departure from the traditional methods used for centuries. With nearly 150 statues of bronze, marble, and plasters and the beautiful Hamilton Garden, Rodin museum is a great place to visit with children. The most famous works on display in the Hamilton Garden are "The Thinker" and "The Gates of Hell".
Taking the liberty to go a little personal with revisiting my memories of Paris here. The Rodin museum is an easy walk from Orsay, however, the direct entrance was blocked and we were forced to take a 1 km detour. The reason was the event of Formula E racing championship. On our roundabout way to the Rodin museum, we couldn't help but stop to take a glance at the racing cars. Well, the event coinciding with our trip wasn't fortunate because a part of the garden at Rodin museum was also reserved for the guests of formula E.
Open time: Wednesday to Monday, from 10 am –5 pm. Closed on Tuesdays
Entry Fees: 10 Euros for Adults, $8 euros for Seniors (65+), 7 Euros for Youth (13-18), free for children
* Free with Paris Pass*
10. Guided tour of Opéra National de Paris
A guided tour of Grand Opera would not be on our 3 day Paris itinerary if not for the Paris Pass. Commissioned by King Louis XIV in 1669, the Paris Opera remains the primary Opera and Ballet group of France. The interiors of the Paris Opera redefines opulence. The guided tour made the moments in history come alive in front of our eyes. The noble ladies dressed in their best descending down the royal staircases with commoners cheering through their pigeon-hole docks. The uncanny resemblance of this moment with the modern movie awards functions is hard not to notice. If you have the Paris pass, you must not miss this wonderful opportunity to take a guided tour of the Paris Opera.
You will need to submit one identity card at the reception for verification when you collect your headsets.
The timing for guided tours in English: 11 am and 2:30 pm
Entry Fees: € 17 for adults, €12.5 for students
11. Paris Aquarium
When we left the grand Opera we were juggling between two options – the wax museum or the Paris Aquarium. My husband's fondness of "creatures" took us to the Paris Aquarium.
L'Aquarium de Paris, a.k.a. the Paris Aquarium is conveniently located near the Place du Trocadero. With more than 500 aquatic species living in the largest tank of Paris, the place can easily rekindle the curious spirit of a child within you. You can see a huge variety of jellyfish from different parts of the world, sharks, seahorses, and many other exotic Pisces. You will be amused to see children running about and looking at the exhibitions with sparkling eyes. The interactive shows, documentary movies and a lot of interesting GK trivia about aquatic life make it an amazing place to visit in Paris with children.
Open time: till 7 pm

Fees: €20  *Free with Paris Pass*
12. Place du Trocadero
The Place Du Trocadero is the monumental plaza of Paris which gives you the best perspective of the Eiffel Tower. It is located in between the wings of the Grand Palais de Chaillot. Shutterbugs throng the place all day to capture the Eiffel tower from this perfect angle at the hill of Chaillot. Some things to watch out for are the Fountain of Warsaw which lits up at night complimenting the twinkling of Eiffel tower. We missed that special view but we enjoyed exploring the complex and watching the open-air performances.
This is one of the best free experiences in Paris.
13. Walk on the banks of Seine and the bridges
Speaking of free things to do in Paris, what's better than walk on the banks of the Seine, the only UNESCO world heritage center in Paris. From Place du Trocadero walk on the beautiful roads of Paris to the banks of Seine to watch the sunset. One of the most romantic things to do in Paris is to do nothing at the banks of Seine. Just walk, sit, talk, wave at the boats and watch the sunset.
There are a total of 37 bridges on the Seine river in Paris some of which are as ornate as any monument would be. One of my favorite part of the Paris trip was a walk on the Pont Alexandre III bridge connecting the Invalides to the Grand and Petit Palais. Well, it was less of a leisurely stroll and more of a run for us as we were once again faced with a transport hiccup on our way to the Opera. After reading the nearest station we came to know that the trains were not going to stop there on that day for some reason, so we had to walk (run) to the next metro station to avail our metro to the Paris Opera.
14. Walking tour of Montmartre – Place du Tertre and Sacre Coeur
Funny that we were so engrossed in our 3-day attraction hopping in Paris that we almost skipped exploring our own backyard. We were staying near the Pigalle metro station at Montmartre. On our last day in Paris, we decided to just see the iconic Moulin Rouge. We weren't dressed for attending a show out there but we just wanted to see the building. The area is dotted with strip clubs and sex shops, as well as some amazing restaurants, much like the red-light district in Amsterdam. We had an amazing dinner at an Indian restaurant here.
Next morning we decided to check out early after breakfast and leave our packed luggage at the hotel reception, to go out and explore the Montmartre hill. The rain prevented us from clicking pictures in one of the most "Instagrammable" streets of Paris. Our delightful walk uphill took us through some picturesque streets lined with cafes, shops, and beautiful houses. It's easy to see why almost all the great artists of the 19th century had once lived in Montmartre. If you want to see where the artists live these days slide left to Place du Tertre while walking towards Sacre- Coeur. They may not be Van Gogh or Picasso watercolor landscapes and caricature sketches are a treat to the eyes.
The Sacre-Coeur is certainly the top attraction at Montmartre and one of the highlights of our 3 days in Paris. The pristine white marble of Sacre-Coeur makes is stand out from far. Perched atop the hill of Montmartre is offers one of the best sunset views of the city. The reason why I recommended it in the evening of day 3 if you have 3 full days in Paris. If you don't want to walk you can hop on the toy trains that run in Montmartre at specific timings.
Budget accommodation in Paris
Hotels in Paris can be expensive during the peak season so make sure to book it early. I will recommend any of the IBIS budget and IBIS style hotels around Paris. They are reasonably priced and have standard service. Explore the best deals for Paris below.
We booked IBIS Style B&B at Pigalle. It is conveniently located 200 meters away from the metro station, 550 meters from Moulin Rouge and 1 km from Sacre Coeur. We booked hotels about 4-5 months in advance at ~Rs. 5500 per night including breakfast for two. There are many hotels at a budget range if you book in advance.
Compare hotels in Paris at Hotels Combined.
Books and Movies on Paris
Here comes my favorite park. Paris has inspired the creative souls all over the world for centuries, so there is no dearth of inspiring books in fiction and non-fiction category. These are some of the best books based out of Paris that you may like to read if you haven't already.
How much did the Paris trip cost?
Adding this section after an overwhelming response within 2 days of publishing this. Everything I mentioned in the itinerary with Paris Pass, except Eiffel Tower. We went to Paris in the last week of April, just before the peak season of summer, but thanks to the advance booking we managed a good price for the hotel.
Price of Paris in 3 days for 2 people living in comfortable hotel accommodation can be managed within Rs.40,000 (Indian currency) if planned properly
3-day Paris Pass: €174 (was €160 when we booked last year), i.e. ~Rs.14,000 

Hotel price: Rs.~16500

Brunch – included in the hotel

Food and drinks for the rest of the day – ~Rs.5000 for two

Eiffel Tower Summit: €25/person, i.e. ~Rs.4000 for two

Transport and entry fee for all other attractions – 0
Travel Resources I recommend
Hope you found this 3-day Paris itinerary and travel tips useful. We would love to hear your thoughts in the comment section. Be sure to share with your friends and family. If this helped you in planning your first trip to Paris, please come back and write us a note on the contact box. If you like what you read, subscribe to our blog for weekly newsletters. 
Disclaimer: The page contains a few affiliate links. It means we are eligible for a small commission if you purchase through these links, without any additional costs to you. You will get all the discounts and offers through these links that you would get otherwise. All pictures and written content are my own unless otherwise mentioned specifically. Please do not use any of these elsewhere without my consent. It will attract legal action.
All content and photographs are my own unless otherwise mentioned. Please don't use them without my permission.