Henry's Island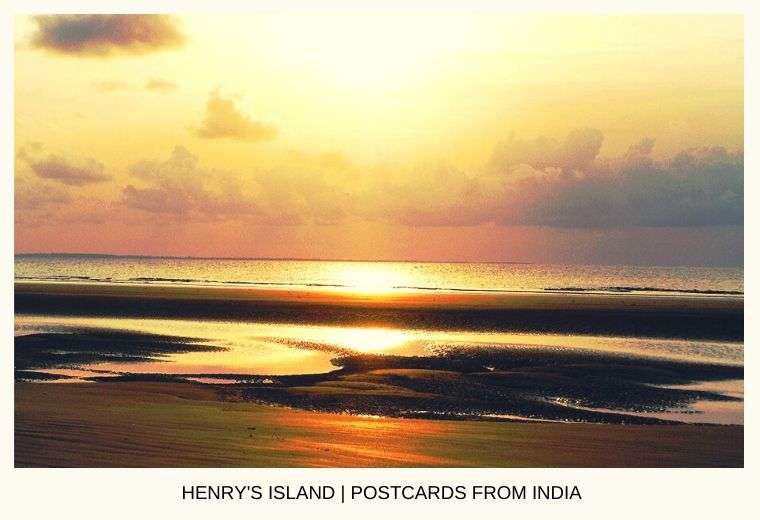 Hello! Hope you are enjoying the postcards from India? Will you believe me that there's a serene white sand beach waiting for you just  about 3-4 hours from the busy city of Kolkata? Well, it's not Digha or Mandarmani that I am talking about. It's me, Henry's Island. I am one of the numerous isles in the world's largest basin – the Sundarbans delta. If you call me the poor man's Andaman, I wouldn't mind. Because I am certainly cheaper, more accessible, yet offbeat destination in India. For a long time I was off-the-tourist radar even for locals in Kolkata. Now I am quite popular among the young travel-savvy crowd of Kolkata, but not beyond that.
I was discovered by a British Surveyor named Henry. That solves the puzzle of my Anglican name. Here in my abode you will see the Bay of Bengal, a mesh of rivulets flowing into it and dense mangrove forests. With my unique ecosystem, the large diversity of flora and fauna I soon became a topic of interest for ecologists. In 1980s, Benfish, the Government fisheries department of West Bengal took over me. They turned me into a successful eco-tourism project. Here, let me tell you what you can do when you visit me.
Enjoy the forest walks
Take your camera and get ready to shoot the beauty of the Mangrove forests. You will get some beautiful natural frames here, accompanied by beautiful birds.
Climb the watch-tower
The watch-tower here will give you the most stunning panoramic views of the forests and the beaches.
Stroll on the beaches
Ofcourse the best thing to do here is to do nothing in the beaches. Just sit and marvel at the impeccable beauty of the sea. You can take a stroll and walk towards the rivers. There are like thousands of red crabs that you can find here.
Visit the Benfish Fishery
Do you know I have 164 water bodies? Right here, Benfish cultivates all kinds of pisces that are popular in a Bengali food platter.
Visit the Frasergunj Windmills
Frasergunj is named after British lord Fraser who used to live there. You will enjoy the serene rural landscape in this historic place.
Stay overnight in Bakkhali
After a fulling trip here, you can go to Bakkhali beach nearby. Bakkhali is just 4km away from Henery's Island, and the nearest spot in the mainland. You can stay overnight at one of the many hotels and resorts there like Hotel Dibney. You can also stay in one of the properties maintained by Benfish. Next day you can explore other beautiful places in Bakkhali. Oh, there is one more elusive island 8km from Bakkhali. It's called Jambudweep and it is crowded with flamingoes in winter. I can't visit her, but you can.
Hope you enjoyed this quick little virtual tour of my land? You can find many interesting videos about me on Youtube. I hope to meet you soon after the lock-down is over. Till then, stay home, stay safe and save the post for later. Also, don't forget to share my postcard with your dear ones.
Blogger's notes: This is a part of the series "Postcards from India" where I am showcasing some off-beat gems of India every day as a part of the Blogchatter A2Z Blogging Challenge. The pictures used here are from Wikimedia commons. The pin image of Mangrove forests is by Pinku Haldar and the postcard image is by Moutushi Dasgupta. Thanks to my friend Arpita for telling me about this hidden gem.