How to plan a Europe trip on a budget!
Here comes a post about the question I am asked time and again by friends and family – how to plan a Europe trip from India (without overshooting your earned leaves or your budget)? We did a lot of research, on some hundred sites/blogs for hotels, trips, and itinerary while planning our first Euro trip. I want this article (and the Part2 with more
budget hacks for Euro Trip
since it was getting too long) to serve as a one-stop DIY guide for backpacking in Europe. But before that a quick background-story as usual. I'm sure a lot of you will relate to this, especially if you are from India.
Taking up a low-travel desk job and not settling abroad was a conscious decision that my husband and I took so that we could live close to our parents. However, I'd be lying if I say that I never envied the friends working abroad posting #wanderlust photos of Grand Canyon and Niagara falls every other week while we couldn't even make time for Goa. We travel a lot on weekends but the Europe trip was our first real vacation together, outside India. It was also the first 2-week-long paid leave we both took not to visit our parents in Kolkata but to go and see the world.
We planned our Euro-trip for almost a year and finally came up with a fully packed 15-day itinerary covering 6 cities with a complete estimate of what the middle-class me was most worried about – Budget! Here's an account of our planning a European vacation for the first time.
Step1 – WHEN AND WHERE TO GO IN EUROPE
The two most important questions to answer in any vacation planning- when and where? Europe is great at any time of the year, but for working couples and families there are many factors to consider.
When to visit Europe?
Since both of us work, and are fairly frequent at switching jobs, getting leaves at a common time is crucial.
Another important factor for tropical people who are used to mufflers and monkey caps at 15 degrees, is the weather.
The third factor is, of course, the availability and price of flights. Each of these factors conflicts with each other. For most of us working in multi-national companies, December is the easiest time to get vacations sanctioned but we don't want to risk bronchitis on our long-planned holiday; again summer would be perfect, but it is also the peak season with airfares soaring high.
Winters in Europe is cheaper and less crowded, but you need to be prepared for the sub-zero temperatures. As first-timers, we thought to play it safe and visit in spring.
I include affiliate links for the tours, hotels and products I recommend. This means if you make any purchase through the links in the post, I may get a commission without any additional cost to you. While I strive to help you make the most of your trips, this income helps support the expenses for running this site.
Where to visit in Europe? Draft a 15-day itinerary of Western Europe
Drafting a 15-day Europe trip itinerary is the most important and challenging part. Western Europe is beautiful but expensive, while central and Eastern are cheaper but slightly arguably less accessible (fewer flights). Now that we had decided on the season, the choice of one place was simple – Amsterdam, the land of tulips (and canals among other things). We booked a round-trip flight from Bangalore to Amsterdam for Rs. 38000 (€477) per person on a Friday night through a MakeMyTrip offer – a great deal in the season I'd say.
FYI: Now we have daily flights from Bangalore to Amsterdam on Jet Airways
Always book air tickets well in advance and make sure you compare several sites on Aviasales
The second question is "where else?". The answer to this question depends on the first question we answered – When? It also depends on your budget, your travel intent (slow travel, backpacking, tourist-ing, or a mix of both) and the number of places you want to visit.
Covering like 10 cities in 15 days can be a tempting idea, but it's silly. It just makes the tour more expensive and gives you no time to explore anything properly. Now when you have just 15 days there are two ways to go about planning- get your bucket list and tick the top places you always wanted to see, or just choose the one indispensable place and then find the places that can be covered in succession from there. Going by the second method this is what we planned :
Amsterdam –> Antwerp–>De Haan –>Paris–> Barcelona –> Madrid
Other awesome Europe itinerary ideas
Well, that was my dream trip so I would call it the best plan in the world😉, but here are some other ideas for Europe itinerary planner for you.
If you want (or dare) to visit in the colder months of October to March, you would not want to miss the sighting of Northern lights, in which case you should include Norway or Iceland in your plan although they are quite expensive.
If you go by the cost of living, the cities we selected are just below the creamy layer of Nordic countries and Switzerland (which is another itinerary if you are willing to splurge – an all Scandinavian trip, or just insert Switzerland somewhere in your itinerary).
If you are on a slightly tighter budget than ours (Rs.3 lakhs for two), I'd suggest replacing some of the cities above with Vienna (Austria), Prague or Salzburg (Czech Republic), Warsaw (Poland), Budapest (Hungary).
Quick fact- Budapest also hosts a beautiful Tulip festival in Spring, a cheaper alternative to Keukenhof.
STEP 2- HOW LONG IN EACH CITY IN EUROPE?
Based on the points of interest and weather forecast, we decided to keep seven days for Spain- the joyous country in the Iberian peninsula known for great food and warm weather. We stayed three days in Amsterdam, one day at Antwerp, one day at De Haan, three days in Paris, four days in Barcelona and three days in Madrid from where we returned to Bangalore via Amsterdam.
The choice of 1 day each at Antwerp and De Haan may surprise many. Most of you may have heard of the world's diamond capital Antwerp but may have never heard of this place called De Haan in Belgium. We decided to stay 1 night at Antwerp because it would be on our way to Bruges and the arrival time at the stop would be ideal. Hence the slightly off-beat stopover at Antwerp, a historically significant city where we did a self-guided walking tour. The next stop was supposed to be Bruges – Europe's cultural capital as it is known to be; but how we ended up spending a night at the countryside of De Haan instead, is a story better saved for another day.
Pin it!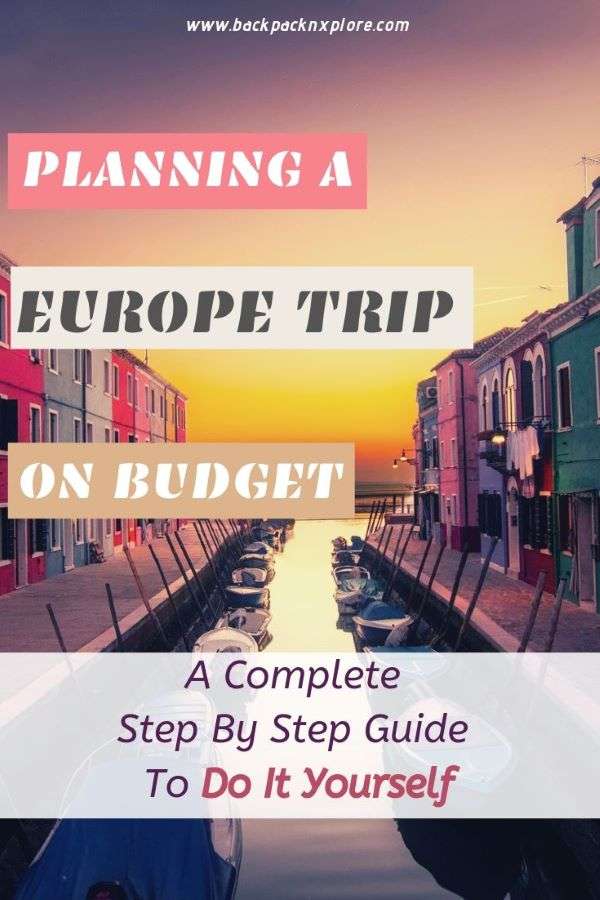 STEP 3 – ACCOMMODATION IN EUROPE
Hotels versus Hostels versus Airbnb
This is where you are just spoiled for choices- there is a large number of youth hostels, hotels, Airbnb homes, hotels, and resorts everywhere in Europe- you just need to choose based on your priorities. Most budget travelers like us go for hostels located in the city center, which are affordable, has good living conditions and are usually located within walking distance from the most important places. However, in most top-rated hostels in the city center, the single rooms are pretty expensive, more than some budget hotels, so people usually go for dorms. Common dorms are a great option for budget stays but have a few inherent cons that you should be aware of-
lack of privacy and peaceful sleep, with people going out or coming into the room throughout the day (and night);

accessibility of common restrooms
If you are a seasoned solo traveler, these are nothing compared to the joy of meeting people and making new friends on the go, but if you are not used to it, you may consider a budget hotel. We researched online on all the well-known travel sites and found that a budget IBIS hotel costs around Rs. 5000- Rs.6000 (€60-€75)per night including breakfast in peak season, which is the same as any standard dorm arrangement would cost the two of us.
Browse hostels around the world on Hostelworld.com. For friends traveling in groups Airbnb is a great option to explore apart from the hostels, but for couples or family, budget hotels come at the same price with more convenience.
Few important tips about booking accommodation in Europe
Do your due diligence while booking hotels. Compare prices on Booking.com and also check on individual hotel websites for better information. We have tried several aggregator sites like Trivago but have always found the best prices on Booking.com followed by MakeMyTrip.com. For Indian hotels or hotels in Asia, Agoda is a great website to check prices.

Hotels near the airport are cheap but avoid them since these are mostly far away from the city center and the transport to and from the hotel is often not covered under the travel cards
Except for Antwerp, we stayed in IBIS hotels in all other cities – IBIS budget and IBIS style. My review of their hotel rooms, hospitality and breakfast are pretty good for all- the budget rooms are very minimalist but are 100/100 in terms of maintenance and cleanliness.
STEP 4   – GETTING VISA TO EUROPE
I found the visa process for Europe fairly simple and hassle-free. You can get your visas from any embassy of any country in Europe, provided the country is included in your itinerary. We got our visa from the French Embassy in Bangalore with no assistance at all. Just go to the website, fill in the form carefully, book an appointment, have your documents ready and appear at the office on time for verification! If you make any mistake in the form, you will not be able to edit it once confirmed and will have to fill in a new form all over again. No money is deducted for refilling, but just a small hiccup in the process.
On weekdays if you don't book a priority slot with extra money, you'd need to take a leave, because, from the crowd that I saw, it would easily take 4-5 hours. We booked a slot on Saturday morning (after we returned from the weekday slot) and the entire process took 30-40 minutes. We got the visa within five days.
Travel insurance is a must for getting Schenzen Visa. We got ours using the Policybazaar website.
 STEP 5 –TRAVEL & SIGHTSEEING
Travel cards as tools for saving in Europe trip
Travel-cards and city-passes are great tools to save both time and money in the expensive west European cities. Since most of the hotels we booked were away from the crowded tourist destinations. It was important to save on the frequent intra-city transportation we had to take. We booked the Iamsterdam card, the Paris Pass, and the Barcelona card online after much research and price comparison. For Madrid, we bought a transport card from the railway station. It gave us free access to the public transport network in Madrid.
Commuting within European cities
No matter how good public transport is, you can't avoid walking if you really want to explore the city. In fact, walking is actually fun in the European weather, on the clean cobbled streets, the picturesque bridges of Antwerp and DeHaan where we stayed for one night each, we just explored the entire place on foot.
We loved riding the open hooded hop-on-hop-off bus for a guided tour of the city and all places of interest at Paris and Barcelona. We got one day tour on Hop-on-hop-off for free with the Paris pass. In Barcelona, we bought it at a discounted price for two days using our Barcelona card. Personally, I love these audio guided tours of the city on open-hooded bus or cruises. It feels like literally walking into the world of a NatGeo documentary of the place.
In Amsterdam, I'd recommend the hop-on-hop-off canal cruises instead because the canals are such an integral part of the city. We took a 1-hour audio-guided canal cruise at Amsterdam which had the same experience, except the flexibility to hop off and hop on whenever you want to 😃
The other popular way to explore cities is by taking paid or free guided walking tours, wherein the end of the trip you might be expected to pay a tip. We mostly could guide ourselves through all the major cities with the help of maps except on a day-trip to Toledo, for which we booked a package with bus-transfer + walking tour. It was amazing and I'm glad that we booked that😊
If you love cycling Europe is the place to be. All the cities we visited had special lanes for cyclists, including the small coastal town of DeHaan. You can rent bikes (that's what they call bicycles) at low cost and explore the cities and countryside of Europe. I am not sure if the same is true for Eastern Europe, so if you have visited any of those countries, please educate me in the comments section. I just wish, we had such cycle lanes in Indian cities, and we could see more of those "bikes" than the motorbikes here.
How to plan transport between European cities
For transport between cities, we used a combination of all possible means based on budget, timing, and place of departure. This includes the following-
Flix bus

Eurorail train

Economy flights
We booked the Flix bus from Amsterdam to Antwerp, and from Bruges station to Paris. This private bus transport network is amazing in terms of comfortable seating, large leg space, timeliness, and speed. We flew from Paris to Barcelona on economy flight Air France. You can call it the French Indigo 😜 except that they offered one complimentary soft drink. If you have time and love to see the countryside you can take the Euro rail pass, but using flight we saved at least six hours. We got our first class Euro rail experience when we traveled from Barcelona to Madrid.
Plan and book intercity transport in advance, online. It will save you your precious time and the stress of booking last minute tickets at the kiosk. If lucky, it can save you a lot of money as well. We got our first-class ticket at a price lower than the normal second class 😁

FINAL STAGE – PACKING FOR YOUR EUROPE TRIP
No matter what season you choose to go to Europe carry some warm clothes and a rain-jacket or umbrella. Pack those shorts and florals for great photos, but always carry a jacket wherever you go. If you plan to stay in just one or two cities, you can get a big rucksack. However, if you want to travel to multiple places, I'd recommend a trolley suitcase and a small backpack.
Carry only the bare essentials like a water-bottle, a scarf, a jacket and your passports in a small backpack every day. The roads were great, so we never had a problem dragging along the trolleys from one city to another. Rucksacks would have caused severe back-pain given the long distances we had to walk during these transfers.
Packing Checklist for Europe Trip – the must-haves
Well, you have bought all the tickets online, booked hotels and created a rough itinerary now. The only thing left now in planning your Europe trip is packing! Don't forget to pin this list and check it all off before you leave. You can find all of these in any European city, but it would cost more.
Europe universal travel adapter which must be compatible with EU (read product description) for charging. This is a MUST!
 Make sure you have at least a 64 GB Memory card to bring back all the pictures your family demands to see 😀
Raincoat/umbrella/hooded windcheater 
Light woolens, thermals, stockings, and scarf for the cold
A good Moisturizer or cold cream to combat the dry weather
Comfortable walking shoes. This one is non-negotiable as the best way to explore European cities is on foot. Our top recommendation is Nike Air Zoom range – Pegasus 33,34 or 35. You can check our simple guide on how to select the best travel shoes in India. Some of these tips are universal.

A sim-card with sufficient internet for GPS on the go. All hotels and hostels, even major stations and city centers have free wifi. However, when traveling on your own, using public transport in foreign countries, it is imprudent to depend entirely on WiFi.

Melinda listed some great apps that can be your best friend during Euro-trip. But you definitely need that sim-card with internet for accessing all that.
The weather in April-May is very erratic with alternating sunny and overcast days, with the wind being a constant companion. While the sunshine is most welcome you must be prepared with a sunscreen lotion to not return home charred. Europeans have a great dressing sense, so even the fashion unconscious girl like me wanted to look a tad-bit fashionable. 
ALMOST THERE – CASH vs CARD
We exchanged €600 for cash before we left for the vacation. Do get sufficient cash through online booking, instead of waiting till the airport. The cash card usually has a lower exchange rate but we were afraid of its acceptance. We rarely used credit cards on our trip, but when we did, the interchange fee was higher than the cash exchange rate.
The all-inclusive cost of this 15-day western Europe trip was little over Rs.3 lakhs for two, which is Rs.1.5 lakhs (€1850) per person. Apart from all basic stuff like flights hotels and sightseeing it also includes special experiences. These are the Tulip festival in Amsterdam, Barcelona Football Club stadium and a Flamenco show. The ticket Barcelona Football Club stadium was the most expensive of all special experiences. You can do this trip at a cheaper cost if you follow the tips in this article. Read what we did on our Europe trip for a more detailed cost-benefit analysis so you can make an informed decision on what you want to do and where you want to cut your expenses.
So here's my Europe travel planning story – was it any helpful? Anything I missed or could have done better? What was your travel story? If you have any questions, or suggestions for improving the blog please write in the comment section. I hope that this helps you plan a budget European tour with ease and serves as a solid Euro-trip guide.

In the next part, we discuss free tips on how to make the best use of your travel card. You will also find a detailed review of the hotel's transport options and a food guide. Bookmark it for your Europe Trip.