Nathu La Pass
Hello! I am Nathu La. I am located in East Sikkim and I'm an offshoot of the historic silk road. Right now, the winter chills have passed and the blanket of snow has disappeared, almost. I usually see many tourists from all over India during this time. But it's unusually empty now. I was wondering why, when I heard the soldiers talk about this COVID lockdown. Oh, don't worry, I am all caught up with the situation now. I feel a bit low though.
Throughout winter, the roads to me were frequently closed for tourists due to heavy snowfall. Now as the rhododendrons started to glisten under the sun, I was keen to hear the sound of awe and the gleeful laughter. But it's awfully silent for this time of the year except the chirping of birds. The Yaks seem to be happy. They are roaming around freely grazing on the meadows. I don't think they miss carrying the tourists and goods around. Or do they? Can't say for sure, they are not talkers. So in this lazy afternoon as I don't have anything to do, I just thought of writing a letter to you.
In my language, "Nathu" means "listening ears" and La means "Pass". My story started very long ago. Roughly around 2nd Century BC when China and India had this booming Silk trade. The Chinese kings raised this gigantic Wall of China to protect their trade routes. I was a part of this ancient trade route, known as the Silk Road. The road connecting the east to the west , more than 2200 years ago.
I was just a small part of the road that connected China, India, Japan on the east to Europe and Central Asia on the west.  China became the world's leading exporter even then. Silk was to China what Spice was to the Indian subcontinent. But these were not the only things that were exchanged. Scientific ideas, religions, philosophies and even technologies like paper and gunpowder frequently moved through the Road. I have been there, seen it all unfold. Even diseases, pandemics like plague moved through me this way.
Throughout my history spanning thousands of years I have been closed and opened more times than I can count. Trade leads to money, money leads to envy, greed and all those nasty things that culminates in war. During friendly times between neighboring countries I am the trade route, on other times I am the passage for traitors that need to be sealed. I was sealed for nearly 4 decades when China suppressed the Tibetian uprising in 1959. I witnessed the bloody Indo-China war of 1962 and exodus of several Buddhists from their home in Tibet, seeking refuge in India.
In 2003 I was opened for trade and tourism once again. Items like wool, raw silk, etc. are imported from China duty-free while may items like tea, coffee, rice etc. are exported from India. I am now one of the three trading border posts between India and China. Across the barbed wire you can see the Chinese check-post on the other side. Of course there are restrictions that the Border Personels have put in place to ensure your safety. Here are the top sites that you can see amidst the lap of nature in and around me when you come here.
1. Staircase to Nathu La
Once you park the car at the end of the motorable road before Indo-China border, you will see the wide, steep flight of stairs. Climb them and you will stand at the Indo-China border, overlooking the breathtaking Chumbi valley of Tibet.
2. Watershed War Memorial
The watershed war memorial at Sherathang stands tall at 13000 ft above sea level. It was constructed to commemorate the sacrifice and achievement of soldiers of the Indian Army in the 1967 battle of Watershed.
3. Baba Harbhajan Singh Mandir
Baba Harbhajan Singh is called the Hero of Nathu La. I remember this brave young lad who guarded the borders during Sino-Indian skirmishes. He died so young in the snow-covered valley. The Indian army constructed a temple in his memory at Nathu La. Earlier tourists would go there, but now that is prohibited. They have constructed a new temple at a lower altitude near Tsongmo Lake. That is where you can go and pay your regards. It's not an exquisite temple, rather a very simple building. But the altitude and the lofty mountains around with the tricolor flying high, is what lends an unique charm to it. There is a Shiva Temple also which you can trek to from here.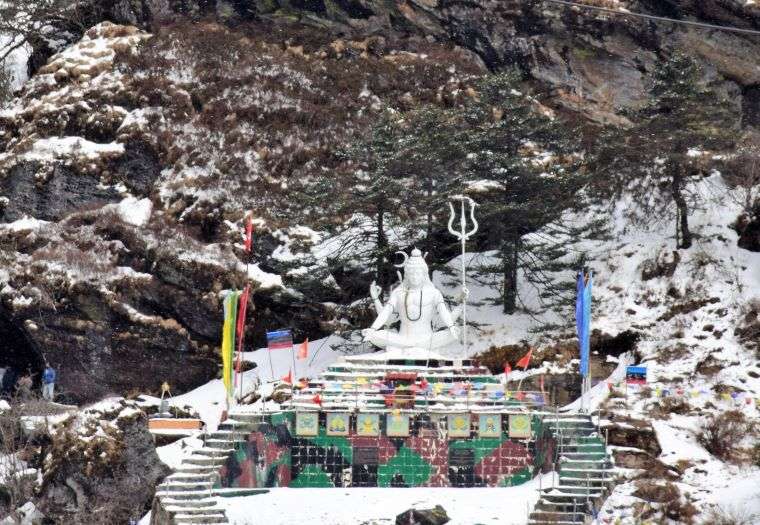 4. Chhangu Lake
Also called Tsongmo Lake, this is a glacial lake sparkling at an elevation of 12312 feet. This is one of the most popular tourist attraction in East Sikkim. The lake remains frozen in the winter. Right now in April the snow has melted giving away the crystal clear water of the lake that reflects the glorious azure sky. Colorful rhododendrons surrounding the lake makes it enchanting.
Closing thoughts
The closest important city near me is Gangtok, the capital of Sikkim. You can stay at any hotel in Gangtok which is only 55 km away and hire a cab from there. What you must remember is that you need permits to visit Chhangu, Baba Mandir and me. Because of high altitude, you might feel the lack of oxygen here. Permits are not issued to children below 5 years of age, because of the low oxygen levels at this altitude. But for everyone else, unless you have serious medical conditions, I am completely safe. When the lockdown ends and air of gloom clears, will you come meet me in the abode of clouds? I will be waiting.
Blogger's Notes:
This post is a part of the series "Postcards from India", written for A2Z Blogging Challenge by Blogchatter for April 2020. I am writing about offbeat destinations in India, which you can visit once the lockdown is over. All pictures in the post are mine unless otherwise mentioned. The information above is true as per my knowledge as of April 2020. Please forgive historic inaccuracies if any. The source of the picture used in the postcard and pinnable image is mentioned in the caption.
Well, here are a few more things I did staying at home during lockdown.