Reykjavik itinerary – discover the best of Reykjavik in 3 days
In our second guest post of the series "City itineraries", let's welcome Stephanie who shares a perfect Reykjavik itinerary for first-timers. This 3 day Reykjavik itinerary gives you the best of the city and the surrounding areas. You get waterfalls and hot springs, gorgeous hikes and lava rocks, and a whole lot of epic scenery. Over to Stephanie who will show you how to get the best of Reykjavik in 3 days.
The post contains affiliate links. This means if you make any purchase through the links in the post, I may get a commission without any additional cost to you. This income helps me to keep the site up and kicking.
Reykjavik is the capital of Iceland, a country that is blessed with incredible natural wonders. During our week long tour of the country, I felt like we walked around with our jaws on the floor. Iceland has volcanoes, glaciers, waterfalls galore, black sand beaches, hot springs, whale watching, puffins, reindeer, basalt columns, and honestly, just some of the most otherworldly scenery I have ever had the privilege of experiencing.
There is a lot to do strung out along the Ring Road of Iceland (the road that does a circle around the country), but fortunately, there is also a lot that is in or very close to Reykjavik. If you have 3 days and want to stay in Reykjavik, you can get a sampling of almost everything Iceland has to offer.
This three day Reykjavik itinerary will take you to sights around the city, to waterfalls, hot springs, geysers, craters, and even to a fissure in tectonic plates. There's a lot to see and do!
Getting Around
This itinerary will keep you within 1-2 hours around Reykjavik. While you can walk within the city, you will need a car to get around Iceland, outside of the city. Fortunately, driving is extremely easy and the roads are very well-maintained.
If you don't want to drive you can easily book day trips on Get your guide.
Reykjavik Itinerary – Day 1
Blue Lagoon
As you arrive in Iceland and are heading into Reykjavik, your first stop is at the Blue Lagoon spa. Iceland is full of natural and man-made hot springs, and this man-made one is luxurious and stunning. Lava rocks line the perimeter of the expansive hot springs and the water is a gorgeous milky blue color. The coloring comes from the high silica content in the water!
From the Blue Lagoon, head into Reykjavik.
You can book online to avail a hassle-free transfer to the Blue Lagoon from Reykjavík.
Hallgrímskirkja
Hallgrímskirkja – Photo by Stephanie
Your first stop will be at the Hallgrímskirkja. This massive cathedral is constructed to look like the basalt columns found around Iceland, which gives it a very distinctive look. You can tour the inside for free, or pay to go up in the towers for a view over the city.
Skólavörðustígur Street
After you've explored the church, head down Skólavörðustígur Street. A little ways down, it turns into a rainbow road! You will actually find rainbow color schemes commonly in Iceland as they naturally get a ton of rainbows due to their numerous waterfalls and low-angle sun.
Other places of interest in Reykjavik
Other places to see in Reykjavik include the Harpa Concert Hall, with its interesting colored glass exterior – again, designed to imitate Iceland's basalt landscape.
Laugevagur Road is a fun road to explore, with many interesting shops, cafes, and restaurants, and with murals (some of them interactive) on the road itself! Definitely keep your eyes open for the street art around Reykjavik!
Reykjavik Harbor
Finish out the day with a whale watching tour in the Reykjavik harbor. Iceland is one of the top whale watching locations in Europe, and you can see many varieties of whales around the country – from Reykjavik, you will most commonly see humpback and minke whales!
Book a whale watching experience here.
Reykjavik Itinerary – Day 2:
On day 2 we venture outside of Reykjavik city center!
Gullfoss
First stop is Gullfoss, a powerful, cascading waterfall about 1.5 hours from Reykjavik. The waterfall tumbles over several ledges before falling into a deep chasm.
The falls are just a short walk from the parking lot, with an upper and lower viewpoint. I recommend going to both, but definitely don't miss getting up close and personal with the waterfall at the lower viewpoint.
Geysir
Next, head to Geysir. This area is full of bubbling hot pots and explosive geysers. You can spend as little as 30 minutes here, or as long as several hours, walking deeper into the geyser field. Strokkur is a geyser that erupts very regularly, every 5-7 minutes, and is a short walk from the entrance. The geyser erupts quite suddenly and explosively, so be prepared!
Reykjadalur Thermal River
After Geysir, head over to the Reykjadalur Thermal River. While hot springs are common in Iceland, normally they appear in a pool, not in a river! After an hour hike into the hills, you will come to a river with steam rising from the surface and a boardwalk that goes along the banks of the river. Here you can soak away any strain from the hike and your day of sightseeing in the hot water. The boardwalk extends for quite a ways, so there is a lot of space to spread out, but the hottest water is the farthest back!
This is such a great place to experience. The hike itself takes you across streams, by sulfur pots, and along the ridges of canyons and valleys with waterfalls large and small streaming down the cliff walls. The scenery is gorgeous and the experience of soaking in a thermal river is surreal! Plan for 3-4 hours for this adventure.
Total driving time today is about 3 hours.
Reykjavik Itinerary – Day 3
Day three takes you again outside of Reykjavik, into some of the most unique spots in the world!
Thingvellir
First up, Thingvellir. Thingvellir National Park is an easy 30 minutes outside of Reykjavik, and it encompasses some crazy cool spots and some beautiful scenery.
The Almannagja gorge marks the divide between the North American tectonic plate and the Eurasian tectonic plate. The gorge itself is more of a crack in the earth, which you can easily straddle!
If you're up for an even more adventurous activity, you can snorkel or scuba in the Silfra fissure. This fissure, or large crack, was created between the two tectonic plates by an earthquake, and is now filled with water. It is some of the clearest water on earth and the only place on earth you can swim between tectonic plates. Super cool.
After experiencing the tectonic plates, consider one of Thingvellir National Park's hikes. The Oxarafoss trail is relatively easy, 2.5 miles round trip, and takes you to the Oxarafoss waterfall.
Hruni Hot Pot
After finishing at Thingvellir National Park, make the hour long drive to the Hruni Hot Pot, an adorable trio of hot pools set in the rolling hills of Iceland. It's a short 3 minute walk from the parking lot to the springs. The main, and largest, pool is lined with rocks, and there is a cute little sod-thatched hut to change in.
It's an adorable little hot spring and the surroundings are very peaceful.
Kerid crater
Your final stop in your 3 day Iceland itinerary is at the Kerid crater. This crater holds a circular body of water in the center of the crater. The colors here are stunning – the iron-rich red soil contrasts with the green vegetation and the blue water! You can walk around the rim or even descend closer to the water.
Total driving time today is 3 hours.
If you don't want to drive you can book a golden circle tour for this day. You can also club the Blue lagoon along with golden circle tour on day 2 using this 11-hour top-rated tour. You can combine this with glacier snowmobile adventure in winter.
Things to Know about Visiting Reykjavik
Iceland is one of the safest countries in the world – you can feel safe and secure wherever you may be traveling here.
Icelanders are incredibly friendly and welcoming! Everyone we met spoke excellent English and were very happy to speak English to us.
I highly recommend bringing a microfiber towel with you for use in the Hruni hot pot and the thermal river. These towels pack down very small, and super absorbent, and dry fast – perfect for doing some hot springs hopping in Iceland.
Most things in Iceland are very expensive – including food and gas. Plan for gas to cost around $8/gallon and for restaurant food to be extremely expensive (for context, we paid about $25 for one bowl of lamb stew).
However, almost all attractions in Iceland are free of charge!
Where to Stay in Reykjavik
I recommend the Fosshótel Rauðará hotel. It is very centrally located in downtown Reykjavik and offers free parking and Wi-Fi.
Browse other hotels in Reykjavik.
What to Eat in Reykjavik
Iceland has some very distinctive types of food to eat.
First off, Iceland is famous for their hot dogs, which are made mostly with lamb. You can buy hot dogs in any gas station (which are actually quite nice and a common meal destination for Icelandic families), but the most famous and best ones are from a little, unassuming stand in the heart of Reykjavik: Baejarins Beztu Pylsur stand.
Besides the lamb in the hot dogs, the toppings are also pretty unique. A hot dog with all the fixings will have mustard and remoulade (similar to mayo, but thinner), and two types of onions: crispy and fresh. All the toppings go in the bun, and then the hot dog sits on top. You can't miss it!
Another big player in Icelandic cuisine is lamb stew, sometimes just called meat stew. Tender chunks of lamb are mixed with carrots, onions, and other vegetables in a brothy soup. It was delicious!
If you're feeling adventurous, you will definitely need to try fermented shark. It's a truly disgusting dish, but is also such a classic, old school Icelandic dish that will give you some serious bragging rights. When you order shark, you get a very small portion with a few small chunks of shark on a toothpick. The smell of it is terrible – like harsh chemicals. The taste is fishy and chewy. Definitely chase the bite down with bread! We tried shark at Café Loki, getting it and a side of delicious rye bread for about $7.
Finally, I recommend stopping in a grocery store to try some Icelandic yogurt (Skyr yogurt), some Icelandic chocolate (chocolate licorice is a big deal and we recommend the Sirius brand – really good!), and some Icelandic pastries (our favorite was far and away was Serbokud Vínarbrauð, a flaky, custard filled pastry).
Definitely stop by Braud's Bakery in Reykjavik for some delicious and fancy Icelandic pastries.
I hope you liked the virtual tour of Iceland's incredible capital just as much as I did. Thanks to Stephanie for sharing her knowledge and experience of the city with us. Please share this and save the post for planning your next trip to Europe. You can always check out our Europe trip planning resources here. If you want more such practical guides and travel tips, subscribe to our monthly newsletter.
Pin it!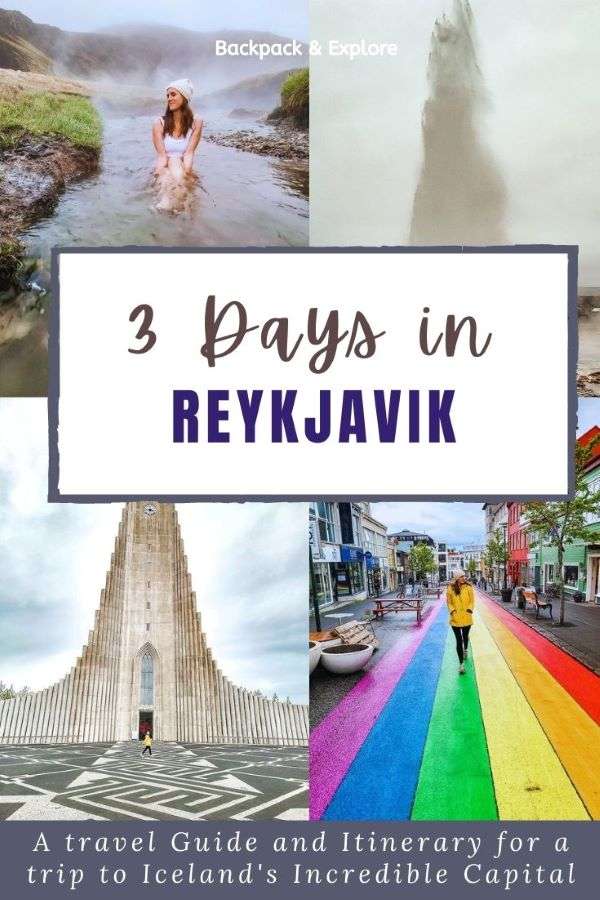 Want to share a city itinerary? Fill in the template or send me an email at backpacknxplore@gmail.com. Non-bloggers also stand a chance to win exciting goodies when published.
Connect with me on Instagram, Twitter and Facebook.
Guest writer in her own words
I'm Stephanie, and I'm based out of Alabama, USA. I run the blog The Unknown Enthusiast – I'm an enthusiast for trying new and unknown things! I love a mixture of family and couples travel, and while I adore a good city destination, there's also nothing like being in nature. My blog focuses on budget travel, but I'll always spend more on interesting experiences. I'll talk about credit cards and travel hacking all day any day!
Connect with Stephanie on Instagram, Pinterest and Facebook,