Spectacular Swaraj Dweep Summons
Hello! I am Swaraj Dweep. You may know me by my previous name, Havelock Islands. That is if you know me at all. Most foreign tourists come to India to see the architectural marvels of the golden triangle. Some then go on to explore the hippie life in Himachal while some go for a luxury vacation in Rajasthan. When you think of beaches you flock to north Goa, or maybe Kerala. But you are missing out on the real pristine beauty of the sea if you do not visit the great Indian archipelago – Andaman Islands. I am one of the few in this cluster islands which are actually open for tourism. In fact, I am the most popular one among those who consider taking a trip to the Andamans. Today I'll tell you why.
A Brief History
of Swaraj Dweep
For centuries I was unknown to the rest of the world, like the entire cluster of Andamans. In the 18th century, a British voyager John Ritchie sailed to the east of the Indian ocean and discovered the Andaman Islands. The cluster of islands he discovered was named Ritchie's Archipelago to honor him. I am the largest island in Ritchie's archipelago. I have been home to some of the oldest tribes in the whole world. Many of them lived here for thousands of years miraculously untouched by modern civilization. But now I am home to them as well as many people who came here from mainland India. Only recently the Prime Minister named me Swaraj Dweep in honor of the great freedom fighter Netaji Subhash Chandra Bose.
When you come here by a boat from Port Blair you will be mesmerized by nature around. No matter where you come from, I can totally assure you of this. The beaches here are known for white sand, coral reef, and crystal clear waters. People love going for adventures like Scuba diving, sea walking, snorkeling, and glass-boat riding here. The coral reefs underwater look like a dream. But there is more to me than just the beaches. I have dense forests with trees that are hundreds of years old. Let me tell you about the most beautiful places to visit.
Radhanagar Beach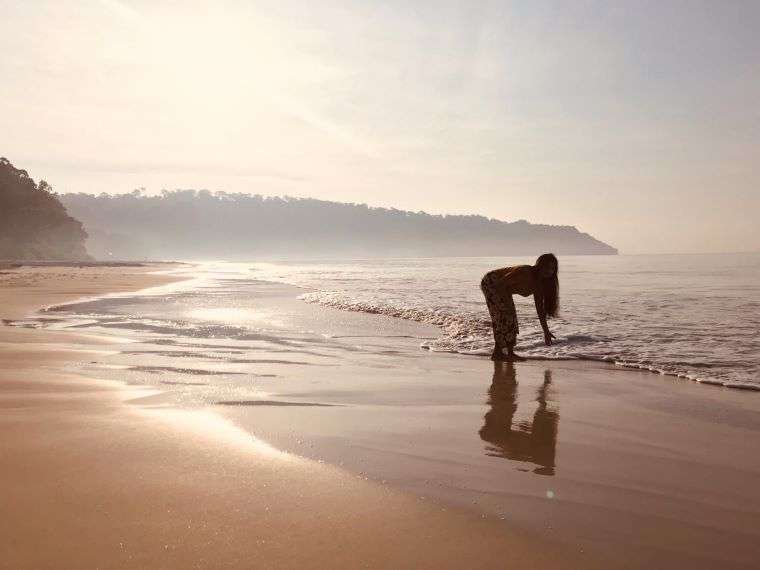 If there is only one thing you could do here, then just head to Radhanagar Beach. It's famous, and you will find a lot of tourists here. But just leave the beach park and keep walking. Suddenly the crowds disappear and it's just you and the unadulterated nature around you. The beach changes from velvety white sand to corals gradually. At one point in time, you won't see any sand at all. You will be walking on a beach of gorgeous colorful corals. Sunset at Radhanagar beach is a dream.
Neil's Cove
Just adjacent to the beach is a stretch of dense forests. At the end of the forest is the small bay called Neil's cove. Adventure-lovers came to this place to bathe and snorkel in the calm waters. But snorkeling is prohibited now due to some salt-water crocodiles being spotted here.
Elephant Beach
So where does all the adventure happen? It's the elephant beach. Another stunning beach that I'm proud of. Earlier you could find a few elephants here, but not anymore. Did you know elephants are great swimmers too? The beach is lined with beautiful trees and shops, eateries, and changing rooms. Here you can go for paragliding, jet boat riding, and all underwater sports under expert guidance.
Kalapathar Beach
The beach gets its name from the black rocks adorning the coastline here. Sit here and lose yourself to the charm of the emerald sea on one side and tropical forests on the other.
There are many other beautiful beaches here. All you need to do is hire a bicycle or get a tuk-tuk to go around.
I am not a party island if you are wondering. There are seaside resorts where you can throw parties though. Come here to disconnect from the digital world and experience the true beauty of nature. Save the post so that you remember to visit me when all this is over.
Yours truly,
Swaraj Dweep
Blogger's Notes:
This is an introduction to the pristine natural beauty of Havelock Island. This post is a part of the series "Postcards from India", written for the A2Z Blogging Challenge by Blogchatter for April 2020. I am writing about offbeat destinations in India, which you can visit once the lockdown is over.