Printing Memories – Travel Highlights of 2019
It's the 21st of December 2019. I woke up on a lazy Saturday morning to a parcel delivered at my home. I honestly couldn't remember what it was I ordered when my husband asked.  Not until I saw the box. I had just ordered a photo book of our travel memories of 2019 a couple of days ago. And here it was in my hand – a small book of joyous moments. What better way to begin a Saturday morning than with a gift to myself, ourselves?
2019 was a year of road trips for us. We didn't go for any vacations except to our hometown first for my sister's wedding and later for Durga Puja. It was also the year for a maximum number of family trips – trip with my parents, trip with extended family, trip with my in-laws. Unfortunately this year I also realized the frustration of losing carefully curated digital photo albums in a flash moment because of a damaged hard drive. I couldn't recover those pictures and had to scan through my google backup for preserving some of those memories. So as I was looking back at the year's travel highlights, I decided to print my favorite memories into a photobook. In this post, I will share my favorite travel memories of 2019 and explore why tangible photo books are a great idea in this age of digital media. I hope it inspires some of your travel plans in the coming year.
Day trip to Avalabetta and Gudibande Fort
This was a long-awaited trip that involved two treks on the same day. What made it special was the company of my sister and her then-fiance on the road. Avalabetta is a hillock 90 km away from Bangalore which is famous for a hanging cliff, aka the "beak rock". Gudibande fort is a 17th-century structure that dominates the skyline of Gudibande town, 10 km away from Avalabetta. So a trip to both Avalabetta and Gudibande Fort in one day was a natural choice and we loved it.
Trip to Thekkady- our first experience of traveling with a toddler
I read so many mommy bloggers but it's not easy to realize how different it is to travel with a kid unless you put on those shoes. No, we don't have a kid, but we decided to go on a long drive with our friends and their lovely toddler. When I think of Thekkady, the land of forests, Periyar Lake, and green vistas, all I can think of are the antiques of the 1-year-old.
How he got everyone to dance on his whim without saying a word, how he tried to imitate the adults and socialize with uninterested strangers in the river cruise.
Trip to the Backwaters of Kerala
Our next memory is a crazy one in March. We decided to drive to Alleppey on a Saturday and return on Sunday! That meant driving over 1200km in a span of 2 days. Not ideal for sure, but we didn't have an option. We had just taken leave for my sister's wedding and were longing for a trip to the backwaters of Kerala for a long time.
A conversation during car-pooling on travel plans over the weekend made us whimsically book the hotel without much thought about feasibility. You can read more about the heavenly experience of sailing in the backwaters of Vembanad Lake after a sleepless night and a long drive here.
Big Family trip to Chikmagalur
I had already visited Chikmagalur so the destination indeed was not so exciting for me. What made it unique was the experience of staying in an Airbnb far off the city, inside a coffee estate. Chikmagalur- the land of coffee as it is popularly called is a beautiful hill station in Karnataka perfect for a family trip.
Exploring my own city with my parents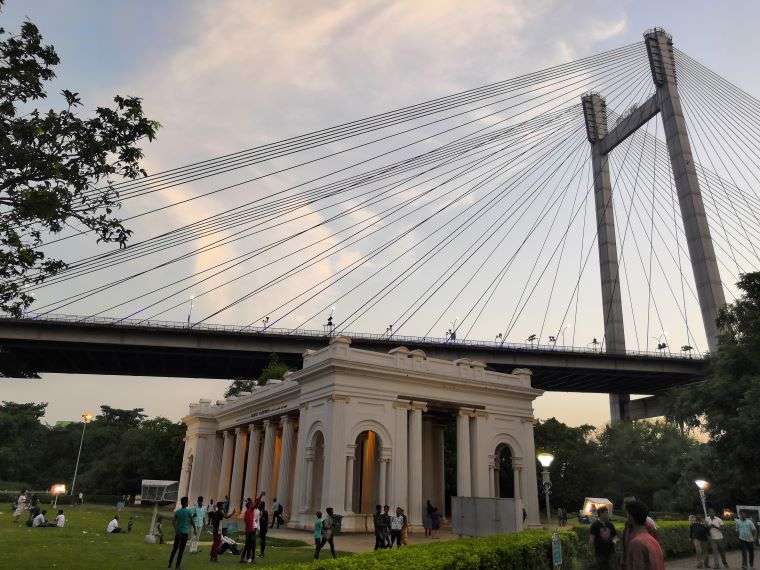 The highlight of the year was exploring my hometown, Kolkata with my parents. It was an emotional experience, reliving golden days of my childhood while discovering the city of joy in a new way. Boat-ride in the Ganges watching a sunset, touring Tagore's house and enjoying the amazing Ecopark – it was indeed a joyride.
Another whimsical trip to Kodaikanal in summer
Kodaikanal is rightly called the queen of hills in Tamil Nadu. We booked a hotel just a couple of days before the trip and packed our bags to escape the rising mercury of Bangalore over the weekend. Besides the picturesque hills, forests and flower gardens what really stood out was our stay at the La Poshe Resort. The eco-resort located at a high altitude makes a perfect case for luxury without a fan or AC in the room.
Monsoon Road trip to Agumbe and Udupi
In 2 days we drove through the rainforests famous for exotic reptiles, enjoyed the beaches, fisherman villages as well as the beauty of the hills and rivers. We started as early as 4 am on a rainy night and watched the most spectacular scenes unfold during the course of our trip. The lush green forests, the picture-perfect tea gardens, the ducks quacking all over the lake looking for food, the wind almost blowing us away literally at Kundadri hill-top. On our way to Udupi, we experienced the raw beauty of nature during monsoon, while on our way back the rains had subsided offering us pleasant scenes of the verdant valleys of Sakleshpur. This trip from Bangalore alone can give you a flavor of the natural and architectural diversity of Karnataka.
Check out the Best Indian destinations to visit in monsoon.
Pondicherry – the little piece of Paris in India
Our next trip of the year was to celebrate my promotion at job. We decided to revisit the French Colony of Pondicherry, this time not to see places of interest but to explore the French vibes of the sea-front.
Trip to Mahabalipuram – the land of seven Pagodas
We clubbed the trip to Pondicherry with a day trip to Mahabalipuram, a UNESCO World Heritage site. The ancient stone sculptures and monuments of the Pallava dynasty is indeed a treasure of South India. I took the opportunity to dress up and pose like an "Instagram Influencer". I'll remember this trip as a lesson that not everyone can do everything. Wearing a gorgeous outfit on a hot summer day in the most humid part of the earth is not my cup of tea. Never mind, it gave me a nice picture to feature on my photobook.
A Trip to Pamban Island
This was out third trip of the year to Tamil Nadu. Rameshwaram, also known as Pamban Island is a well-known yet offbeat beach destination in India. It is an important Hindu pilgrimage site as it is believed to be the place where Lord Ram planned his battle with Raavan who had abducted Ram's wife Sita.
This is however not as famous among casual travelers as it should be. The clean beaches, the glorious sea, and the iconic 100-year-old Sea link miraculously escaped the tourist radar of India. I'm not complaining though. I loved exploring the unexplored beaches, photo-shooting peacocks in the most unexpected places and watching the sunset at Pamban flyover.
Read : The Best Places to visit in Tamil Nadu
Dhanushkodi – the ghost town of India
Revisiting Wayanad – our last trip of the year
Our last trip of the year so far happens to be on our 4th wedding anniversary. We visited Wayanad, the first place we ever visited right after our marriage. The highlight of this trip, of course, was our detour through Gudalur on our way back to Bangalore. I recommend this route for anyone who is going on a road trip to Wayanad.
Why is printing a photobook even relevant?
A printed photo imparts a tangibility to the memories you hold so close to your heart. That's why the rise of smartphones and digital cameras couldn't diminish the appeal of printing photos at tourist spots. There's always a sense of nostalgia involved in flipping the pages of a photo book. Remember our childhood days when we would wait for the photos to arrive and put them neatly in the album? We have flipped through those albums a hundred times, but they never get old. On the other hand, I have lost so many precious pictures when I changed phones, simply because I thought they are so easy to obtain. That's why I decided to pick the best travel moments of my year and print them in a photobook.
Thanks to Zoomin for making the process so ridiculously easy. Not just photobooks, with Zoomin you can easily print individual photos which you can later put inside a frame or an album, customized photo calendars, framed photos and more. I loved how I had the option to import photos from Instagram, Facebook or Google Photos, or upload photos of my choice from my computer. There's such a huge variety of customizable photo gifts that I am simply spoilt for choices. So if you are yet to decide on gifts this festive season or the wedding season in India, check out the great range of photo products here. I was surprised to receive my order in just 2 days, so that's another reason why I loved this site.
So this was my travel story of 2019. What are your favorite trips in 2019? What do you think about printing your travel photos? Share with me in the comment section. Don't forget to share the post to inspire people to make time for travel. I wish you a Merry Christmas and a Happy New Year in advance!
Disclaimer: I'm thankful to Zoomin for sending me this photobook for free. But my recommendation is completely based on my personal experience.