Hotel Review : Vedic Village Resort and Spa – an escape from the mundane
I include affiliate links for the tours, hotels and products I recommend. This means if you make any purchase through the links in the post, I may get a commission without any additional cost to you. While I strive to help you make the most of your trips, this income helps support the expenses for running this site.
It all started on a Friday morning. I sat with my cousin to plan something for the weekend. But the resorts near Kolkata were full for the weekend. Only one of them were left that is the Vedic Village Resorts & Spa. I was a little apprehensive about it as to why would only this resort be available for the weekend. Thankfully enough I was in for a pleasant surprise.
So, this was a trip with my enthusiastic young cousin in his twenties, my aunt who is in her fifties, my reluctant septuagenarian father who didnt want to spend one night away from home and my infant of 11 months. It turned out to be one of the best affordable resort experiences in India for every age-group.
Enter Vedic Village
A hidden gem in the cradle of nature, the Vedic Village Spa Resort is a perfect getaway from the hustle of Kolkata city. Located in old Rajarhat, about 20minutes drive from the Kolkata international airport this luxury resort blends in perfectly with the distinctiveness of the surroundings. It combines unrivalled interior luxury with outstanding outdoor recreation and the raw beauty of rural West Bengal. A quaint retreat with 150 acres of lush, fertile farmland, lakes, coconut trees, and a floral diversity, it is a haven for migratory birds, butterflies and squirrels.
[button href="https://www.booking.com/hotel/in/vedic-village-spa-resort.en-gb.html?aid=1664015;" style="emboss" size="medium" color="#1e73be" textcolor="#ffffff" texthovercolor="#eeee22″ target="_blank"]Check availability for booking[/button]
A Photo Story
The entrance to the resort is through some narrow roads in rural areas of Rajarhat. And the theme of the resort merges beautifully with the surroundings. The resort truly combines the natural beauty with the modern luxury.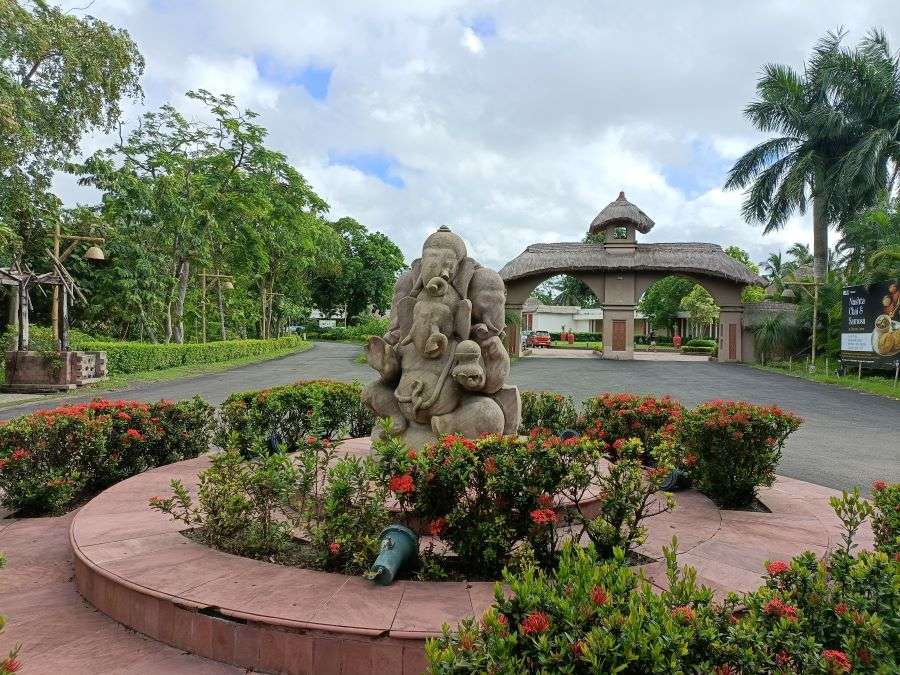 There are four types of accommodation that you can book in the resort.
One is standard bedrooms with garden-view in the resort.
The second are the Earth Villas which are independent cottages with garden view. T
The third type are the Lake Villas which are beautiful mud houses overlooking the artificial lake.
And the fourth are private 3-bhk , 4bhk and 5-bhk apartments in the area which you can book for large groups. These are called "Aqua-villa" and they have private kitchen, garden-area and roof-top swimming pool.
[button href="https://www.booking.com/hotel/in/vedic-village-spa-resort.en-gb.html?aid=1664015;" style="emboss" size="medium" color="#1e73be" textcolor="#ffffff" texthovercolor="#eeee22″ target="_blank"]Check availability for booking[/button]
After check-in we took some time to freshen up in our rooms and then headed out for an evening walk. The road was wet due to light showers but not muddy. The sky just started to clear up across the lush green gardens and farms. You can also hire electric vehicles to explore the area, but we decided to go for a leisurely walk in the fine weather. Here are some pictures from our evening stroll.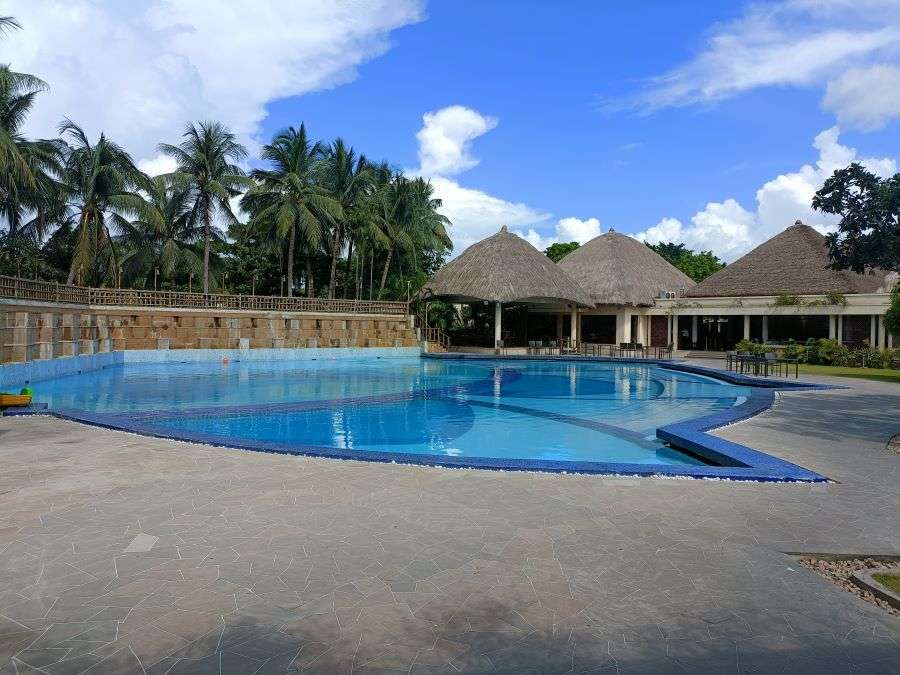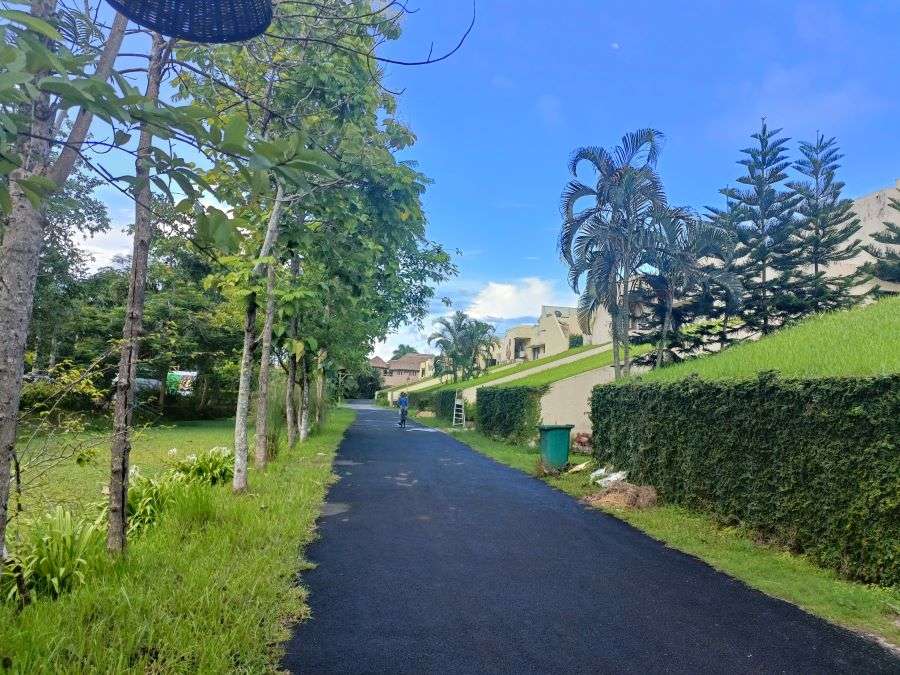 [button href="https://www.booking.com/hotel/in/vedic-village-spa-resort.en-gb.html?aid=1664015;" style="emboss" size="medium" color="#1e73be" textcolor="#ffffff" texthovercolor="#eeee22″ target="_blank"]Check availability[/button]
After walking around the aqua -bungalows and earth-villas, we headed to Bhoomi for some snacks.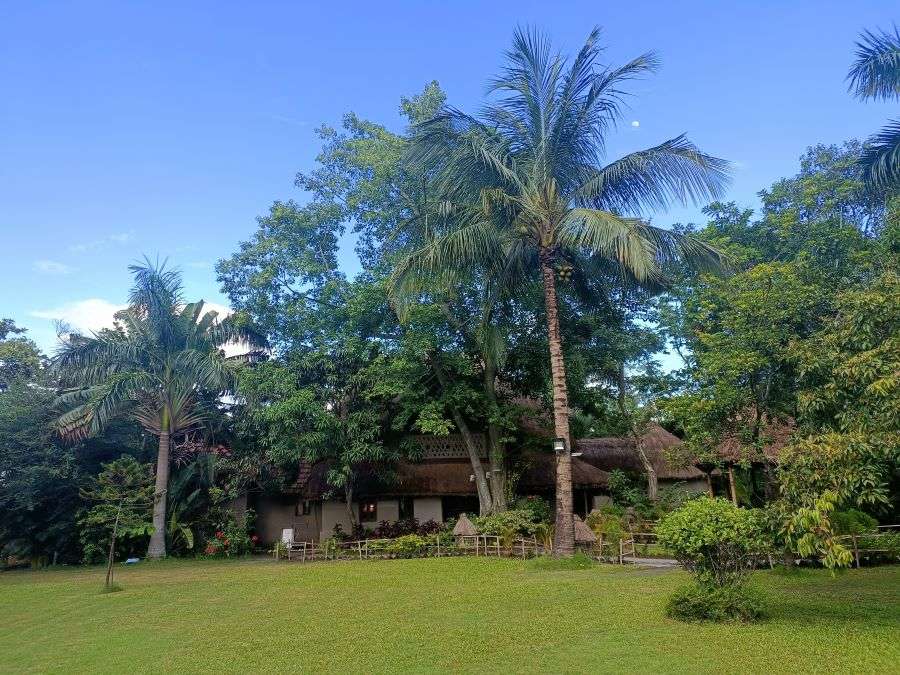 Although it's mostly an outdoor eating area there is a small mud-house with thatched roof for indoor eating. The elegantly lit indoor setting looked beautiful but it was closed at 4:30 pm. The chai snacks were supposed to be available then outside, but it was not ready. The fixed close timings and flexible open timings is a problem typical with Kolkata's businesses. I however didn't expect it to be the case in such a professionally managed private property.
Post that we had a fun-time in the pool and the recreation room. The recreation room has a library, a table-tennis court, a carrom board, and a chess board. But the highlight for me was the amazing Montessori playroom.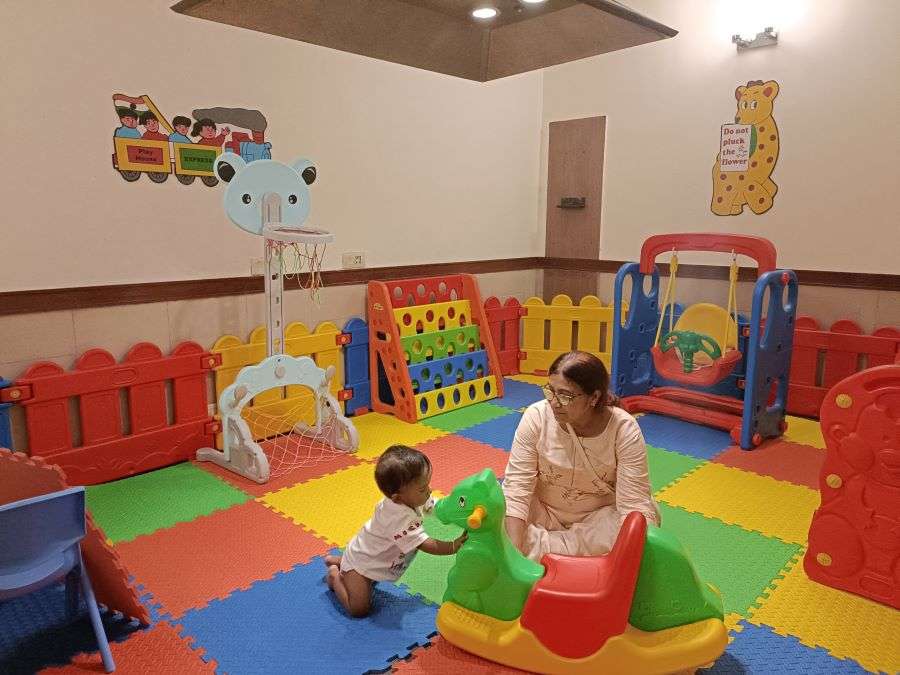 And after that was the second round of walk, this time in the mostly gorgeous view of nature in the lake area. I look forward to staying in one of these lake villas next time.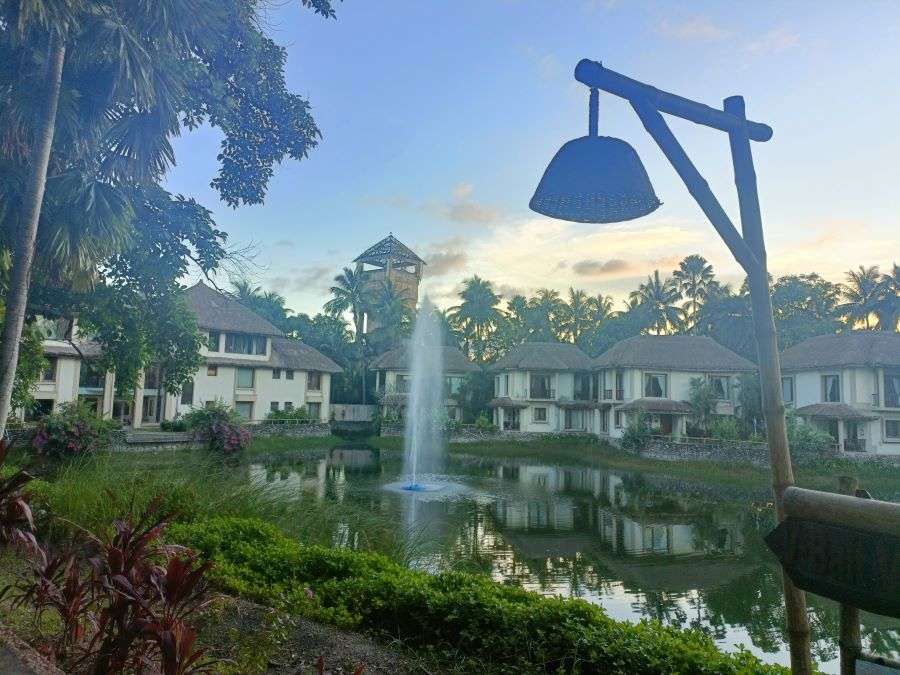 Kids-friendly property
Most of this huge property is wheel-chair friendly, which means it's also easy to walk around with babies on their prams. I saw many families with infants and toddlers in this resort. The gorgeous pool and the lovely playroom make it perfect for a family outing.
Food at Vedic Village
Food at the Vedic village is served at three specialised places – Bhoomi, Agni and Sheetal.
Bhoomi is mostly an outdoor seating arrangement which offers tea and snacks during the morning and evening. During the afternoon you get the Maharaja Thali – a complete 5-course Bengali meal served in a thali. At Bhoomi you should also visit the pretty little nursery for herbs and flowering plants.
Sheetal is for buffet breakfast and dinner. Agni is for ala-carte and liquor. Besides these you can also get room service from both these restaurants.
Food at Vedic village is expensive but absolutely amazing. Most of the ingredients are sourced from organic farms within the property.
After a long walk we headed to Bhoomi for snacks.
We therefore decided to have coffee and sandwich for evening snacks at the lounge-area.
After snacks we had some fun-time at the pool and recreation room, followed by a walk along the lake-side.
Morning Vibes at Vedic Village
It's a delight to wake up to the sound of birds and walk amidst the trees and blossoming gardens of Vedic village. A long walk in the property is what the doctor recommends for a long healthy life.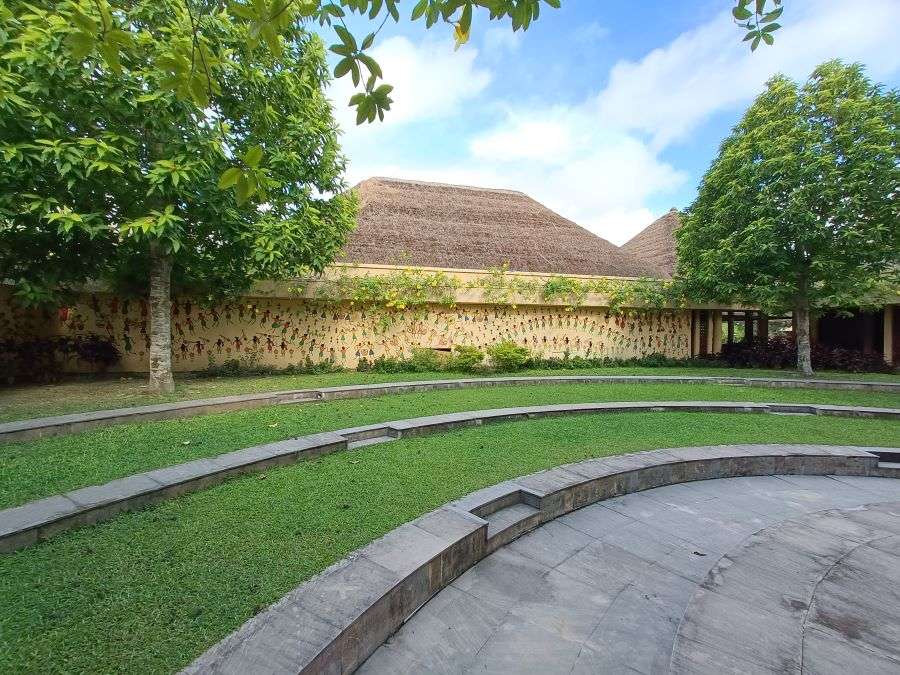 Finally we decided to have some excellent tea and luchi-torkari for breakfast at the Bhoomi. I must say the food was aamzing there and cheapest compared to the rest of the property.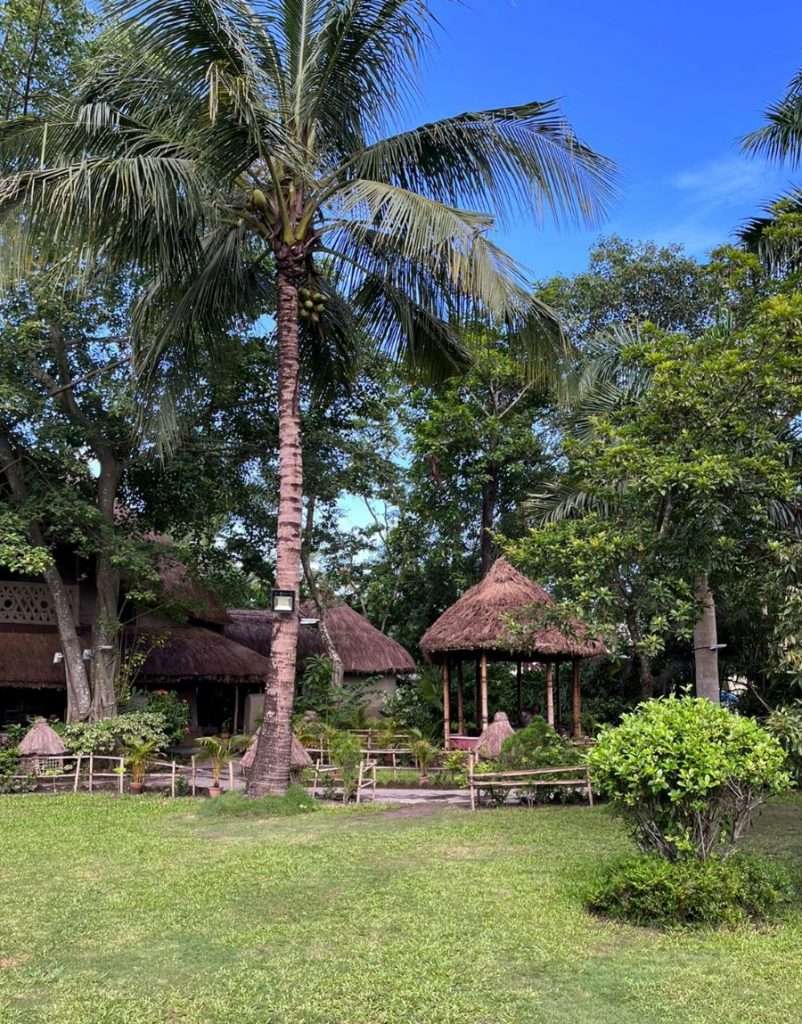 Final Review
Summing up my entire experience into a list of pros and cons, so that you can decide if you're planning the next weekend getaway here.
Pros:
Large variety of accommodation- options
Competitive pricing of hotel rooms
Raw nature, greenery fresh air and a huge property to explore
Child-friendly and old-age friendly
Delicious food
Lots of amenties- party halls, DJ, Pools, indoor games, adventure sports etc.
Cons:
With so much greenery comes mosquitoes
Food is over-expensive
No other restaurants, medical stores etc nearby within 3-km radius
Hiring cabs back home was difficult, not an issue if you bring your personal car
Weak Wifi connectivity
I'd rate this resort 4 on 5, and strongly recommend it for family staycation.
Well, that was my post today. My stay was not fully or partially sponsored, and this is not a paid review. However, I use affiliate links to pay for the hosting services for this blog and my effort. So, if you make any purchase through these links, a big thanks to you.
Are you planning a trip to Kolkata? Don't forget to check out the perfect itinerary.
Also read my post for a complete guide to celebrating Durga Puja in Kolkata.
Let's stay connected on Facebook, Instagram, and Twitter. You can also subscribe to get notified by email when a new post comes in.