Penang itinerary – Explore the best of Penang in 2 days
In the third post of our recent guest series, I welcome Shireen to share a perfect 2-day Penang itinerary. Let's join Shireen as she takes us on a virtual tour of the Malaysian city known for its rich culture, art and lip-smacking food.
In the North West of Malaysia lies a small island called Penang that forms part of the namesake state. Why is it that the most beautiful and relaxing places are found in the corners of places? It could be the mix of ocean, nature and isolation that make these places so special and Penang is exactly that. Special.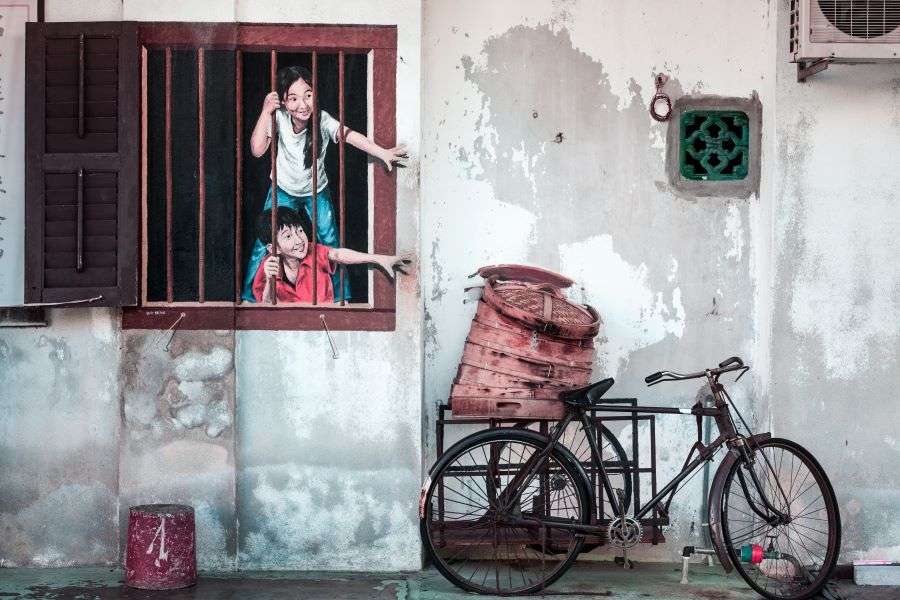 I planned to visit Penang for two days as part of my Malaysia travels and ended up staying a whole week because I fell in love with the multiculturalism, the lifestyle and the food! I can't wait to return one day.
Penang in 2 Days Itinerary
Penang is a relatively small island and while you could spend a week or more getting to the corners of this Malaysian treat (like me), you can see the very best of the island in just 2 days. Read on for the best way to explore all that Penang has to offer in this 48 hours in Penang itinerary.
Food is a huge part of any Penang trip and this 2 day Penang itinerary includes recommendations for Malay food, Chinese food and Indian food that are all part of the mixed cuisine in Penang!
Day 1: Georgetown Street Art, Jetty Clans, and Little India.
Day 2: Penang Hill, Museums, Georgetown Nightlife.
Tips for Visiting Penang
Here are some tips for visiting Penang especially if it's your first time.
I felt very safe in Penang but as with anywhere, stay vigilant and alert for scammers.
Bicycles are one of the easiest and best ways to get around Penang. Make sure you find a good deal to rent one for your Penang 2 day trip.
Penang is a popular destination so pre-book your accommodation to ensure you are not stranded.
Malaysia is a humid country so pack with the heat in mind (including mosquito spray)!
Most street names begin with Jalan or Lebuh meaning road and street respectively.
Penang is a great gateway to neighboring Langkawi island.
Two Days in Penang Itinerary- Day 1
The first day of your Penang trip includes exploring popular areas of the island to sample the culture, history and diversity that makes Penang so unique.
Morning Breakfast
The food and drink in Penang is the outstanding diamond of the island because of the diversity, unique dishes and flavors and culture that comes with the best food to try in Penang! Breakfast is where to start, check out this list for what to eat in Penang so you know what to order and what shouldn't be missed for this itinerary!
You cannot start any Penang travel trip without drinking a local brew of Teh Tarik. It's 'pulled tea' due to the way it's made, black tea, condensed milk poured in and out of cups several times to give it a great froth. Campbell Street morning market is a great spot to try Teh Tarik.
Street Art
After breakfast head to any local shop around Georgetown to find a bicycle because they will all have some sort of bike rental deal. Your first day in Penang is best explored by bike to save time but it can be done on foot if you'd prefer.
One of the best things to do in Penang is explore the world-famous street art mainly by artist Ernest Zacharevic. You will have definitely seen some of these murals on Instagram so get there to snap the pictures for yourself! The main streets to find the art include Muntri Street, Lebuh Victoria, and Lebuh Chulia.
Tip: There are usually long queues for the picture with the street art so allow time and plan your stops accordingly so you aren't going back on yourself.
Jetty Clan
For the afternoon activity, head to Clan Jetties. Here you get to see the traditional houses built on stilts in the water by early Chinese migrants in Malaysia. Clan Jetties is part of the heritage trail in Georgetown and you can visit to learn about the families, homes and livelihoods that still thrive today!
Tip: Georgetown, Penang is a UNESCO World Heritage Site!
Little India
Head to Little India afterwards to explore the Indian culture in Penang where you can find an array of colors and sounds reflective of the Indian subcontinent. There's lots of spice shops, textile stores, music and Bollywood memorabilia and of course, delicious food waiting to be had. There's many street food stalls and restaurants and all have great reputations. You can't get a bad meal in Penang!
If you try only one thing in Little India, make sure it's a curry puff. They are wonderful for the palette, experience and the bank!
Evening activities
For dinner you have to try Penang street food as Malaysian street food is some of the best in the world and Penang is the best place to try it! Malaysian street food is a blend of Malay, Chinese and Indian food due to the country's diverse people and history.
One of the best areas to visit is Chulia Street Night Hawker Stalls. It is an entire street full of vendors selling a mix of Malay, Indian and Chinese cuisine, cafes, bars, sweet stores and live entertainment.
2 Days in Penang Itinerary – Day 2
The second day of your Penang trip features a funicular railway, museums and local food and music on the streets of Georgetown.
Breakfast
Start day 2 of the Penang itinerary by visiting one of the many cafes on the island for some iced coffee, a pastry (and air-con)!
Penang Hill
One of the best day trips in Penang is visiting Penang Hill with lots of attractions to explore at the hill too. Penang Hill is a group of peaks found just 20 minutes from George Town and includes lots of wildlife like wild monkeys, flora, fauna and rainforest.
There's history to learn at this Penang tourist attraction such as British colonial rule and to get there you can ride the funicular railway. The funicular railway at Penang Hill is the only one in Malaysia with the steepest tunnel in Southeast Asia.
While there, explore the scenery, go on hikes and visit Kek Lok Si Temple, one of the biggest temples in Southeast Asia. Be sure to stay on the mapped paths and don't wind up on a scary encounter like I did.
Lunch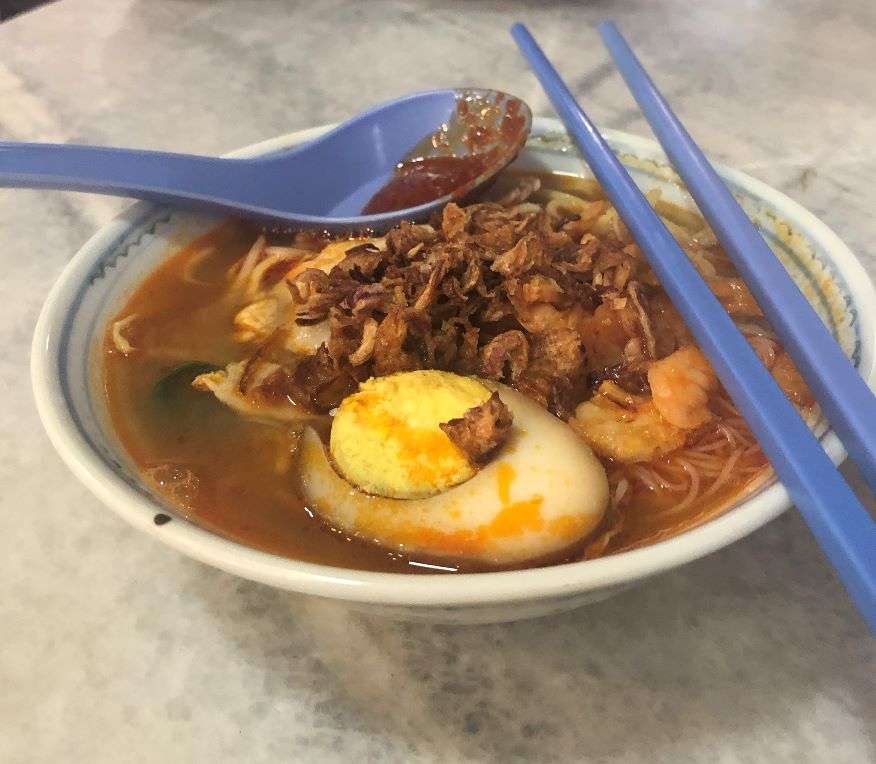 One of the most famous dishes in Malaysia is Curry Laksa also known as Assam Laksa and Penang is home to a small place that claims to be (and voted by many YouTubers as) the best place in Malaysia for Curry Laksa!
Head to Penang Road famous for Laksa to try this dish and see for yourself if it's the best.
Beaches and Museums
Afterwards, visit one or two of Penang's many museums. You can choose from the following:
The Ghost Museum for scary stories from around the world
The Upside Down Museum for eye-tricking rooms for great photo opportunities
Penang War Museum
Colonial Penang Museum
Penang House of Music
Penang Toy Museum
Wonderfood Museum Penang to learn about the region's delicious food
Alternatively, you could head to Fort Cornwallis to learn more history and see one of the last remaining forts in Malaysia.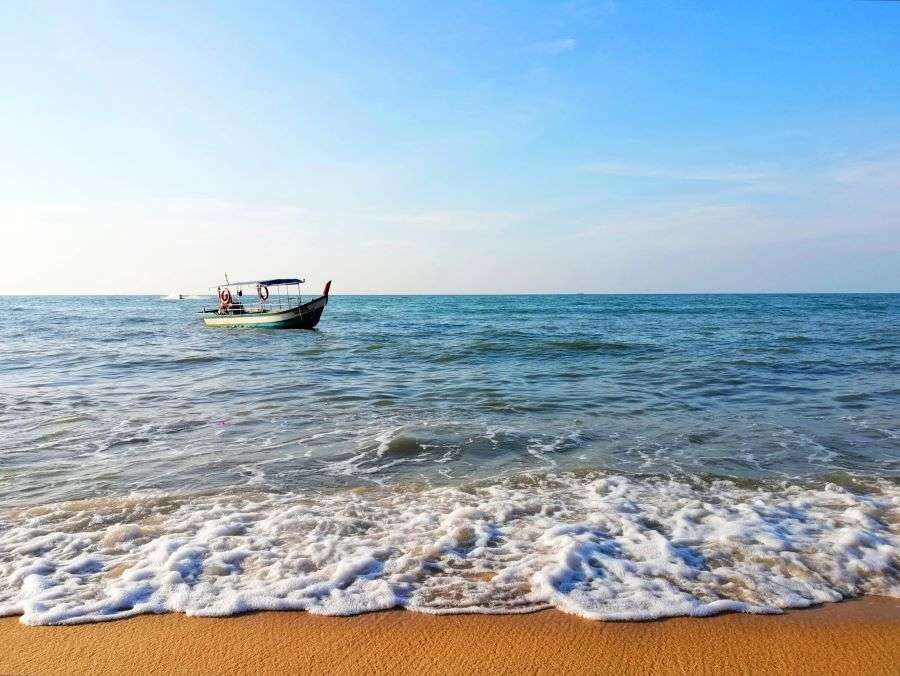 Evening Activities
Late evening head back to Chulia Street to experience the wonderful Penang nightlife again and this time find a bar such as Micasa or Wooden Tipsy on Love Lane Penang. Here you can enjoy live singers and bands or karaoke to end your 2 day Penang itinerary.
FAQs for Penang Trip
How to reach Penang?
Penang, although an Island, is connected to the mainland by road so you can drive here and it takes 4 hours from Kuala Lumpur. Bus is the easiest and most frequent option to take (I took the bus from KL to Penang and back). Penang also has Penang International Airport if you prefer to fly straight there.
Book your preferred mode of commute in Penang on here.
Where to stay in Penang?
The most convenient neighborhood to stay in Penang is George Town as it is where you'll be spending most of this itinerary and has the best spots to visit. Other attractions such as Penang Hill and the beach are not far from George Town so it's a good place to base yourself.
When to visit Penang?
I was in Penang at the end of July and early August and while this is the rainy season, I was pleasantly surprised by the dry weather we have. Take caution and if you don't want any rain, visit between December and March for dry and hottest times.
Thanks to Shireen for this wonderful introduction to Penang with this practical guide. If you liked this article and want to read more such practical travel guides, please consider subscribing to our monthly newsletters.
Save it on Pinterest for easy reference on your next trip.
Looking for more South-east Asian travel inspiration? You can also check the Bangkok guide on another guest post.
Pin It!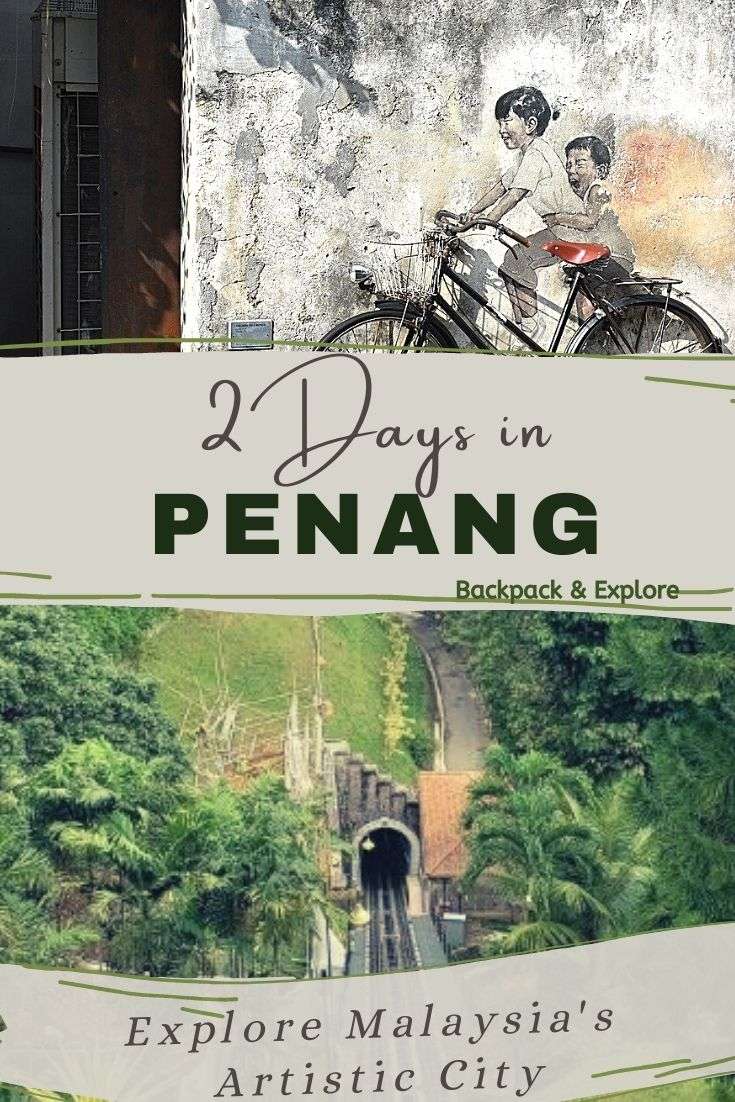 Wish to share your perfect itinerary on backpacknxplore? Fill in the formhere for city itineraries guest series.

Alternatively you can write to us on backpacknxplore@gmail.com
Author in her own words
I'm Shireen and I run the travel blog The Happy Days Travels focusing on stories, food and books on travel. My favorite things to do while travelling are tasting local cuisines, meeting locals and travelers alike and absorbing a novel in a scenic spot. I grew up near the sea so whenever I'm looking out to the ocean when travelling, I truly feel at home. Connect with Shireen on Pinterest, Instagram, Facebook, Twitter.