The Best Rameshwaram Itinerary – an offbeat Rameshwaram Trip Plan
Welcome to another detailed destination guide to one of my favorite vacation spots in India.
In this post I bring to you the perfect Rameshwaram itinerary and all the information you need for Rameshwaram trip planning.
Located in Tamil Nadu, Rameshwaram (also spelled Rameswaram) is a holy land of Hindus and is speckled with temples signifying different episodes of Ramayana.
But our 3-day Rameshwaram itinerary was more about exploring the natural beauty of the island through offbeat spots. We visited a couple of temples but skipped some crowded tourist spots.
Follow this itinerary for an offbeat trip to discover the idyllic island of Rameshwaram and its nearby places like Dhanushkodi and Mandapam.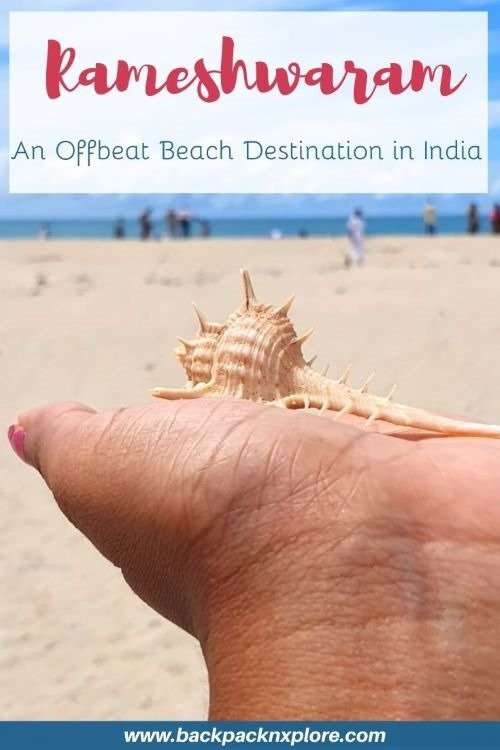 We explored in and around Rameshwaram, the nearby region Mandappam and the fabled town of Dhanushkodi in the first two days. The last day was reserved to drive back to Bangalore after the complimentary breakfast at hotel.
I include affiliate links for the tours, hotels and products I recommend. This means if you make any purchase through the links in the post, I may get a commission without any additional cost to you. While I strive to help you make the most of your trips, this income helps support the expenses for running this site.
Day 1- A Road Trip from Bangalore to Rameshwaram
Firstly, I should begin my story by saying that the road-trip from Bangalore to Rameshwaram is the smoothest drive we have ever been on.
More than 80% of the route is a multi-lane highway, with the best roads in India. We started at 4:30 am and reached Rameshwaram by 1 pm, with a pit-stop for breakfast at A2B at the Salem-Madurai Road.
We crossed the temple city of Madurai on our way. You can stop here to see the iconic Meenakshi temple of Madurai.
However, we were constrained by time and didn't want to stop anywhere else before we reached Mandapam.
We were a little afraid of the retreating monsoon in the south in November, but the clear sky made our day.
Related: Read the only Roadtrip packing checklist you need before you embark on your next.
Driving Map for Day 1 in Rameshwaram
Our trip to Rameshwaram begins from Kushi Beach in Mandappam. Here is the driving roadmap from there.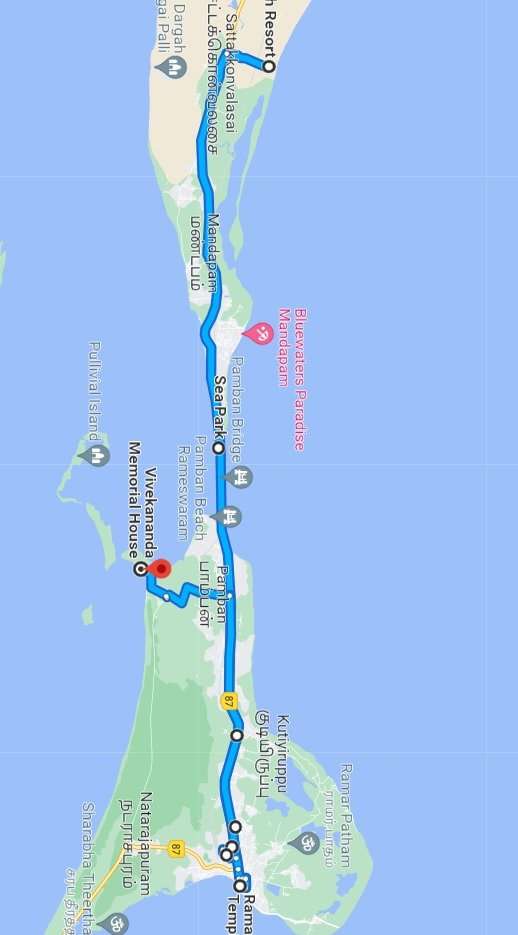 We also stopped at the Mandappam bird sanctuary on our way but I recommend skipping it in your itinerary.
From Kushi Beach, drive to the Abdul Kalam Memorial, then reach the hotel.
After some rest, drive to the famous Ramanathaswamy Temple. From there drive to Lakshman Teertha and the offbeat beaches of Rameshwaram I've mentioned in the detailed itinerary below.
But before that, you may want to download the full map by clicking on the button below if you are driving from Bangalore.
🚙 🚗 Rent a Zoomcar for self-driving all the way in Kerala🚔
If you want to use the public transport to reach Rameshwaram, refer to the FAQ section at the end of the post.
After reaching Kushi beach you can easily use the local auto-rikshaws and buses to commute.
Unlike big cities like Chennai, communication can be a challenge for foreigners in Rameshwaram. So booking a cab or tour is better. I have listed the best tours later in my post.
📲Getting simcard is difficult in India for foreign nationals. The easiest way to stay connected is with Airalo e-sim. For multi-country trips, you can buy global e-sim valid for 130 countries.🤳
Mandapam Bird Sanctuary – a let-down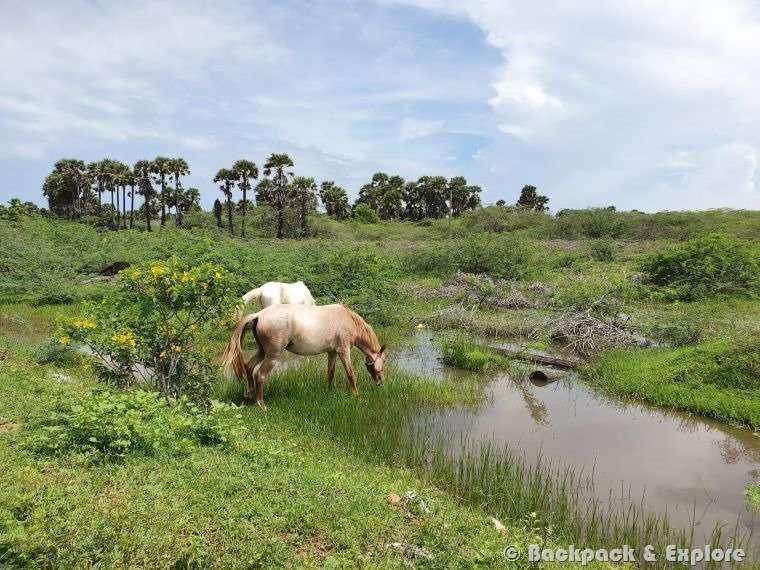 Mandapam is the gateway to Rameshwaram. It is the last area in mainland India before you cross the Pamban bridge to reach the island.
We took a small diversion to reach the bird sanctuary that we read some raving reviews on popular travel sites. It turns out to be sort of a let-down.
There weren't too many birds when we went, but we did get some interesting photo subjects here. Aren't the horses beautiful?
Aryaman Beach at Mandapam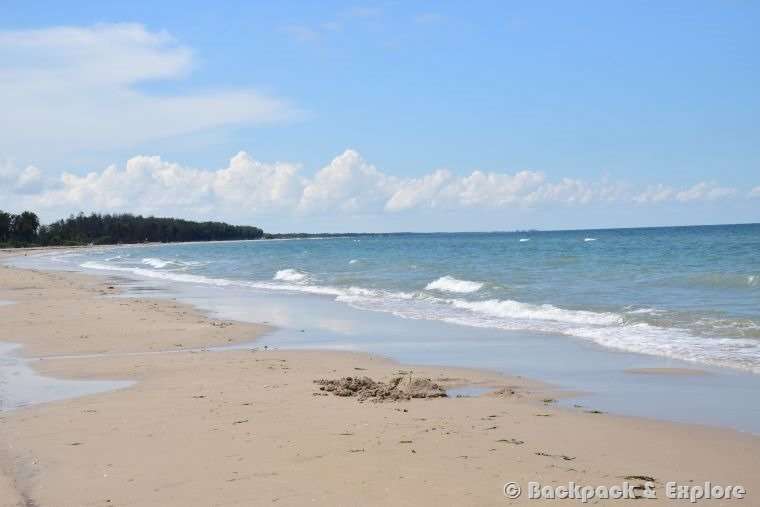 Our next stop was the Aryaman beach, also known as the Kushi beach resort. There is a nominal entry fee of Rs. 20 to this isolated beach.
The approach road to the beach is rugged but you don't need a 4-wheel drive for it. Kushi beach is one of the most spectacular beaches in India that I've been to.
Yes, the beaches of Dhanushkodi were even better, but we haven't seen them till then. So, it was indeed a pleasant surprise to be greeted by coastal woods around marsh waters that were followed by clean white sand leading to the Prussian blue sea.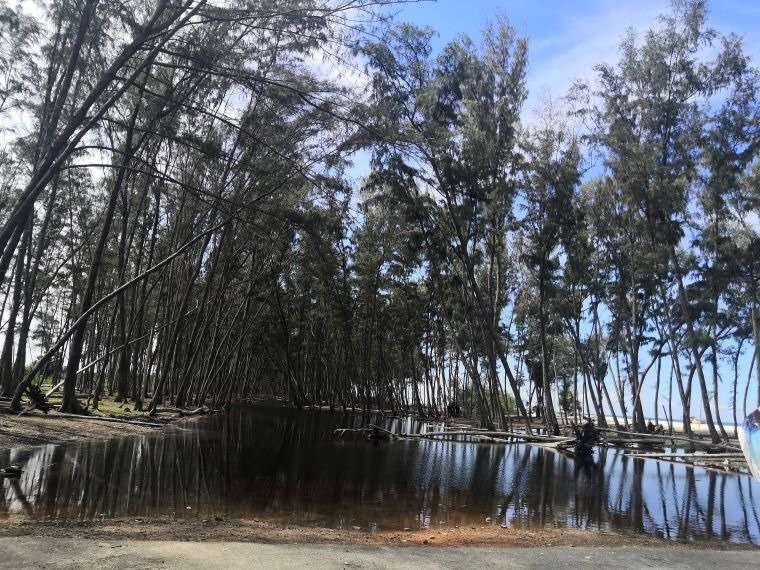 Located in the Palk Bay, this 2 km long stretch of shimmering beach is one of the best places to visit in the Rameshwaram trip.
You can go for a boat-ride at around Rs. 150 for 15 minutes. You can bargain for better rates.
There are many watersports activities that you can engage in on the beach. It's said that the water is so clean that you can actually see the fish underneath. The water was clean indeed, but we didn't find fish.
It was a refreshing stop after a long drive with little sleep at night. After this, we drive towards the flyover connecting to Pamban Island, a.k.a Rameswaram.
Pamban Bridge
Imagine looking at a train running on a bridge running across the spectacular sea and the bridge opening up to allow the ships to pass through.
That's the Pamban Bridge, the first sea bridge in India and an engineering marvel in itself.
Constructed over 100 years ago in 1913, Pamban Bridge was also the longest sea bridge in India before the Bandra-Worli Sea link came up in 2009.
I have heard and read so much about it before that there was a great chance for this to be underwhelming. The good news is it was not. Pamban Bridge was love at first sight for me.
I could stand at the flyover all day gazing at the changing colors of the sea on both sides – blue, turquoise, sea-green, orange, red, grey.
There's a bold warning that the sidewalks of Pamban Flyover are a no-parking zone and that doing so will attract an Rs.600 fine.
A warning that is conveniently ignored by everyone crossing the flyover at least once, despite it being under the traffic police surveillance.
However, at the end of the flyover, there is a marked parking zone where you can safely park your vehicle and spend as much time as you want to.
This is the most amazing photography spot in Rameshwaram.
For first-time visitors who don't know about the restrictions, the view of the Pamban Bridge from the top is irresistible, and therefore they often tend to park their car or halt for a considerably long time.
Don't do that. Not just because you can be fined but also because it can be dangerous to do so, especially with kids.
Tips to see the Pamban Bridge:
Park your car in the parking zone end of the flyover and always stay on the side-walk
Look out for the train running on the bridge, it's an amazing experience
Visit at the time of sunset for a mesmerizing view
Take a train to Rameshwaram for a unique experience of crossing the sea by train
Abdul Kalam Memorial Museum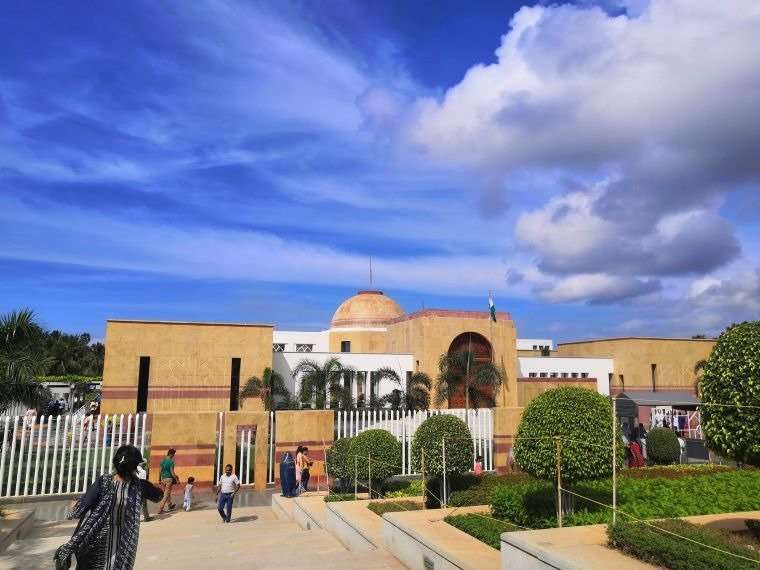 Who does not love Dr. Abdul Kalam? India's favorite president, late Abdul Kalam was born in Rameshwaram.
A simple man with the humblest beginnings went on to become the Rocket-Man of India. After an illustrious career in science, he became India's 11th President and later dedicated his life to teaching and philanthropy.
Abdul Kalam Memorial was our first stop on the island of Rameshwaram. It was constructed at the burial site of Dr. Abdul Kalam and has some of his humble possessions including his "Veena".
Veena is a musical instrument that is an integral part of Indian classical music.
You can read more about this incredible personality in this book .
The entry to the memorial is free but you are not allowed to bring any camera inside. Phones must be switched off when you are inside the building.
This is a very small museum, but it was a heart-warming experience to learn about the life and exemplary works of the great man again.
Visiting with small children? Check out this resource for planning roadtrip with babies.
Reach Hotel at Rameshwaram
By the time we reached our hotel, it was nearly 2 pm. An important thing to know while planning a trip to Rameshwaram, is that there are only a few hotels that serve non-vegetarian food.
One of them that we found on Zomato was closed all day.
Hyatt Place which is now called Residency Towers Rameshwaram is a 4-star property with a beautiful swimming pool, a modern gymnasium, a spa, and a multi-cuisine Vegetarian restaurant.
So, if you are not too keen on fish and chicken, I'll recommend Residency Towers Rameshwaram .
Hotel Ashoka and Hotel Ragavendra are the best 3-star properties for accommodation here at a cheaper rate than Hyatt.
[button href="https://www.booking.com/city/in/rameswaram.en-gb.html?sid=80dea7b4454de96f9c670ecd45189ab2&aid=1664015″ style="emboss" size="medium" color="#1e73be" target="_blank" rel= "nofollow"]Click to Browse Hotels in Rameshwaram[/button]
Drive to Sri Ramanathawamy Temple
After taking some time to freshen up we decided to go out and explore the island on our own.
I did have an itinerary chalked out which had the famous landmarks of Rameshwaram – the Ramanathaswamy Temple, Lakshman Teertha and the five-faced Hanuman temple to name a few.
Ramanathaswamy temple is one of the four Hindu pilgrimage sites ("chardham") associated with Ramayana, where people come for salvation.
The Ramanathaswamy temple is unmissable in any sightseeing tour to Rameshwaram. The temple has the longest corridor in India with 1212 ornate pillars and 22 holy springs.
The tall gopuram played hide and seek with us throughout the trip as we explored the other places in Rameshwaram.
Considering the queue before the temple and the parking lot, you will need to keep 2-hours aside for visiting Rameshwaram temple.
[box title="" align="center"]Here is the contentPro tip: You can explore a couple of other notable temples of Rameshwaram on the third day quickly before heading back to Bangalore[/box]
Olaikuda Beach Park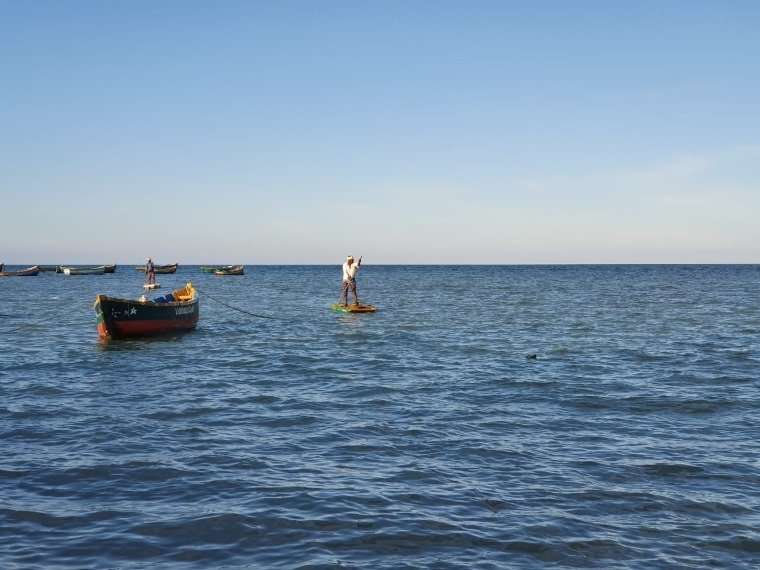 Olaikuda is a fishing village in Rameshwaram with a park for entertaining tourists. You can go for Kayaking and different types of boat ride in the lake water here.
We walked on the shore observing the fishermen and the tourists kayaking in the blue waters of the lake.
Though they are trying to make it a tourist attraction, the place is still off-the-radar as you can't find it on TripAdvisor.
Rameshwaram Lighthouse
We continued to drive aimlessly towards the land's end as seen on Google Map, and that's how we reached the lighthouse beach of Rameshwaram.
This is another fishing village, but there were no tourists here. I loved how the small park near the beach had tree-houses and a well.
The lighthouse was closed when we went but we loved spending time on the desolate beach with no other tourists around.
Lakshman Teertha
Near the Ramanathaswamy temple is the Lakshman Teertha. This is a beach where pilgrims take a bath before visiting the Ramanathaswamy temple.
It is also a great place to view the sunset. However, the beach is quite dirty and stinky, unlike all other beaches of Rameshwaram.
I liked the spiritual energy out there, but this is not where I would spend much time.
Sunset at Vivekananda Memorial & Beach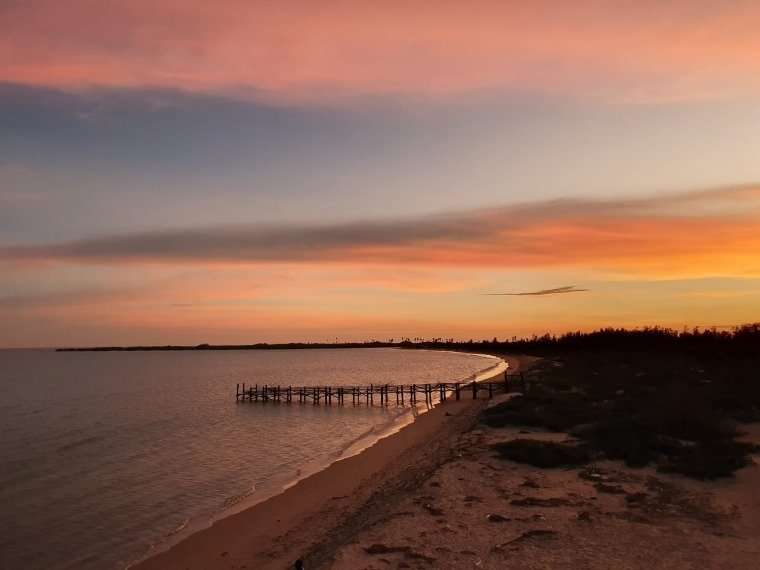 We drove through the interiors of Rameshwaram while chasing the sunset to another offbeat place in the area.
The Vivekananda Memorial is a beautiful building that stands out for its bright saffron color and a colorful dome.
By the time we reached there, we had already missed the sunset, but we experienced the ethereal dusk at the beach behind.
The Vivekananda memorial itself is small and has only a few photographs and books of Swami Vivekananda, one of the greatest Hindu saints.
The beach here is spectacular and it was a great way to end our really long day.
After watching the changing colors of the sky to our greatest content, we returned to our hotel to retire for the day.

Day2 –Dhanushkodi and offbeat Mandapam
A mesmerizing drive to Dhanushkodi
After an amazing breakfast at Hyatt Place, we started off early to Dhanushkodi. Starting early at around 9 am was the best decision of the day.
The road to Dhanushkodi is one of the most scenic roads in India. Swanked by the ocean on both sides the road goes straight to the border of India.
We read about off-roading and the need to hire jeeps for the same, but that is obsolete information now. As the entire road is not just motorable but is the best-in-class.
There is a check post at the border of Rameshwaram and Dhanushkodi as well. Vehicles are allowed to cross it only till around 11 am.
Otherwise, you will need to walk almost 2km in the hot sun or depend on passerby for a lift. After that vehicles can only exit from Dhanushkodi.
So, if you don't have your own vehicle, it is prudent to go as early in the morning as you can and leave by 11 am. Even if you have your own car, reach early so that you can drive to the beach.
Exploring Dhanushkodi- the Ghost town of India
Once upon a time, there was a flourishing town called Dhanushkodi. With the Indian Ocean on one side and Bay of Bengal on the other, it was the only landmass separating India from Sri Lanka.
It was the gateway for international trade and pilgrimage. The fishermen families here lived a simple yet happy life.

Then came the cyclone of 1964. A disastrous one that ravaged the town and rendered it uninhabitable. The government declared it "Ghost Town".
But few families still decided to stay back. It was their home after all.
53 years after the natural disaster the town started attaining significance once again, this time as a tourist attraction.
These families earn their living by fishing and selling coral artifacts to tourists. Stop at the vibrant beach-side markets to buy incredibly cheap souvenirs and eat fresh seafood at the shacks. 
Words are not enough to describe how I felt when I first stopped at a random beach of Dhanushkodi before reaching the main tourist beach. This was just a place where we stopped our car on our way to the Dhanushkodi beach. You have to keep 3-4 hours aside for a trip to Dhanushkodi, and it will be the highlight of your Rameshwaram itinerary.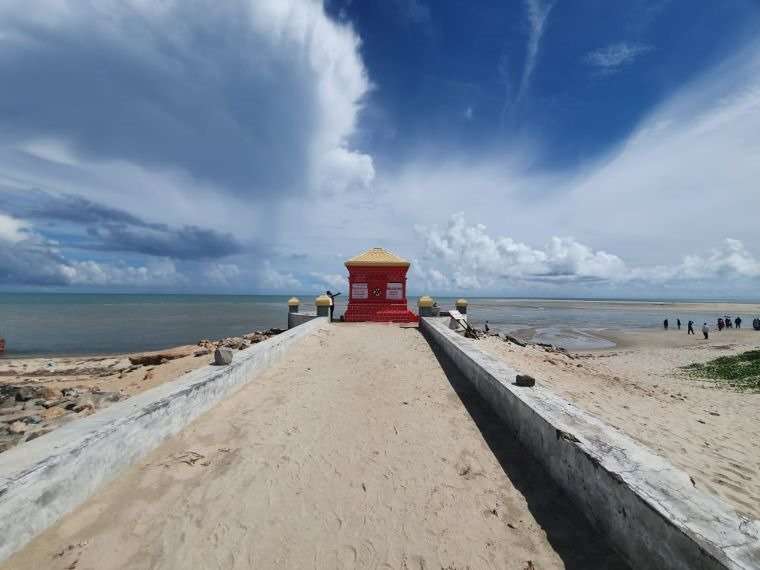 Of course, we can't just talk about a trip to Dhanushkodi and not talk about the famous Ram Setu or Adam's bridge.
There are satellite pictures of a line of stones underneath the sea that connects Dhanushkodi to Sri Lanka.
According to mythology, this is the bridge that Lord Ram created with the help of Vaanar Sena (an army of monkeys) led by Sri Hanuman to cross the sea and reach Lanka.
That is where the mighty Raavan ruled and had kept Sri Ram's wife Sita captive. Scientific studies have concluded it to be a natural wonder.
However, the carbon-dating of the rocks put the age at 7000-year-old, coinciding with the date of the events of Ramayana.
Miss travel? Check out the books and souvenir from Rameshwaram online.
Ramar Padham
On our way back from Dhanushkodi we stopped at Ramar Padham, the temple of Ram's feet situated in a hillock called Gandha Madhana Parvatham.
It is considered to be the highest point in Rameshwaram from where you can get a panoramic view of the island.
If you bring your binoculars you can see the Pamban bridge, the Ramanathaswamy temple and the lighthouse from here.
Speedboat ride at seaside park
After a delicious seafood lunch (finally) at one of the not-so-fancy shacks of Dhanushkodi we came back to our hotel and changed into dry clothes for the second half of the day.
This time we headed straight to Pamban bridge once again, crossed it and reached the seaside park. It's a small yet beautiful entertainment park that advertises glass-floor boat rides.
The glass-floor boats apparently help you see the fish underneath. A speedboat ride for two costs Rs. 400 (prices as of 2019).
However, when you actually enquire about it, they will tell you straight away that fish sighting is for the rare lucky ones.
They are true. The glass-floor is too soiled for you to be able to see anything underneath.
But that didn't stop us from enjoying the ride. In fact, this is one of the best things to do on a trip to Rameshwaram.
Chasing the Sundarmudaiyan Fort
After this, we didn't know where else to go that will be of interest. There are many other places on the tourist map including an aquarium that we could not find.
So instead, we spotted a place for the Sundarmudaiyan Fort and started following the Google maps for it.
On our way, we were surprised to see a peacock in secluded places running around on their own. However, that was the only attraction we found where we went.
We entered a village inside a forest and off-roaded through it, but we couldn't find the fort anywhere.
Since there was no one around to even ask, we returned and started driving towards the beach.
Erwadi Beach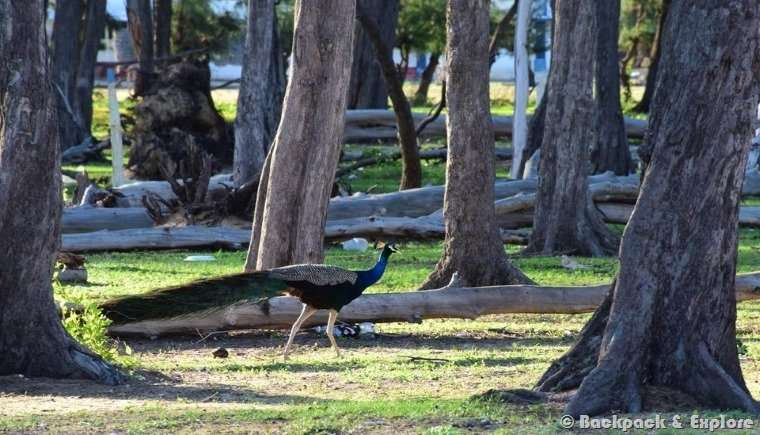 We didn't know the name of this beach when we went here, and it was only when I looked back on my Google timeline, I found its name.
Once again, this was another quaint fishing village with no tourists around.
We spent time clicking a solo peacock in the coastal woodlands and waiting for it to flaunt its wings. Well, it didn't.
This is a beautiful beach to visit if you just want to peacefully relax around in the lap of nature.
Sunset at Pamban
"Clouds come floating into my life, no longer to carry rain or usher storm, but to add color to my sunset sky."- Rabindranath Tagore

These are the only words that can describe the dramatic sky of the evening at Pamban. Our last stop was once again the Pamban Flyover itself on our way back to our hotel.
As I stood at the sidewalk of a busy highway and stared at the sunset, the cacophony of traffic faded into oblivion.
For those few minutes I had transcended into a different world, I was there at the horizon seeing off the sun while the clouds lingered by.
This was the end of our long weekend at one of the most spectacular parts of India.
The next day we would have to start early for our home to avoid the infamous Bangalore traffic on a Sunday evening.
We would be back in our mundane life revolving around the office and home. But these memories will keep us motivated to work hard and look forward to traveling again.
We had many road trips throughout the year, but Rameshwaram will always find a special place in my heart. I recommend this as one of the best trips in December in India.
Rameshwaram Tour Packages
A 2-nights, 3-days Rameshwaram tour will typically cost you Rs. 6000/- Rs. 10000 from Madurai or Chennai. The cost depends on whether you are going for a private trip or a small-group tour, the type of vehicle etc.
Check out the various options for Rameshwaram Tour and their prices here
For a first-time visitor from outside South India, I highly recommend these tours. Rameshwaram is after-all an offbeat place that is away from the main-land and might be challenging to navigate on your own.
Before I conclude the post with some frequently asked questions about planning a trip to Rameshwaram, I hope you save this on Pinterest using the image below.
You can also bookmark the post, so that you can return to read when you start planning. 
Rameshwaram FAQs
So, are you excited to visit Rameshwaram? Here are some common questions that I've answered to make you planning easier.
If you still have more questions fill free to ask in the comments or join my Facebook community to post your travel queries, experiences etc.
How to reach Rameswaram by public transport?
The best way to reach Rameshwaram is by train from Chennai or Madurai to Rameshwaram.
The train will cross the narrow sea through the 100-year-old Pamban bridge – an experience worth visiting India for.
Chennai, located 600 km from Rameshwaram, is the nearest big international airport.
It is followed by Bangalore which is 606 km from Rameshwaram.
However, there is no direct train from Bangalore to Rameshwaram. You have to take a train to Trichy and then get a local train or hire a cab to Rameshwaram.
Direct buses (government-run as well as private) ply from Bangalore to Madurai or Rameshwaram daily.
If you go to Madurai first, then you can take a local train or hire a cab to Rameshwaram. 
Book buses from anywhere to Rameshwaram here
Which is the best month to visit Rameshwaram ?
The best time to visit Rameshwaram is during the winter, that is, late November to early January. Overall, the weather here is hot, hotter, hottest round-the-year. So, plan your trip in the winter.
August to October is typically rainy season. It is a tricky time to visit Rameshwaram. Sure, the temperatures cool down and you can see a rainbow while across the two seas. But incessant rainfalls can be dangerous in this area.
The rest of the year in Rameshwaram is just hot, hotter and hottest. That's not a great time to enjoy the beaches and go for outdoor adventures in this place.
How many days are enough for Rameshwaram ?
If you want to follow our itinerary, you need to have three days, considering one-day for returning to your hometown.
Two full days are needed to see all the best places in Rameshwaram , spend some time in the beaches and watch the sunset from the bridge.
However, if you want to club Madurai and Rameshwaram on a single trip, you will need three – four days.
What to eat in Rameswaram?
Owing to its religious significance for Hindus, most restuarants in Rameswaram serve pure vegetarian food.
Idli, Dosa, Uthapam, Sambar, Vada- you will enjoy various Tamilian delicacies here.
However, for great fish you must visit Dhanushkodi. The beach shacks in Dhanushkodi offer fresh fish and crabs.
Related Readings
Thanks for reading this rather massive post till the end. I'm sure it will inspire you to plan a trip to Rameswaram and help answer all your questions.
However, if you have any other question, please don't hesitate to ask in the comments section.
Here are some other itineraries for unique places in Tamil Nadu that might interest you.
If you liked our detailed guide to Rameshwaram, don't forget to save the post and share it with others.
Follow our travel stories on Instagram, and Twitter. Subscribe to our monthly newsletters for the best stories of Backpack & Explore and occasional travel deals.