Dhanushkodi – the Ghost Town or Dream Destination?
Hi there!
I am Dhanushkodi, often called the ghost town of India. I seat at the tip of  Rameshwaram island, that's where I am writing to you from. Many of you may know me for the famous and elusive Rama Setu , aka, Adam's Bridge. The series of limestone rocks under the sea has been a topic of debate for long. You mortals can continue with the debate on whether it's man-made (by Rama) or natural. Today I will tell you the story of my people, the story of my rising from the ashes. It is nothing less than your Bollywood blockbusters.
My Story – the rise and fall of Dhanushkodi
Let me go back in time for a bit. Once upon a time I was a flourishing town at the tip of India. Regular ferries used to ply between Sri Lanka and India, through me during friendlier times. Ceylon, that was the name of Sri Lanka back then. I was a busy trade route. People from all over the world used to come to me for religious tourism. Both Hindus and Christians consider me sacred. Religious pilgrimage was at its peak and so was trade. Then came that ominous night of 22nd December 1964. A depression occurred on December 17th itself, technology back then was not so advanced. Fishermen continued to go fishing, ferries continued to ply and trains were also regular.
That night, train no. 653, the Pamban-Dhanushkodi Daily was hit by a huge tidal wave. It killed every single person on-board, destroyed the railway station. You know they used to call it "school train" as many children would board it. The massive cyclone, probably the worst that India has seen in the last century ravaged both Rameshwaram and Mannar (in Sri Lanka). I was the worst affected. Everything was marooned – the houses, structures, a Ganesh temple – all gone in hours. So many people, animals, birds died. Connectivity with mainland was cut off, so for two days there was absolutely no help from outside. On the third day Ceylonese aircrafts came with some food supplies. Memories of that tragedy still makes me shudder.
Following this tragedy, the government of Tamil Nadu declared me uninhabitable. Yours truly earned the tag "ghost town". A handful of fishermen families still stayed back. For them, I was home. They were positive, that the worst was over, and they would rebuild their lives here. Well, that's easier said than done. They would have to travel several kilometers on foot to sell their fish and obtain grocery for their survival. With no trade or tourism, the life here came to a standstill. But the lack of any human activities made the sea and my beaches cleaner,more beautiful. The confluence of Indian Ocean and Bay of Bengal is stuff of dreams. We call it Arichal Munai in Tamil. But life for my fishermen-families was tough. With no school or medical facilities here, they would have to travel long distances to meet their ends.
So where am I now?
It was many decades later that the government took initiative to revive tourism here. Till 2017, there was no proper road connecting me to the main town of Rameshwaram. But I became an exotic offbeat attraction for travelers. Travel bloggers played a great role in enhancing my popularity. So despite difficulty people used to off-road and come to meet me. They were awestruck my the beauty of my beaches, the elegance of my sunrise and the taste of local fish. Suddenly the ruins of lost town gained popularity.
Many families took this opportunity to set up stalls for selling hand-made sea-shell artifacts. In 2018, they constructed a road connecting me to the main town. Tourism flourished like never before. My desolate beaches became so crowded that the government put restrictions yet again. This time for my own good.
You can now visit me only between 6 am to 6 pm. Four-wheeler are restricted from entering after 11 am. So if you reach late, you will have to walk 2 km to the beach. There are guards the Dhanushkodi beach to oversee the tourist activities. They don't allow too many people to bathe in the beach at the same time. All this has been done to reserve the sanctity of the beaches. If you drive here, you will find the azure sea on both sides. You can park your car somewhere and step into the velvety soft sand to experience the beauty of the Indian ocean here. You can also stop at the forests which are adjacent to the beaches. It's funny how everyone gathers at the tip making it overcrowded, while long stretches of my beaches remain absolutely desolate. Do you know hundreds of flamingos flock into Arichal Munal  during the winter months?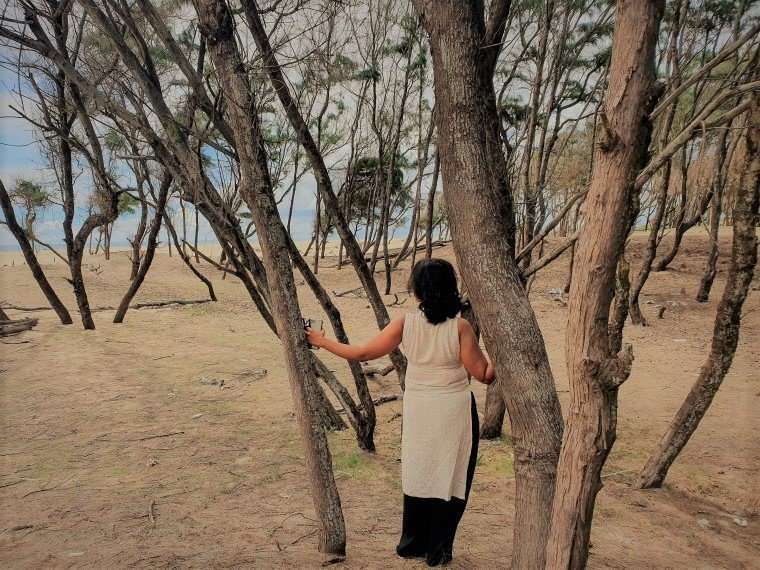 But even as recently as 2017, some officials from municipality came and started demolishing shops here without official orders. My people fought and stopped it. I am so proud of my people. The suffered, they believed, they struggled and came out victorious in their battle of survival. So I urge you to come visit me. Eat fried masala Pomfret in one of the shacks, buy exquisite sea-shell artifacts and chat with the locals. Now the last thing can be difficult as they are poor villagers who are not conversant in Hindi or English. But they are very friendly and accommodating.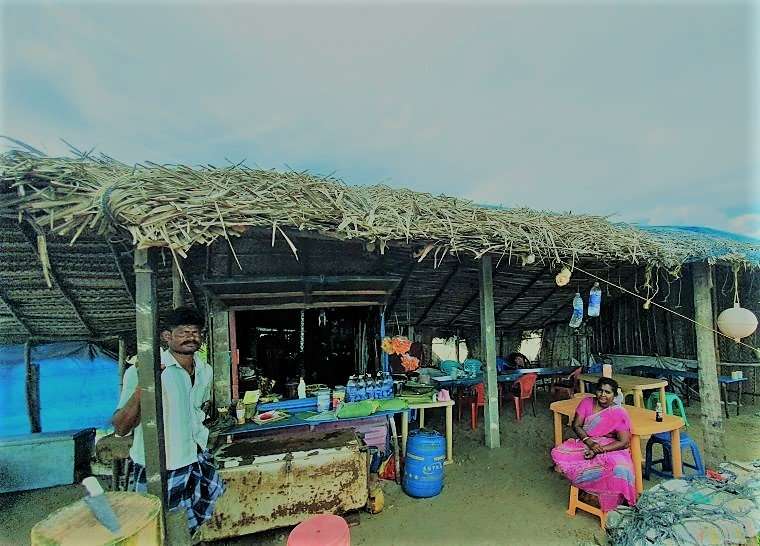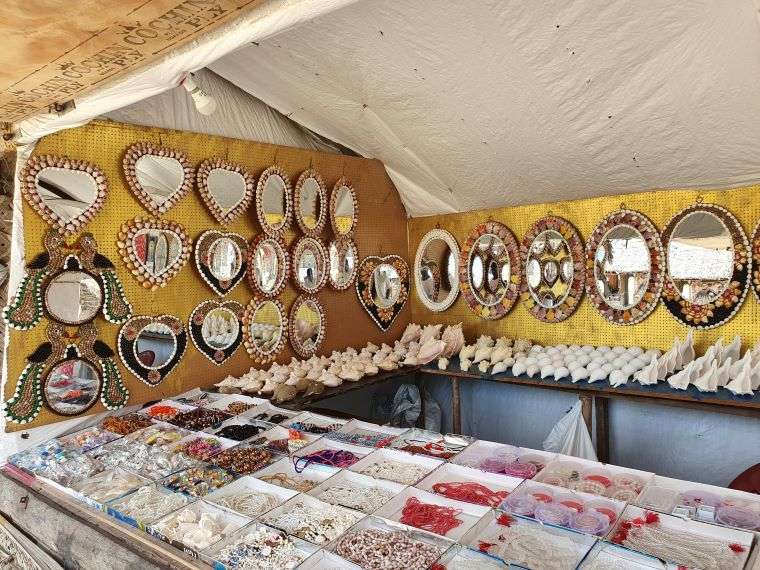 Thanks to the perseverance of my people, I am no longer a ghost town. Neither am I the bustling commercial town that I was before. I am alive, I am at peace and I am happy with where I am today. Do you want to see me?
What can you do in Dhanushkodi?
If you liked my story, and want to visit me, here's a quick recap of what you can and should do.
Arrive here at 6 am for watching the sunrise
Drive through the amazing road that runs between the Indian Ocean and Bay of Bengal
Stand and stare at the untouched natural beauty of my shores and the colorful fishermen boats floating in the clear azure waters
Walk in my shore-forests
Reach the tip of the land and bathe in the shallow waters
Watch the changing colors of water in Arichal Munal
Buy amazing souvenirs from the local shops
Eat fried fish and crabs in the shacks
I didn't intend the letter to be this long. But I'm growing old. I tend to get carried away while telling my story. See I sprinkled some photos to compensate for the length. If you liked it, please pin this post to save for later. Share it with your family, friends and young children. I hope they will like it. Stay home and stay safe now. We will meet soon.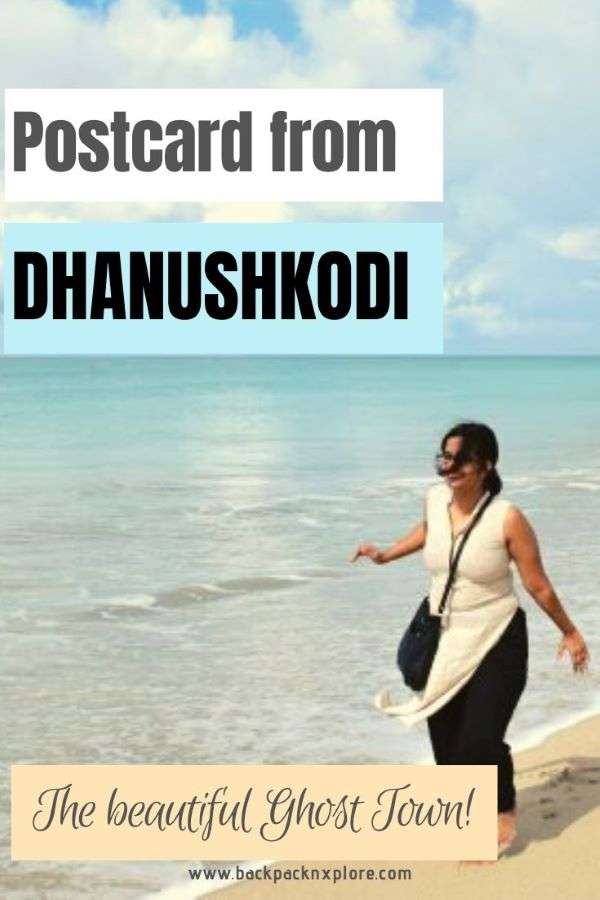 Blogger's Notes: The post is a part of the ongoing series "Postcards from India", where you will read about 26 offbeat yet stunning destinations in India. I am participating in the #A2ZBloggingChallenge by BlogChatter. Subscribe to the blog to get weekly update of posts from this series, besides other awesome things. All photos (unless otherwise specified) are copyrighted by Backpack & Explore. The post may contain affiliate links.