21 Best Beaches in India for Families in 2023
This post is dedicated to the coastal landscape of India – the ancient land between the mountain and the sea. Here is a list of 21 Best Beaches in India for families.
Who doesn't crave for some vitamin sea? The feeling of salty air on the face and sense of endlessness fills my heart with joy every time I travel to beaches. Although I relate to the mountains more, I've been more inclined towards beach holidays after having a kid.
As there's no doubt that kids enjoy the beaches more. Doesn't matter if they are sweating and all tanned, it's hard to pull them away from the sea. So here I curated the list of best beaches in India for families.
Expand the contents below to view the list and skip to the end to know the criteria of my selection.
I include affiliate links for the tours, hotels and products I recommend. This means if you make any purchase through the links in the post, I may get a commission without any additional cost to you. While I strive to help you make the most of your trips, this income helps support the expenses for running this site.
1. Radhanagar Beach, Andaman & Nicobar Islands
There is no place in India to experience the beauty of sea more than the Andamans. The spotless beauty of Andaman and Nicobar Islands that I saw on my short trip to Andaman will be etched in my memory forever.
Radhanagar Beach is the most famous beach in this archipelago, and is one of the 10 Blue Flag beaches of India. Blue Flag certification is an international standard for safety, cleanliness and sustainability of tourism in a beach. 
The beach is guarded by trained safety personnel and is closed for visitors after 6pm. This makes it safe to bathe and participate in water sports.
You can take a boat from Radhanagar beach to the Elephanta beach for water adventures like glass-boat riding, snorkeling and scuba diving. But simply walking on the long stretch of beach is a fulfilling experience.
How to reach:
You need to fly to the Port Blair airport to be able to explore the beautiful and exotic archipelago. From Port Blair you need to take a cruise to the Havelock Island.
Places to stay
The beach is suitable for kids of all ages as well as elderly people. However, the only way to reach Havelock island is by a jetty from Port blair and it takes 90-120 minutes on the sea. Be concious of that before planning travel
2. Rabindranath Tagore Beach, Karnataka
Rabindranath Tagore Beach, also known as the Karwar Beach is located in Uttara Kannada, close to the Goa border. Flanked by the river Kali on one side and the Arabian sea on the other, Karwar is a great offbeat destination to visit with children.
Rabindranath Tagore Beach is named after the greatest Indian poet and is a perfect place for children. There is a beautifully decorated children's park, and some beach activities like paragliding and boat -riding to enjoy with families.
Children can play in the park for free as well as bathe in the shallow waters. You can also visit the warship museum, rock garden, Kali River front and Tilmati beach nearby.
How to Reach:
This beach is just 86KM away from Goa, so you can easily drive from there. If you are ok with long drives, you can also drive from cities like Mangalore and Bengaluru. You can also reach here from the nearest railway station of Karwar.
Places to Stay:
3. Om Beach, Karnataka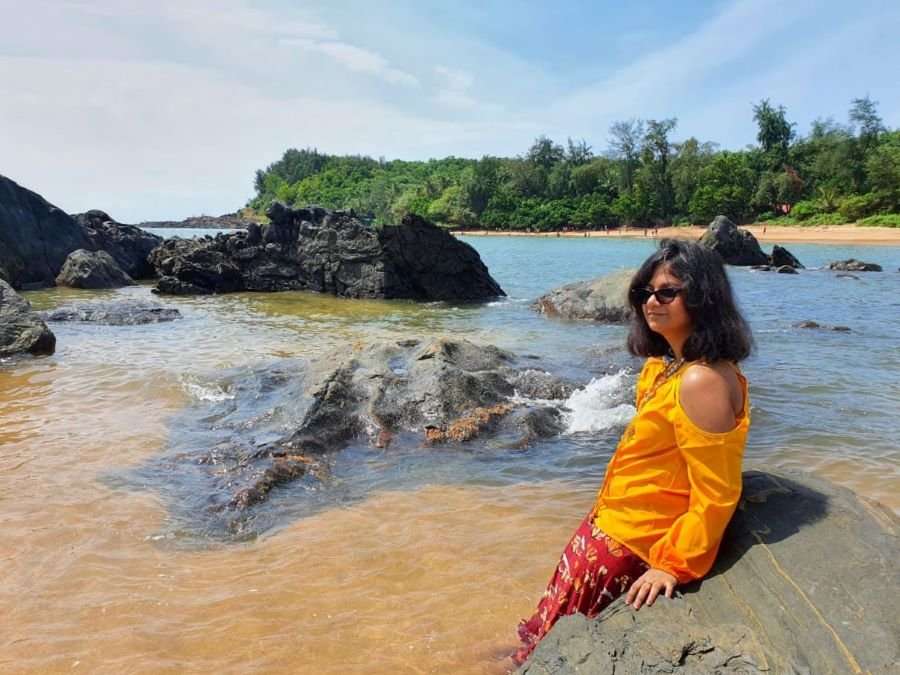 Gokarna is the hippie town of north Karnataka, the state's own Goa. In fact, I loved the beaches here much more than Goa. Some of the best beaches here are accessible through an hour-long trek, which makes them more mystical.
Of all the beaches in Gokarna Om beach is my favorite. When you drive through the Western ghats the beach appears in the shape of the Hindu religious symbol "Om".
How to reach:
The nearest international airport to Gokarna is the Dabolim airport in Goa. From there Gokarna is only 140 km away and you can reach it by self-drive or bus. The nearest railway station is in Ankola which is well-connected to all major cities.
Om Beach is one of the most popular beaches of Gokarna which you can explore during beach hopping by car or bikes.
Places to stay:
The beach is suitable for kids of all ages. Be prepared for a 800m trek to the beach and back
4. Dhanushkodi, Tamil Nadu
Dhanushkodi is my most favorite tourist destination in Tamil Nadu. Located at the southern most tip of the Rameshwaram Island this is a mystical town of India. Rameshwaram itself is a fascinating island connected with mainland India by a train line which is more than a century old.
Known to locals as "Arichal Munai", the Dhanushkodi beach is a spectacle. The color of the sea changes throughout the day as the crystal-clear water of the sea reflects the changing moods of the sky. Once ravaged by one of the worst storms in India's history, the dilapidated ruins of the earlier town can be seen on the shoreline.
The vast clean beaches, the coastal woods and ruins of the past charms everyone who visits.Dhanushkodi is not your usual tourist destination. To preserve nature there, there is no hotel in the area and the checkpoint of Dhanushkodi closes at 6pm every day.
Read more about the ghost town of Dhanushkodi.
How to reach?
Nearest Airport is the Madurai airport which is only 177 km from Rameswaram. From there you can take a bus, car or train to Rameswaram.
The train journey will end with an enthralling journey over the Pamban bridge. Madurai itself is well-connected to all the major Indian cities by train or by air. From Rameswaram you can easily reach Dhanushkodi by tuktuk for hire or self-drive.
Places to stay:
The beach is suitable for kids of above 5 years who will appreciate the stories behind the ruins while having limited access to conventional amenities like children's park or water sports
5. Ramkrishna Beach, Andhra Pradesh
Ramakrishna beach is serene, clean, and beautiful. But what stayed with me is how well-planned the port city of Vizag is. Just opposite the beach is the Kali temple, a small replica of the Dakshineshwar Kali Temple in West Bengal. Near that is the Ramakrishna Mission Ashram from which the beach gets its name.
This vibrant beach is a perfect getaway for families – weather you are looking for adventure activities or fun boat rides or simply want to spend some quality time with kids. Surrounded by mountains afar, the view of the beach from the promenade is spectacular. It is the most amazing promenade I've seen in India, even better than the famous Pondicherry promenade.
As you walk on the promenade, you'll see the golden beach, the submarine museum, the Victory at the Sea monument, the Vishakhapatnam Lighthouse, and the Lumbini park on one side. On the other side, there are sculptures of famous personalities of India.
You can also visit the Matsyadarshini (the city aquarium), the Visakha Museum, the aircraft museum, and the Indira Gandhi Zoological park across the beach. But what you can't miss is the imposing mountain if you look straight ahead. And at the top of the mountain is the Kailasa park, unmissable with the bold glowing letters and the spherical monument. 
The beach is suitable for all kids but children above 5 yrs-old will enjoy the museums and sculptures even more. Smaller kids will love the aquarium and zoo which are at walkable distance.
How to reach?
Vishakhapatnam is a major port city well-connected by rail and air. From airport the beach is only 18 km away. Most big hotels in Vishakhapatnam are in this area near the beach.
Places to stay:
All this makes it one of the perfect family-friendly destinations in India.
6. Kadmat Beach, Lakshadweep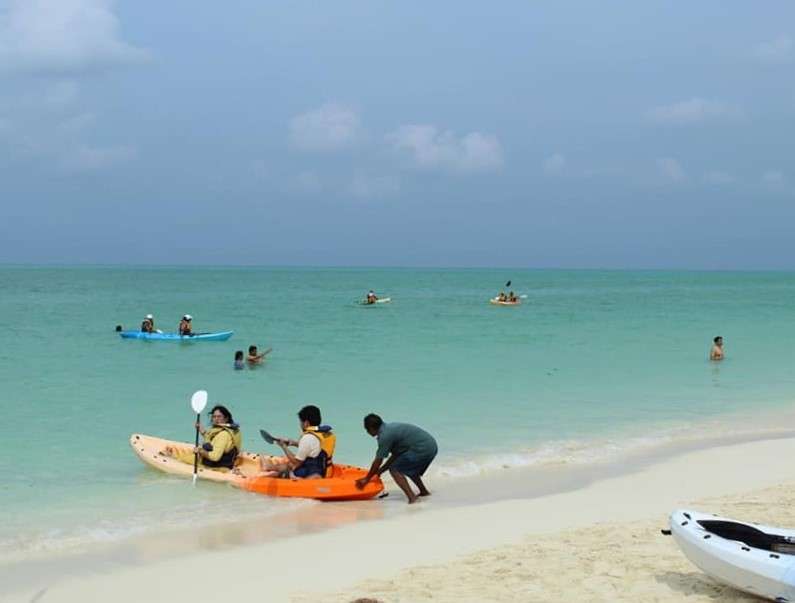 Kadmat is another blue-flag beach in India and it is picture-perfect. The only reason I was unsure of including it in this list is because unlike Andamans, the flights to Lakshadweep are less frequent and more expensive, making it less accessible to middle-class families. However, for those who can afford, Kadmat beach is a gem. It's certainly way cheaper and easier to fly to than foreign locations like Maldives. And it is no less spectacular.
Renowned for its coral reefs, kids can explore the vibrant underwater ecosystem teeming with colorful fish and coral formations through guided snorkeling and glass-boat riding.
How to reach:
A journey in ship from one of the nearest ports of Kochi or Mangalore will take 14-20 hours. With older kids it can be a great adventure but as a mom of a toddler I can't even think about it right now. An easier way to reach is by taking a flight to Agatti airport in Lakshadweep and then taking a short boat ride from there.
7. Vagator Beach, Goa

Goa is a great destination for families to enjoy the natural beauty and laid-back lifestyle. Vagator beach is one of the most photographed beaches in Goa because of its unique rock formations.
Besides the water activities, vibrant shacks and the amazing Goan vibes, kids will also enjoy a trek to the Chapora fort. The sunset views across the Vagator beach as seen from chapora fort is breathtaking.
It's located in North Goa where you can drive to other beaches, enjoy a night-cruise at river Mandovi and do an excursion of the heritage sites with kids.
The beach is suitable for all kids but a reasonable age to venture into this travel will be 5+
Places to stay:
Le Pondy $$$
Shenbaga Hotel $$
8. Puri Beach, Odisha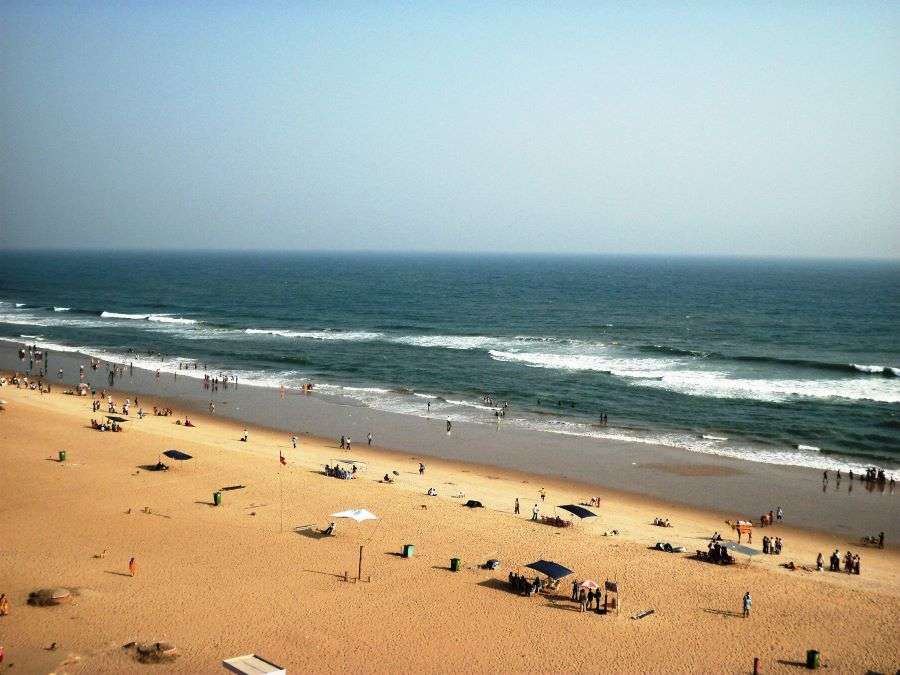 Puri Beach has been my favorite holiday destination since childhood. The clean sandy beach known for exceptional sand art by some world-famous sand-artists fascinated me as a child.
Besides that, there are pony rides, lots of open spaces to build castles and lip-smacking delicacies and inspiring handicrafts. People also visit Puri to seek blessings for themselves and their children at the Jagannath Temple. A short distance away in the historic Konark Sun Temple. 
What makes Puri Beach perfect for all tourists is how pocket-friendly it is. You can still get reasonably good accommodation near the beach at less than Rs.1000 per night! And of course, you can also choose to stay in the most luxurious hotels and resorts with private beaches.
How to reach Puri?
Puri is well-connected to all major cities by the Indian rail. You can also take a flight to Bhubaneshwar and then drive only 60 km to reach Puri.
Where to Stay in Puri?
Nirman Beach Homestay $$ – Pocket-friendly homestay with access to kitchen and a great sea -view from the window.
Sterling Puri $$$
The beach is suitable for all kids
9. Tajpur Beach, West Bengal
Tajpur Beach in West Bengal is a part of the greater Digha-Tajpur-Mandarmani beach stretch. It offers a tranquil and unspoiled coastal retreat away from the overcrowded Digha beaches.
With its pristine shoreline, panoramic views, water sports activities, and a glimpse into the local way of life, Tajpur Beach is a perfect place to visit with kids.
The beautification done by West Bengal government with sculptures, children's park, and gardens on the beach makes it all the more attractive. The sitting area with shades is such a blessing for visitors in the scorching heat.
How to reach Tajpur Beach?
Tajpur Beach is easily accessible from Kolkata with a distance of approximately 180 kilometers.
Kolkata being one of the busiest cities of India is well-connected with other cities through rail and air. You can also take a train to Digha which is the nearest railway station to Tajpur.
Places to stay
The beach is suitable for all kids
10. Kappad Beach, Kerala
Kappad Beach in Kerala, is another blue-flag beach perfect for family trip. The calm and shallow waters of Kappad Beach make it safe for children to splash and play in. The soft golden sands provide ample space for building sandcastles and playing beach games. One can also explore the nearby rock formations and go on exciting beach walks with their families.
The scenic beauty and serene atmosphere of Kappad Beach create a peaceful environment where kids can relax and enjoy the beauty of nature. The beach also offers opportunities for boat rides and dolphin spotting, adding an element of adventure to the experience.
11. Shivrajpur Beach, Gujarat
Did you know Gujarat has a Blue-flag beach too? With its pristine shoreline, sparkling blue waters, and serene ambiance, Shivrajpur Beach is known for its natural beauty.
The beach is surrounded by picturesque cliffs and lush greenery, creating a scenic backdrop. Shivrajpur Beach is less crowded compared to other popular beaches in Gujarat and is also a nesting site for Olive Ridley turtles.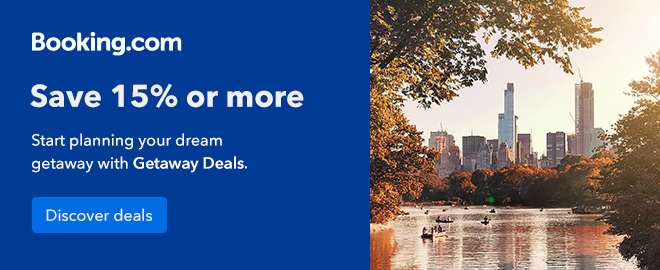 12. Mobor Beach, Goa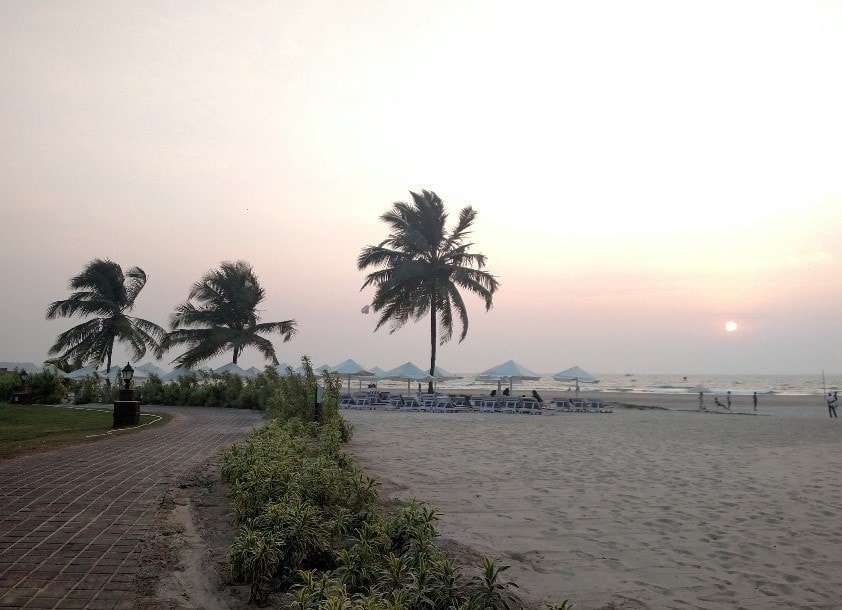 Mobor Beach, located in South Goa, India, is a beautiful and tranquil destination that offers a unique beach experience. With its long stretch of golden sands and clear blue waters, it is a paradise for beach lovers.
It is relatively uncrowded atmosphere, providing visitors with a serene and peaceful environment. Mobor Beach is a popular spot for water sports activities such as jet skiing, parasailing, and banana boat rides, offering a thrilling experience for adventure enthusiasts.
13. Kanyakumari Beach, Tamil Nadu
Kanyakumari Beach in the southernmost tip of India is renowned for its confluence of three oceans—the Arabian Sea, the Bay of Bengal, and the Indian Ocean.
It is a pilgrimage site with the Vivekananda Rock Memorial, where Swami Vivekananda meditated. The beach offers stunning views of sunrise and sunset over the ocean. Kanyakumari is culturally significant with temples and vibrant festivals.
The beach is also home to the iconic Swami Vivekananda Memorial Statue, symbolizing peace and spirituality.
14. Aryaman Beach, Tamil Nadu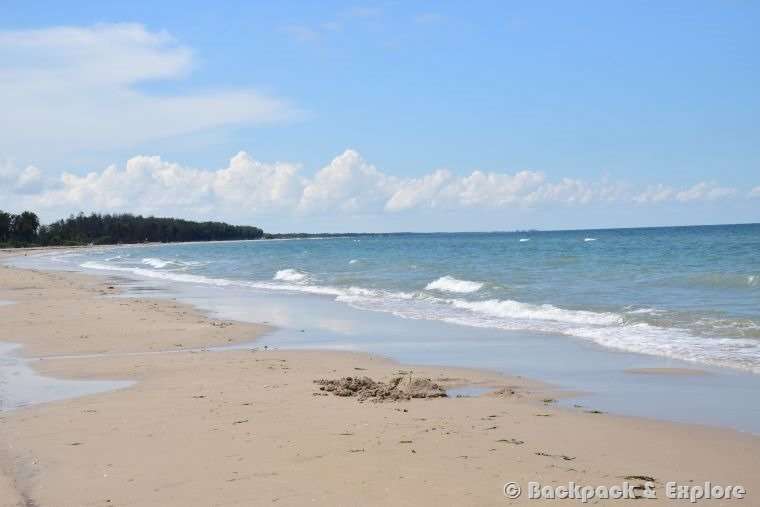 Aryaman Beach, located in Mandappam, Tamil Nadu is a perfect family-friendly beach to enjoy on a trip to Rameshwaram. Also called Kushi beach resort, it offers a serene and family-friendly atmosphere, making it a great choice for a relaxing getaway.
Its soft golden sands and clear blue waters provide a picturesque backdrop for beach activities and leisurely walks. Kushi Beach is relatively less crowded compared to other popular beaches in Tamil Nadu, allowing families to enjoy quality time together in a peaceful environment.
It is also lined with food stalls and vendors, offering a variety of delicious local snacks and refreshments, making it convenient for families to enjoy a picnic by the shore.
With its tranquil ambiance and safe swimming conditions, it provides a perfect setting for families to create lasting memories and enjoy quality time together.
 
15. Marari Beach, Kerala
Marari Beach in the Alapuzha district of Kerala is a wonderful destination for children due to its calm and shallow waters, making it safe for swimming and water play. The soft golden sands provide ample space for building sandcastles and playing beach games.
The serene atmosphere and lack of overcrowding allow children to freely explore and enjoy their surroundings. The nearby fishing villages offer a unique cultural experience, allowing children to learn about traditional fishing techniques and interact with friendly locals.
Along with the beach you can also enjoy the backwaters of Alleppey, the Vembanad Lake, the beautiful churches and temples dotted in the district and famous cultural festivals.
How to reach?
You can reach Marari beach by driving from Kochi, which is well connected through international airport and railways.
Where to stay?
There are a number of beach resorts here as well as affordable hotels near the beach. Here are my top recommendations.
16. Kovalam Beach, Kerala
My first visit to Kovalam was on an office offsite and I was left awestruck by its beauty. Located only 16km from Thiruvananthapuram, the capital of Kerala, Kovalam is the home to some of the most picturesque beaches in the country.
While in here, you can stroll around, indulge in beach activities or in other fun-filled activities around Kovalam Beach, Lighthouse Beach, Hawah Beach, and Samudra Beach.
Where to stay?
17. Gopalpur by the Sea, Odisha
Gopalpur Beach in Odisha, also known as Gopalpur-on-Sea, is a family-friendly beach destination not known to many. With its pristine shoreline, golden sands, and azure waters, the beach offers a tranquil and idyllic retreat.
Gopalpur Beach is offbeat and much less crowded compared to Puri but has all the amenties of a popular beach.
The beach is dotted with swaying palm trees, providing shade and a picturesque backdrop. Visitors can take leisurely walks along the shore, engage in water sports activities like swimming and surfing, or simply bask in the sun while enjoying the gentle sea breeze.
How to reach Gopalpur
Fly to Bhubaneswar and take a scenic drive of 178 km to reach Gopalpur. The drive may take about 3.5 hours, but it is worth it.
18. Paradise Beach, Tamil Nadu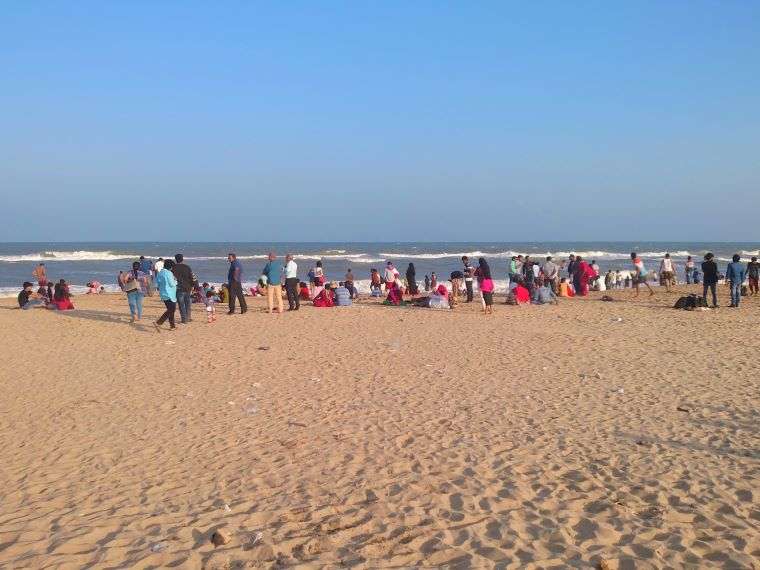 Paradise beach is my favorite in the union territory of Pondicherry. The best way to reach this island-like place is by a fun boat-ride from Chunnambar. The walkway from the backwaters to the beach is also very charming.
You can spend some time walking on the soft golden sand and bathing in the Bay of Bengal before you return to the boathouse. Combine this with a trip to the rest of Pondicherry and auroville, and you have the perfect family vacation.
19. Aksa Beach, Maharashtra
Aksa beach to me is nostalgia. When I was working in Mumbai with a meagre salary and preparing for MBA exams at the same time, I hardly made time to travel and explore the city.
A day trip to Aksa beach is what was needed to make me fall in love with Mumbai. It is a hidden gem that offers a tranquil escape from the bustling city life.
With its pristine shoreline, soft golden sands, and clear waters, Aksa Beach provides a serene setting for relaxation and rejuvenation. Surrounded by lush greenery and scenic views, it offers a refreshing respite from the urban chaos. 
20. Rushikonda Beach, Andhra Pradesh
Rushikonda Beach, located in Visakhapatnam, Andhra Pradesh, is one of the 12 blue-flag beaches in India.
With its golden sands, azure waters, and lush green surroundings, the beach offers a picturesque setting for nature lovers and beach enthusiasts. Rushikonda Beach is famous for its clean and well-maintained coastline, making it a popular choice for swimming and water sports such as jet skiing and banana boat rides.
The beach is surrounded by hills and offers panoramic views of the Bay of Bengal, creating a stunning backdrop for sunsets. With its calm and serene atmosphere, Rushikonda Beach provides a peaceful retreat where visitors can relax, unwind, and enjoy the beauty of nature.
 
21. Tarkali Beach, Maharashtra
Tarkali Beach, located in Maharashtra, India, is a hidden gem that offers a unique coastal experience for visitors. The beach is known for its clean and unspoiled beauty, making it an ideal spot for swimming, snorkeling, and scuba diving.
It is less crowded compared to other popular beaches in Maharashtra, providing a peaceful and relaxing environment. The beach is surrounded by lush greenery and coconut palms, adding to its natural charm.
Tarkali Beach is also famous for its backwaters, where visitors can enjoy boating and kayaking, creating a perfect blend of coastal and inland exploration.
 
How Did I Shortlist The 21 Best Beaches?
With a coastline of 7516 kilometers and numerous islands in the archipelago of Andaman and Lakshwadweep, India has hundreds of charming beaches. Curious how I arrived at the top 21?
Well it wasn't random. I wanted to address the query of the family traveler – what is the best beach for a family vacation? And here are my parameters.
Ease of accessibility so that kids don't have to bear very long drives from the city or travel for long in the sea. This is why you may not find most of the gorgeous islands on Lashwadweep and Andamans on this list

Activities on the beach! I prefer serene, completely offbeat beaches with no one around, or a fisherman beach to observe the local life. But with kids I'd always prefer some place with lots of fun activities and things to see around the area.

Safety Measures on the beach

Cleanliness and overall maintenance
What's Next in India?
So that's a wrap to my list. I highly recommend you to check out one of these beaches on your next vacation with family. I will leave you with the best travel sites for India and some amazing posts to inspire your next trip plans.
My Top Travel Sites for 2023