Bylakuppe Beckons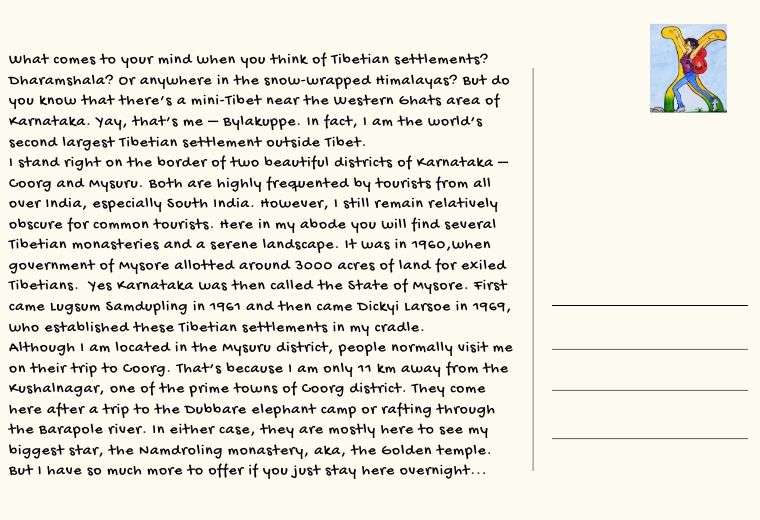 What comes to your mind when you think of Tibetian settlements? Dharamshala? Or anywhere in the snow-wrapped Himalayas? But do you know that there's a mini-Tibet near the Western Ghats area of Karnataka. Yay, that's me – Bylakuppe. In fact, I am the world's second largest Tibetian settlement outside Tibet.
I stand right on the border of two beautiful districts of Karnataka – Coorg and Mysuru. Both are highly frequented by tourists from all over India, especially South India. However, I still remain relatively obscure for common tourists. Here in my abode you will find several Tibetian monasteries and a serene landscape. It was in 1960,when government of Mysore allotted around 3000 acres of land for exiled Tibetians.  Yes Karnataka was then called the State of Mysore. First came Lugsum Samdupling in 1961 and then came Dickyi Larsoe in 1969, who established these Tibetian settlements in my cradle.
Although I am located in the Mysuru district, people normally visit me on their trip to Coorg. That's because I am only 11 km away from the Kushalnagar, one of the prime towns of Coorg district. They come here after a trip to the Dubbare elephant camp or rafting through the Barapole river. In either case, they are mostly here to see my biggest star, the Namdroling monastery, aka, the Golden temple. But I have so much more to offer if you just stay here overnight. In other lesser known monasteries you can take a stroll , see the life of the inhabitants, attend Buddhist prayers and festivals. Here is what you can do when you come to my abode.
Namdroling Monastery or the Golden Temple
Let me talk about my star first. Namdroling monastery is an exquisite piece of architecture. It is the largest monastery you will find here and houses around 8000 monks.
Explore the Tibetian colonies
Just walk around in the idyllic settings and interact with the friendly locals. You can also hone your photography skills. During your walk you will come across many shrines and monasteries. I have some of the best universities to study Buddhist philosophy.
Visit the Sera Monastery
This is one of the lesser known monasteries that I have. They organize religious debates every day in the assembly hall. Unlike Namdroling, there is hardly any tourist here.
Shop Tibetian souveniers
One you have visited the Namdroling Monastery, you can visit the Tibetian monastery just opposite to it. You will love the artefacts here, but you may need to bargain a little.
Savour Tibetian delicacies
There are many eateries here which serve authentic Tibetian food. However, to eat where the monks do, go to the Potala Kitchen or Rigo Restaurant. Devil Momo and mokthuk are quite popular here. You can also eat vegetarian food in Malaya, a monk-run guesthouse.
Explore Nisargadhama
This is a beautiful delta formed by the Kaveri river. Imagine canoeing in the river running through the bamboo groves and forests of Sandalwood and teak. Elephants, deer, hare and peacocks are seen here in abundance.
I am blessed with beautiful weather throughout the year, so you can visit me any time you want. If you are visiting from far away, make sure you include me in your itinerary for Coorg or Mysore . Stay home now, and pin the post to travel later. Will you?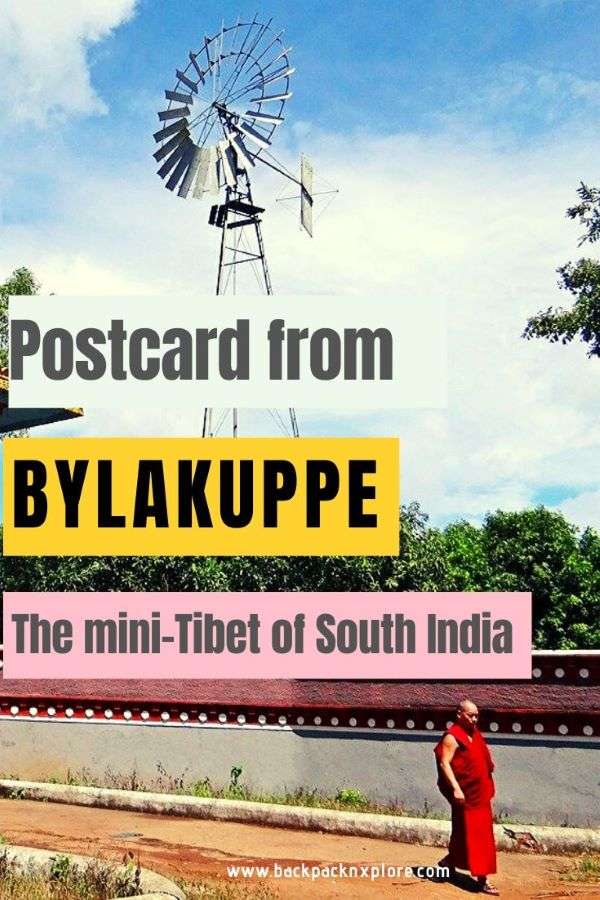 While you are stuck at home, you can try audio-books by Audible. Amazon is giving a 30-day free trial for it.
Blogger's notes: The post contains affiliate links. The pictures are mine unless otherwise mentioned. The pictures used in the pin and postcard is courtesy Pixabay. This post is a part of the series "Postcards from India", written for A2Z Blogging Challenge for April 2020.