Road Trip to Horsley hills via Kaigal Falls
On our fifth in the series of amazing one-day trips from Bangalore, we are taking you to Horsley Hills. As usual, we combined our trip to Horsley Hills from Bangalore with a short hiking adventure to Kaigal falls. It's not necessary though. Horsley hills in itself are beautiful enough to spend the whole day in. Join us in this very special trip where we discover nameless lakes, waterless falls, and an unexpectedly charming hill resort. I say "unexpected" because as much as we love visiting the neighboring state of Andhra Pradesh, it's not what comes to your mind when you think of hill station. It's far away from the Western Ghats, received lower than average rainfall all year and is freaking hot! To find a green paradise with the cool climate at an altitude of 4100 ft. amidst the dry surroundings of the district was surprising.
Our road trip plan
Horsley hills were on my list for long. So before we set off on a Sunday morning I had made a mental note of all the important places to visit in and around Horsley Hills. This is what I had planned for the day.
Start at 8 am and pick up our friends
Have a heavy breakfast at Kamat Upachar or CCD
Drive to Kaigal Falls
Then drive to Horsley Hills resort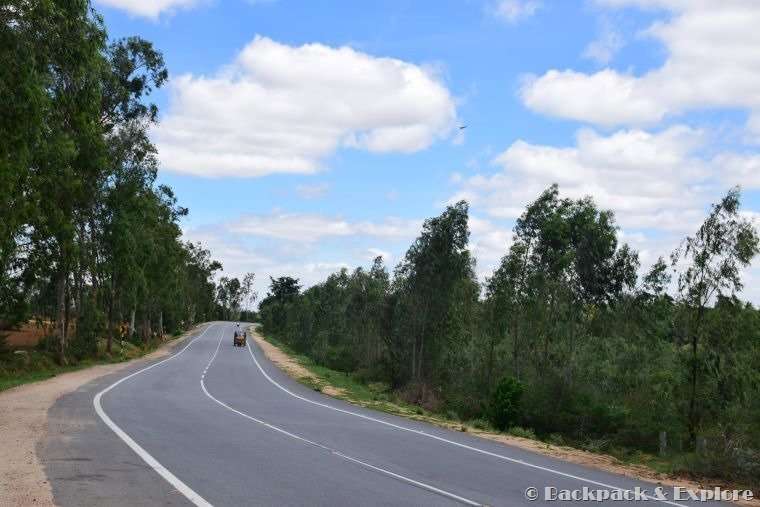 We were mesmerized by the views as soon as we left the city and took the NH45 highway. The colorful blossoms adorn the divider of the highway that runs between green fields and imposing hills. There are actually several places where you would like to stop and wander around. If the natural beauty was not enough I also saw some Egyptian-style sculptures on one side of the road. I can't tell much about it because we were cruising through the road and couldn't stop. Will make sure to go there next time and find more about it.
Book a self-drive easily from Zoomcar or Myles for such amazing road trips.
Wonder Lake near Kolar
Stunning sights greeted us as we went past Kolar but something that we couldn't resist was that of a large sea-green lake at Nagalapura. Surprisingly Google maps don't even show the existence of a water-body out there. We slid to the service road and took a U-turn to park our car at the lake-side. It's a kind of lake I have never seen before. Far away from the sea, we couldn't fathom why the current was so strong! I swear I saw smaller waves in the Mediterranean beaches of Barcelona. So the next time you drive towards Kolar, don't forget to stop at this obscure wonder. And thank me for the treat.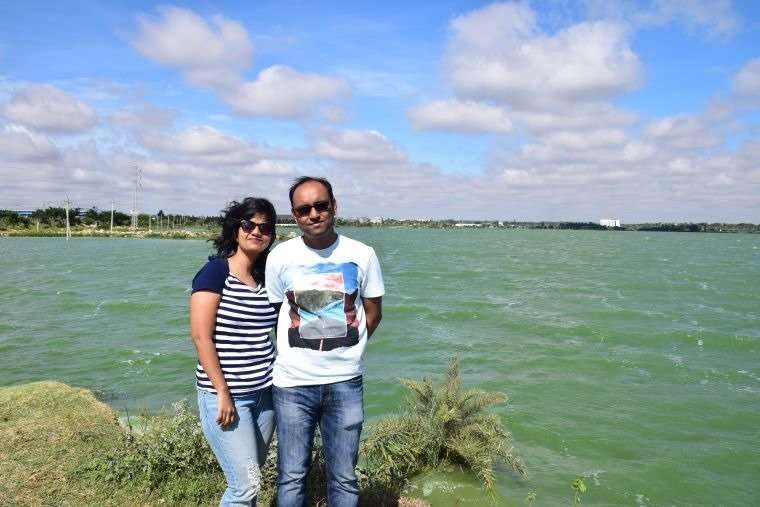 After that, we had a fulfilling breakfast at Cafe Coffee Day at Nagalapura. The CCDs on Indian highways are such a blessing for women, for the dearth of enough toilets on the road. Each of us had a chicken sandwich that would last us a 1-hour trek in scorching heat and a long drive till Horsley hills.
Trek at Kaigal Falls
If you are visiting Kaigal Falls don't get deceived by the Google guides. Be ready for a 1 km trek of moderate difficulty and not to see an actual waterfall. Yes, all those pictures on the internet are either of some other place or at the time of peak monsoon season. We visited the place in July, when Kerala was already on flood alert and just before major tourist-zones of Karnataka were flooded. Even at that time, we couldn't even find a thin stream of water after trekking in the heat. Some top sites coming up on Google's search results told us that this is a "perennial" waterfall! Which is exactly why we went. The views were gorgeous, and trekking in the company of friends is always enjoyable.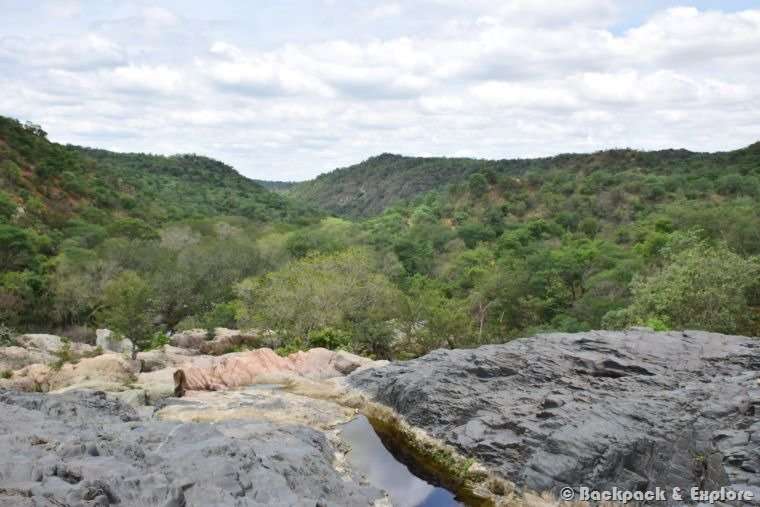 I'd still recommend the trek for those who love forests, off-beat places and hiking in general. Kaigal falls is located deep inside the Koundinya Wildlife Sanctuary. I'm quite sure there are no carnivores there, but you may find some interesting reptiles. It's not commercialized and has only a few tourists camping out there. For me, that's a big plus over any crowded hiking trail like Avalabetta.
Unlike Avalabetta the monkeys were much nicer here. Or maybe the fact that we had nothing with us, not even a water-bottle helped. Chayan loves this kind of places – fewer people and more animals. He spent quite some time honing his photography skills as you can see.
Look at the cows grazing in the paddy fields. Of course, there are no carnivores here. But there were trees, a lot of them, and wild insects. Our passionate photographer got kissed on the neck by one of those. It was not serious, but the rash took almost a week to heal.
As usual, for traveling anywhere in India I'd recommend wearing appropriate travel shoes. Check out our guide for the best travel shoes in India.
About Horsley Hills
The road to Horsley hills is single-lane but well-maintained. Throughout the drive from the foothills leading to the Horsley Hills resort, the road was covered with large canopies. It is actually a series of nine hills located about 14 km from the Madanapalle town of Chittoor District in Andhra Pradesh. It was originally called Yenugu Mallama Konda after a local legend. Around 1870 a British collector W.D Horsley made it his summer residence, and later the place was named after him.
Some travel guides call it the Ooty of Andhra Pradesh, but I don't agree with them. It's not really a hill station, but rather a resort. A large area at the hill-top which is beautifully developed into a tourist spot. There is a small environment park, a zoo, a couple of hotels managed by APTDC, few coffee plantations and some outstanding viewpoints.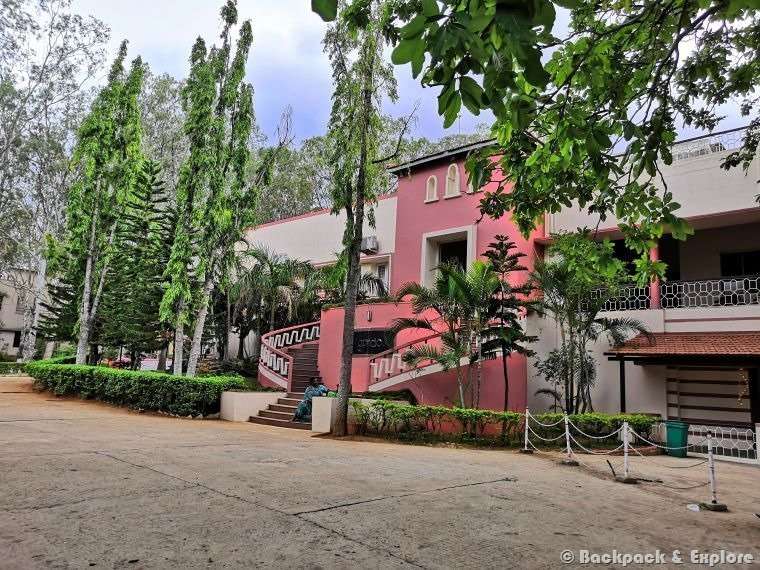 Governor's Bungalow- The Best Viewpoints are just behind this beautiful mansion
Well once you are there you won't find it difficult to navigate around and find all places of interest within a walkable radius. For your benefit, I've listed down all the places to visit in and around Horsley hills.
Horsley Hills Zoo and Environment Park
Kalyan, a 150-year old Eucalyptus tree located inside the park
Nature Study center inside the park
Viewpoints inside the park
Governor's bungalow
The highest summit of Horsley hills behind the Governor's bungalow
Gali Banda (Wind rock)
Gangotri lake and freak out point. The lake is non-existent at this point, just like the Kaigal waterfalls.
Enough of Gyan. I'm sure you can find it all on a single click on Google. So let's continue with our photo story of the day.
Exploring Horsley Hills
So we reached there at 2 pm. We usually skip lunch on such day-trips but we had two normal homo-sapiens with us this time. So went to the Haritha hotel. It is within the campus of Haritha resort nestled in a perfectly manicured garden. Options were limited but they had what we were looking for. Chicken starters! We ordered three plates of starters and surprisingly they were all delicious. By this time we felt relieved by the cool and cloudy weather of Horsley hills.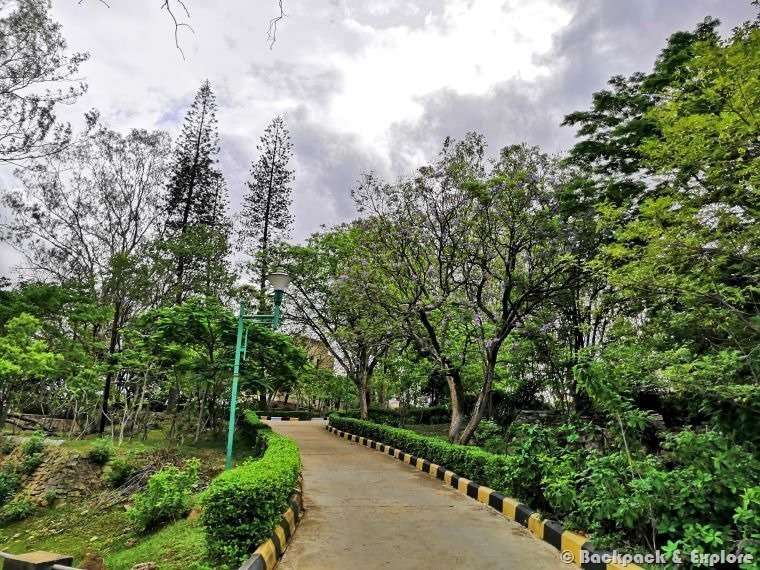 Our first stop was the Horsley zoo, or what they call environment park. It is a small zoo with deer, some amazingly colorful birds, peacocks, ostrich, crocodiles, and swans. But mostly, there are trees. A large variety of them and many of them. You can feed the animals with stock that they sell for the same purpose. Children would love this place.
I'd call it well-maintained because no one can babysit adult tourists who visit places only with an intent to destroy. There is a deep well which used to be filled with water once. Now it is filled with garbage. There were boards everywhere pleading people not to scribble or litter. But it's hard to find a wall not scribbled upon.
We strolled inside the environment park, spotted the 100-year old tree, the duck-lake and reached the nature study center. I don't know what's inside because the place was locked on Sunday. But from here you can get an amazing Panoramic view of the surrounding hills. One of them stands out like a volcano about to erupt. It almost looks like a painting.

Take some time to explore the environment park. Once you leave the zoo behind you will find yourself amidst large beautiful trees and coffee plantations. The coffee plantations are nowhere close to Chikmagalur or any other hill station. They are scarce and dry, but I loved strolling in the forests. The large old trees hold a special place in my heart. They remind me of Tagore's "Bolai", a short story of the deep affection a timid motherless boy grows an emotional attachment with a seedling he plants. The plant grows into a large tree right in front of the house, turning into an eyesore to many.. Read the beautiful short story when you get a chance.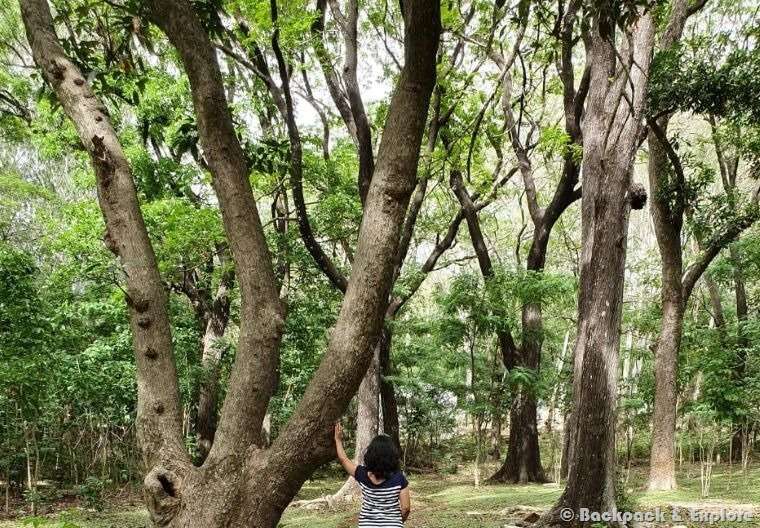 We walked out of the zoo and headed to the Governor's bungalow. The red-colored mansion standing at the center of a lovely garden is hard to miss. On your way to the mansion, you will be greeted with a few more monkeys. They mostly mind their own business unless you have some food-item in your hand.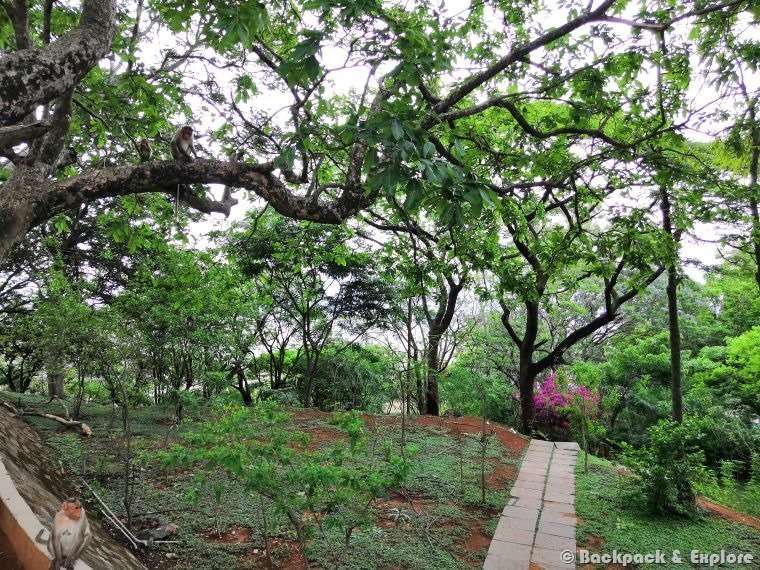 As we walked up to the stairs to the highest summit of Horsley Hills, the dramatic skies awaited us. We stood at the cliff as the wind gushed against our body threatening to blow us away, literally. This place is pure poetry in motion. You can spot localized rainfall on the horizon if you look at the picture closely.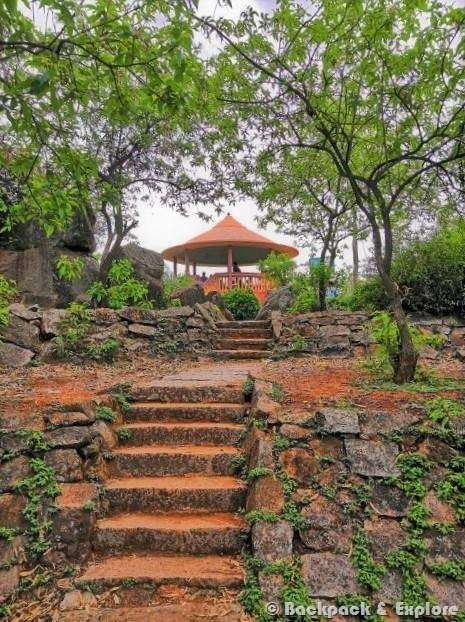 Not this one, the one below. Right here below!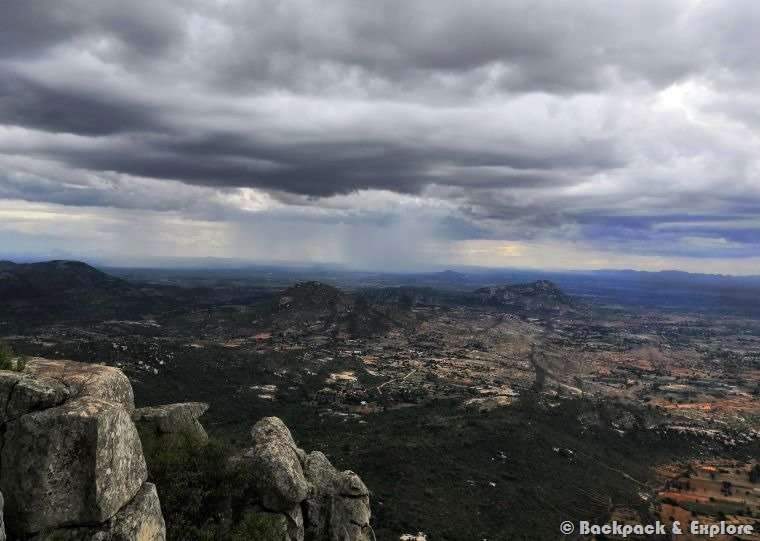 We finally took a last lap of the Haritha resort while heading towards the car parking. There are pretty cottages amidst greenery and an attractive swimming pool inside. There are a couple of other hotels as well other than the government resort. It was getting late and we were aware of the Bangalore traffic on a Sunday evening. So it was time for us to leave Horsley Hills. I wished to visit the ancient Chennakesava Temple. It is located 40 km away from Horsley hills and was originally built by the Cholas. But pragmatism trumped my romance for old things and we headed home.
On our way back, less than a kilometer away from the Horsley reception we came across the wind rocks viewpoint. It had started drizzling by then but the winds drew us out of our car to the wind rock. The local name of this place is Gali Bandalu. It's a great picnic spot and has beach umbrellas planted on the rocks. I could easily spend a couple of hours here. Will do that the next time.
We did plan to stop at the Gangotri lake, but as I said, it was non-existent at that time. So we bid adieu to the dreamy Hills and headed back to our business as usual.
How to reach Horsley hills
Well if you stay in Bangalore, Horsley hills is a comfortable 150-km drive one-way. Therefore it is an easy one-day trip. If you are visiting with family, you may want to spend one night at the resort, but it's not necessary.
From Chennai, the nearest town of Madanapalle is 250 km. It's doable in one day, but I'd recommend a weekend trip with a one-night stay. Not only will you get enough time to rest but also have the time to explore other places around Horsley hills.
From Hyderabad, it is 550 km away. It is a great destination for a long weekend from Hyderabad. On your road trip, you can include Kurnool fort and Gandikota as well.
Places around Horsley hills
Other than Kaigal falls there are a few other places near Horsley Hills that you can easily visit on a one-day trip. This is the list in order of my preference.
Chennakesava temple

located in Sompalle village, about 40 km from Horsley hills.
Rishi Valley school located only 12 km from the Horsley hills. Spanning over 350km it is a famous activity-based boarding school. Established in an ancient valley of Rishikonda hill, it is also famous for one of the oldest Banyan trees in India.

Talakona waterfalls

, 49 km from Horsley hills. This would have topped my charts had the uncertainty of water not been so high.
Horsley hills are just 130 km from the famous pilgrimage site Tirupati. So if you are planning to visit Tirupati you can include a stop at Horsley as well.
If you are visiting Bangalore for the first time I recommend you to check out these amazing yet reasonably priced private tours-
Are you ready to go on this road trip? Don't forget to read and download our Road Trip Essentials Checklist. Read this massive listicle of my top 25 favorite travel destinations in South India for India travel inspiration.
How did you like my story? Would you like to take this trip? Tell me in the comments section and ask me any questions you have. Pin the image below to save the post for later. If you like my stories, don't forget to subscribe to our monthly newsletters.
Read Next
Weekend trips like this are what keeps our wanderlust soul alive. Thankfully India is full of surprises in every corner. Here are a few of my other favorite trips from Bangalore.
Note: All pictures are owned by Backpack & Explore. Please don't copy any content without our written consent. The post contains affiliate links. It means if you purchase anything through those links, we can be eligible for a small commission. This comes at absolutely no additional cost to you.