In this post, you will come to know about the best places to stay in Goa for different styles of holiday. Goa – the name itself lifts my mood. This tiny state of India has everything that delights a traveler. Golden beaches, stunning Portuguese churches, beautiful forts, tropical spice gardens – just name it and you have it here. What people often under-estimate about Goa is the fact that it's a state, and it's larger than you might think. I had a hard time selecting where to stay in Goa on our first trip.
So, I created this guide which will help you decide which region of Goa to stay in and the best hotels in that part of Goa. To get the best recommendations, I reached out to the community of travel bloggers who are also Goa-philes. Before we get into their picks, here is a guide about where to stay in Goa based on the kind of holiday you are looking for.
Where to stay in Goa?
If you are visiting for the first time, I'm sure your Goa itinerary would have the most tourist spots including but not limited to just beaches. Beach shacks, floating casinos, famous forts, UNESCO heritage sites and the beautiful Western Ghats – I wanted to see them all on a 3-day trip. In such a case, the best place to stay would be in and around Panjim, the capital of Goa. It is located in central Goa, close to the Mandovi riverside which has the floating casinos, the heritage sites of old Goa, Fountainhas as well as the throbbing beaches of north Goa.
Check out accommodations in Panaji
If you are looking for a relaxed family holiday, south Goa beaches like Mobor beach, Palolem beach, and Agonda beach are great places to stay. I'd prefer a beach resort so that I could enjoy the beach vibes whenever I want to. South Goa is also the preferred location for team-building off-site events organized by companies.
I remember having a great time at Holiday Inn resort on our team offsite. South Goa is secluded and less developed than North Goa. It also has the best luxury resorts and is a great place to rewind on the beaches. The disadvantage of these areas is that there are fewer markets and restaurants, and those which are there are more expensive the central or north Goa.
Check accommodations in south Goa
If you are visiting with friends for a fun-filled holiday with parties, street-shopping, and adventure, then North Goa is where you should stay. There are various types of accommodation here for all budget ranges. This is the most developed part of Goa and like Panjim, is well connected to the famous tourist spots.  There are cheap rented apartments, budget hotels, hostels, and luxury hotels as well. Some great places to stay here are Nerul, Candolim, Anjuna, etc.
Browse hotels in Candolim, North Goa
Best places to stay in Goa – Hotels and resorts chosen by travel experts
There are many budget hotels in Goa which you can find online. But if you are looking for something unique, someplace worth putting your money on, this is the only list you should look at. Affordable luxury hotels, 5-star beach resorts, boutiques, yoga retreats – the list has it all. What's more, this has been curated with the help of travel experts all over the world who have the experience of staying in different places and can distinguish the best from the good.
Pin the image below to save the post.
Holiday Inn Resort, South Goa
Location: Mobor Beach, South Goa

Style: Luxury beach resort

Class: 5- star

Suitable for: luxurious family vacation and team off-site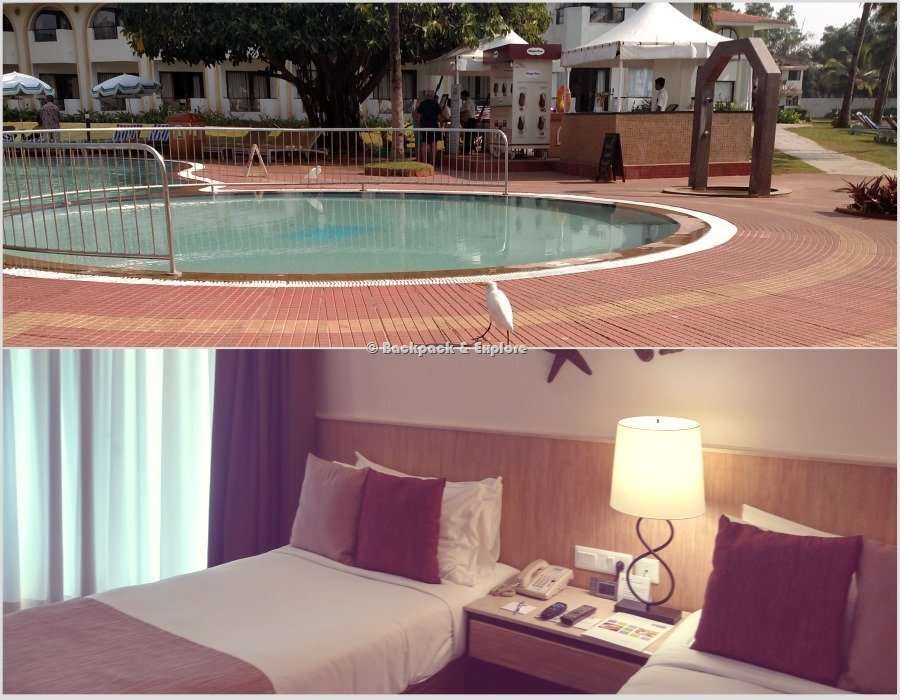 Located in the serene Mobor beach, Holiday Inn resort is a perfect place to escape the chaos of everyday life. A large area comprising of more than 200 rooms, beautiful beach, garden, and all modern amenities coupled with traditional Goan architecture – that's Holiday Inn resort for you. I stayed at the resort with my office colleagues on a team off-site and we thoroughly enjoyed our 2-night stay. The best part was watching the large number of white sea-birds on the beach and even in the garden. I don't know if these were flamingoes or herons or some other type of birds but they added to the charm of the beach.
You will get everything that you'd expect from a 5-star facility – welcome drink, great service, well-maintained swimming pool, gym and children's play area. There are lifeguards on the beach but please follow the regulations and strictly avoid the points with danger signs. When we went in January 2018, some third-party vendors offered four adventure activities at Rs. 1200. This included paragliding, jet boat, etc.
One tip for those going there for a family vacation would be to ask for a quiet room in advance. Many office parties are organized there which involve late-night DJ. They did have a hard stop at 10 pm though.
The Crown Goa, Central Goa
Location: New Panjim, Central Goa

Style: River view luxury hotel

Class: 4 star

Suitable for: First-timers to Goa looking for affordable luxury
If you are visiting Goa for the first time, I highly recommend this hotel for you. The best part is the location which is right opposite to the Mandovi river. Within 2 km radius, you have all the riverside casinos, Mandovi river cruise, the 16th-century church of "Our Lady of Immaculate conception" and the Panaji market. The Miramar beach is just a short drive away within 4 km from the hotel. So after a long day of hopping around Goa, we could still book a river cruise till 8 pm, and explore the surrounding. Since we are not into late-night rave parties in Goa, this was a perfect location for us to enjoy.
The rooms are spacious and of superior quality, but what impressed us here was the breakfast spread. The Crown, Goa is probably the best breakfast experience for us with amazing sausages, seafood cutlet, fresh fruits, desserts and morning beverages included in the spread. I especially loved the decoration of the dining hall with paintings of the fishing villages.
The Crown Goa does not leave a great first impression before you enter. A steep narrow lane leading to what looks like a not-so-impressive building. But as soon as you enter, it's a different world out there. Since it is located at an elevation the views of the riverside from the garden at night is spectacular.
La Mangrove, South Goa 
Location: Canacona, South Goa

Style: Glamping Resort

Class: 5 star

Suitable for: Sustainable, slow-travel lovers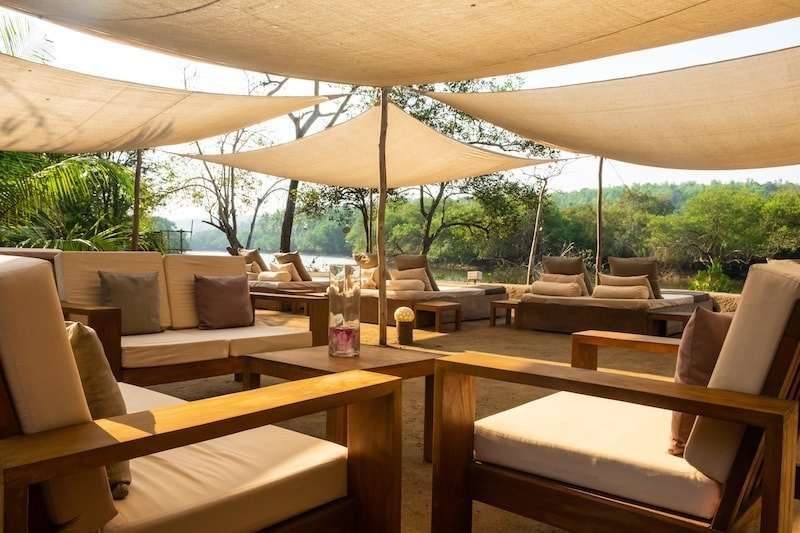 La Mangrove is a small, chic glamping (luxury camping) resort and eco-lodge just south of Galgibag at the southern tip of Goa. Nestled back from the coast and facing onto a river and mangroves, this resort is still just a few minutes from Galgibag beach – one of the few beaches in Goa that we found without crowds.
La Mangrove describes itself as an "Eco-luxury Boutique Hotel" and they manage to achieve just that feel. The accommodation consists of teepee style tents – stylishly decorated on the inside complete with full-size beds and even hanging wardrobe space to store your clothes. The only thing to note is that you do have to bend down to get into the tents – good practice for morning yoga!
We loved waking up to the sounds of the birds in the mangroves in this peaceful spot that is a unique place to stay in Goa.
The owners have taken lots of initiative when it comes to sustainability too, there are composting toilets (not as scary as they sound!), organic-only products are allowed (and provided) for showering so the greywater can be re-used, and use of energy is low here. This is a perfect choice if you are interested in environment-friendly responsible travel in Goa.
Reviewed by Ellie & Ravi from Soul Travel blog
Dudhsagar Plantation Farm stay, Central Goa (East)
Location: Karmane district, Central Goa

Style: Offbeat Farmstay

Class: 3 star

Suitable for: Looking for offbeat experience in Goa beyond the beaches
Dudhsagar Plantation farm-stay is a 30-acre, family-run farm stay in the middle of a spice plantation located in the Karmane district of Goa, very close to the Bhagwan Mahaveer Wildlife Sanctuary. It is a perfect base to explore the wildlife sanctuary, the famous Dudhsagar Falls (featured in Chennai Express movie) and the Tambdi Surla temple and waterfalls.
This offbeat stay in Goa has 5 cottages that are well-ventilated, larger than most found in Goa and open up to a veranda where one can sit and admire nature. The furniture in the room is minimalistic and the absence of TV or Wi-fi in rooms provides a much-needed break from social media and gadgets. The dining area is the liveliest space at Dudhsagar plantation where all the guests' lounge, interact and binge drinks their signature beverage – Jungle juice. Ashok (the owner) takes his guests on a spice-tour in the plantation or on a village walk. He can also arrange for trips to Dudhsagar and Tambdi Surla waterfalls.
The Dudhsagar Plantation and farm stay is a highly recommended place for nature lovers as it is just like a tropical forest with tall palm trees, fruit-bearing trees, medicinal plants, lush green landscape, and an eco-pool.
Reviewed by Pooja, Fairytale Studios
Deltin Suites, Central Goa
Location: Nerul, North Goa

Style: Casino Resort

Class: 5 star

Suitable for: those looking for a blast with friends.
Dazzling performances, high stakes games, delectable food, an open bar and live music performances – Deltin Royale is all about enjoying the high life. This floating casino has over 800 gaming positions and hosts multiple poker tournaments throughout the year.
A few minutes drive from the Deltin Suites, Deltin Royale is one of the most luxurious floating casinos in Goa. The 4 levels within the ship offer an unparalleled gambling experience from slot machines to roulette, poker, and many other games. They also have an invitation-only game for VIP guests on the fifth floor. With international performances, live food counters, The Grand Exclusive Whisky lounge the Deltin Royale is an unforgettable experience. If you are planning to travel to Goa to experience its nightlife and casinos, the Deltin Royale is highly recommended. Do stay at the Deltin Suites for a complimentary pick-up and drop every evening. You can also book their 'Stay and Play' packages to experience the best they have to offer. Coco Beach is about 10 minutes' drive from the resort which is perfect for the next morning. Enjoy 45-minute dolphin cruises and the local seafood to end your Goan holiday on a perfect note.
Reviewed by Khushboo, Munni of all trades
Taj Fort Aguada, North Goa
Location: Sinquerim Beach, near lower Aguada, North Goa

Style: Luxury Beach Resort

Class: 5 star

Suitable for: First-timers who want to explore the best of Goa and stay luxuriously
The Taj Fort Aguada is the oldest luxury resort in Goa. Its name comes from the fact that the hotel sits in the grounds of the historic Fort Aguada. A portion of the fort walls passes between the ocean and the grounds of the hotel. The hotel is beautifully landscaped and has a wonderful pool. Each room has outside space in the form of a balcony or patio. The ground floor rooms have an entrance from the hall and the patio. I stayed in a ground floor room and enjoyed because I could walk out onto the lawn straight from my room. There are several restaurants on-site and they include a variety of cuisines. The stunning beach is steps from the hotel.
What made the stay at the Taj Fort Aguada special was the people. The staff working there went the extra mile to make you feel comfortable. I was received at the Goa airport in a car. Upon arrival at the hotel, I was greeted with a shell necklace. This was all although I had arrived in the middle of the night. I remember one waiter in particular who told us the history of the area and all about his family. He had worked there for many years and clearly loved his job.
Reviewed by Tiffany, A Girl, and Her Passport
Santana Beach Resort – North Goa
Location: Candolim Beach North Goa

Style: Economical Beach Resort

Class: 3 star

Suitable for: Those looking for an affordable luxury stay near the beach
Whenever I visit Goa, I prefer to stay near the beach. My search for a peaceful yet economical place took me to Santana beach resort. This 3-star resort is situated on the Candolim beach away from the busy market area.
They have 3 different categories of rooms on the ground floor and first floor. All rooms are clean and spacious with all basic amenities. The small balcony with every room provides an open sitting space. There is lots of greenery in the resort with well-maintained manicured gardens. The palm trees are lined along the pathways and add to the beauty of the resort. They have 2 swimming pools, one is bigger and another one is smaller near the dining area.
The Santana beach resort has a restaurant, where they serve Indian and continental cuisine. The breakfast is included in room tariff, which is not an elaborate affair but they have several options of Indian and American breakfast items. The bar in the resort is small but has a decent collection of liquor and provides an open and indoor sitting area.
The rear gate of the resort opens on Candolim beach and it is one of the best beaches of Goa. There are some popular shacks like Calamari on the beach, where one can enjoy food and view. Otherwise, there are several small and big restaurants within 1 to 1.5 Km radius of the resort.
Santana beach resort is quite centrally located and all the popular North Goa beaches like Calangute, Baga, Vagator, and Anjuna are close by. It is also not too far from Panaji and old Goan churches, we went to Dudhsagar waterfall, Divar Island and Chorao island from here. It is not a super luxury resort but one of the best places to stay in North Goa and value for money.
Reviewed by Sapna from My Simple Sojourn
Lotus Nature Cure, North Goa
Location: Sinquerim Beach, North Goa

Style: Wellness Retreat

Suitable for: Those looking for a unique health and wellness experience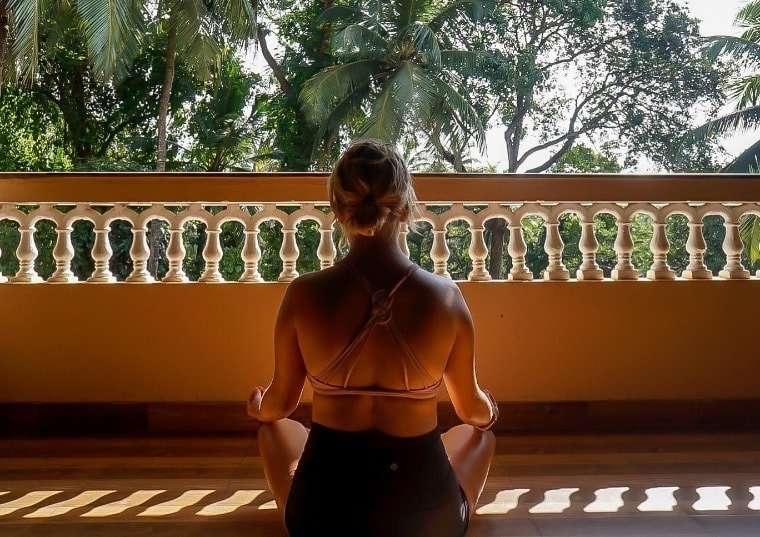 Goa is one of the most popular places in India to practice yoga and there is no shortage of amazing retreats to try it. I spent a week at Lotus Nature Cure which that ended up being the highlight of my time in India.
The retreat is set in the teacher's house, a beautiful building with several rooms for guests. There are both private and shared rooms available (two double beds). The rooms are spacious and open, with a beautiful balcony overlooking the outside garden.
Yoga is practiced twice a day, in the outside yard or at a nearby beach. Three meals are given each day on the outside balcony which are nutritious and based on the Ayurvedic diet. Each day, guests are treated to a massage in the downstairs of the home. In the afternoon, guests have free time to either relax in the home or walk down to the nearby beach.
I loved my stay at Lotus Nature Cure and felt incredibly relaxed after spending a week there. It is a special place that I'd recommend to anyone looking for a relaxing week in India.
Reviewed by Lora from Explore with Lora
Other Amazing and Unique stays in Goa
There are a few other hotels and resorts in Goa which I have heard raving reviews about through word of mouth. I didn't get personalized write-ups for the same but mentioning them below so that you can check them out.
Hope this list helps you to plan a fabulous getaway in Goa. Don't forget to save the post by pinning the image below. Have you stayed in a memorable hotel or resort in Goa? Would love to hear from you and include your recommendation here.
I write a new travel article every weekend. Subscribe to our blog to get the article delivered directly to your mailbox. There are some other exclusive freebies as well for our subscribers.
Disclaimer: The post has affiliate links. It means I may get a commission from the booking sites if you book through the links in the blog. This comes at no additional cost to you. This helps recover the cost of maintaining the blog without showing any ads. I use these sites as I get the best deals out there. All recommendations on this post are personally from the bloggers and me. I have not received any compensation in cash or kind for featuring these hotels.
All pictures and content of the blog are under copyright. Do not copy anything without my written consent.