Best Street Food in India (and how to make them at Home)
India will mesmerize you not only with the natural beauty but also with the potpourri of flavors it has to offer. Here in this post, I have compiled a list of the best street food in India according to me.  I have tried a limited number of these at home, but don't worry. I have linked it to some of the best recipe channels I follow. So let's embark on this virtual food tour to explore the taste of incredible India.
Disclosure: Most of the images used here are from the creative commons of Wikimedia, Pixabay, Unsplash and Canva. I have added some links to purchase ingredients and cookbooks online to help readers. These are affiliate links through which I may be eligible for a small commission without any additional cost to you. None of the links in the article is sponsored.
Best Indian Street Food – Vegetarian
1. Phuchka/ Golgappa/ Pani Puri – All over India
It is easily the most loved street food in India. Called pani puri in the West and south, Golgappa in North India and phuchka in the East, this is a delicacy you just can't miss on your trip to India. Boiled potato and chickpeas filled in crispy thin balls and dipped in tamarind water. Who would know that such a simple dish can redefine happiness? This is the only food I wouldn't try making at home. I just love my phuchka in the streets.
2.  Jhal Muri – West Bengal
Made of puffed rice, jhalmuri is a popular street food in West Bengal. Jhalmuri translates to – spicy puffed rice.  Puffed rice mixed with finely chopped cucumber, onion, dry powdered spices with a spoonful of mustard oil is what jhalmuri essentially is. Sometimes the tiniest details define the dish. For me, it is the slice of coconut in the jhalmuri which we used as a spoon during our train journeys in childhood. There are richer variations of jhalmuri with boiled potatoes, peanuts, finely chopped coriander, etc.
Take one bowl of puffed rice, add the finely chopped cucumber, onion, coriander, and chili (as per taste) into it. Then add a pinch of black salt, cumin powder, chaat masala, and red chili powder. Add a teaspoon of mustard oil and shake the mixture in a covered box. Fold a newspaper into a cone and pour the mixture into it. You can squeeze a small piece of lemon into it for garnishing.
Note: People say raw mustard oil is an acquired taste because of its strong smell. I think I acquired it from my birth.
Other variations are bhel puri of Maharashtra and other parts of peninsular India, and Alu Muri of Meghalaya.
[biginfobox color="#FFE5CC" textcolor="#ffffff" href="https://amzn.to/30JKsa9″ button_title="Check on Kindle"]<Self promotion Alert!>
Miss traveling? Set out on a virtual journey across the length and breadth of India through picture postcards from breathtaking yet unexplored gems of India in my book Postcards from India now available on Kindle. You can buy it on Amazon.com , Amazon.co.uk and all other Amazon marketplaces. It's available in both paperback and ebook version and is free on Kindle Unlimited. [/biginfobox]
3. Bhelpuri – All over India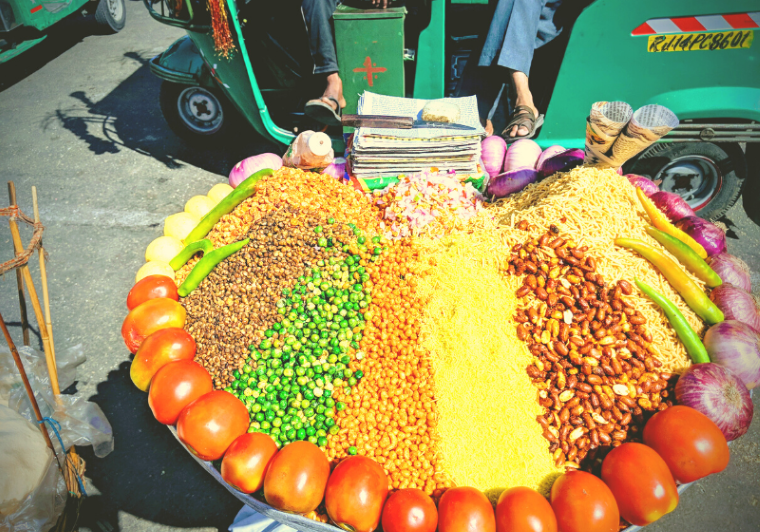 Bhelpuri is another street food based on puffed rice which is popular in almost all of India. However, it tastes different in different parts of India because of the variation of chutneys used. Growing up in Kolkata bhel puri meant a mixture of puffed rice with sweet and sour tamarind chutney, boiled potatoes, finely chopped veggies, jhuri-bhaja, and crumbled paapdi.
However, when I went to Mumbai I found that there are two types of bhel. Sukha bhel, i.e. dry bhel don't use the chutney, and the wet bhel uses three types of chutney – tamarind paste, red chili paste, and green chutney. Sukha bhel is almost like jhalmuri but without the mustard flavor, and with lots of sev and some crumbled paapdi. You can buy these ingredients online using the links in-line and store at home.
Check out the full recipe including preparation of the chutneys by Sanjeev Kapoor here.
4. Kachori – from UP & Rajasthan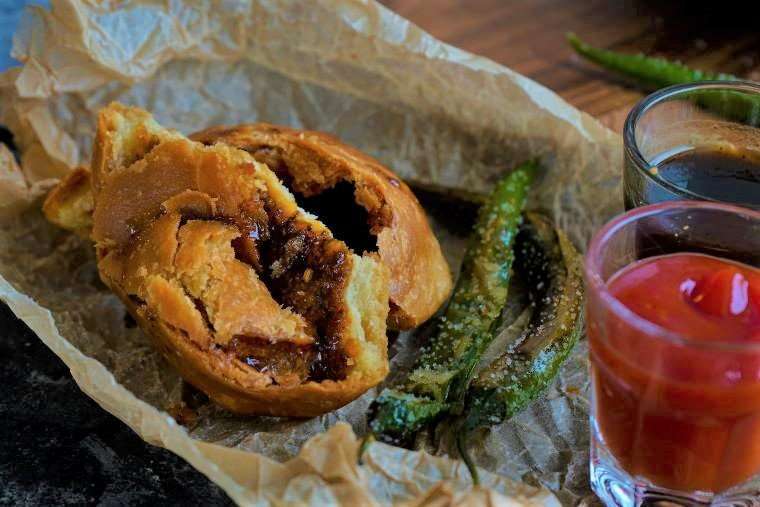 Kachori is a north Indian snack with origins in Uttar Pradesh. Rajasthanis popularised the khasta kachori by traveling through the length and breadth of India. These crispy flattened balls of flour with a sweet and spicy filling is a favorite street food for many across India. You will find people frying these hot juicy kachoris right outside the sweet-shops of India. In our home, we prepare a less crispy version of the same using grounded peas. It's called "koraishutir kochuri" in West Bengal and is very popular in Bengali households.
Read: Best places to visit in West Bengal
However, the street food version usually has a filling of grounded urad daal or moong daal. I've never made these at home but you can find the complete recipe by Nisha Madhulika here.
5. Poha Jalebi from Madhya Pradesh
Contrary to the reputation of street food in general, poha is a healthy dish. It's a popular breakfast item in peninsular India. It's flattened rice with vegetables cooked in a small amount of oil, garnished with coriander leaves. But Madhya Pradesh makes it a little more interesting. They combine the sweet and sour, by adding a couple of jalebis on top of Poha.  When in Indore or Bhopal, you must try this street food.
Rinse the flattened rice (Poha) a couple of times, so that it becomes soft. Then add a little bit of salt and turmeric powder into it and strain the water. Chop onions, coriander, and other vegetables of your choice if you are health conscious. Normally the street food variation does not have additional veggies. Heat 1 tablespoon of oil in a pan, tamper with a pinch of mustard seeds and a few curry leaves, followed by peanuts to roast. Then add finely chopped onions, and green peas and cook for 2-3 minutes. After this add the Poha into it and cook for 1-2 minutes. Add salt and sugar as per your taste. Well, your delicious breakfast is ready! I've never made jalebis at home so check out this recipe from Kabita's Kitchen.
6. Pav bhaji – Maharashtra
The utterly-butterly delicious bhaji is served with hot pavs laced in butter, garnished with a pinch of lemon and chopped onions. The bhaji is a veg curry made by boiled and mashed potatoes and peas, which is then cooked in oil with onion, tomatoes, and lots of Indian spices. Finally, a generous amount of butter is added to the hot curry which is then served with rolled bread. Well, you just got the recipe there. If you make it at home you can add other vegetables like cauliflower, beans, and carrots. For details check this out.
This dish originates from Maharashtra but is loved mostly in north India. You got to have pav bhaji when it's hot, and the butter on the curry is still melting. It's heavenly.
7. Akki Roti – Karnataka
Akki Rotti or the rice bread is a staple Breakfast food of Bangalore. I fell in love with it when I had it in the office canteen at HP as an evening snack. You can have it with spicy coconut chutney or sambar.  Rice flour is mixed with finely chopped onion, coriander leaves, and carrot (optional), and the dough is made out of it. Or you can make a plain dough of the rice flour only. Then you flatten it into a roti and cook it with a small amount of oil in a pan. You can check out the detailed recipe here.
Read : Best places to visit in Karnataka.
8. Vada Pav – Maharashtra
Source
Vada Pav is a simple authentic Indian burger originating from Maharashtra. It's the favorite snack of Mumbaikars. In a city of stark economic inequality, this cheap wholesome snack is a great leveler. Everyone from a rich businessman to an IT fresher, to people in low-paying jobs halt at a roadside stall to grab a vada pav.
It's very easy to make vada pav at home. Boil potatoes and cook it with some mustard seeds and curry leaves. Then coat it with salted besan and deep fry it. You got your batata vada (potato fritters). Now slit open a small rolled bread called pav and coat it inside with your favorite chutney – red chili paste, or green chutney or tamarind chutney. Then put the fritter inside and serve with green chilies or extra chutneys.
9. Papdi chaat – North India
Chaat is a favorite street-food across India. There's aloo chaat, Papdi chaat, Dahi paapdi chaat, and many other varieties. Crunchy small puris topped with delicious chutneys, chopped chili, and coriander. Papdi is like a flat golgappa. Like golgappa or phuchka, it's best enjoyed outdoors from a street vendor. However, you can buy paapdis online and make it at home with this easy recipe.
[infobox color="F4D7BF" textcolor="#311904″]
Miss traveling? Bring India to your home with these amazing Indian food at home. Check out these books if you are interested to learn more about the food trails of India:
[/infobox]
10.  Telebhaja – Kolkata
In Kolkata, telebhaja is not a food but an emotion. The name means anything that's coated with besan, or breadcrumb and deep-fried in oil. Doesn't sound healthy, but it's yummy. And guess what these are mostly 100% vegan. The main ingredient could be potato (alu chop), thin slices of brinjal (beguni), onion (piyaji, also called pakora in rest of India), or my favorite, grated beetroot and peanuts (vegetable chop). There's also another variety I love but it's not as common as the others – mochar chop, where the main ingredient is the banana flower. Right, the banana flower, before it turns into a large bundle of bananas.
These are essentially evening snacks that people have in the roadside stalls during their adda sessions. I remember buying these and eating them at home with muri. Sweet memories indeed.
Visiting Kolkata for these lip-smacking dishes? Check out the best Kolkata itinerary for first-timers.
11. Dahi Vada – North India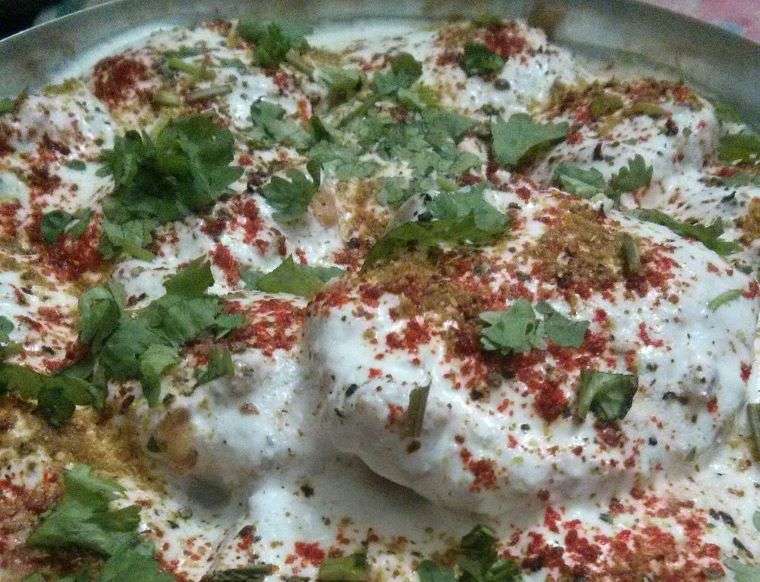 Source
Dahi Vada is a personal favorite of mine. Deep-fried fritters usually made of pulses dipped in creamy curd – that's Dahi Vada for you. Like chaat, it is topped with tamarind and green chutney and sprinkled with jhuribhaja or boondi. Like many Indian dishes, this has its origins in the Mughal cuisines, towards the late 18th century. In Dahi Bhalla, the fritters are of urad dal whereas in Dahi vada they are made of lentils. It's a popular street food item in Delhi, Rajasthan, and Odisha.
12. Dabeli – Gujarat
Source
Dabeli is a street-food with a unique blend of sweet and spicy flavors. The main ingredients are quite similar to vada pav – boiled potatoes and bun bread. But the taste is hot and sweet. Hot due to the chopped chilies and special dabeli masala, and sweet due to sweet chutneys and pomegranate. The dish originates from the Kutch region of Gujarat and is a perfect appetizer before a meal.
13. Pazhampori – Kerala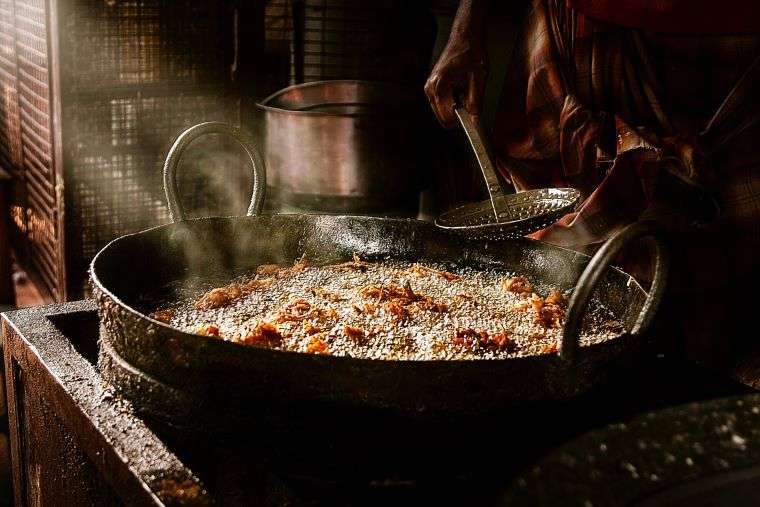 Also known as ethakka appam, pazham pori is a popular snack that can be found anywhere in Kerala. Like the telebhaja of West Bengal, these are fritters. The difference is in the spices used for the coating and the main ingredient that's fried. Pazham pori is usually made of sliced bananas that are well coated in all-purpose flour batter. It comes with a variety of seasonings such as salt, sugar, and turmeric powder, which is then deep-fried. You can have it with a cup of hot ginger tea on an evening in Kerala. 
Best street food of India (non-veg)
14. Kaati Rolls – Kolkata
The delectable Kolkata Rolls are no longer the city's best-kept secrets. From Bengaluru to Mumbai, some misspelled boards of "Kolkata kaati roll" have popped up everywhere now. It is one of the original fast food in India. The legend goes that the Nizam restaurant in Kolkata came up with it in the 1930s. Office commuters wanted some quick pick-up food, instead of the traditional roti curry. So there came the skewered chicken kebabs wrapped in Parathas, which came to be known as rolls. Today the experience of Durga Puja in Kolkata is incomplete without gobbling rolls in between pandal-hopping.
The recipe is simple, make a nice paratha with white flour (maida), roll it with omelet and then sprinkle onion rings, chopped cucumber, green chilly sauce, mustard sauce, and a little bit of tomato sauce on it. Yes, it is that simple and it is best kept that way. Then you can add roasted or fried chicken cubes or mutton cubes in it. Replace the maida with healthy multigrain atta, or add broccoli and lettuce into it – if you want to ruin the essence of the roll completely. 
Check out this comprehensive Kolkata Guide I wrote about my city.
15. Chicken lollipop – urban India
Chicken lollipop or chicken drumsticks are spicy chicken-leg pieces which you will find in most of the prominent Indian cities. Chicken leg-pieces are coated with a spicy paste of maida, cornflour, green chili paste, and ginger garlic paste, and then deep-fried and served hot.
16. Fish Fry and its numerous variants – Coastal states of India
Fish Fry is my favorite fast food in India. In most places here in South India, King Fish or Sear Fish is used. The fish is cut just as in regular fish curry and deep-fried after coating with the masala. The coating is usually very spicy and has a tinge of tamarind paste in South India. However, back in Kolkata, we wouldn't call it fish fry. We would simply call it homemade "maachh bhaaja", which in Bengali means – well, fried fish. Now the difference between the fish fry and fried fish is huge in West Bengal.
The Kolkata Fish fry uses Bhetki fish fillets. The fillets are coated with a moderately spicy cornflour paste then dipped in breadcrumbs and deep-fried. The result is simply magic. Other variants are butterfish, fish finger, and the royal Fish Kobiraji. They are best enjoyed with Kashundi – a special Indian mustard sauce.
17. Momo – North East
Momo is a Tibetan delicacy that is a staple in North East India. But it is equally popular in all major cities of India. The sight of a lady standing with a stack of steel containers on top of a portable stove lits up my eye in the evening. These dumplings are less than half the price at the restaurants and are mostly as good. Of course, some people make the coating too thick, so like phuchka, we have our favorite momo vendor in every locality. While chicken steamed momo is the most common, there are veg momos as well as fish momos. I have never seen a fish momo stall on the street though.
I had the best momos in Sikkim. Check out the best itinerary for Sikkim in Winter.
Best Street Food of India (Sweet delicacies)
19. Falooda
Falooda beats any of the expensive smoothies and desserts in restaurants hands-down. That's true for many of the street food, but the specialty of falooda among Indian food is that it looks as delectable as it tastes. The main ingredient of this drink is Sabja or sweet basil seeds. These are good for health and have a cooling effect on the body. Put soaked sabja seeds in a tall glass, add boiled vermicelli, followed by rose syrup, chilled sweetened milk, and stir well. Then top it with a scoop of vanilla ice-cream and garnish it the way you like. The vendor makes it right in front of our eyes so we know the recipe, but I'm eager to try it at home.
20. Lassi
Lassi is the perfect drink to have after a meal. It's a drink made of thick curd and sweet, sometimes topped with malai and pistachio. The curd helps in digestion and the taste brings sheer happiness. It can be easily prepared at home by whisking the curd rigorously and adding salt, sugar, and a little bit of water. I often put seasonal fruits like mango or watermelon to it and mix it using an electronic mixer.
To know more about these incredible Indian smoothies, read the book Lassis of India by Radha Bhatia.
21. Kulfi
Kulfi is the original Indian ice cream made of thickened milk or Rabri. It comes from the Persian word "Qulfi" and came into existence during the Mughal empire of the 16th century. The detailed process of preparation was first documented in the book Ain-e-aqbari. It was extremely popular then and continues to be so even now, throughout India. My first experience of having kulfi was in Jamshedpur.
It is available in several flavors nowadays like litchi, sitaphal, etc. in the streets of Kolkata. has also entered into the branded space with Kwality Walls and Mother Diary coming up with Kulfi icecream. However, eating the traditional Kulfi from roadside stalls is just precious. You can easily devour it at home with this recipe on my favorite cooking channel.
22. Ice Gola
Ice Gola is the most popular dessert in Mumbai, especially during the summer. They are cheap, tasty, and look amazingly attractive. These are frozen desserts that do not use any dairy products. Simply ice soaked in a variety of syrups and served in a plastic glass or bowl. I think the most favorite flavor among Mumbaikars is the Kala khatta. The street vendors stand near the beaches with a large number of bottles filled with colorful syrups. It's now found everywhere in India, especially near the famous beaches.
You can easily make these at home using Ice Gola Syrups.
[biginfobox color="#efacd0″ textcolor="#000000″ title="Common Ingredients for cooking Indian Street Food" href="https://amzn.to/300viwX" button_title="Buy Online" layout="vertical"]
Commonly used Spices:
Chutneys and pastes:
Cilantro

Mint leaves (pudina)
Other base ingredients:
[/biginfobox]
Special Mentions
One dish which I couldn't include in any category, but is something I can't imagine a road trip without – Chai. Chai is Hindi for Tea, so there's nothing called chai-tea. Black tea is boiled with milk, grounded ginger, or cardamom to produce this magical beverage. Most of the good quality tea produced in the tea gardens of India are exported abroad or too expensive to be sold as street food. The tea used for masala chai and other flavored chai in the street stalls is not of the grounded tea leaves. You can buy pre-mixed masala tea leaves online, where you don't have to boil the spices while making the tea.
Indian street food is as rich in variety as the Indian culture. There are so many delicious street food that I couldn't put in my Top 21. Here is a list of some popular street foods which deserve a special mention-
Bhutta – Roasted Corn sticks
Samosa chaat
Aloo Tikki
Chhole Bhature
Bread omelet
99 varieties of Dosas
So these were my favorite street foods all over India. Have you tried any of them anywhere else? What is your favorite? What did I miss? Share with me in the comments, and share the post if you liked it. Don't forget to pin it so that you can try your favorite recipes from here.