13 Best Places to visit in December in India – Beyond Goa
December is knocking the door and so is the winter vacation. It's time to take out those woolens which lie in the cabinets under your bed rest of the year. And it's time to find out the best places to visit in December in India. 
The first place that comes to mind when you think of winter vacation in Goa! It's amazing, we know that. But there are places equally awesome, yet way less crowded to celebrate Christmas and New Year's Eve, and spend a short winter holiday in. So, I collaborated with some of the best travel experts in the industry to curate the list of best winter destinations in India along with suggestive itineraries!
Best places to visit in December in India for Sea-lovers
In India, winter is the best time to visit the beaches and backwaters. Not just tourists, even foreign birds love to visit India during the winter. The top destination in everyone's mind in December is Goa – the ultimate hippie paradise! But it tends to get very crowded and expensive as well. So here are our picks for the top beach destinations to visit in December in India.
1. Andaman and Nicobar Islands
By Soujanya, The Spicy Journey
Minimum Duration recommended: 5 days
It's not a secret that the Andaman and Nicobar islands are the untouched parts of India. You can make a trip here in December when the weather is just right. Once you land at Port Blair (the capital city), make sure you catch a light and sound show at cellular jail where you'll hear the tales of brave freedom fighters of India. While in Port Blair, visit the Corbyn's Cove beach and take a day trip to Ross Island where the British colonizers used to stay. Next, take a boat to Havelock island. You can stay at one of the many resorts on the island. Check Hotels here.
The Radhanagar Beach on Havelock Island is known to be one of the best beaches here. You can even take one of the small boats at the jetty and go to the elephant point for snorkeling. If you want to catch a glimpse of the Jarawa tribes, take a trip to Baratang. In Baratang you can even see a mud volcano and limestone caves. There are lots of islands in Andaman and Nicobar to be explored such as Neil Island, Ross, and Smith islands.
How to Reach – There are direct flights to Port Blair from Chennai, Kolkata, Bengaluru, and Hyderabad.
Where to Stay – Varies from island to island. In Port Blair, I recommend the  Seaview Residency.
Check out the photo story of Andaman for more inspiration.
Check other hotels in Port Blair
2. Backwaters & Beaches of Kerala
Minimum Duration recommended: 3 Days
Kerala's backwaters and beaches are probably the most cliched idea for honeymoon couples in December. But despite its popularity, the place remains surprisingly tranquil and true to its roots. A boat ride in the Vembanad Lake, Alleppey will transport you into a different era. The lush greenery, numerous migratory birds, winter blossoms floating in the backwaters – this is indeed a unique experience. 
Since coastal Kerala is infamously hot and humid all around the year, December – January is the best time to visit. You will still need sunscreen during the day, but you will enjoy the moderate weather. The beaches of Kerala are as beautiful but a lot less crowded than Goa. Alleppey, Kovalam, Kochi, and Varkala have some of the most scenic beaches with loads of water-sports and great sea-food.  One week is the ideal duration of a trip to coastal Kerala, but if you just have one long weekend to spare choose just one of the places I mentioned. You can book a houseboat tour in Kochi for a wonderful experience.
3. Rameshwaram,  Tamil Nadu
Minimum Duration: 3 Days
Rameshwaram is an island that is connected to the mainland of the peninsula by the first-ever sea-bridge in the country. It's the iconic Pamban Bridge. Rameshwaram and Dhanushkodi have the most spectacular views of the Indian ocean. The beaches here are clean, desolate and surreal. Read more about it on our offbeat Rameshwaram Itinerary.
Rameshwaram is also a Hindu pilgrimage site, so it is dotted with beautiful old temples that are replete with folklores. It is also the hometown of India's favorite president, Late Abdul Kalaam who was also called the Missile Man of India. If you have more time visit Kanyakumari which is the southernmost tip of India.
How to Reach: Take a train to Rameshwaram from Chennai. You can also drive to Rameshwaram across the flyover on the sea.
Book your hotel in Rameshwaram
[box title="" bg_color="#ffffcc" align="center"]Have you heard about my book Postcards from India : India's Hidden Gems tell their Stories? Readers say it's a "must-read for every travel enthusiast" which is "showcasing enchanting India". Their own words, not mine. Please check it out on Amazon. It's available in both Kindle Ebook and Paperback version.[/box]
Best places to visit in December in India for Mountain -lovers
Mountains and hill stations are normally seen as summer getaways in India because of the climate. They are not always in mind when thinking of the best places to visit in winter. However, the Western Ghats of India and various regions in the North-east have the best climate to enjoy during winter. The snow-clad Himalayas is also the perfect winter wonderland in India.
4. Sikkim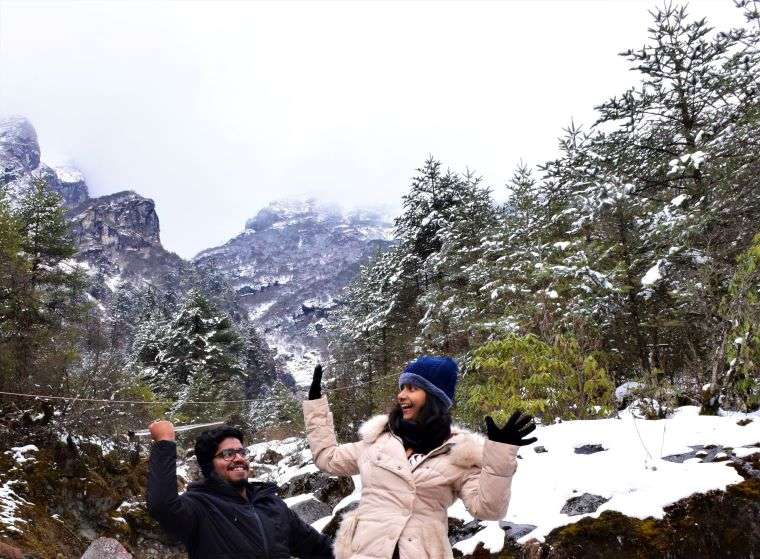 Minimum Duration: 5 Days
The tiny state of Sikkim is the crown jewel of the Eastern Himalayas. With snow-covered mountains and pine forests , North Sikkim is the ideal winter wonderlands from December to February. For those like me who have been in the tropics all their life, experiencing the sub-zero temperatures and snowfall in Sikkim is something else. You can stay at Gangtok and take a day trip to the frozen Tsongmo Lake one day. Then you can stay in Lachung and take day trips to Yumthang Valley, Katao etc.
However, if you are looking for warmth and colors, plan a holiday in West and South Sikkim. Pelling, Ravangla and Namchi are the places where you can stay during a trip to the West and South Sikkim. Even in winters, the weather here is temperate. The clear winter sky offers spectacular views of Kanchenjunga, the third highest peak in the world. Besides there are heritage sites, trekking trails covered in bright rhododendrons, tea plantations and a throbbing wildlife to watch out for.
You can read this post for all you need to know to plan a trip to Sikkim.
Browse hotels in Gangtok and Pelling
5. Buxa in West Bengal
By Trijit, Budget Travel Buff
Minimum Duration: 3-4 Days
Buxa and Jayanti both are remote villages located in the eastern part of Dooars in West Bengal. Buxa is popular for the Buxa Tiger Reserve which is a reserved forest for tigers situated in Buxa National Park, whereas, Jayanti is blessed with a lush green tea garden, wildlife sanctuary, beautiful hills, and mountain rivers.
Winter is the best time to visit Buxa-Jayanti, especially in December this place is ideal for wildlife photography and jungle safari when the temperature remains between 10 to 22-degree centigrade.
Go for a trek in Choto Mahakal temple. You will never forget the enchanting beauty of the entire trails. It is an easy hike but adventurous. You have to cross the Jayanti river two times by foot to reach to Choto Mahakal temple. At the end of the trail, there is a little cave where Lord Shiva is worshipped by the locals If you are physically fit and have enough time then continue your hike to Baro Mahakal. The journey is hard but the beauty from the top will heal your pain.
The Core Jungle Safari in Buxa Tiger Reserve is a must-do thing when you visit Buxa. The atmosphere of the forest will give you goosebumps when the gypsy car goes through the dense forest.  You can also visit Chunia Watch Tower, Buxa Fort, Pokhari Lake which are also popular tourist attractions in Buxa Jayanti.
How to Reach: Alipurduar Junction railway station is the nearby station of Jayanti. Kanchankanya Express is the best option to reach Alipurduar. Else there are several trains available from New Delhi to New Jalpaiguri which is well connected with Jayanti by road.
Where to Stay: Jayanti River View Homestay, Vamoostrail Raimatang
6. Manipur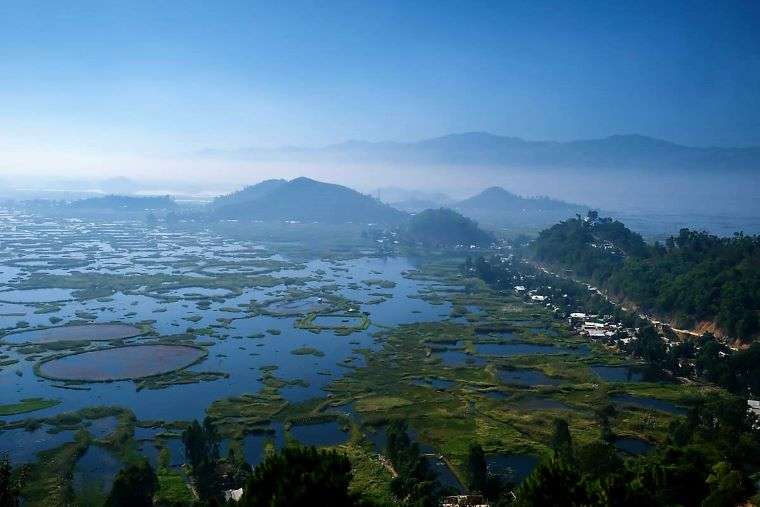 By Marco Ferrarese, Monkey Rock World
Duration: 4-5 days
When the rest of North India is cold, the lesser-visited states of Northeast India are actually at their best. There are many amazing places to visit in North-East India but Manipur, India's easternmost state bordering Myanmar, has a very special place in my heart. Four days are enough to have a feel for this state and its rich tribal past. Starting in Imphal, visit the Ima Kheitel, possibly Asia's largest market run exclusively by women, the old royal palace, and try to time your visit to catch a game of Polo. Indeed, with strong endemic species of pony, it is said that Manipuri invented the game of polo.
You should then catch a bus to relaxed Moirang, soaking village life before you visit the stunning Loktak Lake. Part of the Keibul Lamjao National Park, it's the home to the Sangai deer, the state's animal. The lake is dotted by "phumdis", which are circular floating islands made with matted vegetation that fishermen use to attract and trap fish.
How to Reach Manipur:

The easiest way is to fly to capital Imphal, connected to Kolkata via several low-cost operators like AirAsia and Indigo. Otherwise, a decent road (a rarity in the region) connects Nagaland's capital Kohima, which is 3 hours away from the nearest railhead at Dimapur, to Imphal.
Where to Stay: The Manippur House on the fringes of the city is recommended. Meals are included and the local family a delight to be with. Otherwise, the Classic Grande is a comfortable and modern hotel in the center of town. 
7. Spiti Valley in Himachal Pradesh
By Priyanka, On my Canvas
Minimum duration: 5 Days
Spiti valley is not just one of the remotest valley of the Himalayas, it is known to be one of the toughest terrains of India. Barren mountains, empty distances, low-density villages, and the extreme cold that characterizes Spiti make it a difficult place to travel, and many Spiti Valley travel guides agree with this thought.
Then why do so many people visit Spiti every year? Because the valley is one of the most beautiful places in the entire world. Imagine a white layer on top of all that I mentioned above — high peaks, vast horizons, and solitude covered under a shimmery white sheet. Do you see how gorgeous Spiti can get?
Spiti is a dream destination in the winter for many people for the snow-covered views but also to see the notorious snow leopard that descends to villages during winter to find prey. You can easily spend about 5-6 days in the valley visiting many villages and hiking around.
How can you reach Spiti Valley?
In winter, you will have to drive to Spiti from Shimla or take a Himachal road transport bus to Kaza, the capital of Spiti. The journey would take about fourteen hours.
You can either stay in Kaza or in many other villages of Spiti such as Hikkim, Kibber, Chicham, Demul, Key, et cetera. Kaza has many hotels and guesthouses but other villages mostly have homestays that you can find when you arrive at the village.
8. Wayanad in Kerala
Minimum Duration: 3 Days
Wayanad was our first-ever trip to God's own country. Undulating mountains of Western Ghats, dense forests that are home to thousands of flora and fauna, aromatic spice gardens and coffee estates, sparkling lakes and perennial waterfalls – Wayanad is truly a dream landscape. The temperature during winter remains in the early 20s – neither cold, not hot. Unlike Munnar where the temperature ranges between 10 -15 degrees, you can visit Wayanad without packing any woolens. While Munnar (rather Chinnakanal) is my favorite hill station in South India any time of the year, Wayanad is rather off-the-beaten-track.
Trek to the Chembra peak, visit the Banasura Sagara Dam and sail on the Kabini river to Kuruva island. Learn more about Wayanad's history and tribes in the museum, visit the pre-historic Edakkal caves and trek to the waterfalls too. There is no dearth of things to do in Wayanad, so you should spend a minimum of three days here. Of course, if you're on a longer vacation, just head to Idukki district where you can stay in Munnar, Chinnakanal, and Thekkady for a few more days. 
How to reach: You can easily get an overnight bus from Bangalore or Kochi to Kalpetta (in Wayanad). The drive from Bangalore via Bandipur forests during the day will be scenic and adventurous.
Where to stay: There are many homestays inside the coffee estates and spice gardens where you can get a cheap, yet memorable stay. For more luxurious experience book jungle resorts. 
Best places to visit in December in India for City-hoppers
Villages and small towns of India are beautiful and I love to spend my time there. But some gorgeous cities found their way to our list of top 13 places to visit in December in India. If you are traveling with family, young children and elderly parents, then these are a great choice. They are easy to reach, have many playgrounds, museums, amusement parks and are more accessible than the rest of India.
9. Kolkata, West Bengal
Minimum Duration: 3 Days
Kolkata always brings a smile to my face because it's my hometown. It's a beautiful city with just the right mix of heritage and modernism. December in Kolkata reminds me of the snow-white clouds floating in the azure sky, collecting the morning dew from the garden, foggy mornings with men in monkey-caps and the most enjoyable afternoons. The main reason for choosing Kolkata in this list is, of course, the fantastic weather and awesome food. Do try this food tour when you plan to visit to Kolkata.
Check out the perfect Kolkata itinerary for 3 days.
See the architectural treasures like Victoria Memorial, heritage sites like Jorasanko Thakur Bari and watch sunset at Prinsep Ghat– there's so much to do in this chaotic city! Christmas markets and celebrations of Park street is the special highlight of a trip to Kolkata in December. Then you can take day-trips to Dakhineshwar and Belur, Bakkhali and Henry's Island and  Bolpur Shantiniketan for an extended vacation. 
How to reach: Kolkata is one of the four original metropolitan cities of India and has a big international airport. It is also well-connected by super-fast trains like Rajdhani and Duronto Express
Where to stay: The Oberoi Grand, Taj Bengal, ITC Sonar Bangla
10. Ahmedabad, Gujarat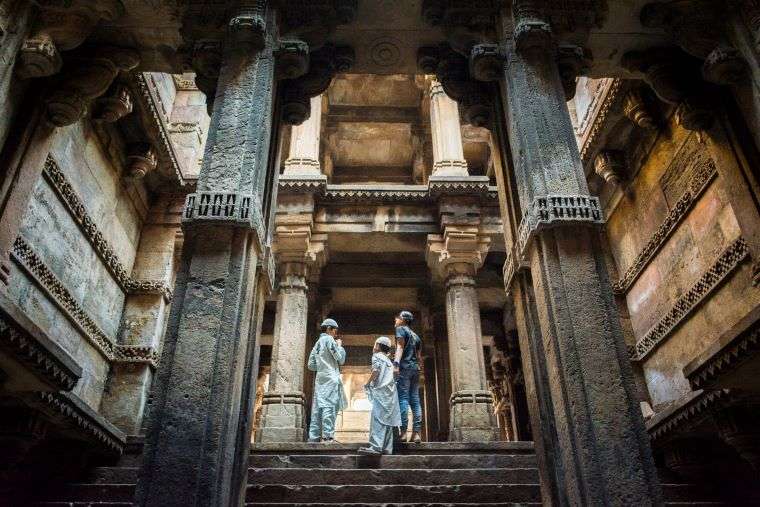 By Alex, Lost with Purpose
Minimum Duration: 3 days
The city of Ahmedabad, Gujarat and its surroundings are a great place for a long weekend in December. The average daytime temperature is in the mid-20s… and you might even need a jacket at night!
Ahmedabad is India's first UNESCO World Heritage-listed city. The city is overflowing with ancient mosques, bazaars exploding with colors, and, best of all, delicious food. Gujarati thali is famous for a reason!
Some of Ahmedabad's highlights include Sabarmati Ashram, (one of Mahatma Gandhi's ashrams), the Calico Museum of Textiles, Hutheesingh Jain Temple, Jama Masjid, and Siddi Sayid Masjid.
You can easily spend two or three days in Ahmedabad, but there is plenty to see around the city, too. Rani Ki Vav, the exquisitely preserved and UNESCO-listed step well, is not to be missed. Rani Ki Vav is located near Patan, a town 130km northwest of Ahmedabad, which is also home to the Patan Patola, one of the most impressive textiles and weaving techniques in the world.
Another choice day trip from Ahmedabad is Modhera. The townhouses a beautiful sun temple, established in 1027. Modhera is about 100km northwest of Ahmedabad.
How to reach: Ahmedabad is well connected by road, rail, and air. There are daily trains from many major cities.
Where to stay: The House of MG is a beautiful heritage hotel in the heart of the city. They also serve amazing thalis. Browse other options here.
11. Udaipur, Rajasthan
By Ellis Veen, Backpack Adventures
Minimum Duration: 4 Days
Udaipur is one of the best destinations in India in December. With pleasant temperatures and great weather, it is a great time to come to this beautiful city in Rajasthan. It's not only the lakes and palaces that make this city worth a visit, but also its scenic location in the Aravalli hills.
With all the possible day trips into the lush green hills and with the number of temples and palaces it is easy to spend about 4-5 days in Udaipur. To escape the city you can visit rural villages, ancient Jain temples, scenic lakes, and hilltop viewpoints.
Udaipur was once the capital of the Mewar kingdom. Although no longer kings, the Mewars still own the Udaipur city palace. A large part is now open to the public as a museum about the life of the royal family. Other Mewar palaces have turned into fancy hotels so if you have the money you can sleep like kings and queens in Udaipur. Some are even in islands in the scenic Pichola lake.
Besides the top tourist attractions, there are also a lot of opportunities to watch daily life at Udaipur's bazaars or at the Ghats of Pichola lake. A lot of travelers stay much longer in Udaipur than they originally plan because of the relaxed atmosphere and the number of things to do.
How to reach: It is easy to reach Udaipur by train from Ajmer and Delhi. Alternatively, you can fly from Delhi, Mumbai or Jaipur into Udaipur airport.
Where to stay: For a nice place to stay I can recommend Udai haveli. 
12. Bikaner and the Thar Desert, Rajasthan
Ellie & Ravi , Soul Travel Blog
Minimum Duration: 3 days
Many visitors to Rajasthan head up to Jaisalmer for a taste of life in the desert, but there are ways to experience desert life in Rajasthan without heading as far as Jaisalmer and with many fewer fellow visitors! You can take a desert trip/safari from Bikaner instead, and slow down to the desert way of life and visit the Thar Desert from there.
If you choose to do a camel safari in Rajasthan, we recommend choosing an operator who takes good care of their camels and supports local farming communities, as the going can be tough on camels. One such option is Hara Experiences who operate camel expeditions from Bikaner with less riding and more interaction with local communities.
Getting there: Located in North Eastern Rajasthan, Bikaner is well connected to other cities in Rajasthan and also with Delhi, and can easily be reached by bus, car or train.
Where to stay: Some of the safaris offer overnight camping along the way in the desert. Or, if you prefer to stay in Bikaner itself and explore from there we recommend the Bikaner House, in the heart of the Thar desert who have different styles of glamping rooms.
13. Chennai and Pondicherry
Chennai isn't the city that evokes the same kind of enthusiasm among tourists as does Mumbai or Delhi. But Chennai has a charm of its own. Its beaches are far cleaner and beautiful than the other major metro city on the coastline – Mumbai. Chennai is a great spot to base yourself for short trips to Pondicherry, Mahabalipuram and many other winter destinations in Tamil Nadu.
However, if I have to plan a 5-day trip I'd stay 2 nights in Chennai, then spend a day exploring Mahabalipuram and on the same day drive to Pondicherry. Then you can explore Pondicherry for two more days at least. Of course, if you have a longer time you can stay and explore the regions more, along with several day trips like Gingee Fort, Auroville, Yercaud, etc.
How to Reach: Chennai is one of the four original metro cities in India and has one of the busiest international airports. Both Chennai and Pondicherry are well-connected by Indian railways.
Where to Stay: ITC Grand Chola (Luxury hotel in Chennai), Accord Metropolitan (mid-range in Chennai), Promenade Pondicherry  (seaside hotel in Pondicherry)
Frequently asked questions about traveling in India in winter
So these are the top 13 places shortlisted for your winter vacations this year. We made an effort to choose nor just the most popular ones, but a fair share of offbeat wonders too. Now here are a few travel tips and Q&A for planning your winters in India.
What should I pack for India in winter?
Beaches of India have a warm-weather even during winter, so you can bring summer dresses, cotton tunics, etc. A light jacket will be enough for an occasional cold evening if you decided to spend your holiday on the beach destinations only.
However, if you are visiting the Western Ghats you should bring light woolens and scarves. Also, bring comfortable track pants for adventure activities.
For visiting the Himalayan hill stations you must be ready for sub-zero temperatures. So bring heavy woolens, thermals, woolen socks, and trekking shoes. Check out the best guide to choosing travel shoes in India.
What are the different activities to explore in December in India?
Think of ice-skating in the snow-clad Himalayan Hill stations, or walking on the frozen lake (Chadar Trek in Ladakh), exploring the spice gardens of Western Ghats, or all sorts of marine adventures in the tropical coasts. There is an abundance of activities to explore in the Indian winters. Given the comfortable weather, it is the best time to take walking tours in the otherwise hot and humid cities like Kolkata, Chennai, and Mumbai.
First, choose your destination and then browse for activities on Get Your Guide
Where to celebrate Christmas in India?
Christmas is celebrated with a lot of pomp in India. The best places to visit in India in December for Christmas are Goa and Kerala. Panjim in Goa, Alleppey in Kerala and the French colony of Pondicherry has some of the most beautiful churches in India. 
Where can you find snow in India in winter?
The most popular hill stations where you can see snow in winter are Shimla, Manali, Nainital, and Darjeeling. But if you are looking for more beautiful and adventurous experiences visit Sikkim, Manipur, Spiti Valley, and Ladakh. 
What are the best places to visit in December in India for honeymoon?
For a honeymoon, you must be looking for some places with scenic beauty with nice romantic resorts where you can relax and enjoy. Rent a houseboat in Alleppey, book a private beach resort in South Goa, a boutique in Shimla or stay in a palace at Udaipur. Other places to visit in December for honeymoon are Shillong, Coorg, Kovalam and Poovar islands of Kerala, Andaman and Nicobar islands, Jaisalmer and Sikkim.  
What are the best places to visit in December in India for backpackers?
For solo travelers and backpackers, Spiti Valley and Kasol have been all-time favorites. As  Ladakh, Sangla, Dharamshala in the north, Gokarna, Idukki, Dhanushkodi in the south and the entire North-east are some of the best offbeat destinations for backpackers. 
What are the best places to visit in December in India for families?
For family holidays with kids or elderly parents choose a place that involves less trekking, parks and more easy sightseeing activities. Rameshwaram, Pondicherry, Bikaner, and Kolkata are the best picks for family holidays from our list. Other than that you can also visit Dalhousie, Khajjar and Chamba, Kochi, Orchha, and Nashik are good places to visit with families in winter.
Recommended books related to traveling in India
These are some of my favorite books and authors whose works will surely inspire your India adventures.
Other books that will entertain as well as guide you through India are below:
And ofcourse, please don't forget my book Postcards from India : India's Hidden Gems Tell their Stories! It's now available on Amazon in both ebook and paperback version.
Make sure you travel to one of these places in your December holidays. I'm sure you are going to have a great time. What is your favorite out of these? Do you have any other place you want to add here? Tell me in the comments. Save the post and share it as you plan your December holidays.