Jorasanko Thakur Bari – Tagore House in Kolkata
In today's post let me take you on a virtual tour of the Jorasanko Thakur Bari, Kolkata, also known as the Tagore House. It is the ancestral house of Rabindranath Tagore, the first non-European Nobel laureate who was titled "Gurudev" (the great teacher) by Mahatma Gandhi.
Last month my parents and I finally visited Kolkata's most revered building – no, it's not the Victoria Memorial, it is Jorasanko Thakur Bari. Having lived in Kolkata most of my life, this was the first time I visited the house of Sri Rabindranath Tagore – arguably the greatest master of literature in the world! I know, the superlative will raise many eyebrows, and rightly so. "Greatest" is always an opinion, not a fact. I'm normally an objective person, at least I try to be, but for Tagore. Here my emotions have trumped my judgment and convinced me that he is indeed the greatest.
For the Bengalis, Tagore rules our hearts and dominates our lives. We sing his songs and read his poetries on national events, on religious celebrations like Durga Puja, on the new year, year-end, debates, discussions, farewells, and even funerals. So, as I walked from one room to the other the most absurd things happened. Goosebumps were raised without a trigger, tears filled my eyes for no apparent reason, flashbacks from my childhood readings appeared out of nowhere. Before I take you on this emotional journey with us, let's begin with some important details.
How to reach Jorasanko Thakur Bari, Kolkata?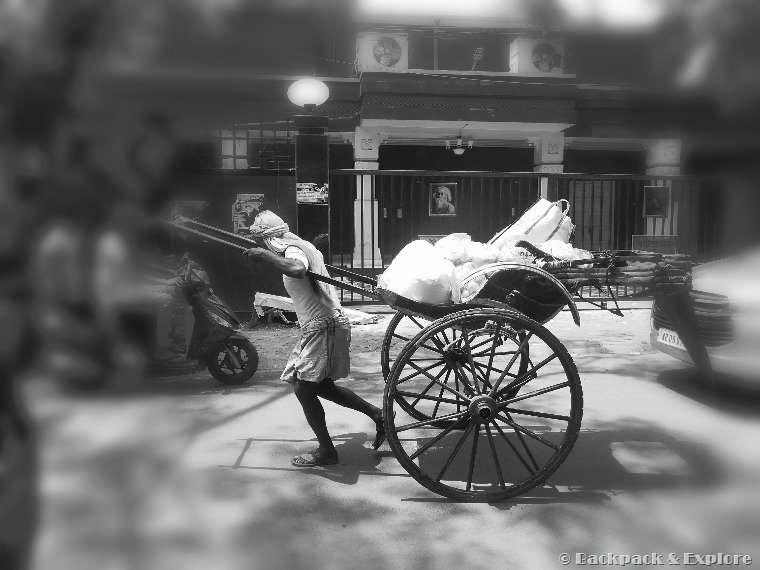 Jorasanko Thakur Bari is a famous address in Kolkata. It is located in Rabindra Sarani, just 800 meters away from Girish Park Metro station. So if you are put up close to any metro station, this is the best way to reach the Tagore House. If you decide to drive be ready to face some of the most traffic-prone roads in the city. On your way, you will pass by the Rabindra Mancha. The alleyway leading to Jorasanko Thakur bari has a big arch which is hard not to notice. As soon as you walk into the narrow lane, and enter the gates of the Jorasanko Thakur Bari, it's a whole new world that opens up in front of you.
A brief history of the Tagore House in Kolkata
The Tagore House of Kolkata is no longer just the ancestral house of Rabindranath Tagore. It has been transformed into a huge museum which focuses on the life and works of Rabindranath Tagore and other luminaries of the family. In the process, it encapsulates a quintessential part of the Bengal renaissance of the 19th and 20th century, in which the Tagores played an important role.
The Tagore family tree that is exhibited in the corridor of the museum is a galaxy of stars. Rabindranath's grandfather, Dwarkanath Tagore was an illustrious businessman who was called "Prince" because he earned, lived and looked like one.  He raised this beautiful mansion in the heart of Calcutta, the house that saw the birth of such great sons of India. Quite the contrary to his father, Debendranath Tagore led a life of simplicity and came to be known as Devarshi – the great saint. Rabindranath was the youngest of his 14 children. Many of his elder brothers were eminent personalities who contributed largely to the field of science, education, music, and art. His nephews Abanindranath and Gaganindranath Tagore were famous artists who founded the Bengal School of Arts.
Poet, novelist, short-story writer, playwright, music composer, painter, educationist, activist- Tagore donned way too many hats in a single lifetime than any mortal can imagine doing. He is the only writer whose songs are sung as the national anthem by two countries – India and Bangladesh. In fact, Sri Lanka's national anthem is also composed by Tagore. A stroll in the house makes you wonder what went on behind these walls that nurtured so many historic personalities. The Rabindra Bharti Museum was established in 1961 and has since then been enhanced and enriched with art, literary archives and personal belongings of Tagore.
Our tour of the Jorasanko Thakur Bari
A tour of the Jorasanko museum is a unique experience – for me, it was an emotional roller-coaster ride. Throughout the tour, there is a soft Rabindrasangeet music playing in all the rooms. An eerie feeling engulfed me as I entered the room where Tagore took his last breath. Here's a man who wrote his first poem at the age of eight. He then went on to write so many poems, short stories, novels, songs, and plays, that it would take one an entire lifetime just to read all of them. Even in his death bed,  when he was unable to write he asked his daughter to write what came to his mind. On the wall of the corridor was a painting of Tagore dressed as Balmiki in his own play, "Balmiki Pratibha".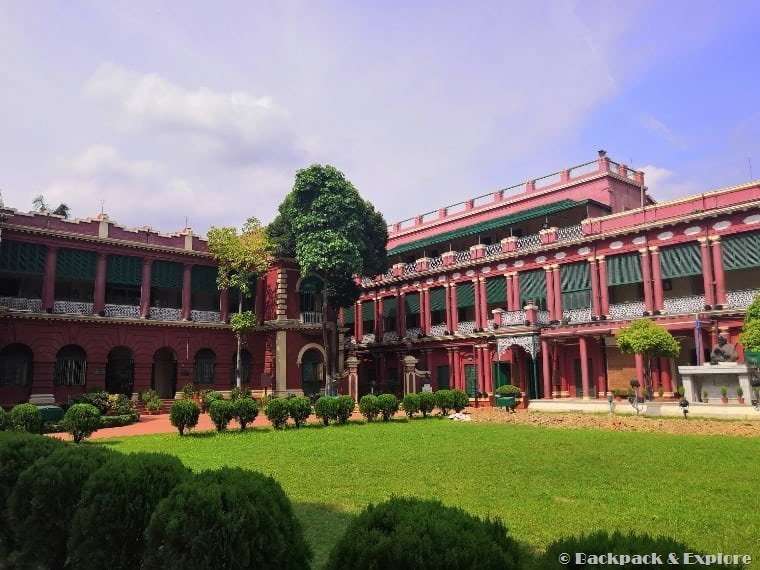 In school I read "Chele Bela", Rabindranath's account of his childhood in Jorasanko Thakur Bari of Kolkata. The chapters came to life as I walked from one room to the other. Tagore spent his childhood here before he went abroad for education. He didn't complete his studies and came back. Later he recognized and promoted the importance of "return to the forests" in our education system. He believed that true education cannot be achieved in a classroom of concrete but in the open-air. A strong proponent of reviving the Guru-shishya tradition in the modern landscape, Rabindranath invested his Nobel Prize money on establishing an open-air university in Shanti Niketan. He named it "Vishwa Bharti" – where the world meets India. It embodied his vision of the East meets the West in a unique form of the education system. That is where he spent a large part of his life teaching and inspiring people all over the world.
You will come to know about these and many other interesting aspects of his life and works.
We peeked into the "aatur ghor", the room where Tagore was born. We climbed a few stairs to reach the kitchen where Tagore's wife, Mrinalini Devi cooked while he observed her culinary skills.  Then there was the Bichitra Bhavan – a wall adorned with photographs of Tagore in his plays, his letters, articles, and lectures. These are some priced treasures. I have lost the count of galleries that were there in the museum, but I'll talk about the ones that I loved the most. They had some incredible collection of works by Rabindranath Tagore, Abanindranath, Gaganindranath and the students of Bengal School of Art in one gallery. You can also find the paintbrushes and palette of Abanindranath Tagore there.
A notable thematic gallery was the one dedicated to the camaraderie of Rabindranath and Jagadish Chandra Bose, the world-renowned scientists known for his work on radioactive waves and botany. The two polymaths shared an intimate friendship that defied the age-old clash of science and literature. I had read a lot of Rabindranath, but this was unknown to me. As expected, there were several archives and photographs of Tagore and Mahatma Gandhi in another gallery. Tagore worked closely with Gandhiji to fight against the partition of Bengal in 1905. There were some rare photographs of Tagore with young Bengali novelist Sarat Chandra Chatterjee, the firebrand poet Nazrul Islam and other legends of literature.
Then came the most interesting part. The museum also has galleries that are created and funded by foreign governments. The largest one is the Chinese Gallery, followed by the Japanese, American and Hungarian galleries in order of the size and richness of the collection. Tagore was invited by many countries for lectures and conferences. Tagore introduced India to the world and the world to India. In China, Tagore was revered long before his first visit in the 1920s. At the age of 20, Rabindranath wrote an essay "titled "Commerce of Killing people" vehemently criticizing the opium trade of China and British India. Tagore had later put great emphasis on how the two oldest civilizations of the world lived in harmony for centuries.
In the west, however, Rabindranath Tagore invoked mixed reactions – the one of reverence for the Gurudev and also of suspicion for his views of India's freedom. And why not? He is probably the only poet in history to have rejected the Knighthood from the British queen, while India was still a British colony. The US gallery has photographs of Tagore with Helen Keller, Einstein, and many eminent politicians.
The Japanese gallery was my favorite though. With all the Japanese art-work this gallery is a great tribute by Japan to the genius. The Hungarian gallery is the smallest one but is beautifully designed. As a Bengali, I thought I knew a lot about Tagore and there would be few surprises. I couldn't be more wrong. I didn't know how much Tagore's influence spread far and wide beyond the borders of India.
Our next lap of the tour was Bichitra Bhavan, a large hall with walls adorned by moments captured from Tagore's plays. This includes the original photographs from plays of Rabindranath enacted in India and abroad during his lifetime. The last lap of the tour was at the topmost floor dedicated to the works of Rabindranath's father, Debendranath Tagore. He worked with closely with Ram Mohan Roy in bringing social reforms and later founded the Brahmo Samaj religion. Half of the floor is the roof where I managed to take a picture as it was outside the museum premises.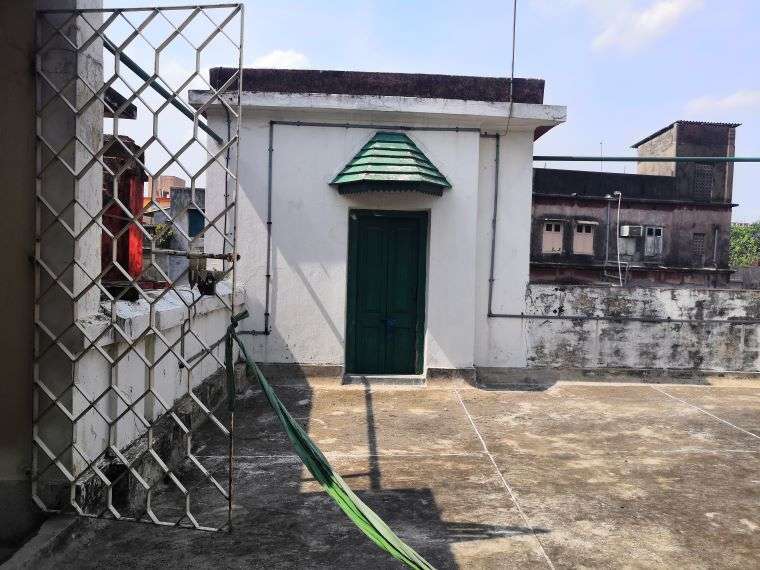 With sore feet and a heavy heart, we left the premises of the great Rabindra Bharti museum. It was time to face the blazing sun of June coupled with Kolkata's infamous humidity. We walked into the backyard which was the Thakur-Dalaan.
This is the stage where Durga Puja was performed until Debendranath Tagore renounced idol worship and took up Brahmo Samaj as a religion. You are not allowed to step on the stage for photography.
We went around the beautiful garden under the shade of old trees that were perhaps planted by Rabindranath himself. These were just random thoughts that filled my mind as I left Jorasanko Thakur Bari, looking forward to coming again.
Museum Timings and Fees
The museum fees have been increased but are still under-priced to make it accessible to all.
Entry fee – Rs. 30 for adult Indian citizens (and SAARC countries). For other nationals the charge is Rs. 150, that is, $2.19
Photography fee – Rs. 50 per device. Photography is allowed only outside the main museum, that is, in the courtyards.
Light and sound show fee – Rs. 50/-
Museum Timings – 10:30 am to 5 pm. Closed on Mondays and government holidays
Timing for light and sound show – 6:30 pm.
Every year on Paila Baisakh (the first day of Bengali Calendar) and birthdays of Rabindranath and other eminent poets of Bengal, there are special celebrations in the premises. Holi, also called "Bosonto utshob"(spring festival) is also celebrated in a distinct style in Thakur Bari. There is a small museum shop where you can buy some books, CDs, and photos. Personally, if there is something I could suggest to the authorities it would be to enhance the museum shop and have more in the collection. The museum shop in its current state was a major disappointment for me.
What to see in Kolkata around Jorasanko Thakur Bari
It will take you at least two hours to tour the Tagore House. To see each artwork and read everything put up on the walls it might take a whole day, and I know I wouldn't mind doing that. However, if you are in Kolkata for a short trip, you must also visit the Marble Palace only 1 km from here. After that, you can take a cab or bus to Newtown and visit Eco Park in Kolkata. It is the newest theme park in the city and my current favorite.
You can also visit some of the old charmers like Science City, Aquatica and Nicco Park (exactly in my order of preference). Finally make sure to drop in at the Viswa Bangla Gate, also known as the Kolkata Gate. This is another new gem in the crown of the City of Joy.  Currently, you can visit the restaurant by booking your tickets on bookmyshow available from Rs. 100 onwards. India's first floating hotel located at the top also has a viewing gallery that offers a 360-degree view of the beautiful city. If planned properly you can also return to Rabindra Bharti for the light and sound show.
Join me on this virtual tour of the Prinsep Ghat in Kolkata.
Where to stay in Kolkata?
The best places to stay in Kolkata to explore Jorasanko Thakur bari would be in the heart of the city like Park Street and Esplanade. These are the best hotels in these areas.
Hotels in Luxury Range
A heritage 5-star hotel located in Alipore conveniently close to prime tourist attractions like Victoria Memorial, Kalighat, and the business district of Kolkata.
Another fantastic property close to major tourist zones as well as shopping areas like new market. It is accessible via subway (metro stations) of Esplanade and Park Street.
Hotels in 4-star and 3-star category
Check out more options for Kolkata hotels here .
Recommended Books and Tours
I recommend you to read at least a couple of books from Tagore's huge repertoire. You can begin with the Best of Rabindranath Tagore.
Here are some full day trips I recommend:
Full-day photography tour – because Kolkata is a photographer's city.
Kolkata Food tour – because food is the key to the soul of Kolkata.
Disclaimer! There are affiliate links in this section. If you buy something using the links here, I will be eligible for a small commission without any additional cost to you. The revenue will help offset the cost of maintaining the blog.
Hope you liked this virtual tour. I will talk more about my city in the next few posts this month. So subscribe to never miss an update from Backpack & Explore. If you liked this post feel free to share this and pin the image below to save it for later.
What is the most thought-provoking museum you have ever visited? Have you visited Kolkata? How did you like it? Write to me in the comments section below. 
Disclaimer: All content, graphics, and pictures are mine unless specified in caption. Please do not copy without written consent from the blog owner.