Bangalore to Kodaikanal Itinerary and Road-trip Guide
Kodaikanal is a picturesque town in the Tamil Nadu near Ooty which is famous for its blossoms and weather. Somehow the name doesn't ring a bell for people living outside South India, unlike the more popular names like Ooty and Munnar. Perhaps that is the reason some bloggers call it an "offbeat" location. I disagree with those bloggers but we will come to that shortly.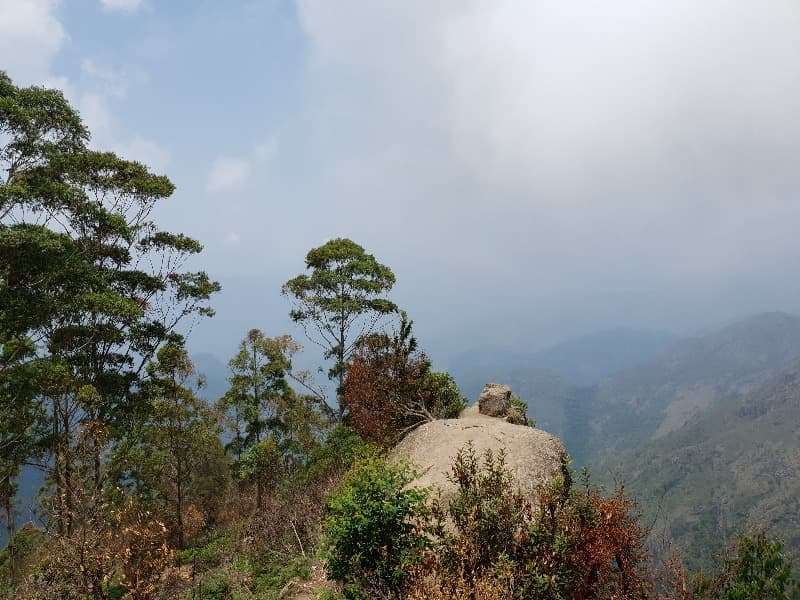 Imagine a land of eternal spring, lush green valleys, beautiful cascades, and pristine lakes – sounds like a paradise on earth right? Unfortunately, this is also the reason for over tourism that can spoil your experience in the town. The travel brochures keep highlighting the over-crowded tourist zones of Kodaikanal without being honest about the experience. So I decided to write an honest travel guide which will help you plan your Kodaikanal itinerary in a way that will enhance your experience and save you from disappointment.
When to visit Kodaikanal?
The short answer to the question is – any time but April-May (that is the summer vacation time in this region). Early monsoon in June and winters from November to March is perfect for a long weekend trip to Kodaikanal.
Read the list of best monsoon destinations in India.
Let me declare right away that Kodaikanal is not offbeat, definitely not in the summer. With Bangalore no longer being the city of forever spring, all working professionals in Bangalore and Chennai look out for "offbeat" destinations nearby to escape the summer heat. If you are among them (among us), then "summer heat" is the only thing you are going to escape.
You cannot escape commercialization, traffic congestion or the city crowd in Kodaikanal in summer.
When I first visited the place in the summer of 2015, I was surprised to see the traffic jam. I realized that it's super-crowded but still peaceful. It's a small town where all the places of interest are within a radius of 15 km, which makes it easy to navigate.
Exactly four years later when I visited the place again, it looked like the population has quadrupled by that time. To avoid traffic clogging in the dangerously steep and narrow roads the traffic operators made the roads one-way. Nobody likes traffic congestion but think of being stuck uphill at an inclination of 60 degrees for hours. So yes, summer is not the right time to visit Kodaikanal. This is why I have skipped it in my list of best summer destinations in India.
An ideal 3-day long weekend itinerary for Kodaikanal
If you visit in the summer, I will suggest you explore outside the Kodaikanal town. You may like to book a resort and completely skip the touristy spots (which I have marked in star in my itinerary). So here is a carefully curated Kodaikanal itinerary including the popular as well as offbeat locations in this not-so-offbeat hill station. 
The post is long and full of details, pin the image below to save it and read again later.
Kodaikanal Itinerary Day 1:
Reach Kodaikanal by 9 am and get your forest permits
Head straight to Berijam lake which is 22 km away from Kodaikanal bus stop.
Silent Valley viewpoint
Pine tree forest & Guna Caves
*Moir point, Pillar Rocks viewpoint, Green valley viewpoint*
 Walk along the Golf course
Stop shortly at the upper lake viewpoint for amazing views
While the list may look long, these are mostly viewpoints and usually don't take long. However, if the queues can be very long during the summer vacation. We saw most of these on Day 1 of our first trip to Kodaikanal.
Kodaikanal Itinerary Day 2:
Trek to Dolphin's nose
Visit Liril falls and Vattakanal falls 
Upper Lake viewpoint
Coaker's walk
*Bryant Park*
Chettiar Park
*Kodaikanal Lake*
Kodaikanal Itinerary Day 3 – the day of return
If you have time on day 3 you can visit Mannavanur lake first. However, if you are driving back to Bangalore it's better to start early so that you reach plain lands before sunset. You can stop at the Silver Cascade falls on the way. Other notable stops on your way back will be the Sacred Heart church, Kurinji Advanur temple and the Kodaikanal museum if time permits.
How to reach Kodaikanal?
Nearest city with an international airport is Bangalore. Kodaikanal is 449 km from Bangalore and 604 km from Chennai. There are a number of overnight buses that depart from Bangalore every day. The advantage of taking a bus is with timing. If you board a bus at 8:30 pm you will easily reach Kodaikanal by 9 am. Then you can get the forest permit for visiting the Berijam lake.
Jeeps and cars can be hired at cheap rates from the Kodaikanal bus-stop itself. The advantage of hiring a local driver is that they know all the routes pretty well, and they understand the local language. 
The joy of a road trip, however, lies in the journey. With numerous hairpin turns, lush green valleys, and breathtaking views, Bangalore to Kodaikanal road-trip is worth the trouble. In that case, however, you will need to drive overnight to reach Kodaikanal early. Otherwise, you may start at 5 am after a good sleep. Then you would reach Kodaikanal easily by 1 pm.
Rent a self-drive car from Myles or Zoomcar.
Where to stay in Kodaikanal
There are innumerable resorts, hotels, and homestays in Kodaikanal. Even in the peak season, you will get somewhere to stay if you reach without reservation. But they may not be great. Try to stay somewhere around the Kodaikanal lake as that is centrally located. We stayed at Le Poshe, a 4-star resort which offers an authentic hill-stay experience an amazing breakfast and dinner buffet.
The hotel has free wifi but as usual, I recommend you to always use VPN services while using the public wifi – the last thing you want is for your banking info or credit card numbers to get stolen by hackers while you're far away from home. Check this website for a guide to using VPN and select one among a plethora of options.
Other recommendations:
Places to visit in Kodaikanal – Day 1 itinerary
Berijam lake & Silent valley viewpoint
This is one place which was on the top of my list the last time we visited but I missed it because I didn't research properly. And also because it was the peak summer holiday season. To reach Berijam lake you have to drive through a forest where travel is restricted between 9:30 am to 3 pm. Only a limited number of tourists are permitted into the forests, so make sure you get the permits as early as possible.
The forest check-post is right ahead of the Moir point where you have to show your permits. While we were disappointed to miss this because of the restriction, I am happy that such measures are being taken to protect the natural wealth.
On your way to the Berijam lake, you will come across the silent valley viewpoint which offers a breathtaking view of the valley and the forests. Hopefully, the restriction to entry keeps the silent valley silent even in the peak season.
Pine tree forest and Guna caves
Pine forests abound Kodaikanal. However, this is the largest accessible pine forest that you can see in the map above. It's a perfect spot to visit with kids and family. You can relax, hike and explore the region. As with all tourist spots, there are many food vendors right at the entry to the pine forest.
Guna caves are located in the pine forest and are known for being the shooting location of a Tamil movie Guna. The roots of the tree emerge from the ground lending a unique charm to this place. Unfortunately, the cave itself is fenced out and no entry is permitted.
Viewpoints in Kodaikanal town
There are three popular viewpoints in Kodaikanal town – Pillar rocks viewpoint, Moir point, and green valley viewpoint in decreasing order of my liking. They are very easily accessible and are considered to be must-visit places in Kodaikanal. I would beg to differ. According to me, if you have time to visit only one of these viewpoints it should be the Pillar Rocks View Point.
The Pillar rocks viewpoint has been designed into a beautiful park with a paid entry. You will get a view of the three vertical rocks that rise to a height of 400 feet. It lends a mystic touch to the region indeed but there's a story behind it that few may know. Long ago a man named David Gelli visited Kodaikanal on his honeymoon and lost his wife to a fatal accident in the rocks. He climbed the rock-pillars and placed a white cross on it as a symbol of love. It survived many monsoons but was finally broken.
Moir point is the most famous of all the viewpoints and offers a bird's eye view of Kodaikanal's valleys and villages. This also has a paid entry and a beautiful children's park inside. There is a watchtower which is said to offer amazing views. When I visited it this year I looked up at the watchtower and decided that I am okay with the views I can see from the bottom of the tower itself. Take a look at the pictures to know why. I am sure that at any time except summer this would be a great experience.
Green Valley viewpoint is probably the most overrated place in Kodaikanal. There is a walkway that is jampacked with hawkers, almost like Kolkata's Gariahaat during Durga Puja. For those who did not get this analogy replace it with the most crowded street shopping destination you know and imagine that at its peak season. That is what the Green valley walkway was like this summer. It is also known as monkey point because there are many monkeys around, however, they were more afraid than us because they were so vastly outnumbered by selfie-taking humans. Again, the scene might be totally different in the off-peak season, but if you are short of time, you can avoid this place.
Kodaikanal Golf course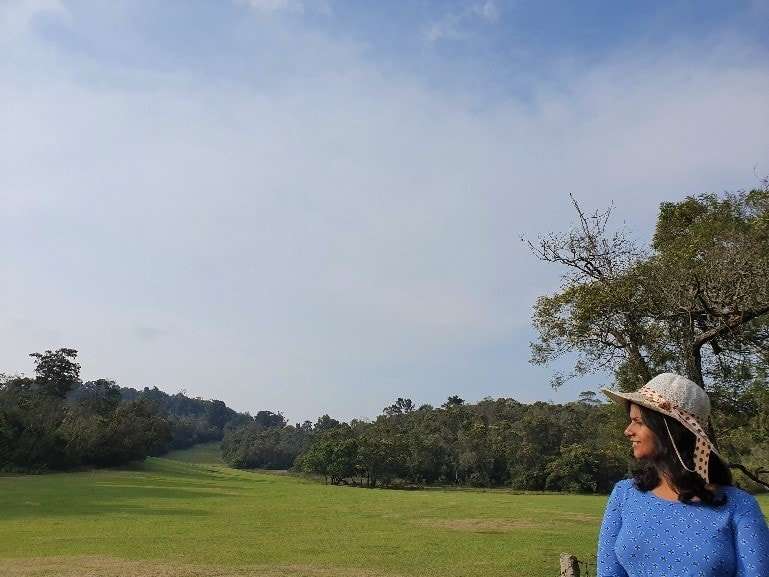 Kodaikanal golf course was a refreshingly quiet place even in the summer. Of course, you cannot enter it without permission as it is a private gold club but you won't be stopped from walking along the course. You can simply stroll along the golf course and click beautiful pictures. Just don't get over-excited and sprain your legs for no reason at all as I did.
Kodaikanal Waterfalls
There are many beautiful waterfalls in Kodaikanal but most of them are seasonal. Most of them would also involve trekking up to the point where you can actually see the falls. If time permits on day 1 you can visit the Bear Shola Falls. On your way to Kodaikanal lake, you will also come across the silver cascade waterfalls. This is the one cascade which is right in front of your eyes and you do not need to trek for it.
Alternative Itinerary
Here is an alternative itinerary if you are driving and reach Kodaikanal in the afternoon. You must be tired so visit the Silver cascade falls, Sacred heart church, the parks and Coaker's walk on day 1. Next morning head to Berijam lake and follow our original day 1 itinerary. 
Places to visit in Kodaikanal – Day 2 itinerary
If you are breakfast lovers like us you must have booked a breakfast buffet in your hotel already. If don't worry. There are plenty of shops near Kodaikanal lake which open in the morning to serve breakfast. Get up and enjoy a sumptuous breakfast before heading out, as today you will drive less and trek more. Don't forget to wear your running or trekking shoes today. Read how to choose the best travel shoes in India. Carry a backpack with at least a 1-ltr water bottle.
Trek to Dolphin's nose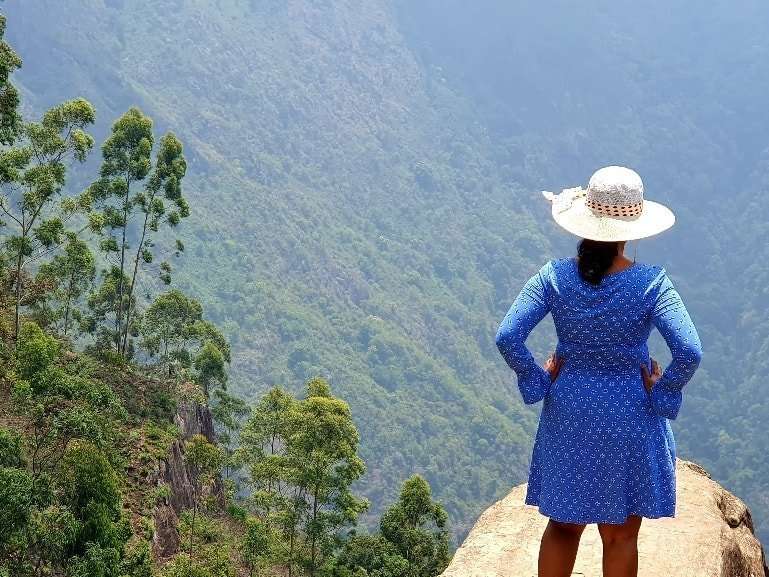 This is a 2 km long trek mostly downhill and slightly uphill towards the end. It is kind of a moderate level trek for newbies and an easy trek for the pros. You will see roots protruding out of the rocks as you hike downwards. There are many shops which sell water bottles and snacks here on the way. No entry tickets, no security and not enough dustbins mean that there is no restriction on littering. As you start the upward climb you will see the beautiful pine forests and uncountable plastic bottles scattered inside. If that was not enough someone inscribed on the rocks at a viewpoint – "I love plastics"! What a moron I wondered, and then I thought maybe it's just sarcasm.
Anyway, since the number of tourists is less, you will enjoy the serenity. The pleasant sound of birds, cricket and leaves ruffling in the wind will keep you motivated to complete the trek. There are three major viewpoints on your trek and the Dolphin's nose comes in between the other two. Its a giant precarious rock protruding out into the vastness of the jungles below. The view is worth the effort. Standing at the dolphin's nose gives you the impression of standing at the edge of the world. Be careful though as one slip can prove to be fatal here.
Upper lake view-point
The tough thing about dolphin's nose trek is that the return is uphill. So after returning take some rest before you start driving again. The roads of Kodaikanal are narrow and steep, the steepest among all other popular hill stations in South India. So don't stress yourself too much after this trek. Have lunch and drive towards the Kodaikanal lake. On your way, you will come across several beautiful viewpoints. One of them is the upper-lake viewpoint from where you can see the star-shaped Kodaikanal lake. Well, my observation was mostly amoeba-shaped lake, but that doesn't look great on a travel brochure right?
Coaker's walk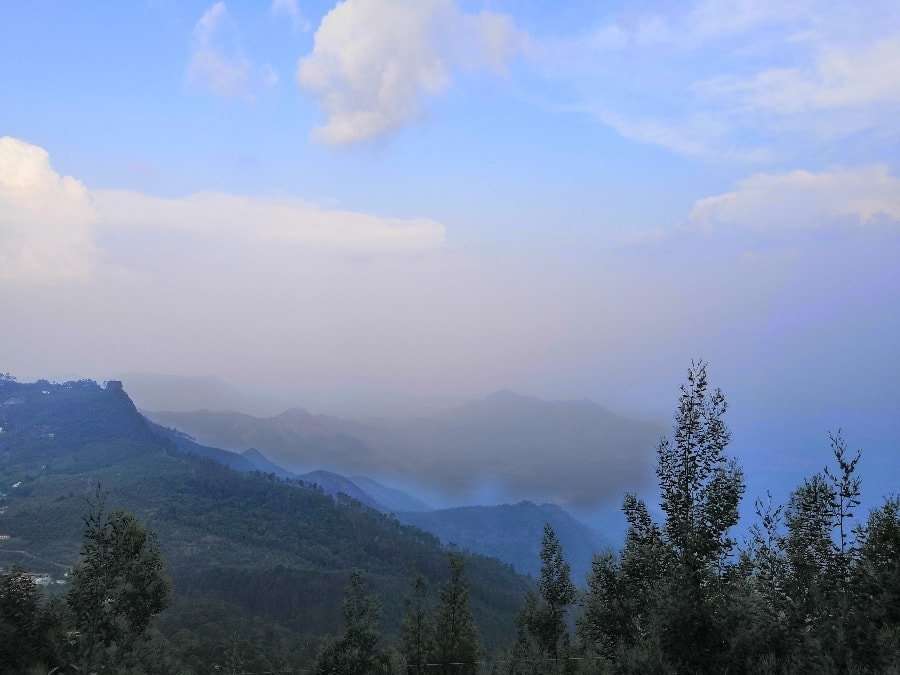 Next, you stop at the Coaker's walk and well, walk. It is a beautiful man-made 1-km long pavement built along the edge of the mountains lined with colorful blossoms all year round. It is also famous for the Neelakurinji flowers, a rare species of flowers that cover the Nilgiris once every 12 years. Besides Kodaikanal, the flowers bloom in the valleys of Kolukkumalai in Tamil Nadu, Annamalai range of Munnar in Kerala and in Bababudangiri hills of Chikmagalur in Karnataka.
The flowers were last seen between August to October in 2018 and will return to the face of the earth in 2030. However, the floral diversity of Coaker's walk will delight you anyway. On a clear day, you can see click amazing pictures of the valley. But Kodaikanal is usually cloudy and misty. That's also the reason why the temperature is in the sweet 20's even when the whole country is burning hot. So likely that most of the days you will not get a clear view of the valley. I loved the views as it is, even with the fog and the mist.
Apart from the various viewpoints at Coaker's walk, you will find lots of hawkers selling beautiful handicrafts. Wooden artifacts, artificial flowers, jute bags, and many such attractive items adorn the other side of Coaker's walk. What I liked most was a large number of dustbins throughout the walk. While that does make the photograph look a bit ugly, at least people do not have the excuse for littering here.

Bryant Park
Right opposite to the Coaker's walk is a beautiful garden-cum-park with amazing floral exhibition all year round. You will see nurseries of a variety of flowers with labels attached to them. This makes it a great excursion spot for schools, as children can not only enjoy the gardens and play in the park but also learn about the different species of flowers. Personally, I thought that too many labels marred the view though. It is a huge park where families can spend quality time playing with the kids, and enjoying nature's feast.
Chettiar Park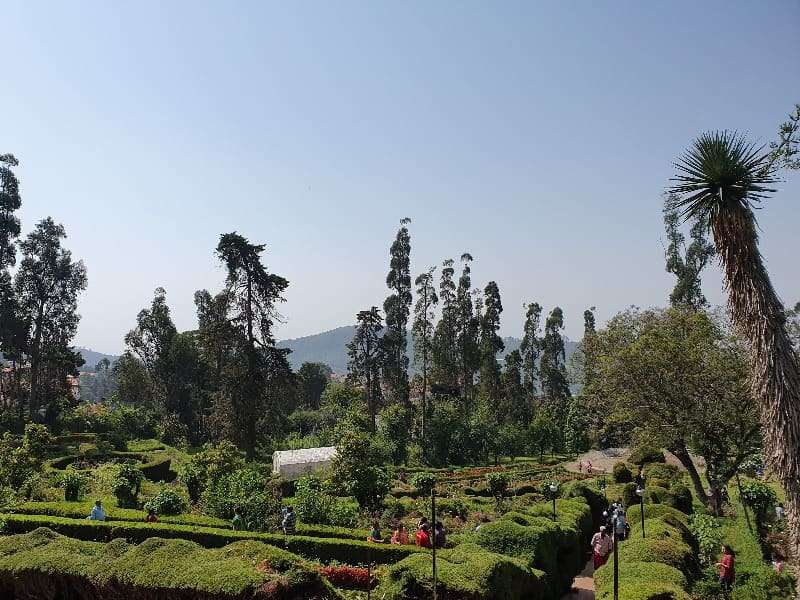 If you are looking for a slightly lesser-known (hence less crowded) park, then I will suggest Chettiar Park. It's on the opposite side of the Kodaikanal lake and is much smaller than Bryant Park. I loved the landscaping of the park more than its famous cousin.
Kodaikanal Lake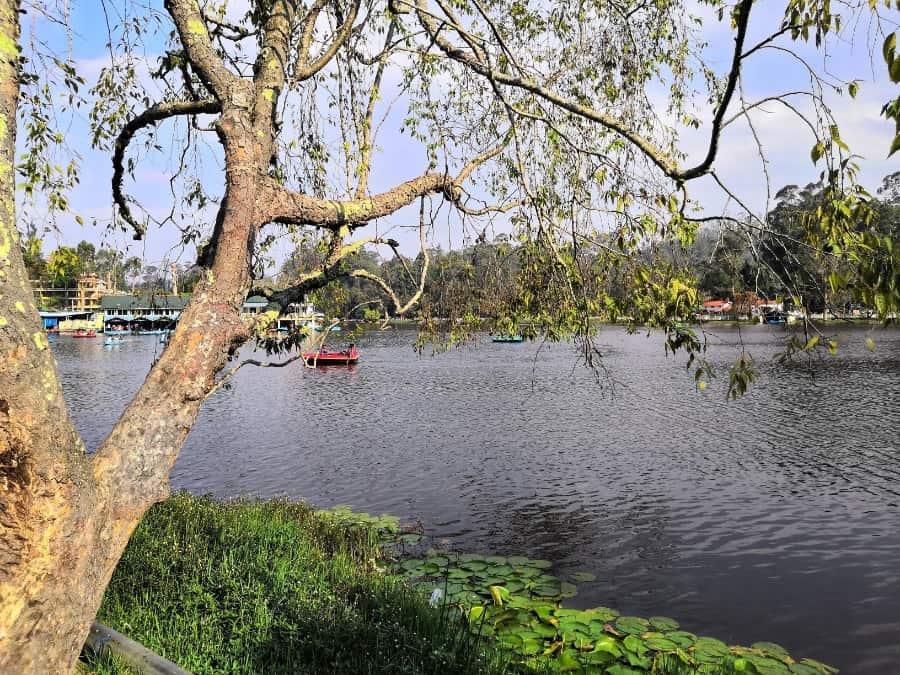 Kodaikanal Lake is a huge artificial lake at the heart of the Kodaikanal town. It's beautiful no doubt but is heavily commercialized. There are several recreational activities like horse-riding (don't recommend it at all), boating and kayaking. There are several vendors from whom you can buy roasted corn, peanuts, and pakoras.
Other points of interest in Kodaikanal
Kodaikanal, the princess of hills in south India is most famous for the natural landscapes. Even the man-made Coaker's walk and the artificial Kodaikanal lake are known for the natural views they offer. However, there are a few small monuments also which are of great significance in Kodaikanal. The incredibly beautiful sacred heart church, the historic Kurinji temple, the solar observatory, and the Kodaikanal museum are some of the man-made structures that stand out.
If you are into the really offbeat stuff you can stay at Bodhi Zendo for a night or more. Bodhi Zendo is located outside the Kodaikanal town, and if you are driving from Bangalore you will be able to see it on your way to the town. It is a Zen training center in South India and a melting point for spiritual enthusiasts from all over the world. Here you can enjoy a farm stay and participate in day-to-day activities of the center. The cost of a single room including food is Rs.350-Rs.400 for Indian nationals and Rs. 550- Rs.600 for foreign nationals. You can check more details about Bodhi Zendo on their website.
Kodaikanal – closing thoughts
For a compact recap, let me point out the important travel tips for Kodaikanal which I wish I knew before I visited.
Don't visit in the peak season of April-May.
Check weather forecasts before planning your Kodaikanal trip. The monsoons are mostly pleasant but can take an ugly turn (rarely though).
Get your forest permits to be able to visit the forests and the Berijam lake
Carry an umbrella or a waterproof jacket
Watch out for incredible views on your way. So if you are on the bus, wake up as soon as you approach the hills.
That's my comprehensive itinerary for Kodaikanal. Hope you liked it. If you did please share and subscribe so that you never miss a post from Backpack & Explore. We do not spam you with marketing emails. 
Disclosure: The post contains affiliate links for hotel accommodations and car rentals. If you make any booking through these links I may get a small commission without any additional cost to you. Of course, the recommendations are my own and I personally use all the websites that I link to as affiliates. All pictures unless otherwise mentioned are mine. Please do not use any content here without my written consent.