Chikmagalur Itinerary – A road trip in the land of coffee
Tucked in the foothills of Mullyangiri range, lies the charming city of Chikmagalur. The land of coffee as it is often called attracts thousands of tourists every year for its verdant valleys and green vistas. If you are in Bangalore, Chikmagalur must be high on your weekend bucket list. Planning for some adventure with friends or looking for a serene family getaway – Chikmagalur has something for everyone.
But it's not only that! If you travel to Karnataka, from anywhere in the world this monsoon- beauty is something you shouldn't miss. It's one of the best places to visit in South India. Here is a road trip itinerary for Chikmagalur which will inspire you to plan a trip this monsoon.
The post contains affiliate links. This means if you make any purchase through the links in the post, I may get a commission without any additional cost to you. This income helps me to keep the site up and kicking.
Related: The Best monsoon destinations in India
Bangalore to Chikmagalur Road Trip
Chikmagalur is located 240 km away from Bangalore and there are daily buses that you can avail for this trip. But the beauty of Chikmagalur is best enjoyed on a road trip. On a normal monsoon day, it will take about 5 hours to reach Chikmagalur with a short meal break. The route via NH75 is the fastest and the best route from where we stay in central Bangalore. However, if you live near Tumakuru you can drive through NH 73. A major attraction on the route is the Jain temple of Shravanabelegola. A beautiful 900-year-old temple that houses the largest monolithic statue in the world is located here. This break may extend your trip by a couple of hours as you need to climb 660 stairs to reach the temple! The next stop is at Hassan, followed by Belur and Halebeedu. You can stop at these places if you have a lot of time or simply follow the route and reach Chikmagalur.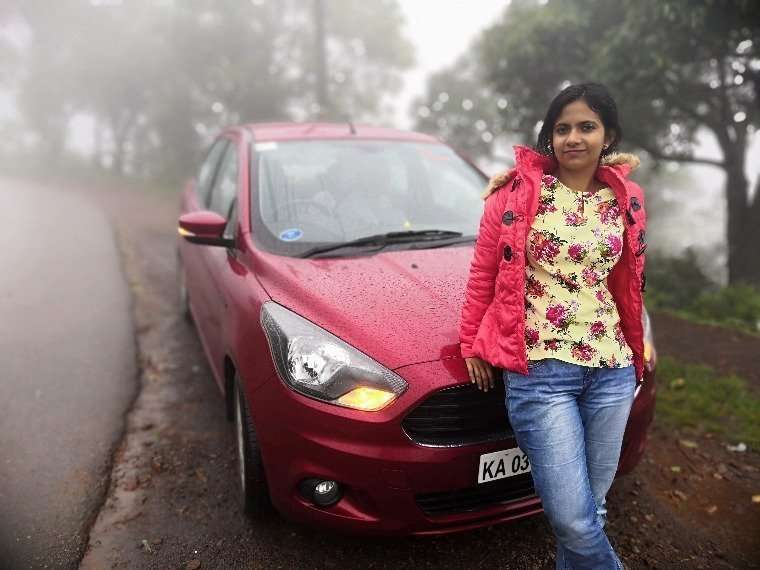 So this is the route I suggest:
Bangalore –> NH75->Shravanabelegola –>Hassan-> Belur –> Chikmagalur
Related: 21 Exciting One Day trips from Bangalore
Chikmagalur Itinerary
I visited Chikmagalur twice – once in monsoon and once in summer, but on both occasions, it was with family (senior citizens). This does put some limitations on how much we can explore in a short time and slows us down. Thankfully enough, I was able to explore quite a few places while planning the perfect itinerary I would take the next time I go. Here are three variations of Chikmagalur itinerary for you.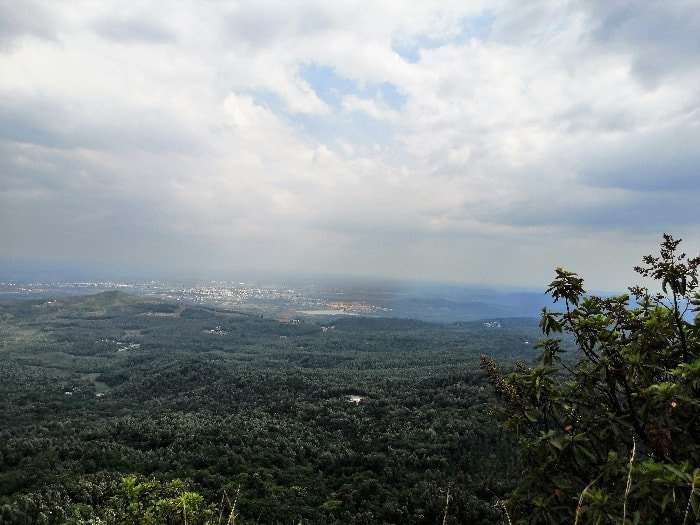 Chikmagalur itinerary for a weekend trip with friends
When Chayan and I travel together as a couple it is more like a weekend trip with friends. We remain outdoor most of the time and try to explore as much as we can. I do not like the touch and go experience with attractions, and Chikmagalur is not a place for that either. You will feel like stopping at a number of places just to enjoy the views, there are many opportunities for trekking and exploring the coffee plantations. So this is what we would do on an ideal weekend trip to Chikmagalur.
Day 1:
Start early morning around 5 am. Reach your hotel by 11 am and freshen up. Then go for a trek to Mullyangiri if the weather is cool. However, if you visit in the dry summer, I'd suggest that you reserve the trek for the next morning.
Start with a jeep ride to the Jhari falls, then drive to Bababudangiri hills. Come back to the Chikmagalur town for lunch. There are many restaurants in the town as opposed to the countryside which has limited options.
Visit the Mahatma Gandhi Park, Basavanahalli lake and watch the sunset at Hirekolale lake.
If it's too late you can skip Mahatma Gandhi park and Basavanahalli lake for the day.
Day 2:
Wake up early if you missed the Mullyangiri trek on day 1. If you have complimentary breakfast booked at your hotel, you can visit Mullyangiri at the sunrise and return to your hotel for breakfast and check out after that. Otherwise, give your feet some rest to make up for the exhaustion of two short treks on the previous day.
Check out at around 10 am, explore the tea and coffee plantations on your way to the Ayyanakere Lake. From here you can visit the Chennakesava temple of Belur or explore the temples at Halebeed. Then proceed towards Bangalore.
Book an excursion to Shravanabelegola and Halebeed.
If you have an extended weekend you may dedicate a day for a tour of the Bhadra wildlife sanctuary or for the Kudremukh trek. Well, Kudremukh trek can be a weekend trip in itself.
Chikmagalur itinerary for a weekend getaway with family
By family, I mean with parents and senior citizens since I do not have the experience of traveling with kids. If they are physically fit enough you are ok to go with the same itinerary as above. However, if they are not fit enough for trekking you need to plan differently. The last time I visited with my extended family we booked an Airbnb inside a coffee plantation. It was quite hot in the summer so this turned out to be a good decision. This is a road trip itinerary you can consider in this situation.
Day1: Stop at the temples of Belur on your way to Chikmagalur, Yagachi dam, then visit Jhari falls, Mahatma Gandhi Park and Hirekolale lake
Day2: Explore the plantations, visit Belavadi (Halebeed).
Best places to visit in Chikmagalur in 2 days
So now that you have a rough itinerary let's take a look at the best places to explore in Chikmagalur so that you can decide what interests you the most. Really, Chikmagalur district has so many gems that sometimes I feel that the label "weekend destination" does not do justice to it. The best thing about living in Bangalore is that you can keep visiting places like these every weekend, and still discover something new.
Mullyangiri Hills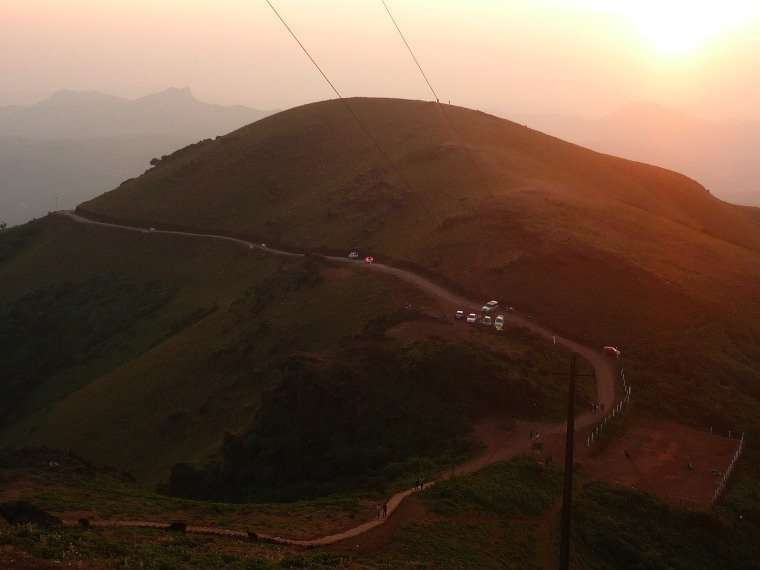 With an altitude of 1950 meters, Mullayangiri is the highest peak in Karnataka. A trek to Mullayangiri peak is, therefore, the top attraction for adventure lovers. If you love trekking you can take the 3 km long route starting at Sarpadaari. This moderate level trek usually takes up to 1.5 hours to reach the peak. There is direct road connectivity to a closer point which is just 1 km from the peak and has steps leading to it. It takes only 20-30 minutes to reach the peak from here. I'd prefer this one on my first-weekend trip. However it was raining cats and dogs when we first visited Chikmagalur with our family, and our parents were clearly not prepared for the rise.
Honnammanna waterfall
After the trek to Mullyangiri take some rest and drive to Honnammanna. It's just a cascade on a flight of stairs which the people seem to be rather crazy about. I am not a big fan of the place if you ask me, but it's easily accessible and looks pretty. This is where you can indulge in some seasonal wild fruits, roasted corn, tea, and coffee.
Jhaari Falls/Buttermilk falls
Located deep inside a private coffee estate is the most beautiful waterfall of Chikmagalur – the Jhaari falls. It leaves up to its nickname Buttermilk falls especially during the monsoon. I still remember that scary drive in the hills last year when our vision was blurred by the monsoon mist. The mesmerizing view of the Jhari falls is what made our day. You cannot enter the coffee estate without hiring jeeps from that estate itself. Even walking was not allowed when we went, although I have read a couple of blogs mention that it is.
Bababudangiri Hills
Next on the same route is our second hill spot – the Bababudangiri hills. It is named after a Muslim saint Baba Budan who lived here in the 17th century. Legend has that he smuggled some coffee beans from Arab and sowed the first seeds of coffee here. Today Chikmagalur is called the land of coffee for the huge coffee production in the region. The views from the top of Bababudangiri hills is absolutely delightful. The place is also sacred to the Hindus as there is a cave which is believed to have been the residence of a Hindu saint, Sri Dattareya Swami. If fortunate you can get a glimpse of the rare Neelakurinji flowers which bloom once every 12 years.
Toy train at Mahatma Gandhi park
The Mahatma Gandhi Park is a large park decked in beautiful trees and flowers and a musical fountain. But the main attraction here is the Toy Train ride in the hills. The entry fee to the park is just Rs. 2 and for a train ride, the ticket price per person is Rs. 10. That is crazy cheap fare for a fun ride. Don't expect too much from it, and you will thoroughly enjoy it. I especially loved the views from the train ride. It's not a must-visit but a nice place to visit with family, friends and kids alike.
Coffee museum(closed on weekends)
Seriously, I don't understand what's the point of having a museum that remains closed on the weekends! But that's what it is. Visiting the coffee museum in the land of coffee was on top of my bucket-list but we missed it anyway. If you visit on a working weekday and get a chance to visit it, do share with me your thoughts in the comments.
Sunset at Hirekolale lake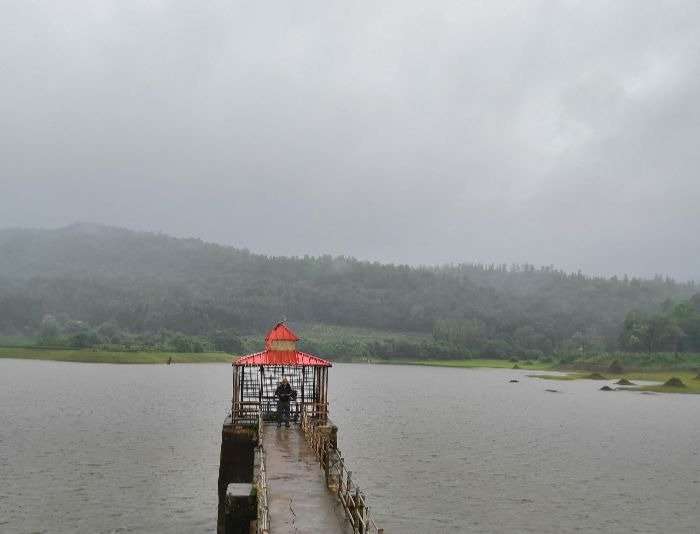 Now you may not have time for it in day 1 but if you do, drive to the beautiful Hirekolale lake. I am sure the sunset must be magical there. I visited the lake in the morning the next day and was charmed by its beauty even though I couldn't capture it well in the rains. It is not very big, but one of the most beautiful lakes that I have seen.
Basavanna Lake
Okay, I visited the lake only because it was very close to our hotel, Treebo sunrise. We didn't find it on any travel guide but it turned out to be beautiful. In fact, this was where we ended the first day of our monsoon trip to Chikmagalur. There is a statue of Swami Vivekananda in the middle of the lake and a number of temples and mosques around it. If you visit the coffee museum you are bound to get attracted by the view of this lake and stop here for a while.
Coffee and tea plantations of Chikmagalur.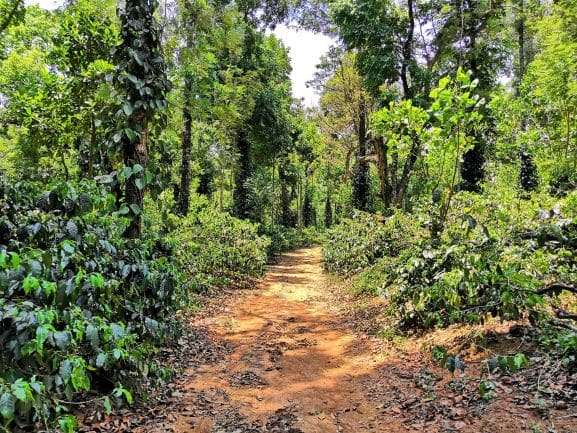 There's not much you have to do to find a coffee estate in Chikmagalur. Most resorts and Airbnbs have one in the backdrop. Even if it's not on the premises of your hotel, you will find it on both sides of the road when you are driving towards Mullyangiri. Some of the best waterfalls like the Jhaari falls and Hebbe Falls is located within a coffee estate. Although it is known for coffee, the landscape of Chikmagalur is also adorned by some large tea plantations. You can enjoy both on your trip. This is one thing you cannot miss when in Chikmagalur.
You can also experience aromatic coffee groves in Wayanad if you plan to visit Kerala.
Explore around Kemmangundi
If it's your second weekend trip to Chikmagalur and you have already visited the places on my suggestive itinerary you can visit the nearby hill stations. One of the most beautiful hill stations near Chikmagalur is Kemmangundi, which is located in the same district Chikmagalur. You can trek to the Kemmanagudi peak, visit the famous Hebbe falls and the beautiful temples of the Hoysala period.
Bhadra wildlife sanctuary
Bhadra wildlife sanctuary is a part of the UNESCO natural heritage spots in the Western Ghats. Located between Chikmagalur and Shimoga, this site is home to 120 species of trees and 250 species of birds. A famous attraction here is the Bhadra dam built on the mighty Tungabhadra river. This place is known for adventure activities like jeep safari, water-rafting, rock-climbing, and camping.
Want to know more about the Western Ghats of India? Read my dream Western Ghats road trip itinerary.
Temples of Belur and Halebeed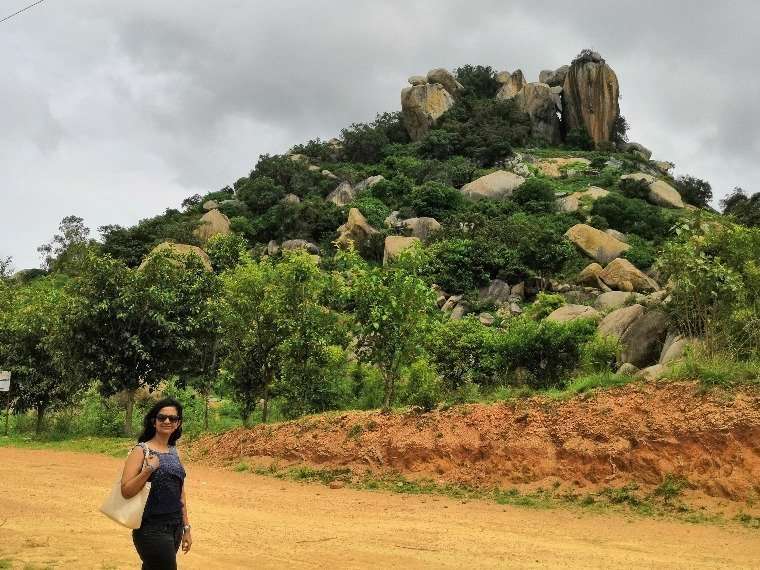 Belur and Halebeed are the temple towns that you will come across on your way to Chikmagalur. The Chennakesava temple of Belur, built in 12th Century AD is the most prominent landmarks of Belur. The intricate stone carvings at this temple is a part of the Hoysala trail of South India. It is also a UNESCO World Heritage site.
Take a day tour of Belur and Halebeed with Get your Guide on a 3-day trip.
Where to stay in Chikmagalur?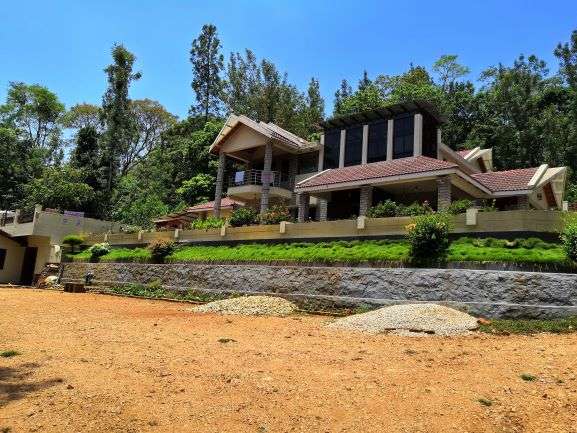 Chikmagalur town is the best place to stay if you want to explore most of the places. But to appreciate the slow rural lifestyle in the Chikmagaluru district, stay at a place away from the town. On our first visit, we stayed at Sunrise Treebo hotel, a 3-star property near the Basavanna lake in Chikmagalur town. It was in the town-side and made it very convenient for us to explore the key places listed on my itinerary. On our second visit, we stayed at a homestay in a village at the foothills of Mullyangiri. We spent the whole morning exploring the coffee estate and the gardens in the property. The Serai Chikmagalur has raving reviews if you looking for luxury resorts.
So this was a short introduction to the beautiful hill station of Chikmagalur. Subscribe to receive weekly updates on blog-posts and our recent trips. You can follow our journey in India and abroad on Instagram and Facebook. If you like this article please do not forget to comment and share with others. You may also enjoy reading about other hill stations near Bangalore – Shimoga, Kodaikanal, and Munnar.
See you next week with another travel story.
Watch the web series  Jubilee on Prime – A heartfelt love letter to Hindi Cinema which smartly blends fiction and reality, resulting in a gripping drama set in the 1940s' world of cinema. I can't remember last when I was so bewitched by a book or a movie
Another series I loved, (though not as much as Jubilee) is Dahaad. Despite its flaws, Dahaad is a watchable crime thriller with rock-solid performances by Vijay Verma, Gulshan Devaiah and Sonakshi Sinha (in that order)
Watch Citadel on Prime – the sleek spy thriller with Priyanka Chopra in the lead role. Honestly, it's way too cheesy and unrealistic for my taste, but it's gripping, and PC is quite amazing
For my kind of spy thriller, I recommend "Family Man" season 1 and season 2, and eagerly look forward to season 3
Watch
Currently grooving on Amazon Music : Cocomelon on the loop for my kiddo
 Let's stay connected on Facebook, Instagram, and Twitter. You can also subscribe to our monthly newsletters for blog updates, free ebooks, and discounts.