Mysore Itinerary – Discover the Best Things to do in Mysore
In this post I would like to share the perfect Mysore Itinerary covering the best things to do in Mysore – the top places to visit in Mysore and offbeat places around the city that you may not find in any Mysore travel brochure. At the end of the article you'll have everything you need to know to plan your own Mysore tour.
Having travelled to Mysore several times with friends and family, and explored the outskirts of the cultural capital of Karnataka, I want to share my knowledge to help you plan your Mysore trip. Be it a one-day trip from Bangalore, or a 2-day Mysore itinerary or a Mysore trip plan for 3 days or more, I have it all covered.
But why is Mysore worth visiting? To answer that, let's start with some of the unique things to do in Mysore.
The Best Things to do in Mysore – Ideas for your Mysore Itinerary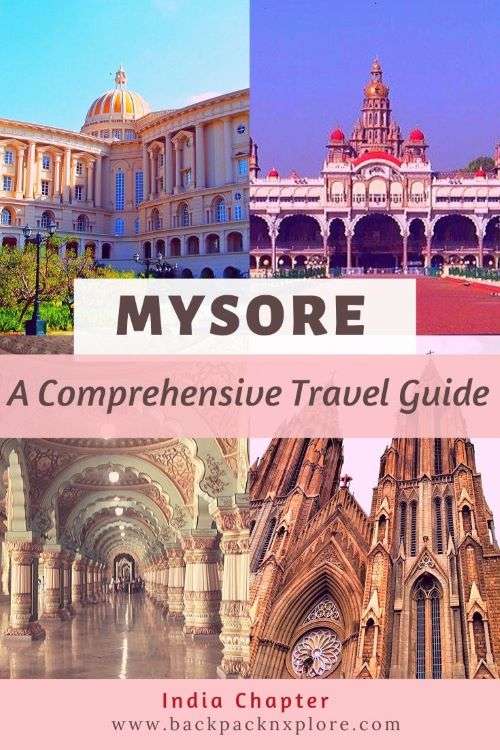 My first trip to Mysore was a group tour of Mysore-Ooty over the long weekend of 15th August, back in 2014. I was new to Bangalore myself and my mom was visiting, so I wanted to plan something special. Well, the trip turned out to be quite a memorable one, for both good and terrible reasons. The organizers were unprofessional, our camera stopped working and our hotel booking which was supposed to be managed by the organizers was goofed-up. That's a misadventure story for another day. We remember spending a bomb on silk saris for our entire family.
I visited Mysore two more times in the subsequent years every time with a different company and a slightly altered itinerary. I also visited some amazing tourist places around Mysore directly from Bangalore on our weekend road trips. Based on all the experiences I have had here are my favorite things to do in the city.
Travelling to India soon? Get insured for your travel through Visitors Coverage.
Visit the Mysore Palace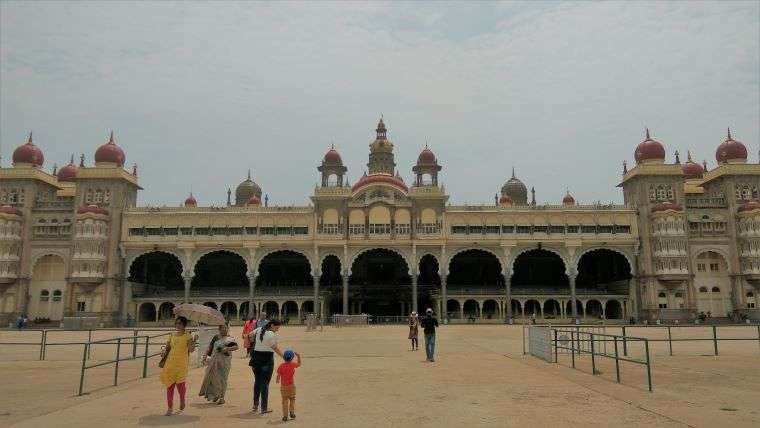 Often called the city of palaces, Mysore is home to as many as seven royal monuments. This heritage site is the official residency of the royal family of Mysore and is definitely the top attraction of the city. The current structure was completed in 1912 after the 14th century wooden palace, a.k.a. the Old Palace was burnt during Dusshera celebrations.
The Indo-Gothic architectural style which is adopted in the Mysore Palace is a combination of Hindu temple, Mughal and Rajput and the Western Gothic architecture. There's a beautiful temple inside the premises as well.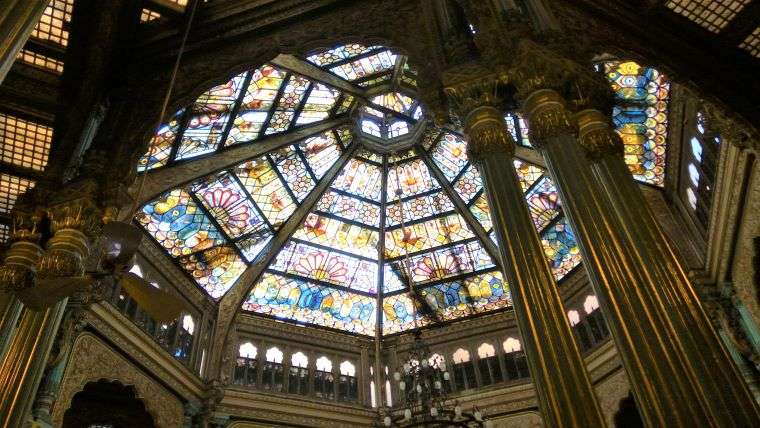 Did you know? Mysore Palace attracts the highest number of tourists in India, after the Taj Mahal
Open Timings: 10:00 AM to 5:30 AM
Entry ticket for Adults: Rs. 70 for both Indian and Foreign Nationals
For more information and online booking click here.
Mysore Palace Illumination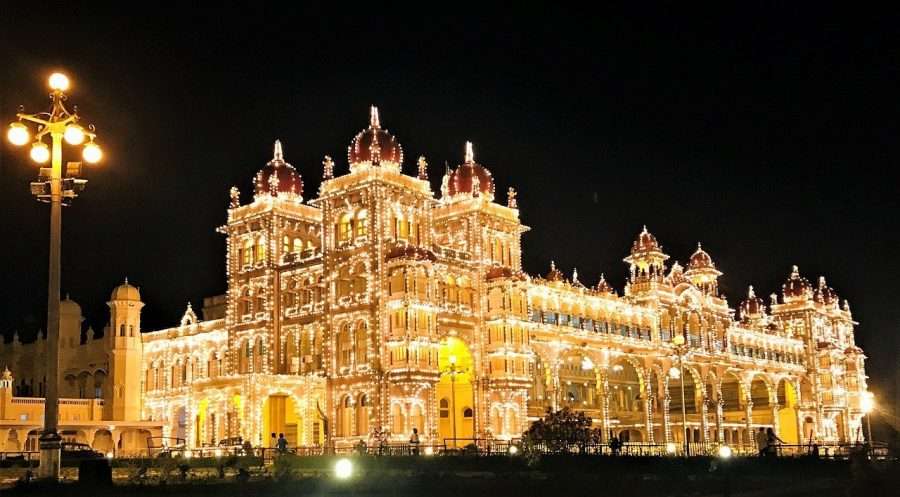 Visit the Mysore Palace on a Sunday or a Public Holiday between 7:00 PM to 8:00 PM to see the illuminated Mysore Palace at night. Public entry to the palace is restricted to only the West Gate during this time. This has somehow eluded me on all the trips, but I have kept this as a reason for another trip to Mysore.
Chamundi Hills and Chamundeshwari Temple
Chamundi Hills is named after Hindu deity Chamundeshwari and has a 12th century temple atop. Nature-lovers are drawn to it for the mesmerizing views from the top of the hills while believers' throng here to seek blessings of the Goddess.
Take your binoculars to enjoy the panoramic views and spot the landmarks like the Mysore Palace. The best time to visit Chamundi hills is at the dawn or dusk. However, if you are on a day trip it will be exhausting to start so early as to reach at dawn, since none of the other attractions open before 10:00 AM.
Visiting time for Sri Chamendeshwari Temple: 7:30 am to 2 pm, 3:30 pm to 6 pm, 7:30 pm to 9 pm
Bonus: This is new information for me which I wanted to share with you. Rajendra Vilas Palace Mysore which is one of the seven palaces of the Wodeyar family in Mysore is located atop the Chamundi hill. It was a summer palace which was converted to a hotel after independence. I've added this to my bucket-list for a next visit.
Mysore Zoo
If you ask my husband about the best place in Mysore, he will simply chime in "Mysore Zoo". This 157-acre zoo is one of the oldest and largest zoos in India.
Established in 1892, the zoo is known for the wide range species it houses as well as the beautiful landscaping. You can hire an electric car to roam around the large zoo-campus if you want. It's the cleanest zoo I have seen which makes sense as Mysore is indeed one of the cleanest cities in India.
Open timing: 8:30 AM to 5: 30 PM, Closed on Tuesdays
Entry ticket for Adults: Rs. 80 on weekdays, Rs. 100 on Weekends, half price for children
For online booking and more information check their website.
Brindavan Gardens & Krishna Raja Sagara Dam
Brindavan gardens is certainly one of the most beautiful terrace gardens in the world. No wonder many movie-directors chose this place to shoot iconic Bollywood songs in movies like Tezaab, Raja Hindustani etc. Strolling in the Brindavan Gardens is one of the most romantic things to do in Mysore.
The garden was envisioned by Sir Mirza Ismail, the then Diwan of Mysore to beautify the area around the KRS dam. I actually loved the dam and boating more than the garden itself. Brindavan gardens is known not only for the colorful blossoms but also for the musical fountains. It is a great place to spend time with family and children.
Open timing: 6 am to 8 pm (all days)
Musical fountain timings: 6:30 pm to 7:30 pm on weekdays, 6:30 pm to 8:30 pm on weekends
Entry ticket: Rs. 15 for adults, Rs. 5 for children (5-10 yrs)
St. Philomena's Cathedral
St. Philomena's Cathedral located in the heart of the city is one of the most impressive churches in India. It was built in 1936 in Neo-Gothic style inspired by the Cologne Cathedral of Germany. Don't miss visiting this stunning piece of architecture on your trip to Mysore.
Shopping in Mysore
Now we come to shopping at Mysore. It's a shame if you visit Mysore and don't check out the famous Mysore silk. You can also visit their workshop and see artisans working on the fabric. While it's easy to get enticed by the fine displays in the shops all around Mysore especially the ones inside the Mysore Palace premises, I suggest you wait.
Visit the Cauvery Silk Emporium of Mysore for the best variety at the cheapest prices. You can also buy wooden and clay artifacts, homemade chocolates and other specialties of Mysore as souvenirs. You should also try the famous Mysore Pak – a melt-in-mouth sweet-dish of Mysore.
Eating local food at Mysore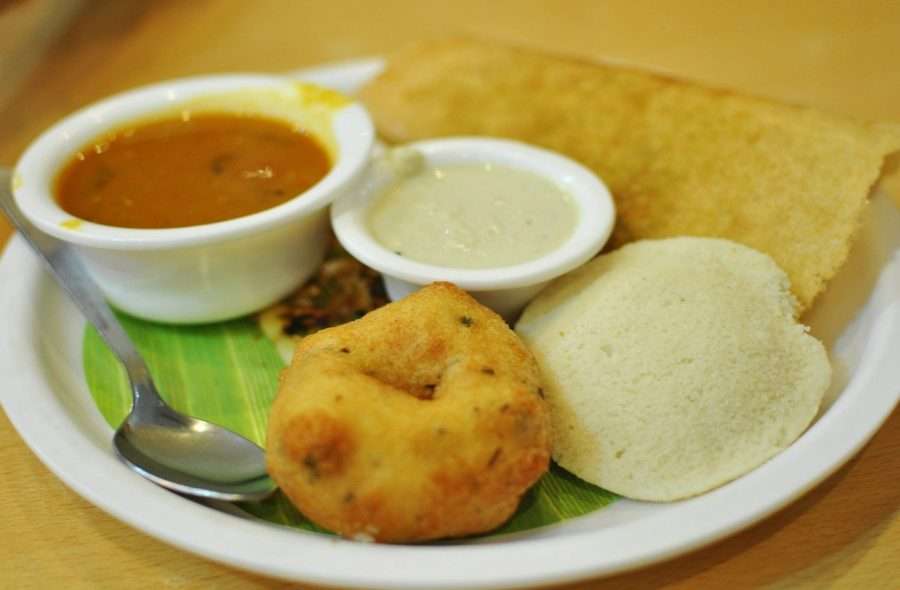 Mysore is a great place to try authentic Kannada cuisine which is mostly vegetarian. Mysore Dosa, Idli, Upittu (commonly called Upma) and Sewaiya are some of the things you must try. Most of the dishes here are vegan-friendly. The specialty of Mysore Dosa is the gunpowder masala sprinkled on it. It's not as crispy as the Tamilian Dosa, but is rather soft in texture.
Non-vegetarians will also have several options mutton pulao at Hanumanthu mess and Biryani at Biryani haven. Don't forget to try the filter coffee at Mysore.
Jaganmohan Palace art gallery
While most other palaces of the Wodeyar dynasty, except the Mysore Palace was converted into heritage hotels, the Jaganmohan Palace was converted into an art museum.
The palace itself is not very impressive especially after you have witnessed the grandeur of the Mysore Palace, but the art gallery is. You can skip this place in your day-trip itinerary to Mysore if you are not a connoisseur of art. However if it's your second or third trip, or if you have one more day at Mysore, you must check this out.
Things to do around Mysore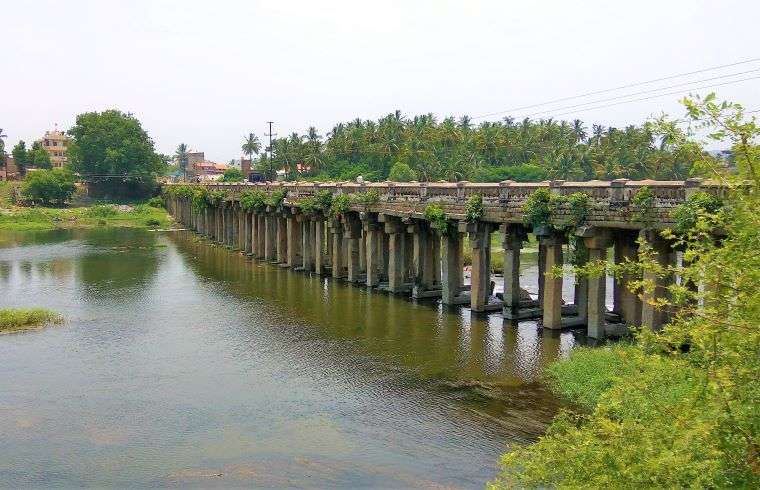 Mysore is a city in the Mysuru district of Karnataka. While the city itself has many gems that you will need at least two days to completely explore, there are some amazing places around the city in Mysuru district. That is why I said that if you want to explore Karnataka on holiday spanning 4-7 days, you can easily choose Mysore as your base location.
It combines the best of both worlds – the ease of transport and amenities of a metropolitan city, and the authentic cultural experience of small towns, with much less crowd compared to the big cities of India. Its proximity to some of the best heritage sites and hill stations of Karnataka makes it a perfect hub for a relaxed holiday. These can also be independent day-trips or weekend trips from Bangalore if you stay there. That's the way I explored these places,.
Ranganathittu Bird Sanctuary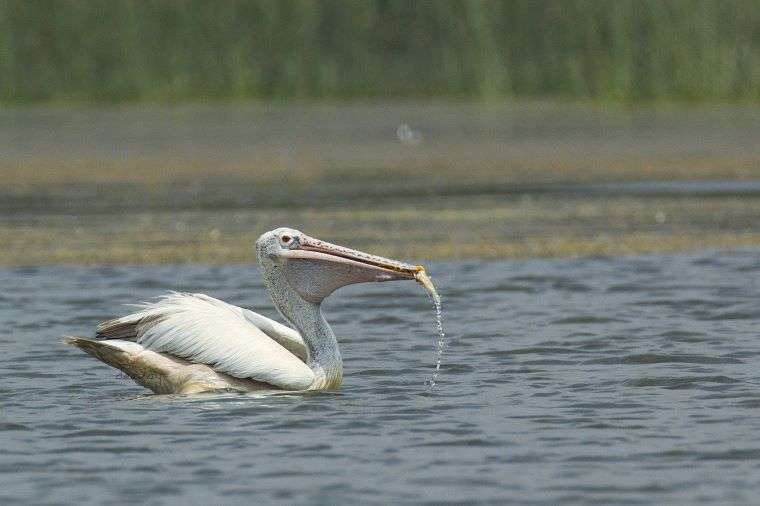 Located 19 km away from the Mysore city, the Ranganathittu bird sanctuary is a paradise for nature-lovers. It's home to some exquisite species of birds which nest around the lake in a picturesque setting. The best time to visit the sanctuary is in the morning. You can take a boat to marvel at the exquisite avian fauna – herons, wild ducks, spoon bills, kingfishers etc. Besides the forest surrounding the lake bustles with wildflowers and large trees.
Open timing: 9 am to 6 pm
Entry fee: Rs. 50 for adults (half-price for children)
Boating charges: Rs. 50 (half-price for children) for Indians, Rs. 300 for foreign nationals
Talakadu & Somnathpura Temple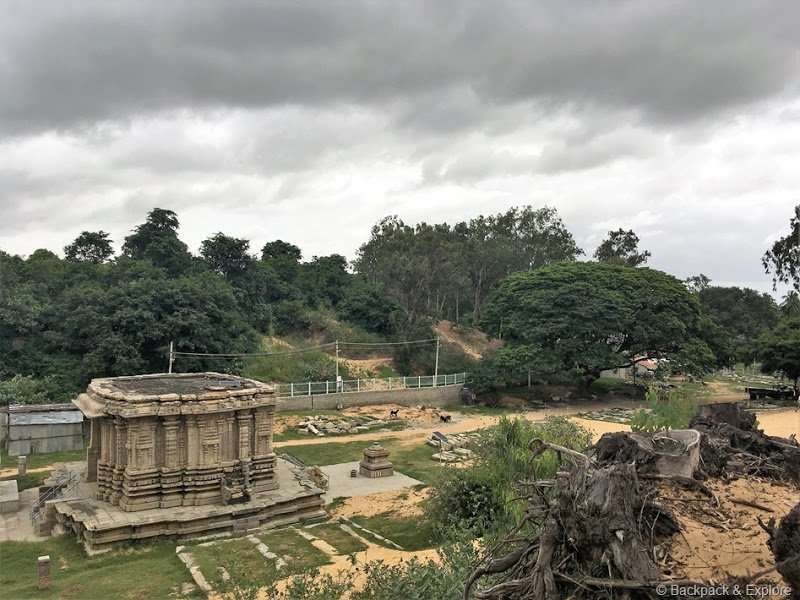 Somnathpura and Talakadu are sites with a large number of ancient temples, but most importantly they are architectural hot-spots near Bangalore which you would enjoy visiting irrespective of your faith. A trip to Talakadu and Somnathpura is like a mini-Hampi tour within 50 km from Mysore city. Talakadu was a Hindu Pilgrimage site which went under dunes of sand few hundred years ago.
You can end your trip with a magical coracle ride in the serene waters of the Cauvery. 24km from Talakadu is the Somnathpura temple. The Keshava temple of Somnathpura is a 1000-year-old architectural wonder where you can still find the intricate stone carvings intact. You can also do a day trip to Shivasamudra waterfalls.
Tipu Sultan's fort and summer Palace
If you are travelling to Mysore from Bangalore you can easily stop over at Tipu Sultan's Summer palace in Srirangapatna before you enter the city. Also known as Dariya Daulat Bagh, meaning Wealth of the Sea, the palace was the summer retreat of Tipu Sultan, one of the most revered rulers of Karnataka. You will thoroughly enjoy the beautiful interiors of this magnificent palace set in the quaint town of Srirangapatna.
Bylakuppe – The little Tibet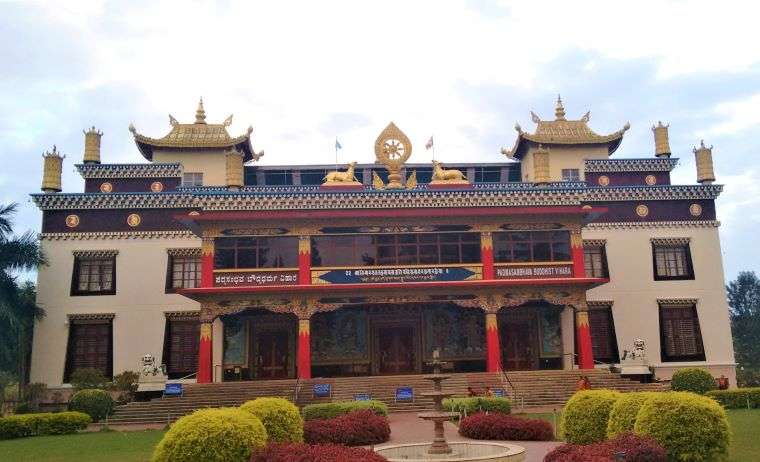 Located 80 km from Mysore at the border of the districts Mysuru and Coorg lies the second largest Tibetan settlement in India, called Bylakuppe. This place is completely different from anything else you would expect in Karnataka or entire South India.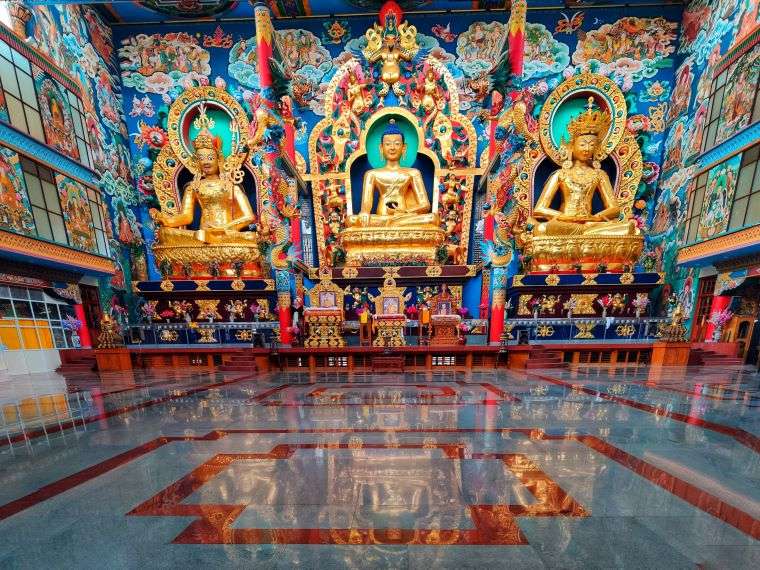 The Golden temple is the largest and most famous Buddhist monastery here. However there are quite a few smaller monasteries where you can explore freely and experience the rituals performed by the Buddhist monks. On a full day trip from Mysore you can explore Bylakuppe and also enjoy the Dubbare elephant camp and the riverside in Coorg district.
Mysore is also the gateway to the idyllic hill-stations like Ooty, Kodaikanal and Coonoor (all of which are in Tamil Nadu) if you are travelling from Bangalore. It's a great idea to spend the whole day exploring Mysore city, staying there overnight and then drive to Tamil Nadu the next day.
How to Reach  Mysore?
The best way to reach Mysore from anywhere in India is by train. Mysore is well-connected to other cities by trains like Mysore Express, Chamundi Express, Kaveri Express etc.
The nearest international airport from Mysore is the Bangalore Airport which is less than 200 km away. From Bangalore, you can reach Mysore by KSRTC bus, train or cab.
Mysore Itinerary for different durations
This is certainly not an exhaustive list of things to do in Mysore. There are many more places like the Sand Museum, Railway Museum, several other palaces-turned-hotels, temples, parks and lakes in and around Mysore. I just picked the best ones according to me. Now that you are acquainted with the best activities in Mysore let me suggest a few itineraries for you.
How to spend 1 day in Mysore
Can Mysore by covered in a day? You can do that, but you will need to pick and choose among the top attractions. Here is an itinerary for one-day trip to Mysore.
Start early around 6 am
Stop at A2B for South Indian Breakfast on the way to Mysore
You will reach Chamundi hills by 9:30 am
A short 3.6 km drive to St Philomena's Cathedral
Another 1.6 km drive to Mysore Palace , followed by Mysore zoo nearby (optional)
Shop at Cauvery Silk
Drive 23.5 km from Mysore Zoo to Brindavan Garden
You can also book this guided Mysore Tour Package by car, for a hassle-free experience.
While all this looks doable in one day, Mysore Palace and Mysore Zoo would each take at least 2-hours to explore. On your way back to Bangalore you will have to face the traffic jams in both Mysore and Bangalore.
So, it is best to start your journey back by 5 pm from Mysore. Realistically speaking, you will need to skip either Vrindavan garden or Mysore-zoo on your day trip.
Mysore itinerary for 2 days
Day 1 in Mysore
Stop at Ranganathittu Bird Sanctuary in the morning
St Philomena's Cathedral
Mysore Palace
Mysore Zoo
Lunch and rest at hotel
Visit Mysore Palace to see the illumination and then shop at Cauvery
Alternatively, you can book a Mysore Heritage Walk covering Mysore Palace, Jaganmohan Art Gallery and Devraja Market in the day and a Mysore Night Walk in the evening that includes Philomena Church and Mysore Palace illumination.
Day 2 in Mysore
Visit Chamundi Hills at dawn
Have Breakfast
Head to Brindavan garden
Visit Tipu Sultan's summer abode in Srirangapatna on your way back home
Two days is ideal if you want to reasonably explore the best of Mysore, but if you are traveling from far away, you should stay for at least 4 days in Mysore if not more.
Mysore Itinerary for 3 days, 4 days and 5 days
The advantage of planning a longer trip to Mysore is that you can spend more time in each of the places, explore the beautiful city on foot, take market tours, cooking lessons and more.
Day 1 in Mysore
Bird-watching at Ranganathittu Bird Sanctuary
Visit St Philomena's Cathedral
Visit Mysore Palace
Explore the Mysore Zoo
Lunch and rest at hotel
Visit Mysore Palace to see the illumination.
Day 2 in Mysore
Visit Chamundi Hills at dawn
Explore the vegetable markets and have a south Indian vegetarian breakfast
Visit the Railway Museum
Head to Brindavan garden and spend the evening watching the light and sound show.
Day 3 in Mysore:
Visit the Sand Museum
Excursion to Bylakuppe
Day 4 in Mysore
Excursion to Talakadu and Somnathpura
Visit Tupu Sultan's Summer palace
Day 5 in Mysore
Explore Srirangapatna and head back from Mysore.
Would you like to Save this on Pinterest?

Where to stay in Mysore?
For a luxury experience, you can book a suite in one of the palace-turned-heritage hotels in Mysore. A famous example is the Lalitha Mahal Palace located in JC Nagar, close to most of the top attractions of Mysore.
Otherwise, there are many other hotels in the city center for all budgets. Try to book hotels near Mysore Palace so that you can visit it in the evening. Click below to check prices on my most favorite travel sites.
Related Readings
Here are a few more travel resources for places near Bangalore that you can visit on short trips.
If you liked the article, please feel free to share it along. Have questions? Ask me in the comment section or share your thoughts. Subscribe to Backpack & Explore for more such stories delivered to your mailbox once a month.
Follow us on Instagram, Twitter, and Facebook for your daily dose of wanderlust.
Disclaimer: The post contains some affiliate links. That means we may earn a commission if you make any purchase through those links, without any additional cost to you. Unlike most articles on Backpack & Explore, this one contains some stock images from Pixabay, since I lost most pictures from my earlier trips and didn't like the ones I had.