Pondicherry Itinerary for 3 days- So French, yet so Desi
Pondicherry is a bustling destination in south India that has everything – colonial architecture, a modern seaside promenade, historic sites, and golden beaches. This is my humble endeavor to present a comprehensive travel guide and create the perfect Pondicherry itinerary for people who can spare only two to three days in this beautiful city. Here's how to get the best of Pondicherry in 3 days.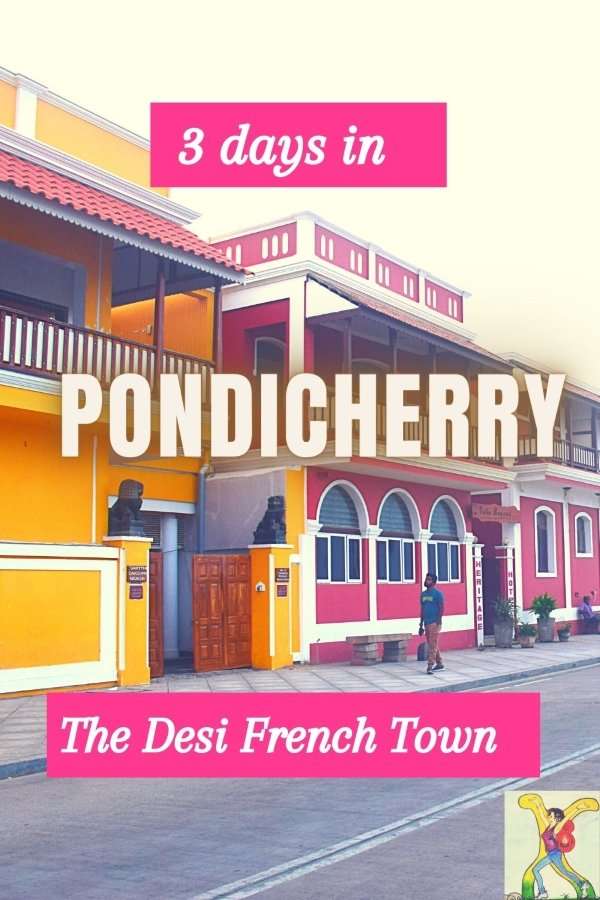 The post contains affiliate links. This means if you make any purchase through the links in the post, I may get a commission without any additional cost to you. This income helps me to keep the site up and kicking.
An Introduction to Pondicherry
Located on the Eastern coast of India, it has been under the Dutch, the British and the French rule before being a Union Territory of independent India. The French left an indelible mark on the city, but its culture is essentially Dravidian. The region was successively ruled under great southern kingdoms like the Cholas, the Pallavas, Vijayanagara and the Sultanate of Madurai. In the 17th century, the French came to a small fishing village called Putucerri, which roughly translates to "new village" in Tamil. They transformed it into a grand port town, Pondicherry. It was renamed Puducherry in 2006, but it's still popularly called by the anglicized name.
The prime attraction of Pondicherry is its French vibes. The pastel-colored residential buildings, cute art cafes and whitewashed monuments reflect an unmistakable essence of French aesthetics. It's like discovering a piece of France in India. However, the French colony is just a tiny part of Pondicherry. It's just about 10% of the entire Union Territory is what people refer to as the White town. The rest of Pondicherry is Indian at its core. When I first drove down to Pondicherry, my imaginations ran wild, and I thought I will be greeted by those Instagram-friendly French alleys. Instead, we drove into the overcrowded streets, large Dravidian-style temples, mosques, and the bazaars. That's just another town in South India for you.
Find the ultimate Tamil Nadu bucket-list for your travel planning here
How to reach Pondicherry?
Pondicherry has its airport, so you can land directly in Pondicherry. However, it's a small one and the chance of getting a direct ticket is scarce. Chennai is the nearest city with a large airport which is only 150 km from Pondicherry. It's connected by the ECR highway so you can reach in 2.5 hours.
There are several ways to reach Pondicherry via public transport. 
Check Bangalore to Pondicherry tickets for bus, train and taxis.
People in Chennai can easily visit Pondicherry for a day trip or over a normal weekend.
Book this awesome excursion to Pondicherry and Auroville from Chennai.
For us living in South Bangalore, Pondicherry is about 300 km away. But you should leave early, by 5 am so that you can avoid traffic and reach Pondicherry at 11 am. After that, the road is mostly good if you follow the map on the link. Some parts of the highway (about one-fourth of the road) are quite rough. But it's a smooth enjoyable drive overall once you enter the Eastern Ghats of India.
You can also book buses starting early morning or (preferably), late night. In the case of overnight buses, you will need to inform your hotel of an early check-in. There are overnight trains to Pondicherry as well, but you need to book it in advance. The advantage of an overnight train journey is that you can sleep comfortably and reach Pondicherry early.
Pondicherry Itinerary for 3 days
Since we drove to Pondicherry on both occasions, our itinerary is optimized for a long drive. If you stay in Auroville or White Town, you can see a couple of places on your way. 
Day 1 in Pondicherry Itinerary
Chunnambar Boat House by 10 am – 11 am. Then take a boat to Paradise beach.  
Trip to Botanical Garden before you reach your hotel
Have fresh local sea-food for lunch and take some rest. 
Start your evening walking tour in White Town. The hot Pondicherry roads would have started to cool down by now
Have dinner at a cafe in the promenade or the Heritage street
Day 2 in Pondicherry Trip Plan
Head to Auroville in the morning and enjoy brunch at Auroville's cafes
If you are an archeology-enthusiast, then head to Arikamedu. If you love nature and forests, then head to Pinchavaram Mangrove forest
Come back and watch the sunset at Serenity beach
Day 3 in Pondicherry – On your way back 
You can enjoy shopping and walking in the heritage street, before your return journey. But if you're up for an adventure, hike the enormous Ginjee fort located 67 km from Pondicherry on the way to Bangalore.
Miss traveling? Check out the books and souvenirs of Pondicherry online.
My top e-book recommendations for Pondicherry –
Best of Pondicherry in 3 Days
I have tried and tested two other itineraries and have come up with the best one here. In fact, on my recent-most trip, I planned it all and wanted to visit the Thirukameswarar Temple in Pondicherry on the way to our hotel. The plan was a total flop because the route to the temple had very bad roads and the temple was closed when we reached. What's worse, we had to miss the amazing NH32 tollway leading to Pondicherry which is a driver's delight. If it's your first trip to Pondicherry then this is the best itinerary for you. You can follow this one blanket itinerary whether you are traveling with a young family, elderly parents, friends or couples. Isn't that amazing? Let me take you on a virtual trip to Pondicherry now.
Chunnambar Boat House – the first stop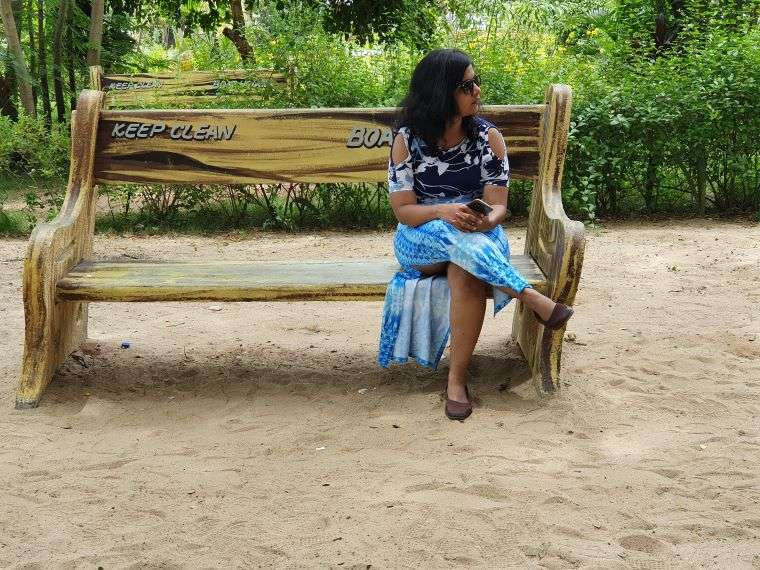 Chunnambar boat house is the most popular gateway to the beautiful Paradise beach. This is where you can buy the tickets to different types of boats that will take you to the Paradise beach. The rate starts from Rs. 150 per person and increases depending on your choice of ride. The entry fee to the park itself is Rs. 7 only.
Paradise Beach – My favorite beach in Pondicherry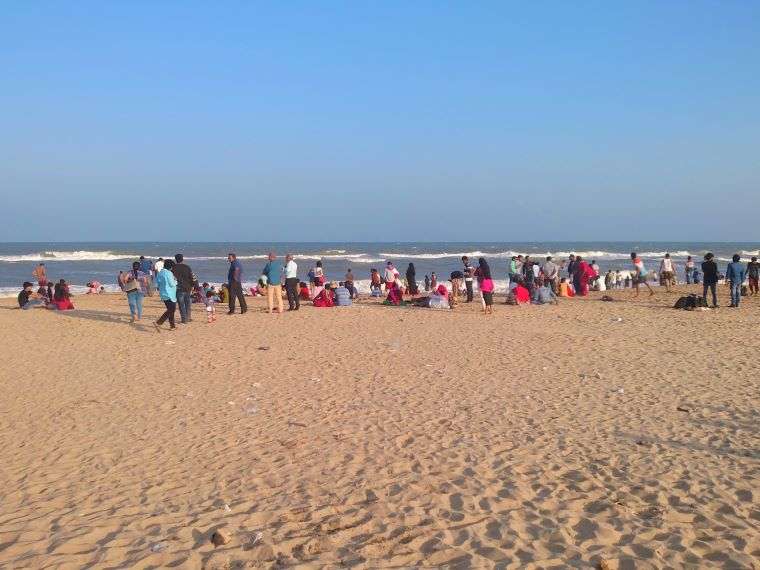 Paradise beach is slightly isolated from the rest of Pondicherry. The seclusion doesn't prevent tourists from thronging into the place because it's that beautiful. It's undoubtedly my favorite beach in Pondicherry and one of my favorites in India. The best way to reach this island-like place is by boat from Chunnambar. You can also drive to Paradise beach, but you have to park your vehicle about 1 km away. The walkway from the backwaters to the beach is also very charming. You can spend some time walking on the soft golden sand and bathing in the Bay of Bengal before you return to the boathouse.
Botanical Garden
The botanical garden of Pondicherry is a colonial gem that was laid out by the French in 1826. This 22-acre large green oasis stands out for its French style in the middle of an old Tamil locality. The French architecture, the pruned trees, flower beds and over 1500 varieties of exotic plants make it one of the best botanical gardens in the peninsula. Besides these, the garden boasts of a toy train ride, an aquarium, a musical fountain, and a Japanese rock structure.
Open times: 10 am to 5 pm
French Colony walk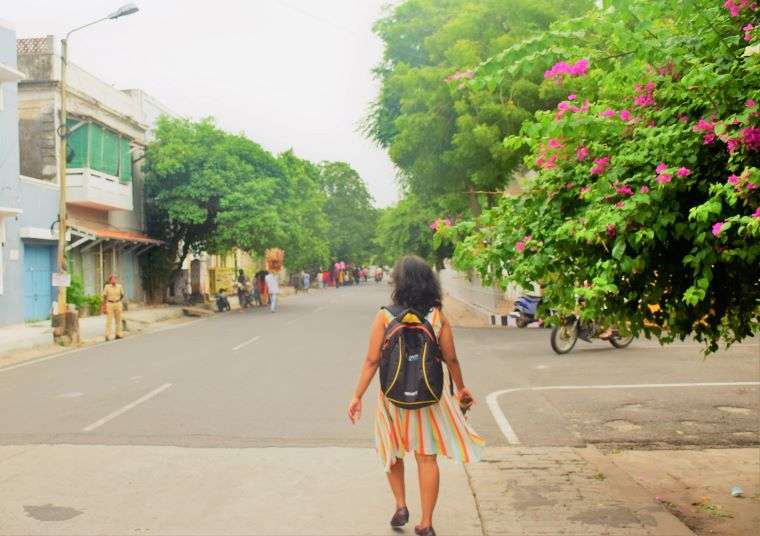 After a trip to the botanical garden its time to have lunch and to freshen up at your hotel. By this time it must already be 2-3 pm. Pondicherry is quite hot and humid throughout the year, so it is a nice idea to relax and go out for a walk by 5 pm. This is why staying close to the French colony is recommended. This is one part of Pondicherry where you have a lot to do and see in the evening till night. Walk in the heritage street marveling at the old colonial buildings. The Vylial street stands out large canopies of trees on both sides providing a natural shade to the narrow lanes. You will find cute cafes, heritage buildings transformed into boutique hotels, colorful rickshaws and rental bikes. You can rent a cycle if you want.
Aurobindo Ashram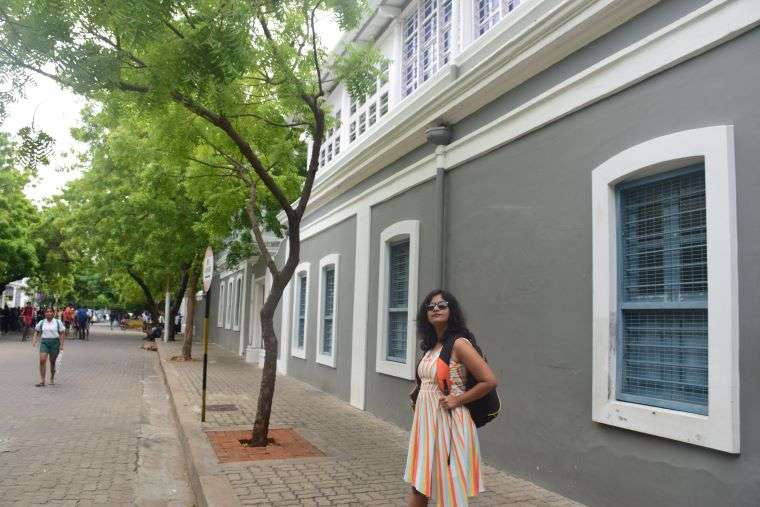 Our first stop in the evening walking tour was the Aurobindo Ashram. This is a large community of 2000 members including 400 students and 1600 devotees.
Aurobindo Ashram is a peaceful abode which is open to visitors between 4:30 pm to 6:30 pm. You need to keep your shoes outside and maintain complete silence on the campus. Phones should be switched off or on silence mode, and photography is prohibited. There is no entry fee, and even the community members who are in charge of safekeeping of the shoes left outside refuse payment.
Bharthi Park
Located in the White Town right across the magnanimous Governors' Residence is the Bharthi Park. Described as the historic heart of French Pondicherry it was here that "la Compaigne Des Indes" was established for trade between India and Europe. The Park monument in the picture is also known as Ayi Mandapam was raised in the memory of a French courtesan lady names Ayi. She is said to have destroyed her own house to create a water reservoir for the city. The land here was used as a military training center by the French for 150 years.
As you leave the park through the exit gate you will come across a Nehru statue on one side and the iconic Mahatma Gandhi statue on the other side facing each other. Behind the Mahatma Gandhi statue is the Seaside walk starting with the rock beach.
The Rock Beach and Seaside Promenade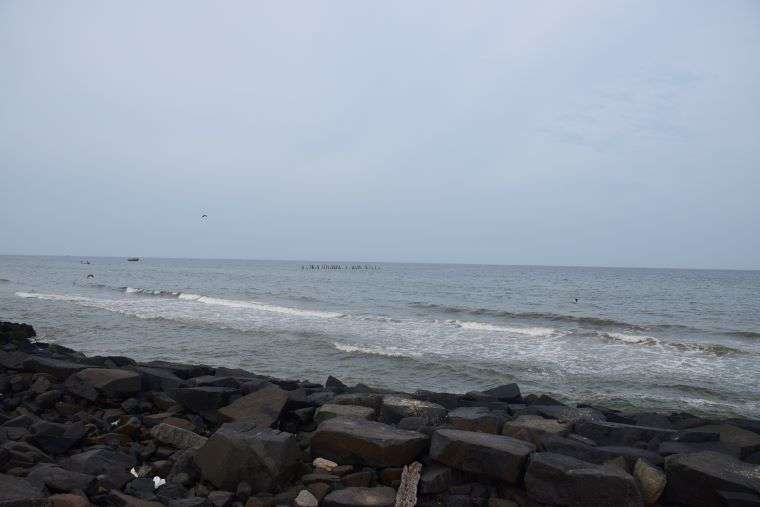 The Rock Beach is explained by its name itself. The stretch from the Rock Beach to the Promenade Seafront is a pedestrian's dream. With vehicle restriction in place, you can freely hop along the gorgeous area stopping, posing, and clicking wherever you want. This part looks as polished as a first-world European city but is lined with monuments and street art showcasing great Indian icons. Bathing is prohibited in Rock Beach, but I saw many people doing so anyway.
The Mahatma Gandhi statue, Bhimrao Ambedkar memorial, the French War Memorial dominate the starry Promenade. Cafes and hotels have a synchronized color scheme and architecture that's a great blend of French and Indian styles. Don't forget to include the beautiful Sacred Heart Basilica, Lady of Des Angels Church and Our Lady of Immaculate Conception church on this walking tour.
Check out the complete account of the walking tour of the French colony of Pondicherry and Auroville in our next post.
Note: Vehicle restriction in the area is taken seriously. We saw multiple illegally parked cars that were booked by the police in front of our eyes.
Auroville – A City of its kind
Auroville is an experimental self-sustained city that was created by Mirra Alfassa, a disciple and spiritual collaborator of Rishi Aurobindo, who is fondly remembered as the Mother. A Parisian by birth, she met Rishi Aurobindo in Pondicherry and worked with him in popularizing yoga. Auroville was a vision shared by the Mother and Aurobindo. The Matrimandir in the picture is a place for guided meditation. Entry to the large garden surrounding the Matrimandir is restricted to maintain a calm ambiance inside.
Auroville wants to be a universal town where men and women of all countries are able to live in peace and progressive harmony above all creeds, all politics and all nationalities.
The purpose of Auroville is to realise human unity.
If there is only one place you must visit when in Pondicherry, then I have to place a stone on my heart and recommend Auroville above the White Town. It's located close to the White Town so there's no reason why you shouldn't visit both. There are a large number of cafes serving the most delicious sandwiches, salads, shakes, etc. You can easily spend 2 hours here, have a fulfilling brunch and head out for the rest of the exploration.
Auroville beach or Auro beach is located close by. It's relatively less crowded and peaceful than the others.
Arikamedu
Arikamedu is an archeological site where the ancient ruins of the Roman empire were found. This is evidence of the existence of trade relations with Europe in the ancient ages. On our first trip, we went with our family and tried to reach Arikamedu. But we got stuck in a narrow lane and couldn't find our way. Since then Arikamedu has remained elusive to me but I plan to visit it one day. It's a very interesting site and has a small museum as well.
Pichavaram Mangrove Forest
If you are not much into archeology you can head to the Pinchavaram Mangrove forest located about 60 km away from the White town. If you don't have your car you need to hire one for the same. This is the second-largest Mangrove forest in the world next to Sundarbans of Bengal. Separated from the Bay of Bengal by a narrow strip of sand the vast expanse of water-body covered with Mangroves attract a large variety of migratory birds during the winter season. Including the journey, you will need at least 3 hours for this trip from Pondicherry.
Serenity beach
Another beautiful beach in Pondicherry which is not as popular as the others are the Serenity beach. Make no mistake, even the not so popular beaches have a lot of people especially during the peak season of November to January. It is a sand beach with rock strips protruding into the sea in between. Rewind after the long day at Serenity beach while watching the beautiful sunset. While the beaches are open till 11 pm it's advisable not to stay there after 7 pm.
So if you have the energy to hit the streets at night you can head to the Promenade once again. Le Cafe, the famous Frech cafe in the Promenade is now open for 24 hours!
Gingee Fort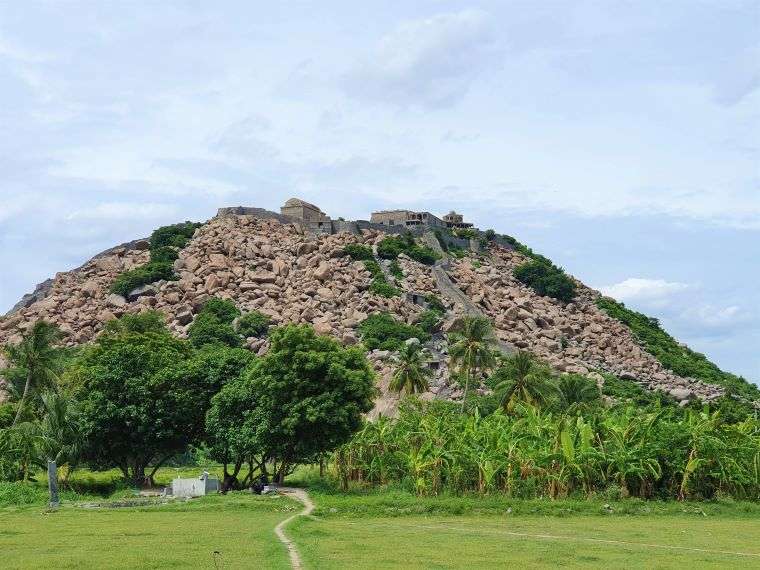 Gingee is a small fort town close to Pondicherry which is right on your way to Bangalore. It's impossible to not notice the imposing hill forts on both sides of the road while driving. We didn't have the energy to go for a full trek to all the four forts here but we stopped and roamed around the foothills. The place is beautifully maintained with free toilet facilities, gardens, and dustbins. There is no entry fee for the forts.
If you are up for trekking remember to take your water bottles and snacks with you. Also, beware of the monkeys who might like a share of your pie.
Where to Stay in Pondicherry?
My favorite area to stay in Pondicherry is in and around the White Town which is on the Eastern coastline. Many Colonial French-style houses have been transformed into boutique hotels in Heritage street. We stayed at the Shenbaga Hotel, a 4-star luxury hotel located 1.5 km from the White Town. All major attractions of Pondicherry's French colony were within a walking radius from the hotel.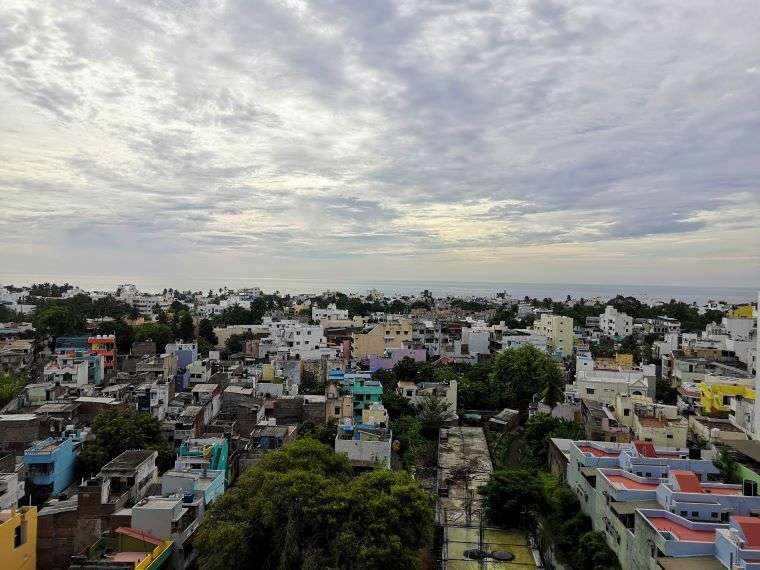 Trivia: As of today, Shenbaga Hotel is the tallest hotel in Pondicherry offering the best panoramic view.
The second best option is to stay in Auroville, which is a self-sustained city within Pondicherry. It is close to the White Town but you have to book your stay there from their official website.
Other hotels I recommend based on location and reviews:
The Promenade – Was my top choice on the last trip but missed it by whiskers
Le Pondy (luxury beach and lake resort)
Hotel Atithi (mid-budget hotel opposite Shenbaga Hotel)
FAQs on Pondicherry Trip
How many days are enough for Pondicherry?
As I always say, the more the better. A 4-day trip will give you the opportunity to explore Pondicherry, Auroville as well as Mahabalipuram. You can enjoy the delicious food and explore the beautiful temples of Pondicherry.
Pondicherry is a place that will keep calling you if you have visited once. If you are in Bangalore, you need at least two full days to enjoy the trip. If you stay in Chennai you can do a day-trip. However, I'd recommend staying there for a minimum of one night.
What is the best time to visit Pondicherry?
Given the hot and humid climate throughout the year, the best time to visit Pondicherry is in the winter. It is in fact one of the best places to visit in December in India. Be it with kids, or elderly parents, or with friends or solo – Pondicherry offers a great winter vacation for everyone.
Is Pondicherry safe for solo women?
Pondicherry is very safe for women. Not just the promenade beach but even the interior town which is not so glamorous. The people are very well-behaved and especially respectful towards women. However, they have a conservative outlook. Outside the French colony, short clothes will invite stares. It is advised not to stay on the beaches after 7 pm, except for the rock beach and the promenade of course. White Town has great nightlife too.
How to dress in Pondicherry?
I am not a fashion expert, so all I can talk about is comfort. The white town is quite high in fashion, and you will find people in crop-tops and shorts all the time. Beyond the White Town, all other beaches of Pondicherry are slightly on the conservative side when it comes to dressing and even timing.  Women are usually modestly dressed on most of these beaches. 
I have not seen women in bikinis in Pondicherry, so unless you are in a private beach resort, better to have a cover-up. the weather is extremely hot and humid here. So bring cotton, breathable clothes, hat, and sunglasses. You will need them.
So here ends my mega-post on Pondicherry. If you have more questions hit me in the comment section. Share with your friends and spread the love. Check out some related posts here.
Watch the web series  Jubilee on Prime – A heartfelt love letter to Hindi Cinema which smartly blends fiction and reality, resulting in a gripping drama set in the 1940s' world of cinema. I can't remember last when I was so bewitched by a book or a movie
Another series I loved, (though not as much as Jubilee) is Dahaad. Despite its flaws, Dahaad is a watchable crime thriller with rock-solid performances by Vijay Verma, Gulshan Devaiah and Sonakshi Sinha (in that order)
Watch Citadel on Prime – the sleek spy thriller with Priyanka Chopra in the lead role. Honestly, it's way too cheesy and unrealistic for my taste, but it's gripping, and PC is quite amazing
For my kind of spy thriller, I recommend "Family Man" season 1 and season 2, and eagerly look forward to season 3
Watch
Currently grooving on Amazon Music : Cocomelon on the loop for my kiddo
 Let's stay connected on Facebook, Instagram, and Twitter. You can also subscribe to our monthly newsletters for blog updates, free ebooks, and discounts.