Ravishing Ravangla
Hello there!
I am Ravangla. Surrounded by the imposing peaks of Mt. Kanchenjunga, Mt. Pandim and Mt. Kabru, I am a picturesque town sitting at a height of 8000 ft. The natural landscape here inspired men to build some architectural masterpieces. I am located 65km away from the capital Gangtok, and almost the same distance away from Pelling. These are the two most popular tourist destinations in Sikkim. So if you are inspired to visit me after reading my letter, all you need to do is stop here between the transit. I am home to a host of Himalayan birds – flycatchers, fantails, redstarts- many of them. Let me take you on a short trip to the wonderland I am.
Buddha Park
Buddha Park is the reason for my newfound fame. Earlier, the only famous place in South Sikkim was the south-capital Namchi. Also known as Tathagatha Tsal this is a breathtakingly beautiful park with the Himalayas at its backdrop. The iconic feature of this park is the 130-foot tall Buddha statue. Inside the statue is a Buddha temple and museum where the main concepts of Buddhism have been explained through exquisite paintings. Outside the statue is a robust garden with fountains, flowering trees, cafes, and other facilities. The park is surrounded by a series of prayer wheels which you will find in most places of worship in Sikkim. Its inauguration in 2013 brought me to the limelight in Sikkim tourism.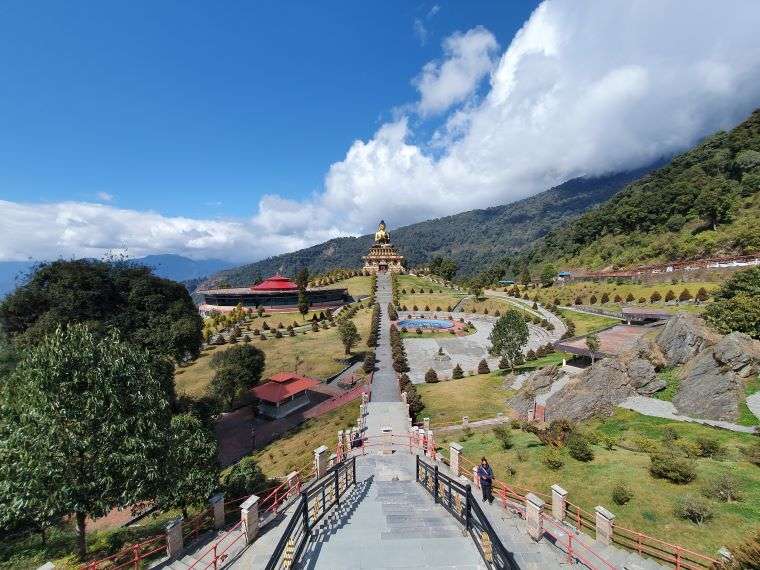 Ralang Monastery
But even before this fame, I was a very important Buddhist pilgrimage. The monastery hosts the annual festival Pang Lhabsol when the locals worship Mount Kangchenjunga. You can witness the charm dance with masks and Mahakala dance if you visit during the festival time.
Bon Monastery
Just seven kilometers away from the Buddha park is a charming village called Kewzing. Here you can visit the Bon Monastery. In 1980 late Yung Dung Tsultrim settled in this monastery.
Amidst composite and quiet condition, Bon Monastery or Bon Yung Dung Monastery is situated in Kewzing offering a wonderful perspective of the slopes and valleys of southern Sikkim. It is a beautiful destination as it is one of the most renowned monasteries in Sikkim. Indeed, there are just two Bon Monasteries in India; one existing in Kewzing, Sikkim and the other in Solan, Himachal Pradesh. This monastery was first settled in 1980 by late Yung Dung Tsultrim.
Ralong hot spring
Ralong Hot Springs is very popular among local people by the name of 'Ralang Cha-Chu'. These pools of sulfurous water are not only a visual treat but also have therapeutic properties. Want an amazing steaming sauna in nature? Come here. Adventurers love the trekking trails to the caves located close to one of the religious caves of Sikkim.
Chuchay Dhunga
The massive rock overlooking the valley from a height of 5500 ft looks like the top of a ship. Here amidst the mountains, far away from the sea stands a natural wonder that reminds you of the iconic Jack and Rose scene in Titanic.  So travel-lovers who visited the place named it Titanic viewpoint. That's a familiar name to the drivers here. So when you come to meet me, don't forget to check this out.
Trek to Maenam hill
A trek to Maenam Hill must be on your Sikkim itinerary if you love mountaineering. It's not a difficult trekking trail but a long and pleasing one. You will walk through the beguiling wildlife sanctuary on your way to the zenith. It's easy to be entranced in the Himalayan forests amidst the pure immaculate natural paradise.
Rayong sunrise viewpoint
And there's one more highlight for the lovers of panoramic views. Wake up early morning and walk to the Rayong viewpoint to grab enchanting views of the vista.
Temi Tea Garden
You can say I was saving the best for the last. The lush green estates on the Himalayas is a treat to senses. If you are coming to visit me from Gangtok, don't forget to stop here mid-way for a cup of tea.
So that's a short tour of my lands. How did you like it? I look forward to your replies for now. When the lockdown is over, we can meet face to face. Don't worry, the storm will be over soon.
Yours truly,
Ravangla
Blogger's Notes:
This is not a travel guide. This is just an introduction to the pristine natural beauty of Ravangla. This post is a part of the series "Postcards from India", written for the A2Z Blogging Challenge by Blogchatter for April 2020. I am writing about offbeat destinations in India, which you can visit once the lockdown is over. The historical information is from Wikipedia. You will find detailed travel guides of Sikkim soon on my blog after the series.