Snowfall in Sikkim – An informational Photo Blog
I read somewhere that your first snowfall is like first love, you can never forget it. Now that this summer-child has witnessed her first, she just couldn't agree more. Snowfall in Sikkim is pure magic. The snow-capped Himalayas, frozen lakes and real-life Christmas Trees wrapped in snow. A beauty like this makes me believe in God. For such a thing of beauty couldn't have been created by a mere accident like the Big bang.
If you want to experience snowfall in Sikkim, you must visit in the winter. In this article I will share with you my fond memories of this unforgettable trip to North Sikkim in winter and all the information you need to know before you go there. For our complete itinerary and more tips, check out our Sikkim Travel Guide.
When does it snow in Sikkim?
December to February are the winter months of Sikkim. The temperatures from Gangtok towards North Sikkim ranges from 7 degrees to -5 degrees. Because of the higher altitude and erratic showers, the real-feel is often 2-3 degrees lower. This is when you can find snowfall in parts of Sikkim.
There are several disadvantages of winter. Packing for winter is always difficult as the winter garments are so damn bulky. If you have been living in the peninsular region for long, the winter Himalayas can really bite. Moreover, many of the places that you might have planned to visit will be closed due to snow. Every morning the troops use Army vehicles to remove snow from the roads. However, on account of heavy snowfall many top attractions might be closed on the day you planned to visit them. But if you want to see this snow-covered paradise with your own eyes, this is the time.
Where can you experience Snowfall?
On our trip this time we could not visit the Gurdongmar Lake or Yumthang Valley as the army had closed them down. But that gave us an opportunity to explore offbeat and touched regions like Katao. Remember almost all these places require permits for both Indian citizens and foreigners.
Tsongmo Lake
Here's an Yak taking some rest after ferrying perfectly-abled people along the Tsongmo Lake. Yak Safari is one of the famous activities to do near Tsongmo Lake. You will see hoards of Yaks with colorful mats on them all set to take you on a ride on the snow for their masters. This one is retired perhaps, sitting free in a corner admiring the snowfall, away from attention.
Tsongmo Lake, locally called Changu Lake is located only 40 km away from Sikkim's capital Gangtok. This glacial lake perched at a height of 3753 meters remains frozen in the winter. In autumn it reflects the clear blue sky and in spring it is surrounded by vibrant rhododendrons adding to its charm. This was our first destination of the trip, right after the day we arrived Sikkim. We woke up early morning shivering in the cold and somehow managed to gulp breakfast before we took off at 8 am. The queue to Tsongmo Lake gets long so we had to reach there fast. I wasn't sure if the lovely biker-jacket I got from my office layered on top of my thermals would be enough. Till the time we were basking in the sunshine while waiting for our permits, this seemed to be fine.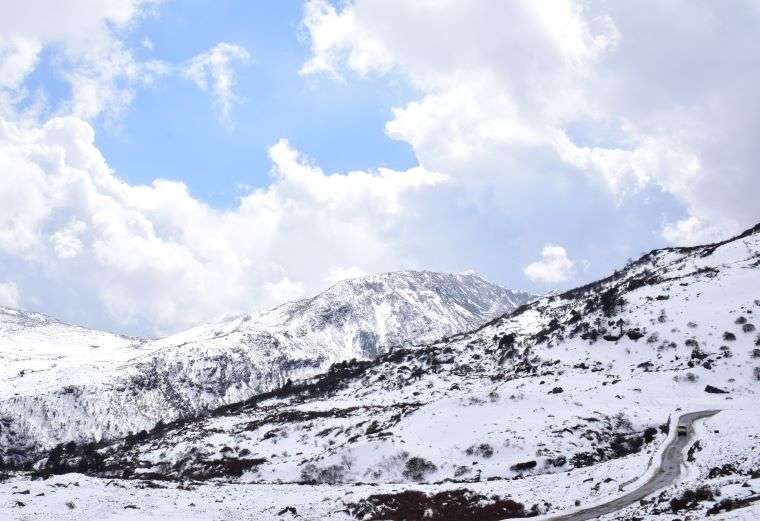 The serpentine roads between the snow-covered valleys
As we drove towards Tsongmo I watched the whole landscape change in a span of few kilometers, as did the weather. I was almost certain that I'm going to freeze if it gets any colder. Thankfully we stopped at a shop to rent our boots and relieve ourselves at the toilet. If you hire a cab service here, they will certainly stop at this place. You can either rent boots and jackets here, or buy new ones. While renting boots was an obvious option, I caught the sight of this white coat and it was kind of a first-sight love. I can't believe that the first price they quoted was Rs.1200 and I grabbed it. This is perhaps my best thrift purchase ever.
Baba Mandir
Our next stop of the day is Baba Mandir. It is a shrine dedicated to Captain "Baba" Harbhajan Singh, a great Indian soldier who was martyred at the Nathu-La-Pass on Indo-China border in 1968. His death at the young of age of 1968 became the source of many a legend. Revered by both Indian Army, and apparently even the Chinese as the Hero of Nathula, some believe that his spirit still protects the soldiers in the harsh conditions of Eastern Himalayas. The original shrine was constructed at the Nathula Pass but tourists are now barred from entering that temple. Another temple in his honor has been constructed between Tsongmo Lake and Nathu La Pass which is still open to tourists. The Indian tricolor flying high in the mountains wrapped under a blanket of snow is an incredible sight.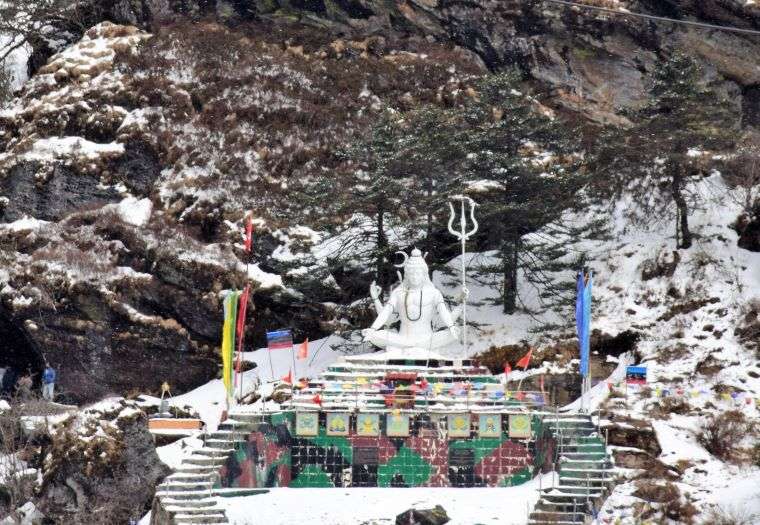 Snowfall started again and we went inside the car shivering in cold. That's where we zoomed in and took this picture of Shiva far away.
Nathu La Pass
Nathu La pass is a part of the "silk-route" , the ancient trade route between India and China. Nathu La , translated as "listening ears" is the last post in India before you enter China. The road towards Nathu La Pass is one of the highest motorable roads in the world. Across the barbed wire you can see the Chinese soldiers. Well, we could not, because the road to Nathu La was blocked during our trip.
I am not complaining, because the next day even Tsongmo Lake was blocked because of the long snowfall we witnessed.
Lachung and Lachen
These are the two villages in North Sikkim where most tourists stay. If you want to visit Gurdongmar Lake, the highest glacial lake in the world, you will have to stay in either of these places. These villages have limited power-supply, so heaters are not allowed. Don't worry, we did not experience any power-cut as such. Prohibition of heaters is a reasonable precautionary step by the governing bodies.
We stayed in Lachung. It is a picturesque hamlet located at an elevation of over 2400 meters, surrounded by snowcapped mountains, dotted with waterfalls n rivulets and cuddled by a magical mist lies. This picturesque village in North Sikkim is a gem for those seeking roads off-the-beaten-track. The two days we spent here in sub-zero temperatures, soaking in the aura of raw nature will be etched in my mind forever. Yumthang Valley and Zero point being closed due to excessive snowfall, we got more time to explore Lachung on foot.
Yumthang Valley Checkpoint
Yumthang is Sikkim's valley of flowers. I was really interested to see how the famed valley looks in the winter, but it was closed. However, the checkpoint itself offered some marvelous views. It was a sunny morning when we reached there and the army personnel politely restricted all tourists from going any further. But within minutes the snowfall started while the sun continued to play hide and seek.
Katao
Yumthang and Zero point being out of our reach, we really didn't know where else to go. Thankfully our driver had an idea. He took us to Katao. This is also on the Indi-China border and has almost no commercial settlements around it. Ever heard of this place? Well I didn't. Never read about it in any of the travel blogs before. The road to Katao was like a dream. Christmas trees covered in snow all around brought Christmas for us in the middle of February.
What better place to try one of those magical Instagram moments I thought. Epic Fail!

I usually don't put selfies on this blog, but this wasn't an usual experience either. At this point of time the snowfall was getting quite fierce and we were loving it.
Other places to visit for experiencing snowfall in Sikkim are Dzuluk, Gurdongmar Lake (if you are allowed) and Lachen.
Packing Tips for Sikkim in winter
Sikkim in winter needs a little extra effort on the packing side. Especially if you are planning to visit North Sikkim. Gangtok , Pelling and Namchi usually have moderate climate even during winter. Gangtok feels a little colder because of frequent rainfall. Here is a packing checklist for Sikkim in winter, so that you can be prepared without over-packing stuff.
Besides these, remember to carry multiple sets of undergarments as it will be too cold to wash and dry. They key is to have layers. In Pelling you might not even need a jacket if you are wearing a thermal beneath during the day, while at night you can put on a jacket or cardigan.
Do not pack boots, you can rent them. Also do not get any skiing kit with you. Though places like Katao and Yumthang valley get enough snowfall , the land is covered with trees. So it is not appropriate for skiing anyway.
Other reasons to visit Sikkim in winter
If the photos of snowfall in the mountains are not enough here are few more reasons for you took visit Sikkim in winter.
It's cold, not dry
Even in the winter you can find evergreen trees and perennial waterfall. The diversity of landscape within this tiny state is mind-boggling.

Rafting in the cold waters of Teesta
Ah, I don't see the fun rafting under the scorching sun even in the spring. White-water-rafting in the strong currents of Teesta is one of the best things to do in Sikkim in winter. The checkpoint for this is at the border of West Bengal and Sikkim.
Lesser crowd and off-season discounts
At a time when most of the tourists flock to the beaches of Goa and the backwaters of Kerala, visit Sikkim. The hotel prices are slashed and the queues at checkpoints are much less. If you are travelling through agency, then you can negotiate cheaper prices during this time.
More to read
Sikkim is a beautiful Indian state that I'd highly recommend to anyone visiting India for an offbeat experience. You can find all my Sikkim posts here.
If you liked the post please share it with your travel buddies. You can stay connected with me on Instagram, Facebook and Twitter.