All you need to know to plan a trip to Sikkim this winter
Finally, nearly 8 months after our amazing trip to Sikkim, I decided to pen down this guide. I had written about snowfall in Sikkim and a couple of pieces about my favorite locations in Sikkim earlier. However, writing a detailed travel guide is a lot of hard work. Like most travel bloggers I was let down by the drastic drop in readers due to the horrible pandemic situation. We were lucky to do this trip just before the pandemic came to India and we were locked down. This was in February 2020 when my dream of tripping this beautiful state of North-East India came true. I hope this helps you plan your trip this winter, or in the better times to come.
The post contains affiliate links. This means if you make any purchase through the links in the post, I may get a commission without any additional cost to you. This income helps me to keep the site up and kicking.
The Perfect Itinerary for a trip to Sikkim
Well, there's no such thing as a "perfect" itinerary for all. Sikkim is a tiny state if you go by its area in square kilometers. But it's hugely diverse. The steep terrain of the Eastern Himalayas makes it difficult to cover a lot of places in a short span of time. So ideally, you should have at least 7 days for a trip to Sikkim. The more the merrier. In 7 days you can decide if you want to cover south Sikkim, or West or North. North Sikkim has everything that you think of when we talk of the Himalayas- high altitude, snowfall, difficult hikes, yaks, and chilling winters. But Sikkim isn't all about that. There are many places in Pelling (west) and South Sikkim where you'll get temperate climate, blossoms, sunshine, and amazing cycling tracks. Now you can decide where you want to go.
Check out the best places to visit in winter in India.
I had never seen snowfall before, so we decided to visit North Sikkim in February. But a trip to Sikkim in winter comes with its unique set of challenges. A lot of places like Lachen and Gurdongmar lake are not open for children below a certain age and people with ailments. This is because of the lower oxygen levels at higher altitudes. Heavy snowfall often causes road blockages in major tourist sites like Yumthang valley, Chhangu lake, etc. We were well aware of these challenges but still went for the below itinerary.
Read more about our experience of snowfall in Sikkim.
Day 1: Flight to Bagdogra and drive to Gangtok
Day 2: Day trip to Tsongmo/ Chhangu Lake Lake, Baba Mandir, Nathu La Pass
Day 3: Drive from Gangtok to Lachung and Lachung sightseeing
Day 4: Yumthang Valley, Zero Point, Mt Katao
Day 5: Lachung to Gangtok and Gangtok sightseeing
Day 6: Gangtok to Pelling via Ravangla
Day 7: Pelling sightseeing
Day 8: Pelling to Bagdogra and flight back home
Alternate itinerary if you want to explore the south and west Sikkim instead of North:
Day 1: Flight to Bagdogra and drive to Gangtok
Day 2: Tsongmo/ Chhangu Lake Lake, Baba Mandir
Day 3: Drive to Namchi – Namchi sightseeing
Day 4: Drive to Ravangla via Temi Tea Estate
Day 5: Ravangla highlights(Buddha Park and Titanic viewpoint) and drive to Pelling
Day 6: Pelling sightseeing
Day 7: Pelling sightseeing
Day 8: Pelling to Bagdogra and flight back home
You might also like to combine the Sikkim trip with Darjeeling. Since Darjeeling is famous for its resplendent tea gardens, you can 2 days in Darjeeling in the place of Namchi and Ravangla. You can start with Darjeeling, then stay in Gangtok for 2days and then in Pelling for 2 days. You must visit Buddha Park at Ravangla on your way to Pelling from Gangtok.
Where to Stay in Sikkim?
There are a large number of options for stay in Sikkim ranging from budget accommodations to luxury ones. The options are more in cities like Gangtok and Pelling. It's scarce in North Sikkim. We chose the Sumit Group of Hotels for our stays in different parts of Sikkim. These were good mid-range hotels with complimentary breakfast and great locations.
Summit Namnag Hotel & Spa, Gangtok. It is a 3-star property with great food located close to the MG Road
Summit Khangri Karpo Retreat and Spa, Lachung. It's a beautiful property with the much-needed mattress heaters in Lachung. The location offers spectacular views of the tranquil village. Heaters are not allowed in the region for environmental reasons, so mattress heaters are used to keep you warm and cozy in winter.
Summit Newa Regency, Pelling. It's a 3-star hotel which is refurbished out of an old villa. Each room has an attached balcony that offers a clear view of Kanchenjunga. Even if you don't get a mountain-facing room, don't worry. The roof is open to all guests. Wake up early to experience the magical sunrise, when the peak turns golden as the first rays of the Sun touch Kanchenjunga.
How to reach and commute on a trip to Sikkim
The best and fastest way to reach Sikkim is to take a flight to Bagdogra. It's a small Airport in West Bengal which is 68 km to Darjeeling and 138 km to Gangtok. Alternatively, you can take a flight to Kolkata, and from there book an overnight train to New Jalpaiguri.
If you decide to drive yourself in Sikkim, you must get your own car, as self-drive rentals are not available yet. Book an SUV beforehand and share your itinerary with them. Considering the difficult terrain, I suggest you book an SUV irrespective of the number of people. It's safer. The rates are usually cheaper in Sikkim compared to most other states.
Travel Permits for Sikkim
In normal conditions, special permits are required to visit sensitive areas like Tsongmo Lake , Baba Mandir, Yumthang Valley, Lachung and further north. There are checkpoints at higher-altitude areas which are also under strict security control. Pre-book the cab service for intra-state transport , and know all the requirements from them. Once you give them the itinerary they will tell you which places will require permits. Carry two photo identity proofs including one address proof, and atleast 2 passport-size photos for each permit. It's good if you carry photocopies of your documents but scans will also be enough.
Given the COVID situation, Sikkim has recently opened for tourism with a set of additional rules. You have to mandatorily apply for a travel card before visiting Sikkim. Check all that you need to do that here. Book only those health & safety compliant hotels and services for your stay, commute and tours. You can identify them by government-issued stickers.
Highlights of our trip to Sikkim
You can find the detailed itinerary of Lachung and Ravangla on my blog. The blog posts on Gangtok and Pelling are coming soon. But here are the highlights of my Sikkim trip which I want to share with you. This will help you decide which places interest you more.
Marveling the nature in Katao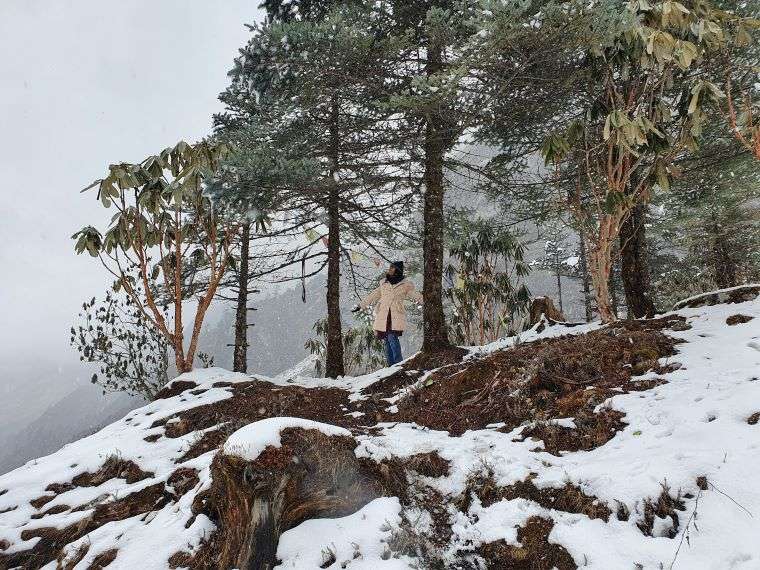 Katao is a piece of heaven we never knew about. We visited Katao only because Yumthang Valley was closed due to heavy snowfall. Gurdongmar Lake, which is the second-highest lake in India was also out of reach. Our driver suggested the place"Katao". I've never read about it before. The offbeat Katao offered scenes of raw natural beauty that I can never forget. It was like a Christmas wonderland.
Just Living in Lachung
Another pleasant surprise of our trip was staying at Khangri Karpo Retreat in Lachung. Located right across the Lachung river, it was a unique experience to spend time here. We reached Lachung at 2 pm on Day 3. We didn't have any other plans that day except roaming around in the idyllic village. The next day, we could only visit Katao. We returned at noon again and had nothing to do. But just the experience of walking along the river, spotting the waterfall, shivering in the sub-zero temperatures, and cozying up in the warm beds was so pure.
River Rafting in Teesta, Kalimpong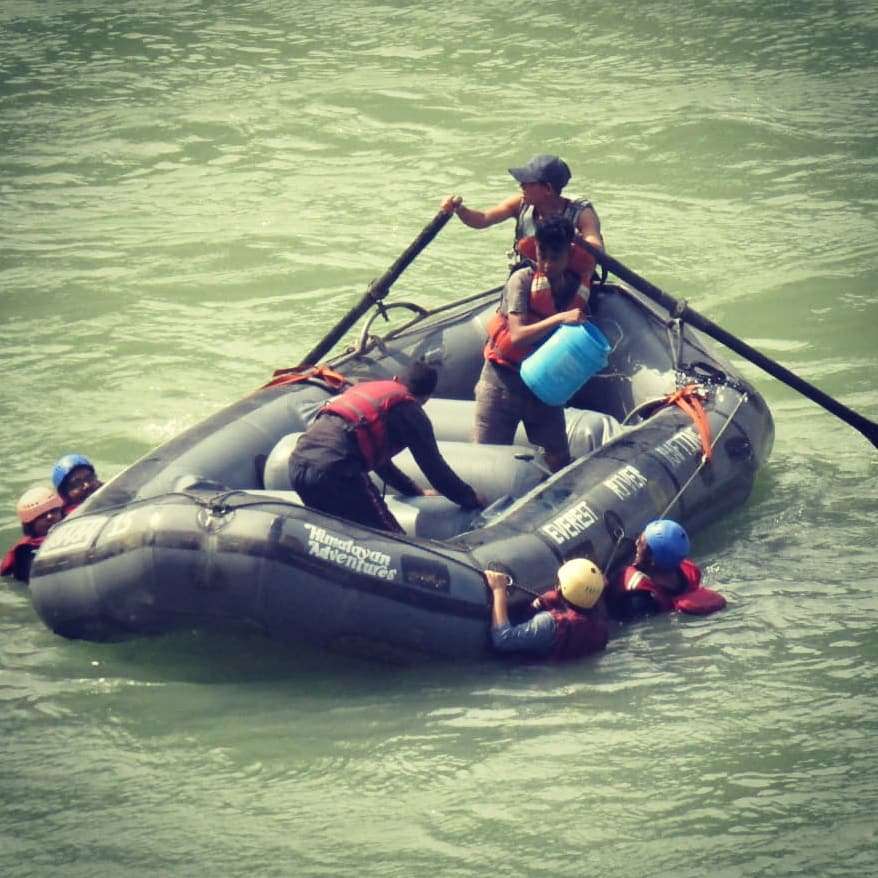 The third most memorable experience on our Sikkim trip was the river-rafting adventure in Kalimpong. You can do it on your way to Gangtok on Day 1 or on your way back to Bagdogra on the last day. We did the latter, because we weren't aware of this on the first day. The water was unexpectedly warm and comforting in the lowlands of Kalimpong. But the current was strong. It was a thrilling adventure indeed.
A trip to Chhangu Lake and Baba Mandir
Chhangu Lake also called Tsongmo Lake is a glacial lake perched at a height of 3753 meters. It's frozen into white snow in winter, reflects the clear Autumnal sky in October, and is vibrant with colorful rhododendrons throughout the Spring and summer. When we went to Tsongmo Lake on Day 2, it was my first experience of driving through the snow-laden track. It was special indeed. Further away from the Tsongmo Lake is Baba Mandir. It's a temple dedicated to a soldier Baba Harbhajan Singh, who became a martyr in this place.
Walk and Dine in the upbeat MG Road
MG road is like a small piece of Europe in Sikkim. With the cobbled street, broad walkways, and lovely little cafes this is such an amazing place to spend your evenings in Gangtok. Besides upscale cafes and restaurants, there are budget eateries too. You have souvenir shops, fashion outlets, supermarkets – everything that you expect in a big city. But the old-world charm is still not lost in it.
Visit Buddha Park Ravangla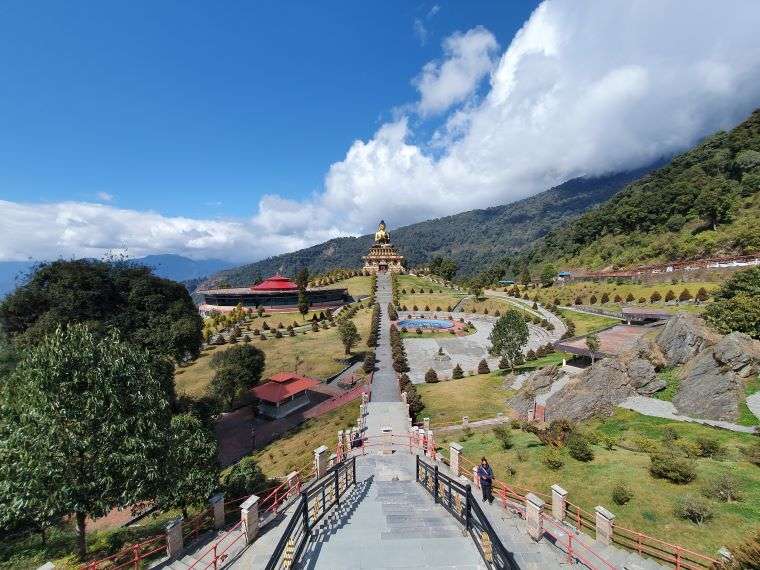 Also known as Tathagatha Tsal this is a breathtakingly beautiful park with the Himalayas at its backdrop. The iconic feature of this park is the 130-foot tall Buddha statue. Inside the statue is a Buddha temple and museum where the main concepts of Buddhism have been explained through exquisite paintings. Outside the statue is a robust garden with fountains, flowering trees, cafes, and other facilities. The park is surrounded by a series of prayer wheels which you will find in most places of worship in Sikkim. Read more about things to do in Ravangla.
Rabdentse Ruins in Pelling
When we think of Sikkim, it's a natural beauty that allures us. I've never thought of Sikkim as a historical site. Not until I trekked to the awe-inspiring Rabdentse Ruins. It was the second capital of the Kingdom of Sikkim in the 17th to 19th centuries. This was before it was destroyed by the Gurkha Army from Nepal. Watching the sunset on Kanchenjunga from the top of the ruined site is mesmerizing.
My only regret is that we couldn't spend much time there. The trek took time reminding us of our poor fitness. We left soon after we reached the top, so as to see the historic Pemyangtse Monastery. Unfortunately, the monastery was closed at 4:30 pm (winter timings). We came to know that only after we reached the gate.
Update! I visited Pelling again in 2023, this time with my toddler, and spent a great time at Rabdentse and the Sidkeong Tulu Bird Park.
Skywalk in Pelling
The main attraction of the new skywalk in Pelling is the gigantic Chenrezig Statue. But what I loved more are the spectacular views from above. Like Buddha Park, here too there's a temple inside the statue. With the trend of building such giant installations in all Tibetan-Buddhist tourist spots, it might not remain a novelty anymore. But since it was my first trip to the Himalayas in nearly 7 years (my last trip was to Bhutan in 2013), I loved both the statues.
Read my complete guide to Pelling here.
The scenic drive from Gangtok to Lachung
Another highlight of our trip was the absolutely picturesque drive from Gangtok to Lachung. I can't count the number of times we stopped on our route to marvel at the Teesta meandering through the lofty mountains, or the perennial waterfalls greeting us from the forests. The wooden bridges on the creeks, the dangerous roads, the bamboo forests, and the breathtaking views of the valley – they will leave an indelible mark in your mind.
Window Shopping in Gangtok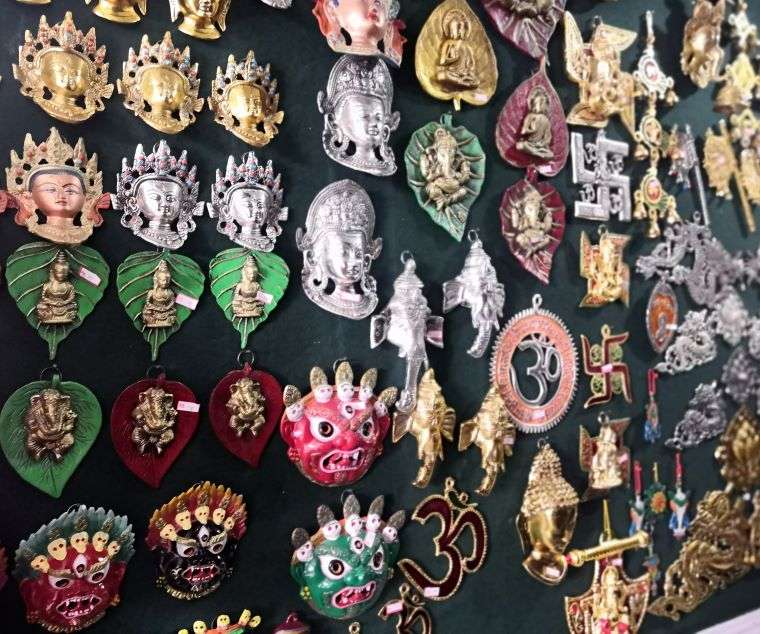 Throughout Sikkim you will come across amazing Souvenirs to take home. My favorite one was the white overcoat that I bought on my way to Tsongmo Lake and wore throughout my trip. But besides that, Gangtok is a great place for window-shopping along with the actual shopping. Decorative masks, wall hangers, porcelain cups are the specialty items to watch out for. Trust me, you'll feel the urge to take everything back home with you. But that's not practical given that the space in my luggage and content in my wallet are both limited.
Packing Tips for Sikkim
Sikkim in winter needs a little extra effort on the packing side. Especially if you are planning to visit North Sikkim. Gangtok , Pelling and Namchi usually have moderate climate even during winter. Gangtok feels a little colder because of frequent rainfall. Here is a packing checklist for Sikkim in winter, so that you can be prepared without over-packing stuff.
* The items marked in asterix are needed even if you visit Sikkim in the spring or summer, that is, in the months of April – June. The temperature at different places in Sikkim ranges from 13 degrees in the North to 25 degrees in South. You don't need thermals, gloves or woolen socks in the summer. A thick-foamed waterproof jacket is enough for North Sikkim as well as the unexpected rains.
Besides these, remember to carry multiple sets of undergarments as it will be too cold to wash and dry. They key is to have layers. In Pelling you might not even need a jacket if you are wearing a thermal beneath during the day, while at night you can put on a jacket or cardigan.
Do not pack boots, you can rent them. Also do not get any skiing kit with you. Though places like Katao and Yumthang valley get enough snowfall , the land is covered with trees. So it is not appropriate for skiing anyway.
So are you excited about a trip to Sikkim? If you liked this post don't forget top share and save it for future reference. If you want more such practical guides and travel tips, subscribe to our monthly newsletter.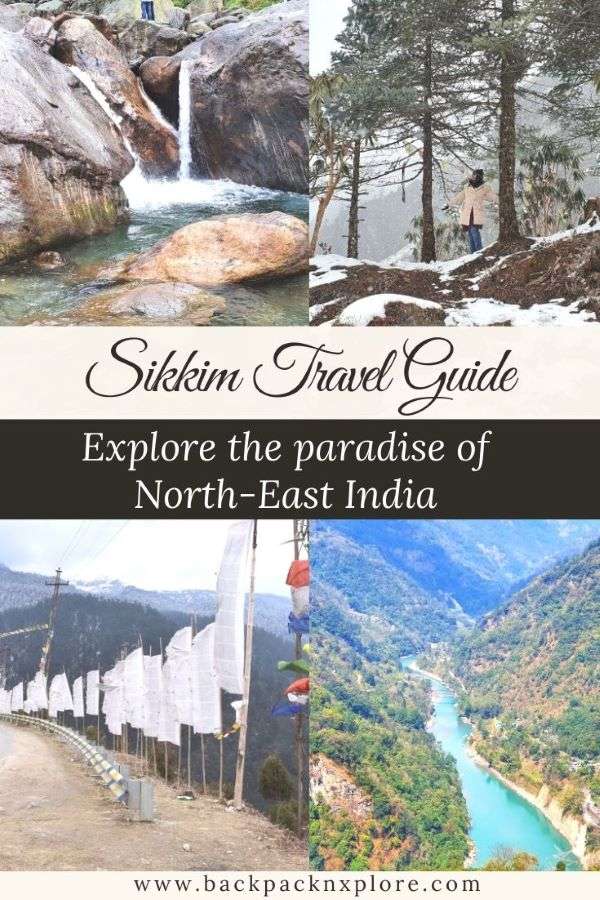 I am taking my blog to the next level with the #MyFriendAlexa campaign by Blogchatter.