A Complete Travel Guide to Pelling, Sikkim
When you plan a week-long vacation for the first time in three years, would you choose the same place where you visited the last time? Mostly no, right? But if it's a yes, then you get how special the place must be. That's the best pitch I can make for Pelling – a quaint little town in the Himalayas known for its scenic views and some architectural wonders. Pelling makes you feel free and safe, adventurous and comfortable at the same time. Here is a detailed travel guide to Pelling. I'll talk about the best places to visit, Pelling itinerary, interesting day-trips from Pelling and much more.
The post contains affiliate links. This means if you make any purchase through the links in the post, I may get a commission without any additional cost to you. This income helps me to keep the site up and kicking.
Why should you visit Pelling?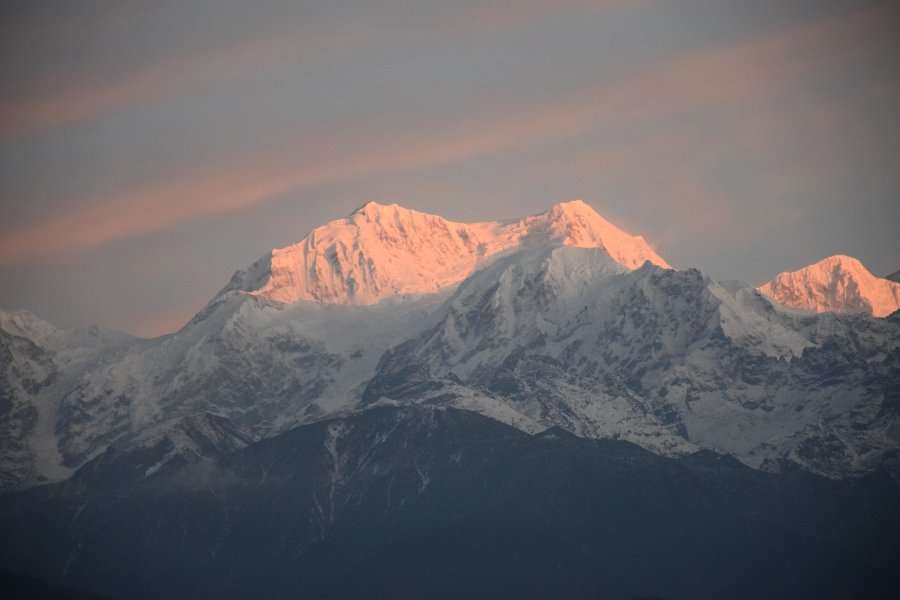 Pelling is a beautiful town in west Sikkim where you can enjoy pleasant climate throughout the year. It's way less crowded than the capital Gangtok, but as easily accessible. Most famous for the resplendent views of Kanchanjunga, Pelling is a perfect place for all kinds of travelers – adventurers, honeymoon couples, college troops as well as family tourists. It is one of the most developed tourist places in Sikkim, yet not crowded.
Solo travelling might be expensive out here due to lack of accessible public transport. You'd need to get a small cab service or self-drive. However, if you're ok travelling with a group of strangers, there are many such tour organizers for Pelling trip.
For me the biggest highlights of Pelling are its weather and the views of Kanchanjunga peak – the third highest mountain peak in the world. When we visited Sikkim in the snowy winter, Pelling gave us the much-needed warmth after the chilling temperatures in North Sikkim and even in Gangtok. When we visited Pelling in the summer, we got the much-needed respite from the pan-fry heat of Kolkata.
Still wondering, what's so special about this little Himalayan town? Let's take a look at the most stunning sites in Pelling.
Places to explore in and around Pelling
Rabdentse Ruins
I love exploring ruins. Somehow, they attract me more than stunning new architecture. So no wonder, the site of Rabdentse ruins is my favorite place in Pelling.
The history of Rabdentse Ruins traces back to the 17th century when it served as the second capital of the Kingdom of Sikkim. Established by Tensung Namgyal, Rabdentse flourished as a center of political and cultural significance during its time. The capital was strategically located atop a ridge, providing natural defense against potential invasions. In the late18th century it was abandoned and fell into ruin following a series of conflicts with neighboring kingdoms. Over the years, nature reclaimed much of the once-thriving city, leaving behind scattered remnants that now form the Rabdentse Ruins.
Today, these ruins stand as a testament to Sikkim's rich history and attract visitors who come to explore the site's ancient architecture and immerse themselves in its historical significance. It is accessible for free for anyone who can hike about 1.5 km through the forests. Besides exploring the ruins, you can also enjoy the panoramic views from the top. Notable sights include the Sangchoeling monastery and the Kanchenjunga peak.
Sidkeong Bird Park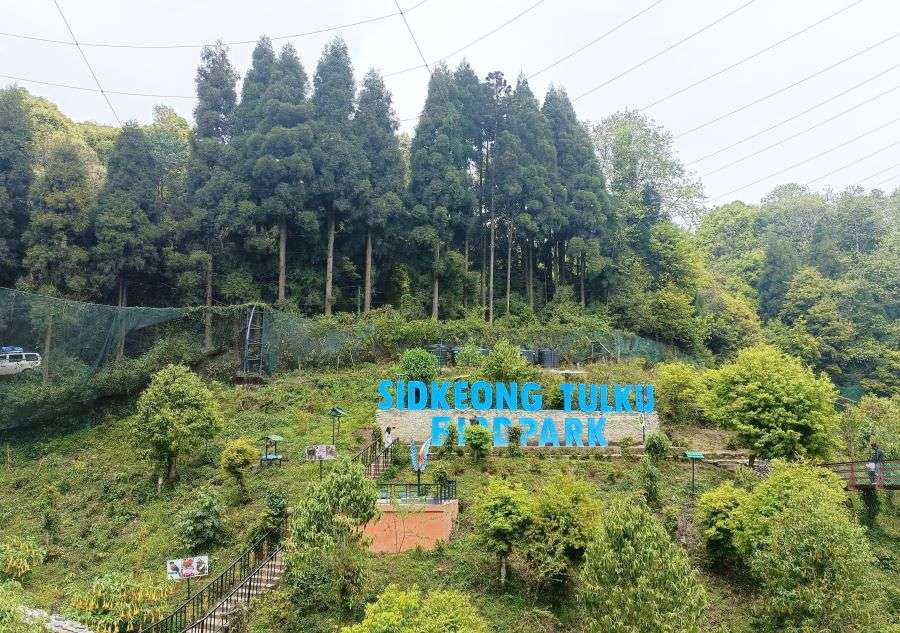 The first time we visited Sikkim, this was the most underwhelming experience for me. With an entry ticket price of rs.50, the bird park offered nothing but a walk across a hanging bridge to a huge, netted area to see few not-so-rare species of birds. However, in three years a lot has changed, and this has developed into a beautiful park, especially suitable for families with children. Named after the 10th Chogyel (monarch) of Sikkim, Sidkeong Tulku, it is a beautifully decorated park in the wetlands between Rabdentse and Pemyantse.
Pemyangtse Monastery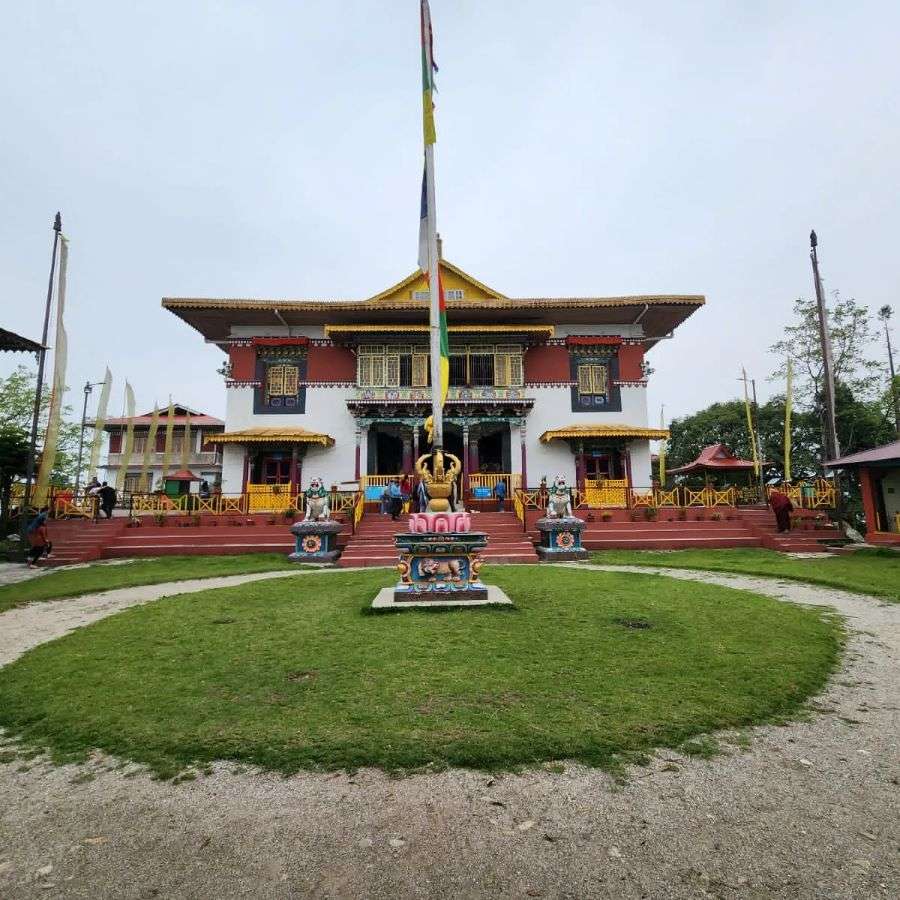 Perched atop a hill in Sikkim, India, Pemayangtse Monastery is a revered Buddhist institution that exudes tranquility and spiritual fervor. Founded in the 17th century by Lama Lhatsun Chempo, this monastery holds great significance in the religious and cultural landscape ofSikkim.
The name "Pemayangtse" translates to "Perfect Sublime Lotus" in Tibetan, reflecting its spiritual essence. Over the centuries, the monastery has undergone several renovations and expansions, evolving into an architectural marvel adorned with intricate woodwork, colorful murals, and sacred artifacts. Pilgrims and tourists flock to this revered site to seek blessings, witness religious ceremonies, and admire the sublime beauty of its surroundings.
Pelling Skywalk and Chenrezig statue
Situated on a hilltop, this glass-bottomed skywalk is a modern engineering marvel of Sikkim. Walking on the transparent pathway, suspended high above the ground, gives you a sensation of "walking in the sky". As you venture along the skywalk, the breathtaking vistas of snow-capped mountains, lush valleys, and cascading waterfalls unfold before your eyes.
But what stands out is the path leading to the huge Chenrezig statue. Like in Buddha Park of Ravangla, the statue sits atop a temple that you can enter and learn more about Buddhism in.
Sangcholing Monastery
Sangachoeling monastery is located a short hike away from the Pelling Skywalk. It is the oldest surviving monastery of Sikkim, this 17th-century monument is also known as the "place of secret spells". Perched on a hilltop amidst lush greenery, Sangachoeling offers a tranquil and serene ambiance that enhances the spiritual experience. The monastery houses intricate statues, vibrant thangkas, and sacred scriptures, reflecting the rich cultural heritage of Tibetan Buddhism. As you ascend the stone steps leading to the monastery, you'll be rewarded with breathtaking views of the surrounding valleys and majestic Himalayan peaks.
Kanchanjunga Falls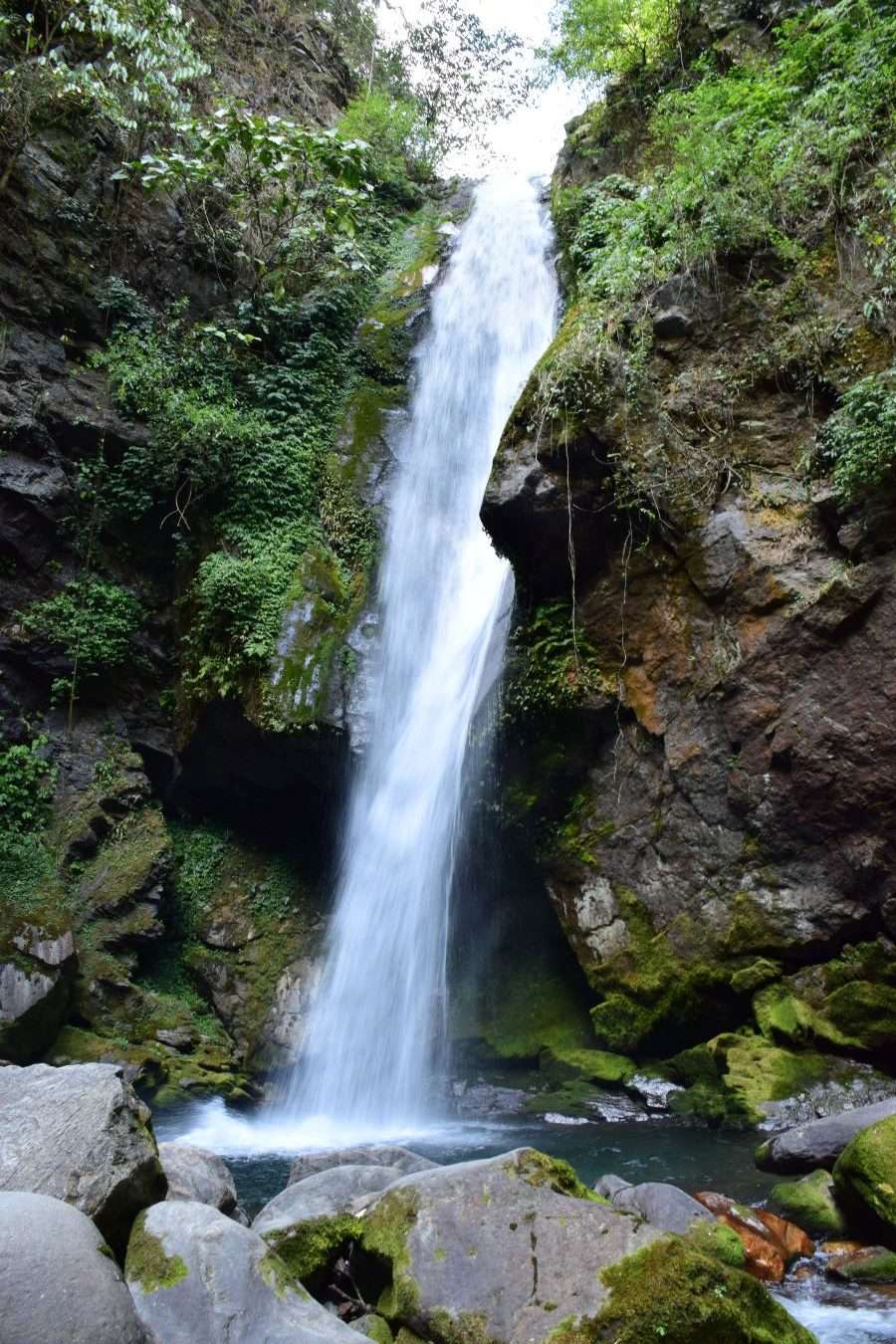 Kanchenjunga Falls, is a magnificent natural wonder – a highlight of Pelling. Named after the majestic Kanchenjunga mountain, the third highest peak in the world, this waterfall cascades down from great heights, creating a mesmerizing spectacle. Surrounded by lush green forests and pristine landscapes, Kanchenjunga Falls offers a serene and refreshing atmosphere.
With a ticket price of Rs. 10, you can ascend a flight of around 50 steps to see this natural splendor. The pristine ice-cold water plunge into the pool inviting visitors to take a dip.
Rimbi River Rock Garden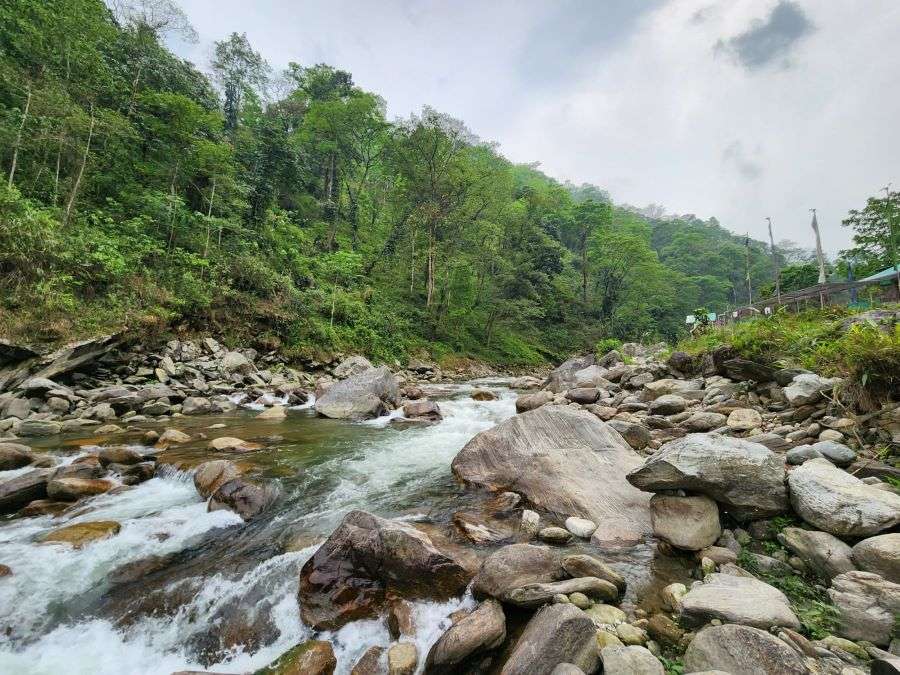 The Rimbi River Orange Garden , is a delightful and vibrant agricultural attraction. Situated along the banks of the picturesque Rimbi River, this orange garden is a testament to Sikkim's rich horticultural heritage. In winter, the visitors can stroll through the garden, enjoying the fresh scent of citrus and marveling at the vibrant hues of the oranges.
However, the main attraction here is the Rimbi river itself. Walk over the rocks and see how far you can go, sit and soak the warmth of the sun, with your feet dipped in the river. While there are no oranges to savor in the summer, you can still enjoy the tranquil surroundings and spend time in the river-rocks. Be cautious, if you are travelling with friends. This is a time-killer, and you'll never know how long you spent here doing nothing!
Rimbi Falls
Rimbi waterfall is a relatively small waterfall on your way from Rimbi orange garden to the Kanchanjunga falls. For a change, there's no need to hike, or trek here. Just park you car and enjoy the splendor while sipping on some hot coffee or spicy Wai-wai. The wooden bridge makes this place picture-perfect.
Khechoparli Lake
Khecheopalri Lake is a sacred and serene freshwater lake that holds immense religious significance for the local Buddhist community. Surrounded by verdant forests and misty hills, the lake is believed to be a wish-fulfilling and sacred site. Legend has it that the lake's water remains crystal clear due to the blessings of Guru Padmasambhava, the revered Buddhist master.. Surrounded by prayer flags and colorful prayer wheels, the lake has a mystical charm.
Honestly, I have seen larger and more beautiful lakes in India, however, the walk through the forests, the folklore around it, and the chance to feed fish makes it unique. You can trek further to the hill-top from where the Khecheopalri lake looks like a foot. That would take at least 30-45 minutes extra time. I'd suggest skipping it unless you are really interested in this. There are much better views from other places like Pelling skywalk or Rabdentse Ruins.
How to reach Pelling
People usually visit Pelling as a part of their Sikkim trip, which should ideally be at least 5-6 days long. You can also combine Pelling trip with a trip to Darjeeling like we did in April this year. In any case, the closest international airport is the Bagdogra airport in West Bengal, and the closest well-connected railway station in New Jalpaiguri (NJP).
You can book train ticket to the NJP station from any major town of India. Bagdogra is also well-connected to major cities. Once you reach NJP, you can book a cab to Pelling easily. A 6-seater car like Innova would cost around Rs. 4500 – Rs. 5000, and a 4-seater car would cost around Rs. 3500-Rs. 4000. The prices may vary depending on the travel season. You can also book tourist buses online.
Best Accommodations in Pelling
There are three regions in Pelling – upper Pelling, middle Pelling and lower Pelling. Upper Pelling is closer to the skywalk and the helipad. Lower Pelling is closer to Rabdentse and Pemyangtse. There's a popular perception that upper Pelling offers a better view of the Kanchenjunga, which is probably the reason why the prices are also high.
Well, I have been to Pelling twice, and on both occasions stayed in lower Pelling, and I have no complaints about the view. We got picture-perfect view of Mt. Kanchanjunga from our hotel both times. But the higher altitude offers a better unobstructed view for photography in upper Pelling. Lower Pelling also has some good restaurants, if you want to dine outside your hotel.
Here are my top hotel/resort recommendations in mid-budget range:
Voyage the Aryan Regency at lower Pelling
Best Day Trips from Pelling
Pelling is a town speckled with natural and architectural wonders, enough to keep one occupied on a short trip. However, it is also used as a base for exploring the nearby, lesser known places in Sikkim. Since the accommodation options are limited in these places, people choose to stay in Pelling longer and go for excursions into the places nearby. Here is a list of the best places to go for a day trip from Pelling
Singshore Bridge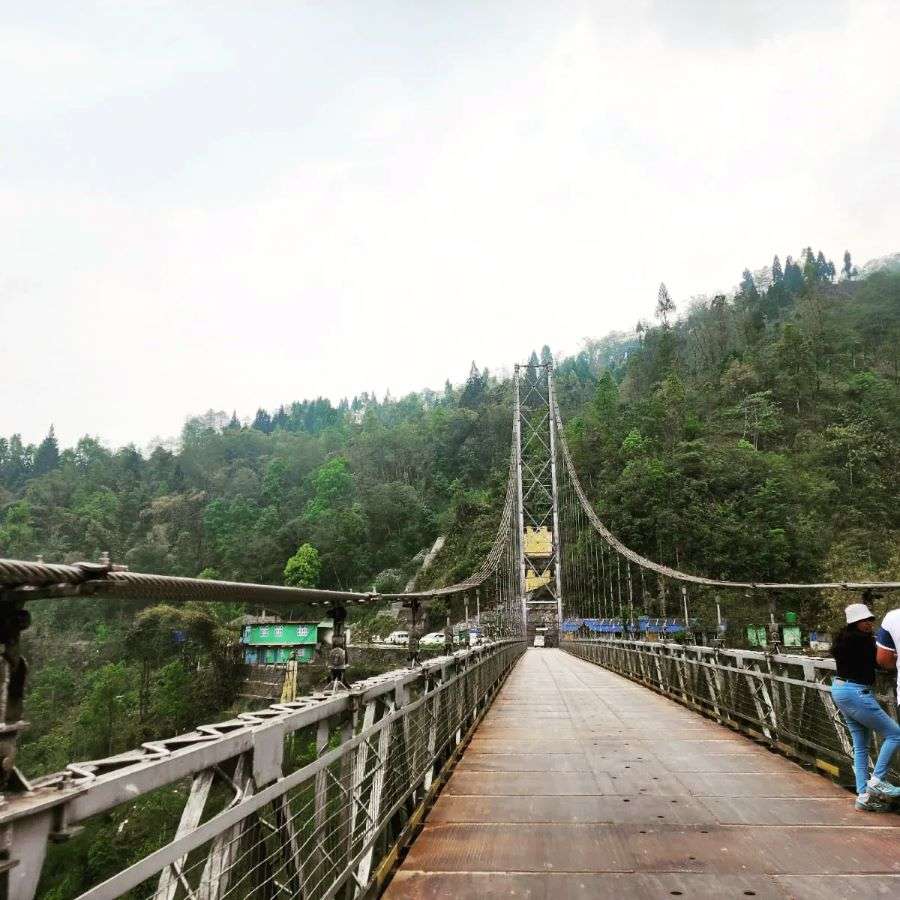 Located about 25 kilometers away, Singshore Bridge is the highest bridge in Sikkim and the second-highest gorge bridge in Asia. A journey through scenic roads and verdant Himalayan forest which is home to the cute red pandas is truly memorable. I couldn't spot a red panda , but hopefully you can. On your way you will come across the beautiful Changey Falls.
The suspension bridge stretches across the valley, providing a thrilling experience as you walk across its length. Take in the panoramic vistas, capture memorable photographs, and savor the adrenaline rush of being high above the ground. Remember to pack some snacks and water, as there may not be many facilities nearby. After this visit the charming Dentam village and the Alpine Cheese factory located there.
Uttarey
You can combine the trip to Singshore bridge with a completely off-the-tourist-radar place call Uttarey. A village on the border of India and Nepal, Uttarey offers unadulterated natural beauty. The main attraction here is the view from the Tenzing Hillary Memorial park – established in the memory of the first pair of mountaineers who climbed Mount Everest. If you love trekking, you can do a 2km trek to this place. Or you can drive to this spot directly through the motorable road. The idyllic lake, the infectious smile of the two legendary mountaineers commemorated through the statue is sure to fill you with joy.
My little one enjoyed the place the most. It was a delight to see the 1.5-year-old toddler walking his way up the cobbled-stone pavement in the park with his precious smile. If you can visit the Titnaic park for some photo opportunity. A 10-minute walk from the Titanic park will take you to the Kagyu monastery, one of the most significant monasteries in Sikkim. About 2km from here is the trout farm where you can see the rearing of fresh-water fish. Drive 5km further to the mainbass waterfall and complete this fulfilling excursion.
Yuksom
The scenic drive from Pelling to Yuksom is approximately 35 kilometers. It takes you through picturesque landscapes and enchanting villages. Upon reaching Yuksom, start your exploration by visiting the historic Dubdi Monastery, the oldest monastery in Sikkim. Immerse yourself in its tranquil atmosphere and admire the beautiful murals and statues.
Continue your journey to the Coronation Throne, where the first Chogyal of Sikkim was crowned. Enjoy panoramic views of the surrounding mountains from this vantage point. In the afternoon, visit the Tashiding Monastery, located a short distance from Yuksom. This important pilgrimage site is known for its religious significance and stunning views.
Take a leisurely walk around the monastery complex, observing the prayer wheels and colorful prayer flags. Before heading back to Pelling, indulge in some local cuisine at one of the eateries in Yuksom. As you make your way back, reflect on the rich history and natural splendor you experienced during this captivating day trip.
Ravangla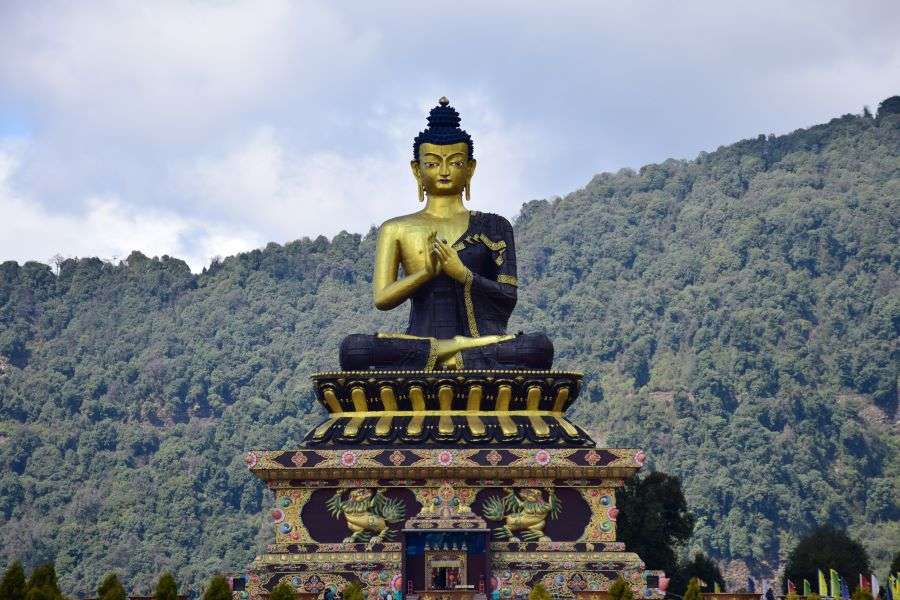 Most famous for the resplendent Buddha Park, Ravangla is located only 32 km away from Pelling. People often spend an hour at the Buddha Park in Ravangla on their way to Pelling from West Bengal. The Buddha Park, home to a huge, magnificent statue of Buddha overlooking the town. Take in the panoramic views of the surrounding mountains and spend some time in quiet contemplation amidst the peaceful ambiance of the park.
Afterward, visit the Ralang Monastery, an important Buddhist monastery known for its intricate architecture and spiritual significance. Depending on how much time you have or are willing to spend, you can also visit the Tumlong Monastery.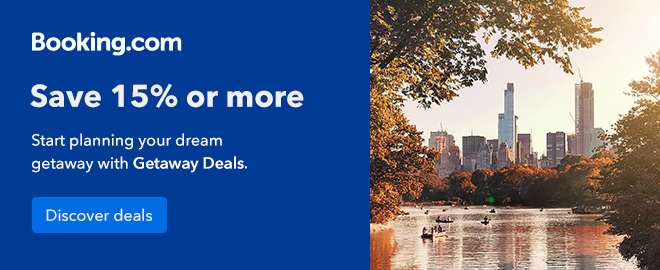 1-day itinerary for Pelling
You need to set aside at-least one full-day for Pelling. On a relaxed trip with family you can visit the Skywalk, the Pemyangtse monastery and Sidekeong bird on that day. On your way back to Siliguri or Bagdogra you can stop at the Ravangla Buddha Park. These places are beautiful and easily accessible by car. So, if you are visiting with ageing parents, or tiny toddlers, make sure to not miss any of these. You can also add Kanchanjunga falls, Rimbi falls and the Rimbi river garden to the list. While you can just stop your car and marvel at the Rimbi falls, for Kanchanjunga falls and Rimbi river you will need to do a short hike.
If you're a group of young adventurers and nimble on feet, do not miss the trek to Rabdentse Ruins. A trek to the Khechoperi Lake is also worthwhile, however, you will need to manage your time really well to accommodate all these along with the ones mentioned above, all in one day. Not only will it be hectic, but it also won't be fulfilling enough to touch and leave these places at once.
2-day itinerary for Pelling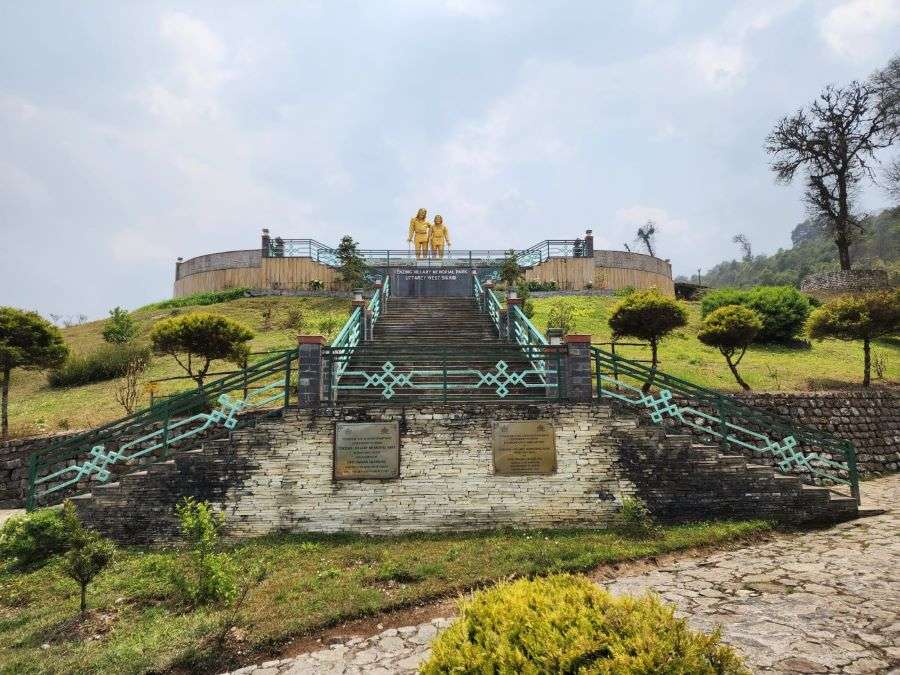 Pelling is a small town studded with jewels. While you can cover a lot of ground in one day, I highly recommend staying in Pelling for 2 days. This will help you see not just the attractions within Pelling but also around it. Here's how I'd plan a 2-day trip to Pelling.
Day 1 – Visit the skywalk and hike to the Sanga Choeling Monastery. Then start off for an excursion to the Singshore bridge. On the way to Singshore you can stop at the Changey falls. After this you can either explore the Detam village and visit the cheese factory, or head to Uttarey for a scenic drive.
Day 2 – On the second day you can explore the top attractions of Pelling. Start with Pemyangtse monastery in the morning, then move on to Khechoparli lake, Rimbi river rock garden, Rimbi falls and Kanchenjunga falls. After lunch, trek to the Sidkeong bird park and then to Rabdentse ruins. The panoramic view from the ruins is a sight to behold before sunset.
Best Organized tours to book Online
If you want a hassle-free experience travelling in Pelling, I highly recommend these tours.
Conclusion
I hope I was able to cover all the ground for you to plan your next trip to Pelling. Watching the first rays of the sun fall on the Kanchanjunga peak, making it turn golden is a sight to behold. It's something worth visiting Pelling for and worth waking up at 5 am every morning during your stay. To know more about Sikkim you can check out my other posts about this spectacular little state in India.
This was my first travel article after a really long time. If you liked it please share and pin. Drop in your questions and experiences in the comment section. I am not actively posting on the blog or my Instagram profile, but I'm pretty prompt with replying to comments. Thanks a lot for reading and come back for more travel articles.
Watch the web series  Jubilee on Prime – A heartfelt love letter to Hindi Cinema which smartly blends fiction and reality, resulting in a gripping drama set in the 1940s' world of cinema. I can't remember last when I was so bewitched by a book or a movie
Another series I loved, (though not as much as Jubilee) is Dahaad. Despite its flaws, Dahaad is a watchable crime thriller with rock-solid performances by Vijay Verma, Gulshan Devaiah and Sonakshi Sinha (in that order)
Watch Citadel on Prime – the sleek spy thriller with Priyanka Chopra in the lead role. Honestly, it's way too cheesy and unrealistic for my taste, but it's gripping, and PC is quite amazing
For my kind of spy thriller, I recommend "Family Man" season 1 and season 2, and eagerly look forward to season 3
Watch
Currently grooving on Amazon Music : Cocomelon on the loop for my kiddo