Scenic Sikkim – Best Places to Visit
Sikkim is a tiny Himalayan state in the north-eastern region of India. Within an area of 2740 sq km it encompasses the true diversity of India – dense Himalayan forests in the west, frozen lakes, snow-capped mountains, lush green tea plantations, Buddhist monasteries, Shiva Temples and architectural marvels. Sikkim is a dreamland for travel-lovers. Here I present to you the Best of Sikkim – my favorite five places in the state.
5. Gangtok
The beautiful capital city is located in East Sikkim, 123 km away from the nearest airport at Bagdogra. Gangtok is a charming city that has little of everything – history, heritage and modern amenities. At the heart of Gangtok lies the Mahatma Gandhi Marg, the most beautiful city-center I have seen in India. It is like a small piece of Europe in Sikkim. With the cobbled street, broad walkways, and lovely little cafes this is such an amazing place to spend your evenings in Gangtok.
Other Major Attractions in and around Gangtok:
Hanuman Tok, Ganesh Tok, Botanical Garden, Banjhakri Falls, Seven sister waterfall, day-trip to Tsongmo Lake, Baba Mandir and Nathu-la-Pass, etc.
4. Namchi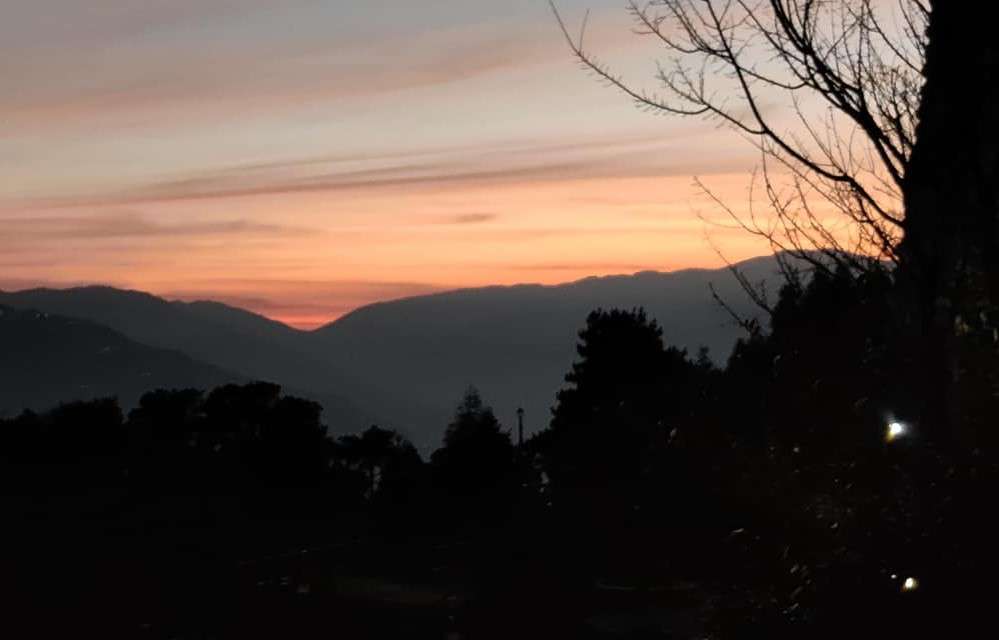 Located at an altitude of 1675m Namchi is the largest city in South Sikkim. From a tourism point of view this is just as developed as Gangtok,but has much less crowd. The word "namchi" literally translates to "the top of the sky" in Bhutia. Filled with resplendent tea gardens, temples and monasteries, Namchi is a great offbeat place to visit in Sikkim.
Namchi's biggest claim to fame is the Solophok Char Dham that was inaugurated in 2011. The tourist spot developed at the Solphok hill-top features a recreation of the four sacred places of pilgrimage for Hindus – Badrinath, Jagannath, Dwarka and Rameshwaram – and a giant Shiva deity, which is 108 ft tall.
Other major attractions in and around Namchi:
Temi Tea estate,Ngadak monastery, Samdruptse statue, Baichung statdium – a football stadium built in honor of Baichung Bhutia, Rock garden etc.
3. Ravangla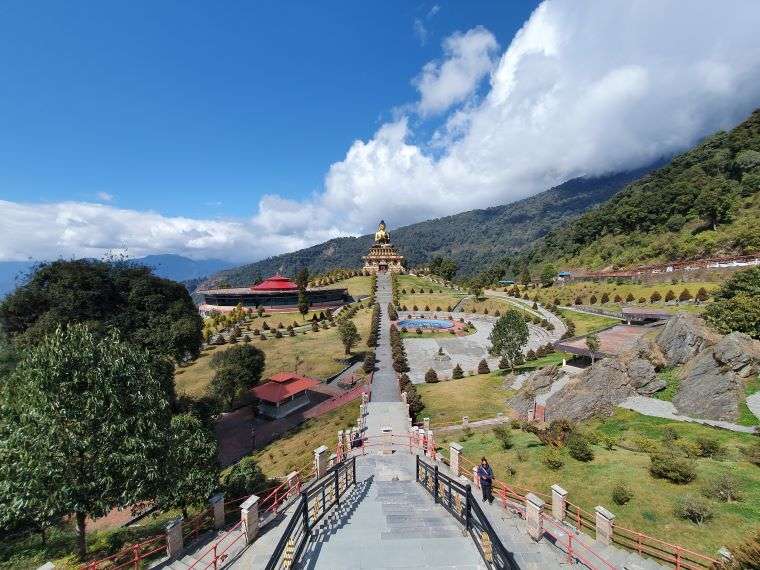 Surrounded by the imposing peaks of Mt. Kanchenjunga, Mt. Pandim and Mt. Kabru, Ravangla is a picturesque town sitting at a height of 8000 ft. The natural landscape here inspired men to build some architectural masterpieces. It is located 65km away from the capital Gangtok, and almost the same distance away from Pelling.
The reason behind Ravangla's new-found fame is the Buddha Park.  Also known as Tathagatha Tsal this is a breathtakingly beautiful park centered around a 130-foot tall Buddha statue with the Himalayas at its backdrop.
Other attractions in and around Ravangla:
Ralang Monastery, Bon Monastery, Ralong hot spring, Chuchay Dhunga (Titanic viewpoint)
2. Pelling
With lovely climate throughout the year, colorful blossoms along the roads and breathtaking views of the Kanchenjunga peak wherever you go, Pelling is a timeless city of dreams. It's one of the most beautiful cities in India and retains its color despite a highly developed tourism network.
Pelling is known for its diverse ethnicities – Bhutias, Lepchas, Nepalis among many others. It is the major city of West Sikkim and second most popular among tourists, after Gangtok.
Attractions in and around Peling:
Kanchenjunga falls, Khechopiri Lake, Rabdantse ruins, Pemyangtse Monastery, Singshore bridge, Skywalk etc.
Read my complete Pelling travel guide.
1. Lachung
Surrounded by snow-capped mountains of Eastern Himalayas, dotted with waterfalls and rivulets, cuddled by a magical mist sleeps a small hamlet called Lachung. Lachung and Lachen are the gateway to north Sikkim. That's all I thought of Lachung before I went there- it's a place where I get to sleep before I visit the Yumthang valley and other exotic locations. But I enjoyed the two-night stay at Lachung so much, that it became my most memorable experience in Sikkim.
Waking up to the mystic nature, watching the waterfalls from the balcony while sipping tea, walking along the rocks at the Lachung river – these are precious memories. Lachung is just a little fairytale town flanked by enormous mountains, enriched by perennial falls and forests of pine.
Attractions in and around Lachung:
Lachung Gompa – a 19th century monastery, confluence of Lachung and Lachen River, Day trip to Yumthang Valley and Zero point, day trip to Mt. Katao, Day trip to Gurdongmar lake via Lachen.
Check out our amazing Sikkim Travel Guide.
These were my top 5 places to visit in Sikkim. I hope you liked my 19th post of #BlogchatterA2Z. I can't believe I'm just a few posts away from completing this challenge which seemed nearly impossible for me. If you liked the post please consider sharing it and subscribing to my blog. You can also connect with me on Instagram, Facebook and Twitter.