Things to do in Lachung – the Gateway to North Sikkim
Perched at a height of 9000 ft, the idyllic village of Lachung is the gateway to the surreal North Sikkim. So if you want to visit the natural gems like Yumthang Valley or Gurdongmar lake, you will have to book a hotel here. But there are many beautiful places to visit in Lachung and around it other than the famous tourist points. Here in this post we will talk in details about all of them.
Surrounded by snow-capped mountains of Eastern Himalayas, dotted with waterfalls and rivulets, cuddled by a magical mist sleeps a small hamlet. It's called Lachung. The blanket of mist covering the hills around lends a trance to its environment. It's as though God painted Lachung with so much love, that it looks like a dream. Those were my exact thoughts as we entered this hidden hamlet shivering in the chilly wind in February 2020. A little further from Lachung towards the north is its twin Lachen. Normally people who go to Gurdongmar Lake prefer to stay there. But the roads to Lachen are often closed due to heavy snowfall in the winter.
Lachung gets its name from the river Lachung Chu that runs through it. The word La-chung itself means "small pass" in  Sikkimese. Lachen means "big pass". Besides tourism, the locals earn their living from the delicious apples, peaches, and apricots. They also make exquisite handicrafts, especially those made of wool which tourists often take home.
Read about the ancient rural art and handicrafts of India.
There are many hotels and homestays here. No matter where you stay, you will be gifted with a view from your window. Perennial waterfalls, forests of pine, rock garden along the river, and enormous mountains frame the landscape of Lachung. Lachung has a unique form of self-governance called Zumsa. All local disputes are settled by a representative body of the village, with an elected head called Pipon. 
Places to visit in Lachung
North Sikkim is almost completely guarded by the Indian Army. The check-posts to some of the day trip locations from Lachung normally close by 3pm. In fact the local drivers will advise you to start early morning and return to Lachung by 4pm latest. If you visit Sikkim in winter like we did, you may find some check-posts closed depending on the weather conditions. But don't worry there is so many things to do in this lazy village, that's better than destination-hopping.
Confluence of Lachung and Lachen rivers
The confluence of Lachung and Lachen rivers is a beautiful place. You can sit there on the rocks along the river, and soak in the beauty of nature. 
Lachung Gompa
Lachung monastery, aka, Lachung Gompa is a quaint 19th-century monastery. During the harvest festival in late February, you can see the traditional mask dance here. There is a handicraft shop nearby for shopping.
Stay at Summit Khangri Karpo Retreat
Summit Khangri Karpo Retreat is one of the best places to stay here. Fairies, as beautiful as the surrounding greet you in the lawns. You can see waterfalls on both sides of the resort. On one side the Lachung river flows by. The river and the monastery are at a walkable distance from this resort.
Other popular accommodations here are Padma resort, Lachung eyes, and Thangshing homestay.
Places to visit around Lachung
As I mentioned earlier, Lachung is the gateway to the spectacular north Sikkim. From Lachung you can go on multiple day trips to some of the most beautiful offbeat places in India.
Yumthang Valley
Yumthang valley is probably the most popular tourist destination in North Sikkim. Lachung is the closest village where you can stay to visit Yumthang. It is wrapped in snow during winter and filled with colorful rhododendrons at other times of the year. In spring colorful rhododendrons will welcome you all the way to the Yumthang national park. Rhododendron was the national flower of Sikkim, before it became a part of India. It is about 30 minutes away from Lachung.
Zero Point
The real name of this place is  Yume Samdong, and it is located at a point near Yumthang. Tourists named it zero point because it is literally the end of the roads close to the Indo-China border. I will advise you to leave early, by 9 am to collect your permits to Yumthang valley and Zero point.
Katao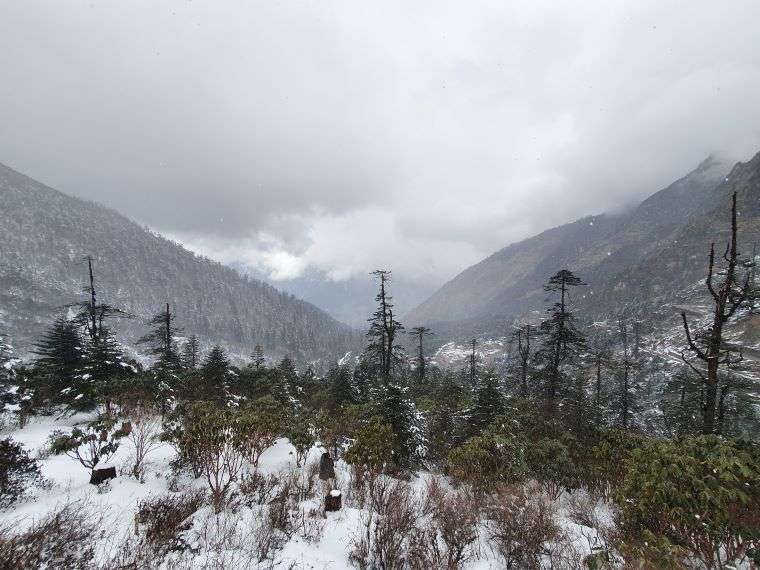 Katao is an obscure and unsung paradise in the true sense of the term. While every blogger sings praises of Yumthang and Gurudongmar lake, most travel sites forget to mention about Katao. At an elevation 15000 feet, Katao is an only 40-minute drive from Lachung. If you visit there in winter you will experience the soul-stirring snowfall in Sikkim. The coniferous forests on the mountain slopes appear exactly like Christmas trees.  During Spring and summer, Katao is also covered in blossoms like Yumthang. The Khanda Waterfall jutting out through the snow-covered mountains under the bridge is a sight to behold in winter.
Gurudongmar Lake
Located at an altitude of 17,800 ft, Gurudongmar lake is one of the highest lakes in the world. So no wonder, people know about it. But the road to this lake is closed most of the year either due to snowfall or due to rain. Only between mid-March and mid-May, before the monsoon begins, you can be assured of a permit to this sparkling gorgeous lake.
Bhim Nala Falls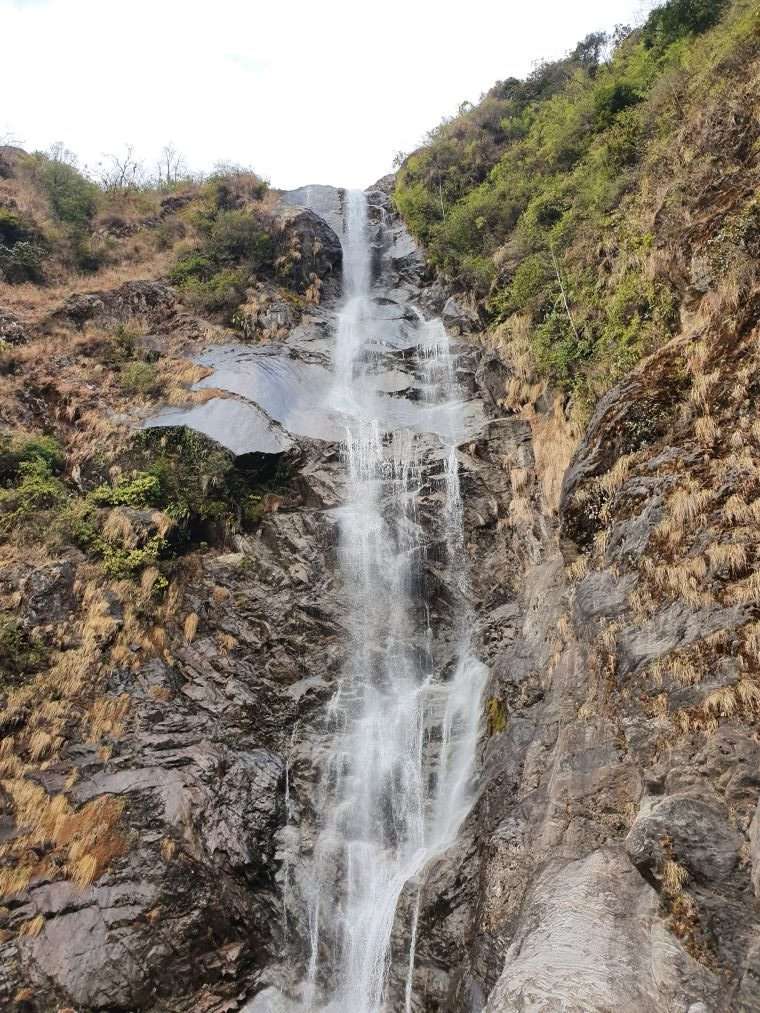 When you drive to Lachung from Gangtok, you will be surprised by the number of unknown waterfalls you come across. Even I don't know what names they call them by. But one famous name I hear from a lot of people here is the Bhim Nala Falls. People stop here to admire the views and have a hot cup of coffee at the nearby stalls.
Are you bewitched by the beauty of Lachung already? If you have your hopes soaring high, I promise Lachung will not disappoint you. The best time to visit Lachung is in between mid-March to mid-May. That's when you have the best chance to visit all the places I have listed in this post. But if you visit Lachung in winter, you will experience the surreal beauty of nature with far less tourists.  So save the post to help you plan your trip to Lachung in future.