Incredible Tribal Art forms of India that you should know about
In this post I will take you on a virtual tour through some of the most unique tribal art forms in India. If you want to have an immersive cultural experience in India, then look for the different types of tribal art that emerged from the area. You'll be amazed at the diversity of it, and how much it is connected to the history and lifestyle of the place.
Study of different indegenous art forms in India is very close to my heart. My love for this intensified when I organized "Kalakaar Vikas", a unique rural-art fair at IIT Kharagpur. It was in the course of these two years when I had the honor of interacting with artisans from remote villages and giving them a platform to showcase their talent to the world.
I owe my limited knowledge of these rural art forms from these artists who came to our institute with their unparalleled artwork in the hope of a better future for their family and their art.
I also reached out to my travel blogger friends who have actually visited the places where many families depend on their skills in these traditional art forms for their livelihood. They were generous to share their experiences and stories about the art forms they discovered while travelling in the remote corners of the country.
I include affiliate links for the tours, hotels and products I recommend. This means if you make any purchase through the links in the post, I may get a commission without any additional cost to you. While I strive to help you make the most of your trips, this income helps support the expenses for running this site.
Pin This!
[box title="" bg_color="#e0e0e0″ align="center"]DISCLAIMER: I strongly recommend buying these from local artisans when you visit these places in India. However, if you love what you see, you can also buy them on Amazon and Fab India from the links given in the post. These are affiliate links, so I may get a small commission for qualifying purchases through these links.[/box]
Dhokra in West Bengal
By Madhurima, Orange Wayfarer
Located at Bankura, a 4 hours drive from Kolkata, the Bikna Village is tucked inside the interiors of rural Bengal. It looks like one of those idyllic villages, where calm prevails in daily mundane.
However, if you look closely, you will see outstanding artists involved in those daily chores, who despite being denied any limelight of modern media houses, have been preserving an art form dating back to the era of Mohenjadaro civilization!
Yes, I am talking about the mindful art of Dhokra, the ancient form of which is found in the dancing girl statue from the ruins of Harappan civilization. Traditionally, the Dhokra Damar artists were Banjara (gypsy). A few government grants were endowed.
They were given a piece of land. A stream of support ensured they have enough time to practice the Dhokra art. They settled. The art sustained and lived in the age of increasing pressure from fast fashion industry and Chinese replica.
Dhokra art is a produce of lost wax casting technique. Needless to say, it is a form of handicraft and demands undivided attention for hours in front of fire. Dhokra art usually manifests itself in various form of tribal life, religious deities, home decor items, lamp stand.
There is an increased demand for traditional Dhokra jewelry. They are beautiful and renders timeless class to one's style statement. They particularly go well with saree or Indian ethnic wear. Poushmela in Shantiniketan is an event where plenty of Dhokra art is found at a place. they are affordable as well.
The art of Dhokra has its presence in Eastern and southern parts of India, namely Telengana and Kerala and Jharkhand.
Pattachitra from Orissa
By Anwesha, Going Places with Anwesha
Pattachitra is a thousand years old traditional style of painting which originated from the Indian states of Odisha and West Bengal, where the painting is done on a cloth-based canvas.
Hence the name – evolved from two Sanskrit words Patta – meaning canvas and Chitra – meaning picture. This art form is famous for its minute intricacies and the paintings are inspired by Hindu mythology, especially inspired by the tales of Lord Jagannath.
The paintings are manifested by rich organic colors, depicting creative motifs and designs, portraying simple themes leaning mostly towards mythology. Lord Jagannath in the present form (as seen in the Puri's Jagannath temple) is being taken as the origin of the Patta style.
The oldest record of the paintings does not go beyond the establishment of the present shrine of Lord Jagannath at Puri, due to the fact that paintings do not survive like sculptures. The paints inside the shrines of Lord Jagannath at Puri leaves the dates for assumptions, making the Pattachitra paintings as old as the deities themselves.
This age-old tradition of painting still survives in places like Puri, Raghurajpur, Paralakhemundi, Chikiti, and Sonepur. Generations of painters along with their whole family, work on to create some of the most beautiful art pieces found in the country.
Women in the family prepare the glue, the canvas and apply colors on the outlines and give the final lacquer coating. The master hand, mostly a male member of the family, draws the initial outlines and gives the final finishing.
The canvas is prepared using clothes mixed with a mixture of glue and chalk and then dried off by rubbing between two different stones. Once the base is finished, its leathery texture becomes easy to be drawn on with organic colors made from vegetables and stones. All the paintings are then given decorative borders to accentuate their beauty and bind the entire story together.
Madhubani Painting of Bihar
Also known as Mithila painting this art form is popular in the state of Mithila in Nepal and Bihar in India. Its origins be traced back to the age of Hindu epic Ramayana! These are scroll paintings inspired by nature and folktales, which are made from organic colors.
The specialty of these paintings is in their details and the fine lines. All white spaces on the paper are covered with floral and geometric patterns.
These paintings were done on the walls of the nuptial chamber of newly-weds and were coated with mud and cow dung.
Color sources of Madhubani paintings are plants, charcoal soot, turmeric, flower juice, leaf juice, rice powder, etc. This beautiful ancient art form is often used to depict stories of Ramayana and other folklores.
Trivia: This ancient art form unknown to the rest of the world until the Nepal earthquake of 1934. A British officer in the Madhubani district of Bihar found these paintings on the walls of the homes affected by the earthquake.
Surprisingly, the existence of this art form remained unknown to the outside world until the earthquake of 1934 when houses along the India-Nepal border tumbled down and the then British colonial officer in Madhubani district of Bihar stumbled upon these paintings on the walls of those homes!
Click to buy Madhubani Canvas paintings online.
Kalamkari Painting Andhra Pradesh
Kalamkari literally translates to pen-art. Like Pattachitra of Orissa and Madhubani paintings of Bihar, Kalamkari painting of Andhra Pradesh also originates from the urge of storytelling. Nomadic artists went from one village to another to tell stories from Hindu mythology and illustrated them on a large canvas with Kalamkari.
You can easily distinguish the Kalamkari from other rural paintings by the choice of material and color. Kalamkari is done on clothes stiffened by dipping in chemicals or buffalo milk which are then dried under the sun. The fine lines of Kalamkari were obtained by the use of bamboo or date pam stick pointed at one end, instead of a brush.
Kalamkari attained its full glory during the Golconda sultanate rule in Hyderabad in the middle-ages and flourished under the Mughals, who called these artists qualamkars, giving the art its name.
An art form depicting scenes of Hindu epics and later of Gautam Buddha attained its name and fame in the age of Mughals – this shows how the amalgamation of cultures all over the world shapes the unique cultural heritage of India.
Even today many families of rural Andhra Pradesh depend on Kalamkari for their livelihood. The appeal of Kalamkari paintings is such that they have now found place in modern tunics, skirts and scarves. You can shop for these on Amazon and FabIndia.
Block Printing in villages of Rajasthan and Gujarat
By Jing from Finding Jing
Block printing is a technique that has probably been practiced in India as far back as 2,000 years ago. Wood block printing is a method by which carved wooden blocks are dipped in dye and repeatedly stamped on fabric to create beautiful patterns.
The technique is said to have been adopted from China. However, different regions in India began to develop their own distinguishing patterns, techniques and dyes over the years. Early practice of block printing was mainly done in Andhra Pradesh, Gujarat, Rajasthan, Madhya Pradesh, Uttar Pradesh and West Bengal.
The production of block-printed fabrics involves more laborious processes than meets the eye. It entails skillful labor from intricate wood carving, dyeing, repeated washing and drying, and stamping.
What is special about block printing is that this gamut of processes became a shared livelihood for an entire community. Families, also representing caste groups, take on particular roles in the block printing process.

Today, despite threats from stiff competition with mass-produced prints, the art of block printing still survives, mainly in Gujarat and Rajasthan.
Unlike machine-produced prints, every block-printed fabric stamped by hand, is unique. Patronizing authentic hand block prints is one of the ways we can support this declining craft.

You can visit one of the villages in Gujarat and Rajasthan, like the Bagru block printing community, near Jaipur. Gain appreciation on how the locals keep the tradition alive despite threats to its economic and environmental sustainability. 
Rabari Embroidery of Gujarat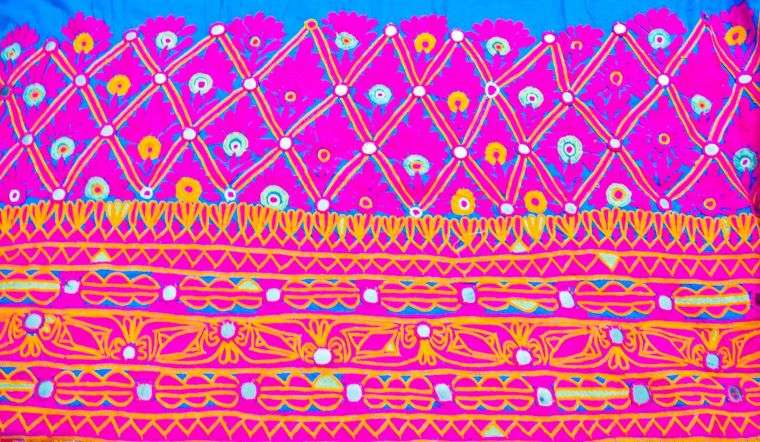 By Sapna , My Simple Sojourn
The hand embroidery done by nomadic and semi-nomadic people from the Great Rann of Kutch in Gujarat is one of my favorite items. These nomadic tribe is known as Rabari, hence its named Rabari embroidery. This embroidery is characterized by vibrant colors and chain stitch often accompanied by mirror-work.
Since this embroidery is very dense so the garments are thick and heavy in weight. This is the reason why people wear garments made with this embroidery during winters or on special occasions.
Women folks mostly do the Rabari embroidery but sometimes men also do this. Women do embroidery on garments, wall hanging, home textile and decorative items made with fabric. While Rabari men do it on leather items with this embroidery.
Since the Great Rann of Kutch is barren salt desert, these people started making vibrant embroidery to add colors to their otherwise dull life. In earlier days girls use to do embroidery on their clothes, bedsheets, decorative items which they would then carry with them after marriage.
This used to be the dowry for girls. As time changed and city people came in contact with Rabari people, they saw the beautiful hand embroideries done by them. Their products are beautiful and got popular in cities. So, the things that used to dowry items at one point in time became popular Indian souvenir in cities.
Buy Rabari Embroidery Designs here.
Masks of Majuli, Assam
By Agni and Amrita, Tale of Two Backpackers
Majuli, the largest riverine island in Indi is a great offbeat destination for nature-lovers. But this beautiful island is Assam is also the birthplace and home to a unique traditional art and craft form.
Mask making is an integral part of the culture of Majuli and its Satras. Traditionally these masks were used for religious dance and drama.
The mask making of Majuli is inexorably linked with the Sattriya culture. It is one of the most fascinating tribal crafts of India.
His teachings and philosophies shaped Majuli in the way it is today, a unique mix of religion, culture and art. Sri Shankardeva wrote plays on the life of Lord Krishna and performed traditional theatres known as Bhaona in the villages to disseminate his teachings. These masks were used in the Bhaona performances.
Today, mask making is almost a vanishing tradition in Majuli. The New Chamaguri Satra is the place where the tradition is still being kept alive. Once you reach New Chamaguri satra, you will see rooms filled with masks of various mythological characters displayed on the walls and floor.
The villagers of Chamaguri are trying their best to keep this tradition alive, even though the mask making is an elaborate process and the very few in the current generation are interested in it. Nowadays, visitors can indulge in mask making process to understand the nuances of the craft.
The masks are also kept for sale. With the hard work of these people, hopefully the dying tradition of mask making gets a new lease of life.
Kushamandi Masks or Mukha of West Bengal
By Agni and Amrita, Tale of Two Backpackers
Kushamandi Masks, traditionally known as Mukha are one of the most interesting forms of Adivasi art and craft in West Bengal. These masks are usually made as objects of devotion by the villagers. But these masks are also used in Gomira performances in the villages.
The mask making is usually concentrated in the village of Mahisbathan in Kushamandi block of South Dinajpur. The village has about 250 artisans involved in the craft of mask making. These masks are used as a costume of the Gomira dance performance held by the villagers to propitiate the deity, usher in the 'good forces' and drive out the 'evil forces'.
These masks are made of light wood known as "gamhar" wood. Wood from mahogany and mango trees are also used sometimes. Unlike other masked dance forms, Gomira or Kushamandi masks are made of wood and are quite heavy. The Gomira performers have to wear these masks in suffocating conditions. The local villagers believe that during the dance, the dancers wearing larger masks often go into a trance and they could be restrained only by sprinkling water on them.
Nowadays, Kushamandi masks are quite sought after handicraft items and finds place in many houses. With the help of the Government and NGO, the village is doing well to keep the tradityion alive. Every year during the winter (usually in the month of November), a fair is organized where the masks are displayed and Gomira dance performance is held.
Warli Art of Maharashtra
Originating from the Warli tribe of Maharashtra, as early as in 2500 BC, Warli art is one of the oldest types of tribal crafts in India.
Warli art is composed of simple geometric designs—think circles, triangles, and squares to form figures and articles depicting daily lives. Its uniqueness lies in its simplicity. A study of Warli art gives you an insight into the actual lives of the Warli tribe over different periods of history.
It primarily uses a white pigment made from rice paste and a background of earthy red or brown, creating a rustic but elegant look.
Warli art has gained great attention as home decor items because of the minimalist geometric patterns.
Gond Art of Chattisgarh and Andhra Pradesh
If you watched SS Rajamouli's blockbuster RRR, then "Gond tribe" may ring a bell. This forest-dweller tribe of present-day Chhatisgarh has one of the tribal arts of India to their credit. The Gond art is replete with stories and traditions of the tribe.
Intricate patterns of flora, fauna, and even mythological figures, each shape filled with dots, dashes, or swirling lines – that's Gond art for you. It's almost like each painting is pulsating with life.
Gond art is deeply woven into the community's fabric—pun intended! It's traditionally painted on walls, floors, and even the occasional piece of handmade paper during festivals.
The Gond believe that good images beget good fortune. So, the art not only serves aesthetic purposes but also holds spiritual significance.
What makes Gond truly stand out are the vivid colors and detailed patterns. No two pieces are the same, giving you something that's not just eye-catching but also one-of-a-kind.
Sitalpati – Cool Mats of Bengal and Tripura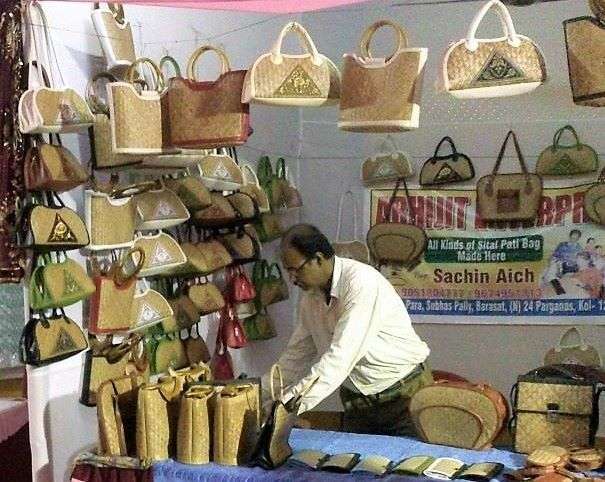 In Bengali, "shital" means "cool" and "pati" means "mat". These unique mats weaved out of cane slips were traditionally used for sitting and sleeping in the hot and humid parts of undivided Bengal. These mats have an amazing temperature-control quality unlike the modern plastic mats we use today.
They were a household necessity during my childhood in the unbearable summers, in the absence of air-conditioners.
The mats are also used as blinders for windows, trendy table mats and fashionable bags. It's amazing how the cane slips which would otherwise be discarded as wastes are used to create such beautiful utilities. No wonder, UNESCO has hailed the Sitalpati art of West Bengal as an intangible cultural heritage.
This recognition came as a lifesaver of the age-old dying art-form and provided an economic boost to the villages of Coochbehar in West Bengal. While most weaving families migrated to Bangladesh during partition, the Coochbehar distrct of West Bengal presently has approximately 14000 families who weave sitalpati for a living.
Usually, men are engaged in growing and extracting the fibre while women are engaged in weaving. With impetus from the West Bengal government and UNESCO, the Sitalpati artisans now participate in various fairs across the country, sometimes even outside, like France.
I am glad that I learnt about this craft while organizing one such fair in our college. As we are thinking about conservation and reducing carbon footprint, such art-forms actually have a great utilitarian value as well.
Madur Craft of Bengal
Madur is synonymous to mats in West Bengal. Made out of "Madurkanthi", a special variety of rhizome plant that is cultivated in Medinipur district of West Bengal, these are cheaper than Sitalpati. It came into existence during the Nawab period of West Bengal, when these mats called "masland" were collected as part of the Jaigirdari system.
Madur-craft is the pride of Medinipur, which is home to around 6000 mat-weavers. It is the sole source of income for over 75% of the weaver families here. They weave fine quality of mats with beautiful designs by soaking the sticks in dye.
The most common patterns on these mats are of flowers, honey-comb, rhombus shapes and cascades. Like sitalpati, madurcraft has also found its place in decorative and daily-use items like wall-hangers, bags, mobile-covers etc.
Sholapith- the Malakars of Bengal
Bengal is a land of great artisans and rich vegetation. Just like Sitalpati, Solapith is an artwork made out of an indigenous aquatic shrub called "shola" which grows in the marshlands of West Bengal, Orissa and Assam.
These are beautiful white crafts which were originally used in Hindu festivals. Note Goddess Durga's crown, jewelry and even the framework behind in the picture below– these are all made of "sholapith", also known as "daaker saaj".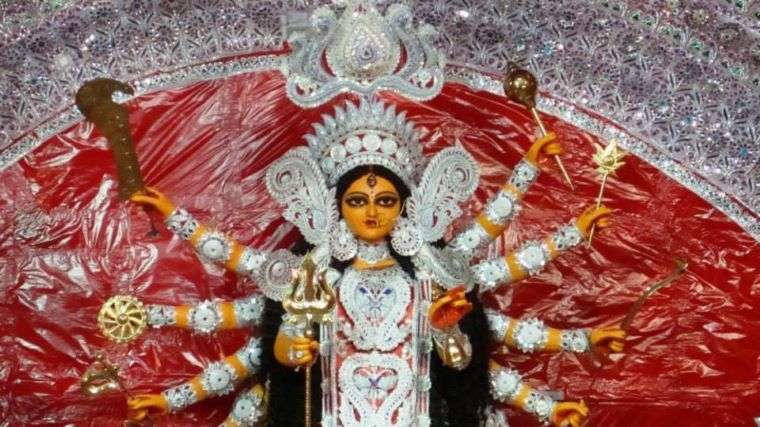 Read more about the festival of Durga Puja.
The "mukut" and "topor" (ornamental bridal headgear)worn by the brides and grooms in Bengali weddings are also made of Sholapith. Slowly the demand of Shola-crafts crossed the boundary of religious rituals and they started finding their place in various products – designs on jewelry boxes, ornaments, wall-hangers and many showpieces.
The sholapith artisans called "malakars" were highly respected elite artisans of Bengal in the past. The respect comes partly from the tremendous skill needed to cut exquisite designs on the delicate fibre and partly from their importance in religious rituals. There are 70 craft units in the Burdwan district of West Bengal currently. The popularity of Sholacraft also inspired the widespread replicas using artificial thermocol produced in factory. When in India, especially West Bengal, don't forget to buy the original sholapith artefacts as they are not just unique but also insanely lightweight.
Stone Artefacts of Mamallapuram , Tamil Nadu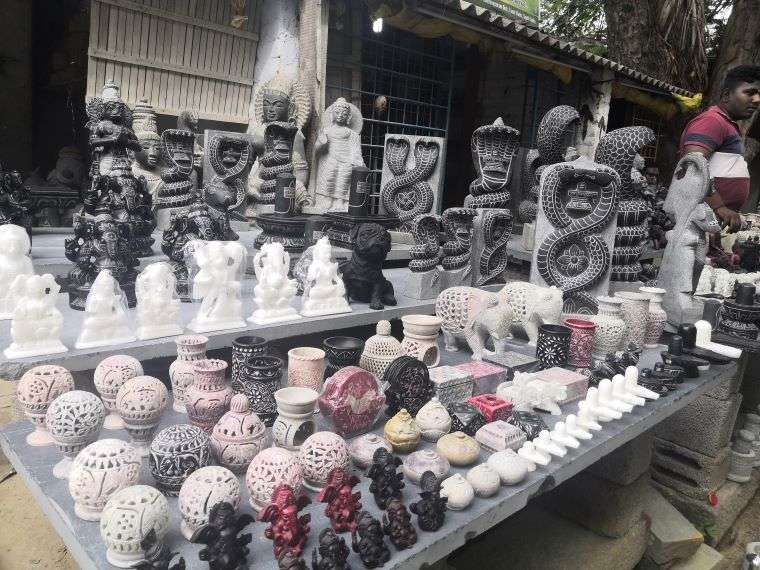 Mahabalipuram, a small town located only 60 km away from Chennai is famous for the ancient stone monuments of Pallava dynasty in the 7th and 8th century. However, when you visit Mahabalipuram you can't help but notice numerous exhibitions of stone art throughout the town.
There are over 500 craftsmen living in Mahabalipuram whose livelihood depends on making and selling stone artifacts. They supply stone statues upon bulk order but also make stunning small artifacts which you can buy as souvenirs. Tiny Diya shades, stands for incense sticks, miniature elephants, and Hindu deities are common themes of the stone art of Mahabalipuram.
Rough granite stones are cut using heavy chisels and hammers, while the soft soapstones  are carved by scooping. Nowadays they use drilling and cutting machines for heavy stones thus saving a lot of time and effort that used to be spent on cutting of stones earlier.
After a treasure hunt across the ancient man-made wonders of Mahabalipuram, it's natural to visit one of the workshops and see how the stone artisans carry on the legacy of their craftsmanship in modern days.
Terracotta – The ancient Baked-Clay-Art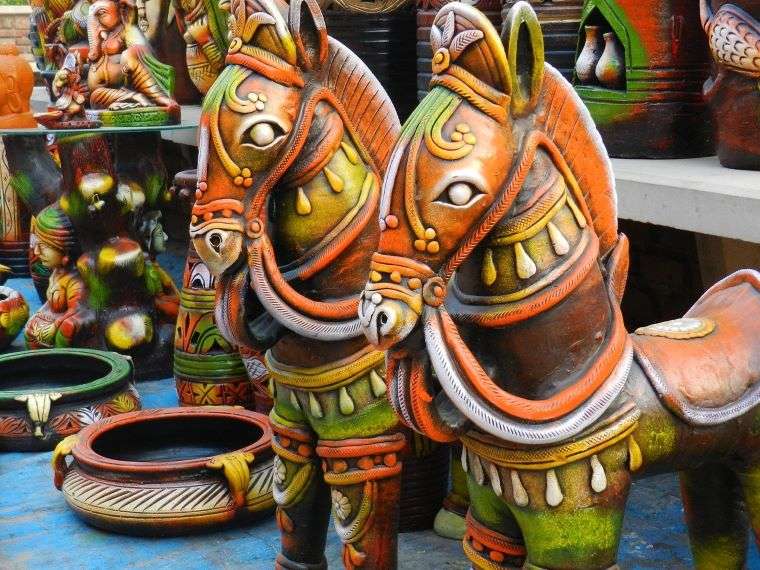 Terracotta is one of the most ancient art-forms in the world. India has its own history of Terracotta, which pre-dates any other place in the world.
"Terracotta figurines of mother goddess, male gods, and terracotta cart frames and wheels dating back to around 7000 BC have been excavated from various sites of Indus Valley Civilization .. proving that the art flourished in the Indian subcontinent long before it was used elsewhere."
Ornamental horses are a recurrent theme of terracotta art all over India, from Tamil Nadu in the south to Himachal Pradesh in the north. In Haryana the terracotta art dates back to pre-harappan civilization, and till today terracotta jewelry is very popular. In Bihar this art was popularized during the Mauryan period in 2nd-3rd century BC.
Darbhanga in Bihar is famous for rainbow-colored horses and clay elephants often used as a symbol of wedding. In West Bengal, terracotta art became popular much later, in the 16th century during the Vaishnav movement in Mayapur and Bishnupur.
The talented artisans took this art form to a whole new level. It can be witnessed in the grandeur of the Vaishnav temples in these areas. 
Buy Indian terracotta artefacts online.
I just touched the tip of the iceberg here. There are so many rural art forms in India that will spellbind you with their beauty and simplicity. In fact, I can dedicate a post to the art forms of West Bengal alone – buffalo horn-art, nakshi-kantha, jute artifacts etc.
Handicrafts of rural India are as diverse as the culture and landscape of the country. Unfortunately, due to lack of exposure and invasion of modern technology many of these indigenous art forms are on the verge of extinction. With a little awareness and support, they can achieve global recognition and boost the economy of rural India.
This was my humble attempt to bring some of my favorite tribal handicrafts of India. These indegenous art forms have been carried forward by families with limited means, in traditional methods that have been used for ages. 
This was a tribute to the painters and craftsmen. If you liked it, you may also like my post about the most remarkable types of Sarees in India – my tribute to the weavers of rural India.
Don't forget to socialize the post and share the knowledge of Indian art.
Pin This!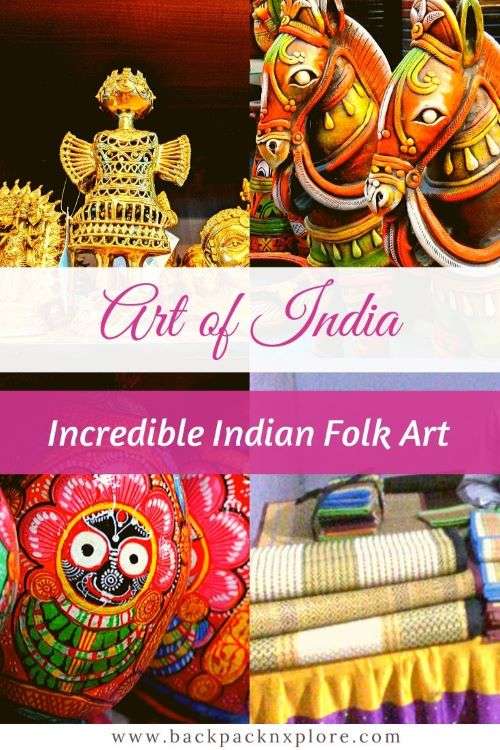 Share your thoughts in the comment section. You can subscribe to our monthly newsletters for new posts, freebies and occasional sale-alerts delivered to your mailbox. You can follow us on Instagram, Facebook and Twitter.