19 Best Places to visit in West Bengal
Donning the snow-capped crown of Eastern Himalayas, draped in fertile green lands separated from the vast sea by sparkling golden beaches is the Indian state, West Bengal. The state that I call home,  boasts of an unparalleled cultural heritage, lip-smacking delicacies and diverse landscape. It's hard to pick the best among so many places to visit in this large, densely populated state. But that's where the amazing travel bloggers came to my rescue. In this post I bring to you the Best places to visit in West Bengal, with the help of travel bloggers all over the world.
Best places to visit in West Bengal – The Popular Destinations
Let's begin with the popular destinations of West Bengal. Yes, they are crowded, but there's a reason why people flock to these places. They will never disappoint you.
Kolkata – The Capital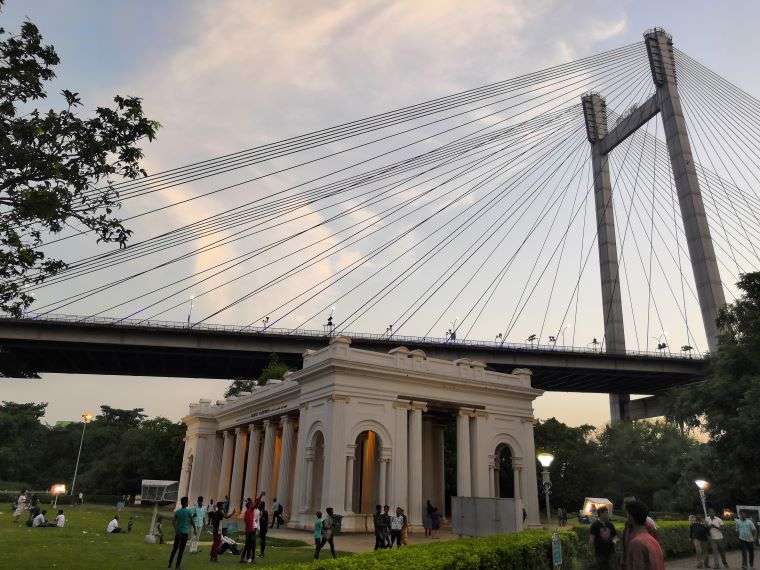 Kolkata is the capital of West Bengal, and is home to one of the largest and busiest international airport in India. The Kolkata International airport or Howrah railway station is your gateway to the East India. Your "Bengal Experience" will begin from the airport itself which is beautifully decorated with paintings and models that are iconic to the state. The blue-white themed road lead to the famous architectural marvels like Victoria Memorial, Howrah Bridge, Vidyasagar Setu, St. Paul's Church, Birla Mandir among others.
Enjoy the world's best street food at Dalhousie, marvel at the colonial buildings of BBD Bagh, visit the Jorasanko, the ancestral home of Nobel Laureate Rabindranath Tagore and fine-dine in Park street. If you have more time, a day-trip to Dakshineshwar and Belur Math is a must. They are technically located in Howrah, but I can't draw a Kolkata Skyline without including the iconic Dakshineshwar Temple. For a great family time visit Science City or the latest addition – Eco Park, India's largest theme park.
Check out the 3-day travel guide to Kolkata.
Search and book your transport to various places in West Bengal from Kolkata below.
Bolpur and Shantiniketan – the abode of peace
Bolpur is a city in the Birbhum district of West Bengal, often referred to as "ranga matir desh". This is the place where "Gurudev" Rabindranath Tagore set-up the experimental village called Shantiniketan. Shantiniketan is home to Vishwa-Bharti university, which is the alma mater of several luminaries – film-maker Satyajit Ray, Nobel laureate economist Amartya Sen among others. True to its name, Shantiniketan is the abode of peace which offers you an unique immersive cultural experience like no other place.
If you visit Shantiniketan on Saturday, head straight to the "Khoai Shonibarer haat", which is the Saturday market in Sonajhuri. "Sonajhuri" is the poetic name of a forest of Saal trees, which itself is a dreamy place. Just 3km away from Shantiniketan is the Ballavpur wildlife sanctuary – the deer park. You can also visit a quaint little village named "Babli" , 10 km away from Shantiniketan.
Darjeeling – Bengali's Favorite Hill station
Writes Mohana and Aninda from Two Together
Darjeeling holds a special place in the hearts of us, Bengalis. Waking up at 3 am to catch the sun rise at Tiger Hill, enjoying breakfast at Glenary's or Keventers are memories to cherish. Before the English chose to turn it into a summer retreat to escape the sweltering heat of Calcutta in the 1840s, Darjeeling was part of the Sikkimese kingdom. By 1852, more than 70 European-style villas had been built and experimental plantations of tea and fruit was started. In a few decades, Darjeeling became one of the subcontinent's most beautiful hill stations.
To reach Darjeeling, take the UNESCO heritage Darjeeling Himalayan Railways. The slow train chugs up the wooded mountainside, through hamlets and little hill towns, from New Jalpaiguri to Darjeeling via Kurseong. Spend your days idling in this idyllic town, ambling around, tasting Darjeeling's finest teas at tea stores like Nathmulls, marvelling at antiques in curio shops, and people watching on the mall.
And, of course, eating in Darjeeling. For a local feast, head to Kunga, Sonam's Kitchen, or Singalila. Eat your weight in momos doused in mouth-numbing chilli sauce at hawker stalls, and in the evening, go to Joey's pub for a tipple. Visit the Tibetan Museum for a lesson in Darjeeling's history. Explore the botanical gardens and the shrubbery, climb observatory hill, and if time permits, trek to Sandakphu.
Kalimpong – an escapade from city-life
Suggested by Sundeep and Bedabrata from DelhiFunDos
A relatively lesser known Himalayan town Kalimpong is also becoming a favorite among lovers of slow-travel. It is the administrative town of the eponymous district Kalimpong. You can reach here from Siliguri train station or Bagdogra Airport. Kalimpong is a convenient two hours' drive from here. For people who want to escape the city-life, it is a great choice. You can spend your time here doing nothing but absorbing the mountains and the beautiful trees and wildflowers and orchids one sees even on roadsides. You get excellent views of various snow-capped Himalayan peaks from Kalimpong.
However, if you want to engage in some sight-seeing, there are many options for that as well. The stately Graham's Church, the gorgeous Zang Dhok Palri Phodang or Durpin Buddhist Monastery, the sparkling temple – Mangal Dham and Gauripur House, Rabindranath Tagore's home for some time, are worthy of a visit. We particularly recommend the Durpin Monastery since you get excellent views of the city from here.
Also, must-tries would include thickened milk Kalimpong lollipops and Kalimpong cheese. This rare variety of Gouda like cheese is not available anywhere outside Kalimpong. In fact, the nutty and rich Kalimpong cheese drew us all the way from Delhi to Kalimpong. And it was so worth it.
Sinjana's tip: For an adrenaline rush, try river-rafting in the chilling waters of Teesta river in Kalimpong.
Mandarmani – The breathtaking beaches
By Jayashree from DoiBeduin
In our very own heart, there is a place, where the sky meets the water, the water meets the land and the land meets the soul. Mandarmani is one such place. A quaint resort village, by the sea, right from the pages of a novel. A rightly put place, where you can leave the troubles and tensions of the city, way behind. And here, your bathtub is infinitely wide!
To convince you more, this seaside village offers you variety of sea foods. Often you would find yourself in a dilemma over what to eat next. Seaside Bengal does have a gastronomy of its own and Mandarmani is no exception. Besides the usual sea food, Mandarmani also offers a number of activities like paragliding, banana boating, jet-skiing etc. and an indefinite sea is always at your closure. The sea here is calm and also the beach is less crowded, if compared to Digha.
Sundarban Tiger Reserve – UNESCO Heritage Site
By Camilla from Tigers in the Wild 
The biggest mangrove in the world, Sunderbans' protected area lies for 1/3 in India and 2/3 in Bangladesh, on the Ganges Delta. Famous for its incredible biodiversity, the Sunderbans' intricate system of channels and islands is home to many different animal species. According to the latest census, about 80 Royal Bengal Tigers roam its thick forest. Spotting one of them is a matter of patience and luck, but one can also hope to see other types of wild cats, saltwater crocodiles, different species of river dolphins, otters as well as an impressive variety of birds here.
You can visit the forest upon obtaining a permit for one or several days. Unlike any other Tiger Reserve, here safaris are on boat rather than jeep. The tide is very important in tracking the magnificent striped cat. Exceptional swimmers, tigers can sometimes be spotted while crossing the channels, preferably in low tide conditions.
Open throughout the year, the best place to visit Sunderbans is from December to the end of February. At this time of the year loads of migratory birds reach the area and many animals get out of the thick mangrove to bask in the sun on the islands' shores.
Bankura – the land of Terracotta and Baluchuri
By Madhurima from Orange Wayfarer
Bankura is a district in Bengal around 200 kilometres away from Downtown Kolkata. With the Durgapur Expressway, connecting parts of Bengal to Kolkata, Bankura is just 4 hours a road trip. And what a rewarding trip it is, especially with the pit stop en-route at Shaktigar, serving sumptuous Lyangchas!
Bankura is from the Rarh region of West Bengal. Unlike the Ganges delta and its alluvial soil, Bankura is rich in Iron ore as a part of Chotanagpur plateau and hence flaunts a red colored Earth. Bankura is also known as "Lalmati Desh", the country of red Earth.
Famous for Terracotta artwork, Bankura horses (also the symbol of Indian handicraft) and the ancient Bishnupur temples (on the tentative list of UNESCO Heritage site) Bankura will astound you with splendors of nature. Bankura is also famous for Christian College dating back to the time of British Raj. While in Bankura do not forget to gorge on famous chicken cutlets at College More, fuchka from the stall opposite Christian College and buy gorgeous Baluchari sarees, one of the heritage Indian saree weaves.
Here, you also get a sweet named Chitranjan, inherently suitable for diabetic patients with low sugar count. If you do not mind sugar try out Myacha Sandesh. Try various sweets at century-old Guiram, the sweet shop.  Susunia and the forest of Jhilimili can easily be a part of a day trip from Bankura town. The nearest airport to Bankura is operating from Andal, Durgapur.
Digha – Bengali's favorite Beach Holiday
Digha, located within 200 km from Kolkata, has been the favorite weekend destination for Kolkatans for decades. With beautiful beaches, high-rising waves splashing on the boulders and "jhau" forests, it's often called Bengal's Goa. However, it's a serious case of over-tourism that you see here. The most famous beaches, the old Digha beach and new Digha beach are overcrowded almost throughout the year. The old Digha beach is beautified by the government and makes for an excellent spot for family outings.
Besides, you can visit the Amaravati Park, Dheusagar Park, Marine Aquarium and the nearby offbeat beaches like Shankarpur and Tajpur.
Gangasagar – The religious pilgrimage
By Ruma from The Holiday Story
Sagardwip covers an area of 560 sq km with 51 small and large islands. This pilgrimage site is built around the mythology of "Sagar Raja" and story of the arrival of  Devi "Ganga". Although Kapil Muni's ashram was submerged in the sea, devotees gathered around the Kapil Munir temple which was built later. Millions of people flock to this gathering on the auspicious date of Makar Sankranti. A Bengali proverb says, "Sab tirtha bar bar gangasagar ek baar". It means every person should visit this pilgrimage site once in a lifetime.
A three-hour bus ride from Esplanade, Kolkata will take you to Kakdwip. You can also reach Kakdwip or Namkhana by train. After, take a van or toto car to reach lot no 8.  From there cross the Ganges in a ferry vessel to Kachuberia. Sagar is 30 km away from Kachuberia by bus or trekker. Reserve a van or Toto car for sightseeing. Come to the ashram and lighthouse of Ramakrishna Mission, Bharat Seba Asram and Mansadwip. Once again in the afternoon go to the beach and see the sunset.
The Gangasagar Mela is the second most popular fair after Kumbh Mela. Gangasagar celebrates the fair every year with great pomp. It begins one week before "Poush Sankranti" .Pilgrims come from every corner of India. One of the main attractions of this fair is the Naga monks. Last year about 31 lakh pilgrims take the holy bath in the Ganges.
Mayapur and Nabadwip – Vaishnavite history
Mayapur and Nabadwip are the twin cities of Nadia district which is where the Vaishnavite movement started. It is of great historic importance, not just for Hindus but for everyone with keen interest in architecture and spirituality. Mayapur is the headquarters of ISCKON and is home to some spectacular temples. Besides ISCKON, Shri Mayapur Dham, Srila Prabhupada Mandir, Sri Mayapur Chandrodiya Madnir are some notable monuments here.
The newest addition to the skyline of Mayapur is the Temple of the Vedic Planetarium. It is probably the largest temple in India, certainly will be one of the largest. The construction is not complete, but part of it is open for visitors to see. The neighboring city Nabadwip is also dotted with beautiful temples, mostly of Vaishnavite theme.
Best offbeat places to visit in West Bengal
Many historic and natural gems of West Bengal remain hidden from sight. For a touristy Kalimpong you have an offbeat village of Ecche Gaon, for a crowded beach of Digha you have a pristine Henry's island. You can find the tales of such places in my book Postcards from India, published on Amazon. I love exploring offbeat destinations in India. The surreal beauty of these places more than compensate for the lack of "touristy" activities.
Purulia – The cultural hotspot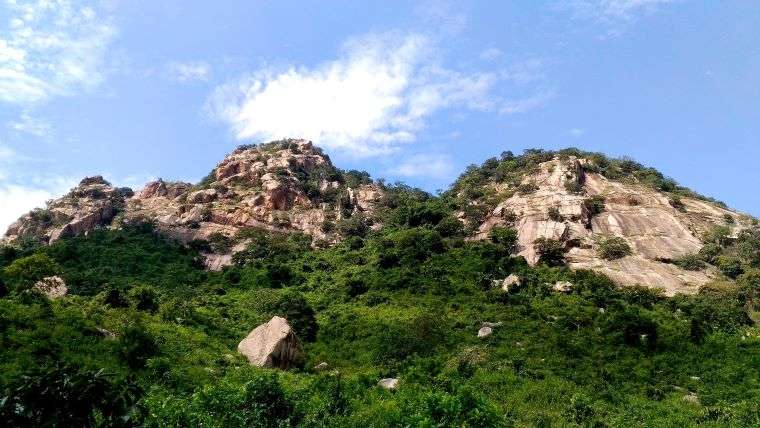 Purulia is famous, yet off-beat for any regular traveler. When people visit West Bengal, they either head north to the Himalayan hill stations, or head south to the beaches and islands and the Sundarbans. This culturally diverse place with outstanding natural beauty has for long been infamous for the Naxal agitation. Lying at the border of West Bengal and Jharkhand, Purulia boasts of rich cultural heritage and verdant vistas against the backdrop of Ajodhya Pahaar (hills).
Chhau, an old tribal martial art-form which is performed by wearing large masks has now become one of the symbols of West Bengal's cultural heritage. Not many people know that it has its origins in Purulia. Besides Chhau Dance, the tribes here celebrate many vibrant festivals like Tusu Parab, Chhata Parab Bhadu Parab etc. The cultural dance forms are truly mesmerising here. 
Mirik – the mini-Darjeeling
Remembers Mayura from Fernwehrahee
Mirik is located somewhere halfway along Siliguri/NJP and Darjeeling. If you take alternate route to reach Popular hill station Darjeeling, Mirik will be on the way to scenic tea gardens route. If you don't like touristy Darjeeling, Mirik is perfect Place to unwind yourself- a small town with pleasant climate. Mirik is surrounded by tea estates and major attractions in Mirik includes Mirik Lake.  Dhupi trees and Gardens surround the Mirik Lake. The boating facility is available on the lake. It is a perfect place to have picnic with your family.
One of the must do activity in Mirik includes visit to tea estates. There are so many tea estates on Siliguri-Mirik road like Gyanbari,Thurbo etc. I visited Gopaldhara tea estate, full of beauty and views of fascinating tea estate. You can taste finest tea from the Garden at shop of Gopaldhara tea estate and visit a tea factory to learn how it is produced. Shop the different variety of tea and colorful crockery from the shop.
The peaks of Kanchanjunga are visible from vantage viewpoints of Mirik. If you are adventure enthusiastic, Mirik is perfect place to do trekking. It is starting point for famous Sandaphu trek, Popular trek to witness Kanchenjunga peaks. Apart from this, Mirik is famous for its orange orchards as it is largest exporter of oranges.
Buxa Jayanti – Discover Wilderness in the Hills 
Writes Trijit from Budget Travel Buff
Located on the Eastern Side of Dooars, is a paradise for nature-lovers at the foothills of Himalayas. It's called Buxa Jayanti, after the Buxa tiger reserve and the Jayanti river. The best thing about  a Buxa Jayanti trip, is that the place is not crowded with tourists.
Alipurduar Junction railway station is the nearest railway station of Jayanti. You can board to Kanchankanya Express to reach Alipurduar if you come from Kolkata, else you have to take a train that goes to New Jalpaiguri. Cars and trains are available from New Jalpaiguri to Alipurduar.
Winter is the best time to visit Buxa-Jayanti when the sky is clear and you will get a better chance to see wildlife. However, Buxa Tiger Reserve and other popular tourist spots remain closed from 15th June to 15th September due to monsoon.
Jayanti boasts a wildlife sanctuary, lush green tea garden, magnificent hills and lively mountain rivers. You must go for Choto Mahakal temple hike. It's an easy hike and the entire trail is very scenic. You can't afford to miss the Core Jungle Safari in Buxa Tiger Reserve which is the main highlight of Buxa. It is a thrilling journey when the gypsy car goes through the dense forest. Keep calm and stay alert as spotting the wild animals is very common here, although it all depends on your luck. Visit Chunia Watch Tower, Pokhari Lake and historic Buxa Fort which are other remarkable tourist attractions in Buxa Jayanti.
Also Read: The most beautiful forts of India
Jaldapara National Park – Wildlife paradise
Describes Mun Ray from Nomadic Mun 
If you are a true Nature and Wildlife lover, Jaldapara National Park is a must visit in North Bengal. This 216.51 Sq.km National Park resides in eastern foothills of Himalayas on the bank of river Torsha in Alipurduar district. The park is best known for its population of one horned Asian Rihnos which is the second largest in the world. You can encounter elephants, spotted deer, barking deer, sambar, bison, wild boars, hog deer and even Bengal Tigers.  This place is heaven for bird- watcher. More than 240 species of birds are found in sort of habitat- Grassland, water bodies, woodland.
Hollong Bungalow of WBFDC is one of the best places to stay in Jaldapara. Due to its popularity, you need to book it beforehand. The bungalow is about 7kms inside the forest from the main entrance. Elephant safaris, operated by Forest department from the lodge, is considered the best way to explore the sanctuary. Residents of Hollong Bungalow have advantage on safari booking during busy days. An alternate option to explore the park is jeep safari.
The Jaldapara National park is open to visitor from mid-September to mid-June. Nearest Railway Station is Madarihat which is 7km away from Jaldapara. You can either take train from NJP to Madarihat or hire car from New Jalpaiguri station. The distance between NJP and Madarihat is 115 km.
Kalna – Bengal's finest architecture
Notes Alex from Lost With Purpose
The warm, earthen hues of Bengal's terracotta temples prevail all across the region, but if we're talking accessibility, the town of Kalna is one of the best places to feast your eyes on some of West Bengal's finest architecture. Sitting on the banks of the Bhagirathi, Kalna was at peak power in the 18th century. These days, it has been consumed by urbanization—like many towns in India—but many of its stunning temple complexes remain.
One of the most unique is the Naba Kailash, also known as 108 Shiv Mandir: two large concentric rings of tiny temples. 74 temples make up the outer ring, each containing one white marble Shivlinga. Black Shivlingas sit inside the 34 temples of the inner ring. Most impressive of all: you can see all of them at once when you stand in the center of the ringed complex.
Right across the street is the equally impressive Rajbari temple complex, filled with terracotta mandirs of all shapes and sizes primarily from the 18th century. If you want to feast your eyes in person, Kalna is only 2-3 hours' drive from Kolkata. No car? No problem: you can also catch a 1.5 hour suburban train from Howrah to Ambika Kalna.
Coochbehar – Experience the Rajbangshi flairs
Says Jayashree from DoiBeduin
Consider yourself lucky if you get a glimpse of the Kanchendzonga range right from the train while traveling to Coochbehar. Believe it or not, the tea garden against the backdrop of the scenic mountains is just the eye candy you need for a train journey. And on a clear, unpolluted air, which is quite ensured post-lockdown, you would be this lucky for sure! The ride to Coochbehar in itself is thus full of nature-filled vibes, embracing and welcoming you right into the city.
Brace yourself for a little slice of the "Rajbangshi" flairs, Nature's goodness and a whole lot of smiles when you are here. By the end of your short trip, the place will definitely make its imprint.
Home to a princely Palace, Coochbehar is foremost known for the Coochbehar Rajbari. A red bricked marvel of architectural glamour, full of history and artefacts. If you the religious buff, visit the Madan Mohan temple, the well-known city temple grounds, illustrious mainly for the Ras Mela. Not too keen on the revering? No worries. Sagar Dighi is just the place for spending an idyllic evening. A doted select for the local "love-birds", yet the sine qua non for the travelers.
The colonial architectures, the now executives, encircles the lake, along with the finest samples of street foods. Literally, Sagar Dighi is to Coochbehar is what Dalhousie Square is to Kolkata.
Have a ride through the Tea Gardens of Mathura, paving way to the Buxa Reserve (Dooars) of Alipurduar. Or, merge in the culture and witness the weaving of Shiltalpati mats at the Ghughumari Village. UNESCO has declared it to be a "intangible cultural heritage". Or, pay a visit to the Gosanimari Rajpath, an archaeological footprint of the ancient Kamata Kingdom preceding the Sultanate era in Bengal.
Purbasthali – The Birding Destination
By Debjani from The Vagabong
Purbasthali is a famous birding destination which is one of the best places to visit in West Bengal. Located about 120 km north from Kolkata in Purba Burdhaman district. The Ox-Bow Lake formed from the mighty Ganges is a home to thousands of migratory birds. The best time to visit here is during winter. The lake also gives an ethereal view of various flora and fauna around.
Once you reach the lake, I recommended you to hire a local boat and explore around the lake for hour and a half in order to capture various birds in motion.  Definitely a photographers delight to capture birding shots. Apart from being a birdwatcher's paradise, the whole of Purbasthali region is steeped in history and religion. With towns like Nabadwip and Mayapur within 15 km. 
Murshidabad – Historic Hub
Says Tanayesh from Shoestring Travel
Murshidabad
 was the hub of culture, aristocracy, wealth, extravaganza and also architectural boom. West Bengal is probably the only place in the world to be influenced by 8 countries including Portugal, France, Armenia, Britain. Murshidabadhas a lot of things to offer to the visitors. The Hazarduari Palace, Nizamat Imambara, Clock Towr, Madina Masjid, Kathgola Palace and garden to name a few.
The best way to reach Murshidabad is from Kolkata by train , distance is about 200 km by road. There are a number of trains available from Howrah, Sealdah and Kolkata Station. By road is also a wonderful idea.
There are a couple of hotels in Lalbagh area of Murshidabad as well as near Murshidabad Railway Station. These hotels are in the budget category and do not expect proper service in these hotels. The best budget option to stay is the Bahrampur Tourist Lodge by the WB Tourism wherein you need to book well in advance
Siliguri – Gateway to the North-East
By Athul from Our Backpack Tales

Surrounded by beautiful tea gardens,  Siliguri is located by the banks of the Mahananda river at the foothills of the Himalayas. The word 'Siliguri' means 'stack of pebbles'. It can also be considered as a gateway to four neighboring countries and also the beautiful North-Eastern states of India. The main things to do near Siliguri includes visiting the Coronation Bridge across the Teesta river, taking the Bengal Safari at the Mahananda Wildlife  Sanctuary where you can spot the Bengal tiger and rhinoceros and the Darjeeling Himalayan railway which connects New Jalpaiguri,  Siliguri and Darjeeling.
You can also explore the Buddhist culture at the various Buddhist monasteries like the Salugara and Ewan monasteries. The Salugara monastery is known for its 100 feet tall stupa. Siliguri has all modern amenities and transportation is also easily available at all times. The nearest airport is the Bagdogra Airport and railway station is the New Jalpaiguri Junction. There are regular buses from Tenzin Norgay Bus Termius to most major cities in India.
The best time to visit Siliguri is from September to March when the climate is pleasant.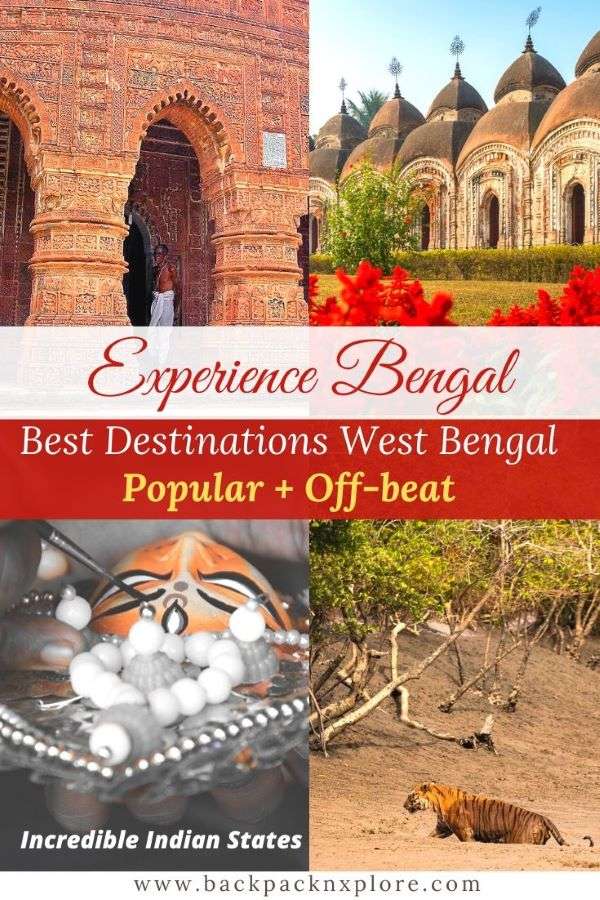 These are the top gems of West Bengal which my blogger friends and I have mined for you to virtually experience Bengal. What do you think? Will you consider this cultural hub as your next holiday destination? I can promise that you will take home fond memories for a lifetime. Here's a map of all the destinations included in the list.
Travel Resources I recommend
FAQs about West Bengal
What are the biggest festivals in West Bengal?
There is a common saying in Bengali – "baaro mashe tero parbon". Its literal translation "13 festivals in 12 months" is a joke about the obsession with festivities on he state. Christmas, Diwali, Kali Puja, Saraswati Puja, Eid -the list goes on. But the queen of all is of course Durga Puja – the world's biggest carnival of art and creativity.
What is the best time to visit West Bengal?
Most people aim to visit West Bengal during Durga Puja. However, I'd normally recommend winter which begins in December and ends in early February. In fact it is one of the best places to visit in winter in India. Rest of the year, the weather is quite hot and humid except North Bengal. So you can visit places like Darjeeling, Kalimpong, Coochbehar in summer. If visiting during Holi (around March), you can experience the unique "Dol Utsav" in Shantiniketan.
What are the essentials to pack for a trip to West Bengal?
If you are visiting any time other than the winter just carry cotton tops, shirts and kurtas. I also recommend an anti-fungal powder because of the high humidity. For trips to the hill stations of North Bengal, first check the news and weather reports. Many places are closed due to landslides in the Eastern Himalayas during monsoon. Pack warm clothes for trips to the Himalayan destinations.
What food to try in West Bengal?
One post is not enough to write about all the must-taste delicacies of West Bengal. But I will certainly give it a try. Till then, here's my top 5 recommendations for you. Misthi doi and rosogolla in Kolkata, momo in North Bengal, luchi – alur dom for breakfast, mochar ghonto or mochar chop. If you eat non-vegetarian food, then don't miss the variety of sea-food delicacies and the famous Kolkata Biriyani.
Want to cook the delicious Bengali food at home? Check out the Calcutta Cookbook or the OPOS cookbook online.
If you like my post, please spread the word and subscribe to the blog for our fortnightly newsletters. Let me shamelessly promote my new e-book "Postcards from India" , the free introductory edition of which can be downloaded here. The book is an unconventional anthology of autobiographical stories of offbeat destinations in India. Don't forget to pin the post for future referral and share your thoughts in the comments section.
Disclaimer: Some pictures in this post including pins and cover-image are from Pixabay and Unsplash.