15 Best Places to visit in Monsoon in India
Monsoon is a separate season in India and is an integral part of the ageless culture of India. For travel lovers, this is the time to enjoy off-season discounts and relish the greenery. So here I present the best places to visit in monsoon in India, based on my personal experiences.
"My heart was a desert when you came as a drop of rain". That's a line from one of my teenage poetry and cringe-worthy is an understatement to describe it. Rains are romantic. They can be a nuisance too, but there is nothing more beautiful than the first splash of rain giving the much-needed relief from the scorching heat of Indian summer.
With the summers becoming unbearable with every passing year, nowadays Indians often just wait for the monsoon to go out and explore. But not all places are advisable to travel during this season either. So here's a list of awesome, yet safe places to visit in monsoon.
Save the list on Pinterest!
Which places to visit in Monsoon and which to avoid?
Monsoon strikes first in peninsular India in the second half of May and retreats in September. It begins in south India and then penetrates to the north. South India also receives post-monsoon rainfall in November.
It is a beautiful season to take a break. The summer vacations are over, and most tourist places are less crowded than usual. However, this season has its own challenges when it comes to traveling in India.
Many hill stations in the Himalayas are prone to landslides causing trains and flights being delayed.
Some roads on the mountains are in horrible condition, not at all suitable for driving. Mostly the government closes them in advance if there is risk. This is especially true for the Himalayan terrain but happens in some other parts of India as well.
Adventure water sports is a strict "NO", even if some private companies are offering whitewater rafting, or dolphin cruise in the sea. Just don't go for it.
Big, crowded cities like Kolkata and Mumbai look rather dirty during rains, dirtier than usual. Here in Bangalore, the drains overflow into the roads every year during the rains. So, I would not fancy going to any of these big cities during monsoon.
Most importantly keep checking the news. If there is a flood alert anywhere, cancel your plan. Hotels are supposed to allow rescheduling for such reasons.
So, then the question is, where to go in the rainy season and what to do?
The Western Ghats of India offer the best views and easy accessibility during monsoon. The roads are in good condition and the hills are not prone to landslides like the Himalayas. There has been a tragic flood in Kerala in the recent past. That, however, was an exception and it is not likely to happen every year.
The other places that are pleasant to visit during monsoon are the areas that receive relatively less rainfall and tend to remain too hot or too cold in the rest of the year. These are places like those in the interiors of Maharashtra, Madhya Pradesh, and Andhra Pradesh.
For the sea-lovers, the Konkan coastline has its own allure. However, this is the time to explore the forests, offbeat museums and amazing sea food in the beach towns rather than bathing or sporting in the sea. Avoid ferries to islands during the monsoon, even if they are open on a rare occasion.
So, without much ado let's get going with my favorite picks for the monsoon. Here's the list of best monsoon destinations in India.
Best Places to visit during Monsoon in India
1. Munnar and Chinnakanal in Kerala
Chinnakanal, located very close to Munnar is often included as a part of the Munnar itinerary. Compared to the tourist places of Munnar, I find Chinnakanal more beautiful and serene in all seasons. Munnar in monsoon is what dreams are made of. My favorite things to do in monsoon will be the Kolukkumalai jeep safari, walking in the Eravikulam national park and simply driving in the winding roads. Uncountable waterfalls spring in the valley during the monsoon in Munnar.
Munnar, Chinnakanal and Thekkady are gems of the Idukki district of Kerala. I'd recommend at least 4 full days to explore Idukki –3 days in Munnar and Chinnakanal, and 1 day in Thekkady. If I can pick only one place to explore during the whole monsoon, Idukki would be it. Choose boating at the Anayirangal lake instead of the more touristy Matupetty dam.
If you don't have a lot of time, then visit the wonderful Wayanad, located only 275 km from Bangalore. Another quaint hill station you can visit in Kerala during the monsoon is Vagamon.
How to reach?
Located only 130 km from Kochi and 530 km from Bangalore, this is a great long weekend destination in India. If you don't live in Bangalore, you should take a flight to Kochi and then hire a cab from there.
Where to Stay?
Fort Munnar and Sterling Munnar are my recommendations based on my personal experience.
2. Malshej Ghats, Maharashtra
Maharashtra has some beautiful hill stations in the west which attract people from Pune and Mumbai during the monsoon. With the first splash of rain the cities cool down and these forest-hills come to life.
Deserted forts, waterfalls, and lakes are the top attractions of these hill stations. However, my favorite of these is the Malshej Ghats. I visited Malshej Ghats back in 2011 when I was living in Mumbai.
The pictures captured in my mobile camera that time don't do justice to the raw natural beauty of the pace. The Pimpalgaon dam, Malshej falls, Harishchandragad fort and Ajoba hill fort were the highlights of our trip.
Other similar hill stations, which have a better tourist infrastructure are Lonavla, Mahabaleshwar and Panchghani. These are some of the best places to visit in monsoon in Maharashtra.
Trivia: Many scenes of the Bollywood movie Raavan was shot in Malshej Ghats
How to reach?
Located mid-way between Mumbai and Pune (125 km from both places), you can reach by car or by MTDC buses. The nearest railway station is Kalyan.
Other similar Maharashtrian hill stations with more developed tourism sector are Lonavla, Khandala, Panchgani, and Mahabaleshwar. They are amazing weekend getaways from Pune and Mumbai.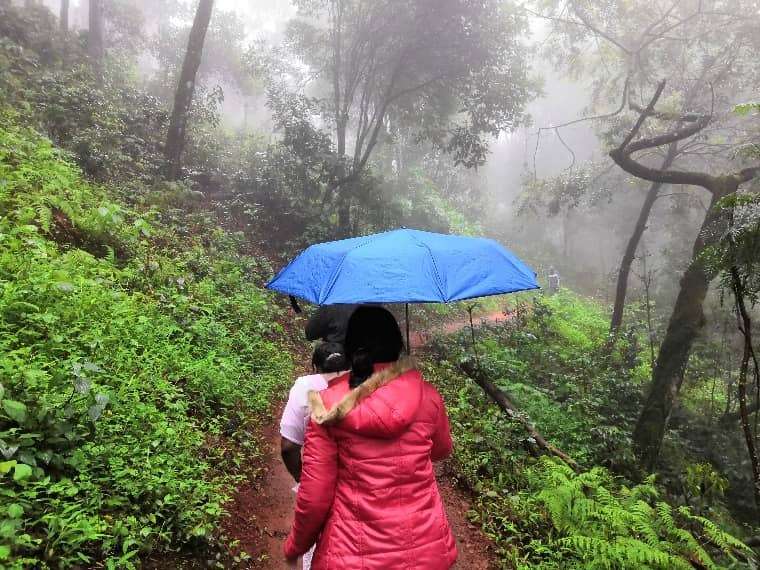 3. Chikmagalur in Karnataka
I had a hard time to select the best place to visit in monsoon in Karnataka, simply because there are so many. I rank Chikmagaur at the top among the best places to visit in rainy season in Karnataka. It's because the best time to visit this lovely hill-town is when it rains.
How else would you see the majestic Jhari falls at its full force, or drive through the misty serpentine roads amidst the vast coffee-plantations?
Travel to Chikmagalur in the monsoon to hike the Baba-Budangiri hills without sweating, explore the coffee and spice plantations, and watch the glittering Hirekolale lake at sunset.
Mind you, the same places can be quite underwhelming because of the hot weather in summer. Because unlike Kodaikanal or Munnar, Chikmagaluru doesn't escape the rising mercury levels of the infamous Indian summer.
How to reach?
You can reach Chikmagalur on a roadtrip from cities like Bengaluru, Chennai or Mangalore. The nearest airport is in Mangalore which is 113 km from Chikmagalur.
Where to stay in Chikmagalur?
The Serai Chikmagalur is the best place to stay in Chikmagalur in the luxury range. For budget travellers I can recommend Sunrise Treebo hotel.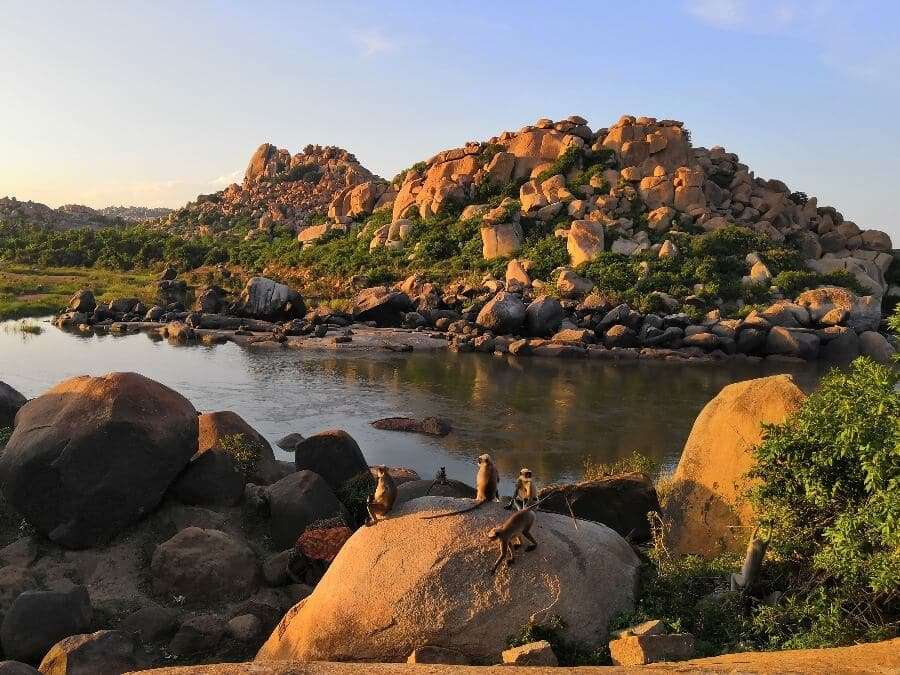 4. Hampi in Karnataka
Hampi is one of my favorite places in India. A historic town with hippie vibes, it had been selected as one of the top destinations by travel bloggers of the world for a reason.
The ruins of the most prosperous city in the 15th century is like an open history book in 3-D. A typical Hampi itinerary will have you walk a lot in the hot and humid climate to explore the temples, monuments and boulder-strewn landscape of the ancient city.
So, monsoon is the best time to visit this spectacular destination.
If you have an extra day you can also do a day trip to Badami, Pattadakal, and Aihole. Hampi and Pattadakal are UNESCO heritage sites.
How to reach? Hampi is 300 km from Bangalore and an amazing road trip is on the cards if you decide to visit.
Where to stay? Clarks Inn Hampi is what I recommend. Check prices on MakeMyTrip.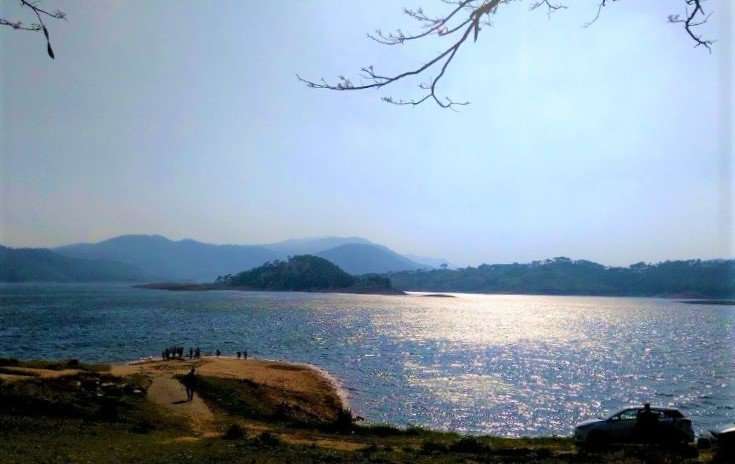 5. Shillong in Meghalaya
Meghalaya in monsoon is not for the weak of heart. Most tourists will stay away from the state that has the two wettest places of the earth – Cherrapunji and Mawlinong. Monsoon starts in June and continues till October in Meghalaya.
But the monsoon lovers will choose this place over everything else to experience walking in the clouds literally. Shillong is the beautiful capital of Meghalaya.
I visited IIM Shillong once for an inter-college competition in late September. The beauty was captivating. Crystal clear lakes and waterfalls adorn the mountainous landscape of Shillong.
The good thing is that you will find the lakes and the photo-spots devoid of the crowd in the monsoon. Barapani lake, Elephant falls and the air force museum is some of the places you can explore.
How to reach?
Guwahati is the nearest international airport as well as the nearest railway station for travelling to Meghalaya. There are many Jeep services available from Guwahati station to take you to Shillong.
6. Kasargod in Kerala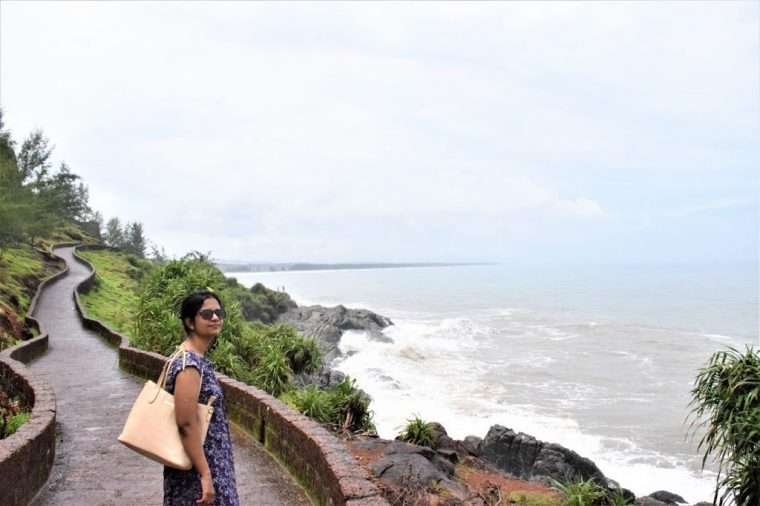 Kasargod is famous for the Bekal fort, which is the largest medieval fort in Kerala. The fort overlooks the Arabian Sea and definitely a must-visit place with family. You can also enjoy a great time on the rocky beach of Bekal.
Among the sandy beaches of Kasargod, the Kappil beach surrounded by coconut groves is the most famous. Another highlight of Bekal other than the fort is Valiyaparmba – a small island surrounded with trees and the sparkling blue backwaters.
There are many other forts and beaches that you can explore in monsoon in Kasargod.
How to reach?
Kasargod is 380 km from Bangalore and is accessible through many government buses. The road trip through the western ghats is enchanting in itself.
Where to stay?
Malabar Resort and Spa, Lalit Resort and Spa, Taj Bekal Resort and Spa
Related trip to Kasargod and Bekal Fort.
Other amazing places to visit in Kerala during monsoon are Wayanad and Vagamon.
7. Kaas Plateau, Maharashtra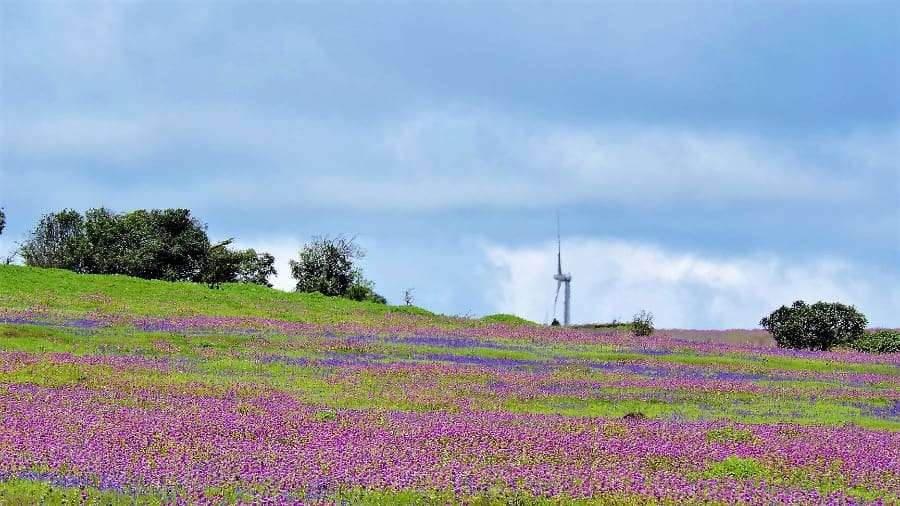 While the whole of Western Ghats is a dreamland for monsoon lovers, Kaas Plateau (aka Kaas Patthar) needs a special mention.
Located in the Satara district of Maharashtra it is one of the 39 spots recognized as UNESCO natural heritage sites in the Western Ghats.
The plateau is filled with colorful wildflowers in August and September making it look like a carpet. The Kaas lake which is a natural source of irrigation adds another dimension to its beauty.
How to Reach?
It is located 30km from Satara city and 300 km away from Mumbai. You can take a bus or train from Mumbai to Satara and then hire a cab.
Where to stay?
Ferns Residency $$$
8. Mount Abu, Rajasthan
While winter is the most preferred time to visit Rajasthan, some places are great to be explored during monsoon. Rajasthan is known for the Thar desert, the land of little rainfall.
Mount Abu is an exception though. It is the only hill station in Rajasthan and received frequent light showers from July to September. The lakes are brimful at this time so get ready for boating in the Nanni Lake.
The mount Abu wildlife sanctuary is a great place to visit in the monsoon for the lush greenery. Other places of interest are the Dilwara temple and Guru Shikhar, the highest point of Abu Dhabi.
How to reach?
Mount Abu has located 763 km from Delhi and 757 km from Mumbai. These are the closest cities with big international airports in India. You can take a flight to Mount Abu from Mumbai, or take the BDTS Jodhpur Express train.
Where to stay?
Wordsworth Lodge $$$$
Hotel Hillock $$$
9. Goa in monsoon
People often ask, "can we visit Goa in the monsoon"? The answer is yes, but to discover a new face of Goa. Goa is not just about the sun-kissed beaches, parties and adventure sports.
It's also home to the beautiful Western Ghats, the Dudhsagar falls and UNESCO heritage monuments of Panjim. There are many beautiful museums and palatial monuments in Goa which you can enjoy.
If you are tired of the winter crowd of Goa and not ready to burn yourself in the summer, go to Goa in monsoon.
Cruise in the Mandovi river, enjoy the breathtaking views from the lofty forts, explore the Latin quarters and the Portuguese churches in old Panjim.
If you visit June when the monsoon has just begun you can visit the Dudhsagar falls, but it will be closed during the peak monsoon.
You can also visit the fairytale hamlet called Castle Rock and take a tour of the spice plantations of Goa.
How to reach?
Located mid-way between Bangalore and Mumbai, you can either fly to the Vasco Da Gama airport or enjoy a road trip from either of these cities.
The road from Bangalore to Goa is in super condition. Read more about the driving directions from Bangalore and places to visit in our free Goa itinerary.
Where to stay?
Crown Goa – $$
Taj Vivanta – $$$
Here's a detailed post about the best places to stay in Goa.
10. Agumbe Rain Forest, Karnataka
Agumbe rain forest is still quite off-the-radar for the travel-freak youth of Bangalore. Often referred to as the Cherrapunjee of the south, the Agumbe rain forest is resplendent in the monsoon.
An ecological hotspot Agumbe has a rainforest research station for wildlife enthusiasts. They do some rare studies out here of ants, frogs and King Cobra. You can also volunteer with them if you want.
The Agumbe Lake, Kundadri hill-top and the Agumbe sunset points are some of the other highlights of this magical place.
How to reach? It is about 354 km from Bangalore and calls for an awesome road trip.
Where to stay? Country Inn & Suites by Radisson Manipal
Other honorable mentions in the western ghats of Karnataka are coffee-lands of Chikmagalur and Sakleshpur. Both of them are closer to Bangalore (within 250 km radius) and are best known for coffee plantations.
11. Kodaikanal in Tamil Nadu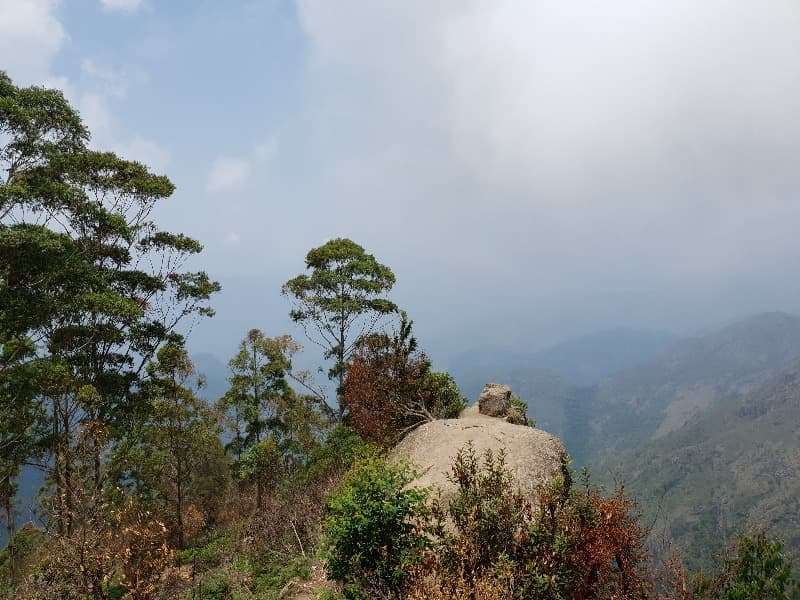 Kodaikanal is the most beautiful hill station in Tamil Nadu but it is overcrowded during summer. By the time monsoon begins in early June, the school vacations are over and the crowd retreats.
This is the best time to enjoy the waterfalls, lakes, pine forests and forests of Kodaikanal. Not to mention the bright-colored blossoms that adorn the Coaker's walk, Bryant Park and Chettiar Park in the town.
How to reach: Kodaikanal is from 515 km from Chennai and 463 km from Bangalore. You can reach by overnight buses or by self-drive.
Where to stay? I recommend Le Poshe By Sparsa, a beautiful hill-top eco-friendly resort in Kodaikanal. Browse hotels in MakeMyTrip.
Related: Kodaikanal travel guide and itinerary.
Other options in Tamil Nadu are Ooty and Coonoor, both of which are less than 300 km from Bangalore. Riding the Nilgiris toy train from Ooty to Coonoor in monsoon would be a memorable experience. Valparai is another monsoon destination still on my bucket list.
12. Gandikota in Andhra Pradesh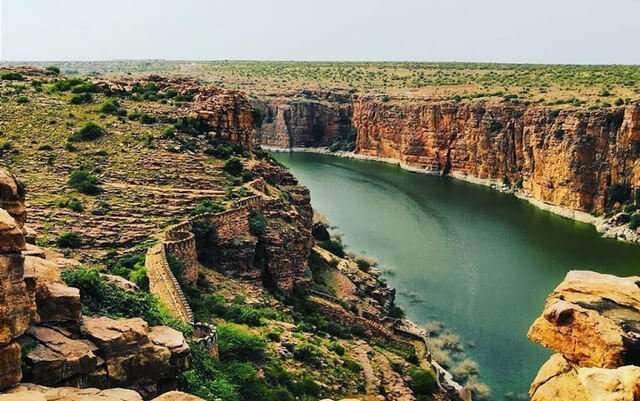 Monsoon is the best time to visit Gandikota – the grand canyon of India. The towering 14th-century fortress is in ruins, but it is still great to explore the structures inside.
It is named after the gorge formed by the Pennar river cutting through the Erramala hills.
Andhra Pradesh is very hot most of the year, and the river usually dries up in summer and winter. Monsoon is when the light showers will give you relief from the scorching heat and the river will be at its fullest.
You can also explore the Belum caves, 60 km away from Gandikota, the Kurnool caves and Lepakshi temple at the border of Andhra Pradesh and Karnataka.
How to reach: You can reach by overnight bus from Bangalore or drive down. It is less than 400 km away from the other two big cities Chennai and Hyderabad.
Related: Trip to Gandikota
12. Aurangabad, Maharashtra
Aurangabad is a historic district of Maharashtra famous for the Ajanta Ellora caves, Bibi ka Maqbara and Shivaji museum.
The rock-cut sculptures of the Ajanta Ellora caves are on the top of my India bucket-list. It is truly a man-made wonder that is also listed among the UNESCO heritage site.
The Kailasa temple is the most famous of all the monuments in Ajanta Ellora caves.
Aurangabad is also infamous for its hot summers, so rains definitely bring some relief to its burning soil. Monsoon is a great time to visit this beautiful district.
The Aurangabad city in itself houses Bibi ka Maqbara, an Islamic shrine built in the model of Taj Mahal, the Shivani Museum and Panchkakki.
Trivia: There are 30 rock-cut monuments in Ajanta and Ellora caves which were built between 100 B.C. to 480 A.D.
13. Orchha in Madhya Pradesh
Orchha is another historic city of India located in central India. Most famous for the old temples and the massive Orchha fort, this sleepy town is a perfect family getaway during the monsoon.
The otherwise dry surroundings are painted in green during the monsoon.
If you want to experience the beauty of monsoon without worrying about safety issues like in the hills or seas, Orchha is the place for you.
The breathtaking temples, that reflect on the brimming river is a sight to behold.
How to reach?
The nearest international airport in Delhi. It's located at about 500 km from Delhi. You can take an overnight train or just drive down to Orchha.
Mandu is another romantic destination in Madhya Pradesh in monsoon.
[box title="" bg_color="#ffffcc" align="center"]Have you heard about my book Postcards from India : India's Hidden Gems tell their Stories? Readers say it's a "must-read for every travel enthusiast" which is "showcasing enchanting India". Their own words, not mine. Please check it out on Amazon. It's available in both Kindle Ebook and Paperback version.[/box]
15. Valley of Flowers, Uttarakhand
Tourists beat the odds of heavy rainfall to visit the valley of flowers in the monsoon every year. This is the flowering season, and the rainfalls add the extra color to this paradise on earth.
It's less crowded than the peak summer season which allows offbeat travel seekers to enjoy nature in serenity.
This is a UNESCO world heritage site for a reason and another place on my bucket list. Nahar wildlife sanctuary and Naina Devi Himalayan bird sanctuary are two other places of interest in monsoon nearby.
How to reach?
You can reach the valley of flowers by bus from Delhi. If you are not able to trek there are helicopter services available too.
Travel tips for monsoon in India
Having lived in Bangalore for five years now monsoon is something I look forward to. The roads stink, the traffic is "Horror", but I look forward to the lakes, the waterfalls, and the road trips.
However, there are some things you must keep in mind for a safe monsoon travel season.
Check weather forecasts for the places you visit. Especially important for hill-side.
Don't go overboard with itineraries. Monsoon makes you slow down. You will have to drive slow in the misty hills, you should be prepared to get trapped at a place for some time because of rain and you should look forward to watching the rains from your balcony while sipping a cup of tea.
Trekking in the Western Ghats during monsoon is one of the best things to do. But make sure you wear the right kind of shoes. Check our guide to buying travel shoes in India.
It's a no-brainer but sometimes people forget to carry raincoats, jackets, and an umbrella on a monsoon trip! Don't be that person.
The Western Ghats can be a bit chilly when it rains so take a foamed jacket with you.
Drive carefully. Road trips in monsoon is a surreal experience. Stop frequently for enjoying the views if you want to. But when you are driving, be extra-cautious.
Read: Road Trip Essentials Checklist before you embark on your next road trip.
How did you like my list? Do you love to travel in a monsoon? If yes, what is your favorite part about traveling in monsoon and your favorite destination? If no, why not pick a place off the list and go for a trip now.
Share your thoughts with me in the comments. Hope you enjoyed the article. Please share this article if you like it. Subscribe to get weekly updates directly in your mailbox and follow our social handles below, at the end of the article. I wish you a happy rainy season.