Kolkata Itinerary for 3 days – First-timer's travel guide
This is a short travel guide and a suggestive Kolkata itinerary to prepare you for your first visit to the city of joy.
Kolkata is my city, the city where I grew up in. Kolkata, formerly called, Calcutta is the cultural capital of India, and a gateway to the eastern part of the country. Like any other big city of India, Kolkata can be overwhelming and confusing,and takes time to grow on you. So if you have a short time to see Kolkata, you need to plan well ahead. No worries, that's exactly why I am writing this post.
The post contains affiliate links. This means if you make any purchase through the links in the post, I may get a commission without any additional cost to you. This income helps me to keep the site up and kicking.
Pin it!
A Brief Overview
Kolkata is one of the four original metropolitan cities of India. It used to be the capital during the British colonial period. It was the nucleus of various social reforms during the 19th century spearheaded by luminaries in the field of art, science and literature. This is often referred to as the Bengal Renaissance because of the deep impact it had on the Indian society. Interestingly Kolkata was also the center of India's struggle for freedom from the British imperialism. Kolkata's history is also checkered by tragedies like the Calcutta riots, partition and the great Bengal famine of 1945.
This small introduction is necessary to understand the culture of Kolkata and the nature of people there. You will find some of the friendliest people in the city. Many of them are highly educated, culturally rooted and politically opinionated. You will also notice the poverty, and social inequality that stares at your face like nowhere else (except maybe in Mumbai). The city lives in its past glories, a sense of nostalgia resonate everywhere.
Travelling to India soon? Check out your visa requirements and book it hassle-free.
Kolkata Itinerary for 3 days
Kolkata has somehow earned the reputation of being filthy and overcrowded. Having lived in multiple big cities all over India I can say it's partially true, but completely unfair. Large parts of Kolkata is just as dirty as large parts of Mumbai. Some of the heritage areas of North and Central Kolkata are dirty, like Kumartuli (the potter's town), Barabazaar (the big market), Sobhabazaar (where you find the centuries-old residential buildings of the affluent) etc. The historic Kalighaat Temple is not somewhere I would take a first-time visitor to on a 3-day trip if I am the guide. I'd recommend starting with Esplanade and Maidan area, which happens to be one of the most well-planned part of the city. This is where you will find the famous Victoria Memorial, Indian Museum , wide tree-laden walkways leading to St. Paul's cathedral, Birla Planetarium, and Prinsep Ghat.
Next day you can tread into North Kolkata, which is like Old Delhi or old Hyderabad. Here you will find the red-tainted colonial buildings, hand-pulled rickshaws and bucket-load of nostalgia. You can spend the whole day here visiting the cultural precincts of old Kolkata or head further North to the New Town. It is the newest part of the city, well-planned, glamorous and aspirational, with decorated highways, amazing modern architectural complex and many parks.
On the third day you can take a day trip to Dakshineshwar Kali temple and Belur Math. Let me take you on this virtual tour over three day in Kolkata.
First time in India or West Bengal? Check out the best organised tours in Kolkata.
Day 1 in Kolkata Itinerary
Arrive early at the airport and freshen up at your hotel for a long day. I'd recommend you to stay near Esplanade and Park Street because they're in the heart of the city. Besides you will have access to the best restaurants and nightlife, Metro station and bus connectivity. Hopefully you will be able to start your trip by 11 am. You can follow my plan below or alternatively book a 3-hour Heritage walking tour.
Visit Indian Museum
Start your day with a trip to the Indian Museum, the largest museum in Asia Pacific and one of the oldest in the world. Founded in 1814 by the Asiatic society, this multipurpose 3- storied museum houses galleries of art, archaeology, geology, industrial and zoological collections. You will find a vast collection of rare artifacts, fossils etc., including a 4000-year-old Egyptian mummy. It's a great way to start your trip. I hate to say it, but have a time-check because we have a lot to see today!
Opening time: 10 am to 6 pm, closed on Mondays and National Holidays
Victoria Memorial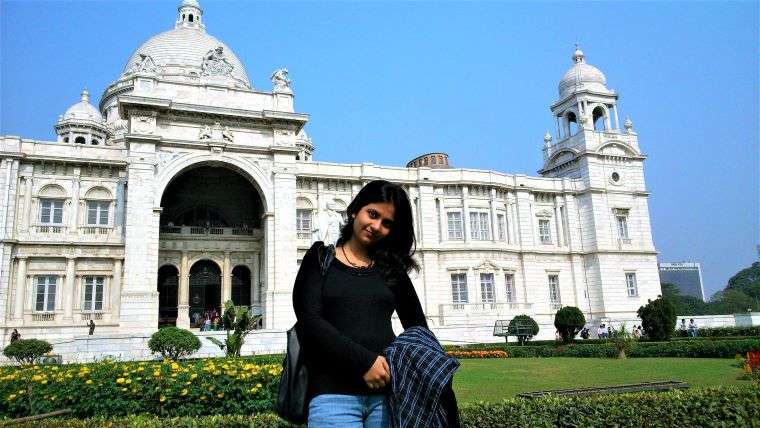 Established in 1901, this is one of the most beautiful buildings in the country. This white architectural masterpiece was made in the memory of Queen Victoria, soon after hear death. It is a fusion of European and Mughal architecture which draws great inspiration from the Taj Mahal. The resplendent garden of Victoria memorial remains open from 5:30 am to 6:30 pm. You can see budding artists painting, families playing in the parks, lovebirds looking to steal some private moments and shutterbugs all around. The hall of the Victoria Memorial houses an exquisite collection of original paintings, western and Indian, rare photographs and manuscripts. You will also find artwork made by prisoners of the Alipore Jail.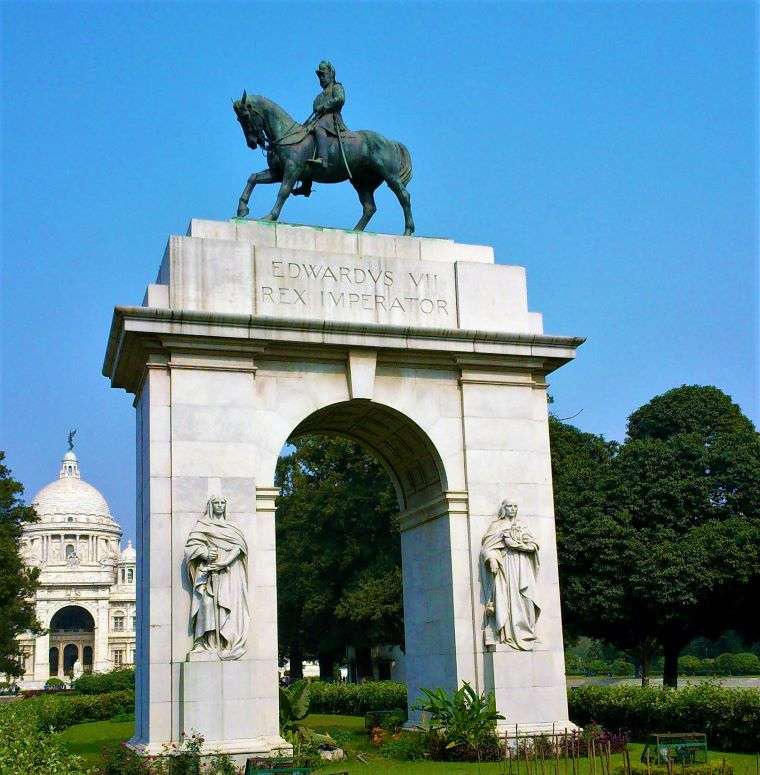 Opening time: 10 am to 6 pm, closed on Mondays and National Holidays
Shopping and lunch at Esplanade
After exploring the two largest and most historic landmarks of the city, you must have realized that it's late in the afternoon and you're tired. Take a short cab ride to Aminia, one of the best restaurants in this area. There are many other restaurants and eateries here.
After lunch you can head to New Market for shopping.Formerly called Hogg Sahib's market in the name of its founder, New Market is one of the oldest and best shopping destinations in India. A vast area of shops inside a red brick building is one of the heritage areas to explore and shop to your heart's delight. From fashionable garments and jewelry to cakes and rare herbs, you will find everything under the same roof. Near the Esplanade metro station there is a long line of street hawkers selling all kinds of stuff like watches, sunglasses, perfumes etc.
St Paul's Cathedral
So after a lunch and shopping break, we can continue with the city tour and reach St Paul's Cathedral. It is one of the most austere church architecture I have seen in India. Located at a walking distance from the Victoria Memorial the church stands adjacent to the Birla Planetarium. If you have time I strongly recommend you visit the planetarium for a show with kids, but you may not be able to accommodate it in a 3-day itinerary.
Besides British, Kolkata has been home to Jewish, Armenian , Scottish and Portuguese communities as well. You can also explore the Jewish synagogues, the pre-British era's Portuguese churches, Armenian and even one Scottish shrine in a church walking tour here.
Prinsep Ghat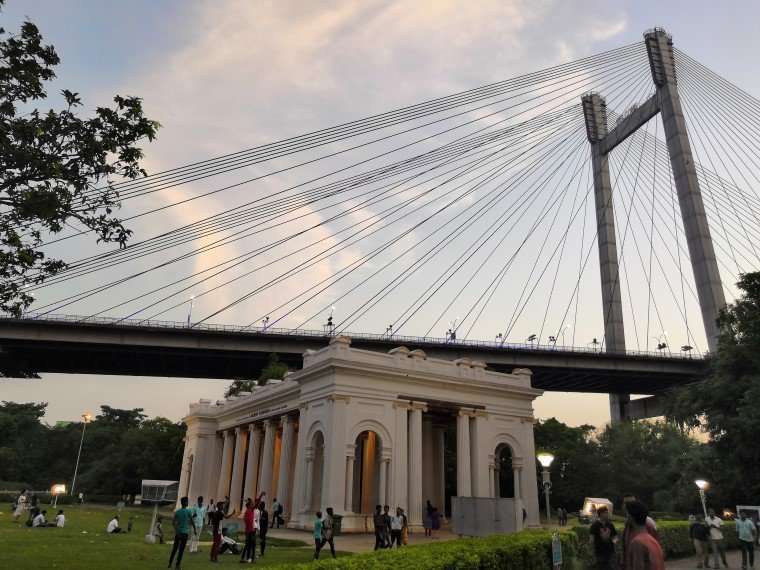 Next on our list today is the Prinsep Ghat, another beautiful white building located at the riverfront. This is an ideal place to visit in the evening to watch the sunset and enjoy the cool evening breeze of Ganges. It is one of the most romantic destinations in Kolkata so photographers throng here for pre-wedding photo-shoots and sunset shots. It's my favorite place in the city and I have a full article dedicated to the Prinsep Ghat of Kolkata. You will find the old circular railway line, the colorful boats sailing in the river and the stunning sunset at the Second Hooghly Bridge, aka, Vidyasagar Setu. On the other side of the sunset is the iconic Howrah Bridge, the only cantilever bridge in India.
Millennium Park
Now if you have the energy to walk 2 km along the beautified river front with trees, blossoms and fountains on both sides, you can reach the Millenium Park. This will give you a closer view of the Howrah Bridge. This is just a small recreation park where you can spend time admiring the river. However, you can skip this if you are tired.
Birla Mandir
The last stop in our day will be the Birla Mandir, a temple dedicated to Hindu God Krishna and his consort Radha. This is a beautiful white temple located in Ballygunje, about 6.5 km from the Prinsep Ghat , so take a cab from here or Millennium park. It's a magnificent piece of architecture made of marble and sandstone. The Birla family, an illustrious business family based out of Kolkata commissioned this temple in 1970. It took 26 years to complete this temple and it was finally opened in 1996.
Dinner at Ballygunje
You can have your dinner at 6 Ballygunje Place,one of the most famous multi-cuisine restaurants in Kolkata. This is located just 650 meters away from the temple. There are many other options for fine dining in the area like Mainland China, Spice Craft, Kasturi, etc.
Day 2 in Kolkata Itinerary
On Day 2 we will start early after a healthy brunch and head to north Kolkata. You may be lodged at the heart of the city, but its soul lies in the the narrow, dreary alleys of North Calcutta. It's a good idea to visit the West Bengal Tourism Information Bureau, located in BBD Bag before you begin your exploration for the day. It will give you an idea of all the places of attraction and help you plan your day. If you plan to visit the Marble Palace, you need to collect a pass from here compulsorily.
Marble palace (optional)
Marble Palace is a 19th century palatial mansion which was established in 1835 by Raja Rajendra Mullick, the wealthiest Bengali merchant of his time. This is a private property , so you need prior permission form the West Bengal Tourism bureau. Built in the neoclassical style of architecture, this is a great place for lovers of art and architecture. It has a humble collection of paintings but you can cover this place in less than 30 minutes.
Open timings: 10 am to 3 pm, closed on Mondays and Thursdays
Jorasanko Thakurbari – The ancestral house of Rabindranath Tagore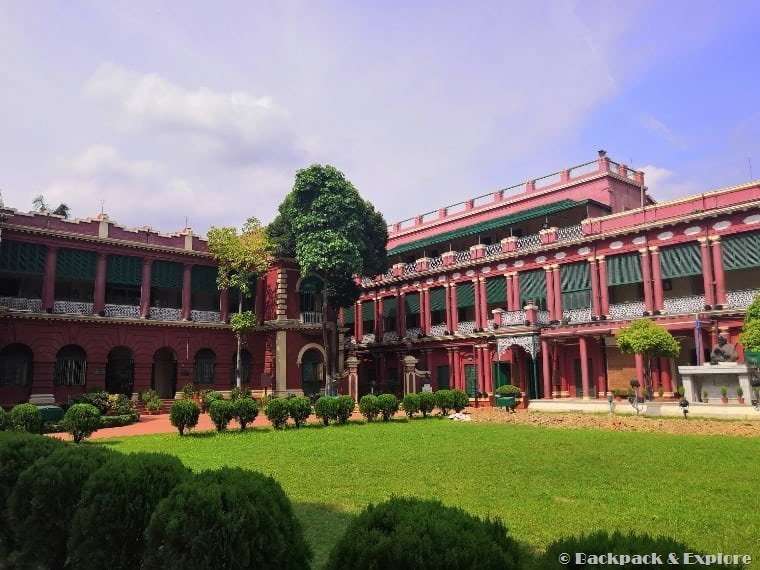 If you don't know about Rabindranath Tagore, you should certainly read up. He is the first non-European Nobel Laureate but that's just the tip of the iceberg called Tagore. He is the shining star of Bengal Renaissance, the one who is fondly remembered for his countless musings that Bengalis hum and recite in their everyday lives.
Jorasanko Thakur Bari is the ancestral home of Tagore and has galleries dedicated to his life and works in India and abroad. The highlights of this house are the separate galleries funded and maintained by the government of China, Japan, US and Hungary in his honor. Depending on your interest you can spend 1-2 hours here and also come back in the evening for a light and sound show.
Open Timings: 10:30 am to 5 pm, closed on Mondays
Kumartuli – The Potter's colony
Our next stop is Kumartuli, the potter's colony located 2 km away from Jorasanko. This is a 300-year old settlement of potters, the skilled artisans who bring life to mud and make the exquisite sculptures. They make the famous idols for Durga Puja that is sent across the pandals in Kolkata as well as other parts of West Bengal.
Many of these artists are called to UK and USA for making idols for religious festivals. While Durga Puja is the grandest of all, the artists are busy throughout the year making idols for various cultural and religious festivals. As a saying goes, "baro mashe tero paarbon", meaning Bengalis celebrate 13 festivals in 12 months of the year. No wonder the potters have a busy life.
Biswa Bangla Flyover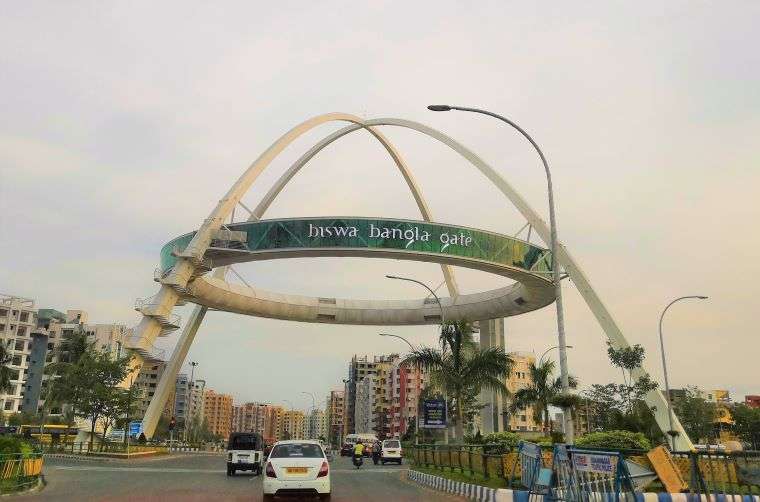 From here you can take a cab and drive straight to New Town. While North Calcutta is the cultural precinct of Kolkata, it also comes with its own baggage of all the bad things people might have told you about the city. Old roads, narrow (often stinky) alleys, dilapidated buildings. New Town is a complete antithesis. The Biswa-Bangla Flyover leading to Eco Park, symbolizes the aspirational side of the city's character. Kolkata has for long been romanticized for its past. People here like to lay back and reminisce their golden past without any ambition for future.
The ride over Biswa Bangla flyover somehow shows shows the ambitious side of the city, but that too is wrapped in nostalgia. Traditional artwork, statues of Bengali icons of the past and quotes about Bengali heritage adorn the roads. You will come across the striking Biswa Bangla Gate, aka, the Kolkata Gate which has a floating cafe on it.
Eco Park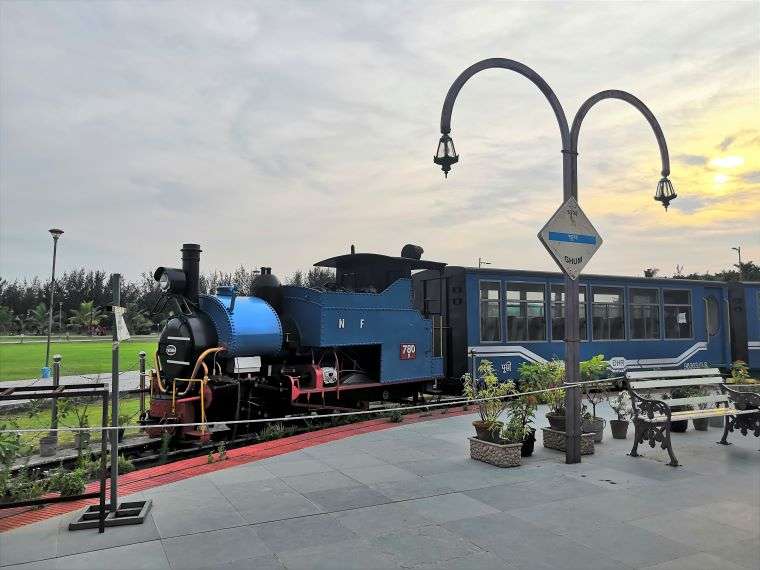 You can stop at any of the amusement parks in this area – the older ones like Science City or Nicco Park, the latter ones like the Aquatica or the newest one like Eco Park. Eco Park, a theme park spread over 480 acres is the biggest urban park in India. You can hire a bike or electric vehicle, or even get a ticket to an electric toy train to explore the huge park. With a nominal entry fee of only Rs. 30 per person, this huge green oasis is segmented into a large number of thematic sections.
There is a large artificial lake for boating and water sports, which is bordered by a beautiful lakefront promenade lined by coconut trees, a butterfly garden, a fruit orchard, a meadow of wild flowering plants and rose garden are some of the notables spots for natural beauty. The you have sculpture garden showcasing sculptures of 19th and 20th century legends, a mask garden with a large display of traditional masks, Biswa Bangla Haat which is a supermarket for authentic artwork from West Bengal's cottage industries and Rabi Aranya, a forest dedicated to Rabindranath Tagore's literary pieces.
However the most famous highlight of Eco park is the Seven Wonders Park which has beautiful replicas of the Colosseum of Rome, The Great Wall of China, Christ Statue of Rio and other man-made wonders of the world. Entry to some sections is free while some like the seven wonders park require additional fees.
Nightlife in park street
If you have the energy you can go for clubbing in Park Street or simply take a food tour at night. I am not partisan at all when I say Kolkata is a foodie's paradise.
Day 3 in Kolkata Itinerary
This is your last full day in Kolkata. You can explore various other places inside the city or you can take a day trip to two of the most famous places near the city, the Dakshineshwar Temple and Belur Math. You can either go there in the morning and return in the afternoon, or spend the morning in Kolkata and visit Dakshineshwar in the late afternoon. I'd suggest the latter because sunset at Ganges in Belur Math is a sight to behold.
BBD Bag
Start early with a breakfast at BBD Bagh, aka Dalhousie square. This place is also known for the best street food in Kolkata. The street food here is cheap and hygienic as per WHO standards. I'd recommend the traditional luchi alur-dom or luchi cholar dal followed by a Bengali sweet for breakfast. You can also go for Bread-omlette, Kachuri, etc.
BBD Bag is the old business hub of Kolkata, which has most of the government offices – the Writer's Building, the General Post Office, the Reserve Bank of India and all state headquarters of all the nationalized banks. Also known as the Dalhousie square this place is named after three freedom fighters – Binoy, Badal, Dinesh. You can spend the morning loitering around the streets of BBD Bag, admiring the colonial architecture and enjoying the street food.
Want to bring the taste of India to your home? Check out this massive list of Best Street Food in India and their recipes at home.
College Street
If you are a book-lover then skip BBD Bag and head straight to College Street in the morning. This is the largest area dedicated to book stores where you can find everything from college text books to the rarest books in the planet. Also known as "boi-para" meaning book-mart, it is the largest second-hand book market in the world. This is a center of eminence frequented by students, academicians, researchers and bibliophiles.
It was named so in 1817 when the Hindu College was founded by British officer David Hare which later came to be known as the Presidency University. College street now houses the most of the best colleges in Kolkata namely the University of Calcutta, Calcutta Medical College, Sanskrit college etc.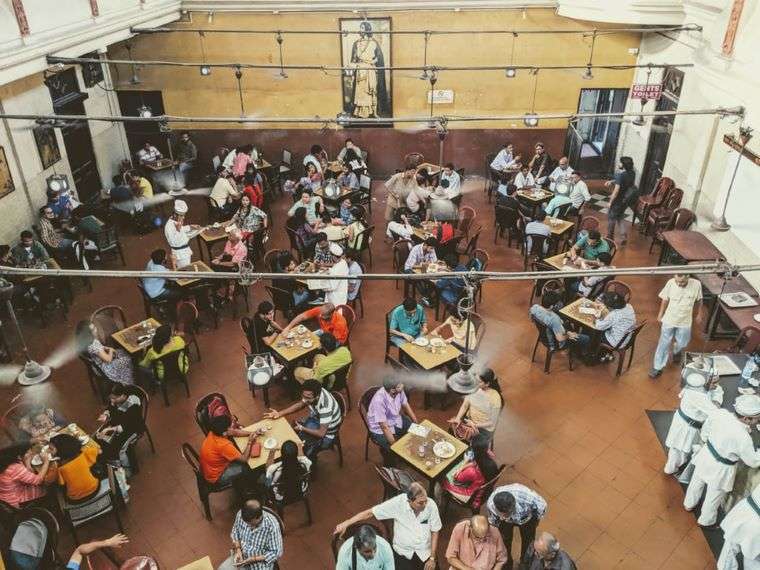 Another attraction of College Street is the Coffee House. It is just an old unit of the Indian Coffee House chain of restaurants but has a nostalgic value. Some of the greatest intellectuals of 20th century including Subhash Chandra Bose, Rabindranath Tagore, Amartya Sen, Satyajit Ray frequented the coffee house to discuss their ideas over a cup of coffee. It's just this romanticism, otherwise neither the ambiance nor the coffee here is great now.
Dakshineshwar Kaali Bari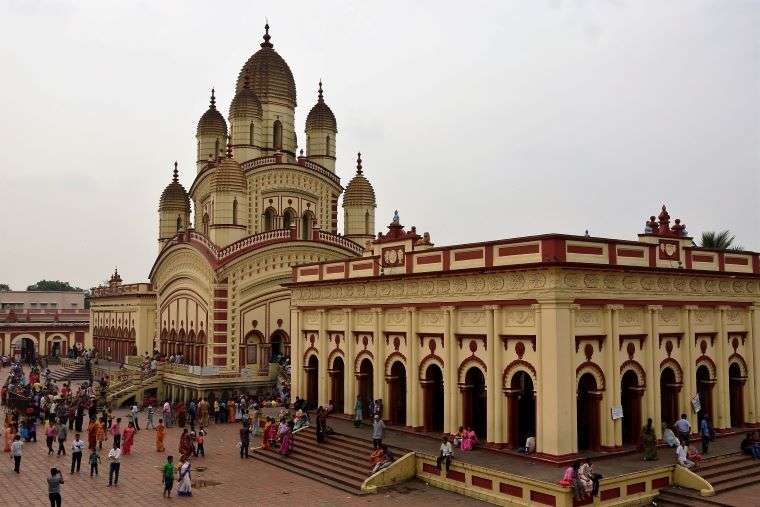 After breakfast and some stroll it's time for a day trip. Head to Dakshineshwar Kaali Bari, one of the most revered temples in India. Photography is not allowed inside the temple premises. You will have to leave your footwear and electronics in a secure locker outside. Built in Navaratna style, Dakshineshwar is an architectural treasure. Commissioned by Rani Rashmoni Devi in 1855, this temple is dedicated to Goddess Kali.
It was home to priest Sri Ramakrishna Paramhansa and his wife Sarada Devi. He was the teacher of Swami Vivekananda and it is in this temple that he advocated the unity of all religions. This huge complex is peaceful and vibrant at the same time, a must-visit place when you are in Kolkata. The best time of the year to visit Dakshineshwar is during the Kali Puja which happens at the time of Diwali in India.
Belur Math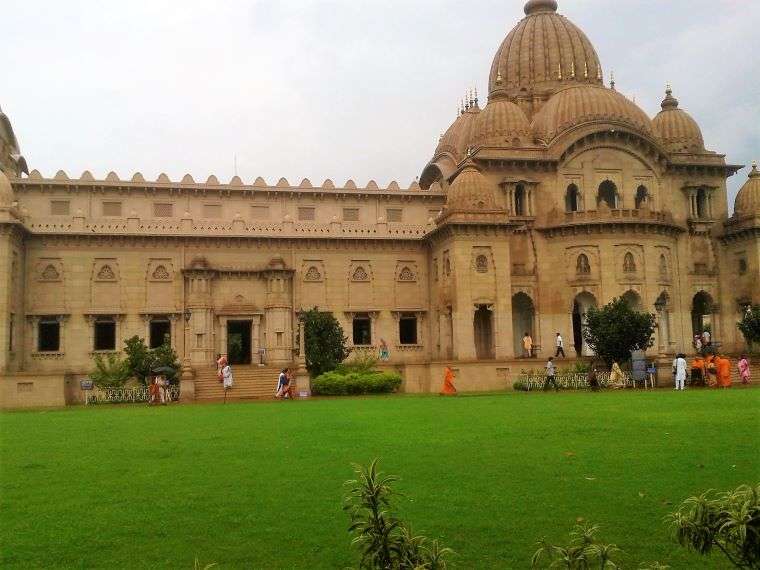 Take a ferry across the river to reach Belur Math on the opposite side of Ganga. It was established by the world renowned spiritual leader Swami Vivekananda. He formed the group Ramakrishna Mission, a group of monks dedicated to the service of humanity. The temple of Belur Math is an architectural amalgamation of religions across the world, symbolizing unity in diversity.
Swami Vivekananda spent years as a wondering monk with his fellow brothers serving the poor and sick people all over India, before he formed Belur Math. It is home to the monks of Ramakrishna Mission which conducts humanitarian work in India and abroad. Durga Puja is the most prominent religious celebration in Belur Math. Along with Hindu festivities, Belur Math also celebrates Buddha Jayanti and Christmas Eve. Watch the sunset at the Ganga-ghats and return to the temple to experience the mesmerizing evening "aarti".
This marks the end of our 3-day tour of Kolkata on a spiritual high. This is the best that I can fit realistically into a 3-day Kolkata itinerary, although there are many more places to explore.
If you have only one or two days in Kolkata as a first-time visitor I recommend one of these full-day organized tour. Otherwise it will be too short a time to acclimatize with the city on your own. Here are some options for your one-day trip.
Where to stay in Kolkata?
I recommend you to stay in the heart of the city near Esplanade and Park street. However, if you are more interested in a serene location away from the city center, yet close to the newer attractions like Eco Park, you can choose to stay in Salt Lake or New Town. Here are some recommendations.
Hotels in Luxury Range
A heritage 5-star hotel located in Alipore conveniently close to prime tourist attractions like Victoria Memorial, Kalighat, and the business district of Kolkata.
Another fantastic property close to major tourist zones as well as shopping areas like new market. It is accessible via subway (metro stations) of Esplanade and Park Street.
An exquisite luxury hotel located near Science city and has easy access to Newtown region.
Hotels in 4-star and 3-star category
Check out more options for Kolkata hotels here .
FAQs about Kolkata
What is the best time to visit Kolkata?
The best time to visit Kolkata in winters which begins in December and ends in early February. The weather is beautiful to enjoy walking in the sunny afternoons and stroll around the Christmas markets in the evening. If visiting during Holi, you can actually take a trip to Bolpur Shantiniketan for the unique "Dol Utsav".
If you want to experience the famous Durga Puja of Kolkata, read this complete guide to prepare yourself for the cultural extravaganza. Avoid the time between late May and early September because of the hot summer followed by incessant rains.
Check the best places to visit in winter in India.
How to commute in Kolkata
Kolkata is the only city in India where you can find electric tram network. So it is an amazing eco-friendly mode of transport within the city. However, many routes are currently non-functional. The Kolkata Metro is the fastest mode of commute and is amazingly cheap. You can also take yellow taxis for hire, or use Ola and Uber for private transport. Bus connectivity in Kolkata is the best in India based on my personal experience. You can use this official website to check bus routes for planning your intra-city commute.
What are the essentials to pack for Kolkata?
If you are visiting any time other than the winter just carry cotton tops, shirts and kurtas. I also recommend an anti-fungal powder because of the high humidity. For winters do carry a jacket, sweatshirts and woolen scarves. Carry a waterproof jacket or raincoat if visiting.
Recommended Books and Movies for Kolkata inspiration and guide
Fiction Books featuring Kolkata:
Non-fiction:
Check this guide to selecting the best travel shoes in India.
If you liked the guide don't forget to share and save the post by pinning the image below.
Watch the web series  Jubilee on Prime – A heartfelt love letter to Hindi Cinema which smartly blends fiction and reality, resulting in a gripping drama set in the 1940s' world of cinema. I can't remember last when I was so bewitched by a book or a movie
Another series I loved, (though not as much as Jubilee) is Dahaad. Despite its flaws, Dahaad is a watchable crime thriller with rock-solid performances by Vijay Verma, Gulshan Devaiah and Sonakshi Sinha (in that order)
Watch Citadel on Prime – the sleek spy thriller with Priyanka Chopra in the lead role. Honestly, it's way too cheesy and unrealistic for my taste, but it's gripping, and PC is quite amazing
For my kind of spy thriller, I recommend "Family Man" season 1 and season 2, and eagerly look forward to season 3
Watch
Currently grooving on Amazon Music : Cocomelon on the loop for my kiddo
 Let's stay connected on Facebook, Instagram, and Twitter. You can also subscribe to our monthly newsletters for blog updates, free ebooks, and discounts.