Wayanad was our introduction to Kerala, our first trip to God's own country. I have created this Wayanad itinerary based on my personal experience to inspire you for a trip to the idyllic hill station. Located only 275 km from Bangalore, Wayanad is an amazing weekend getaway from Bangalore. I'll recommend spending at least two full days in Wayanad to experience the best of it. Of course, when it comes to the Western Ghats, the more the better. But two to three nights is the time we normally get on extended weekends.
Story of our first Wayanad Trip
Wayanad was our first trip right after our marriage in December 2015. We were still adjusting with our new jobs and didn't want to extend our leaves for honeymoon. So I booked a nice coffee resort in Wayanad and Friday-night bus tickets for the Christmas weekend. We reached the place by 4 am, but our hotel owner was kind enough to have someone take us to our cottage at the wee-hours. It was completely dark so we decided to take the much-needed rest before starting for the day. Yes, it was our first trip after marriage, but I remember the trip for a few other reasons. Well, that's a story for a different day. For now, let's get going with our itinerary.
Pin the image below to save the post
What do you need to know about Wayanad before you visit?
Travel guides and itineraries abound the internet. But here are a few things you need to know about Wayanad before you visit. Wayanad is not just a small hill station, it's a mid-size district in Kerala. So it is impossible to "cover" Wayanad in 2-3 days. If you want to visit all the top destinations listed in the travel guide in a couple of days, remember that many of them are far apart from each other. Here's some information that will help you decide how you want to plan it out.
Wayanad is a fascinating place, not just for nature-lovers but also for history-buffs. Archeologists found traces of human civilization that have existed here for over 6000 years. The Edakkal caves are the glowing evidence of the claim. However, there is not much of documented history of this region before the 18th century. Wayanad has the largest tribal community in Kerala. Many of these tribal groups were treated as slaves by the landlords for a long time. The historic Bonded Labor Act of 1976 made this unconstitutional. Now, most of these tribes make a living from their skills in agriculture, carpentry, and craftsmanship.
Wayanad is surrounded by the Bandipur, Nagarhole and Mudumalai forests in the east. These three together with the eastern forests of Wayanad has the largest tiger population in the whole world. While the whole district is covered in green, if you love jungle safaris you should stay towards the east near the Muthanga hills. The region Sultan Bathery in the interiors of Wayanad is famous for the Edakkal Caves and other heritage sites.
Most people, however, stay in Vythri and Kalpetta for the serene and a very typical "Wayanad" experience. These places are located at a higher altitude are close to the famous breathtaking spots of Wayanad. These include the Chembra peak, the earthen dams, lakes, river-islands and more. This is also where you will find aromatic spice gardens, coffee groves, and tea plantations. For a rather offbeat experience, you can stay in Thirunelly in the far west.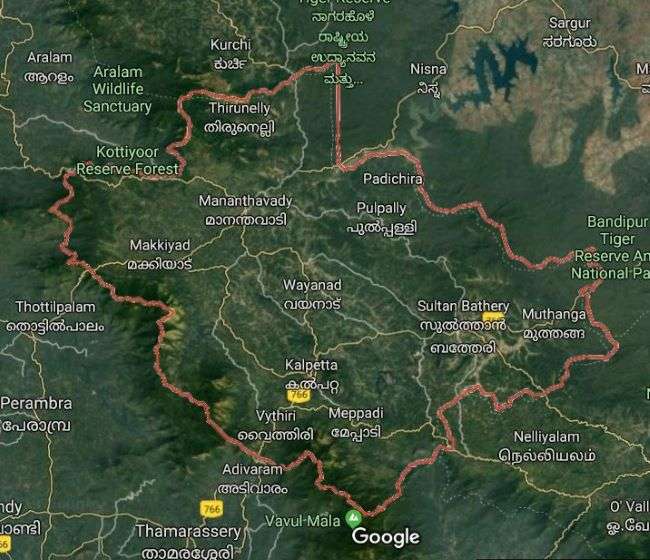 Wayanad Itinerary – Best Places to visit
Resplendent lakes, dense forests, aromatic spice plantations, scenic treks – Wayanad is truly a nature seeker's paradise. Personally I like to choose places that are not too crowded, so plantation trails, river-walks, and treks are higher on my list of preference. Chembra peak was the top recommendation from my friend I consulted before our trip. However, the trek often remains closed either because the roads are damaged due to monsoon or due to forest-fire alerts in the dry seasons. So while you may be all upbeat about doing the trek which ends at a heart-shaped lake at the top of a hill, do have a backup plan always. So keeping these in mind, these are the optional itineraries to consider for a trip to Wayanad.
Day 1 Wayanad Itinerary
Reach by 9 am and have breakfast
Visit the Banasura Sagara Dam
Meenmutty Falls (optional)
Break for lunch – Kerala porota is my favorite!
Board a bamboo raft and visit Kuruvadweep
Check out the Karlad Lake on your way back to the homestay ( if you are put up around Vythri)
Spend time at the Pookode lake (if it's not too crowded)
Retire at the resort
Day 2 Wayanad Itinerary
For hiking lovers-
Wake up early morning for Chembra peak trek
Pack your breakfast or have it after the trek
Visit the Karapuzha Dam
Tea plantation tour
OR
Trek to the Soochipara waterfalls.
Explore the Edakkal caves in Sultan Bathery
Visit the Ancient Jain temple located in Sultan Bathery(optional).
Then drive to the Karapuzha Dam.
In the end, rest at the Kalpetta tea estate
When we visited Wayanad in December, the Edakkal caves were overcrowded. There was a 2-hour long queue at the entry. In that case, you may not be able to visit the other three places before they close for the day. We had a bus to avail in the evening on Day 2, so we went to the tea gardens right after exploring the Edakkal caves. 
Day 3 for more
If you are staying for 2 nights, and have even half of the day 3 in Wayanad you can attempt the Chembra peak trek in the early morning. Otherwise, start driving and check out the beautiful churches and viewpoints on your way. Drive through Bandipur National park on your way back to Bangalore.
Where to stay in Wayanad?
I will recommend you to stay away from the town in a plantation resort or homestay. Most of the places are closed by 6 pm and driving after sunset in the hilly roads is not a great idea. So during our stay at a Coffee Estate Resort at Vythri, we spent our time walking in the coffee plantations and hiking through the forests up to the river all of which was in the 300-acre property. Located just 3km away from the bus stand, there is a small rivulet flowing through the property as well.
We didn't love all the food items there, but the traditional Kerala porota and king-fish curry were awesome.
There are many amazing homestays, resorts, and hotels where you can stay in Vythri and Kalpetta.
Top places to visit in Wayanad in 3 days
Still confused about planning your itinerary. Let me help you here. Here is a snapshot of the top places to visit in Wayanad in order of my preference.
Banasura Sagara Dam
Built on a tributary of Kabini, Banasura Sagara is the largest earthen dam in India and second largest in Asia. But what's more important than the records is the fact that it's by far the most beautiful dam I have ever seen. The spectacular lake with Banasura hills at its backdrop is dotted with tiny islands. There are beautifully curated gardens and parks with a large variety of plants. There are walkways, bridges and pools enveloped in lush green foliage. It almost looks like a page cut out of a fairytale. Boating in the lake would be wonderful but there was a long waiting time for the same.
Chembra Peak
A trek to Chembra peak is still on my wishlist and I'm going to fulfill it soon. Hiking amidst the tea gardens and forests to the heart-shaped lake must be amazing. The roads were closed on our last visit, so we parked it for next time. I'll update this section with more details when I do the trek so, for now, watch this video and get inspired like me.
Sailing to Kuruva Island on a Bamboo Raft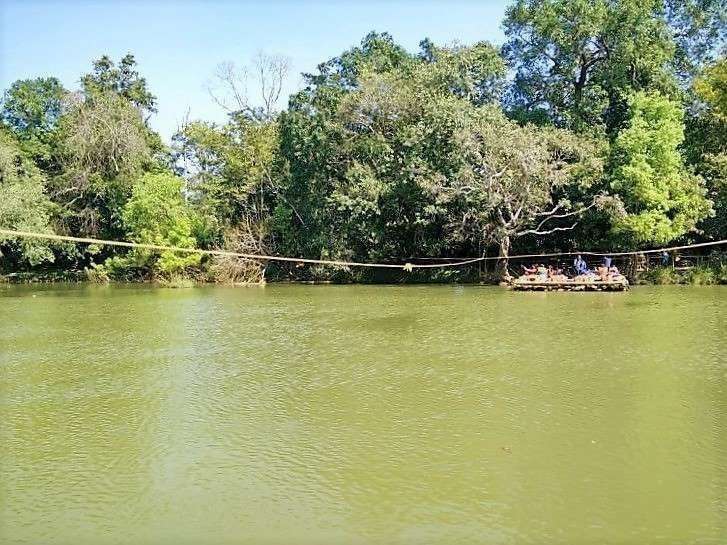 A visit to Kuruva island is a truly memorable experience. It's not the typical island that comes to your mind when you think of one. It's a group of three islands on the river Kabini that are accessible waterways only. The islands are rich in flora and fauna, a great place for hiking and bird-watching. To maintain its unique biodiversity the island is protected. You can visit only with a forest permit and by boarding on these bamboo rafts as you can see in the picture above. The raft is nothing but a large number of bamboo logs piled together to stay afloat in the river.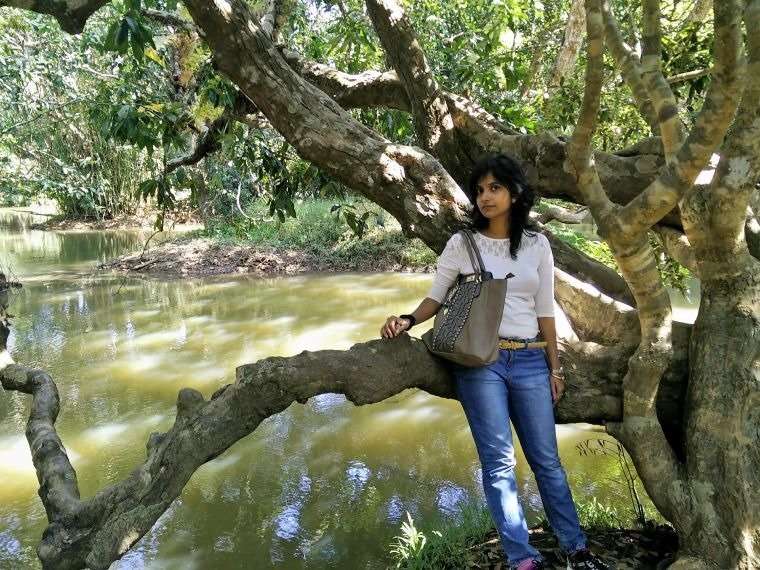 Kalpetta tea estate
Wayanad is known for coffee and spice plantations, while Munnar is for tea. Well, at least that was my idea before visiting Wayanad. I was pleasantly surprised at the sight of rolling hills covered in lush green tea shrubs all along our route in Kerala. After an exhausting and rather underwhelming experience in the Edakkal caves, we asked our driver to take us somewhere which is un-touristy. He took us to one of the many tea estates in Wayanad. To our relief, there was no one there except the farmers and a few animals. We loved the solitude amidst the beautiful tea gardens.
Coffee groves, orchids, paddy fields – I have visited many of them. But I can't think of something more mesmerizing to the eyes as the vast stretch of tea gardens with tall trees in between. A trip to an off-the-radar tea garden was one of my favorite experiences in Wayanad. You can also visit the tea museum to know more about tea production.
Love Coffee? Experience Chikmagalur – The Land of Coffee in Karnataka.
Edakkal Caves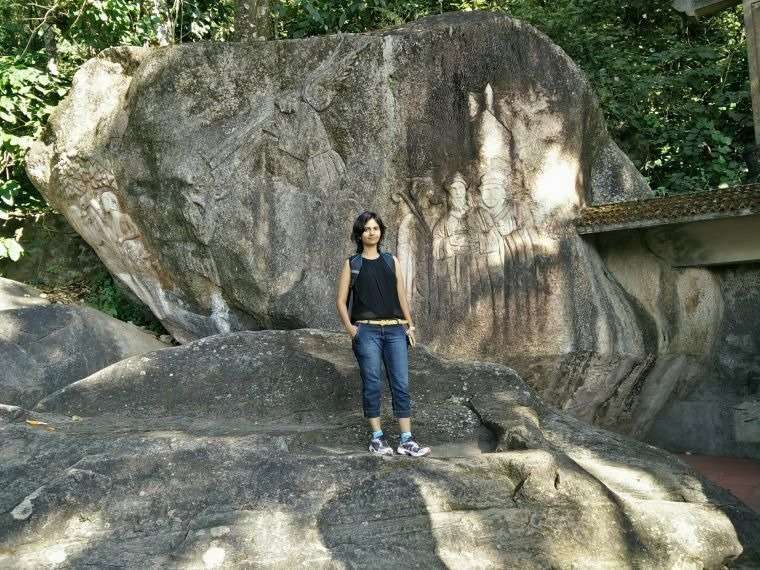 Edakkal Caves is the only place in India where you can find stone-age rock-art. These are older than the Elephanta caves or Ajanta Ellora. If you are a Game of Thrones fan, remember that episode where Jon Snow discovered the white-walker paintings in the caves? That's roughly how the carvings in the Edakkal caves look, except not so cartoonishly colorful. Even hearing about the place made me intrigued and my expectations knew no bounds. Unfortunately, we were greeted by a 2-hour long queue under the scorching heat. It's located at the top of a hill, so it involved trekking in the crowd. It's not really a great experience you can imagine. It reminded me of the long queues of Durga Puja pandals in Kolkata.
Once we reached the top we felt like we could finally spread our arms and get some air. The caves were beautiful, but don't expect the intricate carvings of Ajanta Ellora there. These are pre-historic rock-carvings, at a time when Man was learning to communicate through art. It's a beautiful idea, just go around and feel it. It's difficult to do so on a peak holiday season with so much cacophony around. But it's worth trying to. The views from the caves are breathtaking. There are some modern carvings outside the main caves, beautification is done for tourists. The picture above is one of them.
Soochipara Falls
"Soochi" means "needle" and "para" means "rock" in the local language. Soochipara falls are the needle-shaped three-tiered falls that plunge from the Vellarimala hills in Wayanad. It is also known as the Sentical Rock Falls. Surrounded by forests of deciduous trees this is the most beautiful waterfall in Wayanad. And it is a perennial waterfall. Even in the absolutely dry season in December, water was jutting out from between the rocks forming this beautiful rainbow that you can see in the picture above.
Lakkidi viewpoint
A road trip in Wayanad will be slow because you might feel like stopping the car every now and then just to look around. Lakkidi is a quaint hamlet in Wayanad covered in green. The Lakkidi viewpoint is at a hairpin bent along the road in the hills. The captivating views will make you fall in love with Wayanad.
Coffee groves, spice plantations and more
A tour of the coffee groves and spice plantations of Wayanad ranks higher than many other "top destinations" in Wayanad. Wayanad is a popular tourist destination and almost all famous locations are brimming with tourists in the holiday season. Strolling around on your own in a private plantation is a refreshing change from the destination-hopping in Wayanad. Tea plantations are normally much larger and corporate-owned. It's because tea requires a lot more labor and investment.
Coffee and spice plantations require relatively less maintenance. So you will find a large number of privately owned and operated coffee plantations in Wayanad. Most of the plantation owners also have a homestay to welcome tourists and give them a taste of real Wayanad. We spent a great time in the coffee groves, watched the farmers drying the coffee beans and hiked in the groves to the riverside.
Wildlife tour in Wayanad
Muthunga wildlife sanctuary located in the east of Wayanad is where you can see elephants, tigers and a vast range of exotic Indian wildlife. From what I have read and heard, the jungle safaris in Wayanad wildlife sanctuary are not well-organized. If you are visiting from Bangalore, or even if you are not, it's worth driving to the nearby Nagarhole National park or Bandipur Tiger reserve instead. They are located in Karnataka but are just across the border of Wayanad.
These are my favorite places and experiences in Wayanad. There are innumerable lakes, waterfalls, temples, and churches in Wayanad that you can see on your trip. Visiting the ancient Thirunelly temple, kayaking and ziplining at the Karlad Lake in Kalpetta and visiting the Karapuzha dam will be on my list next time I visit Wayanad. Karapuha dam is the second largest dam in Wayanad and an offbeat alternative to the Banasura Sagara Dam.
How to reach Wayanad?
The nearest airports from Waynad are Kochi (260 km) and Bangalore (275 km via Bandipur). There are many buses from both the cities to Wayanad. I strongly recommend using the Kerala State Transport buses or the Karnataka State Transport buses. Airavat buses are Karnataka based AC Volvo bus services with excellent standards of service and punctuality. A self-drive road-trip to Wayanad will be outstanding. However, if you don't have a car it makes sense to hire a Jeep or SUV instead of a 2-wheel-drive. Some places like the Chembra peak base is accessible only through 4-wheel-drive.
If you hire a car from Bangalore or any place outside Kerala, ensure that the driver gets the state-permit. Also remember that Bandipur remains closed between 9 pm to 6 am, so plan your driving route accordingly.
So, are you excited to visit Wayanad soon? Or pay a second visit to the heavenly abode of nature? Do you have any other questions on Wayanad trip? Share with me in the comments section. You can check out more Waynad photos on our FB post. If you like the post please share it across.
Let's stay connected on Facebook, Instagram or Twitter. You can also subscribe to our fortnightly newsletters for a special South India travel guide and receive blog updates. We mail only once in 2 weeks.
Important Disclaimer: All pictures and experiences shared are my own. Please don't reproduce any of these without my consent. You can reach out to me using the Contact Us form. The post contains affiliate links. If you purchase anything using those links, we may get a referrer commission that's used to run this blog without ads. This doesn't change anything for you in terms of pricing or experience.