Yercaud Itinerary – Places to visit in the Queen of Eastern Ghats
I am obsessed with the bewitching beauty of the Western Ghats of India. You might get an idea by now if you are a regular reader of my blog. But in this post I'll talk about places to visit in Yercaud, the queen of the Eastern Ghats of India. But before we jump to the Yercaud itinerary , let me tell you more about the Eastern Ghats.
Unlike the Western Ghats, the Eastern Ghats is a discontinuous mountain range cut by the rivers Godavari, Mahanadi, Krishna, and Kaveri. It starts from Odisha, and traces its way through Andhra Pradesh, Telengana, Karnataka and ends in Tamil Nadu. It's home to some beautiful, offbeat hill stations in India, one of them being Yercaud.
The post contains affiliate links. This means if you make any purchase through the links in the post, I may get a commission without any additional cost to you. This income helps me to keep the site up and kicking.
Also read: Best Places to visit in Tamil Nadu
Where to stay in Yercaud?
Yercaud is a small hill station with sufficient number of hotels and homestays to suit all budget-types. However, there are some beautiful English cottages where you can stay at. One of the best is Fairholme Bunglow. It is an actual English Cottage which was sold off to its current owners who run it as a hotel. 
In the mid-budget range you can book the Cuckoo Nest or Hillcrest Cottage. You will get many lavish hotels with all modern amenities in the town-side. But the location will not offer you the authentic experience. However, it's easy for conveyance if you don't have a personal vehicle.
Yercaud  Places to visit in 2 days trip from Bangalore
Located in Tamil Nadu, Yercaud is surrounded by some famous tourist spots of South India around – Pondicherry, Kodaikanal, Coonoor to name a few. But it's mostly unknown to people outside Karnataka and Tamil Nadu. Let me take you on a virtual tour of the hills. Thanks to the large number of techies living in Bangalore, Yercaud has emerged as an exotic weekend getaway. It's not as crowded as Ooty or Kodaikanal, and is also just 205km from Bangalore. Following the shortest route you will take about 5 hours to reach Yercaud if you start off early by 6 am.  This includes a breakfast halt at A2B.
It is enveloped by the scintillating Shevaroy Hills.  The undulating hills are covered in orange groves, coffee, fruits, and spice plantations. It  got its name from the words "Yeri" which means lake and "Kaddu" which means forest. Couldn't be more apt given that the township here is built around an opulent lake surrounded by forests. So here's an Yercaud itinerary for 2 days that I have designed.
Day 1: Start from Bangalore at 6, pause for breakfast at A2B and reach Yercaud by noon. Then visit the Emerald Lake and the parks around it. End the evening with a sunset at Lady's Seat.
Day2: Start with sunrise at Pagoda park, then have breakfast. Visit the Norton's bungalow, Bear's cave and Montfort School on your way to Shevaroy Temple. There's a short trek to Killuyur waterfalls which you can do if love trekking. start off for Bangalore by 3pm
32-km Loop Road
The 32-km loop road has numerous hairpins along the scenic Eastern Ghats. There are barricades and mirrors on the turns to help drivers, but you need to be careful. You can also go for a hike on this road if you are indeed up to it. With coffee plantations, spice farms on one side, and hill-forests on the other, this is a mesmerizing experience. 
On you way to Yercaud from Bangalore take this scenic tour before you reach the hotel. You will feel like stopping at the various viewpoints in this journey.
Boat in the Emerald Lake aka Yercaud Lake 
Thrive in the biodiversity of the Deer Park
After this enjoy some snacks at the Yercaud lake and walk towards the deer park. It is also known as the eco-tourism park for amazing biodiversity. Imagine walking in a park with deer, peafowls, and ducks taking an evening walk with you.
Walk to the Botanical Garden
Keep walking a little more and you will reach the botanical garden. This green oasis has 3000 trees and 18000 shrubs spread over the 18 hectares of land. It's truly a delight to senses… and lungs.
Some adventure activities at Anna Park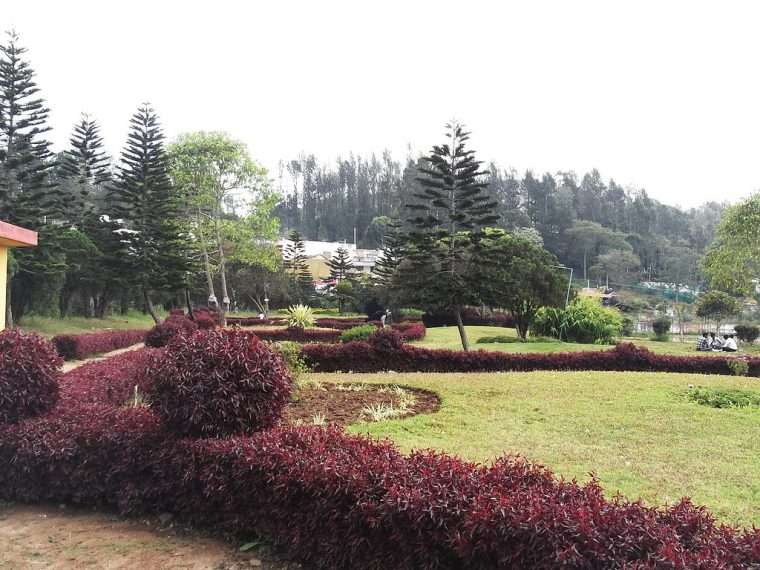 Anna Park is another small beautiful park near the lake. Here you can enjoy quad bike riding and zip-lining. It's equally interesting for children and adults, making it a perfect spot for families in the evening.
See the mesmerizing sunset at Lady's Seat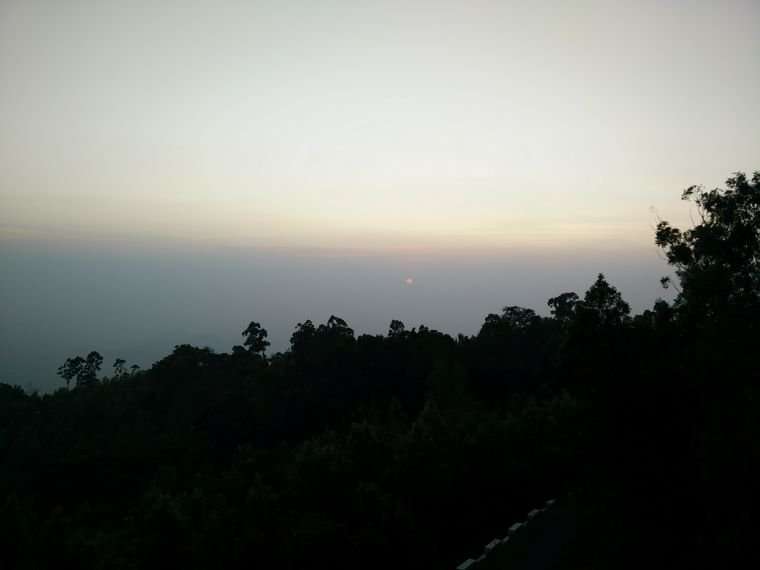 Remember that you are in the East and here the sun sets earlier than Bangalore. After enjoying your time in the lake and gardens it's time to drive to this famous viewpoint. It's called the Lady's Seat. A revered English lady used to spend the evenings watching the sunset on this rock. Thus this unassuming place got its name.
Day2: Start with Sunrise at Pagoda Point
Next morning you can take a walk to the Pagoda Point. It is at a distance of 4 KM from the Bus Stand. This point is away from the hustle-bustle of Yercaud's main town. Pagoda point is also known as Pyramid point and it got its name from the for piles of four stones that have been arranged in the shape of the Pyramid.
Near Pagoda point, there is a  Rama temple where the locals visit to seek blessings.
Offbeat Norton's bungalow and Bear's Cave
Return to your hotel for breakfast and check out. The Norton's Bunglow is a secret destination on the way to Shevaroy Temple road. This quintessential English bungalow has inspired many Bollywood scenes. It is the oldest known bunglow in this hill station. A rich British Lawyer from Chennai constructed it here.
The Bear's cave situated in a private coffee estate near the Norton Bungalow is a craft of nature. Some believe that there used to be a secret tunnel inside for the royals to escape during emergency.
Montfort School
You might not think of visiting a school on your trip somewhere, but Montfort School is special. You can get permission to enter this prestigious and historic school on the weekends. The marvelous architecture of the buildings here will leave you awestruck. There's also a small zoo inside the campus.

Tipperary viewpoint
This is another viewpoint from where you can get mesmerizing views of the Shevaroy hills.
Trek to the delightful Killyur Falls
Kiliyur Falls is located at a distance of 4 km from the Bus Stand. This beautiful cascade is hidden deep in the forest. So, you will need to take a slant walk of 1km through the forests before reaching a flight of steps. After walking 200 plus narrow steep stairs you will reach this beautiful place. 
The waterfall was underwhelming for me when we visited in December. So you may skip it if you are short of time. Instead visit  the offbeat Norton's Bunglow. Here's a comparison of what the falls look like in the creative commons pictures and what we found.
Servarayan Temple or Shevaroy Temple
Sitting at an altitude of 5326 feet above sea- level, The Servarayan temple occupies the highest peak of Shevaroy Hills. It is dedicated to the Hindu deity Servarayan and his consort Kaveri Amma. It offers spectacular view of the Mettur Dam and entire valley.  This too requires a short trek, so you need to watch your time, if you have to return the same day.
Ending the Yercaud itinerary with a throwback selfie to our memorable trip with friends on a Christmas Weekend.

How to reach Yercaud?
The nearest big cities near Yercaud are Bangalore and Chennai. It's very easy to reach Yercaud from either of these two places by car. There are overnight buses from Bangalore which leave on Friday, and also in the early morning on Saturday. The morning buses tend to be late, so I'd prefer the overnight buses on Friday. That way you will reach Yercaud in the early morning and have a lot of time to explore.
You can take an extended leave and combine a trip to Pondicherry along with Yercaud.
If you liked this post please go ahead and share it. You can subscribe to our monthly mailers to get new posts delivered to your mail id. There are some attractive freebies too on subscription.
Pin It!
My recommendations for the week
Weekly Prime Recommendations
Watch the movie Kantara on Prime – A spectacular cinema with an enticing story that revolves around tribal rights, culture and legends. It's deemed as one of the best movies out of India.
Watch Drishyam 2 on Prime – the perfect sequel to a blockbuster thriller.
Currently grooving on Amazon Music : Cocomelon on the loop for my kiddo