Driving from Bangalore to Kolkata – over 2000km in 3 days
Yes, we did it. The crazy couple topped their madness yet again and made this seemingly impossible one-way trip. Let me begin with a strong disclaimer. This is a travelogue where I share the story of our journey with you. In no way should this be treated as a guidance or inspiration. It's an epic adventure that I'll neither recommend nor repeat. We completed this long journey of 2000km in less than 3 days.
This was not a joyride, but a necessary journey we had to undertake to reach home safely.
Part 1: The Journey Begins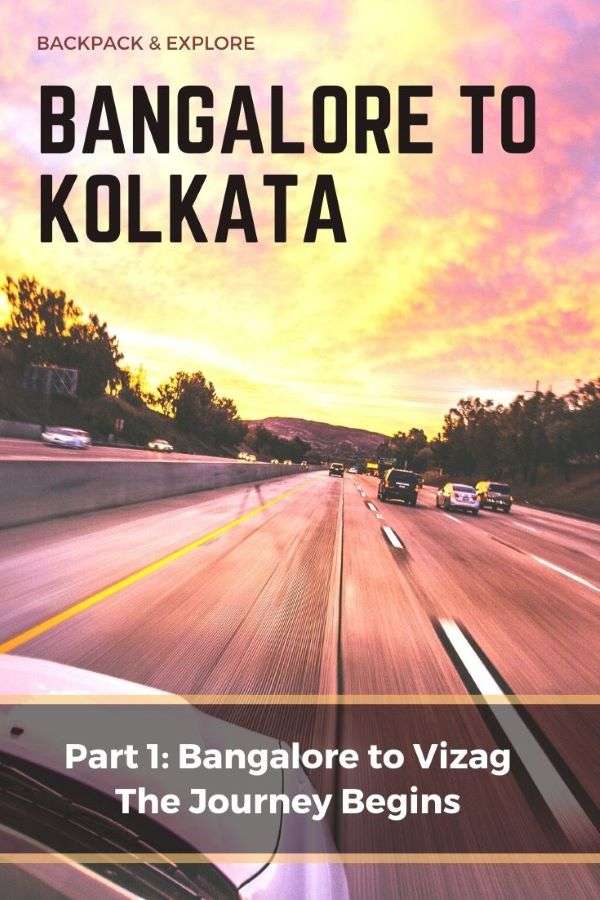 The long saga of "to be or not to be"
Chayan and I usually visit home 3-4 times a year, and our parents visit us once a year. This year, none of that happened. With the pandemic situation public transport seemed to be risky especially since we were going home to our parents who are senior citizens. With Durga Puja ahead, and the number of flights cut short, there was quite a rush already. However when we suggested the plan of driving home , it didn't go down well with our parents.
Since it was pandemic we couldn't really have a joyride stopping at short intervals and undertaking a journey of 5-6 days. If you search for Bangalore to Kolkata road trip, these are the kind of plans you will see. After much deliberation we decided to have two layovers.
On the other side, the story of convincing parents was another unsavory series of episodes. I being the obedient one was ready to go by air as suggested by parents but this guy was relentless. Finally in the 1-month long debate between son and dad, the youth of India won and this post came into being!
Read: A first-timer's travel guide to Kolkata
Finalizing the route
We wanted to take only two stops and halt at hotels which guarantee complete safety and hygiene. We were looking for well-known brands in domestic travel like Sterling, Mariott, Taj etc. I looked up the map and read only a couple of blogs that were available for the journey we were going to undertake. The route I first decided was Bangalore to Vijayawada to Puri to Kolkata. This would make the first day comfortable, but the second day's drive would be hectic. We both agreed that it's not a good idea to keep the longer journey for the second day.
Chayan was fixated on the idea of staying at Vizag (aka Vishakhapatnam) on the first day, based on a blog he read on Team- BHP. But Vizag is 1000 km from Bangalore. As per Google maps you'll take 19 hours to drive down to Vizag. People don't even stay awake till that time, and here we'll be driving. But Chayan insisted that we'll cover the distance in much lesser time than estimated by the Google God.
We looked for hotels in places in between Vijayawada and Vizag, like Rajahmundry and Kakinada. There weren't any 4-star or 5-star properties there. At normal times this would not matter. I enjoy staying in local properties and homestays. But these are abnormal times. We had to ensure that the hotels were well sanitized and we could sleep peacefully after the long hard drive.
So after a lot of discussion the route was finally decided just the day before our journey.
Leave Bangalore at 1 am on Saturday –> Reach Vizag (1026 km)–> Drive to Puri on Sunday (402 km) –> Reach Kolkata on Monday
We booked Four by Sheraton of Mariott Group at Vishakhapatnam and Sterling Beach resort at Puri. The first lap was a dreaded one and I couldn't sleep worrying about our journey. On a hindsight below would have been a better plan as I could find at-least one highly rated property in Gopalpur (Odisha)
Bangalore –> Vijayawada(664 km) –> Gopalpur (618 km )–> Kolkata (612 km)
Before the trip begins
So here's the quick checklist that we went through before the road trip. You can check my road trip checklist for any normal road trip but this is just the extra things we needed to take care of for this "abnormal" trip.
Check and fill the fuel
Check the tyre-pressure
Filled 10 bottles of water
Emptied all our perishable food items as we'd not be back to Bangalore for months now
Packed loads of biscuits and dry fruits for food on the go. We wouldn't stop for lunch unless we got a good hygienic hotel , so we prepared ourselves for that.
Downloaded multiple playlists on Amazon Prime Music app – Classic Rock, Long drive Bollywood, Bengali Rock, Top lists in Bengali, Hindi and English. Basically we had everything to keep us awake on the road for the next 18 hours. Yes we assumed that we'd reach in 16 hours, but it actually took us 18 hours to reach Vizag.
We took a shower , had tea and set off for the journey at 1am.
The Journey begins… and so does the dance of Murphy's law
"Things will go wrong in any given situation, if you give them a chance" – says Murphy. We didn't give it a chance we'd say, but didn't we? We decided to leave for a long journey at 1 am at night. It was not even five minutes since we started that the clouds burst into heavy rain. Well that's the Bangalore standards for heavy rain, so not much. But it was enough to slow us down at night.
By the time the rains stopped we had left Bangalore and entered into a damaged road through an unknown area. This was on our way to Tirupati. Without any streetlight we were trying to follow a car ahead of us which we hoped was better acquainted with the area than we were. When the car went it's own way we were left to the mercy of faulty signboards, Google maps and the scary Kings of the road – the trucks.
It's not so difficult in the rough patches at night, as it is on the highway when the car is cruising smoothly through the trucks. It is then that we switched on the classic rock just to keep ourselves awake and alert. By 6 am I found myself praying relentlessly for the sun to wake up. At 7 we made our first stop at the gas station.
I went to try my luck at the toilet, and I kid you not this was the cleanest, most well-maintained facility I had seen. It's better than any of the toilets in airports and most of the shopping malls. What a pleasant surprise it was. We quickly gulped some hot coffee at the CCD stall, sent a quick update to our parents and un-paused our journey.
I know how difficult it is for women to find proper toilets on the road, especially during these pandemic times. So I have bookmarked the location on Google maps, in case you take this route.
Everyone including me are in awe of Chayan's driving skills after his new accomplishment in this trip. He is the most skilled driver I know and the extent to which he goes for his passion inspires me. But the limited role of yours truly sitting beside him as the navigator, bumper-identifier, playlist rotator is highly underrated, I'm telling you. Try keeping your eyes wide open for 18 hours when you are not even driving.
It wasn't easy even after the break. I woke up at 8 am for office on Friday morning. Barring the 1 hour sleep that I barely managed before we started off, it's been over 30 hours without sleep. Now we were on the highway, cruising through the morning. The caffeine in our system exhausted soon. Well, my system. Chayan had categorically refused to have tea or coffee, for the fear of another kind of "pressure".
A great deal of horrible thoughts clouded my mind like never before. Did we take the right decision? Did I leave my laptop charger home? What would happen then? How can I work for office from Tuesday? Should we return to Bangalore? We haven't covered half the distance yet. We should have booked our hotel in Vijayawada. This is bad decision. A moment's dizziness is all it takes for an accident. Will we be able to make it to Vizag safe? Keep reading to know the answers!
---
Part2: Reaching Vishakhapatnam – Half the battle won!
It's 10 am and we are on our way to Vizag (aka Vishakhapatnam). We had planned to pause for breakfast somewhere but we gave it up. One thing that helped us on the trip is our ability to stay hours without a meal when we are on the road. On most of our trips we have a good breakfast and don't stop for lunch at all. May not be a good thing to do, but when on the road it helps.
Especially given the COVID-scares, we didn't want to stop just anywhere. I had packed enough supply of biscuits and dry fruits which we had on the go. We decided to have lunch in the next big city, Vijayawada.
Vijayawada – The City of Victory
Vijayawada is a historic city in Andhra Pradesh. Like all big cities of the past it grew on the backs of a river, the river Krishna. The grand entry to Vijayawada happens with the famous bridge across the Krishna river. In other times we'd break here to marvel at the scenery and take photographs. But not today.. not today. For today we had "miles to go before we sleep". Ah, don't remind me of sleep again, that thing doesn't exist – I told my mind.
We have to reach Vizag preferably before sunset. We usually make it a point not to drive to somewhere completely new during the night. Because most roads don't have street lights and it's hard to spot the speed-breakers bla, bla. Well, we started this journey at 1am, so this rule was broken already when we entered into the desolate village on our way to Tirupati. Still, we hoped that if we don't stop unless absolutely required we will beat Google and cover the distance in fewer hours.
My first impression of Vijayawada was not great. The traffic congestion was way more than I expected. The market area was full of people and most of them were not wearing masks. I'm sure my impression will change if I actually spend a day or two in this city to explore. But for someone on the way to Vizag, it was frustrating to be stuck in the traffic. We planned to have lunch here, but didn't find a good place to park. So we left Vijayawada without lunch.
A surprise for lunch
We kept driving while looking out for good restaurant on the highway. That was difficult to come by. Finally after 75km we stopped at the Garuda Food Court. What a surprise it was!
This food court on NH 16 is run by the AP Tourism department. It's a huge area with a park, a restaurant and souvenir stalls. There are shower rooms as well in the toilet facilities. Every visitor is temperature-checked before they enter the premises. The staff wears masks and maintain all the post-COVID safety protocol.
We ordered the food that you can't go wrong with – egg fried rice and kadhai chicken. Both were awesome. Happy and fresh after lunch, we took our first selfie of the trip.

Going gets tough..
But happy that we were with the food, we realized we spent nearly an hour here. We couldn't stop anywhere else if we had to reach our hotel by 7pm. The road was good. Rajahmundry surprised both of us. It's a small town on the banks of the river Godavari. Quick trivia – Rajahmundry is considered to be one of the oldest cities of India and the birthplace of the language Telegu. It is the cultural center of Andhra Pradesh but not a famous tourist destination.
The Kovvur-Rajahmundry bridge, also known as the Godavari bridge is the third longest road-cum-rail bridge in India. The water was muddy because of the monsoon but I loved the earthly beauty of the place. Fishermen boats were stranded at the shores. Of course, there was "no time to stand and stare" as I indeed had "miles to go before I sleep".
Ah sleep, we're going to see you soon.
I felt bad that we couldn't stop to admire the rugged beauty. Chayan on the other hand was sad he couldn't stop to buy the fresh Hilsa Fish they were selling on the roadside. When I go by this place again in better times, I'd surely spend more time to take a break and admire the rugged beauty of this place.

Good thing we didn't stop as another crisis was waiting for us. Remember Murphy's law that I talked about? Here came the showers as the Rain God has sent His regards. I'd been watching the clouds following us since Rajahmudry but didn't expect it to burst into such a heavy downpour. This wasn't the weakling Bangalore rains, this is the coastal rainfall of October.
This is the first time I felt even the Bahubali driver got afraid. We stopped the car at one corner like most others did. But in less than five minutes we started off again. We decided not to wait out the rain as there wasn't signs for it to stop. So slowly yet steadily we made our way through the perils. In the next two hours, we encountered another couple of such heavy showers on the way.
We reach Vizag
Finally our adventure of the day was coming to an end to our great relief. We've reached Vizag but the ETA to the hotel still shows more than 1 hour. We were wondering why, but we got our answer in the traffic congestion we faced. This is when Chayan panics and keep asking if we are on the right track. Google maps sometimes take you through such bizarre routes and narrow roads, especially in the last mile. But this time we reached without any goof-ups.
Finally! We reached. Here we were in Four Point by Sheraton. We made it.
Special mention of the Bengali receptionist we met who hailed from Chandannagar. If you know a Bengali, you'd know how excited we are to talk with strangers in our native tongue. Talking about Durga Puja just before Durga Puja is just "sone pe suhaga".
Check Prices for Four Points by Sheraton
More than half our journey is over. After this 18-hour marathon, the next two 400km laps appeared like leisurely drives. But wait..were they? Next day, we started off at 9 am as planed but reached Puri at 8:30 pm!! Why did it take so long? Tag along with me in the Part 3 of the post for that. "Kahaani abhi baaki hai"..
---
Part 3: The Final Lap!
This is the last part of the story of our unforgettable road trip from Bangalore to Kolkata in just 2.5 days. We reached our hotel in Vizag – safe and sound. After battling the sleepless night, heavy rainfall, and uncertain road conditions in our 18-hour marathon drive. We had a good night's sleep in our five-star luxury hotel after a pleasant dinner buffet. Next morning, we completed our breakfast and started early. It's just 400 km to our next stop, Puri. Cakewalk after what we have already accomplished. We decided to head to the Ramakrishna beach that's only 5 minutes from the Sheraton hotel. We've enough time, we thought.
Bespectacled by the beauty of Vizag
Ramakrishna beach is serene, clean, and beautiful. But what stayed with me is how well-planned the port city of Vizag is. Just opposite the beach is the Kali temple, a small replica of the Dakshineshwar Kali Temple in West Bengal. Near that is the Ramakrishna Mission Ashram. You might know about Swami Vivekananda, who founded Ramakrishna Mission, a philanthropic organization dedicated to his teacher Sri Ramakrishna. This institute is a part of the Ramakrishna Mission which has its headquarters in West Bengal. The beach gets its name from this ashram itself.
The Ramakrishna Beach road is the most beautiful seaside promenade I've seen in India. I liked it even more than the famous promenade in the French Colony of Pondicherry. As you walk or slow-drive (like we did) on the promenade, you'll see the golden beach, the submarine museum, the Victory at the Sea monument, the Vishakhapatnam Lighthouse, and the Lumbini park. On the other side, there are sculptures of famous personalities to greet you. I loved the tribute to the legends of Carnatic Music among the sculptures.
You'll also find the Matsyadarshini (the city aquarium), the Visakha Museum, the aircraft museum, and the Indira Gandhi Zoological park on the other side. But what you can't miss is the imposing mountain if you look straight ahead. And at the top of the mountain is the Kailasa park, unmissable with the bold glowing letters and the spherical monument. We were bound to take a U-turn and park the car ahead of the Zoological park to admire the beauty.
The scenes somewhat reminded me of the Barcelona coastline. There the color of the water was vanilla blue, here it was the ocean-green hues. But the beach and water here looked cleaner than Barceloneta. Just when I thought about it my eyes fell on the pile of plastic bottles on the rocks nearby. Sad, really sad.
This certainly makes to my list of favorite places to visit in South India.
Tip: Book Your Domestic Hotels through Make My Trip for the Best Prices.
Cruising through the highway to Odisha
Switching between Bollywood and Bengali rock music we cruised through the highway. Chayan is already making his plans for a Vizag trip now. It was way more beautiful than we imagined. Now from the relatively wealthy, sparsely populated peninsular India, we are moving to the east. The geography changes and so does the demography. Odisha and West Bengal are two of the most densely populated states in India. The increasing population density is clear as we move east by the sheer number of houses we see on both sides of the highway.
The sheer number of diversions on the national highway in Odisha made us comment that they should rather have warning signs for "no conversion ahead" than otherwise. We were planning to have lunch but didn't find a good restaurant on the way. Before we could find one, it was 1:30 pm already and we were driving through remote villages.
We had enough supplies of biscuits with us to keep us going without lunch. We are in the Chilika Lake region now. Puri isn't far away from going by the map.
And the Great Google Goof-up
The scenes that unfolded on both sides of the road now were unparalleled. Lush green farms and resplendent water bodies. Despite knowing that we'd get late we stepped out of the car to click some pictures. We didn't realize how far we have come till we hit the dead end. Yes, the great Google goof-up comes into force. Look at the navigation map below. It clearly shows that you can drive through the water here, which means there must be a bridge.
But there was none. Instead, you'd have to wait for the ferry to transport your car to the other side. We reached there at 3:30 and the last ferry left at 3 pm. The next ferry was at 5:30 pm.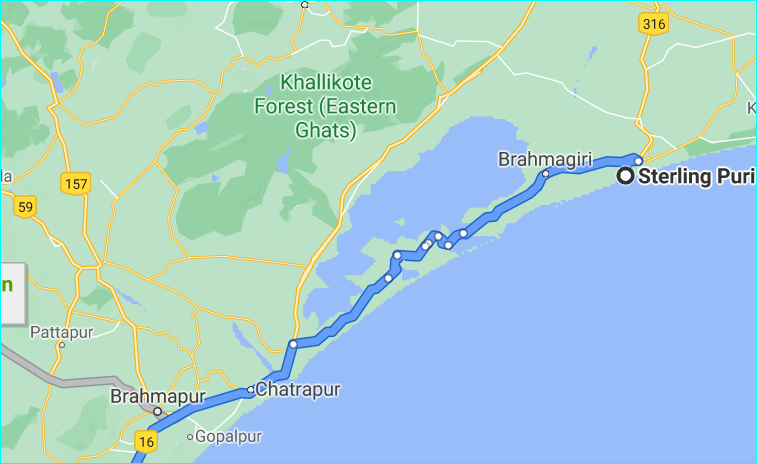 We were left bewildered at what to do next. Should we wait for the ferry? Will it be safe? Will it be too crowded? Or should we go back and find an alternate route. I went to the maps and searched for a route without a ferry. Google kept showing this route still as the shortest route. Strange! Usually, when there is no motorway available the navigation shows a dotted line.
I checked the map manually and found one spot from where we can go around the Chilika lake and reach our destination. So we drove back towards a place called Ganjam on the map. This is where just before the lake starts. We had to trace our wheels back to Ganjam which took nearly 2 hours through the narrow village roads. After that, we would have to drive through the highway on the hills.
Note: the route to avoid ferries is now updated on Google Maps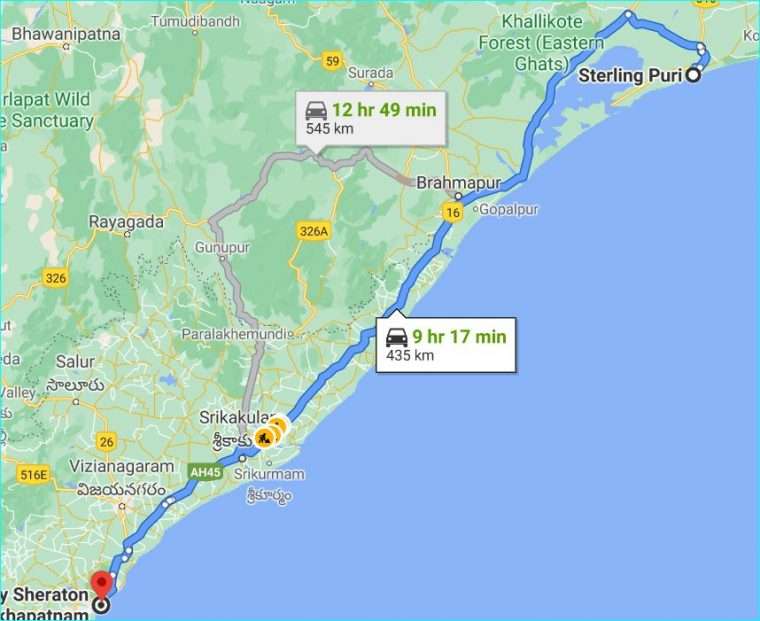 Was it the right decision to not wait for the ferry? Maybe not. We had already wasted a lot of time by then. It would certainly take us a lot less time to reach the hotel had we taken the ferry route. But what if the ferry was late? Or didn't come at all? Maybe we decided right. The view of the Chilika lake from the highway was gorgeous but we didn't stop to take pictures. It was already too late. So what we thought would be a cake-walk turned out to be another arduous journey full of uncertainties.
Key takeaway from the goof-up: Chilika Lake, the largest brackish water lake in India is really really large. It's beautiful and it's BIG
Finding our way to the Sterling Puri Resort
This route wasn't easy. On the map, it showed an ETA of 8:30 pm or later. We had planned to reach the resort by 5:30 pm earlier. But as you see, Murphy's law is in full swing. The worst part was when we took the road off the highway as Google said. The night now was dark and full of potholes. Well, not potholes but the road was in extremely poor condition.
We breathed a sigh of relief when we got to the national highway once again for the last 20 minutes of our journey. Sterling Puri was off the highway through a mud road of 300 meters. There was no hoarding nor any lighting. We had to call up and clarify with the hotel if we are on the right track while we were just 3 minutes away from our destination.
The hospitality at Sterling Puri resort is worth mentioning. The staff personally spoke to the guests to make sure we were comfortable. Sterling has a contactless check-in policy by which they ask us to send our documents via Whatsapp one day before check-in. Did you notice we never actually stopped for lunch since the time we left our hotel at 9 a.m? So we quickly freshened up and headed straight to the restaurant. We ordered chicken pakora, fried rice, and Prawn Malai curry.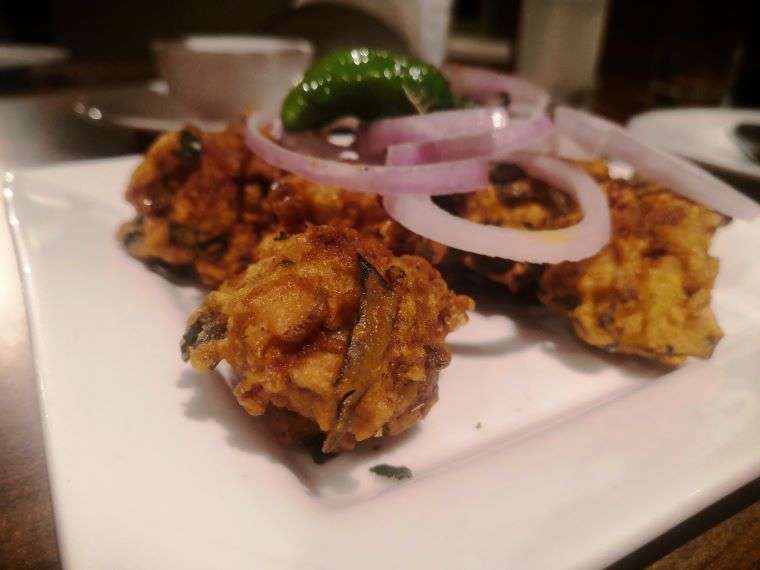 Coming to the property. It's beautiful but it is not really a "beach resort". That's because entry to the beach is strictly prohibited. Not only in the night but even in the day. When I enquired about it in the evening, the staff said that we could go there in the morning. However, the next morning the receptionist said that the beach is permanently closed for tourists due to snakes!!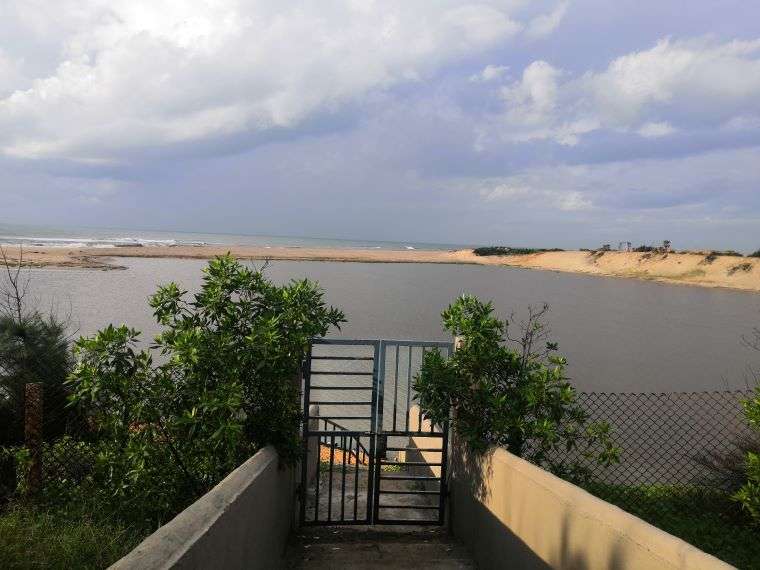 Anyway, it's still awesome to wake up to the view of the sea and go for a morning walk in the gardens. Unlike Mariott, they don't have a breakfast buffet here. But we had a complimentary breakfast where we enjoyed one of the best Dosas ever.
Check Prices for Sterling Puri
Puri to Kolkata and the tryst with Jagannath
We started at the resort at 9:30 am. The Puri main beach is just 5 minutes away. The long stretch of golden sands is not unknown to me. This was the only holiday destination I remember from my childhood. We came here for a holiday twice when I was a child and stayed in one of the homestays. It was decades ago. Gosh, I'm getting old..
The Puri beach was already throbbing with life in the morning. With camels ferrying tourists on the beach, vendors selling breakfast and sweets, families basking in the sun and bathing in the waters. But we didn't stop to stand and stare. We had promises to keep – promises to visit the Jagannath Temple and bring the famous Puri Goja. Goja is a sweet delicacy originating in Puri.
There were a lot of difficulties to reach the temple by car as the roads were narrow and congested. The Jagannath temple is closed due to COVID but you can still see it from outside the gates. The car needs to be parked in the government parking zone 2 km away from the temple. From there we took a rickshaw to the temple, bought Goja, and came back.
The Puri district is also a center of ancient art forms. Wooden dolls and stone-work representing themes of Jagannath temple and Konark sun temple, applique work, mirror-work, Pattachitra artwork, etc. We did some souvenir-shopping at the shop and took off for the last lap of our journey.
Read about the Incredible Indigenous Art forms in India.
The road to Kolkata was smooth ahead. Yes, it was indeed smooth – no more obstacles. White Kaash flowers dancing in the vast green fields beneath the Autumnal Sky. We have been accompanied by stretched Kaash throughout this road trip even in Andhra Pradesh. The closer you approach West Bengal, the green becomes brighter and the Kaash shrubs denser.
And thus we glided our way to our home sweet home way sooner than anyone expected. At 6 pm I was at home dislodging luggage at our house. Yes, our trip ended on a happy note.
That's the end of our journey and that I split into three parts. If you liked the series please don't forget to share it. What is your most memorable adventure? Tell me in the comments section.
Subscribe to never miss our weekly updates.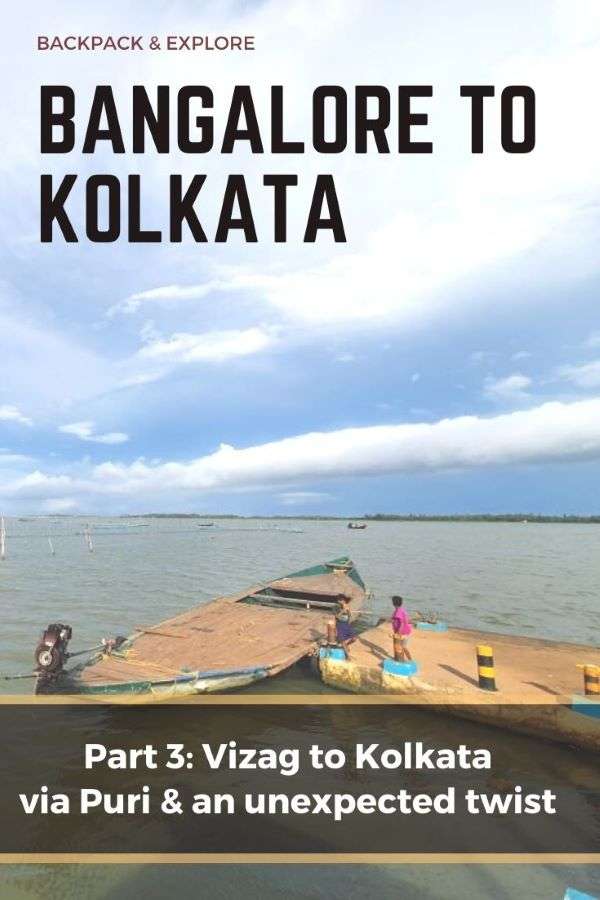 Join us on Instagram, Twitter, and Facebook for more updates.