One Day Trip to Manchinbele and other places – Our first outing post lockdown
It's been six months since our last road trip. Considering our previous frequency of 2-3 road trips a month, this is extraordinarily different from our normal lives. But we all know the reason for it, and we are still trying to cope with what came along. As the travel restrictions have been relaxed in Karnataka now, and the monsoon has retreated, we decided to finally embark on a short one day trip form Bangalore.
Well, this post is about our one day trip in August 21. I had released a teaser photo on Facebook last month announcing the blog post is "coming soon". Unfortunately, this is the soonest that I could manage.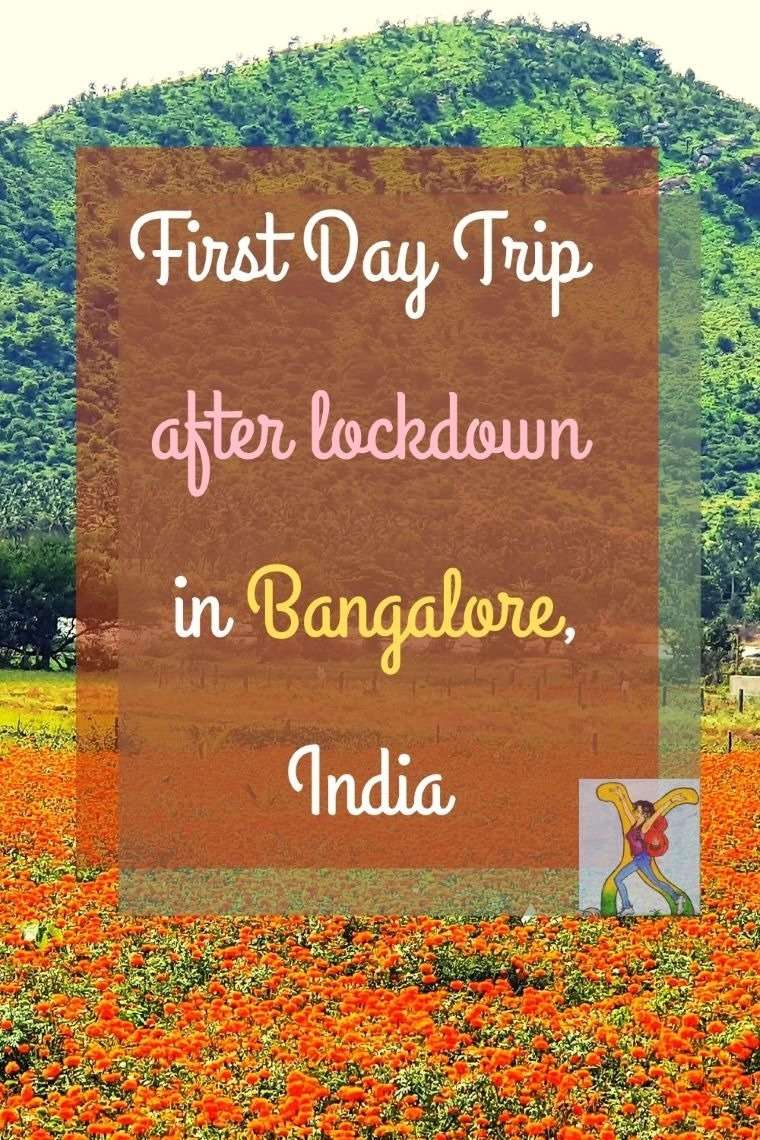 I took a leave on Friday and had an intense round sofa conference with Chayan and my sister, Jhumpi. After much discussion we zeroed in on Savandurga, one of the many fortresses around Bengaluru. In fact, this fortress is just 50 km away from the city. So we decided to leave early and trek there. Then we'd return home and order something for lunch. That's safe, we thought, as India is on its way to catch the no.1 spot in COVID cases.
Check out our list of Top places to visit in Karnataka, the most underrated state for tourism in India.
As it goes, nothing worked according to plan. No one was in a mood to wake up so early on a Saturday to go somewhere this close. We woke up late, had breakfast and set off for Savandurga. It was beautiful to hit the road after so many days. Despite rising cases, the streets of Bangalore remain quite busy. Why wouldn't it be? How long can people sustain financially without reopening their shops, and without customers visiting them?
Good thing is, most people are wearing masks obeying the government rules. Bad thing is, people are yet to inculcate the habit of social distancing in the shops. But you must know that already when you go for grocery shopping here in India. So let's get back to our the experience of our first road trip after lockdown.
We reached the ticket counter of Savandurga, but the receptionists refused to let us in. So it's apparently open only for people to park their cars and visit a nearby temple! Well, we had nothing to do but abide. We traced our way back to a beautiful place near Bangalore. It's Manchinbele Dam. On our way, we found a place to sneak in to the forest and wonder at the gorgeous views around.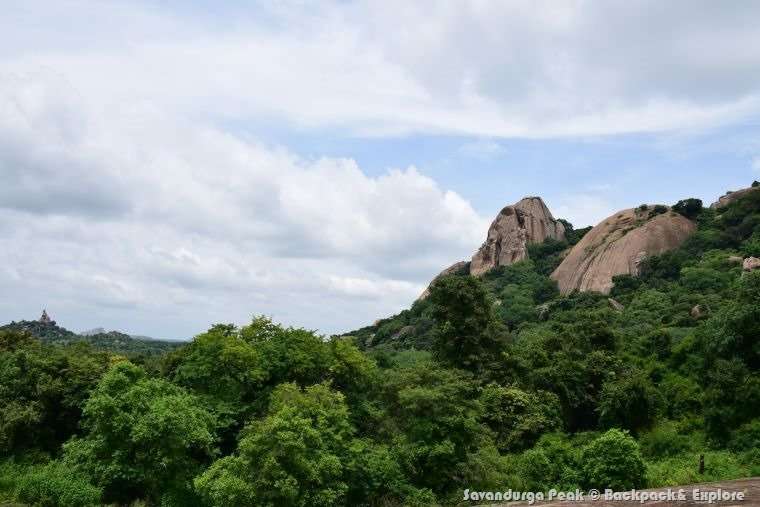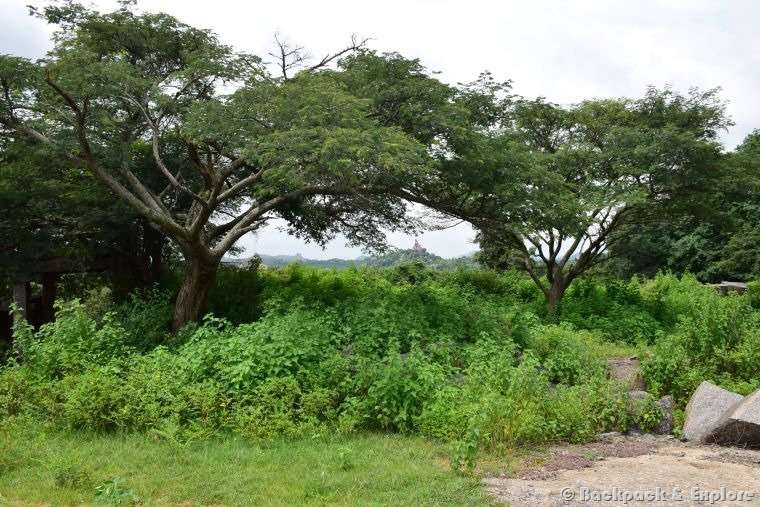 Manchinbele Dam
Manchinbele is a small picturesque village in Ramnagara District, located just 40 km off-the-city. The dam across the Akravathy river is famous for adventure sports. It is a famous spot for corporate team-off-sites. The road to Manchinbele dam is that of dreams, guarded by trees filled with yellow blossoms all the way. It was our first day trip when we got our new car. However, like before, this time too, the adventure resorts were closed.
We went to the hill-forests to sit under the trees and marvel on the spectacular views. Unfortunately just that time a security guard came and said this too is closed. As per government portals, all the sites are open unless otherwise mentioned. Google showed us the same information. We also saw people returning from the forest. However, there is no point arguing with a man in uniform in these times. They are having a tough time too.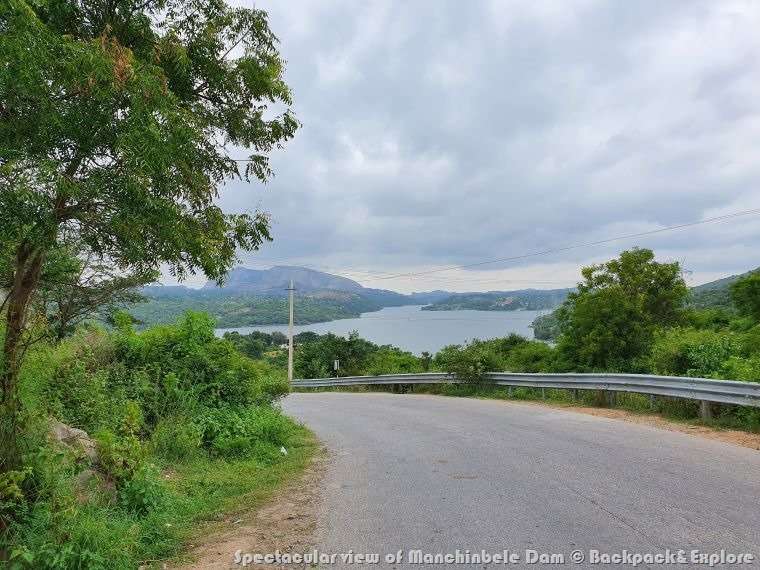 Note: If you want to visit Manchinbele, reach early in the morning, around 9 am. By noon when we went, a lot of people start pouring in, which is why the officers prohibit entrance.
What to do next?
I advocated return, after the frustrating failures of the day. Wanted to return home and indulge in cooking, painting and writing before the next exhausting work-week begins. But I was voted out by the other two. And we decided to visit Shivasamudram. It's one of the most beautiful waterfalls in India but we have already been there twice before. That's ok, I didn't really mind the third time visit, after we reached.
You can read in details about the trip to Shivasamudram and Talakadu here.
Located 135 km away from Bangalore, and about 100 km from Manchinbele dam, this destination was a long way given it was already well-past afternoon when we decided to go there. We stopped at a Mc Donald's outlet to grab a quick lunch. In the light of pandemic, the outlet is open only for takeaway. That's also a safe thing to do. They are maintaining all the safety and hygene protocol for the food preparation and packing.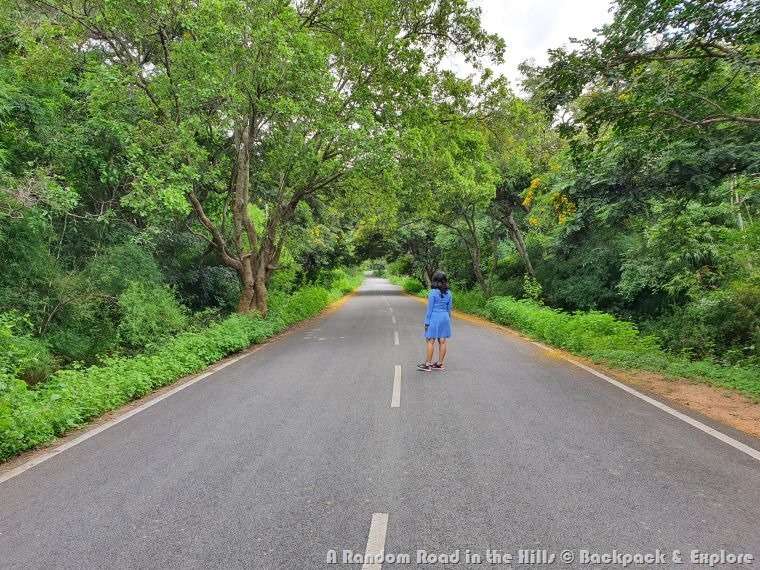 Our 3rd trip to Shivasamudram – Barachukki and Gaganachukki
Shivasamudram is an island town in Mandya district formed between two rivers. It is home to two beautiful waterfalls – Barachukki (the famous one) and Gaganachukki (the not-so famous one). It is also the location of India's second hydro-electric project. On the way you will come across the river side where you can opt for coracle ride in Kaveri. The vast stretches of marigold farms added an extra hue to the path leading to Shivasamudra.
The view of the Barachukki waterfall is spectacular during the monsoon months and that's exactly what we got to experience. There's a flight of stairs for tourists to go down till the end. Yet due to accidents and indecent behavior of tourists, the stairs are closed most of the year. Both the times we came here, we had to marvel at the views right from the top.
However now, owing to smaller number of tourists, the stairs are open. We were allowed to go till the penultimate level to get a closer and uninterrupted view of the cascade. However, going down to the pool is still prohibited. In the scorching heat of the afternoon Sun I could only dream of plunging into the pool without any swimming skills.
The next and last stop for the day was the Gaganachukki waterfalls. This place, though not as famous, is more crowded. The reason being the presence of a full-fledged market area, permanent grocery stores and residences. Gaganachukki waterfalls are smaller than Barachukki but is quite magical to look at. Even here, you can't go down till the end of the pool.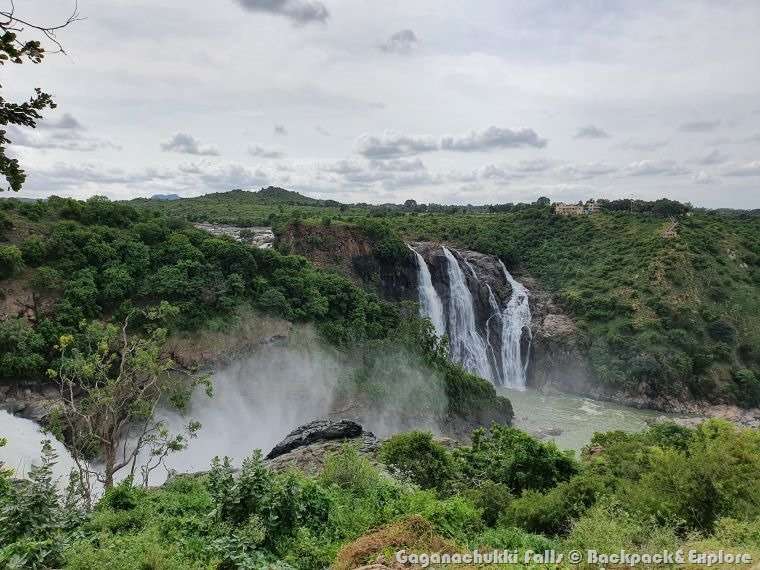 Note: There are well-maintained toilet facilities near the Barachukki falls. Pay and use toilets are available near the Gaganachukki falls too.
So thus ended our eventful day trip , six long months post the pandemic-induced confinement. Soon we were back to the concrete jungle of Ejipura where we live. It was indeed a pleasure to be out there again. I know things will still take time to get back to normal. Here's the map to remember our long drive after such a long period.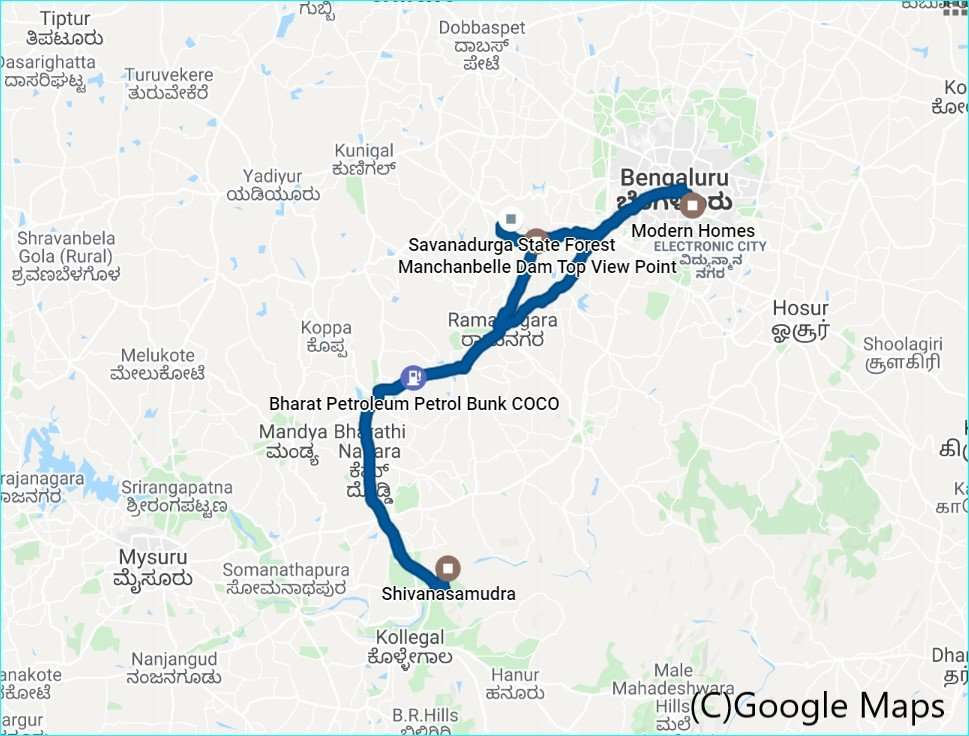 The pandemic has taught us to be patient and sustainable, and I hope we all use these learnings when we travel too. Here are a few tips that I can give for those who are yet to hit the road in India.
1. Always wear mask when you are in public places
2. If you are going out with children or the elderly pack your meals from home
3. Always carry a pocket sanitizer whenever you leave the car. We have sanitizers in our bags as well as in the car.
4. Avoid touching foreign surfaces as much as possible – like railings of staircases, or poles of a bus stop etc. And if you do, sanitize your hands right away.
5. If you don't pack your meals, opt for takeaways from restaurants which maintain a proper safety protocol
6. Carry extra bottles of water and do not drink water from external facilities
7. Personally I do have coconut water and tea from street-vendors. It's impossible for us to imagine what life must have been for them. However, there is a certain degree of risk in it I guess, so take your call.
8. Check out our complete list of road trip essentials to be perfectly prepared for your next road trip.
Well, that's it. That was our last trip and it's already a month (almost) since then. Apologies for the massive delay after announcing the blog post.
Last month (October 2020) we took a nearly 2000 km long drive to Kolkata, to work from our hometown for a while now. You can read about our epic Bangalore to Kolkata road trip here.
You can subscribe to my blog to get the updates and offers on mail. You can connect with me on Instagram, Twitter and Facebook for more travel stories. If you liked the post, don't forget to pin it! Stay safe, travel with caution and support the locals.