Road Trip Packing List- The Only one you need
If you know us personally or through our blog, you'd be aware of our love for road trips. I'm reviving our series "Behind the Travel Scenes" with this road trip packing list. Having a road trip essentials checklist is more important than a lot of people think. Knowing what to pack into your car and what you need not take with you can make a huge difference in your trip costs and convenience. We mostly travel as a couple so we have a huge room for extras in our car. But that's not the case when you are traveling with family and friends. Don't worry we do that too and we have made a practical road trip packing list keeping the space constraints in mind. I'm also aware that our experience of road trips so far is limited only in India, but most aspects of packing for a road trip are universal. So here we go.
*Updated for post-covid scenario
The Road Trip Essentials
There are certain things that are mandatory and often required by the law of the state. Yet, I often hear people saying that they forgot to carry one of those and got into trouble. That's where this road trip checklist comes handy. You can download the printable checklist for free here.
Face Mask, Glasses, Sanitizers
When I first wrote this well-researched post in November 2019, Sanitizers were definitely good to have, and glasses were optional (for those without eye-power of course). Now it is a norm, for an indefinite period of time. No matter where in the world you live, whether it is enforced by law in your place or not, I advise you to carry things on your road trip. Do not leave your home without hand sanitizers and  face mask (carry a spare one too).
Surface Sanitizer
I know few months back if I saw someone spraying sanitizer on his seat before sitting somewhere I would call him a germaphobe. Today I'd call the person "normal". Be better safe than sorry, so carry a surface sanitizer. Spray it on the toilet seat of public toilets, and wherever you deem necessary.
Spare Tyre
This has to remain in your trunk always. You never know when there's a mishap, so it's important to be prepared. Most cars come with a spare tyre and a jack.
Buy a small car repair kit here if you don't already have it. If you car breaks down in the middle of a road trip, you should first try calling the numbers given in the car manual.
Insurance papers & Car documents
It's actually illegal to take out your car without the insurance papers and car documents. Have your valid insurance papers and smart card in an envelope and put it in the dashboard-cabinet. Check it inevitably before you go out for a long drive.
First Aid kit
Like the spare tire and car repair kit, this is one road-trip essential that I wish you never have to use. But you should always have it with you no matter what. That way you are equipped not only for unfortunate circumstances for yourself but also a passerby in trouble. You'd have typically got a first-aid kit with your car, but do check the expiry date and replenish if needed. Buy a small pouch of first aid kit.
Car charger
Can you imagine your life without phones? If you can't then don't forget the car charger. It should normally have two USB ports. We carry two types of cables type B and type C based on the phones we use.
Downloaded maps & GPS tracker
Download the map of the region where you are going because you can never be sure of your phone network. It's also a good idea to carry a printout of the maps.
Your pack of medicines
Paracetamol, antacids, and aspirins are what we normally always carry in our medicine bag. That's the bare minimum along with a first-aid kit. Make sure you pack all the medicines that you take regularly or occasionally in a small medicine bag. You don't want to skip the daily thyroid tablets or forget an inhaler that you use on a road trip. For many hours you will be driving through remote areas that may not have medical shops, and the ones you get may not have the medicine you take.
Other Necessary Items on your road trip packing list
So these are the must-haves on your road trip checklist, things you should check before you even start your car. But there are a host of other things which you need to ensure that your road trip is hassle-free. Let's start with the luggage.
What types of luggage do you need on a road trip?
Normally our cabin trolley doubles up as our road trip luggage as well. This 55 cm polycarbonate suitcase easily fits in the space between my backseat and driver's seat when we are traveling as a couple, and also inside my trunk when we have company. 
However, if you have more people and more things to pack, a soft duffle-bag is better for a road trip. In any case, I don't recommend more than two big luggage in a 5-seater car. Each person can carry a small tote bag or backpacks with essentials you may need in the course of your journey – chargers, snacks, etc. I often use the same laptop bag that I take to my office because it has all my essentials – laptop, charger, pen, notepad, creams, comb, and my wallet.
Multiple water bottles
We always carry multiple reusable water-bottles so that we don't need to buy packaged water on our journey. We keep them at the back-pockets of our car seat and the bottle holders. If you don't have enough spare bottles consider buying the stainless steel bottles for your travel.
Now, this tip is for those who love carbonated drinks a lot (like Chayan) and end up having a lot of these empty reusable plastic bottles at home. While these bottles are 100% reusable and recyclable, make sure you wash them properly to get rid of the traces of soda before you start using them as water bottles for your trips.
Portable Power Bank
I know you have a car charger already but that uses your car battery. Power Bank is indispensable on any holiday, especially where you depend on public transport. Though you can actually do without it in a car because you already have the car charger, it's always good to have a backup. Be it for charging your phone, or digital camera or your Go-pro.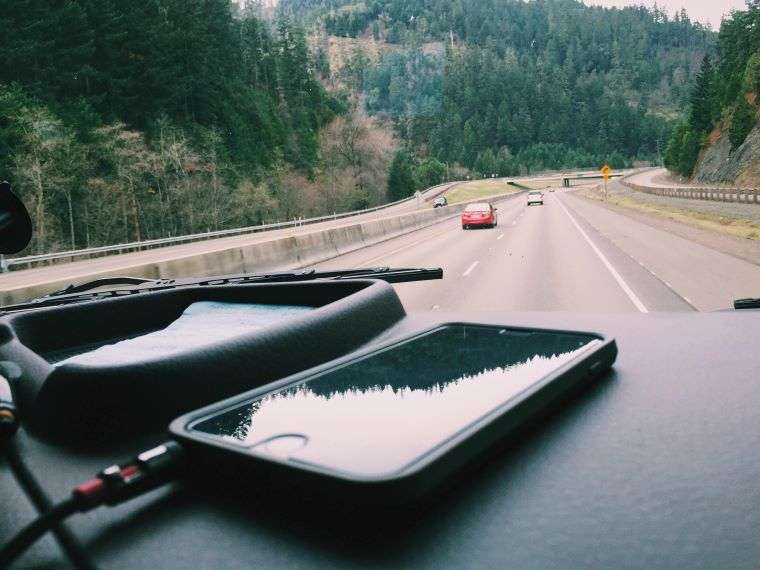 A Dashboard Camera
Attach a GoPro or X-mate ( a more economic version of GoPro) on your dashboard to capture the beautiful scenes of your road trip.
Photography Kit
The best thing about a road trip is the surprise of unknown places. You may have read all about the destination, where to visit what to see. But you could never have read all about the journey. So don't pack your cameras in the luggage but keep your photography kit separately. If you are a photography enthusiast you never know where you come across the most beautiful scene of your trip. So before you leave the home check that you have your DSLR, the extra lenses, the spare batteries, and chargers in your photography kit.
A Beach towel
A beach towel was earlier important only for beaches. But in the post-pandemic normal, I wouldn't like to sit anywhere outside without spreading this towel on the surface. Be it beach, or riverside, or even a park, this has become quite an essential. I love the Tesalate beach towel because of it's large size and sand-free property.
Healthy and tasty Munchies
Normally we tend to binge a lot of chips and cookies on a road trip. But lately I have found a healthy alternative in Nut-mix. I love eating at the roadside eateries and CCDs which are found on most highways. So normally we don't pack a lot of homemade food.
Garbage bags
Please carry garbage bags on a road trip so that you don't need to throw your trash outside if there are no dustbins around. We are guilty of the carbon-footprint already, don't want to leave behind any other trash.
Slippers or Flipflops
If your driving route includes pitstops at beaches and Hindu temples, it's a good idea to carry a pair of slippers. You need to open your shoes before entering a Hindu temple, and often have to leave them unattended outside while you climb multiple stairs barefoot. For such excursions, we change into our slippers before we enter to leave the car.
A checklist of Roadtrip essentials people frequently forget
Travel Resources I Recommend
Has it happened before that you know you forget something that you thought you already had? For example, you know you have a hand sanitizer in your car, but when you take it out for use you find that it's empty. Here's a checklist of items people frequently forget to even check. 
Hand sanitizer
Glasses and Contact lens kit if you use one
Chewable mints
Hand towel
Tissue Box
Shades
Caps
Sunscreen lotion
BOROLINE – only a Bengali will understand that it's not just a brand but it's a part of our life ("Bongo jiboner Ongo"). Anyways, it's basically an all-purpose antiseptic cream that doubles up as a moisturizer.
Old newspapers, Colin and a wipe
Wet Wipes
A quick change of clothes and a body towel for trips to beaches and waterfalls
A sand-free towel for sitting outdoors (essential in the post-pandemic normal)
Take care of your special needs
There are certain things for which you just can't have a universal checklist. Remember that thing Amitabh Bacchan carried on his road trip in Piku? So before you step out, just step back and think once again, "am I forgetting anything I need"? Maybe a neck collar if you have been suffering from occasional back pain, a walking stick that your mom refuses to use, or a toy that your kid can't be calm without. 
Fun things to carry on your road trip
When you have your own car, you can and you should take its advantages to make your trip as comfortable as possible. These things below are no essentials but these are things that you can afford to try only if you are on a road trip. You can't carry so many things around if you are dependent on public transport or a bike, but with a car, you can actually go overboard with the fun elements.
Camping Kit
What if you are visiting a place like Gandikota from Bangalore, where there are not many options to stay? Just throw in a camping kit inside your trunk. Of course, you need to research beforehand about the place whether camping is allowed there or not.
Outdoor Barbeque
You can easily combine your road trip with a quick picnic with an electric barbeque.
Pillows and Blankets
Whether you want to camp or just relax in your car overnight, carrying a pair of pillows and blankets is a good idea.
Portable Cooler (to keep water bottles in)
Whenever we go on long drives, after a few hours of driving in the sun the water in our bottles taste like the lukewarm water the doctor advised you to gargle with. Having the AC on all the time helps, but what if you park the car and go for a short hike? You come back and find your car burning hot, along with your bottles. That's where having a small portable cooler in the car helps. Keep a couple of bottles of water or fruit juice inside it so that they are shielded against the harsh tropical sun.
Road trip games
Roadtrips with family is great fun and there are some amazing road trip games that you can buy. How about the good old Ludo or a novel travel monopoly game?
Good to have Car Accessories
Phone holder
If your car doesn't have a phone holder you need to buy one.  At an age where we are practically dependent on the GPS to guide us everywhere, we need a hand-free way to navigate using Google Maps.
Window sun-shield
Dark films are not allowed on car windows in India. So having a window sun-shield becomes necessary on long drives in the tropical sun.
Road Trip Tips
So that's the end of this road trip checklist. I hope this helps you. Before we end here are a few essential dos and don'ts for your road trip ahead.
Dos
Check the fuel levels and air pressure of the tyres before you start. If you plan to start your journey in the wee hours post mid-night, make sure you do these the day before the trip. Go to the nearest Gas Station and get your things done.
Load your phone or iPod with a great collection of your favorite songs.
Check your car freshener beforehand. Long drives in a smelly car can be a real pain
Consider getting an Air filter. It's a bit expensive to install but it's an investment in your health and wellbeing. Research says that the air inside the car tends to be more polluted than the air outside. It's because all our dead cells, invisible food-dust, etc. remain trapped in the small space inside the car. Imagine being exposed to the air for 8-10 hours, and what it does to your body!
This is specific to India – get a Fast Tag now. It saves a lot of time and money at the tolls
If you are traveling with small kids, carry their toys along. Otherwise, it will be hard to keep them engaged during long journeys.
Don'ts
Don't carry carbonated drinks in the car
Don't smoke in the car
Don't ignore the basic road rules just because you are a pro now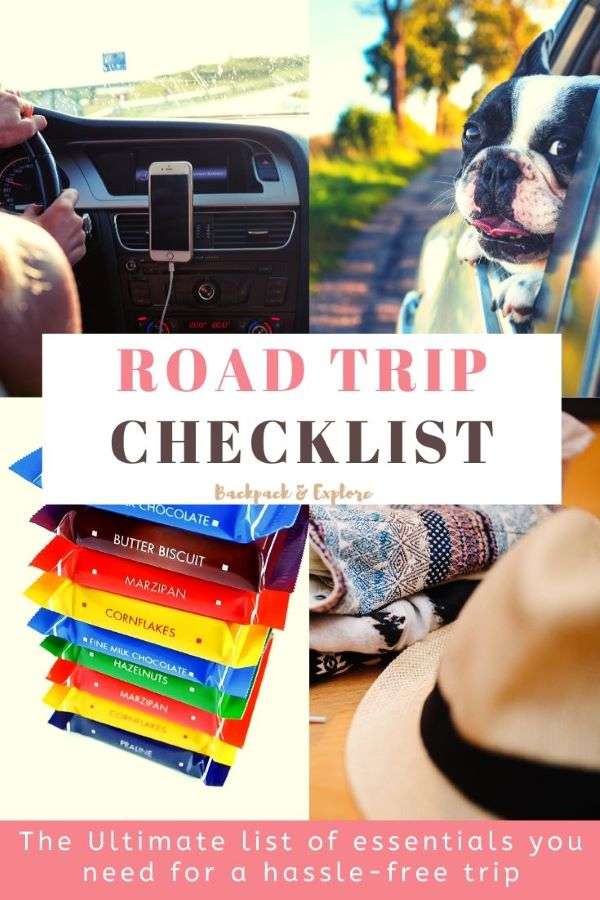 Save the post and share it with your friends if you liked it. Subscribe to our monthly newsletters to download a printable road trip checklist. You will also get our best stories, updates and much more printable along with it. Check out our amazing road-trip itineraries for inspiration to take a road trip in India.
Disclaimer: The post contains affiliate links. This means if you buy something using the links here, I might earn a small commission from Amazon, without any additional cost to you. Many of the pictures are from Amazon and Creative Commons (Canva and Pixabay).