How to plan an itinerary for Dalhousie, Khajjiar and Chamba
Today I welcome our guest writer Vimal Bhatia who will take us on a virtual trip to the Himalayan cities of Dalhousie, Khajjiar, and Chamba. Planning a trip to Himachal Pradesh this summer? Vimal has done all the hard work and created this perfect 3-day Dalhousie itinerary for you. Over to Vimal now.
The post contains affiliate links. This means if you make any purchase through the links in the post, I may get a commission without any additional cost to you. This income helps me to keep the site up and kicking.
Also read: Best Summer Destinations for family trips in India (2019)
Himachal Pradesh is a beautiful landlocked state in North India. With natural beauty spread all around, it is no less than a paradise on earth. I have been to many places in Himachal Pradesh but still can't have enough of it. The mountains, the rivers, the waterfalls, lush green meadows, snow-clad peaks, dense forests, religious sites, beautiful flora, and fauna, you name it and Himachal Pradesh has it. Be it trekking in the cold desert mountain in Spiti Valley or backpacking in Parvati Valley, Himachal Pradesh attracts adventurers from all over India. One of the most beautiful, family-friendly circuits in Himachal Pradesh is Dalhousie – Chamba – Khajjiar.
If snow-capped mountains and dense forests are your calling, don't forget to check out our posts on Sikkim.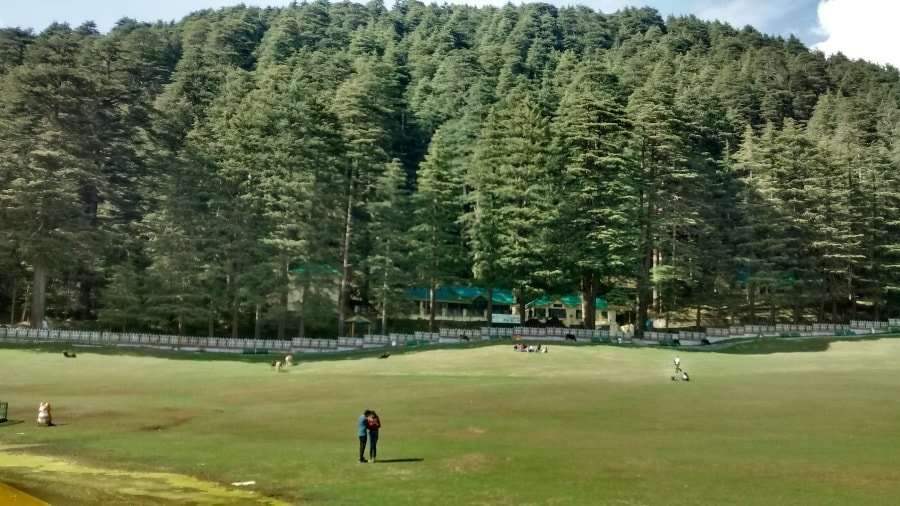 So, I am going to present an ideal itinerary for Dalhousie including day trips to Chamba and Khajjiar. This circuit is lush green and breathtakingly beautiful. So, it is very difficult to squeeze in all the places worth visiting in three days. But still, I have tried to cover the best places to visit in Dalhousie and its neighborhood here.
This is the best 3-day itinerary for Dalhousie.
DAY 1 – Arrive Dalhousie in the morning. Visit nearby places of interest in Dalhousie.
DAY 2 – Reserve whole day to visit Chamba
DAY3 – Go to Khajjiar via Kalatop wildlife sanctuary
But before we embark on this virtual trip, let's answer some practical questions.
How to reach Dalhousie?
The nearest international airport to Dalhousie is Delhi. From Delhi, you can take a flight to Chandigarh and then proceed to Dalhousie on a cab. Or you can reach Delhi and from there you can go on a Volvo bus, which runs daily. If you want to travel by train, you can go up to Pathankot, which is the nearest railway station and from there you can hire a cab.
Dalhousie is located 560 km away from Delhi. You can also book a taxi for a scenic road trip from Delhi to Dalhousie.
Where to stay in Dalhousie?
There is no dearth of hotels and resorts in Dalhousie. You can easily get one to fit your budget. Here are some recommedations:
Dalhousie Itinerary Day 1
My first strong recommendation, if you are traveling by road or train, travel overnight to reach Dalhousie early in the morning. This way you will get to utilize whole day for going around Dalhousie. I say so because Dalhousie is such a naturally beautiful and peaceful place that you need to be calm to enjoy the scenery and soak in the beauty and tranquility of the place. You can't rush the things and still hope to enjoy.
Subhash Chowk
So, the day starts with you arriving in Dalhousie. After checking in to your hotel and freshening up, just get out of your hotel and head straight to Subhash Chowk. It is more of a viewpoint, where you get a breathtaking view of the snow-clad mountains (if it has snowed), dense forests and lush green valley, all at one place. You can click as many selfies and pictures as you want. The view is truly mesmerizing and you won't feel like leaving the place. Though it is called a chowk (crossing) it actually has five different roads originating from or crossing here. this place has been named after great freedom fighter Subhash Chandra Bose.
While at Subhash Chowk, go to iconic St. Francis Church, which is located right at Subhash Chowk. This church was built in the year 1894 in British architectural style. The interesting thing is that the army and civilians joined hands to build this church. The inside of the church has glass and stonework. St. Francis Church has been maintained so well that nobody can say that this structure is more than 100 years old. It is surrounded by tall Deodar trees. And the ambiance of the church is so peaceful it will rejuvenate your soul.
Panjpula
From Subhash Chowk move to Panjpula. This picnic-cum-adventure spot is about 5km from Subhash Chowk. It is also the source of a stream that flows from the top and is said to supply water to the whole of Dalhousie. Trek to the top to get a magnificent view. Walk alongside the stream and admire its flow. You can indulge in any of the adventure sports on offer here. Enjoy hot pakoras with steaming coffee. Enjoy the density of the forest around the place. Buy some souvenirs. And above all, enjoy the snow if it is there (I was lucky that it had snowed only a couple of days earlier, so I could actually walk on the snow).
Gandhi Chowk
Once you are done, move over to Gandhi Chowk. It is the mall road and the main shopping center of Dalhousie. Though it is not a very big market you can see many eateries making local delicacies, which you can enjoy. There are shops selling local handicrafts and souvenirs and other stuff. Spend some time here and do your shopping. There is a Tibetan market also at this place. Check out my Narkanda Diary also.
Talking of Gandhi Chowk, there are two ways of reaching here. First is, you can walk from Subhash Chowk via Garam Sadak. This is a walk of 1 km but a very enjoyable one. Garam Sadak is called so because it receives sunlight throughout the year and hence remains warm. This road runs along a deep valley and while you walk the road, you can enjoy the stunning view of the valley as well as hills. From Gandhi Chowk, you can take a cab to go to Panjpula. Or alternately, you can do it another way around. You can visit Panjpula first and then stop at Gandhi Chowk on your return journey.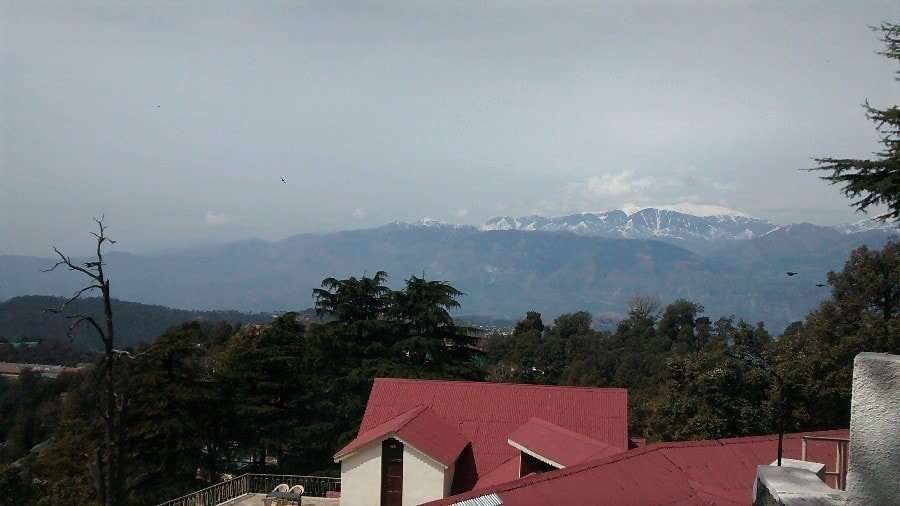 Now, you must be tired, so you can go back to your hotel to end the day, and relax.
Dalhousie itinerary Day 2- Visit Chamba
Rock Garden
You can explore Chamba today. The first stop would be the Rock Garden. It is an amazing sight. This is a natural rock garden. Rocks have themselves fallen after disintegrating from mountains and have formed an attractive pattern here. The place has been developed as a tourist spot and is ideal for taking selfies and clicking pictures.
Chamera lake
Next, you reach Chamera dam and Chamera lake. Chamera dam has been built on the river Ravi, which flows through this place. The dam produces hydroelectricity. The lake has been built by the water collected around the dam. It is a beautiful place. The lake is surrounded by lush green as well as snow-clad hills and is a very peaceful place. You can enjoy boating here in different types of boats and admire the beauty all around. Spend 2-3 hours at Chamera lake and visit the dam also.
When you drive further up, you start to move along the river Ravi, which is another thrilling site You can stop at a suitable spot for a little while. Enjoy the flow of the river. Spend time on the river bank and take pictures.
Exploring Chamba town
When you near Chamba town, you start to see small but lush green farms on the roadside. You can't help but admire the scenery.
Moving into Chamba town, head straight to Laxminarayan temple in the center of the city, the oldest and the largest temple of Chamba. There are six beautiful idols of Lord Vishnu and Lord Shiva. The main idol of Lord Vishnu is made of marble and is a sight in itself. The most amazing thing about the temple is that it always remains pleasant inside irrespective of the weather outside.
Next, go to Himachal emporium in Raja Umed Singh's Rang Mahal. Here you can buy local handicrafts like shawls and handkerchiefs. Its timings are from 10 am to 1 pm and then from 2 pm to 5 pm.
There are a couple of more beautiful temples around which you can visit if you have the time.
That will end day 2 and you can return to your hotel and relax.
In the Indian terrain, shoes can make or break your travel experiences. Read to know about the best travel shoes in India.
Dalhousie Itinerary Day 3 – explore Khajjiar
This could be the most interesting day of your trip. This could be the most hectic yet most enjoyable day of your trip. I was unfortunate to miss a few of these places as the road was closed due to snowfall during my visit.
Kalatop wildlife sanctuary
You start early and reach Kalatop wildlife sanctuary. Kalatop wildlife sanctuary has a variety of wildlife and verdant grasslands. Surrounded by snow-covered peaks and tall trees along with pleasing streams, this place offers you the most enchanting experience. Just explore the sanctuary and click pictures. It is very rich in flora and fauna. You will find species like leopard, bear, deer, langur, jackal, barking goral and many beautiful birds.
Ganji Pahadi
From here, the next stop will be Ganji Pahadi. It is again a beautiful place. The name says it all. Ganji means bald and Pahadi means hill. This has been named so because of its landscape. Ganji Pahadi doesn't have any flora on it. But the brilliance of the place is in the colors it reflects. It offers a panoramic view from the top. During winters it is fully covered in snow. There are more beautiful places in Himachal.
Khajjiar
Now moving to last but definitely not the least part of the trip. From here you head to Khajjiar. It is rightly called the "Mini Switzerland of India". This is one place you should not miss for your life. Unbelievably beautiful landscape, the surroundings, and the whole atmosphere make it a paradise. Khajjiar is a saucer-shaped lush green meadow with a small lake at the center. It is the most picturesque place you could ever see. It is a sight for eyes to behold. Just go there and throw yourself on the green grass under the blue sky and soak in the beauty and tranquility that is lying all around.
You can enjoy adventure sports also like zorbing and paragliding. There is a small ancient temple here called Khajji Nag temple. Go there and seek blessings. While returning, stop at Jai Jagdambe temple, which has an 84 feet high statue of Lord Shiva.
So, return to your hotel and take rest.
So, this is the best three-day itinerary for Dalhousie-Chamba-Khajjiar and I am sure you will be three most enjoyable days you would ever have. Pin the image below to save it for later.

About the writer
Vimal Bhatia is a passionate traveler and keen travel blogger. He writes about stunning but rather unexplored places. In his own words, "first I learned to travel and now I travel to learn". An engineer by training, after over 30 years of Industrial and corporate career, I decided to do what I like most. Just travel, explore and write about it. Travelling brings me out of me. I know I have covered only a minuscule part of this beautiful planet and there is a lot more to uncover". You can read his travelogues on Go with Vimal blog.
If you like our blog don't forget to subscribe to our weekly newsletters. The free downloads are waiting for you. Please share with your friends and family to inspire the wanderlust. Have you visited Himachal Pradesh? Tell me about it in the comments. You may also like to read about the Best Long weekend trips in India for this year.
Disclaimer: All pictures except the featured image are provided by the guest author. The featured image is from Creative Commons on UnSplash.