Best travel shoes in India and how to choose yours
In this post, I am going to take a break from thrilling road trips and breathtaking sceneries of travel and try to address the boring aspects of travel. Let's discuss shoes! What are the best travel shoes in India? Why is it important and what is so specific about traveling in India?
The post contains affiliate links. This means if you make any purchase through the links in the post, I may get a commission without any additional cost to you. This income helps me to keep the site up and kicking.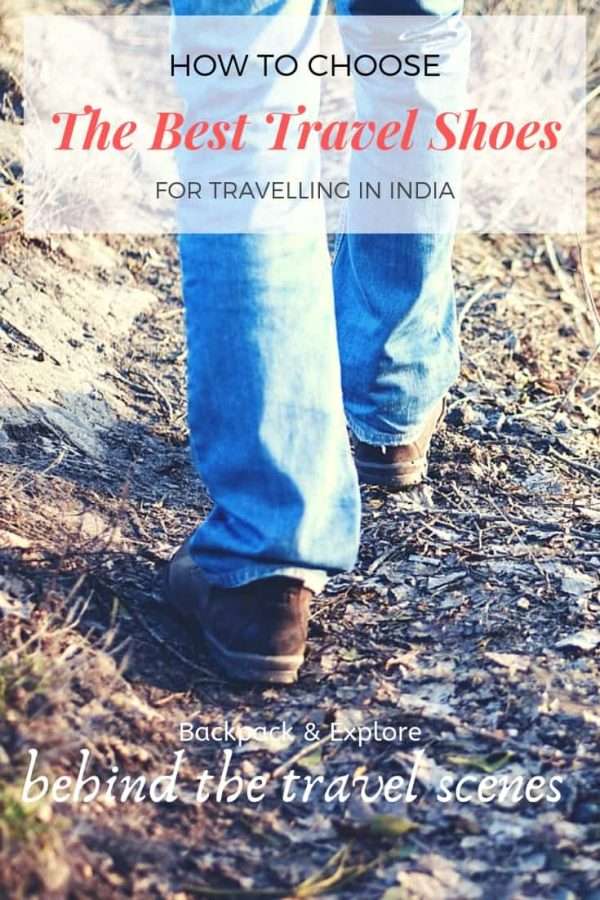 Since the inception of this blog, I have been writing useful guides for exploring places in limited time and budget. But there are many other important aspects of travel, beyond itineraries and accommodation. Decisions on travel insurance, things you pack, things you forget to pack, the shoes you wear, the checklist you maintain– there are many such non-trivial aspects that can make or break your travel experience. Having done most of our traveling within our country, we felt that we should be having a few posts which are related to the kind of specific challenges that are unique to the kind of weather and terrain involved. The challenges "behind the travel scenes" is what I would like to call them. This is the first of that series. We are talking about the best travel shoes for traveling in India and the Indian sub-continent in general.
I have bookmarked this Amazon Page to browse the bestsellers and grab the best deals for shoes on Amazon. I recommend you to do the same.
Bookmark the Best Deals on Shoes
Things to keep in mind while buying shoes for traveling in India
To set the context, the majority of India is hot (temperatures ranging from 20 – 35 degrees Celsius) for more than 9 months in a year and slightly cooler (from around 10-20 degrees Celsius) for the rest of the time. Of course, the northern part of the country is totally different because of the Himalayas, but you don't generally travel there throughout the year – there are specific seasons when you are advised to go there and seasons when travel is prohibitive because of the extreme conditions.
How to choose the best shoes for walking all day?
Walking is the best way to explore any place in the world, and India is no different. Be it cities or country-side, hills or forests, a fulfilling travel experience involves a lot of walking. So the best travel shoes are the ones in which you can feel comfortable walking all day. There are a few factors that you should keep in mind when selecting your travel shoes in India.
This is the single most important factor while making a choice for shoes – if you are not comfortable in a shoe, then don't use it to travel. Also, preferably, pick shoes which you have worn before and not brand new ones because you are simply not used to it and you don't know whether it will throw any surprises.
Reliability is important because while traveling you generally take one pair of shoes and it is sometimes difficult to replace when you are traveling to not-so-famous locations. The best travel shoes are the ones which last you for years even after daily use.
Adaptability to the terrain
Adaptability to the terrain is important because when you are taking a hike or going on a trek, you don't want your shoes to slip – or even you are traveling in the monsoons or in areas where the ground is swampy, you want your shoes to be waterproof and if you are traveling in extreme heat, you want your shoes to be well-ventilated.
Last but not least is the budget. My wife has a tendency to become really frugal while shopping for shoes. I believe in quality over quantity when it comes to shoes, hence I prefer to keep a higher budget for shoes. A good pair of shoes is expected to ensure harsh weather, tough terrains and rough use, on behalf of your feet. For running shoes, I keep a budget of Rs. 5000-Rs. 8000 and take advantage of online sales. For flipflops and sandals, my budget is usually within Rs. 3000. Women's sandals have more variety and prices increase with style and comfort.
The obvious choices for shoes are running shoes because unless you are climbing up steep terrains or doing a trek with a high difficulty, you can depend on them to tick all the three boxes mentioned above – they are pretty comfortable, most reliable and can be used in generic terrains without the worry of slipping. For treks of moderate difficulty that we have done in India so far, a pair of good running shoes suffice. The good thing about working in the technology industry in India is that I can wear the same pair of running shoes to the office and still be among the better-dressed people (among people wearing flip flops and casual straps). The second pair of shoes that you should pack with you must be a pair of comfortable sandals, preferably with straps.
Traveling soon to India? Apply for your visa here.
Best travel shoes in India – Running shoe category
Running shoes are the most reliable and adaptable category of shoes no matter where you go to. So this is the category where we'd like to invest and spend more money than on fashion shoes or flip-flops.
Here are some shoes recommended by our travel-loving readers and friends:
Best Travel Shoes in the mid-range (Rs.5000 –Rs. 9,000)
The best shoes in this range Nike Air Zoom range because it is extremely durable and at the same time very comfortable in high temperatures – an extremely cool feature is that the shoes are extremely light and you don't feel tired when you have been in it for hours at a stretch. Also, it fits in the kind of not too expensive kind of shoe which lasts for more than 2 years of daily use. Chayan wears these every day to the office, to treks and practically everywhere he goes.
Click "shop now" to see more options on Amazon in this range.
You can also compare prices of the NIKE Air Zoom Pegasus range on Myntra.
The AirZoom Pegasus 33,34 or 35 are of the same price range and my personal favorites for both men and women.
Skechers Running Shoes are also of good quality and affordable range.
The More Pocket-Friendly Choice (Less than Rs. 5000)
BATA's Power Range
BATA is one of the world's oldest shoe manufacturers in the world and they own a brand called POWER, which manufactures sports shoes that are pocket-friendly. But at the same time, these are extremely durable, flexible and also washable.
The best feature of POWER shoes is their simplicity, they have never overdone it with heel supports like some other sports shoes and the soles have an extremely good grip. Also, some of these shoes are water-resistant if not waterproof because of the synthetic material used on the exterior.
Click "shop now" to see more options on Amazon in this range.
The only worry with POWER is that the lack of cushioning around the ankles can give you blisters on first use and so it is important that you don't simply take a new Bata shoe for a long trip.
Decathlon's Quechua range
Decathlon has a wide range of sports shoes. Quechua is a range of trekking shoes in the budget range. These are a bit too light-weight for my liking but come with good ankle-support and waterproof variants.
Related: Treks at Avalabetta and Gudibande fort
The Expensive and Most Reliable option (Rs.10000-Rs.18000)
Well, if you are not too worried about the budgets, then there are Shoes which can be all-purpose and can be used for all kinds of activities, be it hiking, trekking or running or just wandering aimlessly. The really good options are Adidas or The North Face which have specific shoes for the hiking range and they are extremely durable. However, proper trekking shoes like these can be a little heavy to carry around especially when you are wearing them for long durations. But at the same time, these are very well ventilated and you don't sweat a lot.
The North Face Ultra range provides great protection and superior performance for long walks and trekking. They are heavy enough to provide the additional support required for trekking but also comfortable enough for long walks.
Click "shop now" to see more options on Amazon in this range.
The Adidas Terrex for trekking range is the best option in the brand for travel in India. It was my latest whimsical purchase but I am loving it. Unfortunately, it is not available on Amazon India yet. However, you can get it from Myntra and Flipkart. With luck, you can get these at great discounts.
Buy Adidas Sky Terrex Trekking shoes on Myntra or on Flipkart.
Check prices for The North Face running shoes on Myntra
Subscribe to our monthly newsletter to not miss any of the online sales and our monthly updates.
To combine style with the comfort you can go for stylish walking shoes instead of running shoes. I have included my top recommendations in the next section but this page has a large range of top walking shoes in India.
Browse Walking Shoes on Amazon
Best sandals and casual shoes for travel
Wherever you go in India it is always good to pack a pair of travel sandals. Imagine a road trip in the Western Ghats in the monsoon, or visiting a waterfall or to beautiful temples where it is mandatory to take off your shoes. They are not my favorite type of shoes but slipping into travel sandals is the best way to switch into the carefree mode. A well-crafted, comfortable and water-resistant pair of sandals has to be your back-up pair tucked in your suitcase or in the trunk of your car when you travel.
Best Travel Sandals for Men
Options for men's sandals are limited to strapped shoes and flip-flops. Personally, I prefer strapped shoes for traveling and restrict the use of flip-flops indoors. Another great thing about strapped shoes is that they are a comfortable alternative to boots for ceremonial outfits. You can get a decent pair of strapped sandals starting from Rs. 700 or lesser. However, the quality of the material is important to become unlike running shoes or boots, you are not going to wear them with socks. Bad quality material and extensive outdoor use may leave your feet stinking, something you certainly wouldn't like. These are my top picks for men's sandals
Hush Puppies Men's leather athletic sandals are

the best sandal for

traveling

in Indian terrains. You can wear it

while walking

the swampy

roads,

hiking and even climbing. It also a great fusion of style and comfort.

Sparx men's Athletic and outdoor sandals are the best option in the budget range. Sparx positions itself as a youth brand and its designs reflect the latest fashion trends. a subsidiary of the Relaxo footwear Sparx produces some sturdy shoes of great quality.
Best walking shoes and travel sandals for Women
It's easy to get spoiled for choices when it comes to selecting sandals for women. One thing that often complicates choice is the preference for heels. Here are my tips for choosing the right sandals.
If you like to wear heels, choose something with a wider area and a uniform slope. Look for sandals that cover a larger area of your feet, or comfortable ballets.

Don't buy flats which are too flat! What I mean is that flats with very thin soles look great with ethnic wear in the office, but they are not fit for traveling in Indian roads
I love wearing medium heels because they go well with most of the outfits I have. But at the same time, heels can be very painful for travel. Comfortable heeled loafers with foamed interior are my new favorites. These are the perfect combination of style and comfort that one can dream of. You can pair them easily with Indian-wear and western-wear. When in Goa, quickly open them as you hit the beach and wear them back when you visit a high-end club.
My favorite Stylish shoes for travel
BATA and Sketchers have some great walking shoes for women which combine the stylish feminine look of ballets and the sole and comfort of sneakers. They are good for ordinary travel days where you walk a lot on plain roads.
Check out a large collection of ballet flats here. I'd prefer the ones with a cushioned foot-bed, a good sole over the glossy-top ones.
Floaters are a great option for women too as they offer the twin benefits of water resistance and good grip. Here are our top picks for travel sandals for women.
Coming to the best choices of comfortable and stylish sandals for traveling here are my top two picks, both in a pocket-friendly range,
BATA Women's Fashion Sandals are my favorite travel sandals so far. Block heels, slip-on, wide straps, cushioned footbed, and great support, it ticks all the criteria for a good shoe. I remember walking miles in those in the super-crowded streets of Kolkata during Durga Puja.
Here are some other favorites of mine at a slightly higher price range.
If you like this post, please share it with your friends and family who you think may benefit from this. I would love to hear your thoughts in the comments section and connect with you on Facebook, Instagram or Twitter. Save the post by pinning the image below. Have a great day!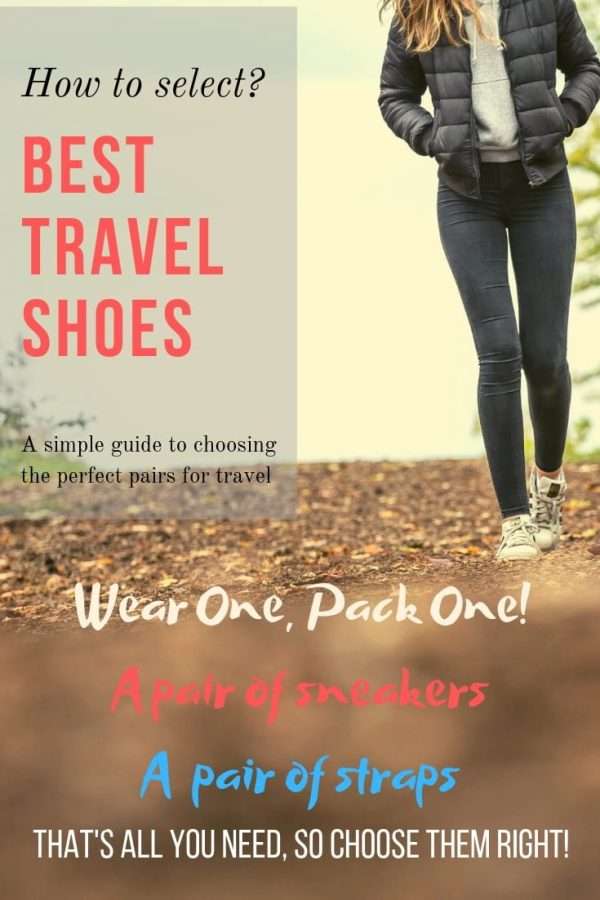 So this concludes our first post in the series "behind the travel scenes". I hope you found them useful. Do note that we do not associate with any of the brands professionally and all opinions are our own, based on our personal experiences.