March reminds me of exam time – that dark time in school when the only silver lining is the impending summer vacation. Summer vacations call for a family trip, which to most Indian families happen to be the only trip they can spare time and money for. So obviously a lot of research goes into selecting the best summer holiday destinations in India every year. We just made the task a little easier for you by doing all the research and curating the best summer vacation places in India for 2019 which are particularly suited for family trips.
How to choose a summer holiday destination for families?
In India, family trips do not just mean traveling with your kids, it also means traveling with your parents and even grandparents. This adds to the complexity where you have multiple layers of generation gap to cater to, and everyone needs to feel comfortable about it.
The second important factor is of course budget. I grew up in a family where travel for leisure was seen as a luxury only the rich could afford. Thanks to my parents, today I have been able to make a life for myself where the money is not what stops me from taking a vacation. But the struggle with the budget is still a real thing when it comes to planning trips with big families.
The third factor is, of course, the climate. While in Europe, summer calls for sunbathing in the beaches, in India, it calls for escaping to someplace cooler. The humidity near the coastline and the burning temperatures in interior India makes life miserable in the cities. Which is why, beaches and desert take a backseat, and people flock into the hill stations.
This brings us to the 4th factor – crowd. In India avoiding crowd completely is nearly impossible unless you go on solo trips to obscure lands. Family-friendly summer destinations in India tend to pull crowd because they have all the amenities, accessibility and great options for food and accommodation. So considering all these factors we came up with the 7 best family holiday destinations in India for the summer of 2019.
Thanks to my travel blogger friends who generously contributed to this list.
Katra – A pilgrimage with breathtaking beauty
Katra, located in Jammu Kashmir is one of the most important pilgrimage sites for Hindus. Katra Vaishno Devi, as it is more popularly called is where the beautiful ancient cave temple of Goddess Vaishno Devi stands at the foothills of Himalayas. Vaishno Devi Mandir is different from other Hindu temples as it does not have any picture or idol. Rather, it has natural rock formations inside the cave temple that are considered to be a manifestation of Goddess Vaishno Devi.
You need to trek 12 km uphill to reach the temple, but there are helicopter services also. The site attracts almost 1 crore tourists every year. While a large majority of them are Hindu pilgrims, many photographers and adventurists are attracted to the site for its spiritual and natural beauty. Elderly parents would love the spiritual retreat while it will also be a great way to introduce your kids to a trekking experience. The cool climate even in the summer, the lush greenery around and the grand mountains are a beauty to behold.
The place is also of geological significance as it is estimated to be a million-year-old. Throughout the trek, you will find cafes and eateries where you can enjoy a meal with your family. Since it is such a busy tourist place which is frequented by people of all ages, there is no dearth of amenities around. There are many family-friendly hotels in Katra starting from Rs.1000 per night and many places to visit other than the shrine. Banganga and Sanjhi Chhat are other notable places which you can visit in Katra. Budget for a 5-day trip would range between Rs. 20000-Rs.25000.
Meghalaya – the abode of clouds
Meghalaya is a beautiful state of India nestled in the Garo, Khasi, and Jaintia hills. It is one of the least explored places in India but has a wealth of experiences to offer. The progressive culture, great music, environmental consciousness, and exemplary cleanliness are some of the areas where the state has a lot to teach the rest of India. Go on a family trip to Meghalaya and explore a new culture.
Start your trip with the capital Shillong, which is resplendent with natural beauty.  Enjoy the green vistas on a road trip from Shillong to Mawlynnong, which are just 90 km apart. This plastic-free village has set an example of environment-friendliness. It was recognized as the cleanest village in Asia and is often called "God's own garden". While the homestays here are a little expensive, it will be a good experience to spend one night there. If you are on a tighter budget you can restrict yourself to a day trip.
There are many other natural and man-made wonders in Meghalaya. Limestone caves, perennial waterfalls, pristine lakes, forests, national parks – this tiny state has everything. You will find living root bridges which are man-made wonders of Garo and Khasi tribes. The world's only double-decker living root bridge can be found in Cherrapunji. Coming back to natural wonders, take a boat trip with your family at the transparent Umngot river of India, flowing through Dawki, a border town between India and Bangladesh.
Pelling – The Gorgeous Himalayan town
Located 131 km from the capital city Gangtok, Pelling is arguably the most beautiful town in the state of Sikkim. Pelling is an attractive destination for the mountaineers who use this as a base camp for challenging trekking expeditions. There are regular buses from Gangtok to Pelling and many jeep services to other nearby towns. Overall, it is a budget summer holiday destination which offers a plethora of experiences. In Pelling, you will experience the Tibetian culture and visit some beautiful Buddhist monasteries. Other places to visit when in Pelling are the rock garden, the spectacular Kanchenjunga falls, the Change waterfalls and the Khecheopalri Lake. You can also visit the ruins of Rabdentse Palace ruins to quench some thirst for history.
There are different types of accommodation in Pelling – from budget hotels to homestays as well as big resorts. There are sufficient public transport and local tour companies for budget travel. You can book even 4-star hotels within Rs.3000 per night. Budget hotels with standard facilities are available from Rs. 1000 per night. Overall, a 3-night,4-day Pelling family trip can be done within Rs. 15000(excluding airfare).
Munnar – The queen of Western Ghats
Munnar is the ruby in the bejeweled crown of Kerala, God's own country. The queen of hills in the Western Ghats is known for its unparalleled green vistas, the rich diversity of flora and fauna, the lakes and cascades. It is my favorite place in South India and an excellent summer holiday destination. Due to the high altitude and greenery, the climate remains cool even when many other hill stations in south India are not.
For example, Wayanad is another amazing hill station in Kerala, but I will not recommend it for summer vacation because it would be hot. Munnar, on the other hand, has a very soothing and temperate climate. Kodaikanal and Ooty are great, but they are extremely crowded in summer. While you will not need light woolens as you would in Pelling, you will not perspire either. Take your family to the bustling tea gardens and tour of one of the many tea factories of Munnar. The advantage of visiting Munnar in summer is that you will get a clear sky and a clear view of the mountains.
It is also a great time to spot wildlife as animals come out of the depths of the jungle to drink water in the lakes. Visit the Eravikulam national park to spot the endangered Nilgiri tahr and walk freely in the hills. You can also go on a safari in Thekkady tiger reserve, which is just 93 km away from Munnar. You can engage in boating and kayaking in one of the many beautiful lakes of Munnar – Anayirankal lake, the Matupetty dam, etc. Visit the Top station, which is the highest point in Munnar to get a clear panoramic view of the forest in summer. Don't miss the jeep safari to the highest organic tea estate in the world, just outside Munnar, at Kolukkumalai.
The nearest city with airport accessibility is Kochi which is 132 km from Munnar and has frequent bus service. You can also visit Munnar by an overnight Volvo bus from Bangalore.
To add a little twist to your family vacation you can take this 8-day road trip in the Western Ghats of India. The roads are fabulous in this entire route during the summer and the temperature is under control due to the forest cover.
Wish to explore South India? Get your free travel guide in easy to access and downloadable pdf.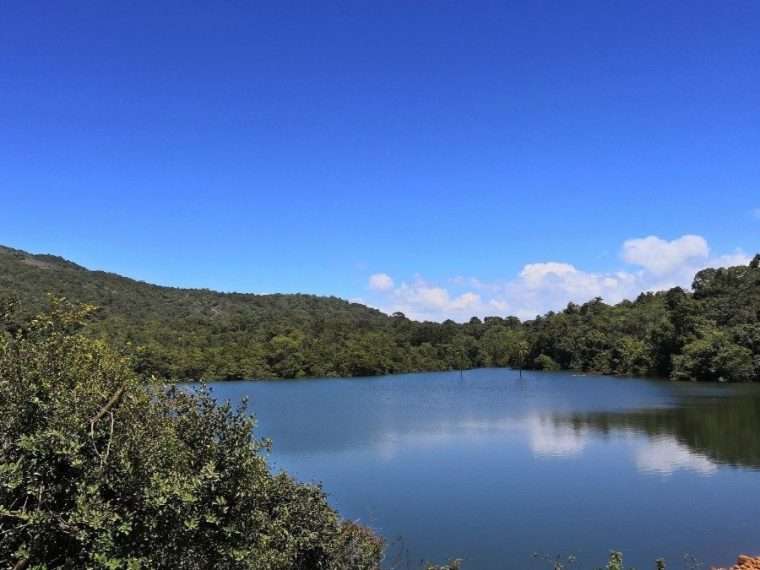 Shimoga and Sharavati valley is probably the most underrated destinations in Karnataka. That's a good thing because most of the places are quite unexplored. The impeccable beauty of the Gajanur dam, the views from Kavaledurga fort and the Jog Falls are my favorites. I long for a second visit to Shimoga to explore the nearby Honnemaradu Lake and experience sunset at Agumbe. There are many other waterfalls and trekking trails in the Sharavati valley. You can also visit the Sharavati wildlife reserve for a safari. Read our full travel guide for Shimoga.
How to reach? It is about 440 km from Bangalore and calls for an awesome road trip.
Where to stay? Royal Orchid Shimoga
Dalhousie – Khajjar, Himachal Pradesh
Himachal Pradesh is a landlocked Himalayan state known for its undulating mountains and green vistas. Dalhousie is an amazing place for family vacation which has a well-developed tourist infrastructure but less crowded than Shimla or Manali. You can enjoy the colonial architecture, the beautiful weather, views of the snow-capped mountains and the waterfalls in Dalhousie. A trip to Dalhousie can also include a day trip to Khajjar, the mini-Switzerland of India and Chamba. Read the detailed itinerary in the guest post here.
Sangla Valley – Off the beaten track in the Himalayas
The Himalayas comes to the rescue from Delhi's scorching hot weather. When Shimla and Manali are swarming with tourists, I went looking to 
Sangla valley
 for a quieter recluse. Here are only a handful of tourists in the peak summer months which makes it a perfect destination for family holidays. The valley is surrounded by lush greenery, snow-capped mountains in visible sight and a river flowing at a fast pace. Baspa river bed of Sangla is a lot quieter version of Manali's Beas river. No activities in place, no food vendors, just huge rocks to enjoy the scenery, Baspa river is perfect for those who'd like to enjoy time with family amid nature.
Bering Nag temple dedicated to the lord of snakes and is built from wooden structures based on Buddhist pagodas. The valley is also home to centuries-old Kamru Fort which is said to host 33000 gods. The main shrine of the fort isn't open for tourists while the Kamakshi Devi temple in the premises is open for those who'd like to pray here. A Buddhist monastery is another place to visit here, it isn't open all day, but the monks open up the doors for those who'd like to visit.
The valley is reachable by air (nearest airport in Manali), by bus or via car making up for a perfect road trip. Accommodation is available starting from Rs.1500 even in 3-star hotels if you book early. The average price of a 3-star hotel is around Rs.2500 per night.
Written by Shivani, The Wandering Core
Darjeeling – Toy Train and Tea Trails
Darjeeling is a quintessential British hill station in West Bengal. It served as the de facto summer capital of British colonial India. Some Victorian-era buildings still remain, such as the St. Andrew's Church.
The population is ethnically diverse and includes a large Tibetan community as well as descendants of Nepali and Bihari laborers, who came here to work in the many tea plantations surrounding Darjeeling. To get a bird's-eye view of these plantations, take a ride on the cable car, known as the Darjeeling Ropeway.
Kids with a sense of adventure will enjoy the Everest Museum, which recounts the stories of various climbers who have attempted to summit the world's tallest mountain.
On a clear day, Darjeeling offers beautiful views of the Himalayas, including the 8,586-meter peak of Kangchendzonga. Observatory Hill is a good vantage point for viewing. The Lunar Restaurant also has fabulous views if you can get a table at the window, and you can enjoy some authentic vegetarian Indian food while you admire the mountains.
To get to Darjeeling, hop on the Darjeeling Himalayan Railway from New Jalpaiguri. This train is affectionately known as the "Toy Train". Kids will love it! The narrow-gauge track was built in the late 1800s, and the trains are still pulled by steam locomotives. This railway track is one of the three mountain railways that have been accorded with UNESCO world heritage status.
Written by Wendy, the Nomadic Vegan
So these are our picks for the best summer holiday destinations in India suitable for a family trip. Make sure you make good use of the upcoming summer vacation for one of these stunning destinations.
Read about the best places to visit in monsoon in India
Subscribe to our blog for weekly updates and more such travel resources. Don't forget to save this post by pinning the image below.
Disclaimer: All views are of my own. The featured image and pin images are from creative commons. All externally sourced pictures have been duly credited. The written content and other pictures are of my own. Do not reproduce this elsewhere without permission.