Munnar in Monsoon – a trip to remember
Few places leave as lasting an impression in your mind as does Munnar in monsoon. My first trip in June 2017 inspired me to start this blog, and my second visit in November 2018 made me update this post with more details and places of interest. Hope it helps you plan your trip.
One of the perks of living in Bangalore is the proximity to beautiful hill stations – far enough to take a break yet close enough to return in two days and continue with business as usual. Here's an account of our much-awaited trip to Munnar – the beautiful hill station in Kerala, a state that justifies every bit of the name "God's own country".
Related: 15 Exciting Monsoon Destinations in India!
Bangalore to Munnar – A Comedy of Errors
Cab Mishap
Friday night – We're all set to start at 1 am – cabs booked days in advance with the best-negotiated deal, hotels booked, the time fixed with plans to watch a sunrise and reach the hotel on time. Cab driver simply ghosts out on us- doesn't answer calls, never turns up. Thankfully, Ola outstation comes to our rescue and we start off at 2 a.m.
Permit Part I
 Ola is awesome but their cars do not have all-India permits. Our research online gave us an estimated 10 hour time to reach Munnar but it never included the long halts to get state permits for Tamil Nadu as well as Kerala – halts that can extend to 2-3 hours each during long weekends. So for everyone planning a road trip to Munnar here's my two cents-
1. Go for a well-known transport organization rather than the cheaper rated ones and try for a cab with all-India permit
2. If you don't, add at least +2 hours for the state permits if you are traveling on a long weekend.
Of course, if you have your own car then none of the above matters – just drive safe 🙂
Permit Part II
Another sad story. After being stalled for 2.5 hours to get TN Permit, we followed the shortest Google Maps route to Kerala. That's when we realized there was no checkpoint here. So, we had to take a 100 km detour to Chinnakanal, Kerala for getting the state permit.
The Rain God
Did I forget to mention rains? Yes, it was a monsoon trip in June, and but what we never expected that it would rain throughout the weekend, from the time of our entry till the time of our exit from Munnar. Incidentally, the weather was fine until the last day according to the weather forecast.
Where we stayed in Munnar
We planned to reach the hotel at 11 am, and finally did reach at 4:00 pm with rains in no mood to stop for the day. Needless to say, we did nothing on Saturday, just had lunch and relaxed in the cozy rooms of Fort Munnar. I loved this little hotel, although the term resort is a misnomer. At Rs.2000 Per night, this is a beautiful hotel in the hills, with a valley view, a small jungle-themed play area, a gym, and a party hall. Rooms are clean and cozy and the food is delicious but slightly on the expensive side.
On our next trip to Munnar in November 2018, we booked Sterling Munnar, a 4-star resort. It was an excellent property in the same area, right in front of a tea estate. 
Day 2 – Munnar in Monsoon trip begins
Next morning we took a small morning walk across the beautiful valley near our hotel, before breakfast. We Started for Kolukkumalai tea estate, the highest tea garden in the world, at the border of Kerala and Tamil Nadu. The last stretch of the route has to be taken on a local jeep, as they are the only 4-wheelers allowed inside the tea garden. The bumpy ride on Jeep inside the tea gardens is a unique experience. Of everything you plan to do in Munnar, this one should be at the top of your list for sure, although geographically it is not within Munnar.
The panoramic view of the valley and the mountain is not the kind of beauty that can be captured through the lens. Feeling like the wind almost blowing you away while you walk around the clouds is an experience that is best had in the monsoon.
The trip to Kolukkumalai and back to Munnar took us about two and a half hours, after which we had lunch a restaurant near Fort Munnar on the Chinnakanal road, "Salt and Pepper restaurant". The food there was delicious and pocket-friendly.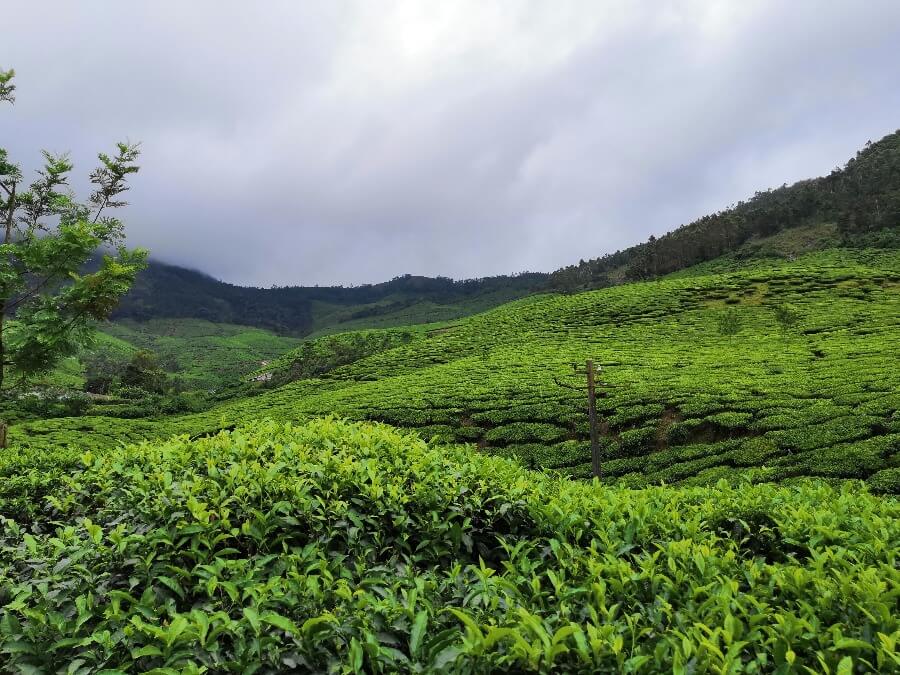 Tariffs:
Jeep hire- Rs.2000
Kolukkumalai trek – Rs.1000 (In Neelakurinji season)
Entry to Tea Museum – Rs.100 per person
After this point, my memory is a little blurred on the sequence of events that followed but here are the things we did, not necessarily in that order.
The Tea Estates in Munnar – Valleys and Viewpoints
On our ride to Munnar town, we passed along many other scenic tea gardens, beautiful valleys and the so-called "photo points" at the Turn of the winding roads. The lush green mountains on both sides is a sight to behold at Munnar. We took a sneak peek at the rose garden on our way but did not find it quite outstanding. Needless to mention, we were indeed short of time hence had to skip some of the recommended places. The entire hill station has a heavenly beauty. Just driving on the hills, through the hairpin bends and occasionally hopping off the car to breathe in the fresh air is the best thing to do here.
Matupetty Dam and Lake – Famous Lakes of Munnar
It is a concrete dam which was built in 1940 to store water for hydro-electricity. It is a popular tourist attraction and has a large number of souvenir shops and eateries around it. The beauty of the lake is enhanced by the gorgeous mountains on its backdrop. Well, honestly, I have seen better reservoirs, with a large expanse of well-maintained gardens and parks around it, but this too did not disappoint me. There is an amusement park nearby for adventure sports and boating facilities in the lake. We skipped both but spent some good time enjoying the breeze and the sunset.
Carmelagiri Elephant Park
It is a small shelter for Elephants were tourists can take elephant rides through the woods or can simply watch them. We did go to this place but were disheartened to see the elephants in chains. Not my kind of experience, so we skipped it.
On our way back we went to the location of Periyakanal fall only to find a thin stream of water drizzling along the hills.
Related: The Best Places to visit in monsoon in India
Day 3 – The day we returned from Munnar
It started raining since last evening and rained the entire night on Day 2, which continued even in the morning. As we set off we had to strike most things off our list and headed straight to Eravikulam National Park which is on the way from Munnar to Bangalore (slight detour).
To our absolute delight, we found that the mountains that were dry even last evening were now decked with multiple waterfalls creating a spectacle all around. The drizzle we found yesterday in the name of Periyakanal Falls, today turned into a real waterfall. I have always been a lover of the waterfall since childhood- it was always my most preferred scenery on a greetings card. In my mind, I was hoping to see the  Periyakanal Falls today in full spring, but what I saw was a dream come true for the child in me. I tried to count all the falls we saw on our ride until I gave up and got lost in the beauty.
Eravikulam National Park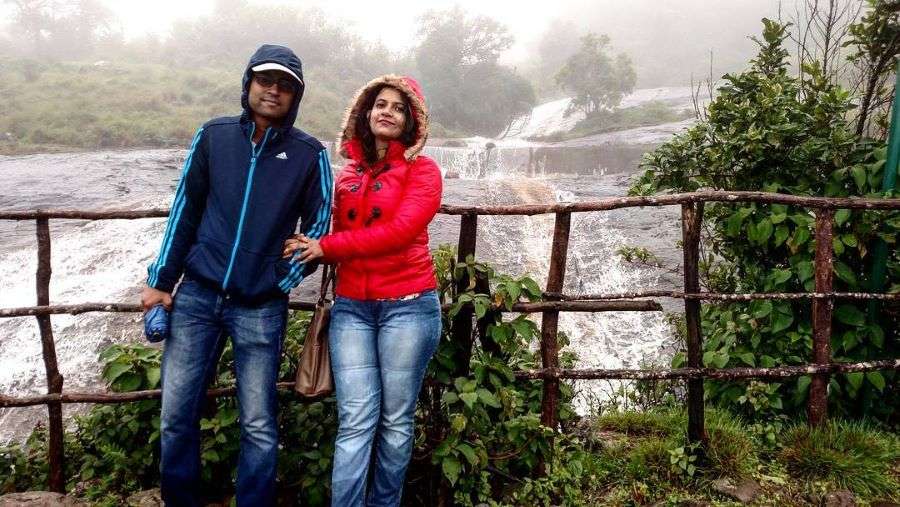 The incessant rainfall continued as we reached the park. To our surprise, we were not one of the few crazy groups of tourists out there in the rains. The place was so crowded that the car couldn't be parked closer than almost a kilometer from the gate. There was a queue of at least a hundred people before us waiting for the bus. This included some of those who are always on the lookout to break the rules, enter the queue from nowhere.
This is where traveling in a group is way more fun than traveling solo – at least you have people to share your frustration with. This kind of unique situations which force some free time into your packed sightseeing schedule triggers so many conversations that you wouldn't have otherwise had with the same friends you have known for years.
As the bus took us into the forests I thought it would be sort of a jungle safari in the bus itself. But it was just a ride uphill after which we got off the bus and could walk freely in the woods. There are no predatory animals here, so it is absolutely safe to walk around and discover the hilly forests.
The Eravikulam National Park has a host of flora and fauna but it is most famous as the abode of the Nilgiri Tahrs – an exotic species of wild goat.
I would love to visit the place once again on a normal sunny day for better photographs. However, I didn't have much to complain about the fun we had running along the misty roads in the rains. We even spotted two Tahrs walking in the valleys.
That was an account of our memorable trip to Munnar – the one where we battled the odds thrown at us by, well some unprecedented turn of events, and came out gloriously content. Of course, we missed some spots which we made sure we cover on our next trip. So now, I can give you my first-hand review of all the other places.
Other Places to Visit in Munnar
Lockhart Gap View Point
About 4km from Sterling Resort and 2 km from Idukki lies the Lockhart Gap. If you plan to visit Periyakanal waterfalls, the Lockhart Fap will be on your way. Apart from the breathtaking valley view, it is famous for the Bandit's cave. A narrow cave which was once really the hiding place of bandits. There are a tea plantation and a tea factory-cum -museum at Lockhart too.
You can book a private tour of the tea estates from Munnar here.
Kanan Devan Hills and Tea Estate
Munnar is a destination where you do not really need to go in search of points of attraction. Kanan Devan Hills is one of the largest tea estates in Kerala and has a tea museum here as well. Tripadvisor reviewers say that the Kanan Devan tea museum is better and more cost-effective than the one in Lockhart. Well, yours truly recommends the Kolukkumalai tea museum – it's tucked away from the crowd, open for photography and the workers eagerly answer all your questions while showing you around.
Elephant Abode Boating Center  (Anayirangal Park)
On our way to Sterling Munnar in our next visit, we noticed a park that looked straight out of a fairytale. This was the Elephant Abode Boating Center, a.k.a the Anayirangal Park. We were blessed with a sunny day on the final day of our Munnar trip in November. I am a fan of Munnar in monsoon, but Munnar in the clear November sky didn't fail to impress. There are Kayaks and coracles here which take you on a memorable trip on the pristine lake. On these trips, you can see the wild elephants walking around in the hill-forests.

Kundala Lake- one of the beautiful lakes of Munnar
On the way from Matupetty dam to the Top station, you would come across a smaller but more scenic lake. This is the Kundala Lake, an ideal place to have a picnic on a sunny day. It was our last day of the Munnar trip so we didn't stay there for long.
Top station – The highest point in Munnar
Would you mind if I say that the top-rated, Top station of Munnar, actually failed to impress me? It was extremely crowded and chaotic. There are many restaurants and hotels here, but none of them looked great. We walked till the watchtower, which again was crowded. Here you can see the clouds at your nose-level, but we had already experienced that in the serene Kolukkumalai. So for us, it was underwhelming. Top station is home to some indigenous species of Western Ghats, which you can explore on a wildlife tour.
Share your thoughts and pin the post if you like it. If you are planning a trip to Kerala or are a fan of this state like I do check out one off-beat place Bekal.
Pin the image below to save the post!
My other favorite destinations in Kerala
Kerala is pure love! Here are some other posts I have written about my favorite places in Kerala. Check them out and decide where you want to go next.
Note: All rights to the photographs belong to Backpack & Explore. The photo of Eravikulam National Park and the pictures used in the pin are from Creative Commons, Pixabay.
The post contains affiliate links for hotel booking and private tours. If you book through these links I may get a commission without any additional costs to you. The money earned through these help us recover the cost of maintenance of the blog.