The Best Kerala Itinerary for 7 Days or more
In this post, I'll share with you the best Kerala itinerary based on my experience of travelling to the state again and again in the last 6 years.
Kerala is a culturally rich, liberal, and breathtakingly beautiful state in India. Vastly different from the northern side of India and planning what to do on a limited time can be overwhelming.
So, in this post, I present to you a detailed 7-day itinerary of Kerala with ideas to modify it for longer or even shorter durations.
If you already have a basic knowledge about Kerala, then skip to this section.
Because I'm going to take 2 minutes to express my love for this beautiful state.
I've tried to cover all bases in the post to help you plan a trip to Kerala. Expand the table of contents below and jump to the relevant section if you want to.
I include affiliate links for the tours, hotels and products I recommend. This means if you make any purchase through the links in the post, I may get a commission without any additional cost to you. While I strive to help you make the most of your trips, this income helps support the expenses for running this site.
An Introduction to Kerala
With an area of 38,863 square kilometers, Kerala is one of the smaller states in India. Located in the western coast it has the best of both the worlds – mountains and the sea. And it is steeped in ancient folklore, vibrant dance forms and unique culinary experiences for travelers.
Kerala is a state of contrasts, in the best way possible. It is one of the most culturally rooted places on earth yet also famous for progressive political ideology. This is a state where you'll find some of the most ancient Indian art forms still thrive as a part of the mainstream culture.
It's a state that has preserved forests and natural resources like no other yet managed to be economically prosperous.
A state that is highly political, but allures people from everywhere seeking serenity and peace. Our driver in Wayanad proudly told us that it's not religion that divides us, it's politics. While I don't think either of that is better than the other, it's interesting to see this perspective.
A stunningly beautiful state that has time and again, lived up to its tourism tagline "God's own country". Nestled on the southwestern coast, Kerala is a paradise of diverse landscapes, serene backwaters, vibrant traditions, and warm hospitality.
I could go on about the socio-political paradox of Kerala that continues to intrigue and perplex me. But let's stick to the more practical details here.
Main attractions of Kerala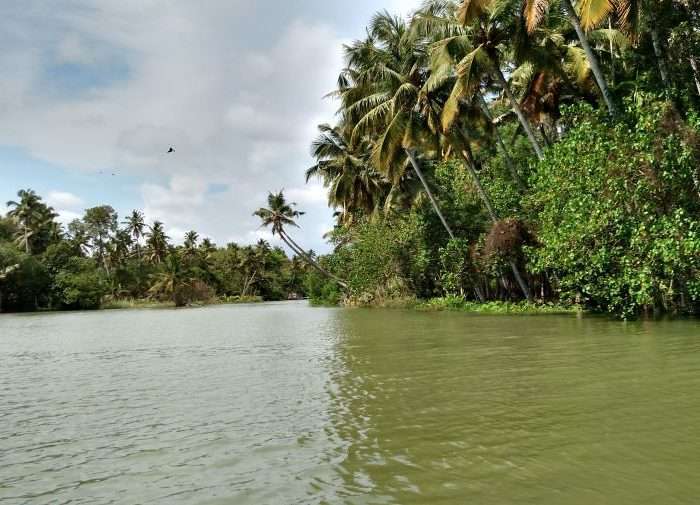 Geographically Kerala is located in the Western coastline of India in the south. On one side you have the most pristine beaches and on the other side you have the Western Ghats of India. The Western Ghats is home to the most beautiful hill stations in the southern India. So here's what you get when you plan a trip to Kerala.
Spend time in the Idyllic Hills of Western Ghats watching waterfalls, strolling in tea plantations, coffee groves and spice farms in Wayanad, Munnar, Vagamon and more.

The Western ghats region is also a UNESCO natural heritage site. Not for the scenic beauty but because of the wealth of flora and fauna. So, you get to go on wildlife safaris, nature walks, lake cruises and spot some of the engagered and unique species on earth.

Spend time in the beautiful beaches of Kochi, Kovalam, and Varkala which are less crowded but no less beautiful than the beaches of Goa.

And who doesn't know about the famous backwaters of Kerala. It's not just Alleppey where you find it. You can enjoy it in Kochi, Kasargod, Poovar and many other places in the coastline.

A lesser-known side of Kerala are its Historic sites. The pre-historic Edakkal caves, 17th century Bekal Fort, Kochi's colonial history are just a few of the many fascinating places to explore.

Religious sites give you an insight to the people and culture of the region. So, no matter what faith you follow, the numerous churches, the ancient Hindu temples, the mosques and other religious architecture are worth exploring.
How many days are sufficient for Kerala?
You cover the best of Kerala on a tight schedule in 7 days. This is usually the most practical time-frame most people have for spending in one state of India.
If you can extend your stay to 10 days, you will have more time to explore some of the destinations and enjoy some excursions. I'd personally prefer a 10-day Kerala itinerary.
If you are on an India tour and can't afford a week for Kerala, 5 days should be enough to enjoy the unmissable experiences – natural beauty of Munnar, the backwaters of Alleppey or Kumarakom and the pristine beaches of Kovalam along with some cultural performances.
Ofcourse the longer you stay the better. There's enough to plan a packed Kerala itinerary for 2 weeks as well, which I'll show you later in this article.
A quick note on name of the places
Because of the colonial history of India, many popular destinations have an anglicized name that were coined by the European colonizers. The names have been reversed to their original form post indepedence.
However, because of the complex pronunciation, people unofficially refer to them by their anglicized names. So, before you get confused by these names, here is a short lexicon of Kerala's cities for you.
Cochin is the anglicized name for Kochi (which is not at all difficult to pronounce).
Calicut is the anglicized name of Kozhikhode (pronounced as "koh-ree-kode")
Trivandrum is the anglicized name of Thiruvananthapuram (a proper tongue-twister challenge for foreigners)
Alleppey is a city in the district of Alleppey. You will find several such examples in India. And yes, this too is the anglicized name of Alappuzha
My Flexible Kerala Itinerary at a glance
While you can tweak as per your liking after reading the full article, this is the plan I recommend for your first vacation in Kerala. Of course, if you have visited some of these places already and want to go offbeat you can check out this article.
Day 1: Reach Kochi via train or flight and then hire a cab (or rent a self-drive car) for your Kerala trip. Then go out for sightseeing in Kochi and enjoy a mesmerizing Kathakali performance in the evening.
Day 2: Drive to Alleppey or Kumarakom and stay in a houseboat in the Vembanad Lake. This will be the tome to rejuvenate in luxury after the hectic sightseeing at Kochi.
Day 3 & 4: Drive to Munnar on day 3 and explore the exceptional beauty of nature. You will need to stay atleast 2 nights in this resplendent hill station.
Day 5: Drive to Thekkady for wildlife safari and to witness the Kalarypayattu performance.
Day 6: Drive to Kovalam for some luxury experiences, much needed after the hectic sightseeing in the hills
Day 7: Drive to Trivandrum for exploring the historic charms and shopping before you depart.
Skip to this section to check out the detailed travel guide following this itinerary.
📲Getting simcard is difficult in India for foreign nationals. The easiest way to stay connected is with Airalo e-sim. For multi-country trips, you can buy global e-sim valid for 130 countries.🤳
An Alternate 7-day Kerala Itinerary
Alternatively, you can also start from the Calicut International Airport and design an itinerary from there. You can drive from Calicut to Wayanad, then to Munnar, Alleppey, Varkala and end with Kochi on the 7th day.
Since Wayanad also has a thriving wildlife experience, we can skip Thekkady in this alternate itinerary.
If it's your first visit to Kerala, I'd recommend sticking to my first plan, which I rate as the best Kerala itinerary. That's because Thekkady is much easier to explore in a day than the Wayanad. And Kovalam has better tourist infrastructure than Varkala.
There's a reason why most Tour packages for Kerala are also designed around the places mentioned in the first itinerary.
🙋‍♀️Want to custom-design your Kerala itinerary and have some questions? Comment here or even better, post your queries on the awesome Backpack & Explore Facebook community.
Kerala Itinerary for 2 weeks
So, here's the dilemma. Most of the tourist destinations and international airports are concentrated in the southern part of Kerala. Entire northern half of Kerala is therefore left out in my itinerary above. However, I know how difficult it is to manage a trip for more than 10 days in just one state.
But if you do spend 2 weeks in Kerala, you won't be wasting your time. You can see how the culture and cuisine transform as we move from north Kerala towards the south, even in this rather tiny state.
Northern Kerala towards the Karnataka border has a strong Arabic influence in their culture, architecture and cuisine. Here you're more likely to get the best type of non-vegetarian dishes like Keralite biryani, chicken curry etc.
As you move towards the south you notice a distinct change. Towards the hills in the south there is a dominant influence of Hinduism. You'll find a plethora of pure vegetarian restaurants serving Appam-ishtew, idli, iddiyappam etc.
On the coastline, there is a larger European influence in the monuments but also a blend of old Hindu culture as seen in the attire and performances. So, here's how I'd plan a longer itinerary of Kerala for 2 weeks.
Day 1: Take a train or overnight bus to Kasargod from Bangalore or anywhere else.
Day 2: Explore Bekal Fort, beaches and backwaters of Kasargod
Day 3: Drive (or take a bus) to Sultan Bathery in Wayanad. Take a wildlife safari there
Day 4: Visit Edakkal Caves and Banasura Sagara Dam in Wayanad
Day 5: Trek to Chembra Peak in the morning. Have a brunch and drive to Palakkad
Day 6: Explore Palakkad – Palakkad Fort, Malampuzha Dam and Hanuman Temple
Day 7: Drive to Kochi via Athirapally falls
Day 8 onwards you can follow my best 7-day Kerala itinerary I described above.
Day 8: Exploring Kochi
Day 9: Drive 55 km to Alleppey and explore the backwaters, beaches and churches.
Day 10: Scenic drive to Munnar
Day 11: Exploring the best of Munnar and Chinnakanal
Day 12: Drive to Thekkady via Idukki Dam, an engineering marvel
Day 13: Explore Periyar National Park in Thekkady
Day 14: Drive to Kovalam
Day 15: Drive to Trivandrum via Poovar for departure
🚙 🚗 Rent a Zoomcar for self-driving all the way in Kerala🚔
Kerala Itinerary for 7 days – In Detail
So, let's dive deeper into the wilderness of Kerala and take a virtual tour that will make you fall in love with the state.
Day 1 in Kerala – Arrive at the Historic Kochi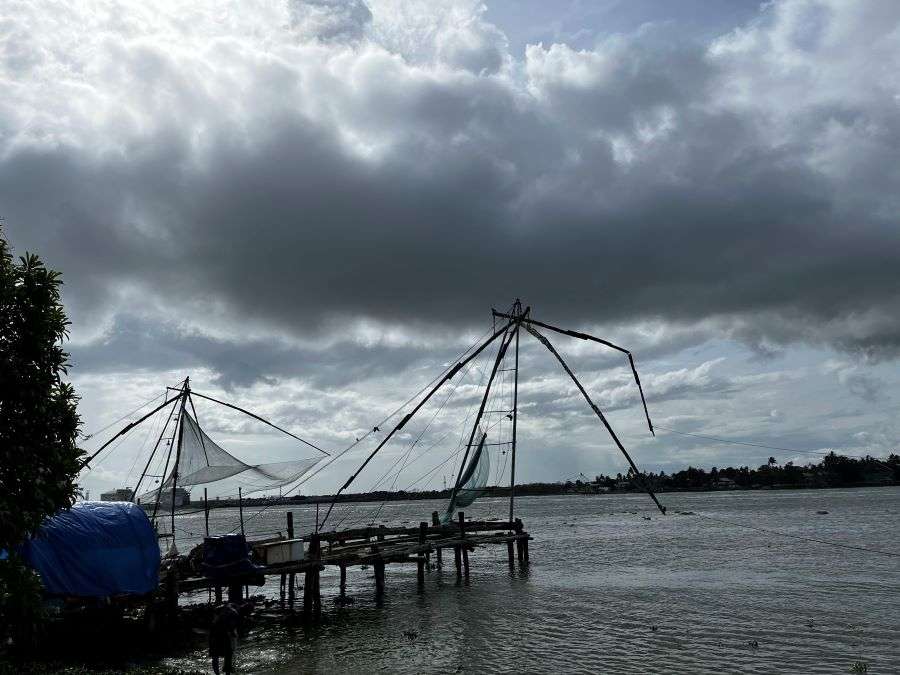 While Trivandrum is the political capital, Kochi is the unofficial tourism and cultural capital of Kerala. It has a well-connected railway station as well as an international airport. So, this is a great place to start your trip.
As soon as you arrive, bargain the rates for a local cab. Normally the rates start from Rs. 12/km for lower-end 4-seater cars, and the fares would go up for the type of car, number of seats, travel season, night rates etc.
You can check the rates here to have a fair idea of the current rates and avoid being scammed.
Kochi is a bustling modern city haunted by a long, intriguing history. It's the place believed to be Vasco da Gama's passage to India.
Then there's the oldest Jewish quarters in India that you can find in Kochi, the Pardesi Synagogue standing as a tall testimony to the thousand years of religious tolerance in India.
There are the Dutch Palace, Portuguese churches as well as remnants of the Bristish colonialism.
And thriving despite centuries of brutal invasions and colonial atrocities are the age-old pagan art forms that you can witness through dance performances, artefacts in the markets and music.
Kochi's beauty lies not in its architectural grandeur but in the unique stories behind the buildings, the streets and corners.
The Mattancherry Palace also known as the Dutch Palace was actually a monument gifted by the Portuguese to the Indian raja. It was later extended and renovated by the Dutch in 17th century.
Inside the palace are murals depicting Hindu deities along with exhibition of royal artillery of the past.

Kochi Sightseeing Plan
Assuming you reached Kochi at around 10 am, you can drive directly to Mattancherry Palace. You can also request the hotel for an early check-in if you want to freshen up before you start the tour.
After a tour of the palace, enjoy a walking tour of the Jew Town and visit the Pardesi Synagogue.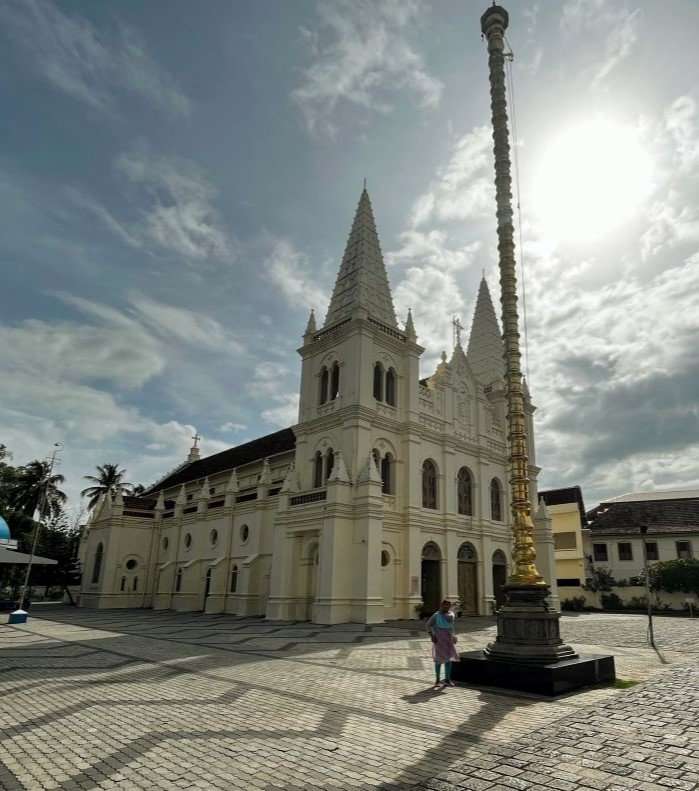 Then drive back to Fort Kochi. There are some amazing places here for having a delicious lunch.
After lunch, you can walk towards the coastal road to the Kochi beach, lighthouse, viewpoint and then walk towards St. Francis Church. Established in 1503, it is one of the oldest churches in India.
5-minutes from St. Francis church is Santa Cruz Basilica, one of the most beautiful churches that you can find in India. Though it was originally built in the same period as St. Francis church, it was destroyed several times. The current structure was constructed in 1905.
If time permits, you can then visit the Indian Naval Maritime Museum of Kochi.
You can either follow the map here or book an engaging guided walking tour with a local.
Stay near Fort Kochi, so that you can easily walk to the beach to see the photogenic Chinese fishing nets in the evening during the golden hour.

Then return to Fort Kochi for dinner and an enthralling Kathakali dance performance in the Kerala Kathakali Center. It is one of the eight classical dance forms in India and also one of the most difficult dance forms in the world.
Best places to Stay in Kochi
Hotel Marine Inn – A 5-star luxury hotel located at the Marine Drive, in close proximity to Kochi's highlights
Casino Hotel – CGH church – A sustainable 5-star luxury property located midway between Marine Drive and the Dutch Palace.
In the mid-range and budget category, Fort Bridge View hotel located in Fort Kochi is the perfect place.
Check out other options and get best prices below.
Day 2 – Relax in the backwaters of Alleppey or Kumarkom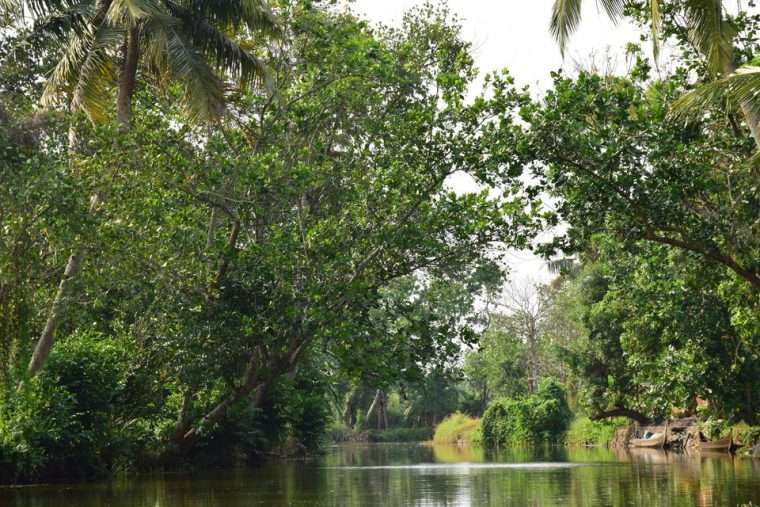 After an exhausting, yet fulfilling day exploring Kochi, it's time to relax in the backwaters of Kerala. Today we will drive 55km to Alleppey, often touted as the Venice of India.
But before that we can wake up early and walk to the beach to catch a glimpse of the sunrise and explore the morning markets.
After a wholesome breakfast at hotel, we set out for Alleppey or Kumarakom. They are on two sides of the Vembanad lake – the largest natural lake in India.
You can either stay in a houseboat or in a hotel on the banks of Vembanad lake.
A day in Alleppey
Assuming that you started from Kochi at around 10 am you will reach comfortably by 11:30 am. Kochi is a bustling city with heavy traffic, so we need to account for that time.
Take a boat-ride for 3-hours to explore the beauty of canals, watch the birds enjoying the sun and the blossoms of the lake, and enjoy the tranquility of nature.
While on your boat or Shikara, visit the Kumarakom bird sanctuary to say hi to the thousands of birds that flock into the magical backwaters during winter.
Stop midway at a village, to relish on sea-food prepared with fresh catch of the day mixed with Kerala's spices. If you book a houseboat for stay you can have a traditional fish-meal for lunch in the boat itself.


On our trip, we stayed in a lakeside cottage and hired a shikara for maneuvering through the narrow canals and have lunch at one of the villages on the lakeside.
After the soulful trip, take some rest in the afternoon to avoid the scorching sun. Then drive to explore the beaches, churches and temples of Alleppey.
Visit the Mulakkal Temple, a 500-year-old temple dedicated to Sri Krishna which is an embodiment of unique Keralite architecture.
Then head to St. Andrews Basilica. You will find some of the prettiest churches while driving in Alleppey.
Next visit the Alleppey lighthouse, Alleppey beach and the loveliest Marari beach at sunset.
Best places to Stay in Alleppey
Lemontree Vembanad Resort – A 4-star luxury hotel on the banks of Vembanad lake, with options to stay in houseboat as well as lake-view cottages. You can read my full review here
Xandari Riverscapes– A fleet of luxurious houseboats floating in the backwaters of Kerala.
Sterling Lake Palace Alleppey – While I haven't stayed here, I have always been impressed by the hospitality at Sterling properties in India. They are great options for affordable luxury accommodations.
Check out other options and get best prices below.
Day 3 in Kerala trip plan: Drive to Munnar
Munnar is one of my favorite places in India. I think it is the best hill station in south India which despite the hype, manages to leave you awestruck at its raw natural beauty.
Speckled with waterfalls, adorned by lush green tea gardens, pine forests and surrounded by lofty hills, Munnar does seem like God's own country.
While most people stick to places near the Munnar town, the outskirts, especially the Chinnakanal region is breathtaking.
On Day 3, you have to drive about 180 km from Alleppey to reach Munnar. While driving you will bid goodbye to the coastal warmth and move higher towards the hills.
As you enter the serpentine roads of the Western Ghats, turn off the AC and wind down the windows of your car.
The temperature has suddenly dropped, and the scenery has completely changed within a 4-hour drive. Watch out for the scenic viewpoints at every turn.
Try not to stop everywhere you want to, lest you get late, or the driver gets annoyed.
Don't have a fixed itinerary for the day. Rather just stop and absorb the beauty around you wherever you can.
I highly recommend staying away from the city center and close to some tea garden. Keep an eye for the numerous waterfalls as well while driving to your hotel.
Best places to Stay in Munnar
Sterling Munnar- Located in Chinnakanal area right opposite to the Tata Tea Garden, this is where we stayed on our second trip to Munnar. A perfect place to stay on a family vacation.
Elephant Passage Resort– Located 25km from city center, this is the most affordable 5-star luxury you can get in Munnar.
Check out other options and get best prices below.
Day 4 – Exploring Munnar
After a fulfilling brunch at hotel or outside, you can set off for a long exhausting tour of Munnar. One day may not be enough, but here's an itinerary covering the most memorable places in Munnar.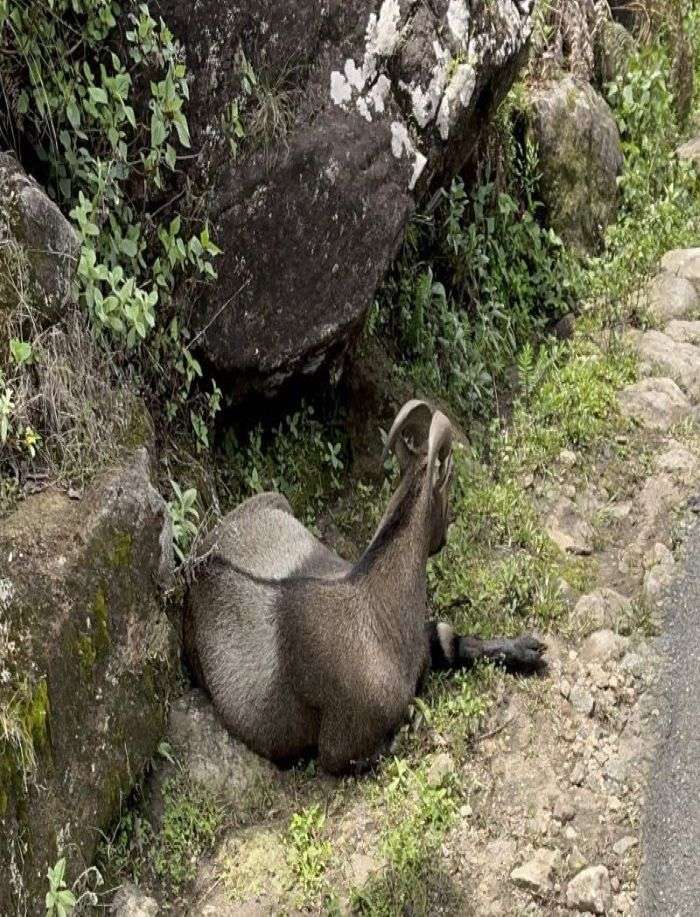 Drive to Eravikulam National Park right after breakfast. You need to set aside at least 2-3 hours for the trip, because of the long queue for tickets, the safari bus-ride and exploring on foot.
The beauty of this sensitive Nilgiri-biosphere is awe-inspiring. You will lose the idea of time while exploring the waterfalls and spotting the Niligiri tahr (an endangered species of animal found here) while walking in the forest.
After this, head to Kanan Devan hills for a tour of the Tea factory
Then drive to Mattupetty Dam. If it is too crowded (which likely it will be), then drive to Kundala lake for a boat ride.
And then, skip Top Station and save yourself some time for the other spectacles.
Similarly, if you want to watch the elephants, Carmelagiri is a touristy location where you can ride on them. But a more offbeat place for Elephant sighting is the Anayirangal Park (aka the Elephant Abode) in Chinnakanal.
You can take a boat-ride here and find elephants thronging to the lake for drinking water.
Like any other hill stations, most places close by 5pm. Stop at the Lockhart viewpoint on your way back to the hotel.
Shall I tell you a secret?
Skip the tea factory tours in Munnar and instead head to Kolukkumalai in the early morning. Technically it's in Tamil Nadu state, but Chinnakanal is the closest getway to this hidden paradise on earth which also has one of the world's oldest and higest tea-factory. Take a tea factory tour here instead after a bumpy jeep-ride.
Day 5 – Thrilling Thekkady
Thekkady is situated only 90 km away from Munnar, but it can take about 2.5 – 3 hours to reach because of the hair-pin belts. It is the home to Periyar National Park, the abode of Royal Bengal tigers among many other stealthy predators.
It's also significant for religious pilgrims as this is where the trek to the Ayappa Temple of Sabrimala begins.
Make sure you stay close to the Periyar National Park which is the center of all the activities in Thekkady itinerary.
Thekkady Sightseeing Plan
Assuming you started from Munnar at 9-9:30, it will be almost noon by the time your reach Thekkady.
Head to the reception of the Periyar National Park and get the brochure for all activities they offer and their timings
First you can go on a jeep ride through the tea and spice plantations. It will also take you to Ottakathalamedu, a hill-top from where you cans see magnificent panoramic views.
Then, after a quick lunch it will be time for the unmissable Periyar Lake Cruise. You will see a host of migratory birds in the lake, deer and antelopes on the banks, and, if lucky, you have a chance to spot elephants here too.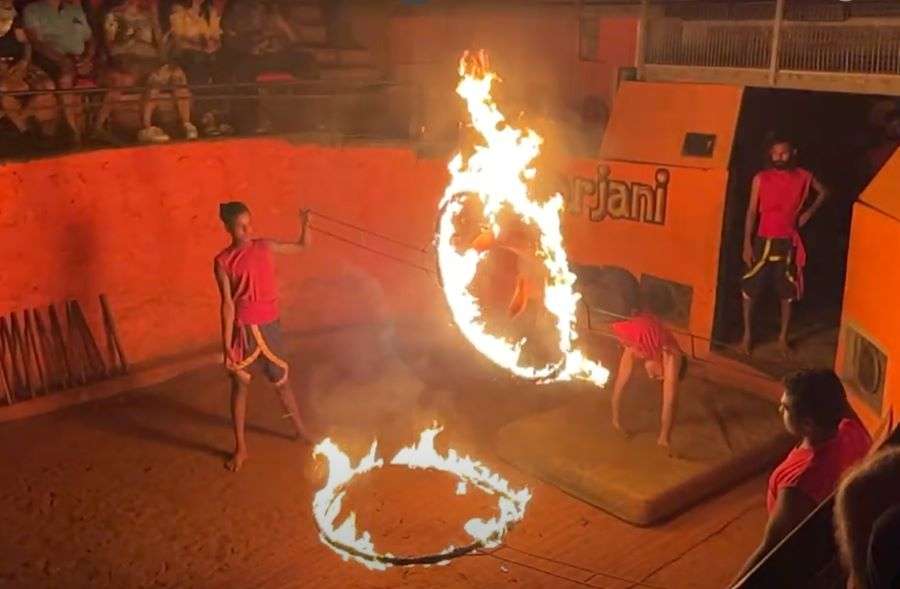 Spend the evening shopping in Kumily and then head on to Mudra Cultural Centre to witness Kalaripayattu. This is an ancient martial art form which is both brave and beautiful.
If you have the energy, you can also book a thrilling night safari in the forest. Or simply rest at night; you've had a long day already.
Best places to Stay in Thekkady
Abad Green Forest Resort – Located in the Periyar National Park area, this 4-star property is the best place for luxury jungle experience.
Chrissie's hotel – This is one of the most popular pocket-friendly property near Periyar National Park. It's also pet-friendly!
Check out other options and get best prices below.
Day 6 – Pamper yourself at Kovalam
Our trip is coming to an end soon. But don't be sad as it's time to drive to Kovalam. Located approximately 215 kilometers (134 miles) from Thekkady, it will take around 5-6 hours by road.
While like everywhere else in Kerala there's a plethora of options available for different budget types, I highly recommend booking a beach-side spa resort in Kovalam.
In places like Kochi, Munnar or Trivandrum you can easily stay in budget hotels and explore outdoors all day. But Kovalam and the Alapuzha regions are famous for Ayurvedic Spa and medicinal treatment. Why not pamper yourself a bit here?
Kovalam itinerary for the day
Assuming you started from Thekkady at 9 am, it will be almost 3pm by the time you reach Kovalam.
You can stop for lunch on your way to the hotel, or have lunch immediately after checking in.
You can then head off to the three beautiful beaches of Kovalam – the Lighthouse beach, the Hawah beach and the Samudra beach. You can trek to the short cliffs for capturing amazing views.
You can spend the entire evening strolling in the beaches or go for an Ayurvedic spa massage.
Best places to Stay in Kovalam
Raviz Kovalam (formerly Leela Kovalam) Located at the cliff-top the views from this hotel is heavenly. The water looks vanilla-blue from here.
At nearly half the rate of Raviz or Taj, you can stay in Samudra Leisure beach resort. This also has a wellness center for Ayurvedic spa.
Check out other options and get best prices below.
Day 7: Bidding goodbye from Trivandrum
The last day of a vacation always makes your heart heavy. But don't worry, we still have a lot to do today before we depart from Trivandrum in the evening.
Trivandrum, officially called Thiruvananthapuram (a tongue-twister for foreigners) is the capital of Kerala. It is located only 19 km away from Kovalam and you can reach easily within 30 minutes through the smooth coastal road.
So before heading to Trivandrum we will take a detour to Poovar, a floating town in the Poovar lake near Kovalam.
A guide to Kerala Trip Planning
Now that you have your Kerala trip plan and a detailed 7-day itinerary of Kerala, I want to share some practical information to help you travel. Here are a few travel tips and trivia about Kerala that you need to know before going on this vacation.
Getting to Kerala
Kerala is well-connected by air, rail, and road. There are three main international airports located in Kochi, Trivandrum, and Calicut respectively. Several railway stations connect Kerala to other parts of India.
Kozhikode is in the northern part of Kerala, closer to offbeat destinations like Wayanad, Muthunga Wildlife Sanctuary, and Bekal. If you've already checked off the usual tourist spots and are looking to go off the beaten path, consider a road trip from Kozhikode.
---
Going around in Kerala
While I'm all for exploring India solo, I get that it can be a bit overwhelming if you're not a local. So, your best bet is to rent a cab with an English-speaking driver.
But hey, if you're up for a little adventure, local transport like KSTDC buses work great for inter-city travel, and tuk-tuks are your go-to for getting around town.
If you're the kind who likes to take the wheel, you can also book a self-drive car. Just make sure to download the maps and have an online translator app handy.
---
Cuisine and Dining in Kerala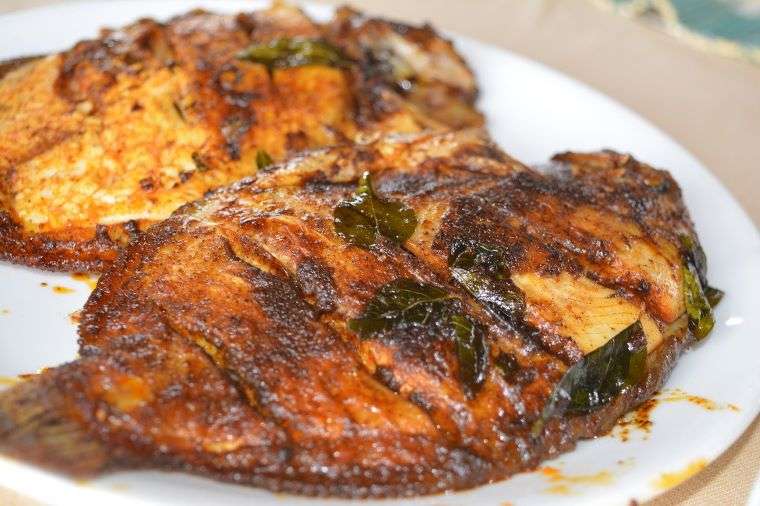 While you have a plethora of "safe" options in most hotels in India, Kerala's authentic cuisine is a must-try.
Rice is the staple food of Kerala and most of the dishes are just the most innovative, mind-boggling ways you can use rice. These are my favorite Keralite dishes.
Kerala porotta aka Malabar porota(a white-flour Indian bread) with fish-curry
Appam-stew ( Appam is a type of pancake made of fermented rice flour and coconut milk which is usually had with a vegetable stew)
Iddiyappam with curry (looks like idli made of rice noodles)
Puttu with curry (Putti is a cylindrical shaped steamed rice cake)
Karimeen Fry
Bamboo chicken biriyani
Although known for sumptuous sea food and one of the few states in India where beef preparations are mainstream, Kerala is actually a great place for vegans.
Many of the authentic dishes as you can see in my list above use only vegan ingredients sourced locally.
---
What is the best time to visit Kerala?
The best time to visit Kerala is between November to January. This is the winter season, when coastal Kerala is still hot but comfortable. Rest of the year is extremely hot and humid, except for the Western Ghats region.
If you want to spend most of the time in the Western Ghats of Kerala, you can visit any time of the year.
In fact, if you want to see the famous boatrace in Alapuzha, you should plan your trip around August. This is the peak monsoon season, so temperatures cool down significantly. It will still be humid in the coastal region, but the hills will look spectacular.
The boat races are held as part of the "Onam" celebrations. It is the harvest festival of Kerala, and one of the most important days in Malaylam Calendar. (Malaylam is the native language of Kerala, also the native culture).
Just check for the weather reports before embarking on road-trip in the monsoon.
A few more Frequently Asked Questions Answered
How to explore Kerala in 5 days
A Kerala trip plan for 5 days should ideally have 1 day in Kochi for historic sightings, 1-day Alleppey for experiencing the backwaters and some amazing clean beaches and 2 days in Munnar for blissful Western Ghats experience.
On day 5, drive from Munnar to Kochi via Athirapally Falls. That's what I suggest because I love Munnar. However, you can squeeze in Thekkady on Day 3 and skip Athirapally Falls.
If you are visiting Kerala for the first time and have only 5 days, I highly recommend this packed 5-day Kerala trip by Saffron India Tours.
What souvenirs can I bring back from Kerala?
You can bring the best quality of Indian spices – cardamom, cloves, cinnamon etc. What most people would ask me to bring whenever I travel to Kerala is "Banana chips". These thinly slices dried bananas deep-fried in coconut oil is a delicacy that can travel with you back to your home easily.
Besides I highly recommend buying Kerala cotton or Kerala silk sari. You can also buy "Mundu" for men in the same material. The white saris or mundu with golden border is a specialty.
Is Kerala safe for solo travelling?
Kerala is one of the safest states in India for tourists. Women usually don't face lecherous stares or bad behavior in public places in Kerala. You are less likely to be scammed as a tourist. Only thing that scares me is the speed at which people drive in the hills in Kerala.
How expensive is Kerala?
In my experience I have found Kerala more expensive than the other states of south India when it comes to tourism. It is certainly the most famous tourist destination in south, and the tariff for cabs, fun-activities, etcetera is relatively higher.
Having said that it is completely affordable for budget backpackers with good hostels and homestays starting from Rs. 1000/- per day.
Closing Thoughts
I hope this article inspires you to travel to this amazing state and make memories of a lifetime. I will leave you with a list of my favorite travel sites for travel planning in India. 
If you liked this post, you may also find these articles interesting.
Best of Karnataka – One state, many worlds
I have already linked to detailed itineraries to the places mentioned on my post. But here they are again for you to read and save for later.
Let's stay connected on Facebook, Instagram, and Twitter. You can also subscribe to get notified by email when a new post comes in.
Pin It !
Let's stay connected on Facebook, Instagram, and Twitter. You can also subscribe to get notified by email when a new post comes in.