Bekal is a beautiful fortified town in Kasargod, Kerala. Famous for the Bekal fort and sand beaches this is still among the lesser-known jewels in the crown of God's own country. About 380 km from Bangalore, the road trip from Bangalore to Bekal is a journey to remember. On your way, you'll pass through the beautiful hills stations of Madikeri in Karnataka. The road to Bekal is mostly in great condition except for the last stretch along the hills of Kerala.
The Plan for Bangalore to Bekal Trip 
This was one of those whimsical trips where we decided on the day, duration and destination just a day before the trip. With the football world cup fever on we didn't want to miss out on the matches, hence chose to set off on Friday morning (29th June) – an off day before the round of 16. My husband longed for the hills and I was craving for some beach time, so I looked up the internet and found this amazing place called Bekal Fort. This is famous for being the location where the popular Hindi song "tuhi re" in the movie Bombay was shot. This is a place where you have hills, the sea, the rocky beaches, and the sandy ones, and a glimpse of history.
The distance was long for spending just one night there, so we booked a luxury beach resort, unlike most of our trips where we prefer standard hotels in the town area. The weather forecast said it would rain throughout the day, but to our pleasant surprise, we got to see the Nilgiris if monsoon, summer, and spring all on the same journey.
Save the post by pinning the image below!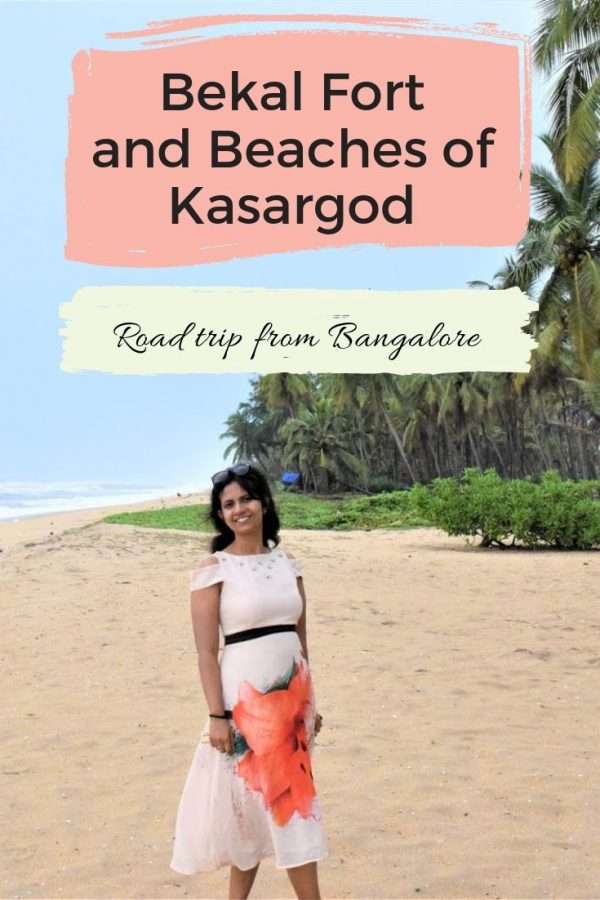 The Road trip from Bangalore to Bekal
Thanks to google timeline, I could add the exact route we followed on the map above. The drive from Bangalore to Bekal (Kasargod) is the most beautiful road trip I have had for years. We started at around 6:00 am from an electronic city in Bangalore and took the NH275 route where almost three-fourth of the route was on national highways NH48 and NH275. The roads were in great condition with breathtaking landscapes on both sides- ideal for long drives.
We had a delicious south Indian breakfast at "Kamat Upachar" on the way by 7:30 am (inked on the map above) after which we almost drove continuously halting at few viewpoints. in Coorg. Once we left Karnataka and took the Thekkil-Aletty road, the width of the road almost reduced to half and the drive just got an extra bit of thrill that we were not looking for. This part needs to be driven with caution – there are lots of blind turns and some badly damaged parts in between. This road cuts through the well-forested hilly range and runs parallel to a river ( don't remember the name, will be happy if someone can help in the comments section).
The road ends on NH66 in Kasargod from where our resort was about 20 minutes away. The colorful flags of all popular world cup teams were enough to say you have stepped into Kerala, without even looking at Google maps. It felt like home to the nostalgic Bengalis settled in Bangalore.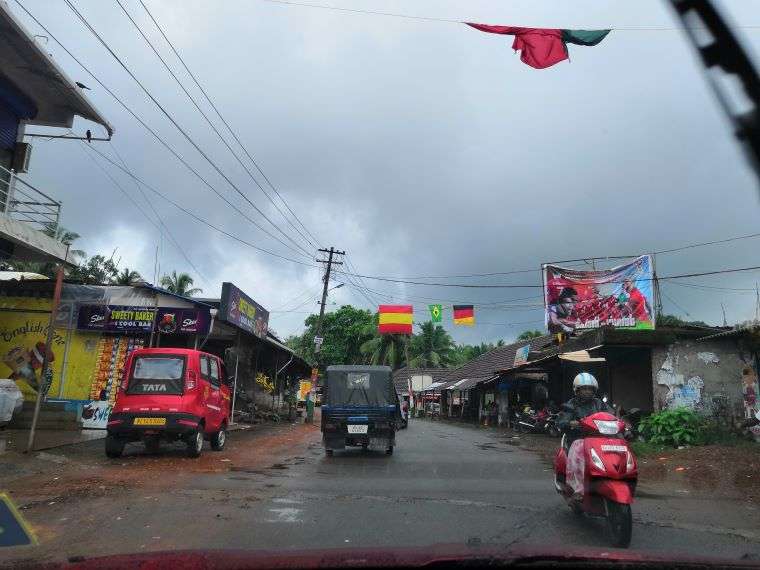 Where to stay in Bekal, Kasargod?
There are many hotels in Kasargod at a different price range starting from Rs.2000 per night. In the off-season, you can book beach resorts like Lalit Resort and Spa or Taj Vivanta across Kappil beach at great discounts. We stayed at the Malabar Ocean-front Resort and Spa, a beautiful beach resort at a relatively lower price range.
Our experience at Malabar Resort and Spa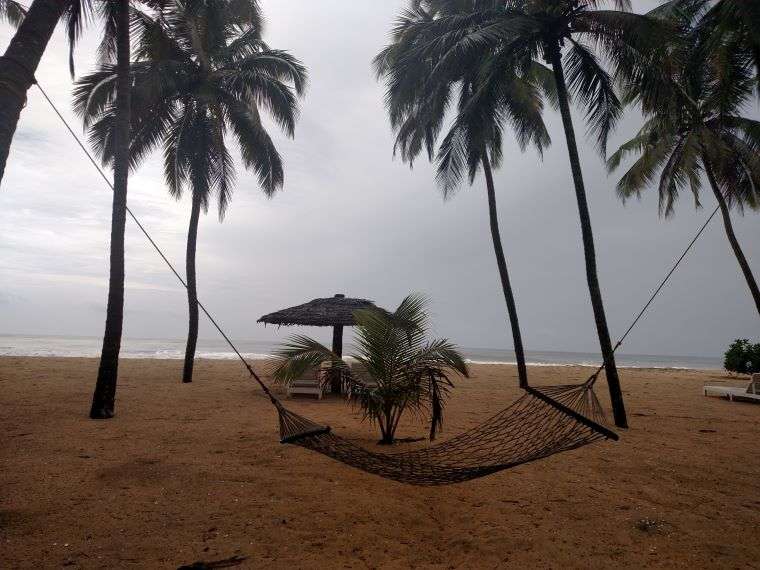 It's a small area with a well-maintained garden, pools, and a pretty fountain. At the off-season discount, we got the rooms at roughly Rs.5500 per night and it was a four-star luxury experience at that budget (you can get it even cheaper if you book in advance). Not many people in India know about this site, but it's worth adding to your list while comparing hotel-prices alongside MakeMyTrip and Booking. Note that the payment on Agoda can be done only through international credit card in dollars (the price I mentioned in the final amount charged after interchange).
The room was larger and better than some of the higher-priced top resorts I have stayed in during our corporate trips. Its a place where you can literally wake up to the sound of waves and view of coconut groves along the seaside. It was 2 pm when we reached our resort and the first thing we did was to head to the restaurant where we had some authentic Kerala Cuisine – Grilled kingfish, Kerala porota, and Raare chicken. As usual, make sure you have checked the best prices on MakeMyTrip, booking.com, Agoda before booking.
Book your stay at Malabar Resort and Spa
Compare prices on all other portals
Other amazing beach resorts within the affordable range are-
After this, we spent the entire day walking and chatting on the beach. The sea on this side, as well as at the Bekal fort is rough, unlike the usual calm Arabian sea in Goa or Mumbai, hence not much option for water adventure. Personally, I love this rugged face of the sea more than the calm – it's like watching the wild in the wild rather than the zoo. Due to cloudy weather, we couldn't really take Facebook-profile-picture-worthy photos here, but I have included some of the shots that capture the mood in the
short video
.
The Bekal Fort
Next morning, we headed to Bekal fort at 9 am, right after a wholesome breakfast with dosa, bread, eggs, sausages, cereals, and juice. The fort is about fifteen minutes drive from the resort, located just across the Bekal beach. Built-in the seventeenth century, spread over 40 acres, this is the largest fort in Kerala. It was built by the Nayakas of Keladi, one of the prominent Kannada dynasties that rose after the decline of the Great Vijayanagara empire in the 16th century.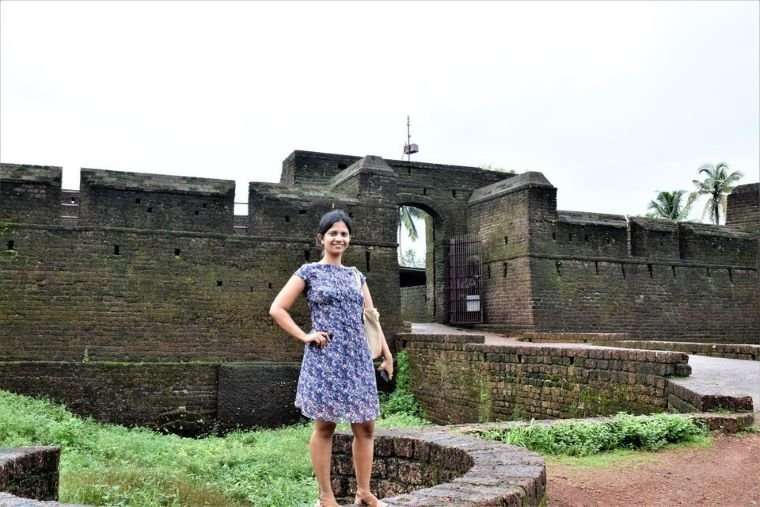 It's easy to appreciate the strategic location of this fort looming upon the rough Arabian Sea. Another aspect that's hard not to notice is the prominent old temple and mosque around the same place bearing testimony to the religious harmony that existed for centuries. We were pressed for time since we had to reach home to watch the match at 7:30 pm, so we reserved just one hour for the fort and Bekal beach. I'd suggest keeping at least 2.5 hours for enjoying this place if not more. Another attraction of this place is the hoards of peahens living here – strangely enough, we spotted a group of 5-6 peahens but no peacock.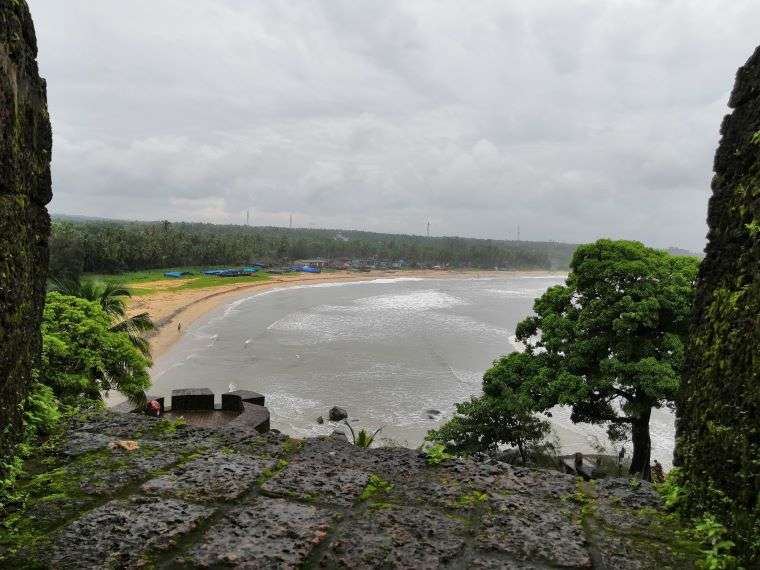 What to do on a perfect trip to Kasargod?
I'd recommend this place for a two-night stay especially if you choose to drive so that you can explore the other ruined forts built during the same era, take a boat trip in the backwaters near Bekal fort itself and get time to rest. You can reach here by bus followed by auto, but given the beautiful route, I'd always recommend a drive (book Zoom Car or Myles) over the bus route any day. In my experience, this cuts the cost also for couple or group trips.
It took us a little over 8 hours on each side, but that is thanks to minimal traffic on a working Friday morning and a non-working Saturday evening. Any Bangalorean would know that you can easily add two more hours each side if you decide to travel on Saturday early morning and return on Sunday evening instead. I also strongly recommend you to watch the 1.5-minute video I made and subscribe if you like.😊
Going on a road trip to Kasargod? Don't forget to read and download our Road Trip Essentials Checklist.
Pin this for your next trip!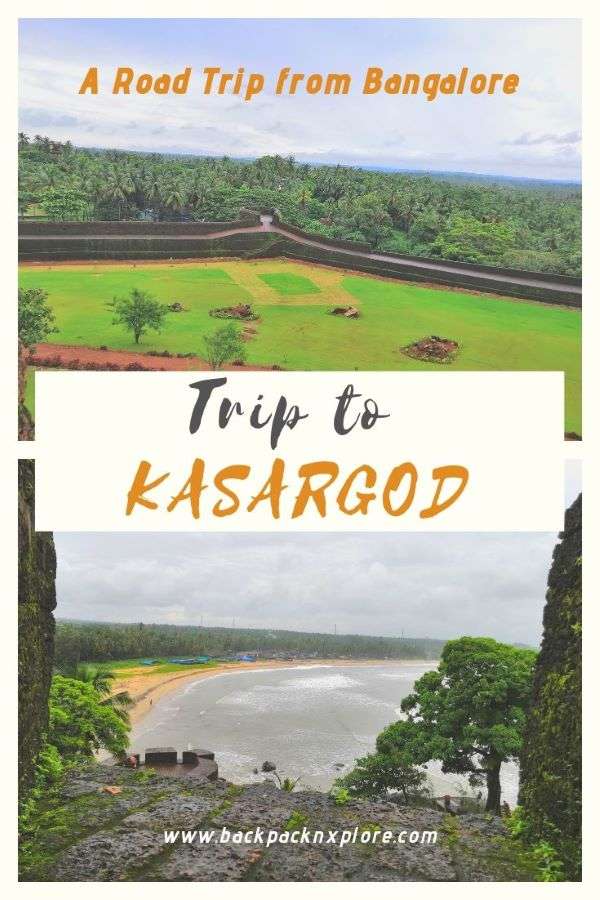 Other Fabulous Trips from Bangalore
You can also read about our other fabulous road-trips from Bangalore.
So are you excited about going on your next road trip? When was your last road trip? Share your thoughts in comments. Happy traveling!