23 Best Hill Stations near Bangalore in 2023
There are numerous cool spots near Bangalore where you can drive to, to beat the summer heat. But here, I bring to you my favorites. These, in my opinion, are best hill stations near Bangalore within 300km.
Some of these are so close that you can visit them on a whimsical day trip, while for others you'd need to book a hotel for a night or two. For simplicity, I have confined to best places from Bangalore within 300km.
I have included a brief background of what a hill station really is, because it's a term unique to India. I think you'll enjoy the little bit of historic trivia. But feel free to jump to the list of hill stations here.
What Is Hill Station? A little background
Hill stations are townships established at a high altitude (1000 meters to 2500 meters) above sea level where the temperature is cooler than the plains.
The term came into being in the colonial era when the British used these as summer recluse to beat the heat of tropical summers.
They built cottages, parks, and churches, established missionary schools for their children, and developed infrastructure for British officials and their families.
This is why many of these places have distinct colonial architecture and even names, like Dalhousie or Horsley Hills.
The British left, but the term "hill-station" remained, so did the anglicised names of many such places and streets.
The government recognized the huge potential for tourism and development in such charming hill-towns and developed many such hill-stations.
So, while in Europe people flock to the beaches in summer, we look for the hilly escapades to cool down.
For some of the established hill stations, the government decided to retain the old infrastructure including the mountain rail network, even while building motorable roads for faster travel.
These mountain rail networks, namely the Himalayan rail in Darjeeling and the Niligiri Rail in Ooty-Coonoor stretch are an UNESCO world heritage site now.
The steam engines still ply over them as "toy-trains", which are mainly serve a nostalgic entertainment purpose.
Hill stations near Bangalore to visit on a Day-Trip
Short of holidays or swamped with cleaning errands on weekend? Take a day trip to a nearby hill station with your friends and family. These locations are ideal to catch up with friends, go on solo bike trip, treks or even long cycling adventures.
Please note: While there are many beautiful hill-tops near Bangalore that you can trek to, not all of them are "hill stations". My picks are only the best hill stations where you can enjoy cool temperature outside even in summer and enjoy a number of activities.
Many top travel sites in India might mention Skandgiri, Avalebetta etc. in their list of top hill stations near Bangalore. But they are just beautiful hills for a day-trek, not resorts with basic tourism infrastructure to relax with family and friends.
🚙 🚗 Rent a Zoomcar for self-driving to these amazing hill stations🚔
Nandi Hills
State: Karnataka | Distance from Bangalore: 65 km
Home to historic temples Nandi Hills became a fortress and summer retreat of Tipu Sultan. Prisoners are said to have been thrown to their death from what is known as "Tipu's Drop" now.
But today it is a charming hill station near Bangalore famous for the panoramic views. Sitting at an altitude of 4849 ft, Nandi Hills is the most popular day-trip destinations from Bangalore.
Key attractions:
Sunrise views
Bhoga Nandeshwara Temple – a 9th century temple guarded by Nandi statue
Yoga Nandeshwara Hilltop temple – a 1000-year-old Chola temple
Cycling, paragliding, hiking
Horsley Hills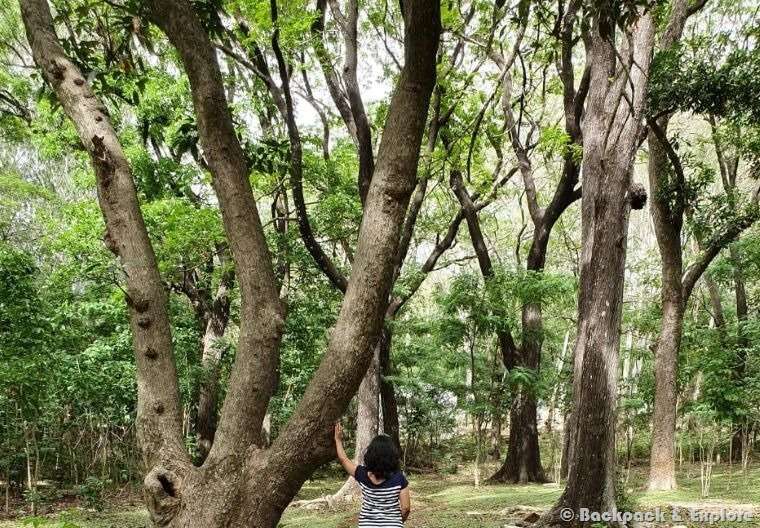 State: Andhra Pradesh | Distance from Bangalore: 150 km
Horsley hills is the nearest of all the hill stations in my list. This makes it an excellent place for a one-day trip from Bangalore.
It's a series of nine hills, about 14 km from the town of Madanapalle in Andhra Pradesh's Chittoor District. It was originally called Yenugu Mallama Konda after a local legend.
Around 1870 a British collector W.D Horsley made it his summer residence, and later the place was named after him.
Key Attractions:
Horsley Hills Zoo and Environment Park
Kalyan, a 150-year-old Eucalyptus tree located inside the park
Nature Study center inside the park
Viewpoints inside the park
Governor's bungalow
You can also book a stay in the APTourism property here which happens to be one of the best hill station resorts near Bangalore in budget.
Yelagiri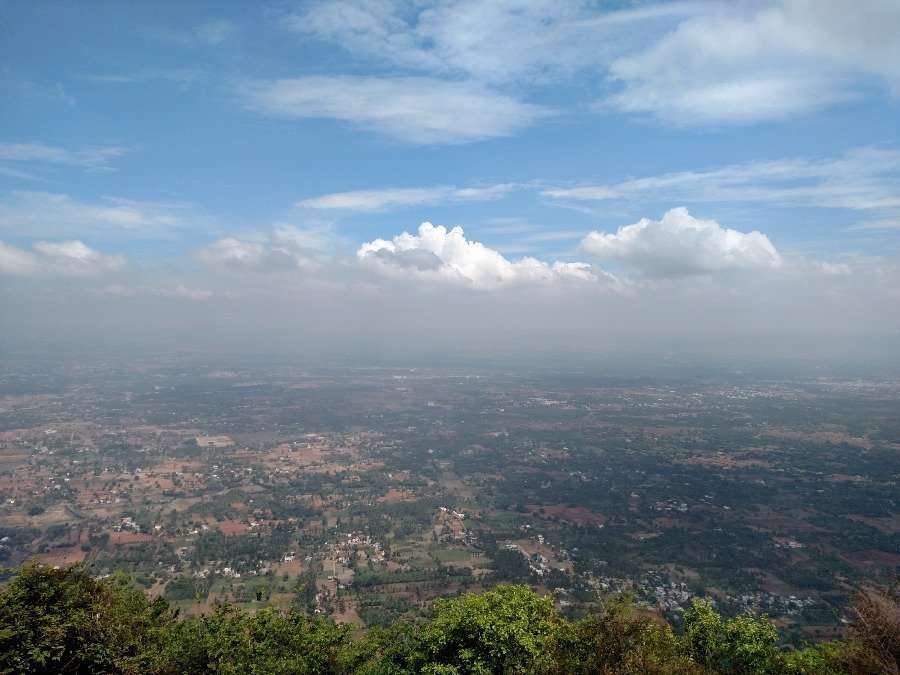 State: Tamil Nadu | Distance from Bangalore: 158 km
With temperate climate and greenery all year round, this hill station in Tamil Nadu is one of the best day trips from Bangalore for adventure lovers.
The uphill drive with multiple hairpin turns is thrilling and the views from 3465 ft are breathtaking.
Places of interest:
Swamimalai Trek
Punganoor Lake
Nature Park
Telescope Observatory
Hill stations near Bangalore for Weekend trips
If you don't want to apply for additional leaves and do not have any long weekends on the calendar, this list is for you.
The Western Ghats is very close to Bangalore and offers multitude of summer retreats. Take an overnight bus to one of these hill stations on Friday after your office.
Or start off early in the morning on Saturday and return before office hours on Monday.
BR Hills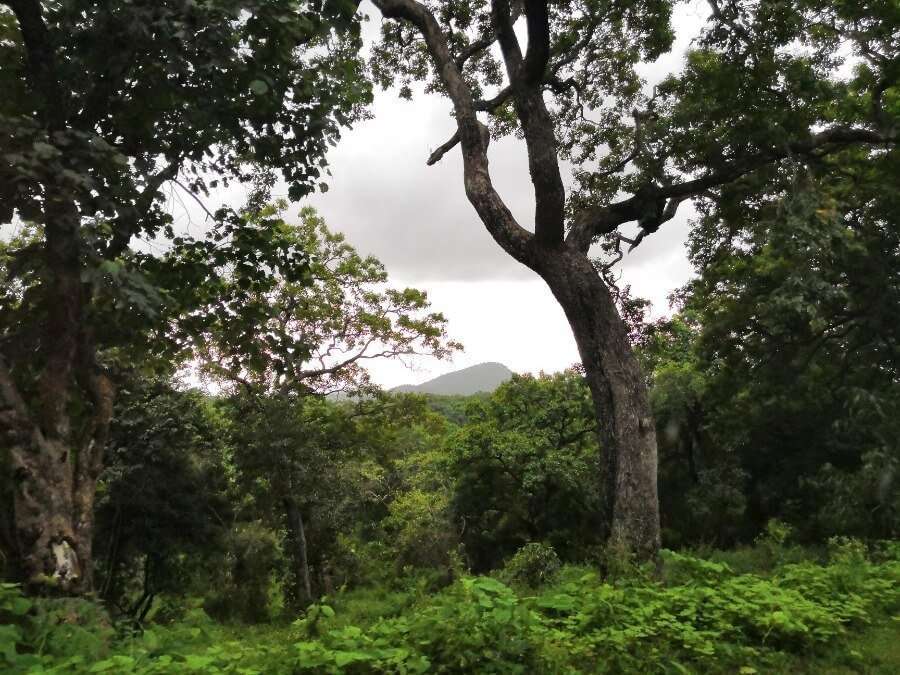 State: Karnataka | Distance from Bangalore: 168 km
Biligiri Ranga Betta, aka, BR Hills is an offbeat hill station located 168 km from Bangalore. Unlike the rest, this is a reserved biosphere and tourism has not developed much here. The area serves as a natural bridge between the Western and Eastern Ghats, resulting in a diverse range of flora and fauna.
We visited BR Hills on a day trip from Bangalore, but the hill station deserves more time to experience. The main attraction here is the 400-year-old Bilgiri Ranganathawamy Temple located at the top of the hill.
The hills are also home to the Soliga tribe who have been living here for centuries.
"Besides the famous Ranganathaswamy temple, there are hundreds of places within the forest that have a special meaning for the Soliga. "
"Besides the famous Ranganathaswamy temple, there are hundreds of places within the forest that have a special meaning for the Soliga. "

Ellis Veen, Backpack Adventures
Places of Interest:
Biligiri Ranganathaswamy Temple
BR Hills Wildlife Sanctuary: Perfect for trekking or self-driving with a local guide
Dodde Sampiga Mara: A sacred place for the Soliga people, this ancient champak tree is believed to be more than 2000 years old.
Where to Stay?
Sakleshpur
State: Karnataka | Distance from Bangalore: 221 km
Sakleshpur is a charming hill station at an altitude of 3136 ft above sea level. Being just over 200km away from Bangalore makes it an ideal weekend getaway.
It is in the Malnad region of the Western Ghats characterised by temperate climate. Sakleshpur is surrounded with lofty green hills abound with coffee, cardamom, pepper and areca plantations.
Places of interest:
Bisle Ghat viewpoint which gives a phenomenal view of the Bisle village and forest
Manjarabad Fort, a heart shaped fort built by Karnataka's famous ruler Tipu Sultan.
Magajahalli waterfalls
Sri Sakleshwara Swamy Temple and Betta Byreshwara temple
MM Hills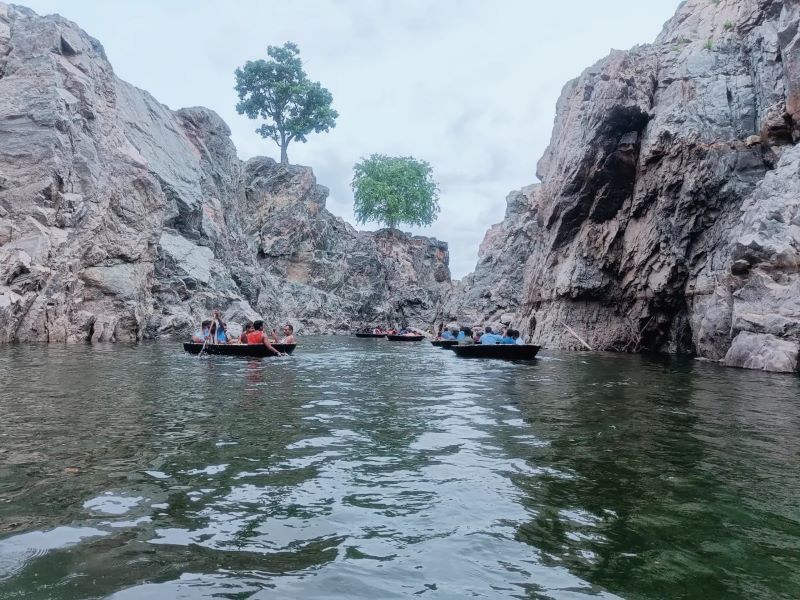 State: Karnataka | Distance from Bangalore: 210 km
Located in the eastern part of Chamarajanagar district, MM Hills or Male Mahadeshwara Hills is a perfect for a weekend escape from Bangalore.
MM Hills is famous for its rich biodiversity and the Male Mahadeshwara Temple and the nearby Hogenekkal Falls.
Surrounded by dense forests that form the MM Hills Wildlife Sanctuary, this place is a haven for wildlife enthusiasts. Elephants, leopards, and a variety of bird species call this sanctuary home.
The hills are also part of the larger Western Ghats, adding an extra layer of ecological significance.
Places of Interest:
Male Mahadeshwara Temple: An old temple dedicated to Lord Shiva
MM Hills Wildlife Sanctuary: Ideal for safaris and bird-watching.
Palar River: A scenic spot perfect for a laid-back afternoon.
Hogenakkal Falls: A short drive away, these falls offer a spectacular view, especially during the monsoon.
Yercaud
State: Tamil Nadu | Distance from Bangalore: 228 km
Yercaud is a little town in Tamil Nadu that developed around a resplendent lake surrounded by forests. Yeri means "lake" and Kaddu means "forest" – what an apt name isn't it?
This is one of the most beautiful hill stations in the Eastern Ghats of India. Filled with beautiful lakes, forests, nature-parks and colonial English houses, Yercaud is indeed a gem.
You can drive to Yercaud through the 32-km loop road with numerous harpin turns along the mountains. That itself will introduce you the the bountiful nature of Yercaud.
Places of interest:
Emerald Lake , aka Yercaud Lake
Pagoda Point
Lady's Seat
Montfort School
Killyur Falls, etc.
Places to stay:
GReaT Trails Resort – A beautiful 4-star property located at the heart of Yercaud
The Last Villa – A holiday home near Montfort school
Casitta Inn – A 3-star hotel with luxury amenities
Chikmagalur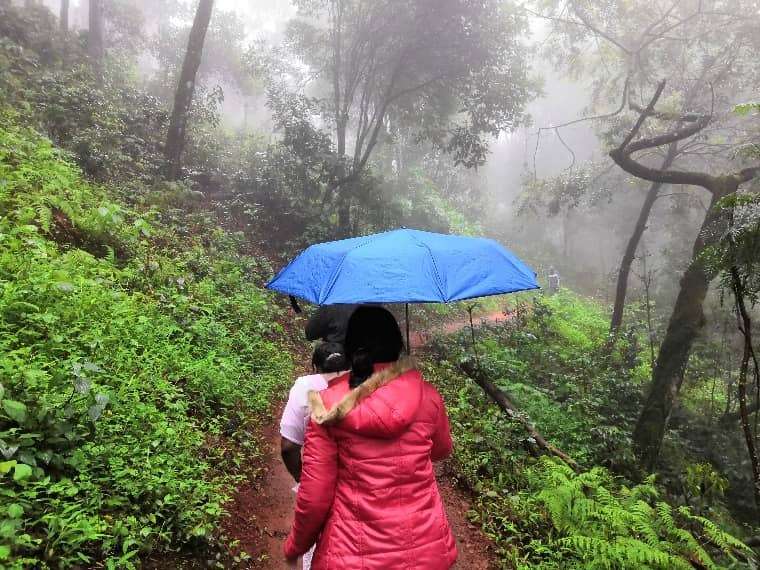 State: Karnataka | Distance from Bangalore: 241 km
Chikmagalur is a favorite weekend getaway among the IT-crowd in Bangalore. Located at the foot of Mullyangiri hills, the highest mountain in Karnataka, Chikamagalur is known as the land of coffee.
It is believed that a legendary Muslim saint Baba Budan smuggled a few coffee beans from Arab and sowed the seeds here.
That was the inception of coffee plantation in India, a place that is now called Bababudangiri.
Main attractions:
When in Chikmagalur, enjoy your time in a local homestay inside a coffee estate or a forest on the banks of river.
Visit the Jhari Falls hidden from common sight, located deep inside a private coffee estate. Take a toy train-ride in the MG Park and experience the magical sunset in Hirekolale lake.
Places to stay:
Chikmagalur and Sakleshpur are famous for amazing homestays. A lot of techies in Bangalore have rented their homes back in Chikmagalur as homestays. Here are some top-rated homesays in Chikmagalur.
Trivik Resort and Spa is the best resort for a luxurious experience.
Coorg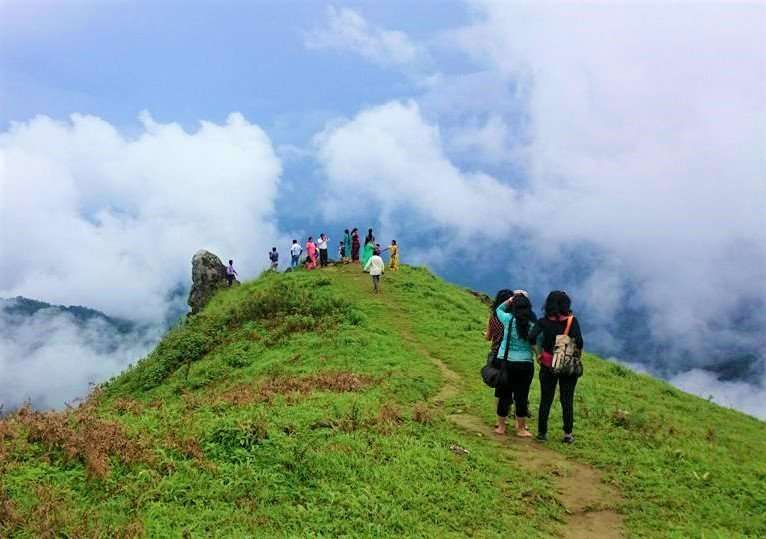 State: Karnataka | Distance from Bangalore: 265 km
Often called "Scotland of India" because of the waterfalls and vast expanses of green that abound the place, Coorg is one of the best weekend destinations from Bangalore.
My trip to Coorg in 2015 was what first made me fall in love with Karnataka. The lofty mountains, large expanses of green as far as eyes can see, breathtaking wildlife – Coorg is a paradise for the lovers of nature and adventure.
It's one of the largest districts in Karnataka and there are three towns where you can base your stay for the trip – Madikeri (265 km from Bangalore), Virajpet (235 km from Bangalore) and Kushalnagar (235km from Bangalore).
Main attractions:
Trekking and camping in the hills –Tadiadmol trek, Mandalpatti trek etc.
Visit Abbey Falls and other beautiful waterfalls
Talakaveri – the holy source of the river Kaveri
Whitewater rafting in Barapole river
Madikeri fort and Raja's Seat
Where to stay:
Coorg has a good share of luxury resorts for various budget ranges. For smaller pocket-size you can choose one of the lovely homestays in the hills.
My Resort Recommendations:
Budget Stay Recommendations:
Note: Coorg is a huge district filled with amazing sights. While it is very close to Bangalore and can be visited on a regular weekend, I recommend it for a 3-4 days stay atleast.
Ooty
State: Tamil Nadu | Distance from Bengaluru :265 km
Who does not know about Ooty? It was the most featured destination in Hindi movies before Bollywood got obsessed with Switzerland.
Ooty is probably the most famous tourist destination of Tamil Nadu. This kind of makes a weekend trip to Ooty an underwhelming experience because of the over-commercialization and over-crowded tourist spots.
If you truly want to enjoy Ooty, slow down. Book a homestay or resort away from the tourist zones and explore the enchanting small town. That doesn't mean you should miss out on the highlights.
Highlights of Ooty
Tea Gardens
Boat Park
Botanical Garden
Dodabetta Peak
Avalanche Lake
Places to stay in Ooty:
Vythiri (Wayanad)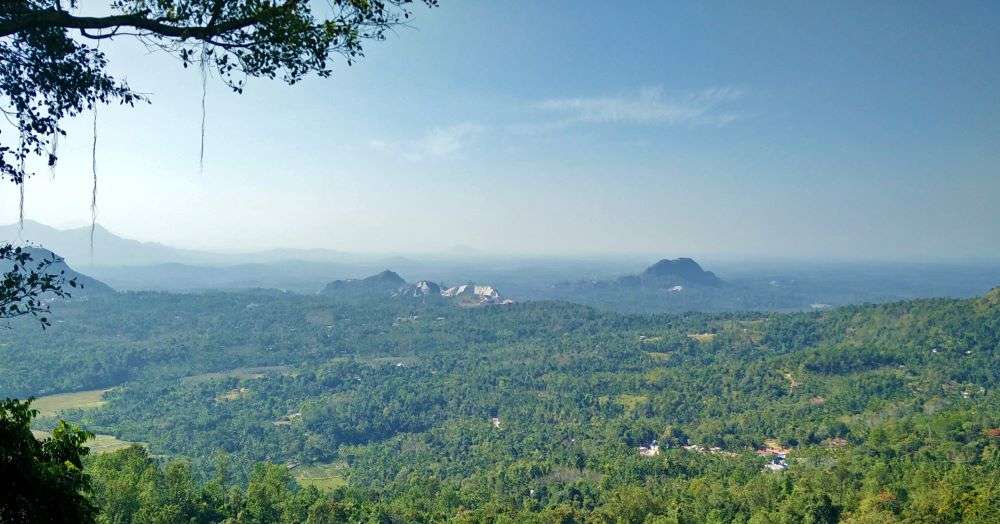 State: Kerala | Distance from Bangalore: 275 km
Vythiri is a quaint hill station in the district of Wayanad, Kerala. You may hear a lot about Wayanad Trip from Bangalore, but Wayanad itself is a big district.
Within Wayanad there are several small hill stations , resorts and other areas of interest.Vythiri is the most popular for the cool weather, high altitude and spectacular views.
It is a fascinating place, not just for nature-lovers but also for history-buffs. Archeologists found traces of human civilization that have existed here for over 6000 years.
Key Attractions in and around Vythiri:
Bansurasagara Lake
Vythiri viewpoint
Edakkal Caves – 6000-year-old pre-historic cave-paintings
Kuruva Island
Places to stay:
For easy access to most attractions, you can base your stay in the beautiful town of Vythiri. For a more offbeat experience, you can plan to stay in Sultan Bathery. Here are my recommendations:
Kalpetta (Wayanad)
Situated in Wayanad, Kalpetta is a offbeat hill place near Bangalore. Unlike its more commercialized neighbor Vythiri, Kalpetta offers a more authentic Wayanad experience. It's home to the tribal community of Wayanad.
It's a great base for trekking expeditions, with trails leading to various attractions in Wayanad. The town itself is surrounded by coffee plantations, adding to its serene atmosphere.
Places of Interest:
Chembra Peak: The highest peak in Wayanad and a popular trekking destination.
Neelimala Viewpoint: Offers stunning views of the Meenmutty Falls and the valleys surrounding it.
Where to Stay?
Zostel Wayanad in Kalpetta
Click to read the perfect Wayanad Guide
Coonoor
State: Tamil Nadu | Distance from Bangalore: 293 km
Coonoor is a quiet hill station in the Nilgiris tucked away from the crowd of Ooty and Kodaikanal. Coonoor is best known for the Nilgiri toy train, which also happens to be a UNESCO heritage site.
The train line built on the Nilgiri mountains is quiet a marvel. It will take you through the scenic tea gardens and valleys of the picturesque town.
It's a great destination for a leisurely holiday with family, a honeymoon or a fun-filled trip with friends.
Highlights of Ooty
The Sim's Park
Famous Tea Estates
Law's Falls
Niligri Toy Train
Places to stay in Ooty:
Long Weekend Trips to Hill Stations near Bangalore

Ok, I know that you came here for hill stations near Bangalore within 300 km. But I just love these places so much that I couldn't stop myself from sharing these in the list.
These are the hill stations that demand at least three days of your busy schedule. It's a pity if you drive for 8 hours to reach the place and not enjoy all the joy that it has to offer.
🚙 🚗 Rent a Zoomcar for self-driving in India🚔
Kotagiri
Kotagiri is located in the Nilgiris and is approximately 300 km from Bangalore. It's less crowded compared to its more famous neighbor, Ooty, and offers beautiful trekking trails and tea plantations.
Places of Interest:
Catherine Falls: A double-cascaded waterfall that offers a breathtaking view.
Kodanad View Point: Provides panoramic views of the Nilgiri hills and the Moyar River.
Agumbe – The Rainforest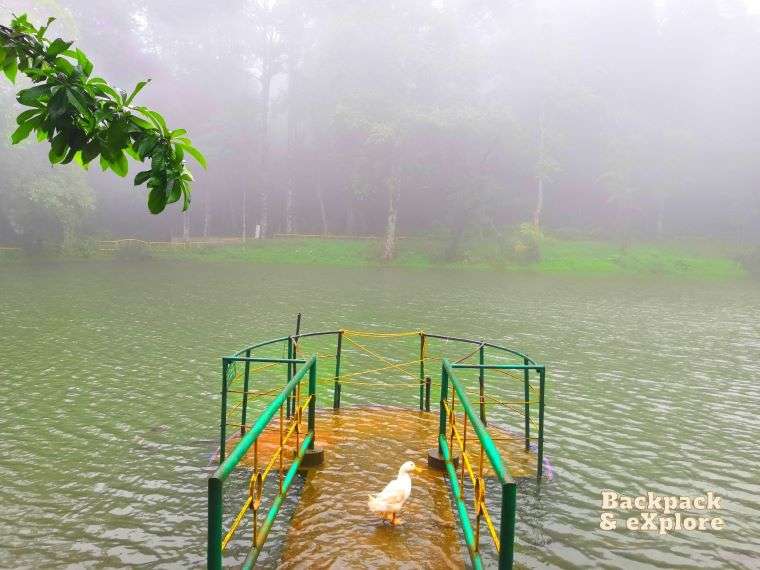 State: Karnataka | Distance from Bangalore: 345 km
Agumbe is a dense rainforest in the Shimoga district of Karnataka. Because of the heavy rainfall it receives throughout the year it is also called "Cherrapunji of the South".
In Agumbe you can experience raw nature like nowhere else. Agumbe rainforest research station (ARSS) is one of its kind which specializes in research of the unique faunal diversity of this region.
The most important subject of research here is that of King Cobra.
Highlights:
Agumbe Lake Park
Agumbe Sunset Point
Kundadri hill-top and Jain temple
Barkana Falls
Udupi town is just a short drive away
Where to stay:
Jog Falls and Sharavati Valley
State: Karnataka | Distance from Bangalore: 428 km
Jog is a small town in the Shimoga district of Karnataka, famous for Jog Falls – one of the highest waterfalls in India.
While the view of Jog Falls is indeed memorable, there are many more memories to take away from this quaint place. The sparkling lakes, the opulent forests, forts and culture make a trip to Shimoga special.
Highlights:
Sharavati Valley National Park
Gajanur Dam
Keladi Temple and the beautiful Keladi village
Lingamakki Dam
Where to stay:
Hotel Mayura by KSTDC – a government property right across the Jog Falls
Royal Orchid is a 4- star hotel available at a reasonable price range. It is close to the city center and near the Sharavati Wildlife park.
Munnar
State: Kerala | Distance from Bangalore: 476 km
Munnar is my most favorite hill station in South India. Located in the Idukki district of Kerala, Munnar is a heavenly abode of exotic wild species, vibrant lakes, resplendent mountains and breathtaking views of tea plantations.
During monsoon season, seasonal waterfalls spring up in every nook and corner to tempt you to stop your car every five minutes while driving through the serpentine roads.
Main Attractions:
Tea Estates and visit to Tea factory
Kanan Devan Hills
Matupetty dam
Anayirangal Park
Eravikulum National Park
Where to stay:
Royal Orchid is a 4- star hotel available at a reasonable price range. It is close to the city center and near the Sharavati Wildlife park.
A little far away from the center is the Kimmane Golf Resort which is great for an amazing family time and team building offsite.
Read in detail : Travel guide to Munnar
Kodaikanal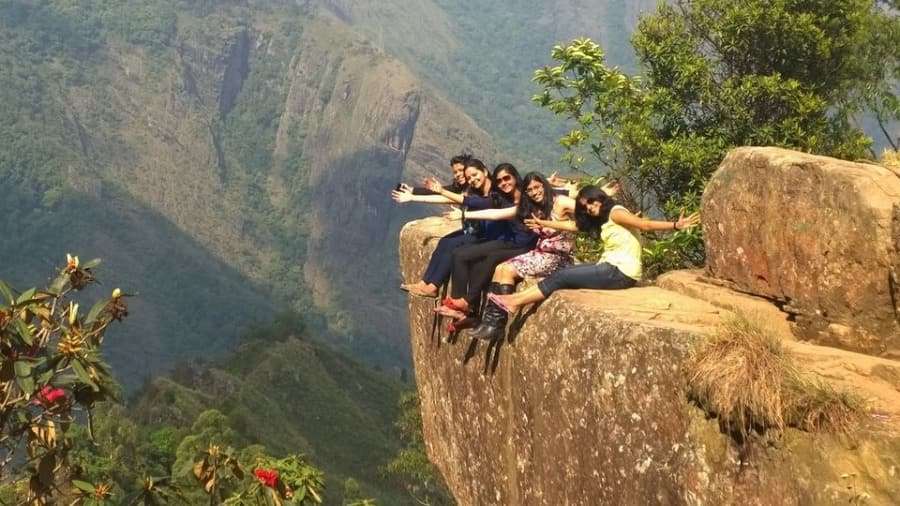 State: Tamil Nadu | Distance from Bangalore: 490km
Kodaikanal – the Queen of Hills in Tamil Nadu is the perfect weekend getaway from Bangalore during the summers. No matter how much the mercury level rises in the city, Kodaikanal remains cool as cucumber. The hill station is reminiscent of its colonial past which reflects in the old British-style houses, churches and parks.
Attractions:
Croaker's Park – a British era hill-park
Byrant's Park
Kodaikanal Lake
Upper Lake Viewpoint
Trek to Dolphin's Nose, etc.
Places to stay:
Read more about Bangalore to Kodaikanal roadtrip
Thekkady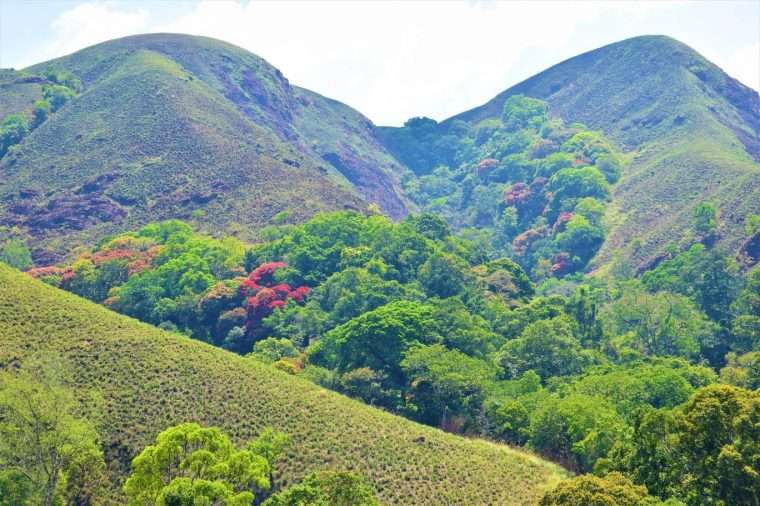 State: Kerala | Distance from Bangalore: 509 km
Thekkady is located in Idukki, the most beautiful district of Kerala. Did you know that the famous Sabarimala Temple (yes that one that broke into national news) is located at a hill-top in Periyar forest? In fact the trek to Sabarimala on foot begins from a temple here. It is one of the biggest Hindu pilgrimage and has a great deal restrictions on all those who want to visit it.
Highlights:
The main attraction of Thekkady is the Periyar Tiger Reserve. Here are the most interesting places and activities:
Nature walk, Jungle Safari in Periyar Tiger Reserve, attend cultural performance at Kadathanadan Kalari Centre, Periyar Lake cruise, Spice garden tour, Ottakathalamedu, Bamboo rafting, shopping at Kumily
Places to stay:
Certainly! Here are expanded write-ups for Kemmangundi, Kalpetta, and Kudremukh, tailored to fit the BXP tone and your customer avatar:
Kemmangundi
If you're looking for a hill station that's not swarming with tourists, Kemmangundi is your go-to. Located about 250 km from Bangalore, this hill station is a part of the Bhadra Wildlife Sanctuary.
It's a paradise for those who love trekking and nature walks. The terraced gardens and the Raj Bhavan, a summer retreat of the former Maharaja of Mysore, add a touch of royal elegance to the place.
Places of Interest:
Z Point: A vantage point that offers panoramic views of the Western Ghats. A trek to Z Point is both challenging and rewarding.
Hebbe Falls: Accessible only by a challenging trek or a jeep ride, these falls are a hidden gem that you won't want to miss.
Kudremukh
Located in the Chikkamagaluru district, Kudremukh is about 330 km from Bangalore. The name "Kudremukh" translates to "Horse Face," named after the unique shape of the Kudremukh Peak.
The area is a biodiversity hotspot, with lush green landscapes that are a treat for the eyes. It's a trekker's paradise, offering various trails that range from easy to challenging.
Places of Interest:
Kudremukh Peak: A challenging trek that leads you through dense forests and grassy slopes, offering panoramic views at the top.
Kadambi Falls: A beautiful waterfall located within the Kudremukh National Park, perfect for a quick stopover.
Valparai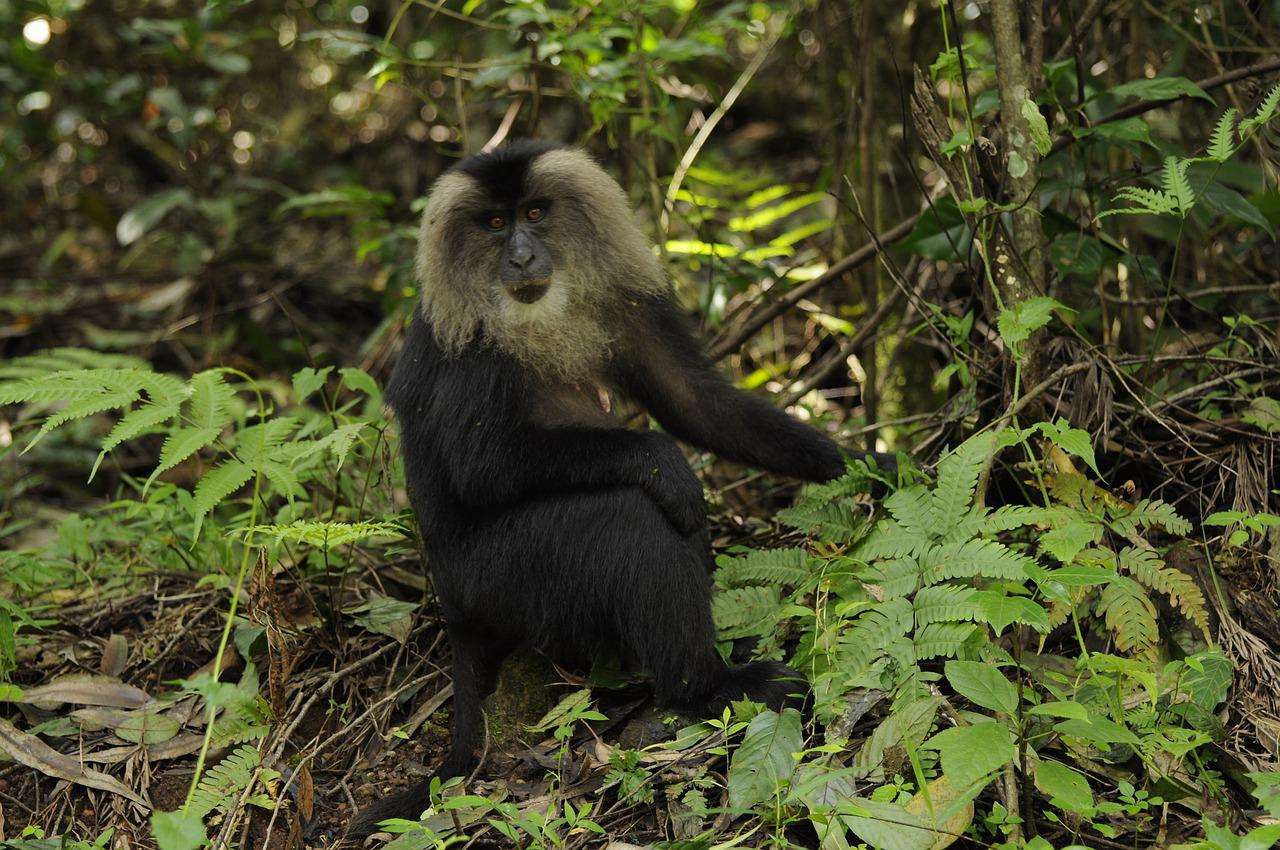 Want to escape the crowd and commerce of Kodaikanal? Take a small detour and reach Valparai. This historic hamlet near Coimbatore is the best-kept secret of Tamil Nadu.
Known for numerous hairpin bends the path leading to Valparai is thrilling. If lucky, you can spot lion-tailed macaque on your trip.
Places of interest in and around Valparai
Tea estates
Sholayar Dam
Aliyar Dam
Athirapally Waterfall and rainforest at the border of Kerala
Idukki
Idukki, situated about 470 km from Bangalore, is another gem in Kerala. It's home to the famous Idukki Dam, one of the world's largest arch dams.
The hill station is rich in flora and fauna, making it a perfect destination for nature lovers.
Places of Interest:
Idukki Wildlife Sanctuary: A haven for wildlife enthusiasts, offering a glimpse of elephants, bison, and various bird species.
Idukki Dam
Thommankuthu Waterfalls: A seven-step waterfall that's a popular trekking destination.
Closing Thoughts
Well, that wraps my list. I'm tempted to add many more like the small high-altitude spots near Bangalore where you can go for hiking. But as I said, I'll stick to the traditional definition of hill station in India.
If you liked the post, please share it and share your thoughts in the comment.
Join my small but active traveler community on Facebook for just talking travel and getting your queries answered. It will be especially helpful about planning trips in India.
I will leave you with my favorite travel resources and the important contact information of the state tourism department below.
Important Contact Details:
Bad weather or ongoing construction sites can cause road blockage in hilly areas. Though it's a rarity in the places mentioned in the post, I recommend checking these sources for up-to-date information. Especially relevant for travelling during monsoon.