Thrilling Thekkady – A Traveler's Dream
Hello there!
I am Thekkady, the home to the Periyar tiger reserve. If you have never heard about me that's ok. Just close your eyes for a minute and think of a sparkling lake with the Western Ghats in its backdrop, elephants thronging to the banks to drink water, antelopes grazing around, exotic avian sitting on the dry branches peeking from the waters. Think of a tiger spotting safari at night, nature-walk in the morning and bamboo rafting at noon. There, you just saw me in your mind's eye. Not satisfied with the sneak-peek? Let me take you on a virtual journey through my jungles, farms and cultural hotspots in this short letter of mine.
I am located in Idukki, the most beautiful district of God's own country. Did you know that the famous Sabarimala Temple (yes that one that broke into national news) is located at a hill-top in Periyar forest? In fact the trek to Sabarimala on foot begins from a temple here. It is one of the biggest Hindu pilgrimage and has a great deal restrictions on all those who want to participate in it. On that note, let's begin the tour.
Periyar Tiger Reserve
Most of your trip activities in here will be centered around the Periyar tiger reserve. Because this whole area of me was once covered in dense forests. Then people came, built houses, residential areas, farms and plantations. So first thing you got to do once you step inside is to go to the Periyar tiger reserve reception and get a brochure. They will give you the timing of various activities that they organise. These include jeep safari to the tea and spice plantations as well as a notable temple, nature-walks, lake cruise and safaris inside the jungle.
Night Safari
Few decades back poachers came to my forests regularly to hunt wild animals for money. But not any more. In fact most of them have got rehabilitated. The administration has employed them as guides. They can sense the beasts, know how to follow the silence and the sound , and how to find the elusive carnivores of Periyar forests.
Periyar lake cruise
 

 

View this post on Instagram

 
This is the most touristy thing to do here, but it's worth it. You may have to queue up for your turn in the weekends but throughout your waiting time you will be accompanied by monkeys. Not just monkeys, you will find several exotic varieties of primates like lion-tailed macaque, bonnet macaque, Hanuman monkey and Nilgiri Langur.
Besides the big boat cruises you can also opt for bamboo rafting in the river or speedboats in the lake.
Plantation tours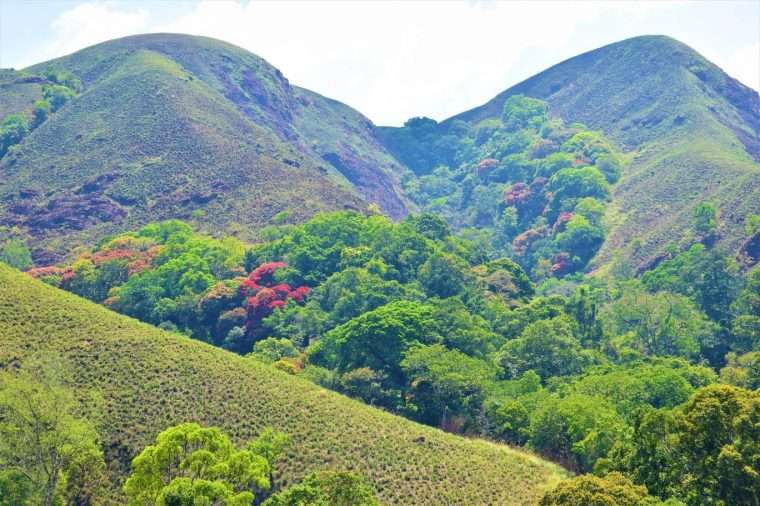 Wake up early in the morning and go for a nature walk. Club that with a jeep safari to the tea plantation at higher altitudes. The jeep safari will also include a trip to Ottakathalamedu. This is a tall tower at the hill-top from where Kerala Police observes the forests for illegal activities. You can see the famed Mangaladevi temple from here.
Shopping and cultural evenings at Kumily
If you visit me, Kumily is the place you are likely to stay. You can stay in a jungle resort in the Periyar reserve too, and that will be awesome. But Kumily is where most of the hotels are. This is also where you can find the markets. The best thing to buy here are the spices which are locally produced and procured. Besides that you can also buy Kerala cotton sarees. The ones you find here are much cheaper than places outside Kerala and have a superior quality.
Other than that you can attend a cultural evening of dance and music at Kadathanadan Kalari Centre. Here you can see artists perform Kathakali, one of the eight classical dance forms in India. You can also watch Kalari, which is an age-old martial arts form originating from Kerala. Your Rs.200 entry fee will be totally worth it.
On a leisurely walk you can find various restaurants, cute cafes and beautiful churches. Unity in diversity shines in this small place.
Trek to Spring Valley Mountain
Known locally as Kurisumala, Spring Valley Mountain is a hillock which overlooks the Periyar National Park. It is an amazing vantage point which offers one with enchanting panoramic views.
Visit the Managala Devi Temple
This temple is more than a thousand years old. Seeped in history and folklore, this shrine is a must-visit place. It's in a ruines state now, but the ruins and the hilly surrounding is what lends an unique charm to this place.
If you stay here for longer than a couple of days (which you definitely should), here are some day trips I recommend for you.
An excursion to Ramakkalmedu
A trip to Chinnakanal
Day trip to Gavi – an eco-toursm spot. Managala Devi Temple is actually located close to Gavi
Trip to Vagamon
Yeah, there ends my virtual tour. If you want to see more, you have to come here after the lockdown is lifted. There's a whole new world waiting for you right here. Till then, keep reading Postcards from India, save the post and share it with your dear ones.
Yours truly,
Thekkady
Blogger's Notes:
This is an introduction to the photographer's paradise – Thekkady. We visited the place in February 2019. Unfortunately I dropped my hard disk and lost all data including photos from our trip. Thankfully some of them were saved on online platforms, so I could use them here. This post is a part of the series "Postcards from India", written for A2Z Blogging Challenge by Blogchatter for April 2020. I am writing about offbeat destinations in India, which you can visit once the lockdown is over.