Best Resorts in India for affordable luxury
The term "resort" is used for a hotel property which offer an array of recreational opportunities for the visitors – restaurants, clubs, gardens, hiking trails, beach, clubs etc. Basically, you can easily spend a couple of days in a resort being busy with various activities from morning to night without the need to travel outside. Here in this article, I'll be talking about my favorite five resorts in India within an affordable range.
Raviz Kovalam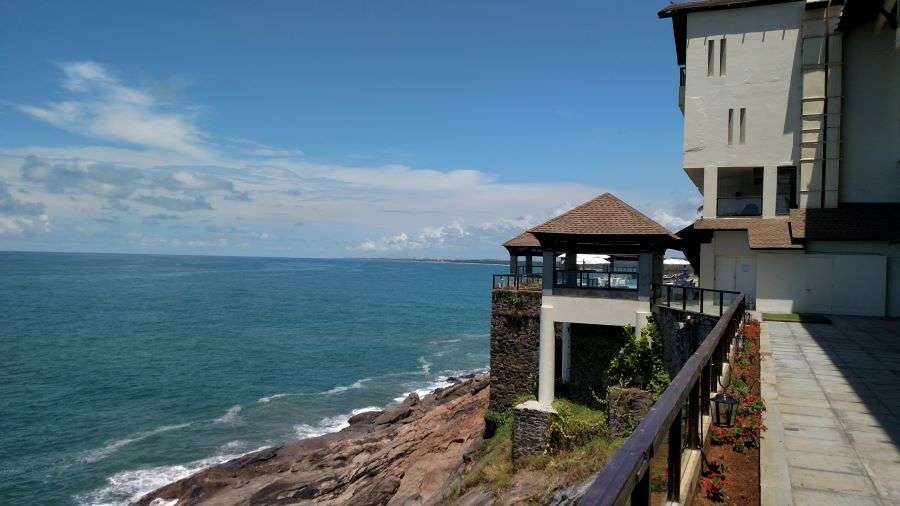 This resort is slightly on the expensive side, but you can manage within decent budget with off-season discount. This is the most aesthetically designed, visually spectacular resort I have ever stayed in. And the stay was thanks to a corporate getaway from our office.
The Raviz Kovalam, formerly, the Leela Kovalam, sits on a cliff, offering panoramic views of the Kovalam shoreline and the Arabian Sea. It is steps away from a private beach and features a spa. Rooms at The Raviz Kovalam Beach combine wooden décor with modern amenities like a flat-screen TV and tea/coffee making facilities. Each room provides views of the garden or the sea.
The fitness centre both overlook the sea. The Raviz Kovalam also has a game room and tennis court. However, it's the infinity pool that steals the limelight.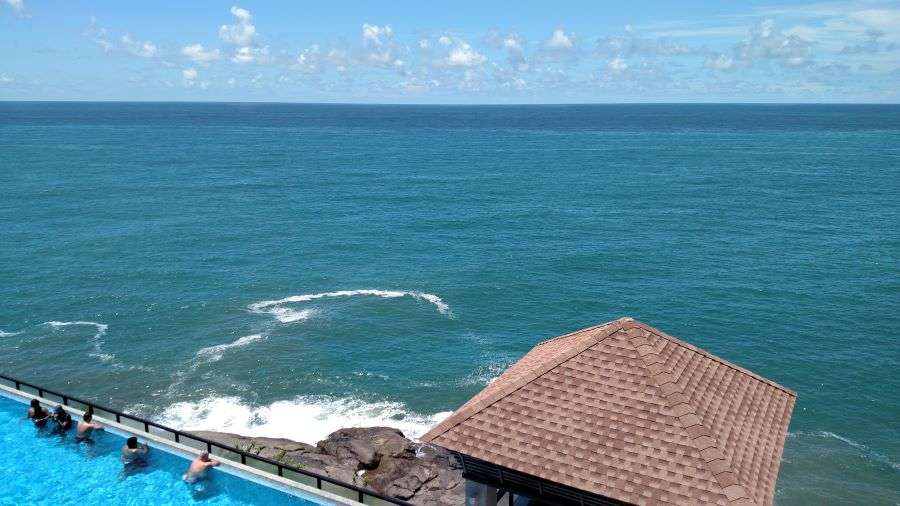 Located on the beach, The Tides Restaurant serves Asian specialties and grilled seafood dishes. The Terrace is a 24-hour buffet restaurant offering indoor, outdoor, and poolside seating. Cocktails can be enjoyed at rooftop The Sky Bar while watching the sunset.
Holiday Inn Resort , Goa
Located in the serene Mobor beach, Holiday Inn resort is one of the best places to stay in Goa. A large area comprising of more than 200 rooms, beautiful beach, garden, and all modern amenities coupled with traditional Goan architecture – that's Holiday Inn resort for you. This is another resort I stayed in during a team offsite.
The best part was watching the large number of white seabirds on the beach and even in the garden. I don't know if these were flamingoes or herons or some other type of birds, but they added to the charm of the beach.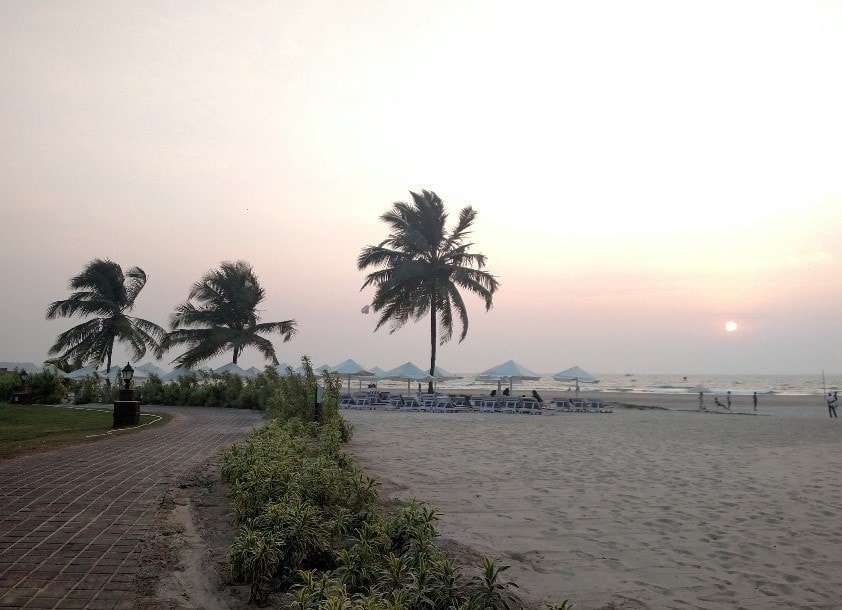 You will get everything that you'd expect from a 5-star facility – welcome drink, great service, well-maintained swimming pool, gym and children's play area. There are lifeguards on the beach but please follow the regulations and strictly avoid the points with danger signs. When we went in January 2018, some third-party vendors offered four adventure activities at Rs. 1200. This included paragliding, jet boat, etc.
One tip for those going there for a family vacation would be to ask for a quiet room in advance. Many office parties are organized there which involve late-night DJ. They did have a hard stop at 10 pm though.
Club Mahindra Virajpet
Virajpet, in Coorg district is one of the most beautiful destinations in Karnataka. Spread across 30 acres of lush greenery 12 km away from the picturesque Chelvara Falls, Club Mahindra Virajpet is a perfect family getaway. Even though it is quite far from the main attractions of Coorg, you will find yourself quite busy in the resort itself. The swimming pool is beautiful and well-maintained.
There are studio rooms which accommodate two adults and two children, and 1BR cottages that can accommodate four adults and two children. We stayed in one of these cottages where the living room had a big sofa-cum-bed for two people, a kitchenette and dining table.
I would rate it at par with the Holiday Resort Inn, Goa in terms of beauty and amenities. But ofcourse, Flamingoes took the second spot away from Club Mahindra.
Vedic Village Spa & Resort
With an area of 150 acres, Vedic Village Resort in Kolkata is the amalgamation of the greenery of rural Bengal and the luxury of modern amenities. It is the largest resort I have been to, and the long walks in the idyllic setting is so fulfilling. There's something raw and rugged about this resort which adds to its appeal. Vedic Village is the perfect staycation near Kolkata for weekends.
Outdoor chai samosa at "Bhoomi", buffet breakfast at "Shital" and ala-carte dinner at "Agni" completes the exquisite culinary experience in the resort. Most ingredients for food are fetched from the local organic farms, something you can clearly experience in the taste. There are hotel rooms, mud cottages called "earth villas", beautiful lake-view cottages called "lake-villas", and large bungalows with private swimming pool called "aqua villa". 
Malabar Ocean-front Resort & Spa
Located in the Nileswar, near Bekal Fort in Kerala, Malabar Ocean-front Resort & Spa is a small area with a well-maintained garden, pools, and a pretty fountain. At the off-season discount, we got the rooms at roughly Rs.5500 per night and it was a four-star luxury experience at that budget (you can get it even cheaper if you book in advance). It is often overshadowed by the bigger brand-names around like The Lalit Resort and Spa and The Taj Bekal Resort & Spa. But it is a charming little place priced much lesser than the other two.
The room was larger and better than some of the higher-priced top resorts I have stayed in during our corporate trips. Guests can pamper themselves in the in-house spa and massage center or relax in the steam and sauna room. It's a place where you can literally wake up to the sound of waves and view of coconut groves along the seaside. The garden area and swimming pool is well-maintained. The restaurant here offers authentic Kerala Cuisine – Grilled kingfish, Kerala Porota, and Raare chicken. 
It is located 5km from the famous Bekal Fort and 5km from the Tejaswini Backwaters. Check out the other things to do in Kasargod.
Sterling Wayanad
Located in Sultan Bathery, between the Bandipur Jungle and Mathunga wildlife sanctuary, Sterling Wayanad Resort is the perfect combination of nature and modern amenities. It is the place to unwind with family in the beautiful gardens, cafes, and cottage-style rooms. Each room is inspired by the three legacy trees of the region – bamboo, neem, and peepal.
This is one of the best places to go for jungle safaris in India.
Take a stroll in the green lanes, take a dip in the beautifully designed swimming pool, visit the waterfalls in the area and walk-through lush paddy field. Within the resort you can go for guided birdwatching hikes, experience pottery and attend Karaoke and other events in the evening. Besides, you have a beautiful outdoor swimming pool, gym and in-house spa facilities. 
Related: Wayanad Itinerary