Lovely Lakes in India – off-the-beaten-path
This post is dedicated to the tranquil waters reflecting the resplendent nature around it – the lovely lakes I came across during my travels in India. I'd love to talk about the obscure lakes that I stumbled upon during my roadtrips someday. But for today's post I will stick to my theme for #BlogchatterA2Z and pick my list of fabulous five.
Chilika Lake
We all read about it in our GK books in school. Spanning over 1100 sq km, Chilika Lake is the largest lagoon in India. It stretches across three districts of Odisha – Puri, Khardah and Ganjam. A winter resort for migratory birds Chilika lake is a bird-watching paradise. The huge lake is dotted with emerald islands like honeymoon island, breakfast island etc. We happened to visit this lake by accident on our 3-day road trip from Bangalore to Kolkata. But we will surely "plan" a stay around this UNESCO natural heritage site soon.
The Best time to visit this lake is in winter – November to February.
Vembanad Lake
Vembanad Lake, the heart of the backwaters of Aleppey happens to be the longest lake in India. Separated from the Arabian Sea by a narrow reef, it spans an area of 200 sq km. It branches out into small canals that make their way through the rustic villages of coastal Kerala. It is the most serene place to spend your time in Kerala. Watch the sunrise and the sunset at this beautiful lake amongst a host of birds from different parts of the world in a regular winter morning. Sail in a shikara or a houseboat, or simple buy a Rs.10 ticket to a local ferry that takes you from Kumarkom to Aleppey via Vembanad Lake.
The best time to visit this lake is in the winter- November to February. This is when migratory birds flock into the lake and pink lotuses blossom on the waters. You can also visit in August to see the Nehru Trophy Boat race which is a visual spectacle in itself.
Bansurasagara Lake
Built on a tributary of Kabini, Banasura Sagara is the largest earthen dam in India and the second largest in Asia. The spectacular lake with Banasura hills at its backdrop is dotted with tiny islands. There are beautifully curated gardens and parks with a large variety of plants. There are walkways, bridges and pools enveloped in lush green foliage. It almost looks like a page cut out of a fairytale. 
The lake is brimming with activities and there is no dearth of entertainment for kids or adults. Earlier vehicles were allowed to enter the premises of the Banasura Sagara Lake, but now the parking area has been moved. If you don't want to walk to the lakeside, you can board the vans that ferry people to and from the ticket counter. Watersports include speedboating, bamboo-rafting, kayaking, coracle rides, and even water scooters. Outside the lake, you have the largest zip-lining trail in Wayanad, inside the Banasura Sagara Dam's premises.
It's a wonderful place to visit with family any time of the year.
Tsongmo Lake
Chhangu Lake also called Tsongmo Lake is a glacial lake perched at a height of 3753 meters. It's frozen into white snow in winter, reflects the clear Autumnal sky in October, and is vibrant with colorful rhododendrons throughout the Spring and summer. When we went to Tsongmo Lake on our winter trip to Sikkim, it was my first experience of driving through the snow-laden track. 
I still feel that the best place to visit the Tsongmo Lake is in the Spring and summer, ie. March to May. This is when you can see the azure lake amidst the vibrant rhododendrons. You can also extend your trip to North Sikkim to visit the Gurdongmar Lake. We were not allowed to visit Gurdongmar Lake in the winter.
Periyar Lake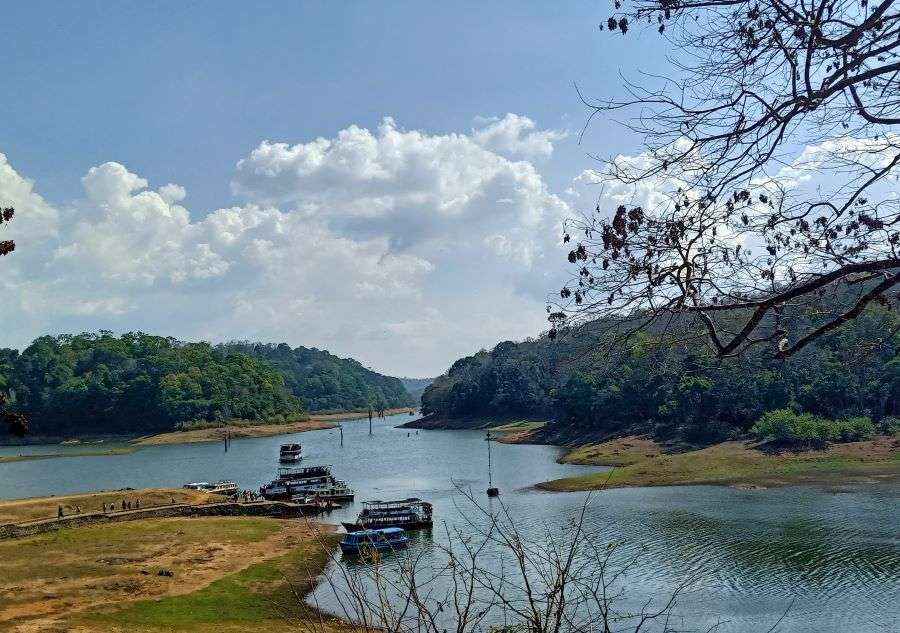 Located at the center of the Periyar Tiger Reserve in Thekkady, Kerala, Periyar Lake is one my favorite places in Kerala. In 1895, the Mullaperiyar Dam was built over the Periyar River. A few years later, in 1899, the Periyar Lake Reserve was formed through the efforts of this masonry gravity dam.
Unlike Vembanad, it is an artifical , freshwater lake, but like the former, it too hosts several birds during migratory season. It is one of the most popular tourist attractions in Kerala,and sees a massive footfall at the Periyar Cruise ticket counter throughout the year. While sailing in the lake, you can not only sight birds but also wild animals that come to drink water. Sambhal deer, Indian spotted deer, Elephants and if you are lucky enough, the tiger herself (driving the others away).
I hope you liked the post. There are so many lakes I want to talk about because I'm obsessed with these natural beauties. But I had to keep it short for the theme.
The cover picture of this post is of a lake without a name that I came across in Shimoga (Karnataka). It is by far one of the most splendid scenes I have seen in my road trips. Subscribe to my blog and connect with me on Facebook, Instagram and Twitter for more travel inspiration.
Pin It!