21 Exciting One Day Trips from Bangalore beyond the obvious choices!
Bangalore, the world's 4th largest tech hub is not just about corporate campuses, traffic, and beer, it is also a perfect city for professionals with a wanderlust spirit. If you are one of them, this list of best one-day trips from Bangalore should help you quench your wanderlust one day trip at a time.
This list of best day trips from Bangalore excludes the beaten track records of Nandi Hills, Wonderla and Bannerghatta National Park which are great but over-crowded.
You can pin the post using the image at the end of the post, to save it for later.
All distances are 1-way and the journey gets longer as you scroll down the list!
One Day Trips from Bangalore within 50 km
There are many lakes and hills near Bangalore within 50-60 km. Personally, I love going on long drives far away from the city, but if you are taking your kids or older parents with you, you may prefer a relaxed trip. These are also suitable for trekking spots like Savanadurga, Skandgiri and more. The ones I listed below are slightly less crowded than the above.
1.  Manchinbele Dam & Big Banyan tree
Distance: 45 km | Things to do: Picnic, Water Sports | Duration: 4-5 hours
This is the easiest weekend getaway from Bangalore, a favorite among corporate junkies yet surprisingly devoid of the crowd on the weekends. Originally constructed for irrigation purpose, the place is now famous for water-sports and corporate team-building activities. If you are not into this type of thing you can simply park your car away from the entrance, walk on the hills and enjoy the beauty of nature. The view of the blue water blending with the clear blue sky is spectacularly serene. It is also a great picnic spot for family and friends.
Read about our day trip to Manchinbele
On your way back you can head to Dodda Alada Mara, the 400-year-old Big Banyan Tree near Bangalore. Covering 3 acres area, this is one of the largest trees of its kind and is home to a beautiful park. Another place you can add to this one day trip is a beautiful lake Nelligudde kere.
2. Ramnagaram Night Trek or a day trip from Bangalore
Distance: 55 km | Things to do: Trekking, Camping| Duration: 12 hours
This is the place where the famous dacoit Gabbar Singh used to live with his gang. Yes, Ramnagaram is the shooting location of the legendary Indian movie "Sholay" but this is not its only claim to fame. Amidst the dense forests stand the granite hills that you can never miss being awestruck at. A trek to the peak will take roughly 2-3hours for rookies. This is also one of the few places that are still open for night trek and camping near Bangalore. You can easily start the early morning at 5 am and reaching a peak at night and waking up to the golden sunrise is an experience you do not want to miss.
3. One Day outings in Bangalore combining the cliched with the off-beat
I have nothing against Nandi Hills or Bannerghatta National Park. They were my first two one day trips from Bangalore when I settled here for a job. I said I would leave them out on my list simply because you don't really need me to tell you about it! But you can combine your one-day outing to Nandi Hills with a trip to Devanahalli Fort, which is emerging as a great location for photo-shoot these days.
Another idea is to follow your safari and zoo-walk at Bannerghatta National Park with the beautiful Thottikallu falls. The Thottikallu falls is located just 35km from Bangalore city but the rural landscapes will make you feel that you are far away from city life. If you find the falls crowded, you can retreat into the forests or just drive to the river nearby. This is one of the many picnic spots in Bangalore.
One Day Trips from Bangalore within 100 km
There are many exciting places to visit around Bangalore within 100km. These include picnic spots, hill-tops, medieval forts, and ancient caves.
4. Mandargiri – A short one day trip from Bangalore
Distance: 67 km | Attractions: Temple, Panoramic views| Duration: 4-6 hours

Just 67km away from Bangalore, accessible through a 1-1.5 hour drive through the amazing Tumkur road lies one of the really off-beat places for travel lovers in Bangalore. Dotted with 1000-year old Jain temples this round hillock also offers a spectacular sunset for nature enthusiasts. The large rocks on the hill and the peacock feather design of the Jain temple provide perfect "Instagramic" backdrop for your photos. You can also visit for a small trekking opportunity to keep yourself fit.
5. One day trip from Bangalore to Antargange Caves and Hoskote
Distance: 69 km | Attractions: Trek,Cave exploration| Duration: 6-8 hours
Antargange in Kolar is one of the most popular attractions for adventure-loving youngsters. At an altitude of 1712 meters, it offers spectacular views and thrilling experience of cave exploration. The 3 km trek will take 2hours uphill, after which you can visit the temple Kashi Vishweshwara. If you are not too tired on your way back you can complete this one day trip from Bangalore with a tour of the historic fort area of Hoskote.
6. A trip to Avalabetta and Gudibande Fort- Two short treks in a day
Distance: 90 km | Attractions: History, Nature| Duration: 9-10 hours

On a regular weekend, a drive to Avalabetta will take 2-2.5 hours. After that, a 1.5 km trek will lead you to the cap-shaped rock-cliff, an attractive point for photography. Unless you visit in the dry summer months you will get to see a pond at the hill-top which adds to the beauty. Note that the path to the hilltop is blocked now for many months due to some accidents.
After descending from the peak you can either drive back home (why the hell? ) or drive just 24km ahead to reach the Gudibande Fort. This is a massive 17th-century fort with well-preserved walls, which can be reached by a flight of steps. Personally, I (and all 3 of my travel buddies in the trip) liked the Gudibande fort way more in all respects – no crowd, interesting architecture, cave temples, and panoramic view.
Read about our trip to Avalabetta and Gudibande fort from Bangalore.
7. One Day Trip from Bangalore to Madhugiri 
Distance: 110 km | Attractions: History, Nature| Duration: 9-10 hours
Madhugiri is the second largest monolith in Asia, a feat that deserves attention in itself. However, perched atop the hill is a historic fort of the Vijayanagara empire. The Madhugiri Fort has some of the earliest water tanks of India which were built to harvest rainwater. The trek to Madhugiri fort is of moderate difficulty but the grandeur of the fort and the views from the hill-top will make it worthwhile.
8. One Day Trip to Sangam, Mekedatu and Chunchi Falls
Distance: 115 km | Things to do: Scenic drive, Nature| Duration: 8-11 hours
A scenic 2-hour drive away from Bangalore lies the beautiful natural spot, the confluence of the two most important rivers of Karnataka – Arkavathi and Cauvery. On your way, you will drive through winding uphill road lined with seasonal trees on both sides which look surreal in summer when they dry-up. It was a hot summer afternoon when we visited the place, but it was still throbbing with travelers. There's nothing much to do here except sitting on the boulders with your feet under the river water soaking in the beauty of nature all around. In and around the monsoon, when the water is more, you could take a mesmerizing coracle ride too. In winter this is one of the best picnic spots near Bangalore.
Drive just 4km from here to reach Mekadatu to see the stunning natural designs formed on granite rocks formed by the river Cauvery cutting through it for thousand years. On your way back you can also trek to the Chunchi Falls. A trip covering all these three locations will take 10 hours.
When in Bangalore do check out one of these organized trips.
One Day trips from Bangalore within 150 km
Let me tell you there are too many options for a one day trip from Bangalore within 150 km, too many to list in one single post. Below are some of the most scenic trails from Bangalore. One day outing in Bangalore.
9.

Day trip from Bangalore to

Hogenekkal Falls and Forests 
Distance: 124 km | Things to do: Scenic drive, Nature| Duration: 8-11 hours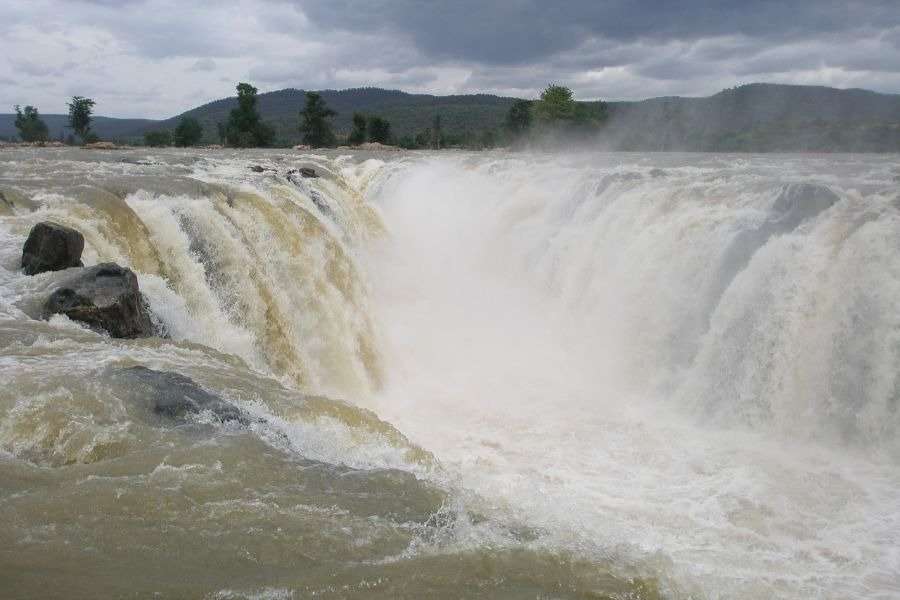 Hogenekkal falls is wide plunge formed by the Kaveri river in Dharmapuri district of Tamil Nadu. It is a charming perennial waterfall and one of the most popular places near Bangalore for one-day trips despite its distance. You can also take a coracle or boat ride in the river here. Unlike Shivanasamudra Hogenekkal still allows tourists to reach till the bottom of the waterfall. Since it is a perennial fall, it is the best time to visit is between October – March. The water gets extremely muddy in monsoon.
10. A day trip from Bangalore to Lepakshi 
Distance: 130 km| Attractions: Temple, Architecture | Duration: 6-8 hours

Lepakshi is a historical town in Andhra Pradesh which is home to the iconic Veerabhadra Temple. The temple is an architectural masterpiece which has so many mysteries surrounding it. Did you hear of a temple with a hanging pillar? This is that temple. Apart from this, you can find the giant  Nandi Statue (a monolithic bull structure) and the Jatayu theme park. These 2 attractions apart from the great temple are enough to keep you engaged for 4-5 hours at Lepakshi, if not more.

Read: Legends of Lepakshi
11. One Day trip from Bangalore to Shivanasamudra
Distance: 135 km | Attractions: Nature| Duration: 8 hours
Drive about 30 km more from Talakadu and you will reach this picturesque village Shivanasamudra which is home to the Barachukki and Gaganachukki falls. These perennial waterfalls have been consistently ranked among the 100 most beautiful waterfalls in the world. Best time for a trip to Shivanasamudra is in monsoon. Unlike Hogenekkal, the water is not muddy here in the rains.
You can also visit the Shimsha dam and Ranganathaswamy temples in Shivanasamudra. The one day trip from Bangalore to Shivanasamudra can be clubbed with Talakadu, Somnathpura or BR Hills.
12. Shravanabelegola – Tallest monolithic statue in the world
Shravanabelegola is most famous for the Gomateshwara Bahubali temple which has a 58 ft statue of Mahaveer Jain – the tallest monolithic statue in the world. The temple is accessible via a flight of 620 steps. The temple dates back to 983 AD but is in such a great condition that it is hard to believe its age. Apart from the architectural wonders, the temple also offers a breathtaking panoramic view of the town.
There are many other old temples which you can explore here, all of which date back to 800-1000 years.
13. A One Day trip from Bangalore to Horsley Hills
Distance:  144 km| Attractions: Hills, Nature | Duration: 8 hours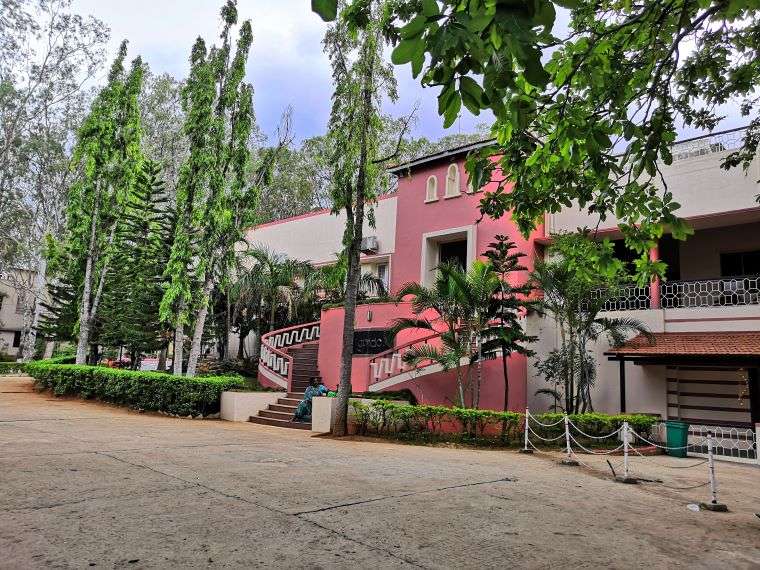 Often dubbed as the Ooty of Andhra Pradesh, Horsley is a beautiful hill station only 140 km from Bangalore. Vibrant blossoms greet you on your way leading to the Horsley Hills. There are two viewpoints which offer a great panorama. When in Horsley you can just soak yourself in the natural beauty of the place and once done, you can head to the Horsley zoo which is home to some amazing wildlife.
One Day trip within 200km from Bangalore
14. Yelagiri – Hills, lakes and adventure sports
Distance : 159km | Trekking, Nature,Adventure| Duration: 12-15 hours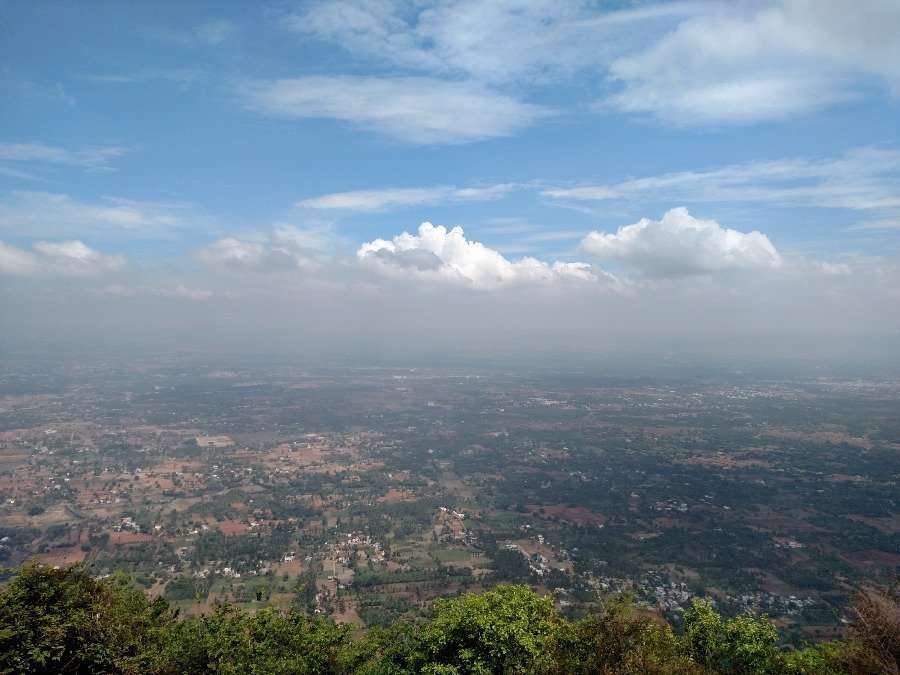 With temperate climate and greenery all year round, this hill station in Tamil Nadu is one of the best day trips from Bangalore for adventure lovers. The drive uphill needs a little bit of expertise but the views from 3465 ft are breathtaking. On our 11-hour trip, we just trekked to Swamimalai Hill-top, had lunch and returned. If you leave early you can visit the Punganoor Lake, Nature Park and telescope observatory. There are a number of resorts and decent hotels to stay overnight if you want to spend more time.
15. Somnathpur and Talakadu – One Day trip from Bangalore
Distance: 163 km | Attractions: Heritage,Sightseeing | Duration: 8-9 hours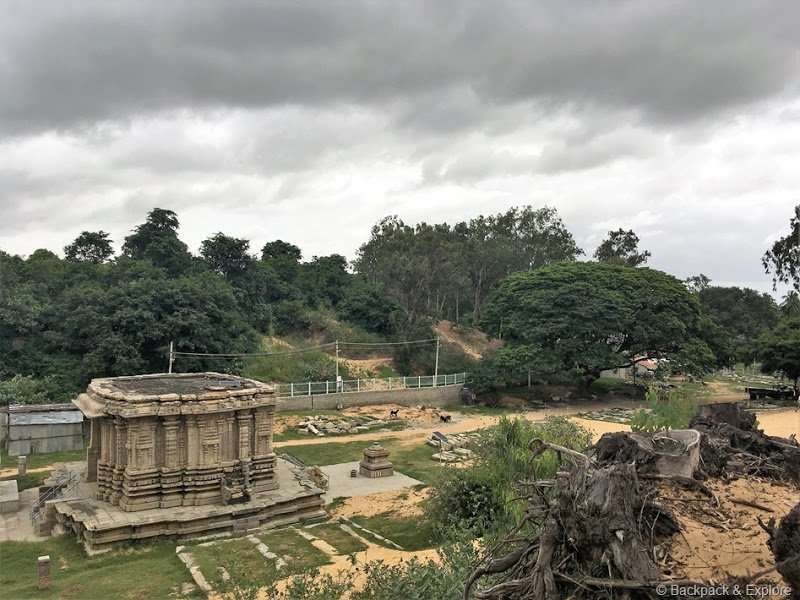 Somnathpur and Talakadu are sites with a large number of ancient temples, but most importantly they are architectural hotspots near Bangalore which you would enjoy visiting irrespective of your faith. In simple words, you can call this mini-Hampi which is accessible in one day trip. 
Related: Day trip to Talakadu, Shivasamudra, and BR Hills
Your first stop will be Keshava Temple in Somnathpura, an icon of the skills of Hoysala craftsmen. 24km from Somnathpur lies the mythical village of Talakadu, once known as the Benaras of the South. Talakadu was a Hindu Pilgrimage site which went under dunes of sand few hundred years ago. You can end your trip with a magical coracle ride in the serene waters of the Cauvery. The Talakadu Cauvery basin is a great place for a picnic near Bangalore. This is a great one-day outing in Bangalore.
If you love history and architecture and visiting Bangalore for the first time I strongly recommend these guided day-tours for you.
16. Mysore Wildlife – Ranganathittu and Mysore Zoo
Distance: 165 km | Attractions: Wildlife Watching | Duration: 12 hours
Mysore is also the city famous for amazing natural beauty and wildlife. If you have kids, my bet is they will definitely enjoy this Mysore day trip more than the one above. Mysore Zoo is easily one of the best and largest zoo facilities in India. There are many cafes and parks in the zoo, and this is itself could be a great day trip from Bangalore.
However, I love to see the wild in the open, so my favorite is Ranganathittu wildlife sanctuary. Remember to carry your binoculars and a high-zoom camera to feast your eyes with the sight of colorful birds and capture them through your lens.
You can book a guided excursion to Mysore from Bangalore as well.
17. One day trip from Bangalore to BR Hills
Distance: 178km | Attractions: Nature,Sightseeing | Duration: 12 hours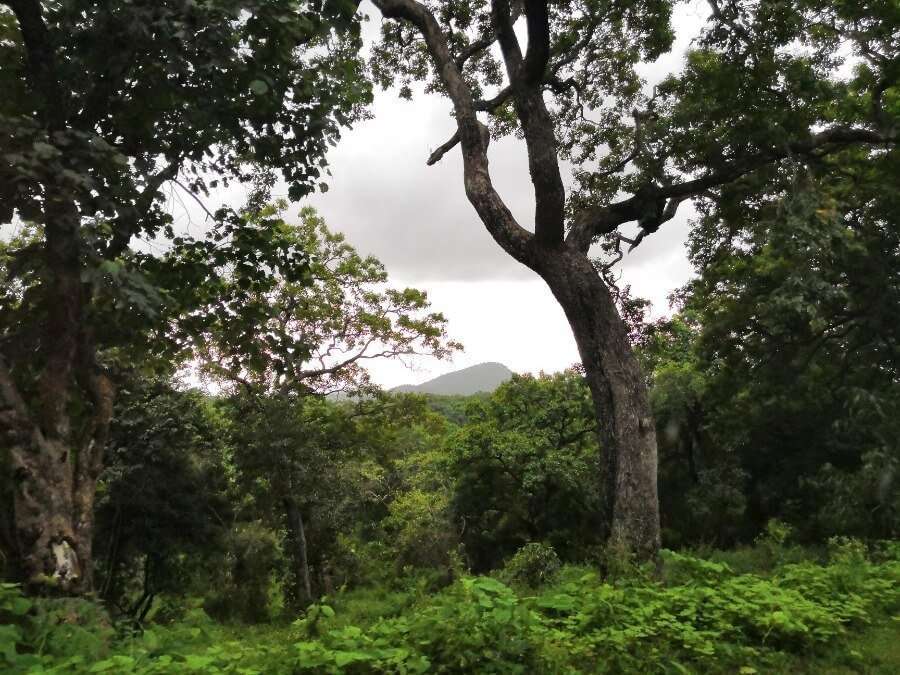 The BR hills are located at the border of Karnataka and Tamil Nadu, in the Western Ghats. It is named after the Biligiriranga temple built atop the hill. It is an ecological hotspot with a large variety of wild beasts including sloth bear, antelopes, peafowls and even tigers. These are not easy to catch a glimpse of though, as they are scattered all over the region. You can, however, see a lot of monkeys and birds in the picturesque wildlife sanctuary. The view from the hill is also a sight to behold. It is on the same route as Shivanasamudra so you may try to club it with the same.
18. Mysore Iconic – Mysore Palace & Brindavan Gardens
Distance: 181 km | Things to do: Scenic drive, sightseeing, picnic| Duration: 15 hours
The cultural capital of Karnataka and the cleanest city of South India is not a place that you can explore in less than two days. The two iconic landmarks of Mysore are the Mysore Palace, the home to the Royal family of Mysore and the Vrindavan Gardens, one of Bollywood's favorite Desi location. In a round-trip spanning 12 hours, you can easily cover both these places even and even more, after considering the dense traffic in both the cities on any given day. Check out the best things to do in Mysore with suggestive itinerary for a one-day trip.
Mysore is a beautiful city which needs more than a day to explore. Book this 2-day guided tour to experience the best of Mysore in 2 days.
Doable One Day trip over 200km from Bangalore
If you love long drives as much as we do, you may want to push your boundaries and drive over 400 km in a day. The excellent roads of national and state highways of Karnataka make such trips possible. Although I'd always recommend staying somewhere overnight, I'd say that it is doable in a day if you don't have another day to spare.
19. Shettihalli Church – Drowning monument
Distance: 223 km | Attractions: Ruins,Nature| Duration: 9-10 hours
The Shettihalli Church is the ruins of a French Gothic church built in 1860, but the ruins have their own appeal. The Shettihalli Rosemary church is famously called the drowning church as it drowns under the Hemavathi river in monsoon and emerges back in the summer! In 1960 the villages near the church were deserted due to the construction of the Gorur dam, and the church was left abandoned. The dilapidated roofless church has its own charm and has become a sought after location for photo-shoots, which make you wonder if the church in its former self-was as attractive as the site of ruins.
A peaceful area tucked away from the main city of Hassan, is an ideal place to relax, take a boat ride and watch the sunset. While the distance is more, the road is a breeze and the scenic trails make the drive worthwhile.
20. One day trip from Bangalore to Gandikota
Distance : 285 km | Attractions: Fort, Nature | Duration: 15 hours 
The last two in this list is for crazy road-trippers who can drive more than 600 km in a day. I recommend these for a one day trip is due to the dearth of accommodation options nearby. Gandikota is a village named after a 14th-century fort. The Gandikota fort, in turn, got its name from the giant gorge formed by the Pennar river cutting through the Erramala Hills. Its structure and beauty earn it the name Grand Canyon of India. It's one of the best places near Bangalore for a one day trip.
If you are into overnight camping you can spend a night at the campsite.
21. A one day trip from Bangalore to Belum Caves
Distance: 300km| Attractions: Ruins, Nature| Duration: 15 hours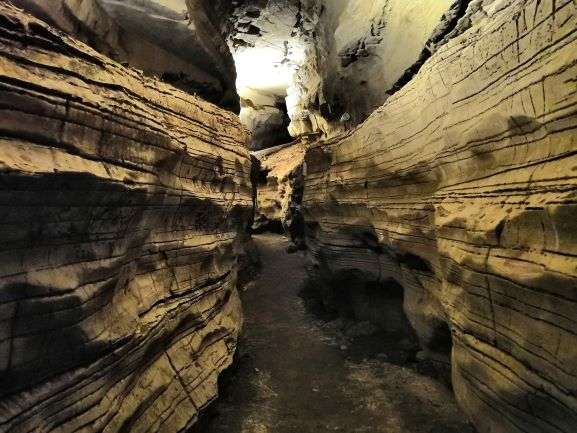 Belum caves is a natural cave which is estimated to be millions of years old. There were many vessels and sculptures found inside the caves which date back to the ancient period. It is the longest cave in the Indian sub-continent that is open to the public and is home to the mysterious Patalganga, a perennial water-flow inside the caves. You can club this with the Yaganti cave temples 44 km away or Gandikota which is slightly closer to Bangalore.
A trip to Gandikota, Belum caves and nearby regions from Hyderabad makes to the list of best long weekend trips in India for 2019.
Important Resources for Bangalore Trip
Before closing this massive post here is a list of travel tips for you.
Check Get Your Guide for some fantastic guided tours
Weather in Bangalore is pleasant but unpredictable. Always carry an umbrella or waterproof jacket with you.
Wear appropriate travel shoes for the Indian terrain and climate.
Type "Bangalore" on our search box and read all our articles on Bangalore
So hope you are all excited about your trip to Bangalore now? And dear Bangaloreans, hope you are excited about the next weekend trip.  Please subscribe to our blog updates for more such authentic travel stories.

Disclaimer: All pictures are mine unless otherwise mentioned. The photos have been published with little or no edits so as to give you an honest impression of the place. Reproduction of any image on this site without our permission is illegal.
Tags: