Roadtrip with Baby – Tips and Checklist
In this article I share from my experience some tips for road trip with a baby. You can also download a printable checklist of the must haves for road trip with newborn, infants and even toddlers.
Also Read: A complete packing checklist for any road trip
I include affiliate links for the tours, hotels and products I recommend. This means if you make any purchase through the links in the post, I may get a commission without any additional cost to you. While I strive to help you make the most of your trips, this income helps support the expenses for running this site.
A weekend road trip is a great way to kick-start your travels after having a baby. But travelling with kids is challenging. Travelling with a fussy 10-month-old and their nervous elderly grandparents is another ball game. That's what we did when we went for a road trip after a gap of 2 years. I had to make sure everything was perfect, lest we are barred from travelling again by our son's grandparents. (Typical Indian thing). And since that went so well, I did that again the next month, and plan to restart our monthly road-trips yet again.

At what age is a baby ready for travel?
Doctors advise a waiting period of 4 weeks before travelling with baby. Exceptions are made by some airlines for flying with newborn lesser than that age. There are some cultural practices too that restrict travel for 40 days or even 6 months. But as per medical advice, it is completely safe to travel with an infant. Road trip by car is the most convenient mode of travelling with an infant.
Feeding Essentials
The number one priority on any road-trip with a baby, is the baby's health. The quality of water is a big concern wherever you go, even though we boil the water and take necessary precautions. Here's a checklist.
The most common causes of health problems while travelling is water. While travelling with baby it is therefore advisable to carry few liters of water for the baby. Almost all hotels have electric kettles where you can boil the water. If not, you'd have to carry that too. So, check with your hotel beforehand.
Bottle sterilizer is a necessity wherever you go with your baby. it makes the process of sterilizing and keeping the bottle sterilized for hours, so convenient. Once I take that I also don't need to worry about where to carry the bottles, feeding spoons, bowls, teethers, pacifiers etc.
My Recommendation: Phillips Avent Electric Sterilizer
Check other Sterilizers on Amazon
Check other Sterilizers on Firstcry
Adequate bottles/ feeding cups and other feeders
Till the age of 12 months, babies mostly rely on feeding bottles for liquid food. Always take more bottles or feeding cups than needed. Same goes for bowls and spoons for babies over the age of 12 months when their diet consists of more solid food than liquid.
For breastfeeding babies, it's important to carry breast pump and take some stored milk while traveling. While manual pumps are easier to carry along, I personally find them too slow, and exhausting compared to the electric ones.
My Recommendation: Medela Advanced travel-friendly set
Check out other breast pumps on Amazon
Check out other breast pumps on Firstcry
For babies who have weaned or for those who are partially breastfed. Although formula milk is easily available in most medical shops in India, but you may not get the brand that the baby is used to. And trying something new on a trip is not a risk worth taking.
A lot of restaurants offer baby food like khichdi, curd etc. Still, I'd prefer to carry baby cereal mix of a couple of flavors for variety instead. For my 10-month-old I exclusively relied on Cerelac wheat-apple-cherry flavor for snacks, and Cerelac rice-vegetable for lunch and dinner. For older babies one may give boiled eggs, milk, khichdi etc. from the hotel's restaurant itself.
If you prefer cooking for the baby on a trip, do carry a baby food processor with you. That way you can save a lot of time cooking and also ensure hygiene instead of relying on the cooking utensils provided in the kitchen in your Airbnb.
Healthy snacks like fruits, dried fruit peels (packaged), ragi biscuits are most certainly needed on a road trip. Here are my top picks for packaged items.
While I think we can manage cleaning bottles with hot water for a couple of days when on trip, it's better to carry the usual bottle cleaning gel that you use. Pour it in a small container so that it is easy to carry while travelling.
Just one silicon bib is enough instead of carrying multiple cotton bibs on a roadtrip.
Just take one bowl and two spoons. You can also use bottle-spoons for feeding on-the-go.
A Case for Strollers
Going on a weekend road-trip and wondering if it's worth taking the stroller along? Indian roads are usually not suitable to stroll along with the pram, but I'll make a case for it.
I can say that carrying a stroller is useful because I didn't take it the first time. It was impossible for us to eat at the restaurant with our super-active 10-month-old who couldn't keep his hands off all the cutlery on the table. But if you have a stroller, you can buckle them there and keep them engaged with occasional chitchats and toys while eating. On our trip to the Vedic village resort our baby didn't have to miss a thing – from the long strolls to the open-air chai time, to dinners.
Even feeding the baby in a stroller is much easier than without it. Anyone would agree over that. If the hotel does not provide a high-chair for the kids, you're really going to miss the stroller while feeding solid food.
Check out the best baby strollers here.
Diaper Changing Essentials
You should carry all the diaper changing essentials in the carry-on bag or organise them in the backseat organiser of your car. Pack more than sufficient number of diapers in the suitcase. Here's a checklist for diaper change.
Bathing & Hygiene Essentials
Here's a checklist of bath and hygiene products to carry for the trip, lest you forget. For adults can always use the toiletries provided in the hotel, but babies should not.
You can buy a baby product travel kit from your favorite baby brands or pour a small amount in the travel containers.
baby wash and shampoo
baby oil
baby lotion
Sunscreen lotion
baby hairbrush
Inflatable bathtub (Optional)
Buy a set of portable bottles with a pouch for carrying the baby toiletries.
Medicines & First-aid
Here is a checklist of the usual medicines that you need to carry on a road-trip. If the baby is on a special medication, don't forget to carry them.
Nasoclear
Mosquito gel
Colic drops
Sumol drops
Vitamin drops
Diarrhea medicines for precaution
any special medication that your baby is on
Clothes and napping accessories
What clothes to pack for the baby? Ofcourse you'll have some in your mind for taking cute pictures and all. But never compromise on comfort while travelling. Here are a few things I'd take.
Tip: Organise these in packing cubes which makes it very easy to sort things out and separate the soiled ones from the new.
Lots of onesies
Sleeping bag
bed protector sheets
headscarf
Sun Cap
A Case for Car -seat
In the west, car-seat is compulsory for traveling with babies. Thankfully in India it is not. I have not heard great success stories about road-trips with a baby strapped to the car-seat. It may be a good idea for babies less than 8-months old, who are not so active and don't want to move around a lot. Others won't want to be strapped to the seat for more than fifteen minutes. I don't know how that's going to work! But if you can manage, it's apparently safer (as per the advertisements go). Or with multiple trips you may get them more accustomed to this setting.
I have still refrained from using one on our road-trips as it just does not work for my kid.
Back-seat Organizer
A car backseat organizer is an amazingly useful accessory while travelling. The number of things you have to juggle with on-the-go while traveling with kids increase multi-fold compared to when you're travelling as a couple. Back-seat organiser makes life easier. The down-side is that these are within the baby's reach, so beware of the stuff you keep here.
Printable Checklist
And here's the bonus printable checklist for you to download! This is a packing list for road trip with babies.
And here's a checklist for things you need to check with the hotel for better preparation for your road-trip. I have also included suggestions for things to keep in your carry-on diaper bag and/or the car's backseat.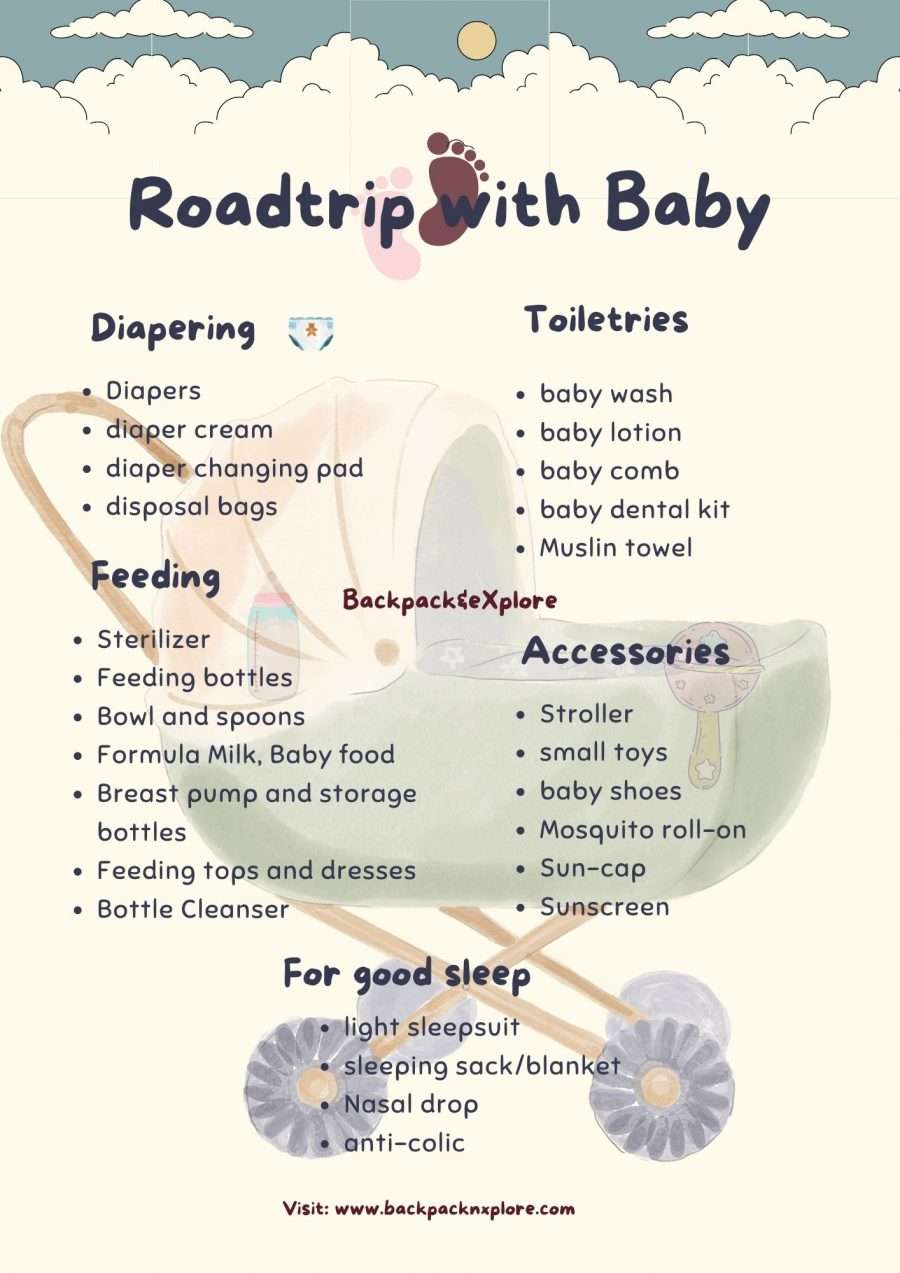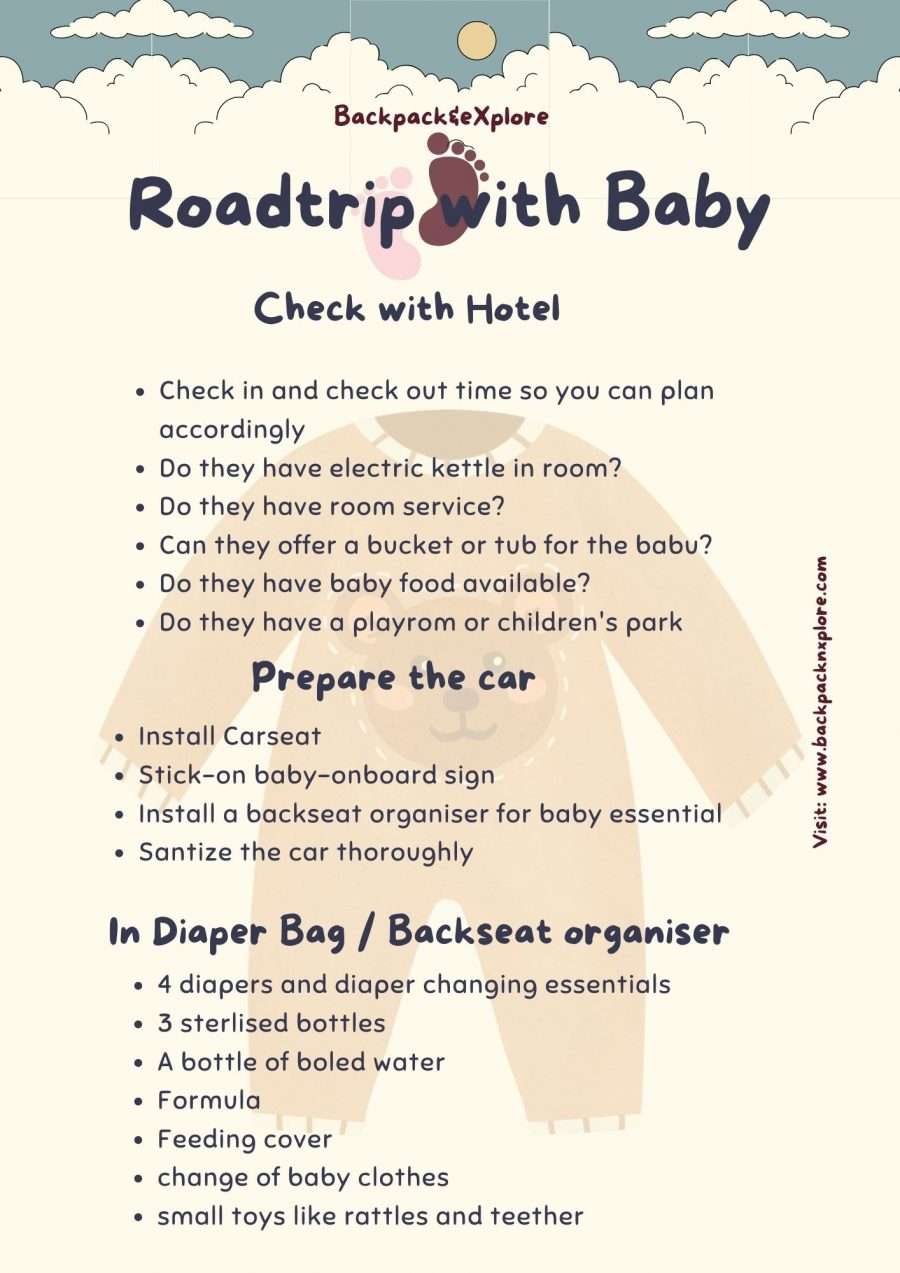 So these were the best tips I could give to new parents from my experience. I hope you found it useful. Cheers to travelling with the tiny tots. If you have questions, tips or any thoughts to share, please feel free to comment. And don't forget to share the post if you liked it.
Also Read: Roadtrip from Bangalore to Kolkata in 3 days!
Let's stay connected on Facebook, Instagram, and Twitter. You can also subscribe to get notified by email when a new post comes in.