25 Best Places to visit in Karnataka
Having lived in Bengaluru (aka Bangalore) for six years now, Karnataka has become my second home. Blessed with a glorious history and diverse natural landscape, it is, according to me the most under-rated travel destination in India. Let me take you through the best places to visit in Karnataka, while talking about my love for this beautiful cultural state of India.
The post contains affiliate links. This means if you make any purchase through the links in the post, I may get a commission without any additional cost to you. This income helps me to keep the site up and kicking.
Karnataka – A brief introduction
Located in south India, Karnataka is the sixth largest state in India. With a 320 km long coastline along the Arabian Sea, bound by the resplendent Western Ghats and dotted with historic sites dating back to millennia, Karnataka indeed leaves up to its tourism tagline – "One State, Many Worlds".
Thinking of crossing half the world to visit the Mayan ruins? Have you seen the breathtaking ruins of Vijayanagara just 300 km from Bangalore? Can't save enough for the trip to Maldives? Have you visited the Blue flag beaches of Karnataka or sailed to the Cintacor island for a luxury staycation? African jungles are calling but do you know the largest population of the endangered tigers is right here in the jungles of Karnataka? Mountains, waterfalls, rainforests, beaches , history- Karnataka has it all.
The history of Karnataka can be traced back to 2000 years! From the Mauryas of 3rd century B.C. , the Badami Chalukyas of 6th century A.D., followed by Rashtrakutas, Hoysalas and the great Vijayanagara empire the region has a glorious history in the early and middle ages.This was followed by the Deccan sultanate and the British colonial rule when it came to be known as the State of Mysore.
Post-independence several provinces where Kannada-speaking provinces united into the State of Mysore through the States re-organization Act of 1956. It was only in 1973 that the name of the state of Mysore became "Karnataka" – the land of Kannada-speaking people.
Miss travelling? Check out the best books about India to travel virtually.
My Favorite Five places to visit in Karnataka
I find it really hard to rank places I love travelling to. But I do have some clear favorites in Karnataka. Here's my Fab 5! If you plan a trip to Karnataka for 7-10 days, you must not miss these places.
Hampi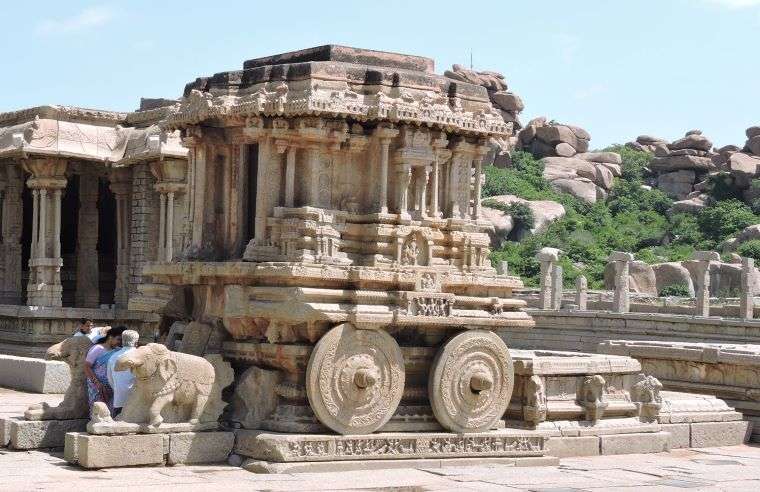 Ah, how can I describe my feelings for this beautiful historic city. Hampi was the capital of the great Vijayanagara Empire, believed to be the golden age of the region. The mighty Tungabhadra river cutting through the rocky landscape that are a part of the Dharwar Craton. It means this is one of those rarest landmasses on the earth that have remained unchanged by volcanic or tectonic movements for millions of years! And with these rocks the architects created some timeless man-made wonders – temples, palaces, idols. Even though most of them were destroyed due to multiple wars, what remains of them will give you goosebumps. Read the fascinating facts about Hampi in this article I wrote.
Notable sights and activities
Vijaya Vittala temple – the one with the musical pillars

Virupaksha temple – one of the oldest living temples in its full glory

Hemkunta group of monuments – another UNESCO world heritage site

Coracle ride in Tungabhadra river

Wildlife and bird-watching in Daroji wildlife sanctuary
How to Reach
Nearest domestic airport is at Bellary, 60 km away and nearest railway station is at Hospet 13km away. You can hire a local vehicle from either of these places to reach Hampi. To reach Hampi from Bengaluru, the nearest international airport you need to avail KSRTC bus or take a train to Hospet.
Recommended Stay
Clarks Inn Hampi – Excellent stay in mid-budget, right opposite to the Hampi museum. Has great amenities and an indoor swimming pool.
Recommended Tours
Coorg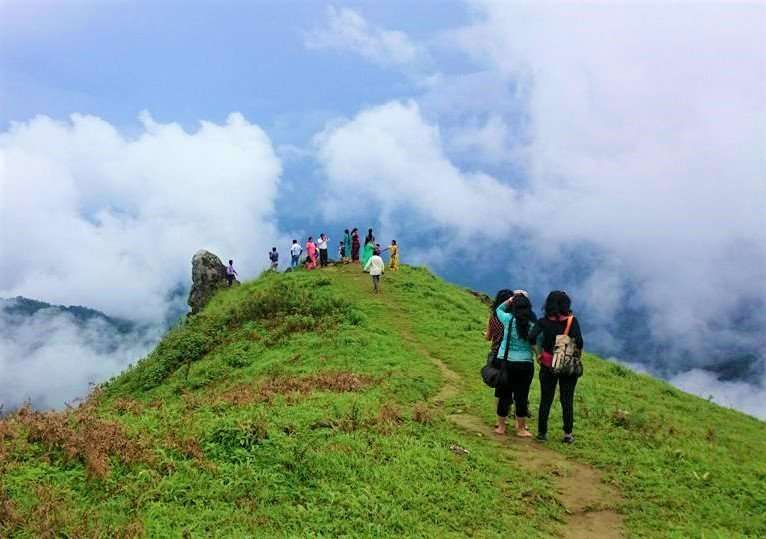 "Scotland of India", "Kashmir of the South", tourist sites have many such phrases to describe Coorg. Well I haven't been to Scotland or Kashmir yet, so I can't vouch for them. What I can say is that a trip to Coorg is what made me fall in love with Karnataka in the first place. The lofty mountains , large expanses of green as far as eyes can see, breathtaking wildlife – Coorg is a paradise for the lovers of nature and adventure. It's one of the largest districts in Karnataka and one of the most popular weekend destinations from Bangalore.
Notable sights and activities:
Trekking and camping in the hills –Tadiadmol trek, Mandalpatti trek etc.

Visit Abbey Falls and other beautiful waterfalls

Talakaveri – the holy source of the river Kaveri

Whitewater rafting in Barapole river
How to Reach
Nearest domestic airport is at Mysore (120 km from Madikeri), whereas the nearest international airport is at Mangalore (140 km away). The nearest railway station is also at Mysore, 107 km away from Coorg. So to reach Coorg you will have to take KSRTC bus or hire a local cab from Mangalore, Mysore or Bengaluru. There are many private buses available too.
Recommended Stay
There are several luxury resorts in the cradle of nature at Coorg. Here are two great options.
Taj Madikeri Resort & Spa Coorg, Madikeri 
Club Mahindra , Virajpet – an excellent property in the interiors of Virajpet, away from the crowd.
Coorg Wilderness Resort – A Five-star Resort for a perfect luxury retreat
Recommended Tours
Private coffee & spice estate tour in Madikeri
Blive electric bike tour – Coorg Nature Trail
Gokarna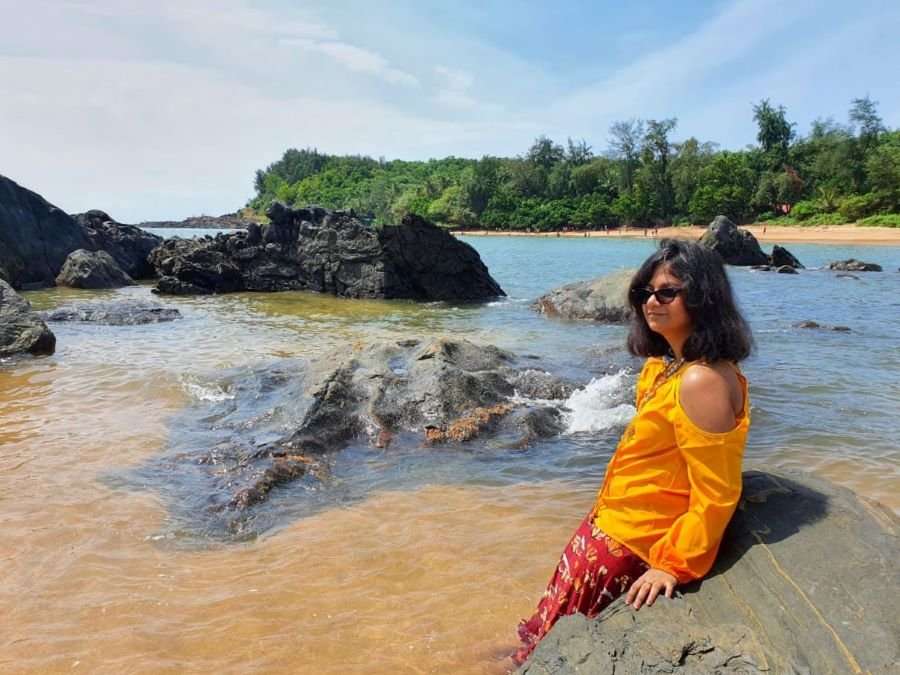 Gokarna is the hippie town of north Karnataka, the state's own Goa. In fact I loved the beaches here much more than Goa. Some of the best beaches here are accessible through an hour-long trek, which makes them more mystical. If you are confused between the pull of the mountain and the sea, Gokarna is the place to be.
Notable sights and activities:
Om Beach

Kudle Beach

Paradise Beach

Yana Caves
How to Reach
The nearest airport is Dabolim Airport in Goa, which is 140 km away. The best way to reach Gokarna is by train to Ankola station, 20 km from Gokarna. 
Recommended Stay
There aren't many big resorts or hotels here. What you have are zostels and earthly homestays. Here are my top recommendations:
Swa Swara Wellness retreat – if you love luxury and are ready to splurge a little.
Namaste Yoga Farm – A mid-range earthly stay near the Kudle Beach.
If you have a car, you can also stay a little far at Karwar where you will get a number of family-friendly mid-budget hotels and resorts. We stayed at Sterling Karwar on our trip to Gokarna and Karwar.
Recommended Tours
Gokarna Food Crawl – You will get authentic south Indian food that's both delicious and vegan-friendly
Shimoga 
Shimoga is the district most famous for Jog Falls – one of the highest waterfalls in India. While the view of Jog Falls is indeed memorable, there are many more memories to take away from this quaint place. The sparkling lakes, the opulent forests, forts and culture. 
Notable sights and activities:
Marvel at the Jog Falls

Visit Keladi – the village where people speak in Sanskrit

Safari in Sharavati valley and national park

Visit Gajanur Dam
How to Reach
Shimoga has its own domestic airport which is only 10 km away from the city center. It is well-connected to Delhi and Mumbai. But nearest international airport is in Mangalore. From Mangalore or Bengaluru , you can reach Shimoga by bus or cab. You can also avail train to the Shimoga train station.
Recommended Stay
Royal Orchid is a 4- star hotel available at a reasonable price range. It is close to the city center and near the Sharavati Wildlife park. A little far away from the center is the Kimmane Golf Resort which is great for an amazing family time and team building offsite.
Mysore/ Mysuru
Mysore – the city of palaces, is the third largest city in Karnataka and the most beautiful one. In fact it is one of the cleanest cities in India. Despite being a modern city, home to the famous training center of Infosys, Mysore retains an old-world charm. The Mysore Palace is the seat of the royal family of Karnataka, the Wodeyars. Besides the incredible sights and experience within the city, its proximity to some of the notable heritage sites and natural wonders is what gets Mysore to my Fab Five!
Notable sights and activities:
Mysore Palace

Chamundi Hills

Brindavan Gardens

Shopping for Mysroe silk and handicrafts
How to Reach:
The nearest international airport from Mysore is the Bangalore Airport which is less than 200 km away. From Bangalore, you can reach Mysore by KSRTC bus, train or cab. Mysore itself is well-connected to other cities by trains like Mysore Express, Chamundi Express, Kaveri express etc.
Where to stay
Radisson Blu Plaza Hotel Mysore, Mysore
Recommended Tours
Mysuru day trip from Bangalore
Best places to visit in Karnataka for History, Culture and Architecture
Monuments bear the testimony of 2000 years of Karnataka's history , art and culture. Ancient temples have stories of Hindu mythology as well as folk tales depicted through art. Imposing forts encapsulate the stories of their time. While heritage sites of Hampi simply transport you to an era hundreds of years back, the opulent, well-maintained Mysore palace gives you a glimpse of royalty in the present age. Here are some other places of interest for lovers of history and architecture.
Bengaluru
The silicon valley of India is also dotted with several architectural masterpieces, both old and new. While Bangalore is famous for the tree-lined streets, large parks, lakes and amazing weather, the historic side is not known to many.
Vidhan Soudha, the house of state legislative assembly in Karnataka, Bangalore Palace, Tipu Sultan's summer residence, Devanahalli fort etc. are few notable monuments here. Centuries-old temples like Hulimavu cave temple in Bannerghatta National Park, Gavipuram cave temple near City park, Kolar temple near Nandi Hills  hold special significance for history and art lovers.
Check out this book (free on Kindle limited) for local tips to explore Bangalore.
Pattadakal-Aihole-Badami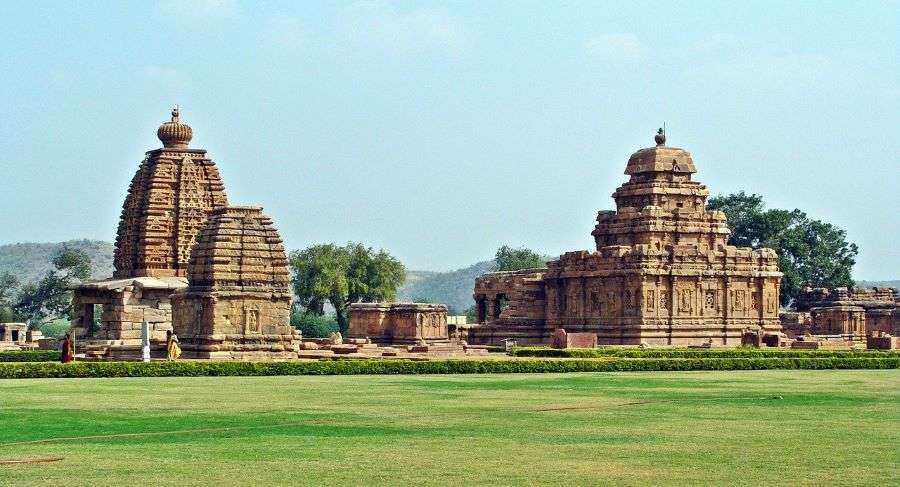 Pattadakal, Aihole and Badami is the Chalukya-trio, the three principle cities of the 7th-century Chalukya dynasty. Badami was the administrative capital of the Chalukyas, Aihole was the seat of learning and Pattadakal the cultural capital.
The Chalukyas were great connoisseur of art and architecture. The cluster of temples of Pattadakal is a UNESCO world heritage site. While Aihole and Pattadakal are famous for the intricate architecture combining styles from North and South India, Badami is known for ancient hidden cave temples.
Talakadu and Somnathpur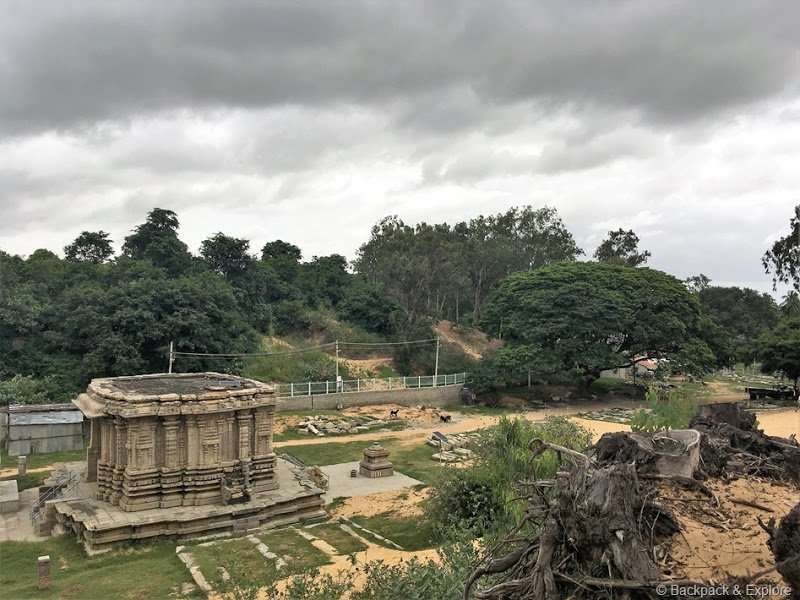 Somnathpur is a great place to visit on a one-day trip from Bangalore. It is famous for the Chennakeshava temple , a living temple which is nearly 800 years old. This grand Hoysala architecture will leave you awestruck.
Close to Somnathpur lies Talakadu – a historic village and a mini-desert in Karnataka. Once known as the Benaras of the South, Talakadu is dotted with ancient temples which were submerged by sand deposited by the Kaveri river. How the river changed its course creating a desert in this deeply forested region inspires folklores and geologists alike.
When in Somnathpur don't forget to visit the majestic Shivasamudram Falls, a natural wonder of Karnataka.
Temple Towns of Hassan
Hassan is home to the historic towns of Belur and Halebidu. The twin towns located close to each other are home to some of the most magnificent temples from Hoysala period. The intricate stone carvings which have stood the test of time will take your breath away. Besides Hinduism, Jainism also flourished in this district. The Jain Basadi complex of Helebidu constructuted in 12th century is dedicated to three Jain Tirthankaras.
Located near Yagachi river, Belur is a temple-town which transports you to the 7th century. Most of the temples here, like most Hoysala temples are dedicated to God Vishnu, while the two main Hindu temples of Halebidu are dedicated to God Shiva.
A little further from Belur and Halebidu is the Bahubali temple of Shravanabelegola. The 900-year old, 18-m-high statue of Mahavir Jain is considered to be the world's largest free-standing monolith. This is the great Jain pilgrimage site where you can experience the Mahamasthakabhisheka ceremony.
Check out this heritage tour of Shravanabelegola and Halebidu for an exhilarating experience.
Check out these bundle of travel booklets for the most historic places in Karnataka!
The vanishing ruins of the Shettihalli church located near the Hassan city also intrigues tourists.
Bijapur
Bijapur, also known as Vijayapura (the Land of Victory) is located in the North-west Karnataka, near the border of Maharashtra. The city was built by the Kalyani Chalukyas and later became a part of the Deccan Sultanate. The most famous landmark of this city is the Gol Gumbaz, a magnificent mausoleum of Sultam Mohamad Ali Shah. It is the world's second largest dome that is not supported by pillars. Other heritage sites here include Ibrahim Roza, a palatial mosque that inspired the design of Taj Mahal, Bara Kaman, Malik-e-maidan, Shivagiri etc.
Bylakuppe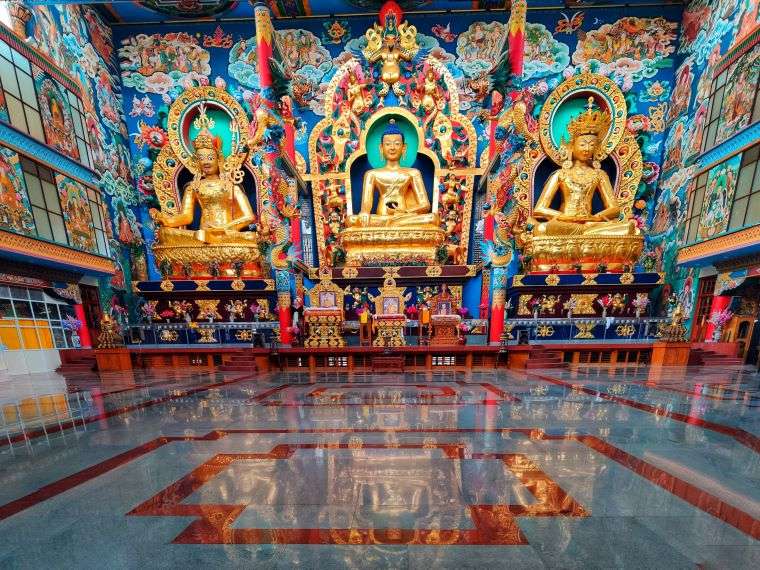 is the second largest Tibetan settlement in India. Located in the Mysuru district near the border of Coorg, this place is marked with serenity. There are many beautiful Buddhist monasteries here where the Tibetian Budhists built their abode. the most famous among them is the Namdroling monastery aka Golden Temple. You can spend your day strolling in the other monasteries , exploring the Tibetian settlement and relishing their cuisine.
You can also visit Nisargadhama, the beautiful delta of Kaveri river. Sail in the river surrounded by dense and peaceful forests amongst peacocks, elephants and deer.
Best places to visit in Karnataka for Beach-lovers
The 320-km long coastline of Karnataka is called Karavalli, meaning "coast" in Kannada. The coastline has three broad segments Uttara Kannada, Udupi and Dakshina Kannada. While Uttara Kannada is home to the serene and pristine beaches, Udupi and Dakshina Kannda are more commercial.
This book covers the rich history and culture on coastal Karnataka.
Karwar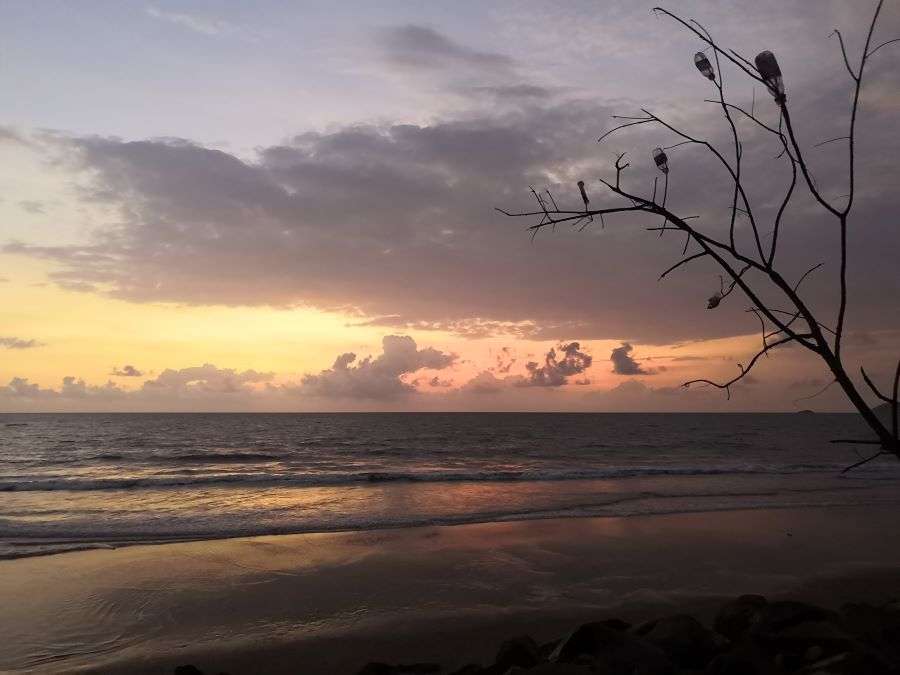 Karwar is a hidden paradise for lovers of nature. The last stop before you enter South Goa from Karnataka, this picturesque beach town at the confluence of the majestic Kali river and the Arabian sea. The first non-European Nobel Laureate Rabindranath Tagore spent few years of his youth here. The Tagore beach is a tribute to the literary genius. Besides that the unique black sand beach called Tilmati beach, the Warship Museum, the rock garden, the majestic Kali river and Karwar beach are some of the highlights of Karwar.
Murudeshwar
Murudeshwar is known for the spectacular Shiva Temple on the beach. The 123 ft tall statue of lord Shiva overlooking the Arabian Sea is a sight to behold. Besides the beach and the temple, you can visit the Murdeshwar fort, Bhatkal beach and sail to heart-shaped Netrani island.
Honnavar
Honnavar is home to one of the eight Blue Flag beaches in India, the Kasarkod Beach. This is a 5km long enchanting beach of white sand with a park, a boating center and Swiss cottages in the Casuarina forests. We landed in this beach just while exploring offbeat tracks on our way back from Karwar. 
Other places of interest in this old port town that hosted Arab and later European traders are Apsarakonda Waterfalls, Apsarakonda beach, Hanging bridge etc.
St Mary's Island
St.Mary's island is a idyllic island in the Arabian Sea accessible through boat from the Malpe beach of Udupi. It is the most sought after destination for beach-lovers who visit Udupi. The unique volcanic rock formations in this island are one of the 32 geological monuments of India.
Udupi
Udupi is a coastal district centered around the temple town of Udupi. Besides beaches, it is known for the various notable temples, most famous of them being the 13th-century Sri Krishna Matha.
Other remarkable beaches of Udupi are Malpe beach , Mattu beach and Padubidri beach. Located 17km away from the main town, Padubidri beach is the other Blue Flag beach of India (besides Kasarkod). Maravanthe beach located in the Kundapura Taluk is another beautiful drive-in beach with sea on one side and river on the other.
Mangalore
Located in Dakshina Kannada, Mangalore is a coastal city that is a center of trade as well as tourism. The natural beauty of its beaches and glimpses of history in the heritage sites beckons travel lovers from all over India. Ullal beach, Someshwara beach and Panambur beach are the most famous beaches in the city.
Besides beaches, Mangalore has some beautiful parks like Pilikul Nisargadhama, butterfly park, hill park etc. Heritage sites include Jamalabad fort, the 11th century Kadri Vishwanatha temple, and the colonial religious architecture like Aloysius Chapel and Milagres Church.
Best places to visit in Karnataka for Hill-station and Wildlife
Bound by the uninterrupted stretch of Sahyadri range, also called the Western Ghats of India, Karnataka has some of the most beautiful hill stations and forests of South India. Coorg is my favorite among them, but here are the other notable places to visit in Karnataka for the love of mountains. The best thing about the Western Ghats in Karnataka is the temperate weather throughout the year.
Chikmagalur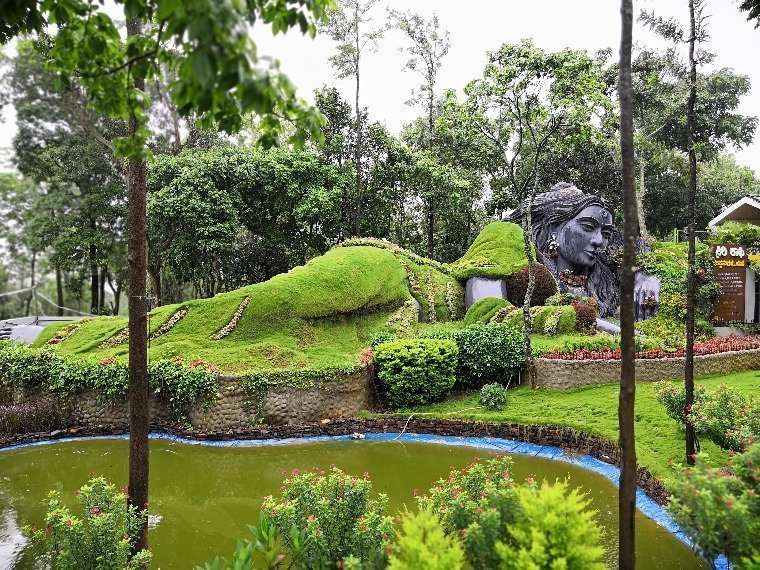 Chikmagalur is a favorite weekend getaway among the IT-crowd in Bangalore. Located at the foot of Mullyangiri hills, the highest mountain in Karnataka, Chikamagalur is known as the land of coffee. It is believed that a legendary Muslim saint Baba Budan smuggled a few coffee beans from Arab and sowed the seeds here. That was the inception of coffee plantation in India, a place that is now called Bababudangiri.
When in Chikmagalur, enjoy your time in a local homestay inside a coffee estate or a forest on the banks of river. Visit the Jhari Falls hidden from common sight, located deep inside a private coffee estate. Take a toy train-ride in the MG Park and experience the magical sunset in Hirekolale lake.
Bandipur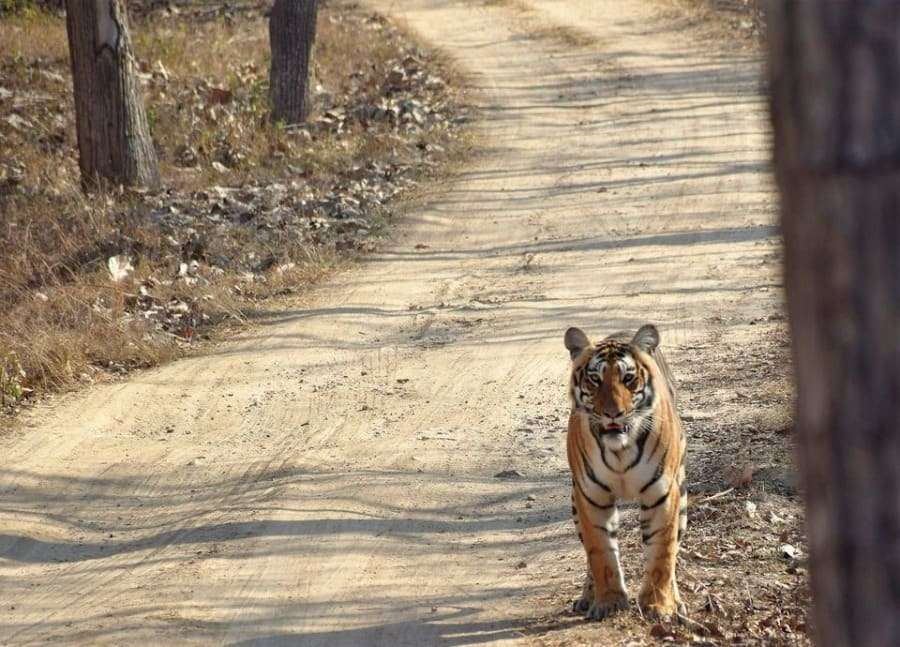 Bandipur is among the four inter-connected national parks which have the highest population of tigers in India. The others are Nagarhole (Coorg in Karnataka), Mudumalai (Tamil Nadu) and Wayanad (Kerala). Besides the gorgeous striped beast, the bountiful forest is home to elephants, deer, peacocks, monkeys and several other exotic wildlife species. The dense forests provide a great frame for sunset.
It is one of the best places for jungle safari in India.
Agumbe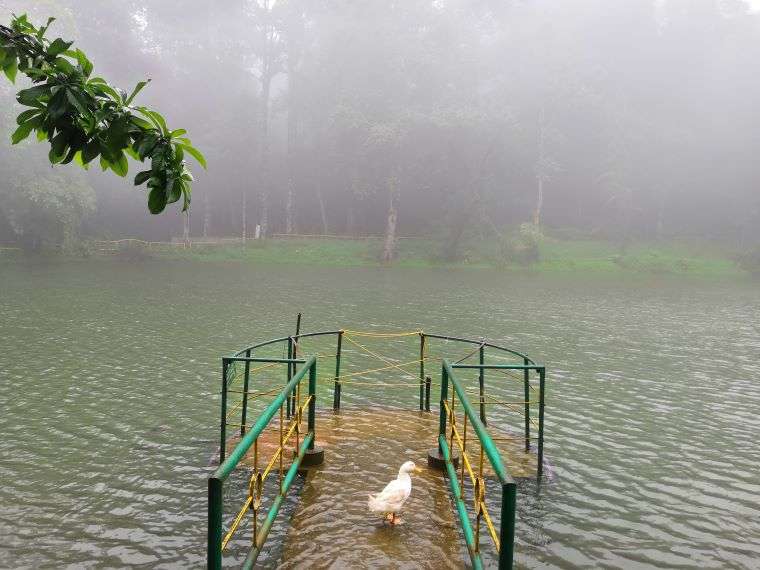 Agumbe is a dense rain-forest in the Shimoga district of Karnataka. Because of the heavy rainfall it receives throughout the year it is also called "Cherrapunji of the South". Agumbe rainforest research station (ARSS) is one of its kind which specializes in research of the unique faunal diversity of this region. The most important subject of research here is that of King Cobra.
In Agumbe you can experience raw nature like nowhere else. The Agumbe viewpoint gives you breathtaking views of the valley and the sunset point is purely magical during the golden hours. The view of the lakes and landscape of Shimoga from the Kundadri hill-top is mesmerizing.
Sakleshpur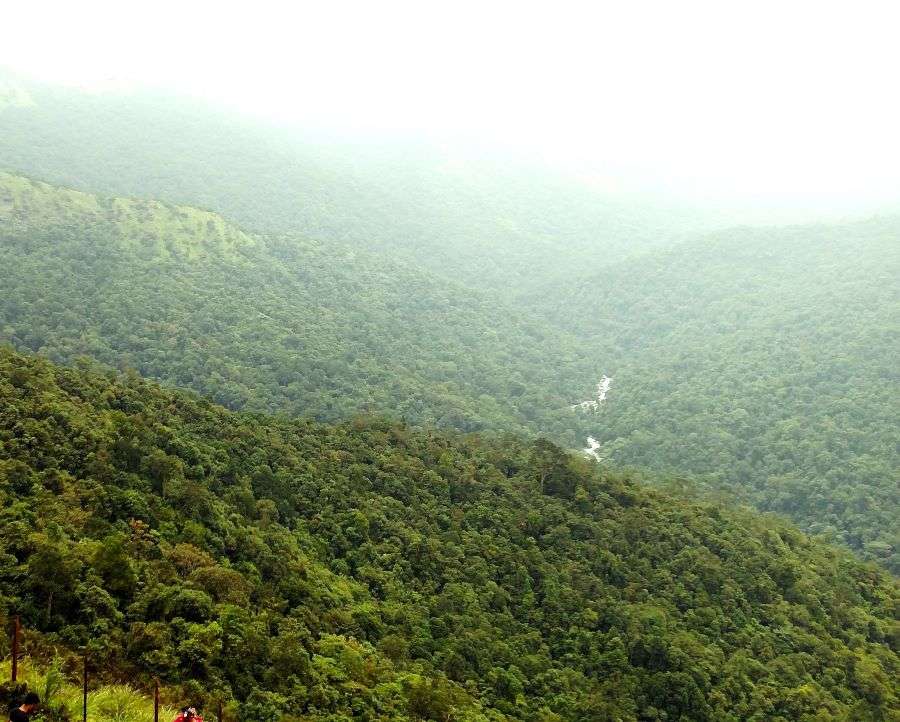 Nestled in the Western Ghats region of the Hassan district, Sakleshpur is a charming hill station in Karnataka. The Bisle village  and Bisle Reserve forest is a thing of great beauty. You can get a bird's eye view of this place from the Bidle Ghat viewpoint. The highlight of Sakleshpur is the historic Manjarabad Fort, a heart shaped fort built by Karnataka's famous ruler Tipu Sultan.
Magajahalli waterfalls, Sri Sakleshwara Swamy Temple and Betta Byreshwara temple are other places of interest in Sakleshpur.
Dandelli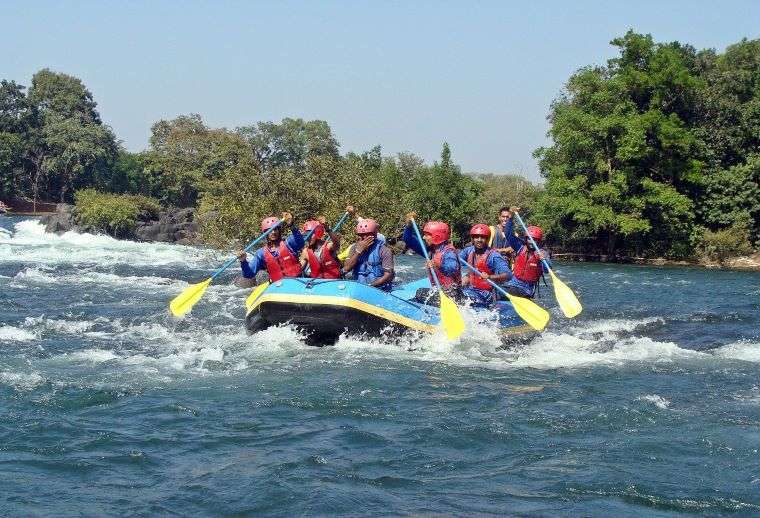 Located on the banks of Kali river in North Karnataka, near the Goa border, Dandelli is a treat for nature-lovers and adventure seekers. If you are looking for peace and tranquility book a quaint homestay in villages like Castle Rock, and spend your time exploring the forest trails, bird-watching and experiencing nature at its best. Adventure-seekers go for white-water rafting in Kali river, jungle safari, Kayaking etc.
So here's my bucket-list for Karnataka. There are many other beautiful places I have visited like Gudibande , Ramnagara, Manipal, Sangam etc. which I didn't include here. Have you visited Karnataka? Is there any of your favorites I have missed? Do tell me in the comments section.
Share the post and subscribe to our email-list if you liked it. Stay safe and travel later.
Pin it!
>
Disclaimer: The post contains some affiliate links. That means we may earn a commission if you make any purchase through those links, without any additional cost to you. Special thanks to Pixabay and Unsplash for few of the pictures I have used here. All the other pictures are our own photographs and we own their copyright.